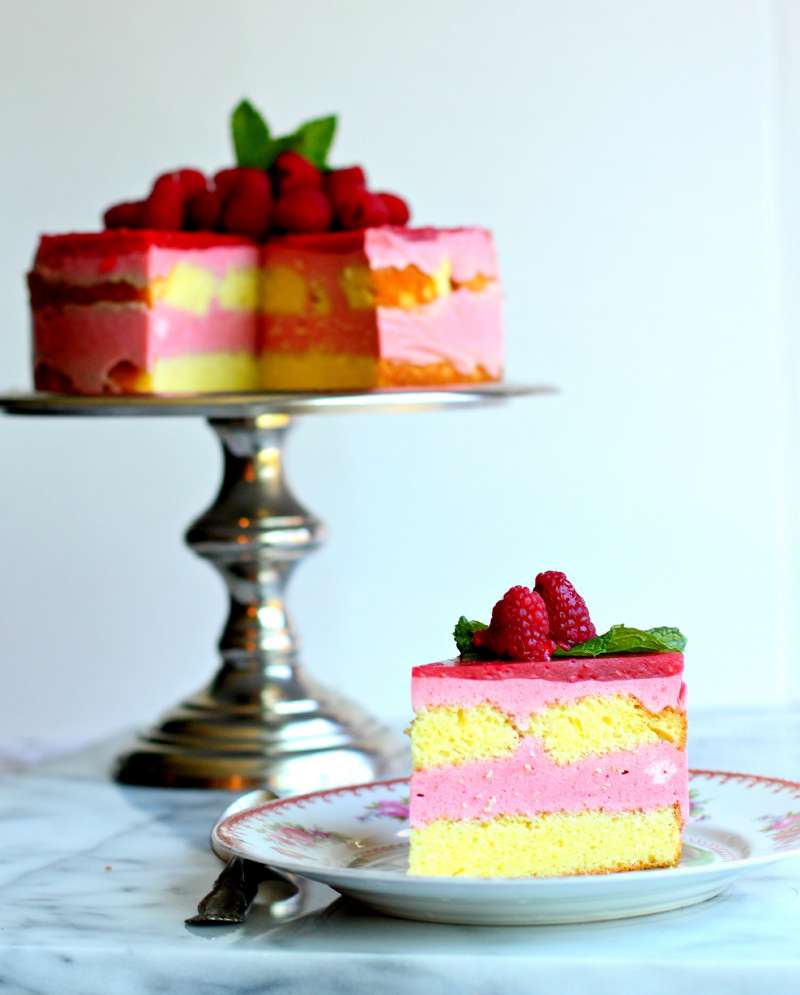 As the season begins to change, and the temperatures begin to drop (like 1 degree here in San Diego) I get more and more excited about fall.  I embrace seeing Halloween decorations in August and begin day dreaming about apple picking and carving pumpkins before Labor Day.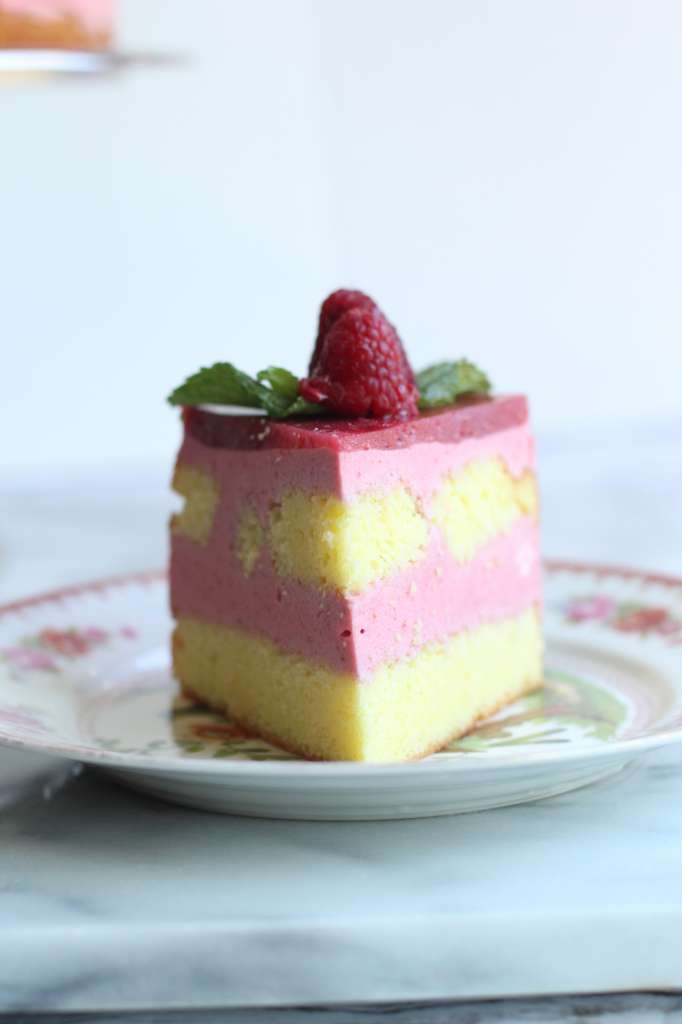 However as much as I adore fall, leaving behind summer produce is bittersweet.  The days of ridiculously inexpensive berries are now dwindling, and we are no longer craving light and fresh summer salads for dinner (well I still am!)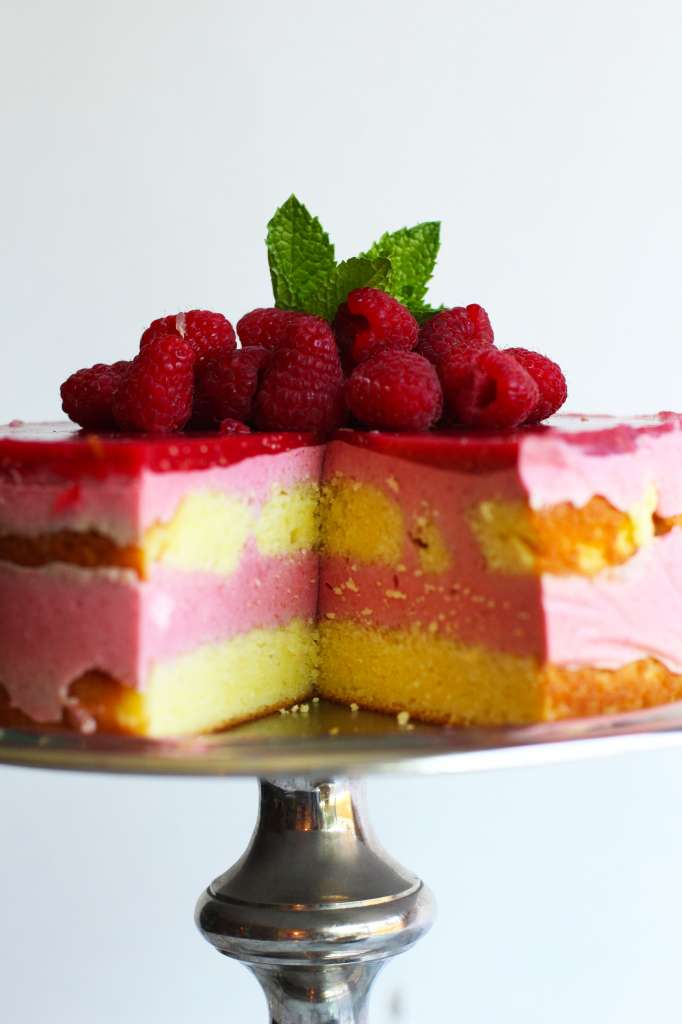 So as my posts begin to change color, I thought that I would leave you with one last raspberry dessert of the season. Raspberry Mousse and Lemon Gelée cake. Quite the mouthful, but utterly delicious. The light and airy raspberry mousse has been a favorite of mine this year. Alone, it is the perfect palate cleanser, and combined with lemon, like my Lemoncello Raspberry Tiramisu, it knocks your socks off.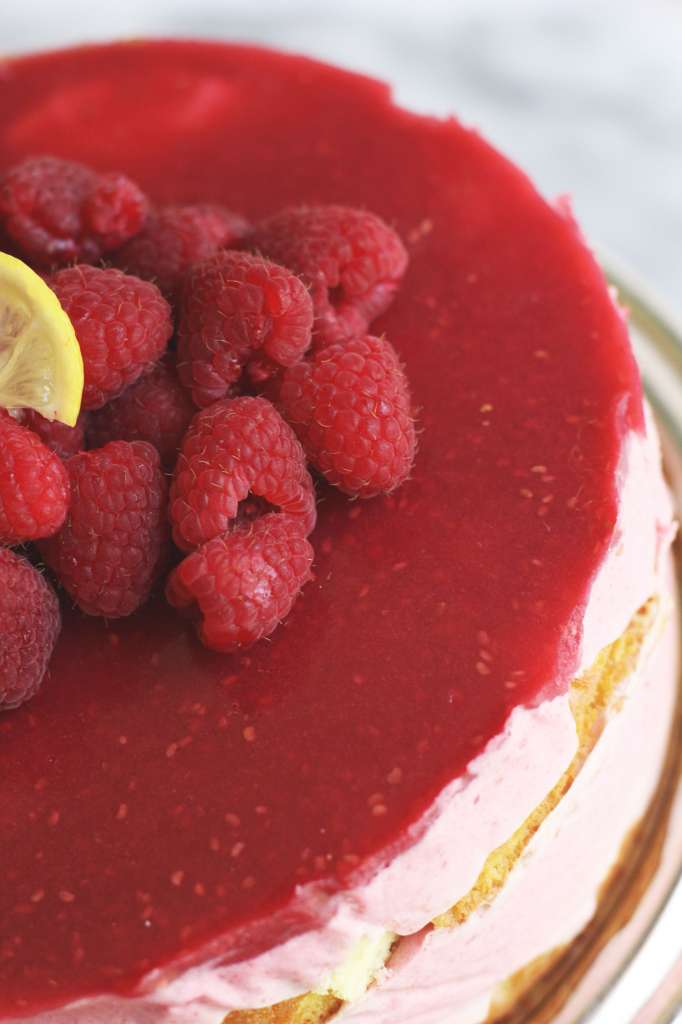 Make sure you make this one last time before the fresh berry prices go up. Then again, it could be made all year long using frozen Raspberries!!!!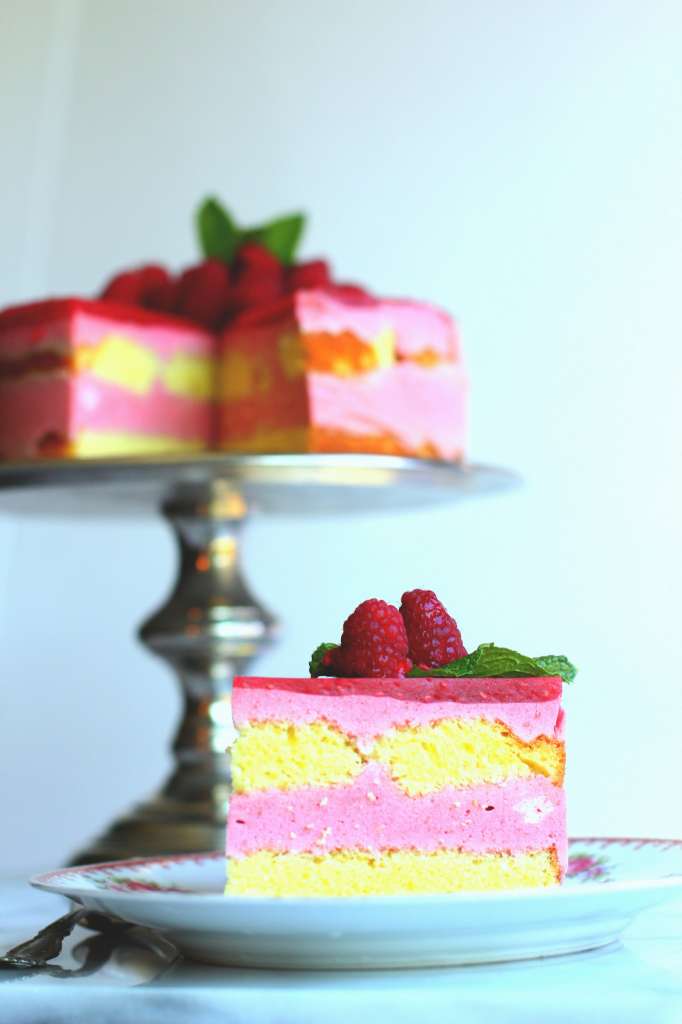 Raspberry Lemon Gelée Cake
Ingredients
Lemon Cake

2 sticks butter (softened)
1 1/2 sugar
1 teaspoon vanilla extract
2 whole eggs, room temperature
3 egg yolks, room temperature
2 tablespoons lemon juice
2 tablespoons grated lemon peel
2 1/2 cups flour
1/2 tsp baking powder
1/2 tsp baking soda
1 tsp salt
1 cup buttermilk, room temperature

Raspberry Mousse

3 tablespoons water
2 1/4 teaspoons powdered gelatin
2 cups fresh raspberries
1/2 cup sugar
2 cups heavy cream, very cold

Raspberry Gelée

1 tablespoon clear gelatin powder
1/3 cup water
2 1/2 cups raspberries, fresh or frozen
1/2 cup sugar
1 1/2 teaspoons fresh lemon juice
Instructions
Preheat oven to 350 degrees.
Grease 2 8 inch round pans.
Make sure all your ingredients are room temperature.
In a separate bowl, combine flour, salt, baking powder and soda and mix.
In your mixer fitted with the paddle attachment, blend butter, sugar and vanilla lemon juice and lemon peel at medium speed until pale and fluffy.
Add eggs, one at a time, scraping the bowl after each addition.
Reduce speed to low and add a cup of flour followed by 1/3 of the buttermilk.
Repeat this 3 times, until you have incorporated all the flour and buttermilk.
Pour into pans evenly and bake about 20 minutes or until a knife is inserted and when remove is clean.

Raspberry Mousse

To make the raspberry mousse, puree berries in a blender until smooth.
In a small bowl combine water and gelatin, set aside.
Once smooth, pass through a fine mesh sieve to remove pulp. You should be left with around 1 cup of puree.
In a medium sized pot, heat sugar and raspberry puree on medium heat.
Once bubbled begin to form around the edge, add in gelatin mixture and stir until it has melted.
Remove from heat and allow to cool until you can touch it, about 20 minutes.
Once puree is at room temperature, beat heavy cream on high until stiff peaks form.
Fold in whipped cream with raspberry puree.

Assembly:

Once cake has cooled, place 1 layer in a springform pan.
Cover lemon cake with 1/2 of the raspberry mousse.
Cover mousse with 2nd cake layer and repeat with mousse.
Cover and refrigerate while making Gelée.

Raspberry Gelée

Purée raspberries until smooth
Mix in water, sugar and lemon juice.
Add gelée and pour over cake.
Refrigerate for at least 2 hours.
http://theseasidebaker.com/2014/09/02/4869/