Looking for a spooktacular Halloween appetizer? These Halloween Jalapeno Mummies are the perfect frightening finger food for family and friends. Bacon and cream cheese stuffed jalapenos are wrapped in flaky pastry to create a deliciously sweet but spicy treat.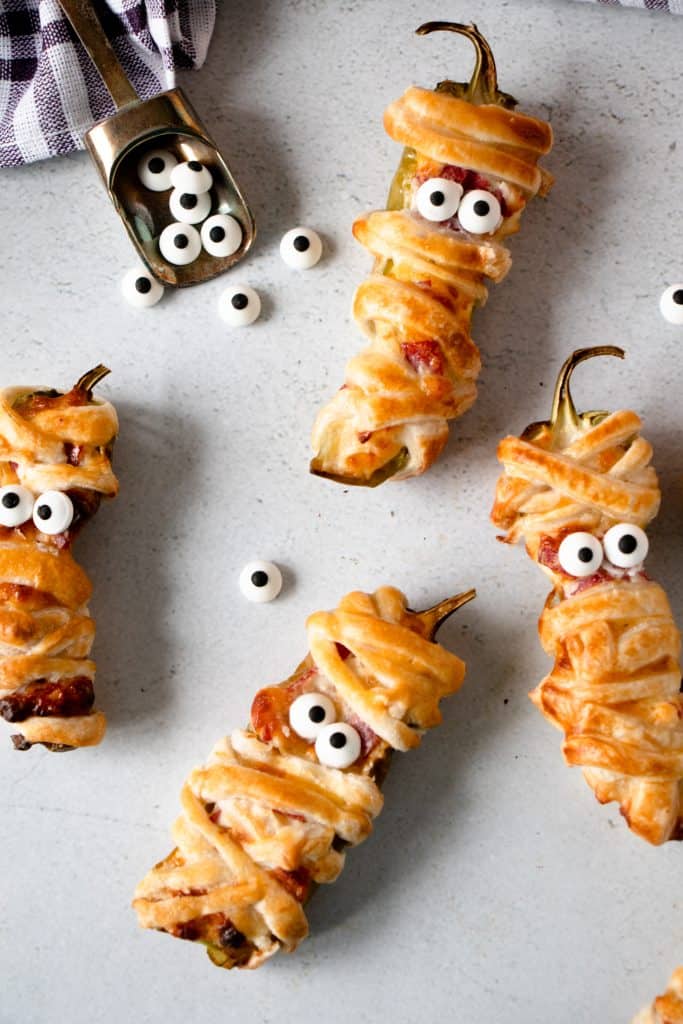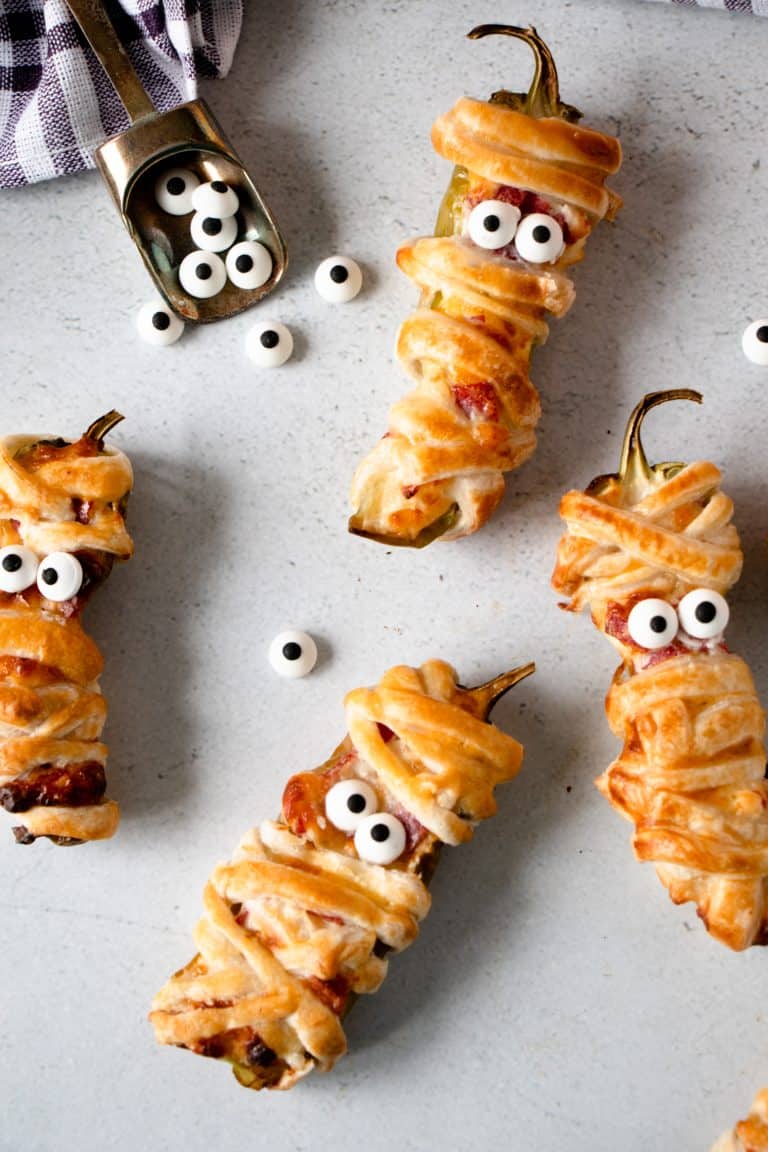 It's no secret I am a huge fan of dessert recipes but sometimes you crave a little savory snack during the sweetest holiday of all – Halloween. These Jalapeno Mummies are sure to stand out from the crowd (or buffet table) this fall thanks to drool-worthy smoky bacon and cream cheese filling and layers of buttery pastry. Trust me, they won't last long when entertaining guests so be sure to sneak a few for yourself.
HOW DO YOU MAKE HALLOWEEN JALAPENO MUMMIES FROM SCRATCH?
Prep - Pre-heat the oven to 400 F (200C)
Cut – Cut the jalapenos in half lengthwise and remove the seeds.
Slice & Wrap - Slice the puff pastry into thin strips with a pizza cutter then wrap 2-3 strips around the stuffed jalapenos. Not forgetting to Leave some space for the eyes.

Brush & Bake – Brush the pastry with egg yolk then bake in the oven for 15 minutes.
TIPS AND VARIATIONS
Chill - Be sure to let your jalapeno mummies cool a little before adding the candy eyes, otherwise the eyes can melt which really will be scary!
Wash – Talking of eyes, don't forget to wash your hands thoroughly after handling jalapenos and they can seriously sting your eyes.
Egg Yolk – Don't skip the egg yolk wash as this will leave your pastry looking pale
Filling – Although this bacon and cheese filling is delicious, do not overfill your jalapenos as this will make your pastry soggy and struggle to bake.
Veggie Version – For a vegetarian version, skip the bacon and substitute with onion instead.
Cheese Variations – This recipe uses cheddar cheese as it's better for little ones but if you prefer an extra kick use pepper jack cheese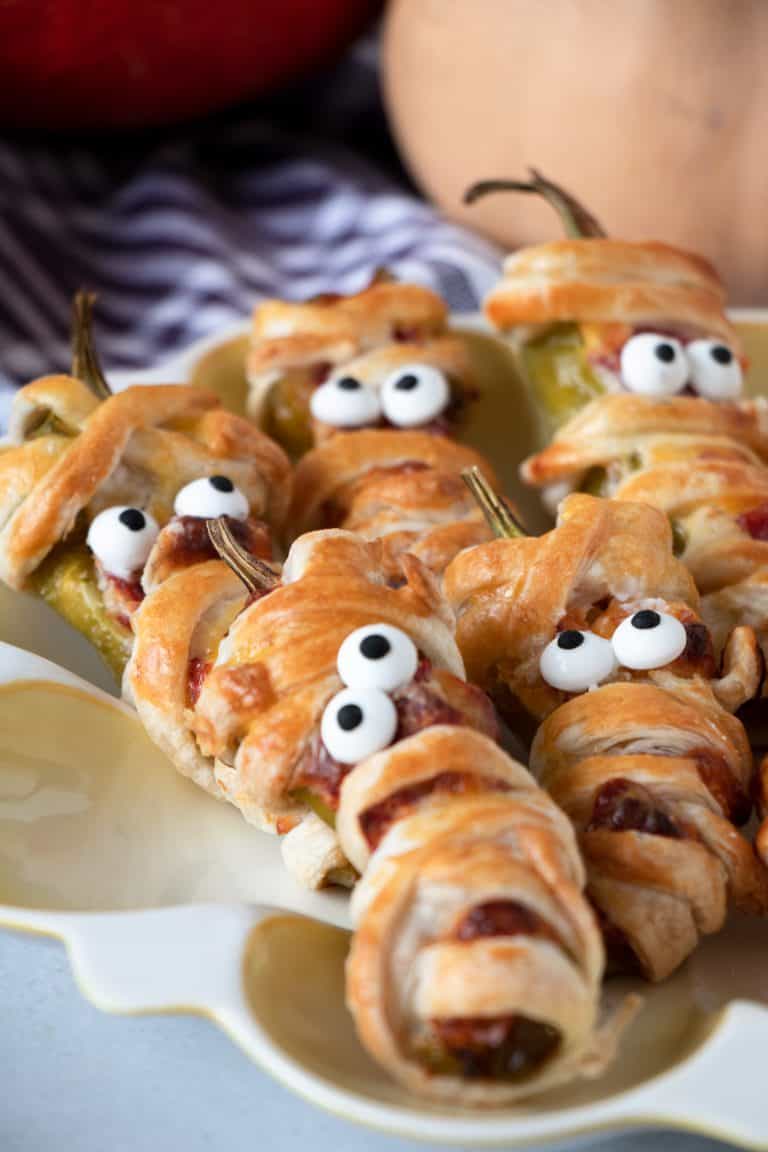 COMMON QUESTIONS ABOUT HALLOWEEN JALAPENO MUMMIES
CAN I MAKE THESE HALLOWEEN JALAPENO MUMMIES AHEAD?
For best results, stuff the peppers with the bacon and cheese mix up to 24 hours ahead, cover and refrigerate. Wrap and bake before your party to ensure crisp, flaky pastry.
WHAT TYPE OF JALAPENOS ARE BEST?
When choosing jalapenos for this recipe, remember you need to stuff them so large peppers free from imperfections work best as they are most likely to stay intact in the oven. If you prefer your poppers pack a punch, leave the white membranes as this is what produces the spice in jalapenos. If you're feeding these jalapeno mummies to kids, it's best to remove all seeds and membranes.
WHAT IF I CAN'T FIND CANDY EYES?
Candy googly eyes can easily be found in the bakery section of most grocery stores. If you're struggling to find locally, try ordering online or checking hobby stores such as Michael's. Alternatively, you can substitute candy eyes for slices black olives.
WHAT IS THE BEST WAY TO REMOVE SEEDS FROM JALAPENOS?
A quick kitchen hack for removing the seeds from jalapenos is to use a grapefruit spoon. If you don't have one to hand, a regular teaspoon will do.
CAN KIDS HELP MAKE THESE HALLOWEEN JALAPENO MUMMIES?
Yes! What better way to get your kids in the spooky spirit than a little Halloween baking. This recipe is easy enough that your little ones can get involved though make sure they wash their hands thoroughly when handling peppers to avoid any itchy eyes.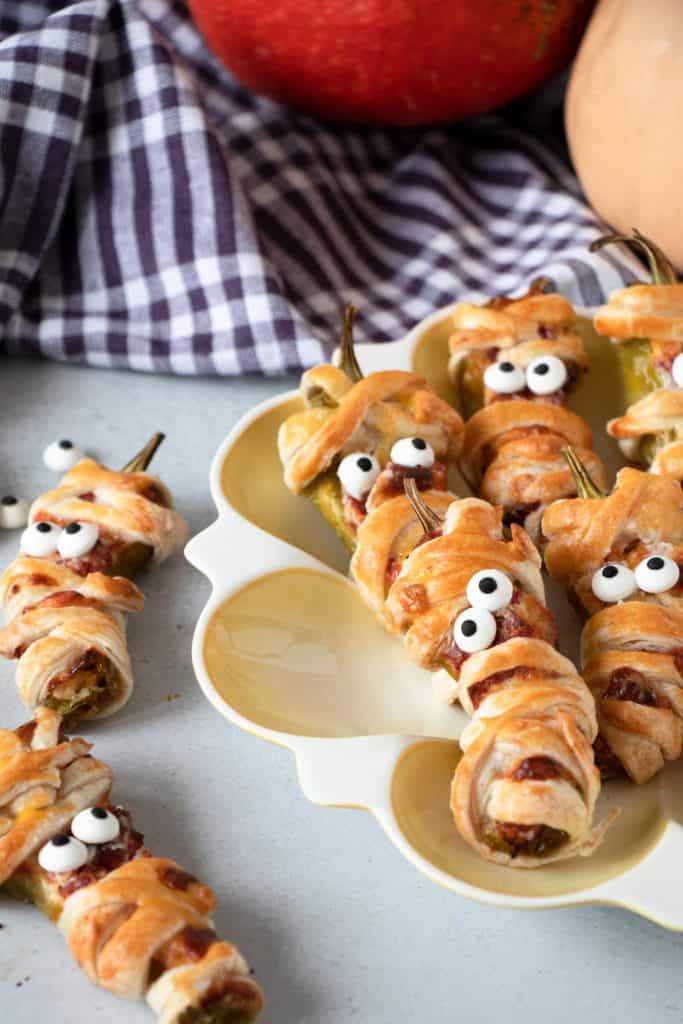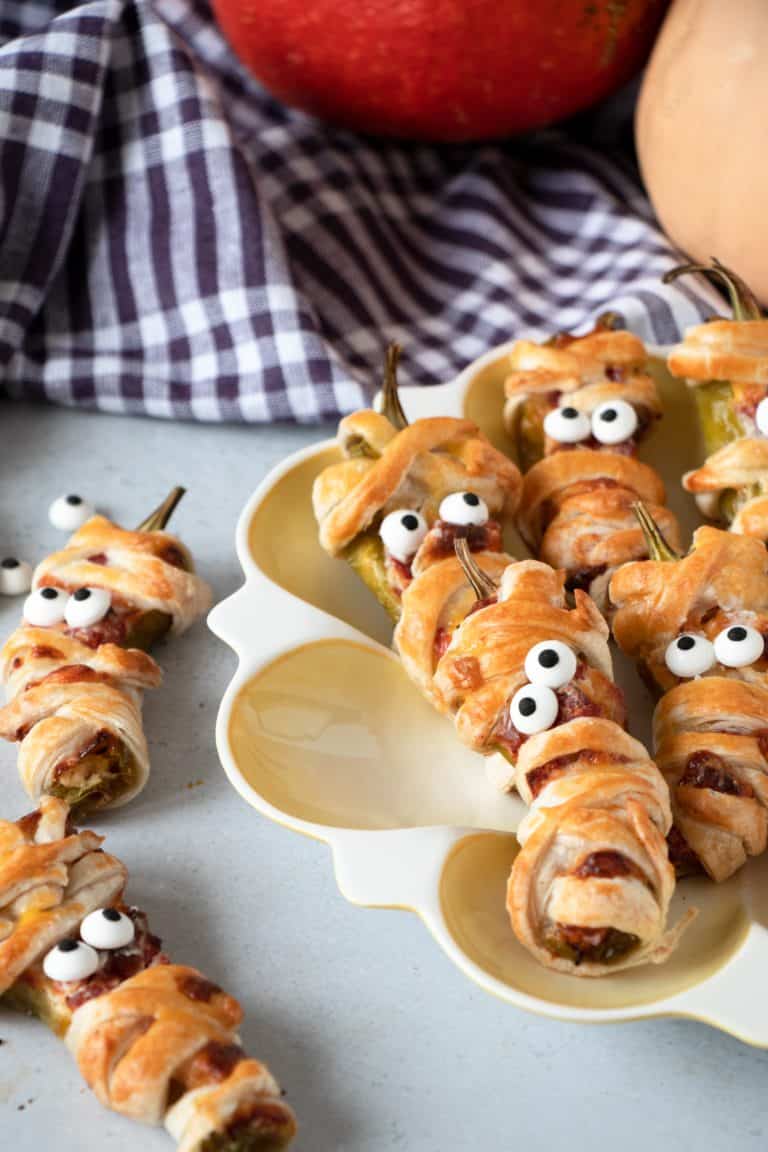 Please feel free to share your experience with making these Halloween Jalapeno Mummies in the comments below or on social media!
MORE HALLOWEEN RECIPES YOU'RE SURE TO LOVE