Thank you Potatoes USA for sponsoring this post. Make a delicious and convenient meal today with potatoes!
These Gruyere Scalloped Potatoes are everything you want in a delicious side dish. Rich with shredded cheese, cream, garlic, and perfectly cooked potatoes!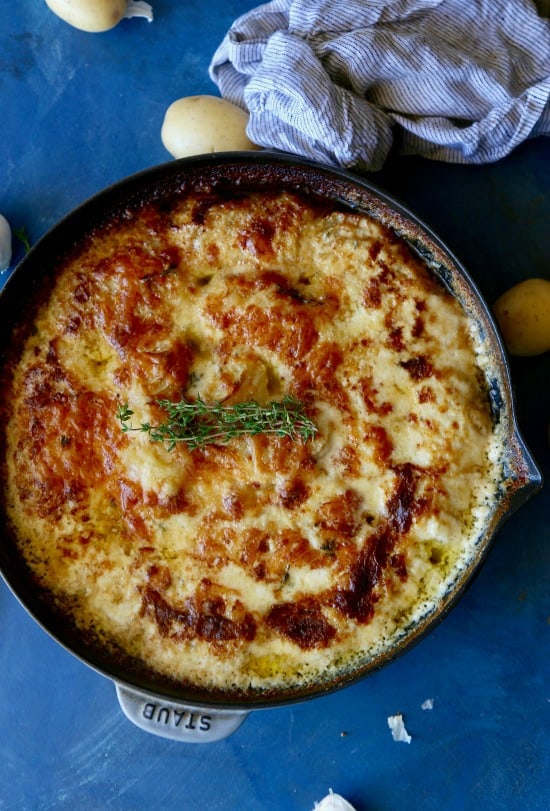 The most important thing I learned during my first year of marriage is that Swiss people love their potatoes. They are served with almost every meal, and my husband quickly taught me that potatoes were an essential part of making him happy. He's a simple man I tell you.
Potatoes are a key staple in every cuisine around the world. And it's not wonder, as there are more than 4,000 varieties of potatoes. They are economical and make a wonderful addition to any meal. What's not to love about them, really?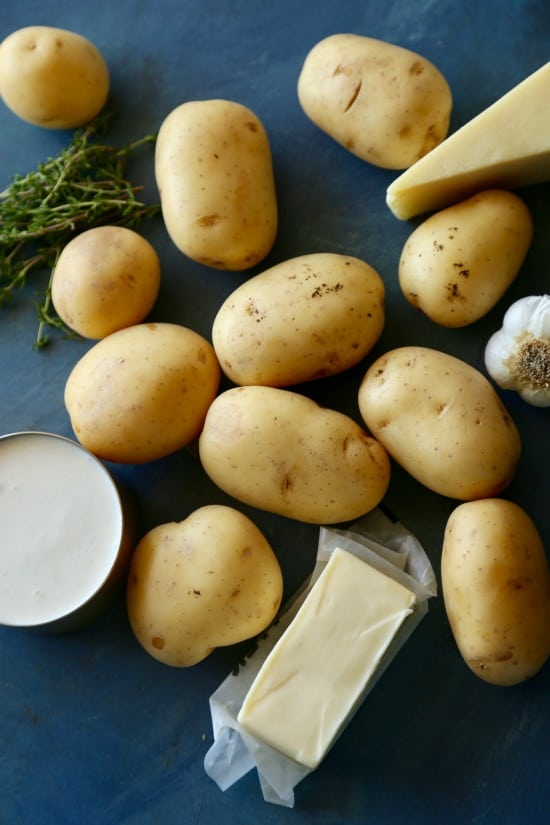 Three Reasons To Love Potatoes
Potatoes are extremely convenient and versatile. They provide a culinary "blank canvas" for almost unlimited possibilities. Serve them the American way, baked with cheese and sour cream, or shred and fry them to make crispy breakfast hash browns.
You can use them as a thickening agent for soups. Here how to do it: simply cook the potatoes in your soup mixture, then remove about a third of the soup, blend until smooth and pour it back in. You will have a thick and creamy soup without any of the added calories of using a cream.
They often get a bad rap, but potatoes are actually nutritious. They are a good source of vitamins C and B6, potassium, magnesium and fiber. Plus they contain no cholesterol, sodium or gluten.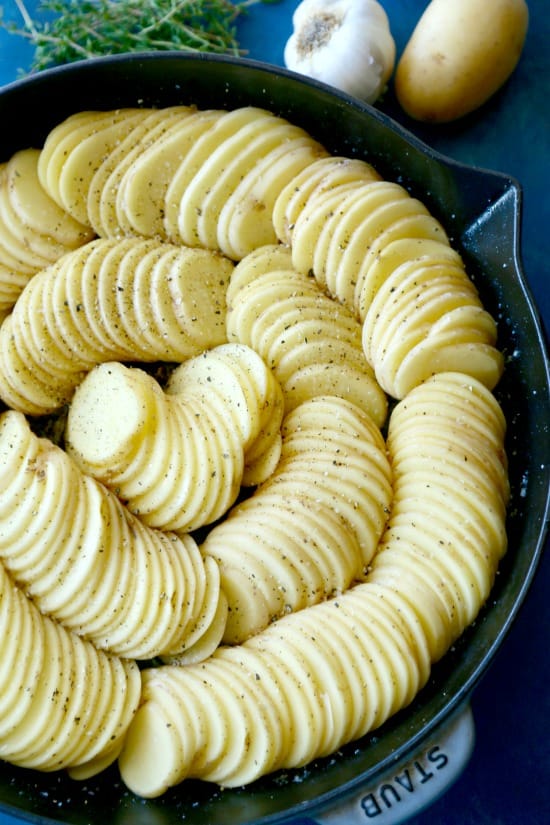 While I love pretty much everything with potatoes, this Gruyere Cheese Scalloped Potatoes dish is my family's absolute favorite. It is rich, garlic-y, and cheesy. I make this dish for almost every holiday. Despite using almost 15 pounds of potatoes each time, there is almost never any leftovers.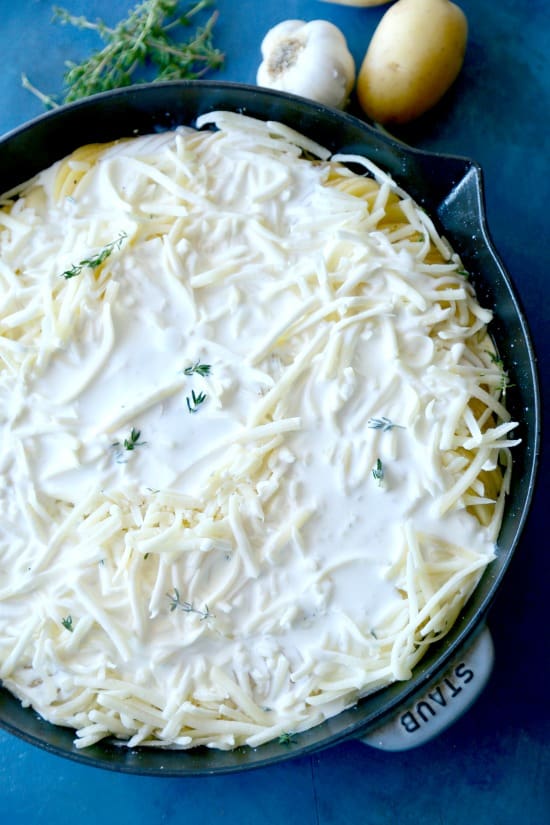 I first had this dish during my exchange year in Switzerland. My host father made the BEST scalloped potatoes ever. He finally taught me how to make it the last month that I was there, and which is when I discovered why his recipe was so delicious. He uses all of the finest ingredients – cream, butter, plus an entire head of garlic.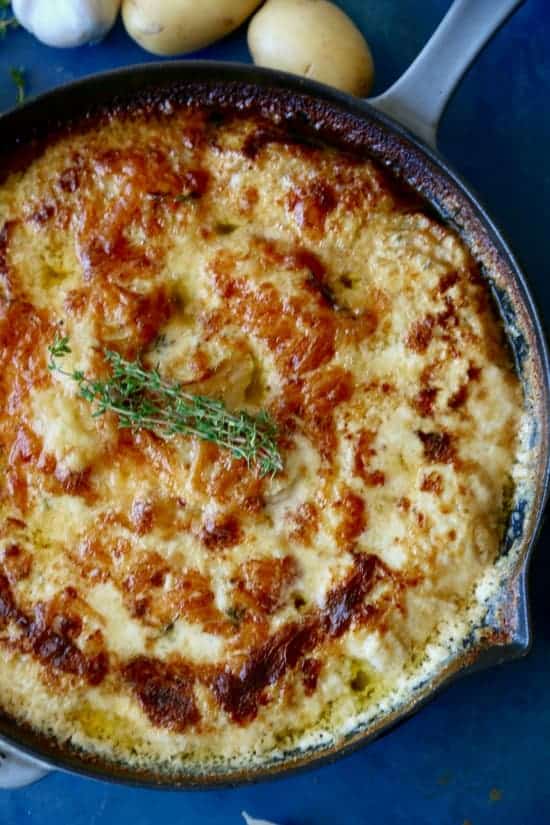 While any potato will work, he always uses white potatoes. This variety hold their shape after cooking and is lightly creamy. The skin is delicate and thin so there is no need to peel! They are also wonderful for mashing.
Tips for Making Gruyere Scalloped Potatoes
Use a mandolin slicer to get your potato slices thin and all the same thickness. Not only will this help ensure your potato pieces all cook at the same rate, it makes for a lovely presentation.
While you can make Gruyere scalloped potatoes in a baking dish, cooking it in a cast iron pan gives the potatoes deliciously crispy edges. Yum!
Using Gruyere cheese gives these scalloped potatoes a creamy, nutty, sweet and slightly salty flavor. However, if you need to substitute with another cheese variety, try Emmental, Jarlsberg or Beaufort.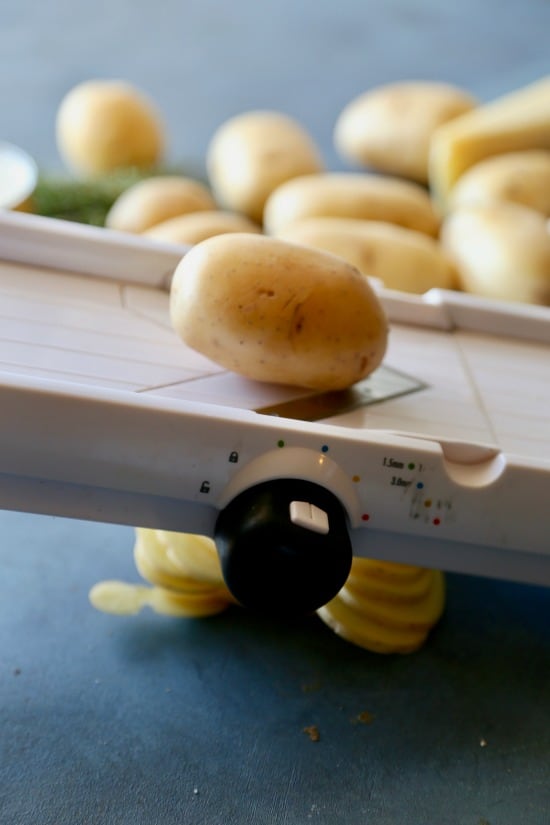 More Delicious Potato Recipes
If you love potatoes as much as my husband (and the rest of my family) does, you'll want to try my recipes for Brown Butter Sage Potato Stacks, these Crispy Pesto Potato Wedges, and this Buffalo Twice Baked Potato recipe.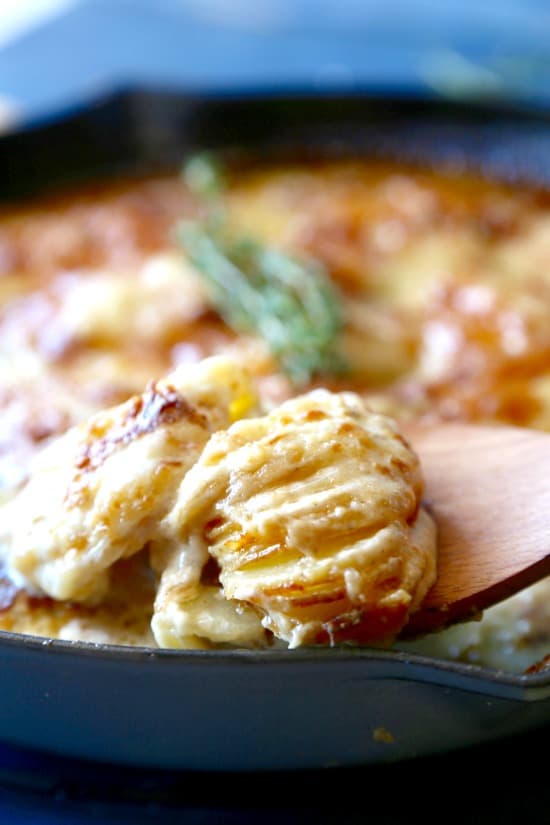 Want to learn more about the might potato? Check out Potato Goodness for more information and fabulous recipes! Make sure to follow them on Facebook too! Enjoy!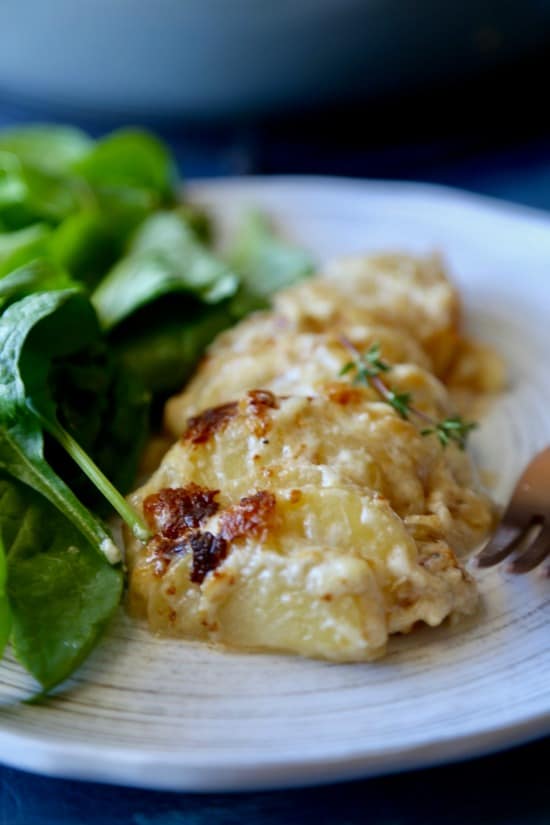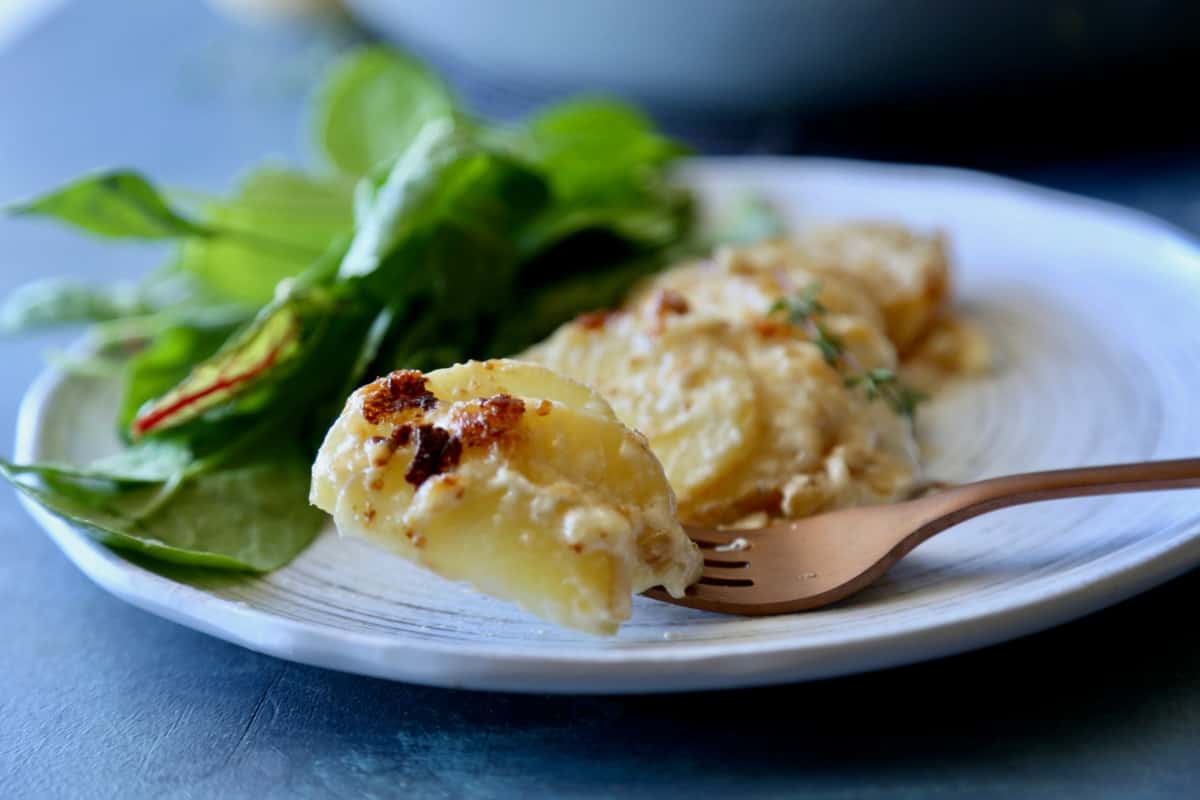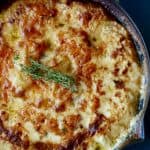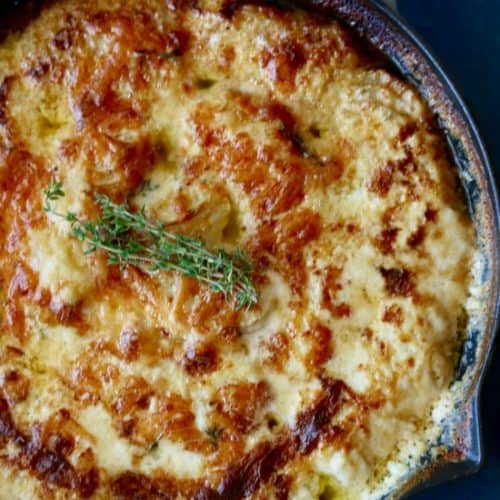 Gruyere Scalloped Potatoes
A cheese-y garlic-y rich potato dish that is mouthwateringly delicious!
Ingredients
3

pounds

potatoes

thinly sliced

1

head garlic

peeled and crushed

4

tablespoons

butter

thinly slice

1

teaspoon

salt

1

teaspoon

pepper

1

teaspoon

fresh thyme

2

cups

Gruyere Cheese

shredded

1 ½

cup

half and half

or whipping cream
Instructions
Preheat oven to 375 degrees F. Lightly grease a 9x13-inch baking dish or a large round cast iron pan.

Layer butter at bottom of pan.

Spread about ⅓ of the potato slices on top of the butter. See notes below for cooking in round pan.

Top with ⅓ of the crushed garlic and ⅓ of the cheese.

Repeat two times with remaining potatoes, garlic, and cheese.

Season the entire dish with salt and pepper.

Pour half and half or cream over top layer.

Cover with foil and bake for 30 minutes.

Remove foil and bake for an additional 20-30 minutes or until potatoes are tender and top is golden.
Recipe Video
Recipe Notes
When I originally wrote this recipe, I wrote it out with the methods I usually use. However when I photographed it, I made it differently. Either way will result in a delicious gratin. 
If using a round pan, simply arrange the potatoes in a circular motion on top of the butter until pan is full. Sprinkle with garlic, cheese, salt, and pepper, then drizzle with cream. Bake until potatoes are golden, bubbly, and tender. 
I was selected for this opportunity as a member of CLEVER and the content and opinions expressed here are all my own.