Turn your fall harvest into a delicious slice of Apple Pear Pie. Brownie points because it makes your kitchen smell amazing while cooking!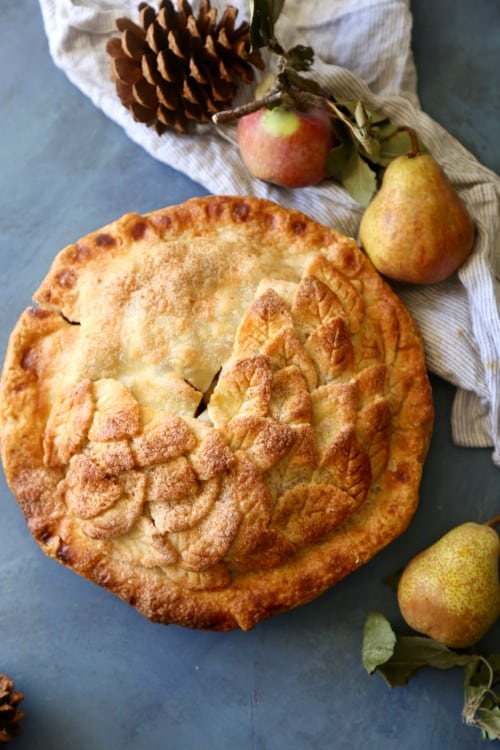 The past few months have been ridicoulsy busy for my husband and myself. With him starting a new business and me being the busiest I have ever been blog wise, we barely see much of each other. In fact, we will sometimes flip a coin to see who gets to work on the weekend and who has kid duty.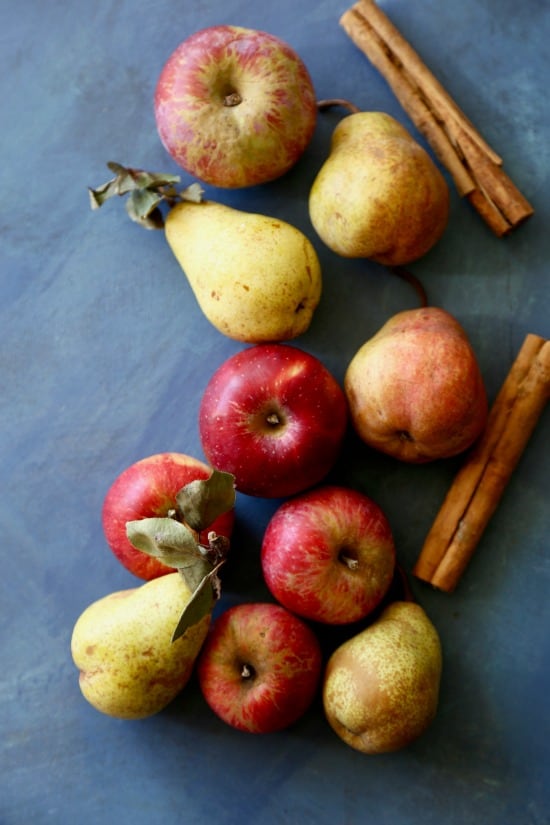 This past weekend, after about 8 weeks of switching off, we declared a mandatory Sunday off and family day. Our kids were getting too used to the weekends on and off with us. We set off early in the morning for a day trip to Julian, Ca. Julian is a big apple growing community. We went to a few different farms and picked (and ate) our weight in apples and pears. We then had lunch, went for some fresh pie, and sampled different ciders. It was a wonderful day that really made us realize that no amount of money can make up for family days like this.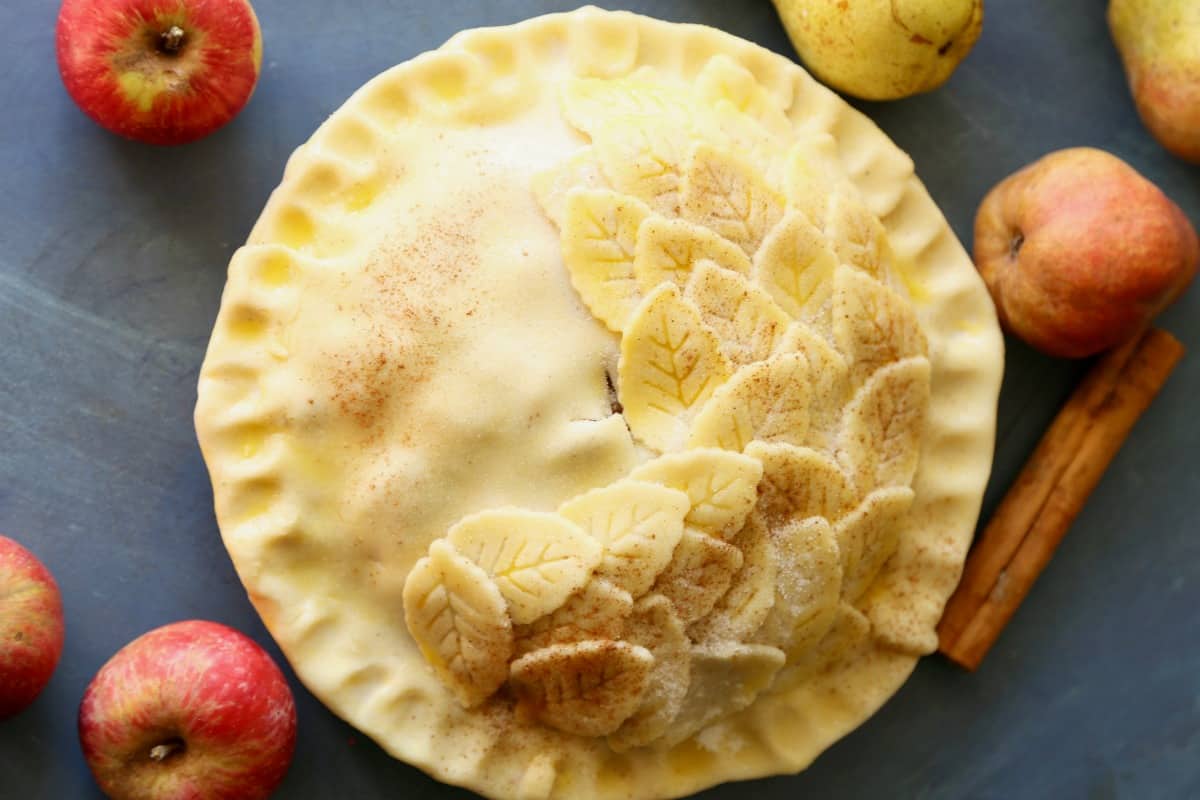 With our massive harvest, I quickly had to come up with quite a few recipes to use up the fruit. While we love eating apples and pears, there are only so much we can eat without our stomachs telling us to stop. That combined with the heat, made it a race to the bottom of the bag to use the fruit before it spoiled.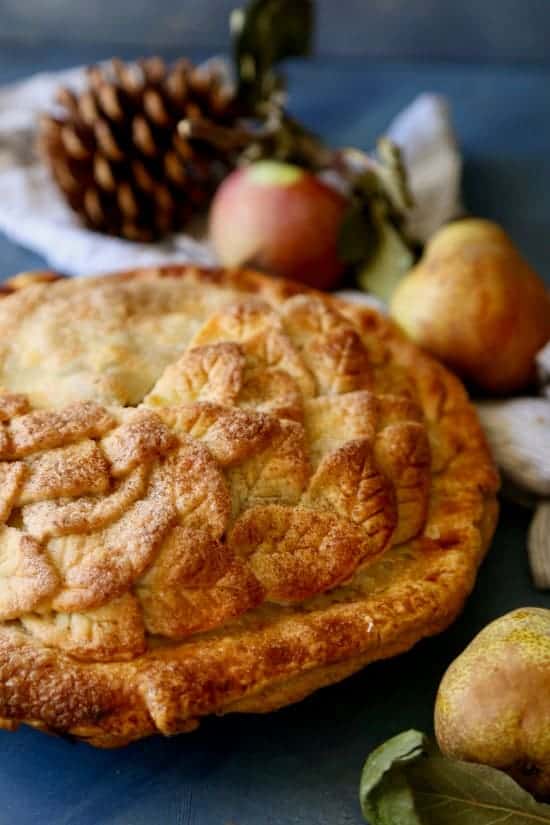 I have made quite a few things including homemade pear cider, apple/pear sauce, and a killer pear spice cake that I will be sharing in the coming weeks. But of course, I couldn't go without making a pie!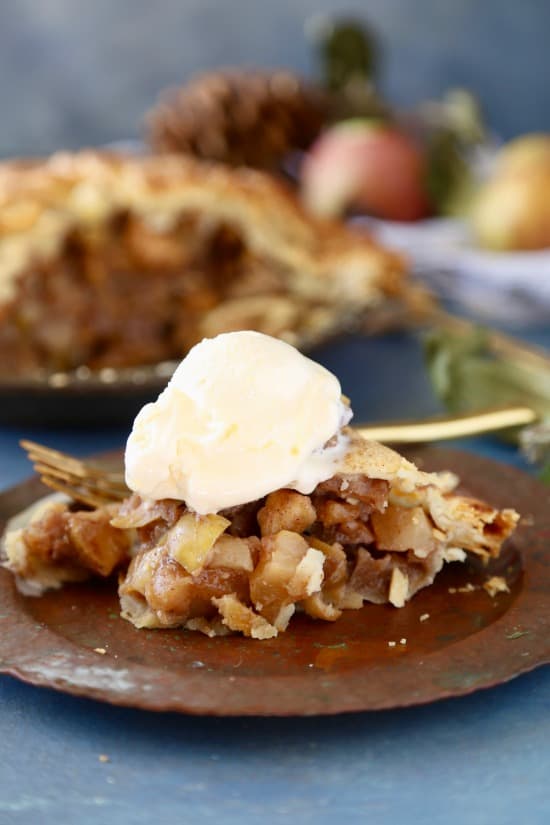 This Apple Pear Pie is everything I want in a fall dessert. Its tender buttery crust, sweet and tart apple pear filling, and delicious aromas from the spices, made it not only delicious, but made my house smell amazing while cooking. Being someone whom is extremely motivated by my sense of smell, the sweet cinnamon and nutmeg smells really got my creative juices rolling.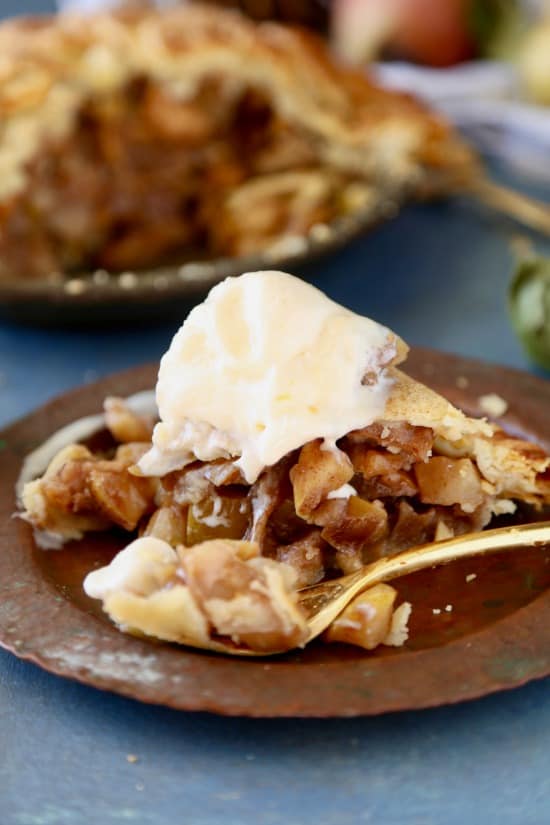 I can't wait to make more fall desserts and start working on my Thanksgiving content. Stay tuned! Watch the video below for visual instructions.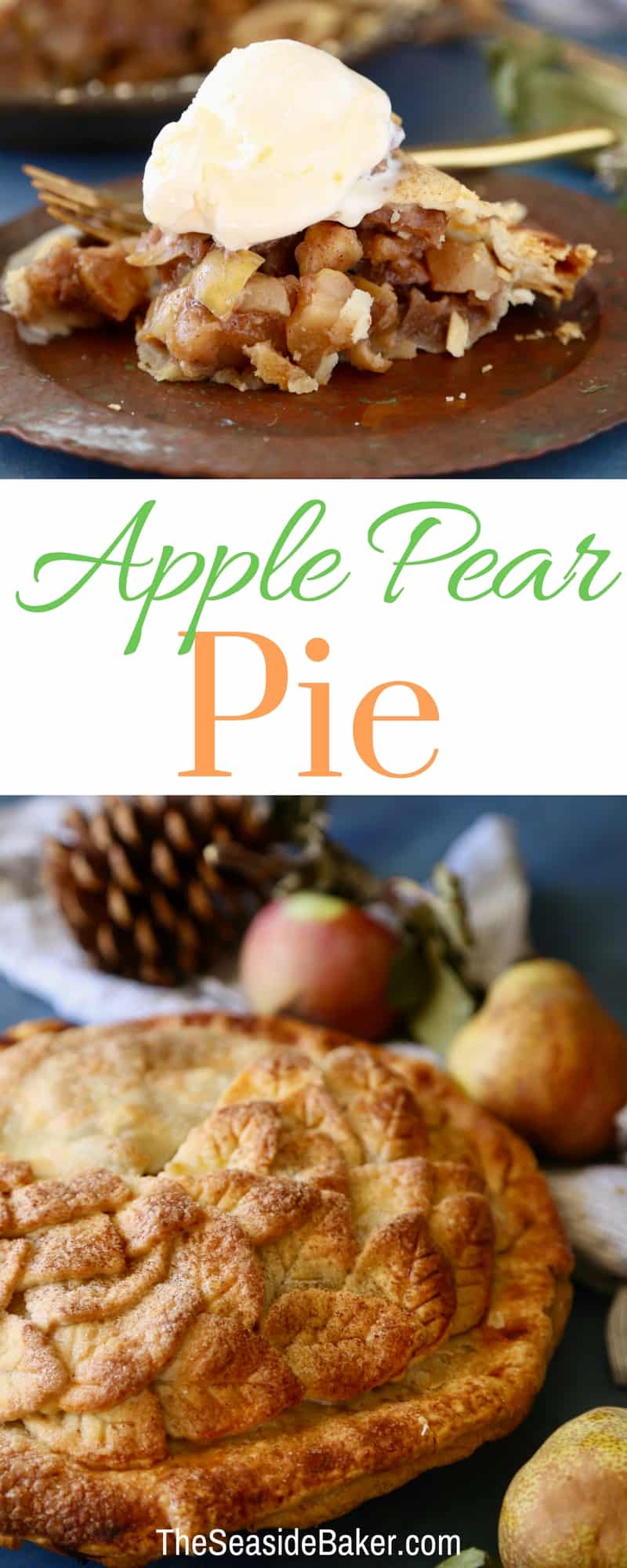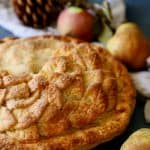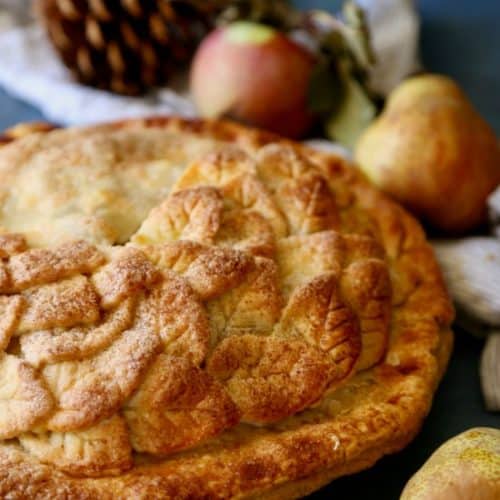 Apple Pear Pie
A simple pie that is full of Fall flavor and perfect for the holidays.
Ingredients
Pie Crust-
2 ½

cups

flour

1

tablespoon

sugar

1

teaspoon

salt

1

cup

butter

very cold, cut into small cubes

¾

cup

ice cold water
Apple Pear Filling-
3

medium ripe pears

peeled and thinly sliced

3

medium tart apples

peeled and thinly sliced

1

cup

sugar

1

teaspoon

lemon juice

1

teaspoon

ground cinnamon

¼

teaspoon

ground nutmeg

3

tablespoons

butter

1

egg

slightly beaten

1

teaspoon

sugar

¼

teaspoon

cinnamon
Instructions
For the crust-
In a large bowl, mix together flour, sugar and salt.

Add your cubed butter and cut it into the dough using a pastry cutter.

When butter and flour have come together forming little pea size clumps, mix in the water.

Once everything is wet, gently knead dough with your hands until it all comes together and there is no flour at the bottom of the bowl.

Separate the dough into two discs and wrap in plastic wrapping.

Refrigerate dough for at least an hour before using, or freeze up to 1 month.

Preheat oven to 350 degrees.

Once cold, roll out dough on a lightly floured surface.

Line a 9-inch pie dish with bottom crust and trim the edges.
For the filling-
In a large bowl, combine the pears, apples, 1 cup sugar, lemon juice, cinnamon and nutmeg.

Pour fruit mixture into crust; dot with butter.

Roll out remaining pie crust disc and cover pie, pinching the top and bottom crusts together to seal.

With excess dough, roll and cut into leaf shapes. Lay on top of top crust.

Lightly brush crust with beaten egg and sprinkle with cinnamon and sugar.

Cover with lightly fitted foil.

Bake for 30 minutes. Remove foil; bake 30-35 minutes longer or until crust is golden brown.

Cool on wire rack before serving.
Recipe Video