Thick double crust with sweet apple pie filling makes these Apple Pie Bars perfect for a crowd! Slice and serve them at your next outdoor BBQ!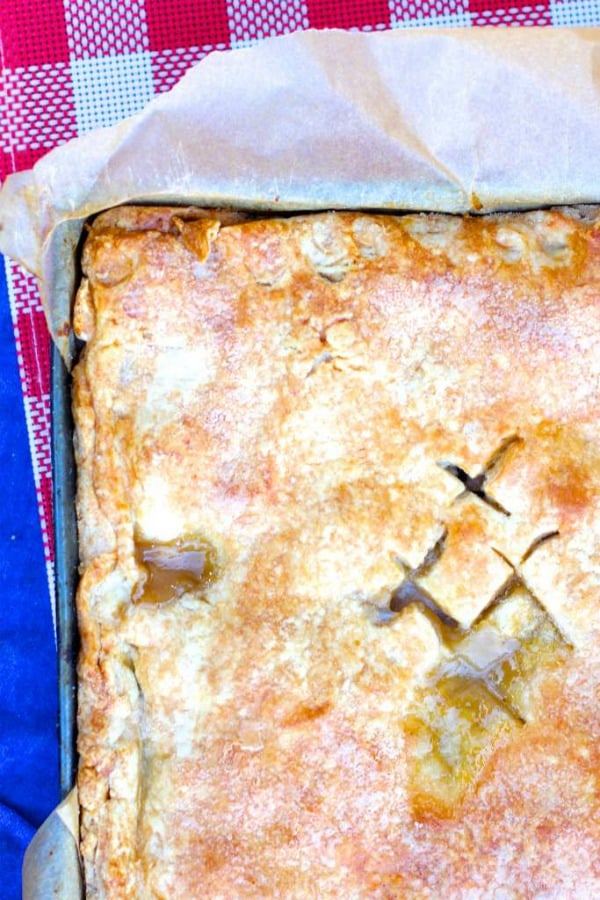 Happy 4th of July! I hope everyone has a fun-filled day with lots of delicious food planned! We are just returning from a week in Vegas and are planning to recuperate from the heat comfortably and quietly at home with some burgers and these Apple Pie Bars.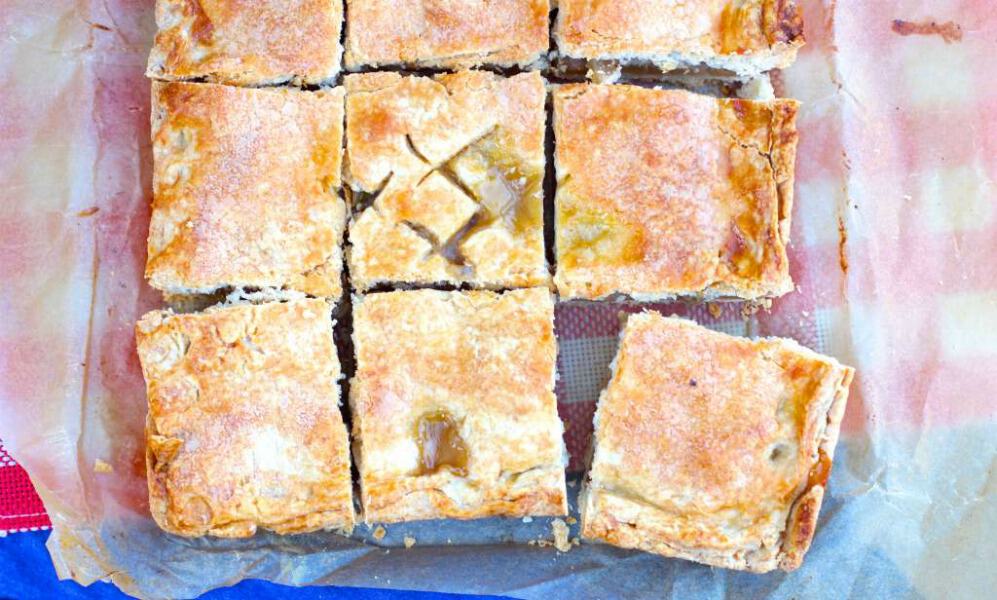 To me, you cannot celebrate the 4th without an All American Apple Pie. But when you are serving a crowd, slicing and serving a pie can be quite cumbersome.
These Apple Pie Bars are perfect for cutting up in advance, allowing people to grab their own piece when they please.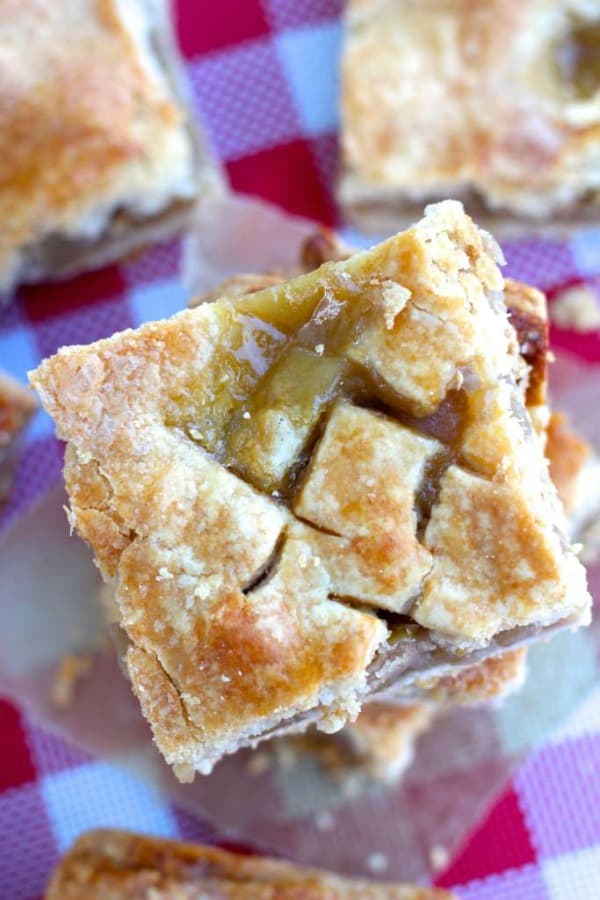 They have everything you want in a slice of pie, in bar form. The flaky crust and thick apple center. Serve it with a large scoop of ice cream and you have the perfect summer dessert!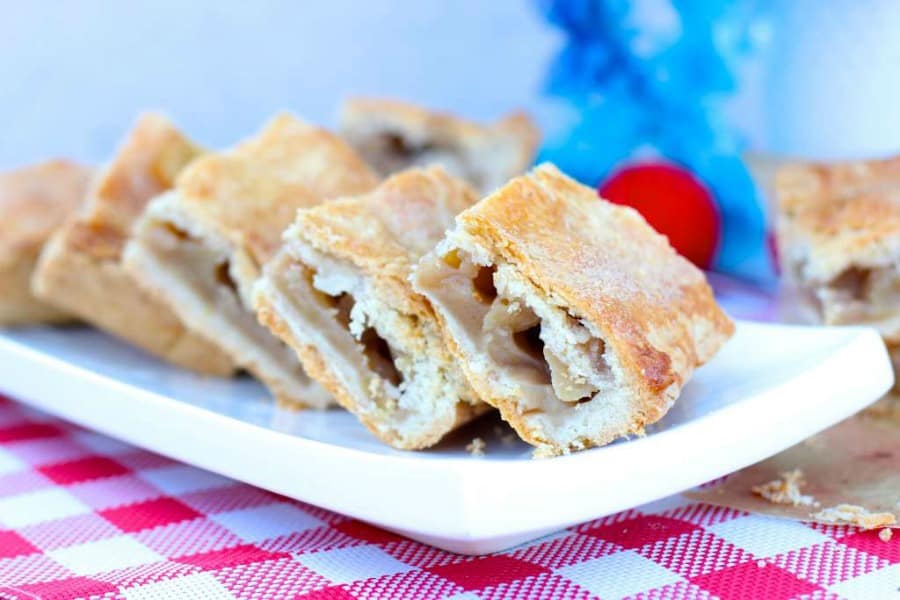 Every year the when the 4th of July hits, it is only a matter of days before my birthday comes. This year, I am hoping the days move very slowly as it they will be the last days of my roaring twenties 🙁
So please excuse while I indulge in an extra cocktail (or three) today (another reason we are staying home).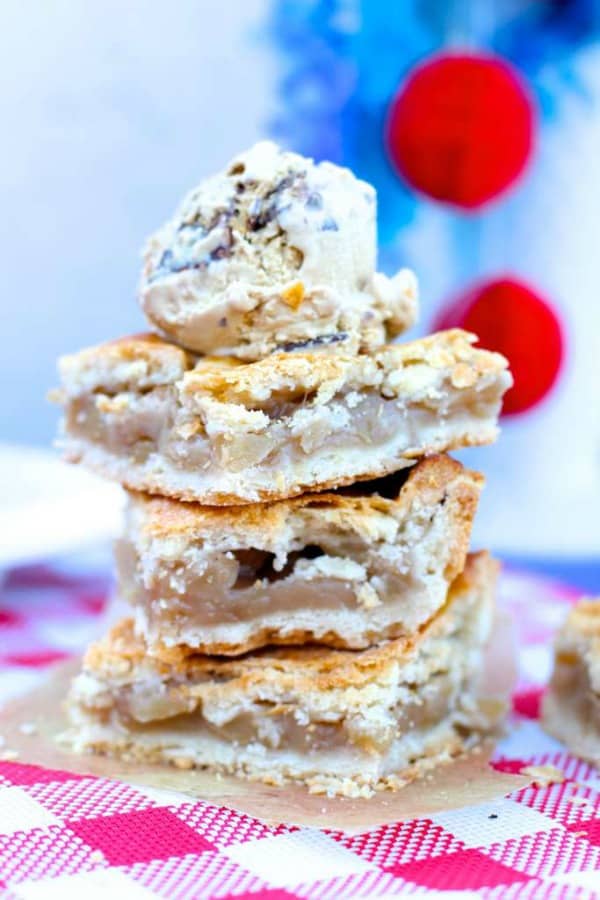 Have a happy and safe 4th of July!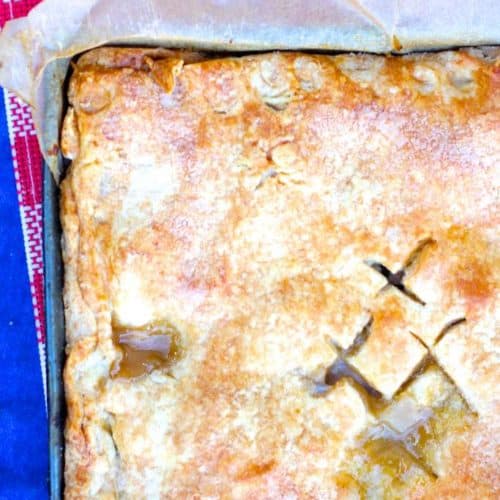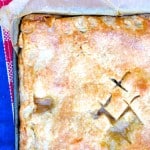 Apple Pie Bars
The All-American Dessert made for a crowd
Ingredients
2

and 1/2 cups of all-purpose flour plus more for rolling

1/2

teaspoon

of salt

1

cup

butter

, cold and cut into 16 slices

2/3

cup

ice water

4

apples

, peeled, cored and diced into small pieces

1/4

cup

butter

1/2

cup

sugar

1/2

cup

apple juice or water

1/2

teaspoon

cinnamon

1

tablespoon

corn starch

2

tablespoons

apple juice or water.

1

egg slightly beaten

1

teaspoon

cinnamon

1

tablespoon

sugar
Instructions
Combine flour and salt in a large bowl or your food processor.

Add butter slices and either cut into flour or pulse until it forms small pea like clumps.

Add ice water and mix until dough forms a large ball (do not over mix). This is best done manually that way the dough is not overworked and will be flaky after baking.

Separate dough into two balls and gently flatten. Wrap disks in plastic wrap and refrigerate for at least an hour.

While your dough is chilling, make the filling.

On medium heat, melt your butter.

Add apples and sauté for about 3 minutes while stirring.

Pour in sugar, apple juice and cinnamon and allow to simmer until apples are soft on medium low heat, about 10 minutes.

Combine 2 tablespoons apple juice or water with corn starch to for a paste.

Add paste to apple mixture and stir until thick.

Once the filling is nice and thick, remove from heat and bring to room temperature.

Preheat oven to 350 degrees and line one 8x8 inch square baking dish with parchment paper.

On a clean, floured surface roll out your dough disks into a large square, about 1/4 inch thick.

Lay first dough square in the pan with edge hanging slightly over the sides.

Pour filling into crust.

Top filling with second dough square and gently press to seal with bottom dough.

Cut of remaining dough.

Make a small crisscross cut in the center of the dough.

Beat egg with a fork, and baste the top of the pie.

Sprinkle with cinnamon and sugar.

Bake pie until crust is brown and apples are cooked, about 40-50 minutes.

Allow to cool completely before cutting into small squares.

This recipe makes about 12 bars.