This one bowl Quick Rhubarb Cake is extremely simple to make and even easier to eat! You will want to make it over and over again!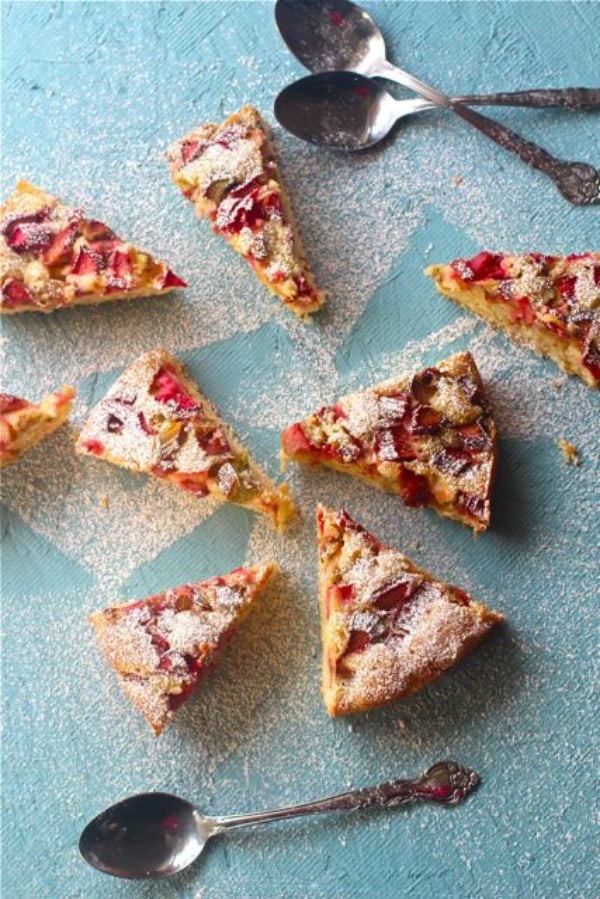 I think that my husband's grandparents were trying to scare me away the first time I met them. However, I don't think it was intentional because his grandmother is one of the sweetest ladies ever.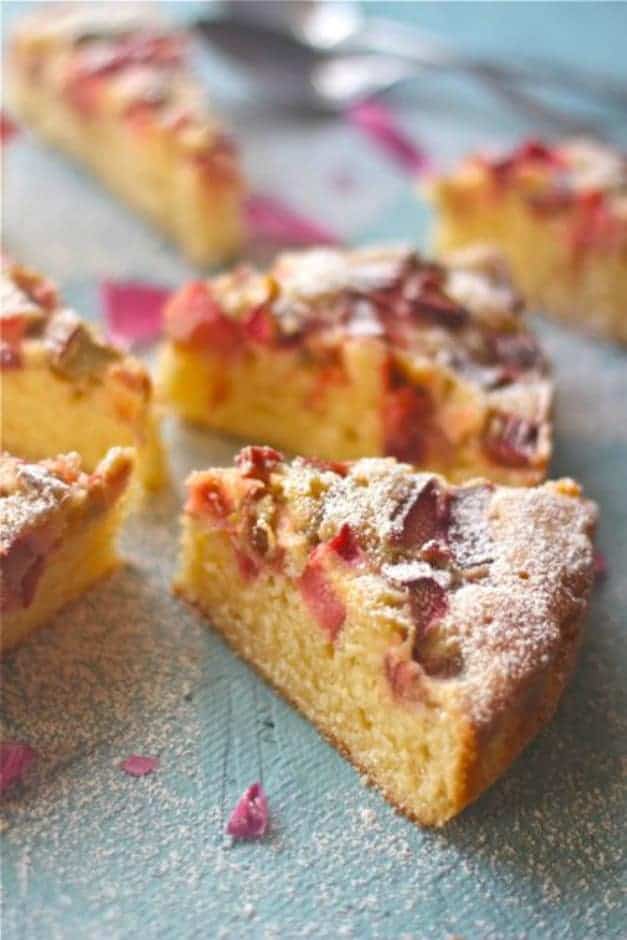 They invited us over for lunch. When we sat down to eat, she placed a huge platter in the center of the table. My face immediately turned white, as I realized what it was. A big whole, like just cut from the mouth, cow's tongue. Taste buds and all. I was always taught to eat what was served in order to not offend the hostess but, I couldn't do it this time, I just couldn't. Thankfully, my husband made some excuse for me in slang French, which I could barely understand with their farmer accent.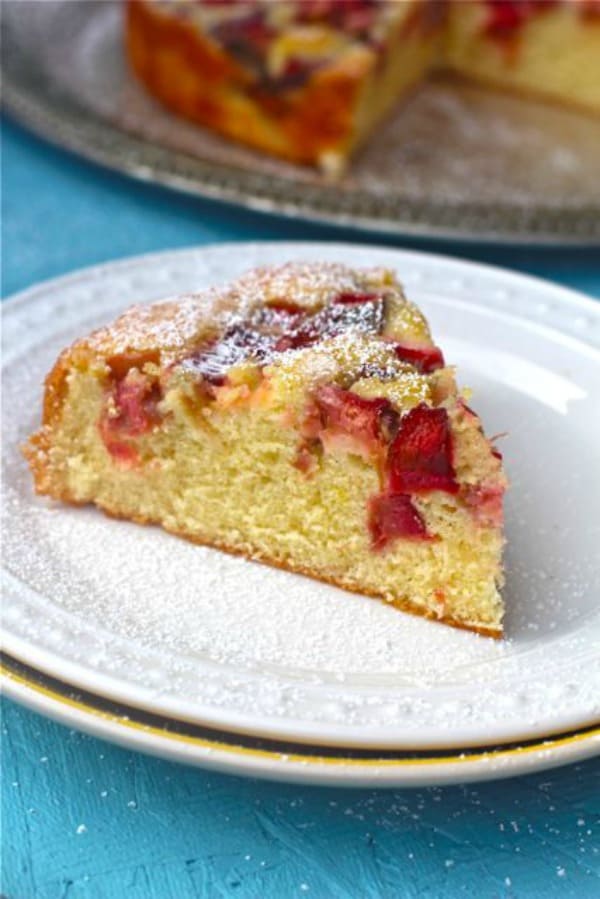 Then, she served this cake. I had never had rhubarb before, and was extremely skeptical after what she had served for lunch. To my surprise, I really liked it. Rhubarb is a bit sour but is a perfect combination with a sweet vanilla cake. Before we left I asked her for the recipe. His grandmother is almost 90 years old, so her recipes consist of a coffee cup full of this and a spoonful of that. But hey, it works!
After 4 years of trying, my Rhubarb plant finally took last year and now I have hundreds of stalks. I knew that the first thing I was going to had to be this cake. My husband was super stoked too because he hasn't had this cake since the last time he saw his grandmother over a year ago.

In French, the cake is called "Gateau Vite Fait", which means "Quickly Made Cake". It is really simple, and only takes about 15 minutes to prepare and 30 minutes to cook. It can be served warm or at room temperature. The cake portion is light, fluffy and streaked with vanilla bean which contrasts beautifully with the slightly sour rhubarb. It's no wonder it is one of the most popular recipes on the blog!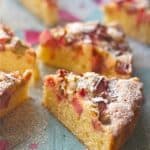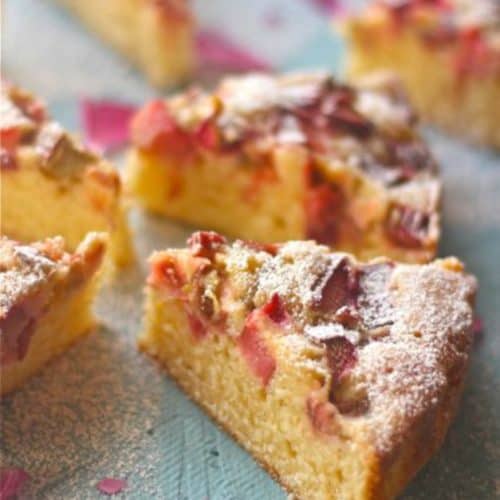 Quick Rhubarb Cake
This one bowl Quick Rhubarb Cake is extremely simple to make and even easier to eat! You will want to make it over and over again!
Ingredients
⅔

cup

granulated sugar

, plus 2 tablespoon for top of rhubarb

3

eggs

3

tablespoons

butter

, melted

2

tablespoons

milk

or buttermilk

1

teaspoon

vanilla or vanilla bean paste

1

cup

plus 2 tablespoon all-purpose flour

¾

teaspoon

baking powder

pinch of salt

2

cups

diced rhubarb
Instructions
Preheat oven to 350 degrees F.

In a bowl mix eggs and ⅔ cup of sugar until light.

Add melted butter, vanilla, and milk.

Stir in flour, baking powder and salt and mix to combine.

Pour into a 8 or 9 inch cake pan that has been sprayed with nonstick cooking spray.

Spread diced rhubarb around the top of the batter and sprinkle with 2 tablespoon sugar.

Bake at 350 degrees for 30 minutes or until a knife comes out clean.
Recipe Video