Strawberry Angel Food Cake is a light cake layered with whipped cream and fresh strawberries. It's the perfect summer dessert!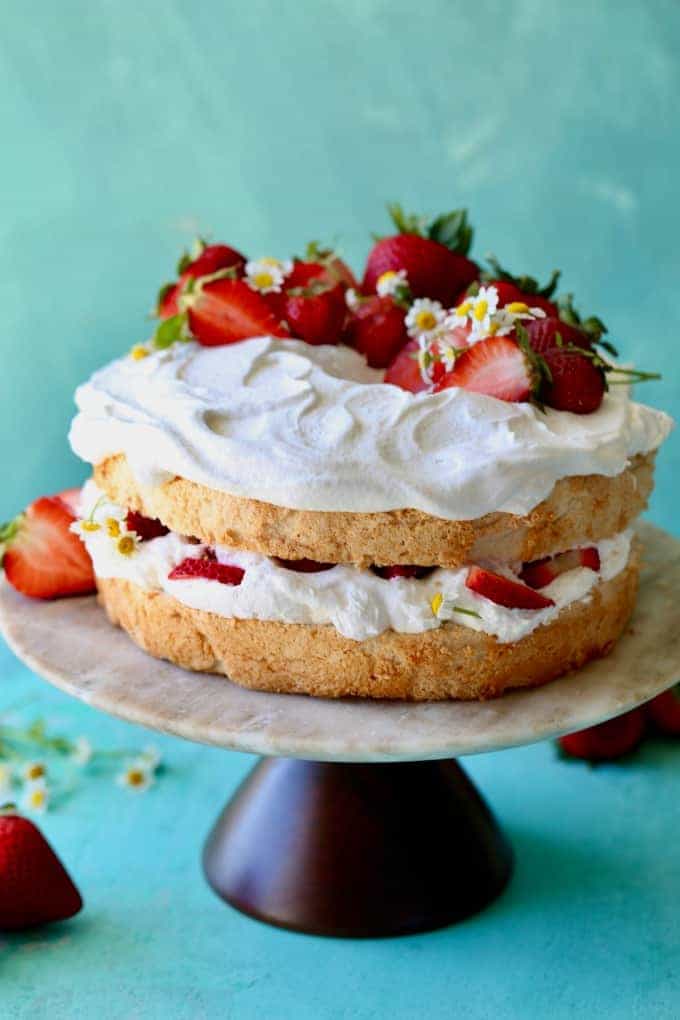 If you're looking for a light and easy dessert to take to summer gatherings, this Strawberry Angel Food Cake is it! Light, delicate, and moist homemade angel food cake is layered with whipped cream and oh-so-yummy fresh strawberries to create summer dessert perfection.
Why Homemade Angel Food Cake for Strawberry Angel Food Cake?
Technically, you can make this dessert with a storebought angel food cake. It will save you time and you'll have Strawberry Angel Food Cake ready to go in no time at all. If you're in a huge time crunch, I say go for it! But if you have the time (just a few minutes to prep and 30-35 minutes to bake), homemade angel food cake is where it's at.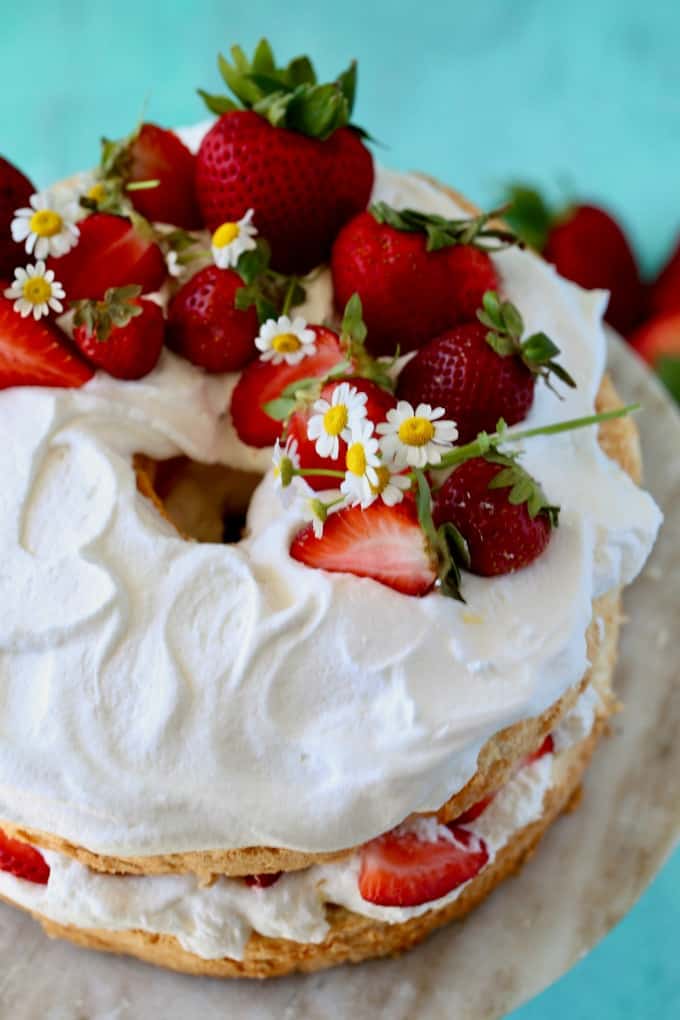 It's like the difference between eating eggs from the grocery store versus eggs from the farmer's market. They may look the same on the outside, but farmer's market eggs just taste so much better. Homemade angel food cake is the same way. You just can't beat the flavor!
The History of Angel Food Cake
Other than "one of the best desserts ever" (personal opinion!), angel food cake is a dessert that originated in the United States in the late 19th century. It is a butterless cake that instead uses whipped egg whites to give it its form. Angel food cake acquired its name when people began to refer to it as "the food of the angels" due to its light texture.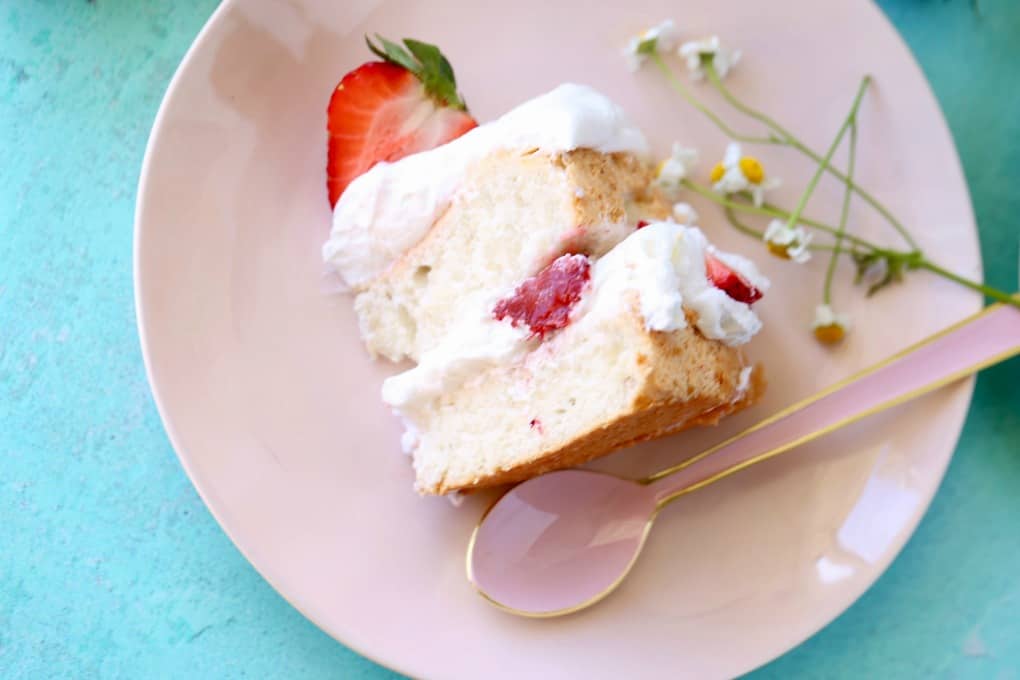 Strawberry Angel Food Cake is the Perfect Summer Dessert
I hope you love this light, fluffy, and delightful summer dessert! It's the perfect dessert to serve at the end of a wonderful night outside enjoying the warm weather.
If you like this recipe, you'll also like my Strawberry Shortcakes in a Jar. Although strawberry shortcake traditionally uses biscuits or pound cake, I used angel food cake instead. Because it uses strawberries and whipped cream, it's like a mini version of this Strawberry Angel Food Cake recipe. Enjoy!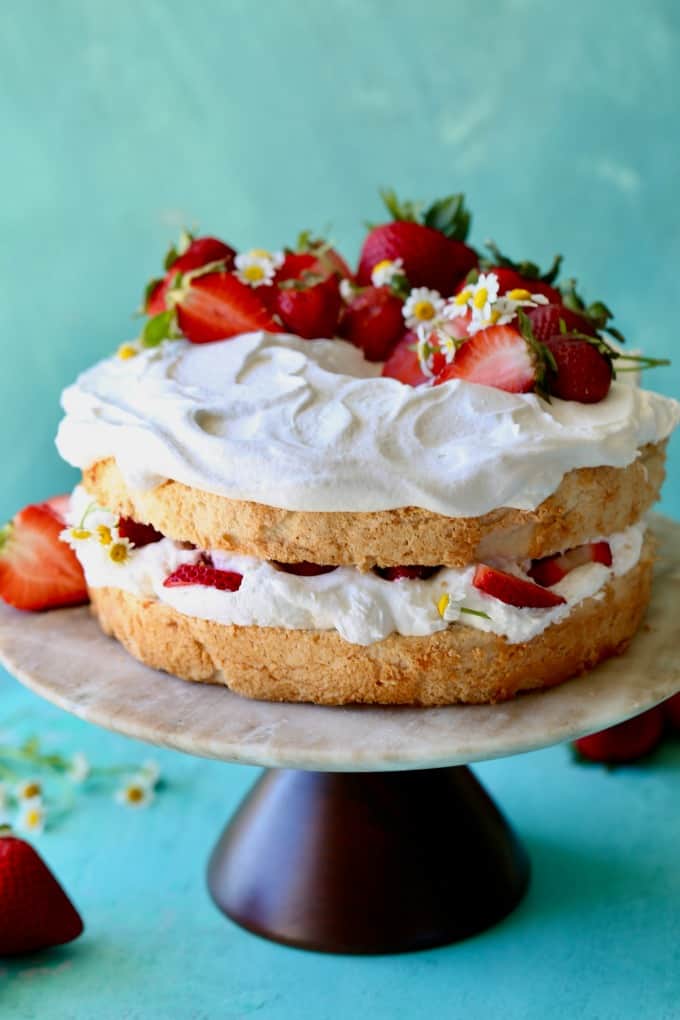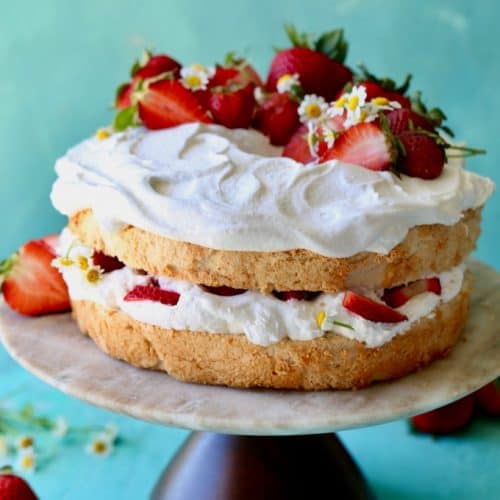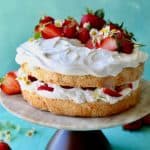 Strawberry Angel Food Cake
A light cake layered with whipped cream and fresh strawberries
Ingredients
1

cup

cake flour

3/4

cups

white sugar

divided

1/4

teaspoon

salt

1 1/2

cups

egg whites

approximately 12 eggs

1 1/5

teaspoons

cream of tartar

1/2

teaspoon

vanilla extract

1/2

teaspoon

almond extract

optional

1

tub frozen whip cream

thawed

1

pint

strawberries

sliced
Instructions
Preheat oven to 375 degrees.

Sift cake flour and 2 tablespoons sugar together in a large bowl; set aside.

Using an electric beater, beat egg whites, cream of tartar and salt until it soft peaks form.

Add the remaining sugar slowly, then beat on high until stiff peaks form.

Fold flour mixture into the egg whites, making sure to fold in the sides and bottom of the bowl thoroughly.

Spoon batter into ungreased tube pan.

Bake 30-35 minutes or until top springs back when touched lightly with finger.

Cool upside down on cooling rack for at least an hour before removing from pan.

To remove the cake from your pan run a knife around the rim of the tube pan, then invert onto cooling rack to cool completely.

Once cool, slice in half and layer with half of the whipped cream and sliced strawberries.

Top with remaining half, whipped cream, and strawberries.

Slice, serve, and enjoy!