Tired of the same old side of french fries? Then Crispy Pesto Potato Wedges are the answer! These crispy golden seasoned potatoes are made even more flavorful with the addition of fresh pesto.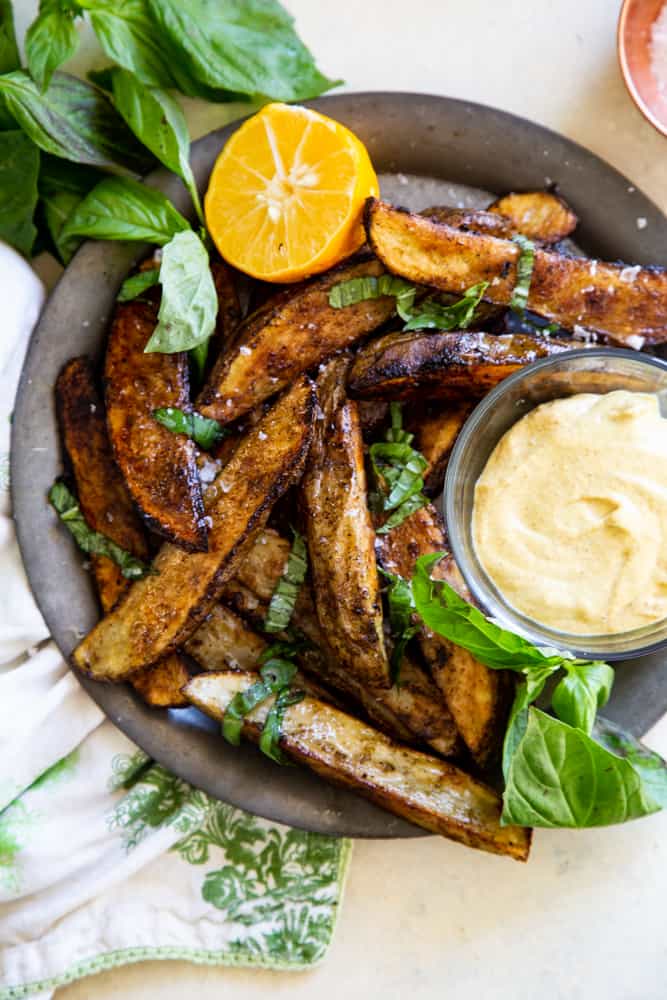 While we love to snack on them alone (or with a side of aioli for dipping), Crispy Pesto Potato Wedges are also the perfect partner for burgers, steaks and chicken. Just the thing to perk up your taste buds!
Fast food fries can not even begin to compare to a batch of these homemade crispy potato wedges with pesto sauce!
This easy recipe is perfect for busy weeknights because it's so quick and to prepare, and tastes like the ones you get from restaurants despite being made in the oven and not deep-fried. If you're a fry fan like us, check out our Quick and Easy Carne Asada Fries.
The pesto flavor in the wedge potatoes is what really takes them over the top. It adds an element of freshness to this potato recipe that we're sure you'll love!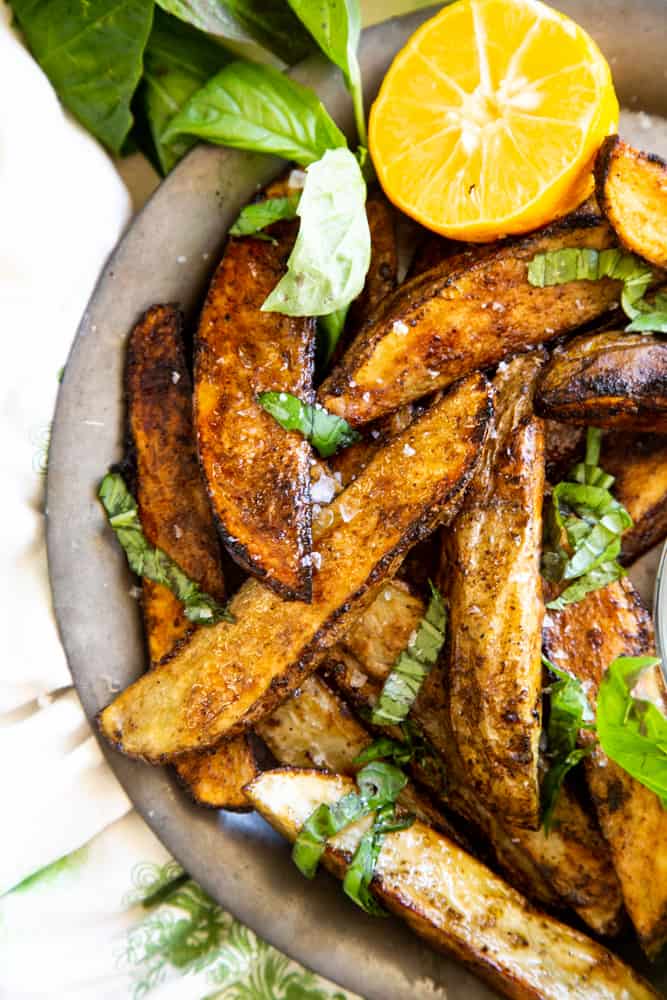 WHY WE LOVE THESE CRISPY PESTO POTATO WEDGES
Super easy to make! Whether you use the oven or the air fryer, this crispy potato wedge recipe will become your new favorite side dish or in my case, the main dish!
Full of flavor- With a layer of homemade pesto sauce, combined with flaky salt and a dollop of garlic aioli, you have multiple layers of flavor in every bite.
Great for meal prep- These pesto potatoes give a flavor addition to your meal prepped boxes. They also add healthy fats with the pesto and a delicious carbohydrate side.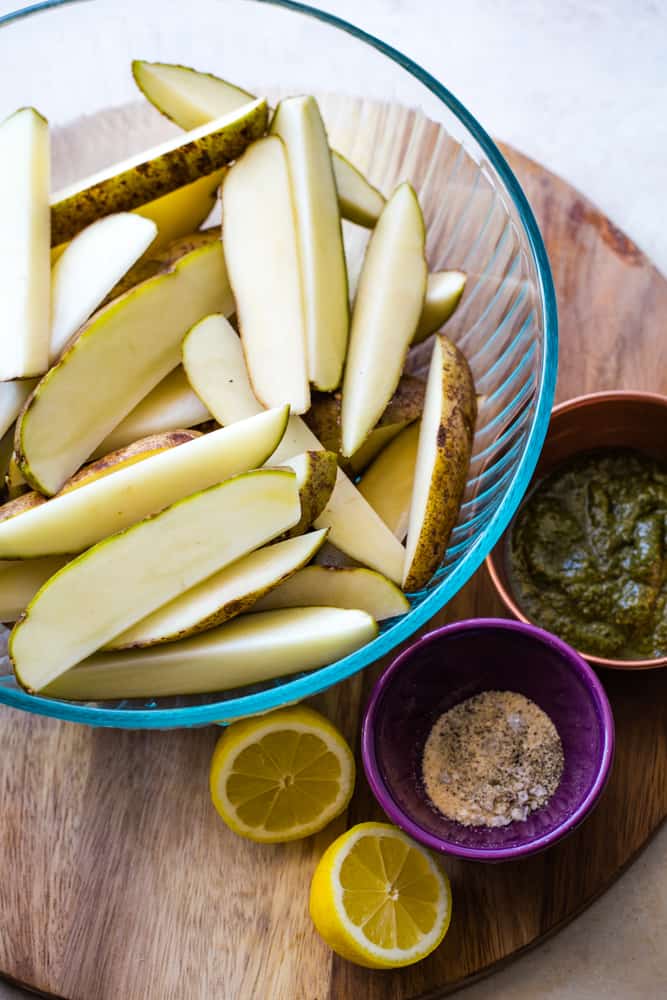 INGREDIENTS TO MAKE THESE CRISPY POTATOES
Russet potatoes scrubbed and sliced into wedges
Olive oil
Garlic powder
Onion powder
Sea salt
Ground black pepper
Pesto
Lemon juice
GARLIC AIOLI INGREDIENTS
¾ cup mayonnaise
3 cloves garlic, minced
2 ½ tablespoons lemon juice
¾ teaspoon salt
½ teaspoon ground black pepper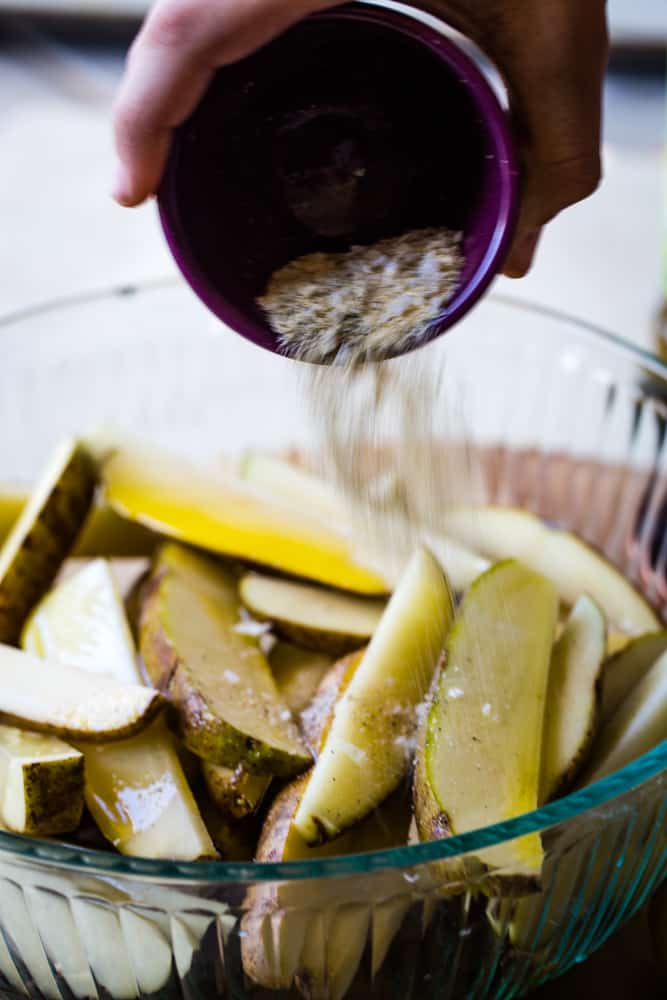 HOW TO PREPARE THESE CRISPY PESTO POTATO WEDGES IN THE OVEN AND AIR FRYER.
With only a few potatoes and some pantry ingredients, you can whip up a batch of these potatoes for quick and easy weeknight meals, meal prepping, or just as an appetizer while you watch Sunday football!
STEP ONE- MAKE THE AIOLI
Add all aioli ingredients to a medium sized bowl, then whisk to thoroughly combine. If possible, refrigerate for at least half an hour to allow the flavors to develop fully. PRO TIP- Aioli can be made up to 2 days ahead of time.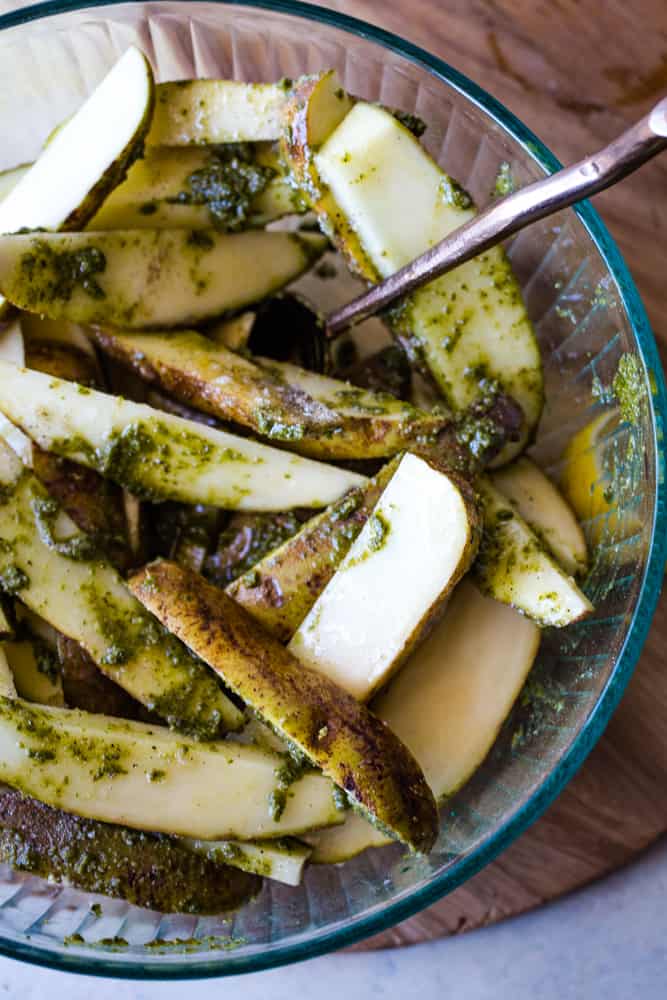 STEP TWO- PREPARE THE POTATOES
Scrub the dirt off of the potatoes. Cut potatoes in half lengthwise, then cut each half in half lengthwise, and finally cut each quarter in half lengthwise. You will have 16 wedges. Place potato wedges in a large bowl. Toss olive oil, spices, pesto, and lemon juice with potatoes until wedges are coated. Arrange potato wedges onto a foil or parchment paper lined pan in a single even layer (if baking).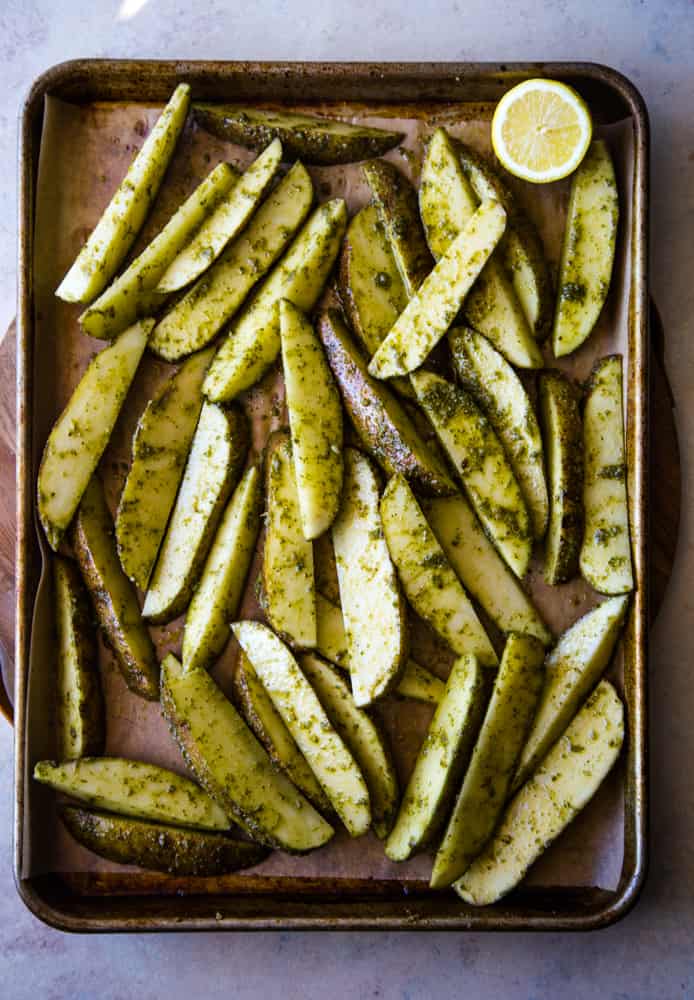 STEP THREE- BAKE OR AIR FRY
To bake, preheat oven to 400 degrees F. Bake wedges for 15-20 minutes, then flip each wedge. Bake for an additional 10-15 minutes or until wedges are a crisp golden brown.
To Air Fry, Preheat an air fryer to 400 degrees F. Place ½ of the potato wedges in the basket of the air fryer and cook for 10 minutes. Flip wedges with tongs and cook for an additional 5 minutes.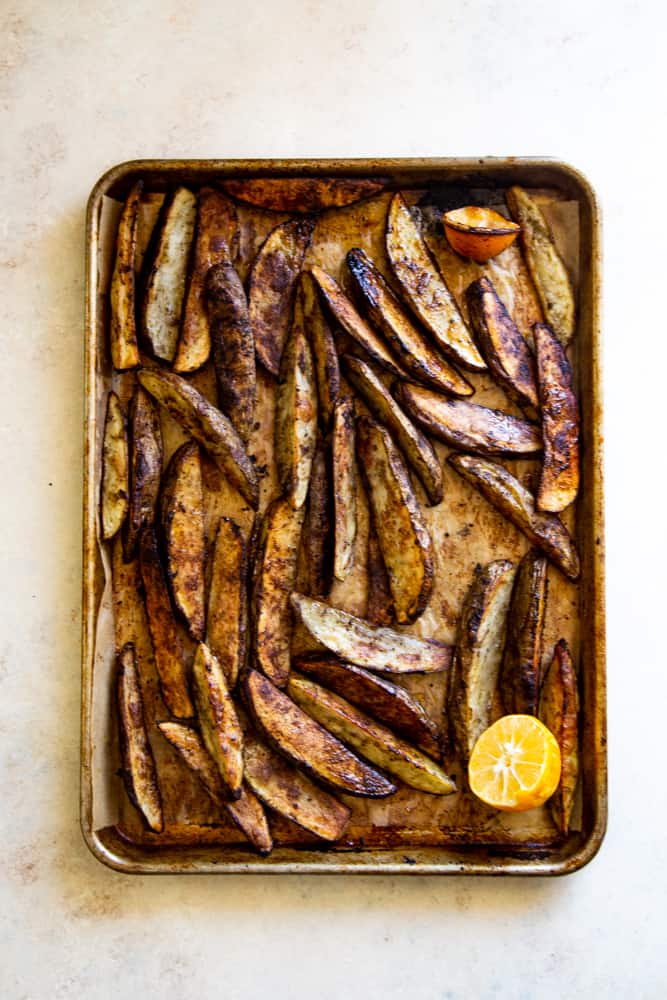 SUBSTITUTIONS AND ADDITIONS
Extra crispy potatoes- if you like you potatoes fork tender but with a bit of extra crisp, soak the wedges in cold water for 30 minutes (or up to 24 hours) before preparing. This helps the potatoes release their starches and makes them extra crispy.
Change up the kind of potatoes- We prefer the size of russet potatoes but Yukon Gold potatoes or even sweet potatoes will work with this easy side dish.
Add some spice! If you like a bit of spice, add a dash of chili powder, cayenne pepper, or red pepper flakes to the spices before baking.
Garnish- We like to add some freshly grated parmesan cheese and chopped fresh parsley to the wedges while they're still warm. And of course don't forget to sprinkle them with flaked sea salt or kosher salt!
Serve with the aioli, an extra dollop of pesto, or ketchup, if desired.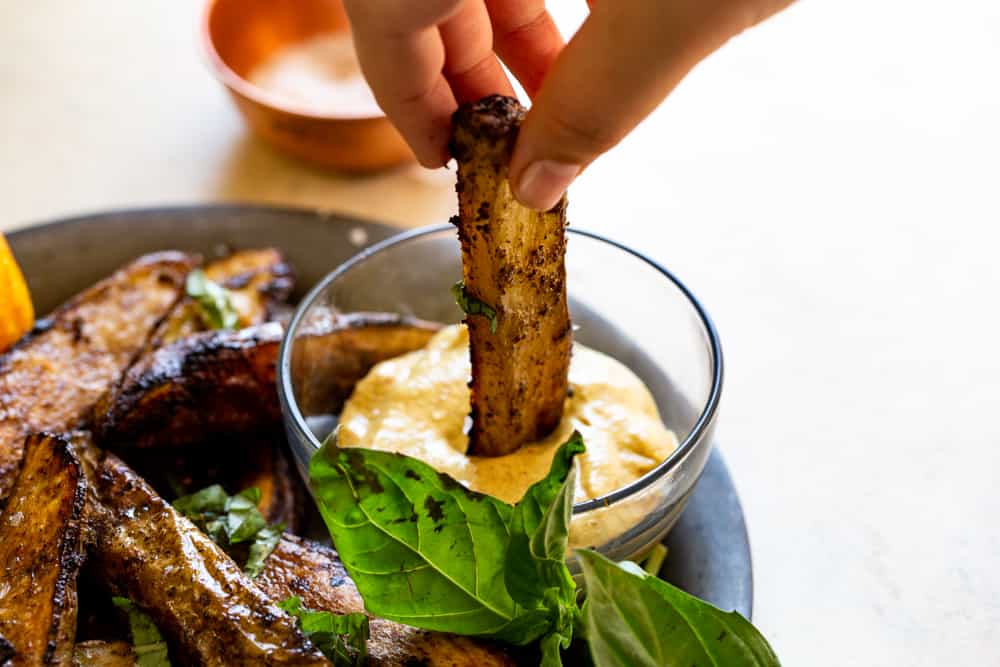 WHAT IS PESTO MADE WITH?
Pesto is a sauce originating from Genoa Italy. Traditional pesto is made with Genovese basil, salt, garlic, extra virgin olive oil, European pine nuts, and a grated cheese such as Parmesan or Pecorino Romano.
Making homemade pesto is actually quite simple, and the taste simply can't be beat! Here's how to whip up your very own batch: in a food processor, combine 1 cup fresh basil leaves, 3 crushed garlic cloves, 3 tablespoons of toasted pine nuts and ⅓ cup of grated Parmesan and season with salt and pepper, to taste. With the motor running, slowly stream in ⅓ cup of olive oil until the mixture is emulsified.
Use pesto to make this Crispy Pesto Potato Wedges recipe, and then place the remaining amount in an airtight container. Homemade pesto will stay fresh for up to 7 days when refrigerated, or for up to 9 months when frozen.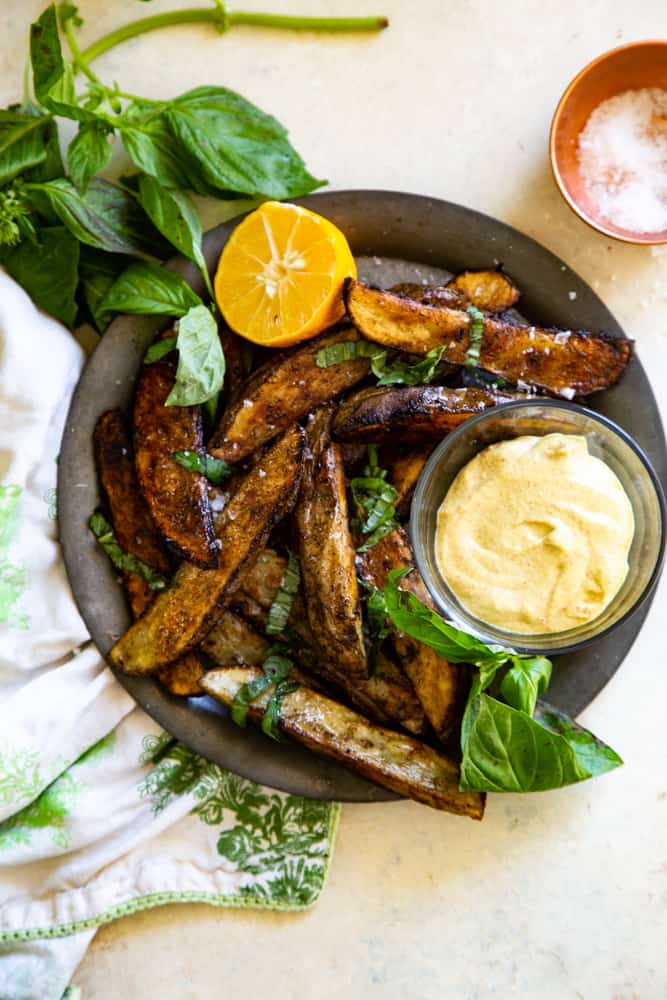 CRISPY PESTO POTATO WEDGES RECIPE FAQs
How can I make potato wedges quickly?
I you're short on time or have a french fry craving that just won't go away, you can speed up the baking process by par boiling the wedges first. To do so, place wedges in a pot of boiling salted water and cook for 5 minutes. Once down, make sure to strain potatoes and pat dry to ensure all extra moisture has evaporated before baking.
Does soaking potatoes in water make wedges extra crispier?
The additional step of soaking the washed and cut potatoes in cold water removes excess potato starch from the outside. This will help with the crisping up of the potatoes when they bake or fry. While not necessary, it does make them extra delicious.
MORE RECIPES LIKE CRISPY PESTO POTATO WEDGES
For more great Pesto dishes, try my Pesto Salmon with Spinach Garlic Quinoa and Pesto Pasta Salad. Or if you're looking for more ways to get your potato fix, you'll love these Brown Butter Sage Potato Stacks and this recipe for Southwestern Potato Skins.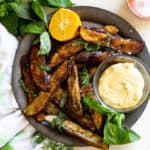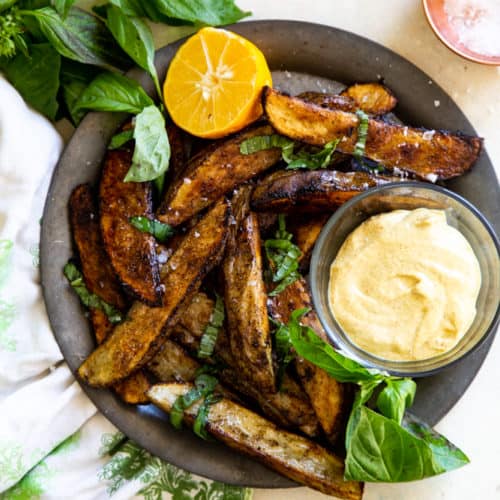 Crispy Pesto Potato Wedges
These crisp flavor potato wedges make a wonderful side dish or snack!
Keyword:
crispy oven baked potato wedges, pesto potatoes
Ingredients
2

pounds

russet potatoes

scrubbed and sliced into wedges

2

tablespoons

olive oil

1

teaspoon

garlic powder

1

teaspoon

onion powder

1

teaspoon

sea salt

1

teaspoon

ground black pepper

⅓

cup

pesto

1

tablespoon

lemon juice

Garlic aioli

for dipping
Instructions
Preheat oven to 400 degrees. Line a large baking sheet with foil.

Place potato wedges in a large bowl.

Toss olive oil, spices, pesto, and lemon juice with potatoes until wedges are coated.

Arrange potato wedges onto lined pan.

Bake for 15 minutes, then flip each wedge.

Bake for an additional 10-15 minutes or until wedges are a crisp golden brown.

Serve with a garlic aioli for dipping, if desired