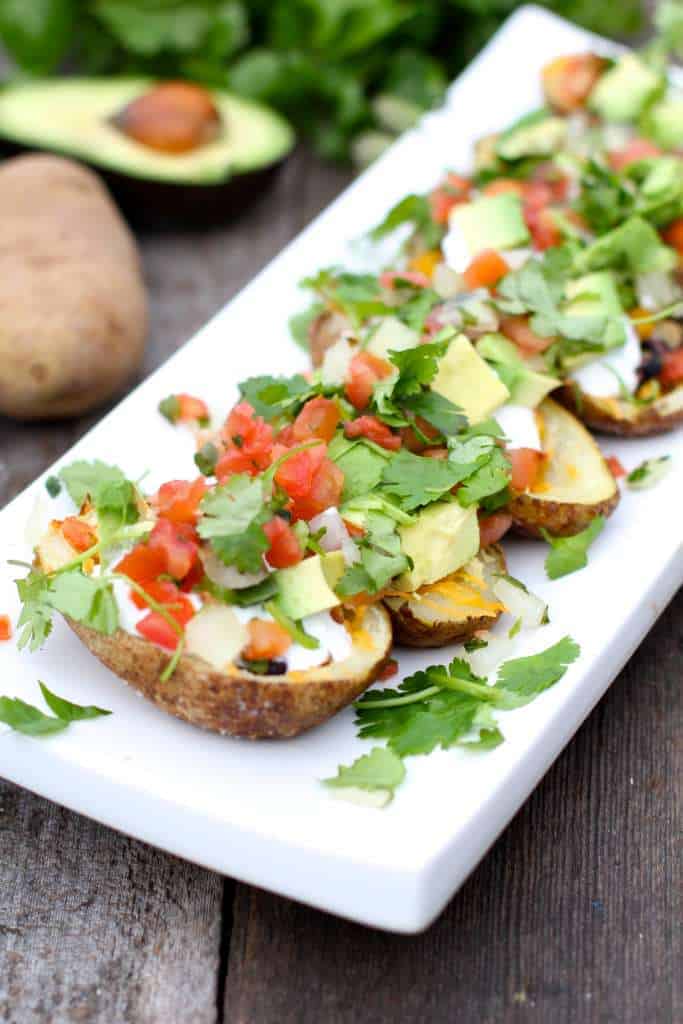 Potatoes how I love thee. I love them baked, fried, mashed, blended, and even added to my cinnamon rolls to create the most flakiest roll ever. Married to a Swiss man, potatoes will always be a staple in our home. Just like Americans, the Swiss LOVE their potatoes!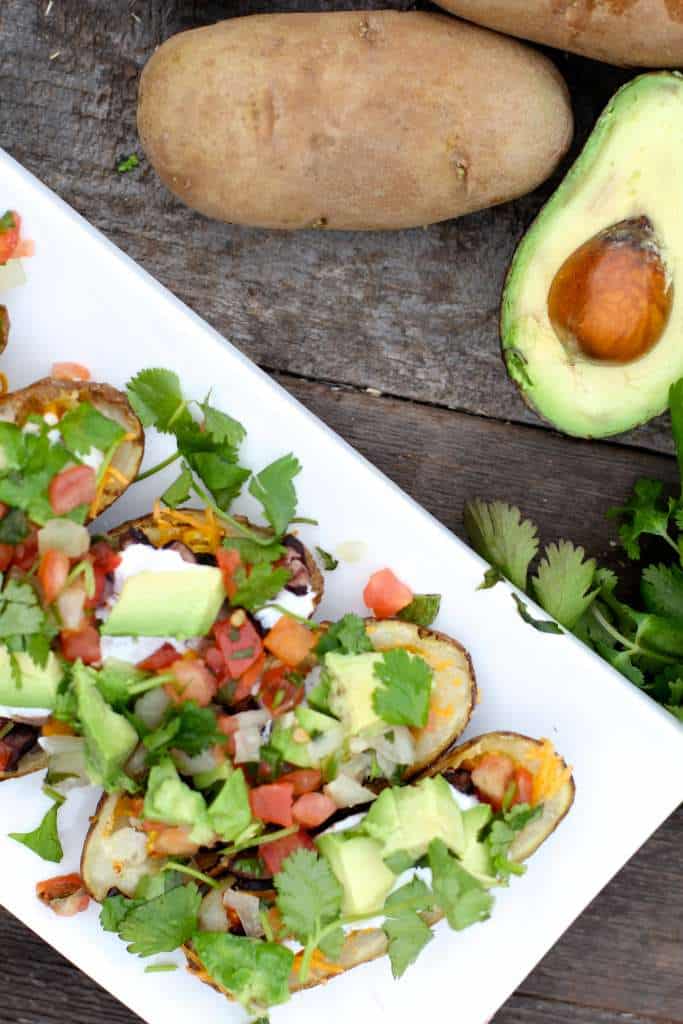 However in the diet world, they seem to perceived as not so good, which is a common misconception. Potatoes are actually a combination of simple and complex carbohydrates, and contain loads of Vitamin C, Potassium, Fiber, and B6.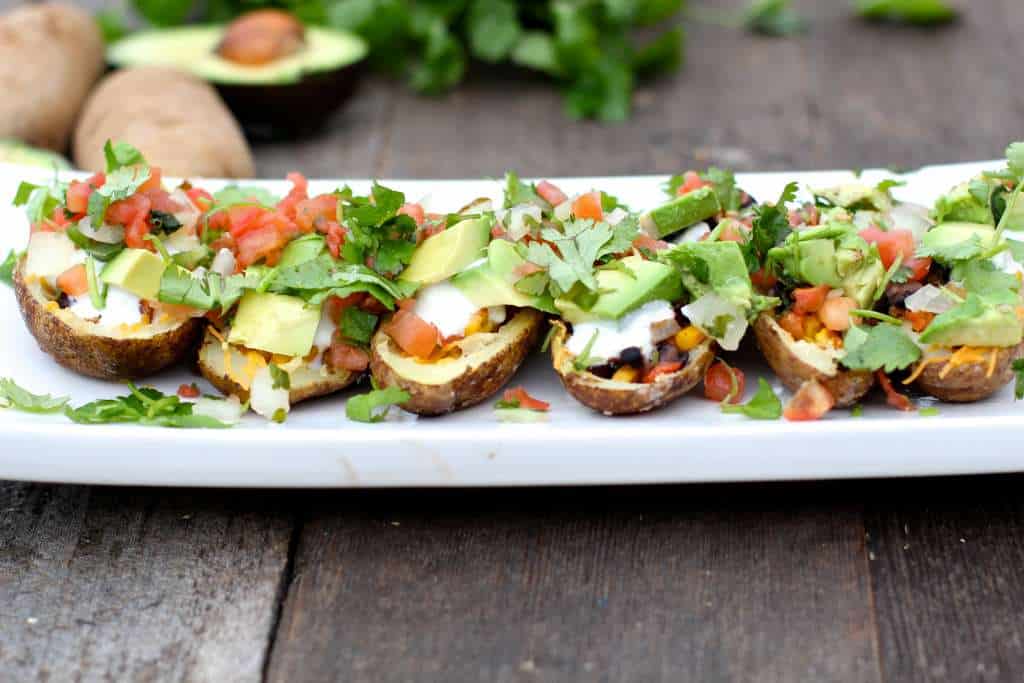 A few weeks ago I attend a wonderful dinner sponsored by the Idaho Potato Commission. There they asked us to write a post this month for Heart Healthy month. I thought this would be a great opportunity to proclaim my love for the spud here on the blog!
I actually made these Southwester Potato Skins for the big game a couple of weeks ago. They made a wonderful and delicious appetizer and were perfect for transporting. They would also make a delicious side to accompany a piece of meat for a weeknight dinner. For more heart healthy potato recipes, visit the Idaho Potato website!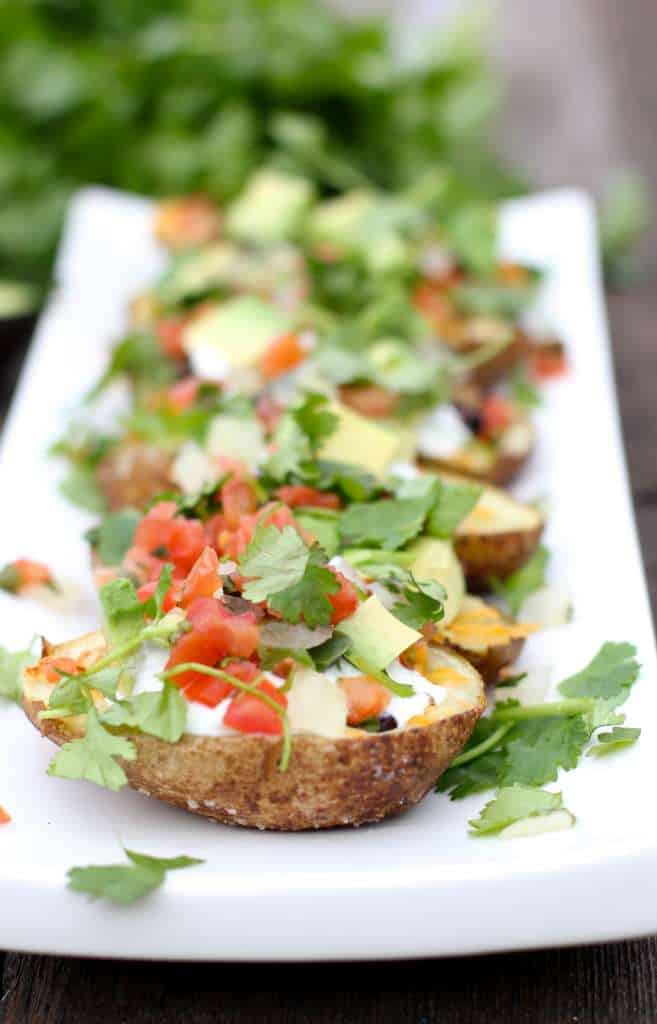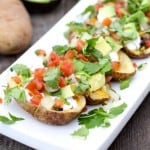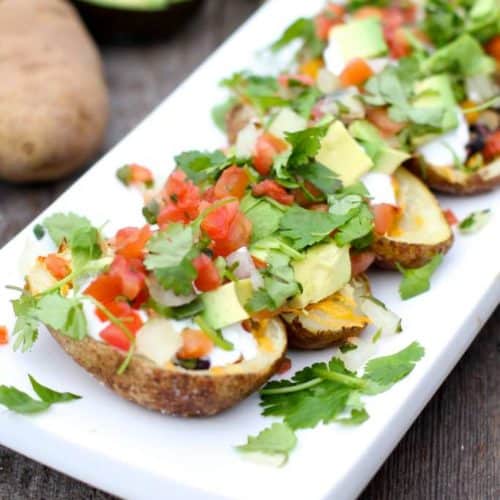 Southwestern Potato Skins
This recipe is great for potlucks, appetizers, and as a side dish. It makes 8 large potato skins.
Ingredients
4

large Idaho Potatoes

1

tablespoon

oil

½

teaspoon

coarse salt

1

cup

shredded cheese

1

cup

black beans

½

cup

corn kernels
Toppings
2

large tomatoes

¾

of a white onion

1

cup

cilantro

½

teaspoon

salt

juice of ½ lime

Avocado

Sour Cream
Instructions
Preheat oven to 425 degrees. Line a cookie sheet with foil.

Wash and dry each potato and rub olive oil and a dash of salt around each potato.

Pierce potatoes with a fork a few times and place on cookie sheet.

Bake potatoes until tender, about 45 minutes.

Once baked, allow to cool slightly.

Once cooled, cut each potato in half and scoop out the insides (you'll want to leave about ¼ inch layer of meat.

Sprinkle potato skins with shredded cheese, black beans, and corn kernels.

Bake potato skins until the cheese is melted, about 10-15 minutes.

To make the toppings, finely dice onion and tomato into.

Combine onion and tomato with chopped cilantro and sprinkle in salt and lime juice and mix.

Top each potato skin with the homemade Pico de Gallo and add chopped avocado and a spoonful of sour cream.

Serve immediately.