This Cranberry Tart is the perfect holiday dessert. Not only is it loaded with delicious cranberry sauce, but it's made using hazelnut flour, too! Talk about a sweet dessert with the perfect texture and taste.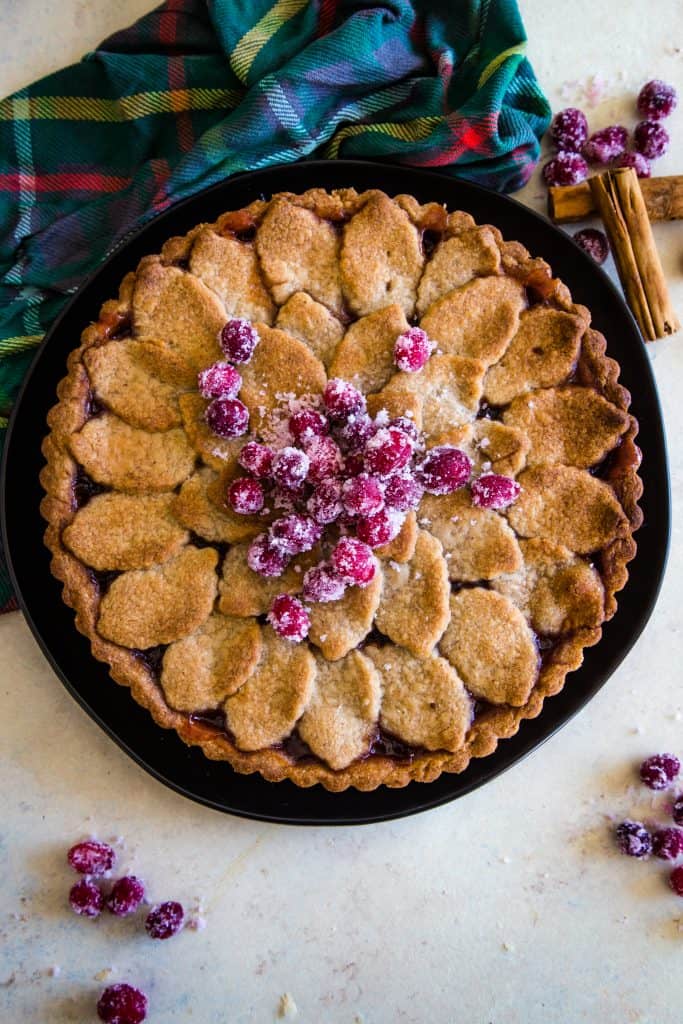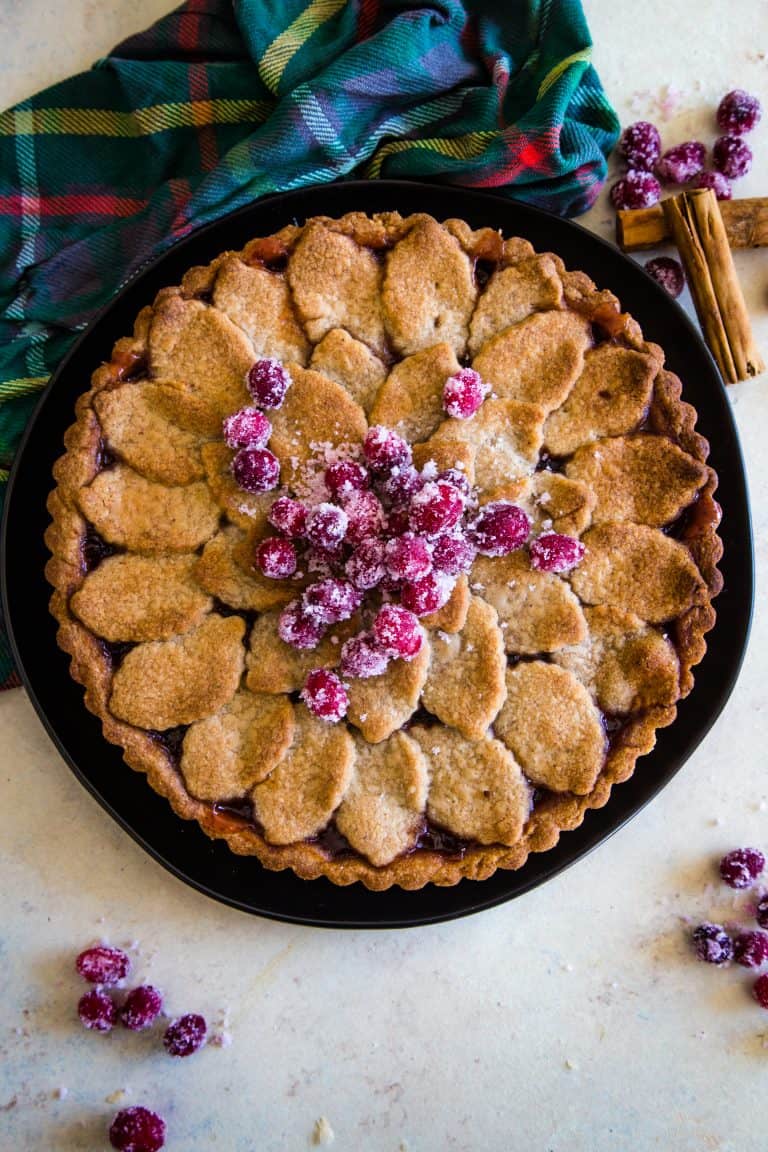 Once the holiday season hits, I'm all about everything cranberry. From fresh cranberries to cranberry sauce, I'm going to eat it and have no shame. This is why I'm over the moon about this delicious Cranberry Pie. Not only does it capture that cranberry taste and flavor, but it has a fantastic look about it as well. This is genuinely one dessert that will be an absolute show-stopper in any setting.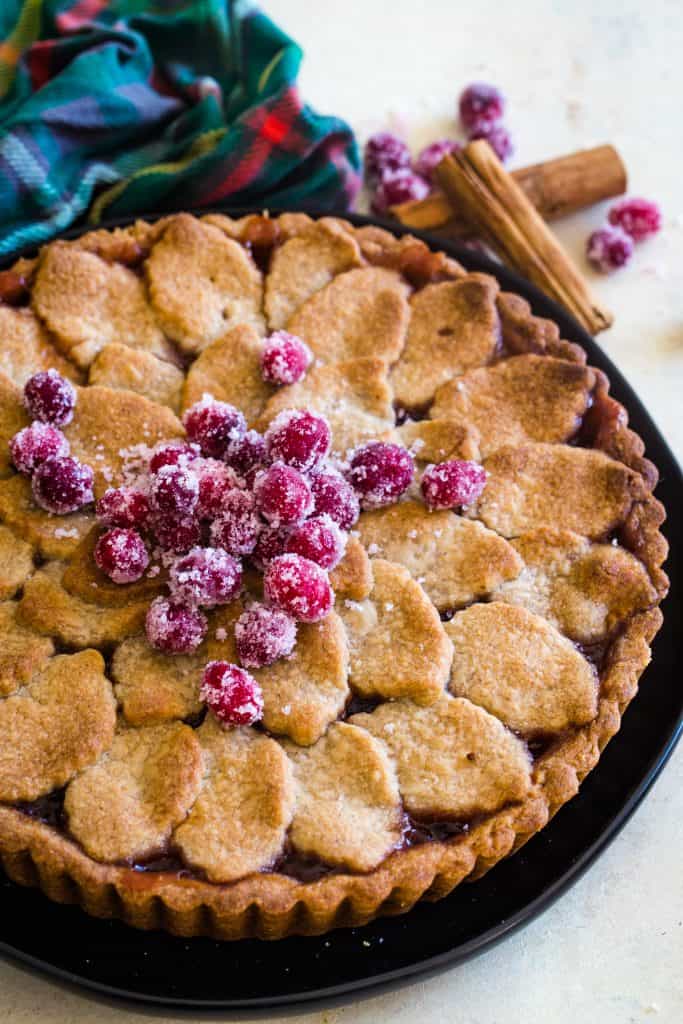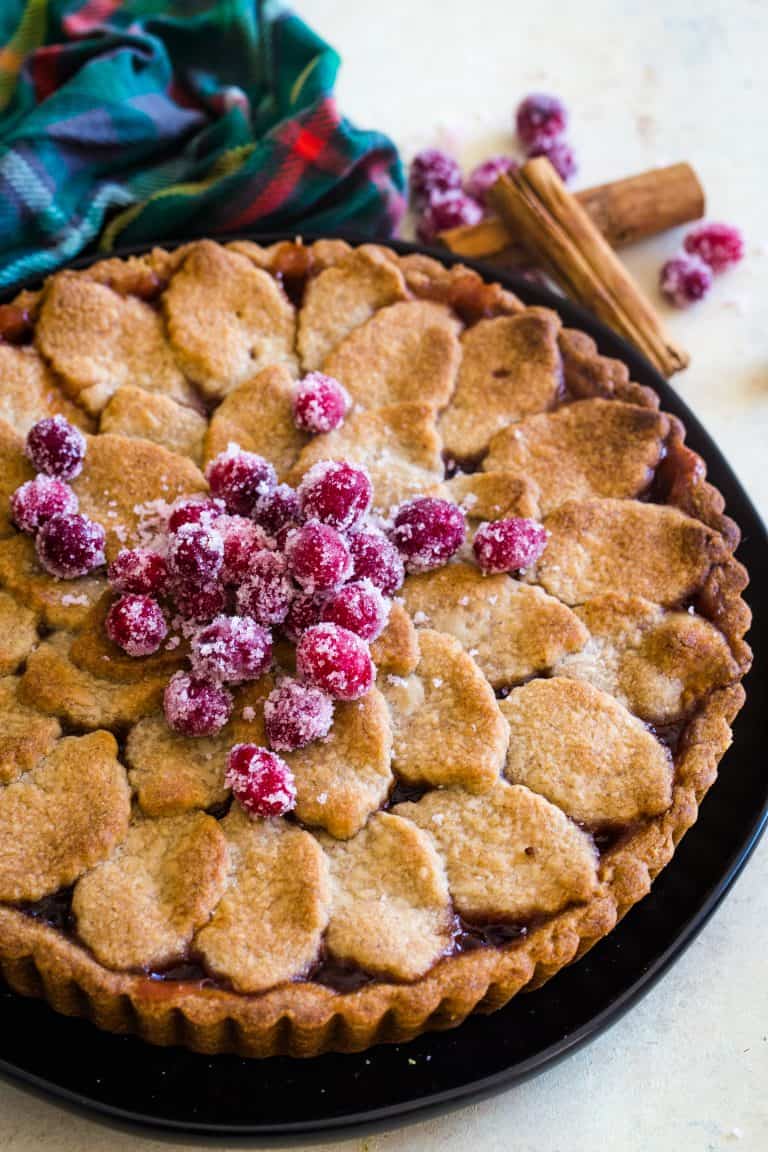 The first time I whipped up this Cranberry Hazelnut Tart, I debated grabbing the dish and heading straight to my room to eat it entirely in peace. Did I mention that this flavor will have you second-guessing the whole "sharing" part?
WHY THIS SIMPLE CRANBERRY TART IS THE BEST
Besides the taste, the biggest perk of this tart recipe is that it's a unique way to get that cranberry flavor on the holiday table. I'm used to just opening up a can of jellied cranberry and serving it as a dish on its own, so this dessert recipe really helped me step up my cranberry game.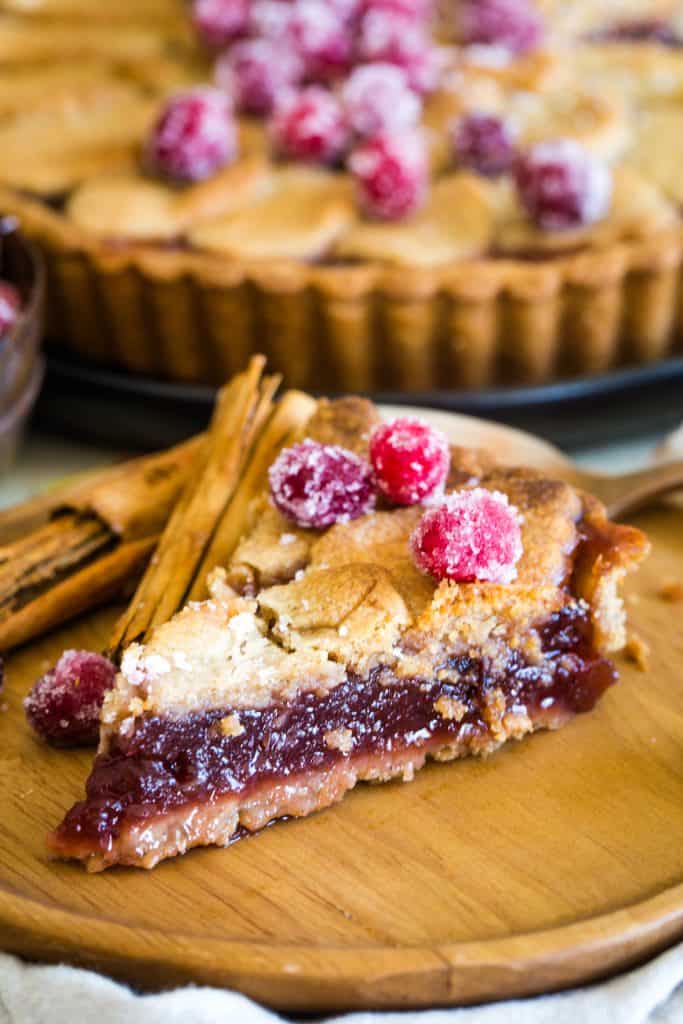 With just 30 minutes of cook time, this Cranberry Curd Tart is easy enough to prep, prepare, and chill for enjoying later in the day. It's reminiscent of the classical German dessert, a linzer torte, but a great way to use up leftover cranberry sauce!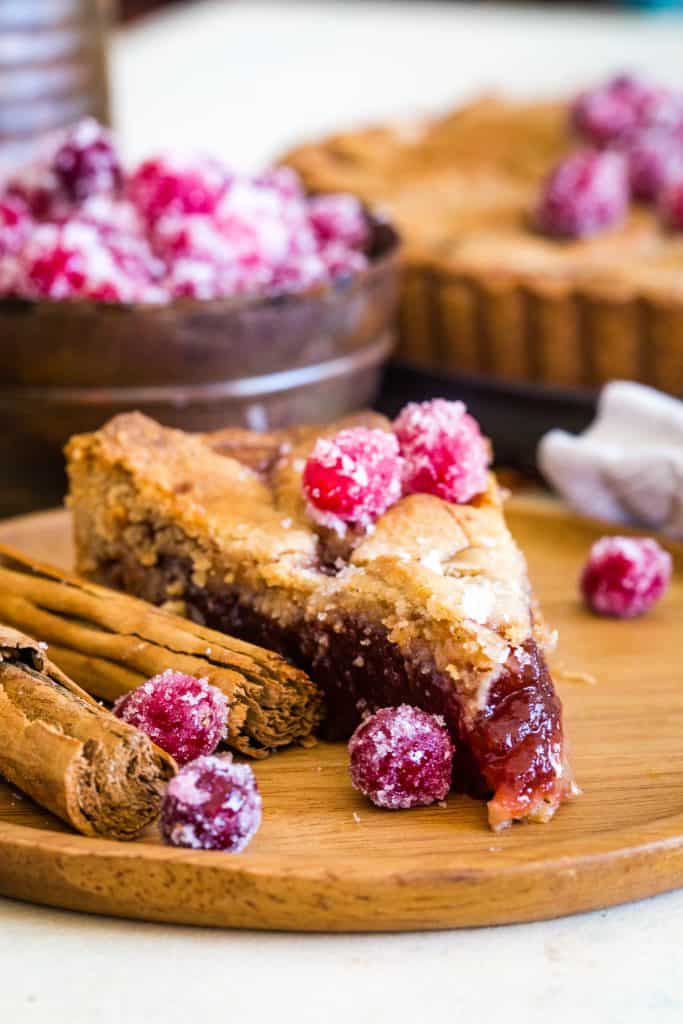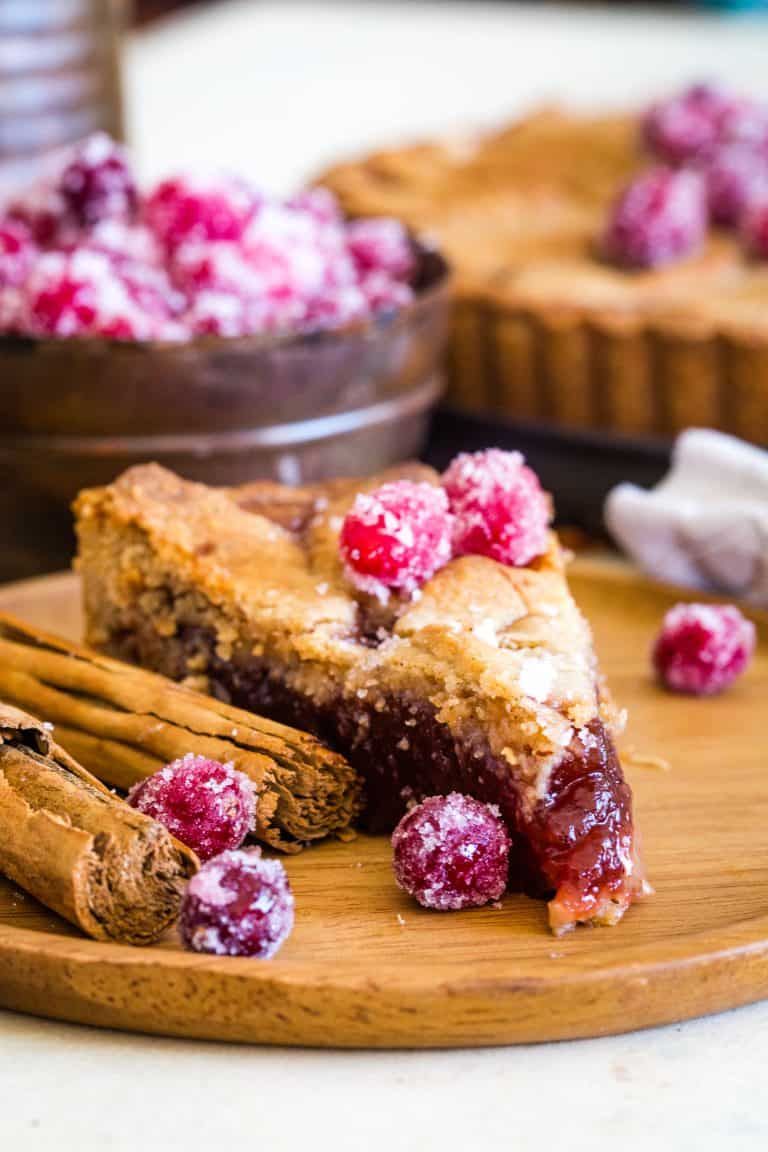 INGREDIENTS/SHOPPING LIST
hazelnut

flour or whole

hazelnuts

almond flour

all-purpose flour

granulated white sugar

ground cinnamon

salt

baking powder

unsalted butter sliced

egg yolks

pure vanilla extract

cranberry sauce (not jelly)

Powdered sugar for garnish
HOW DO YOU MAKE A HOMEMADE TART WITH CRANBERRY SAUCE
Pulse - Using a food processor, pulse hazelnut flour (or hazelnuts) and almond flour until finely ground and combined.
Mix

- Add all-purpose flour, sugar, spices, salt, and baking powder and pulse until combined.

Add - In small increments, add butter pieces, pulsing until small pea-size clumps form.
Combine - Pulse in egg yolks and vanilla and process until just combined.
Form - Once all ingredients have been incorporated, the dough should form a ball and no longer stick to the sides of the bowl.

Separate

- Separate dough into two balls.

Roll

- Roll one dough ball into a small disk in between 2 sheets of parchment paper. Refrigerate for 1 hour.

Press - Press the remaining dough ball evenly into a buttered 9inch tart or springform pan.
Spread - Spread cranberry sauce over the dough and refrigerate while prepping the topping.
Preheat

- Preheat oven to 350 degrees.

Roll

- On a lightly floured surface, roll out the cold dough disk into a 1 inch thick round.

Cut - Cut out small leaves using a cookie cutter. Assemble leaves over the top of the cranberry sauce and the entire pie.
Bake

- Bake the torte for 30-35 minutes at 350 degrees or until the pastry is golden brown.

Serve

- Right before serving, sprinkle with powdered sugar and garnish with sugared cranberries, if desired.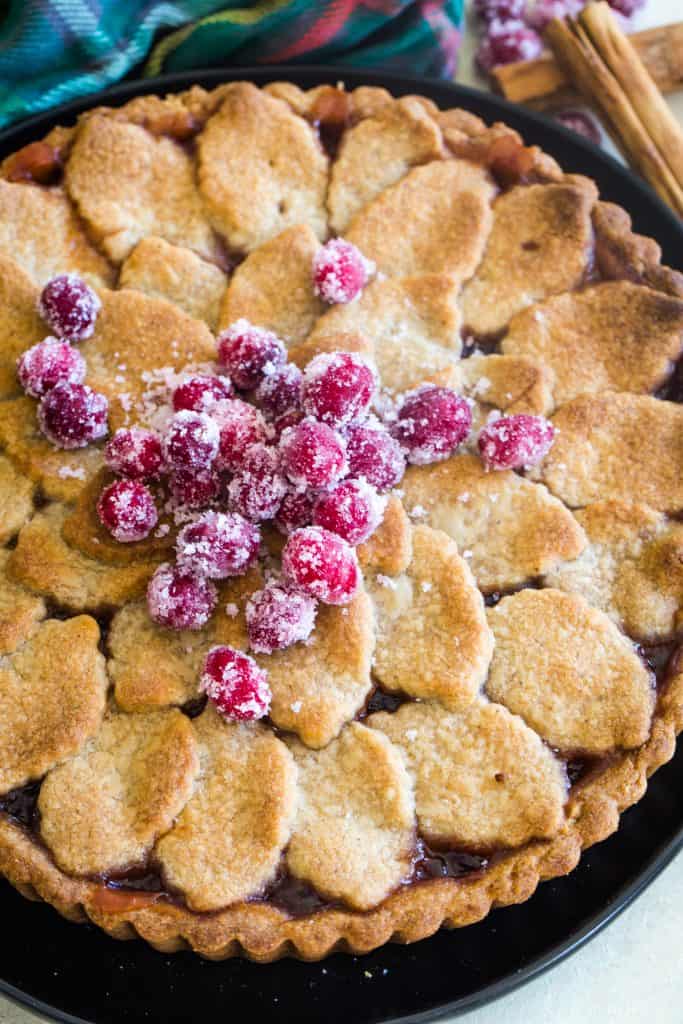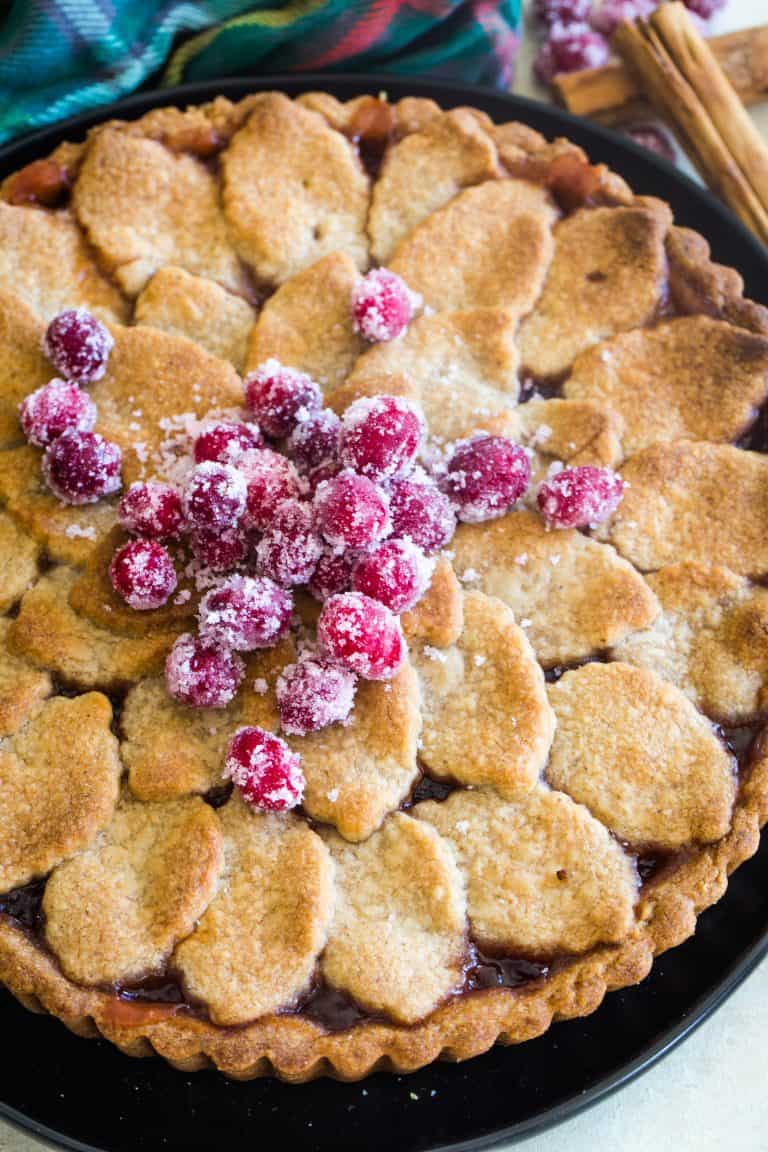 TIPS AND VARIATIONS
Use a premade crust

- If you need to save on time, you can always opt for a premade crust to use instead of making your own.

Use a different nut- While we think this tart is perfect with hazelnuts, you can also swap them out for all almonds or even walnuts.
Bake in a standard pie pan-Tart pans are great for removing the tart from the pan, but also make the tart look pretty. If you done not have one available like this, a standard pie tin will work as well.
Make it a simple double crust- I f you're short on time, just roll out the excess dough into a large round and place it over the filling. Trim and crimp the edges and bake as directed.
Top with melted chocolate

- The powdered sugar is excellent for a topping but melted chocolate drizzled on top is wonderful as well.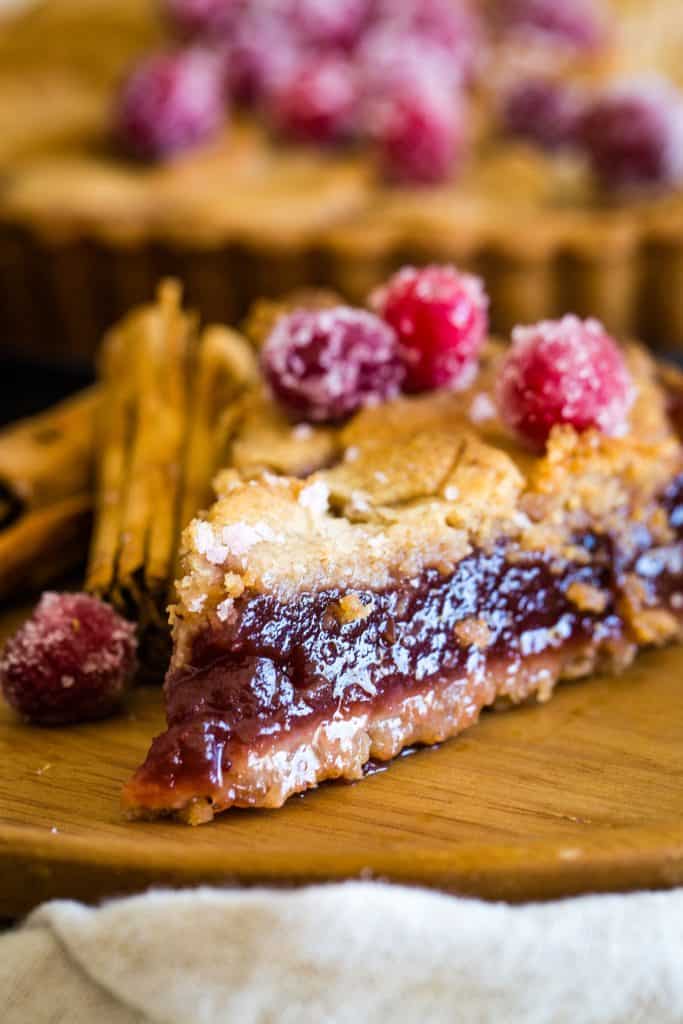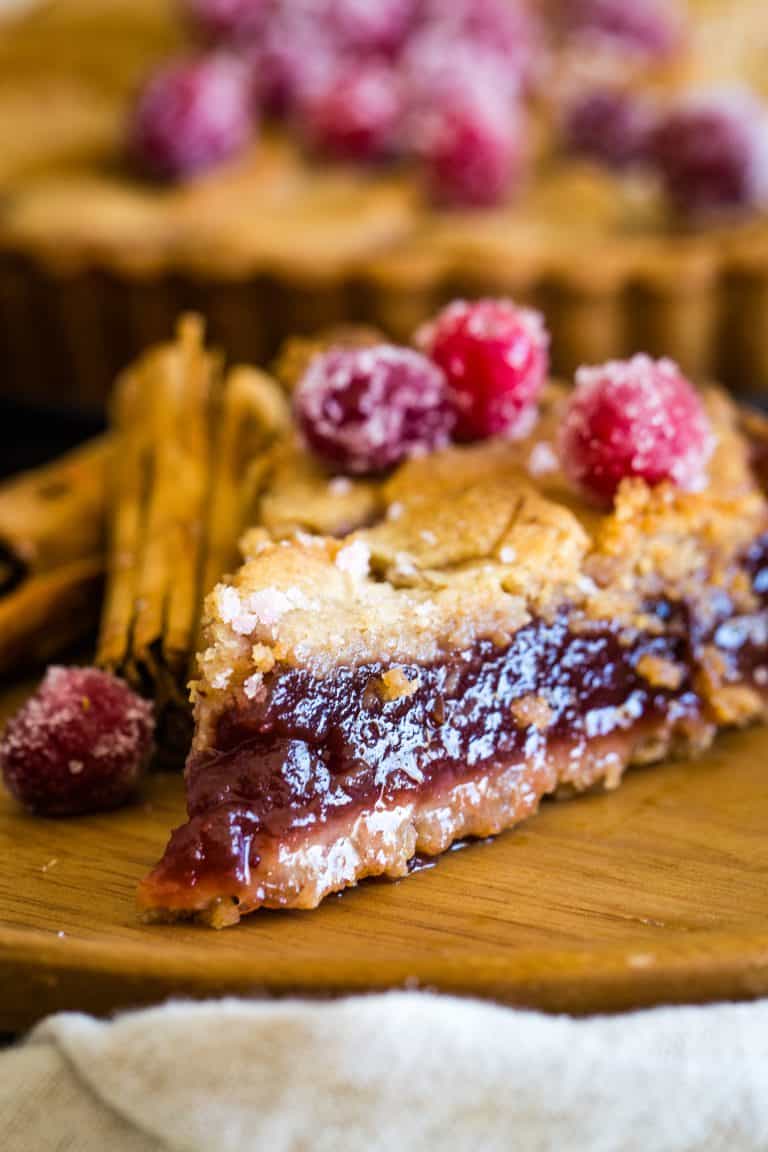 COMMON QUESTIONS ABOUT CRANBERRY TARTS
CAN YOU FREEZE CRANBERRY TART?
You can. The biggest tip to remember before adding to the freezer is that you need to let it cool completely before freezing. I wrap it in saran wrap once it's cooled down and then store the tart in an airtight freezer-proof container on top of that.
HOW LONG WILL A FRUIT TART LAST?
For the most extended lifespan of this simple tart recipe, you're going to need to keep it stored in the fridge. Make sure that it's in an airtight container with a lid to keep it fresh. It should last for up to 4 days this way.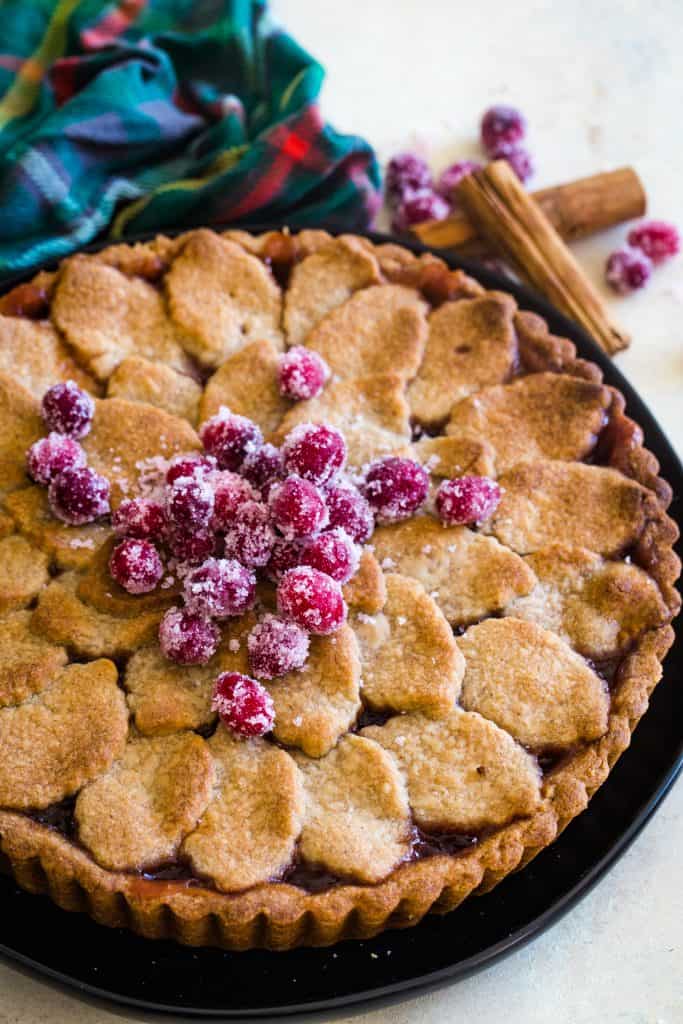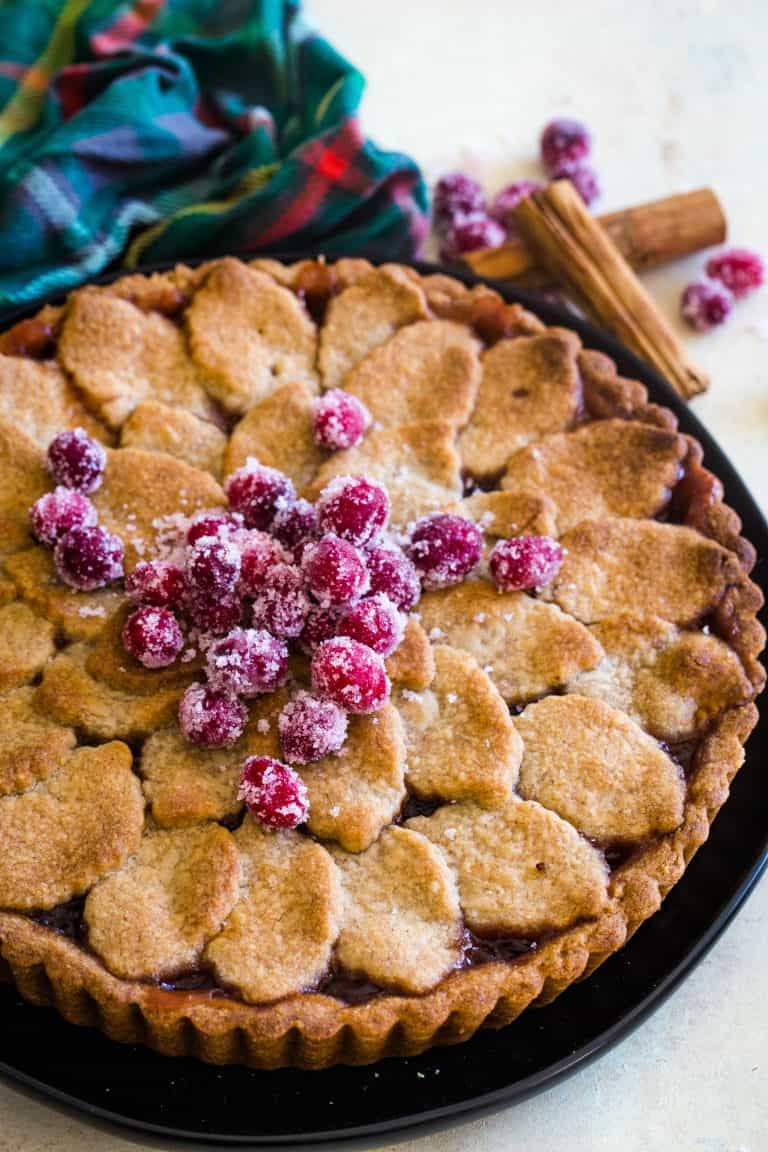 HOW DO YOU KEEP FRUIT TARTS FROM GETTING SOGGY?
It should come as no shock that fruit tarts on the bottom of the crust can be soggy from the fruit juice in the filling. While there is no fool-proof way to stop this, you can try to add a layer of light glaze on the top of the bottom crust and let it dry before adding in the fruit filling.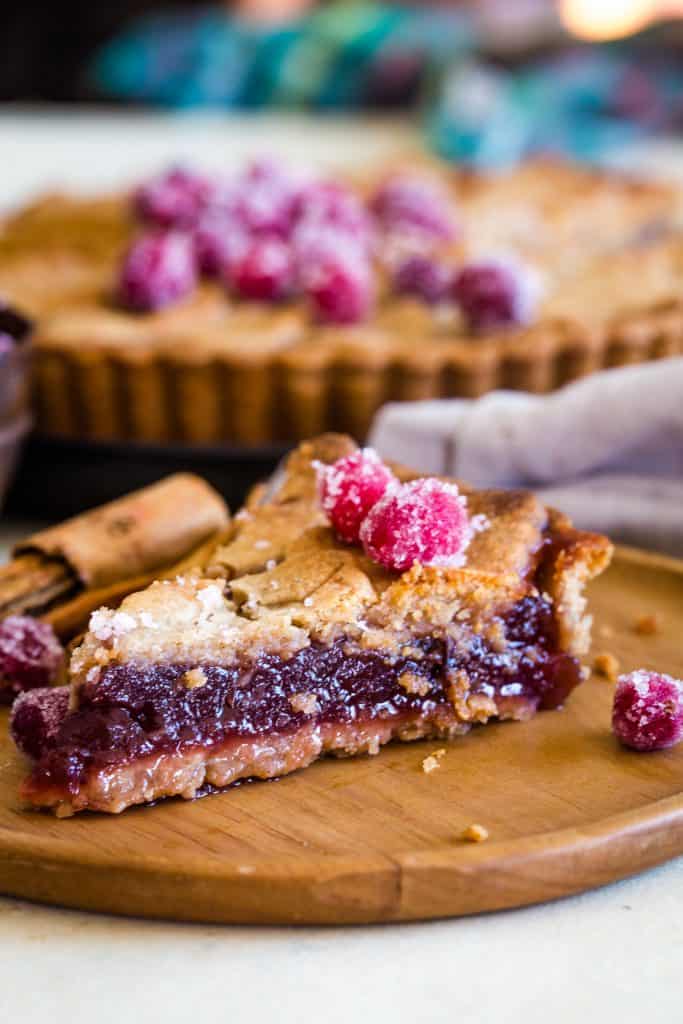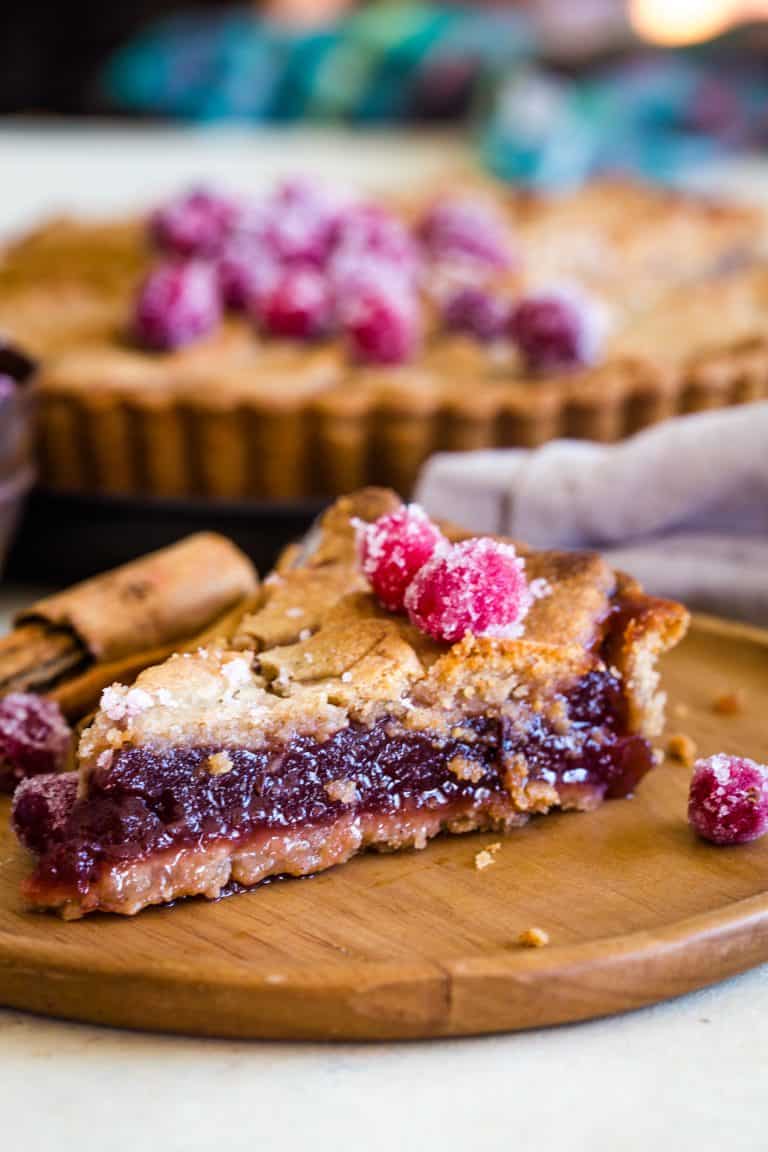 CAN YOU MAKE A TART A DAY BEFORE?
You bet! Tarts are great desserts for meal prep! Just be aware the crust may be softer the next day, but the flavor should still be amazing!
More Cranberry Recipes You're Sure to Love: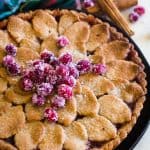 Cranberry Hazelnut Tart
This Cranberry Tart is the perfect holiday dessert. Not only is it loaded with delicious cranberry sauce, but it's made using hazelnut flour, too!
Keyword:
cranberry curd, hazelnut tart
Ingredients
1

cup

hazelnut flour or whole hazelnuts

½

cup

almond flour

1 ½

cups

all-purpose flour

⅔

cup

granulated white sugar

1

teaspoon

ground cinnamon

⅛

teaspoon

ground cloves

¼

teaspoon

salt

½

teaspoon

baking powder

14

tablespoons

cold unsalted butter sliced

2

large egg yolks

1

teaspoon

pure vanilla extract

2

cups

cranberry sauce

not jelly

Powdered sugar for garnish
Instructions
Using a food processor, pulse hazelnut flour (or hazelnuts) and almond flour until finely ground and combined.

Add all-purpose flour, sugar, spices, salt, and baking powder and pulse until combined.

In small increments, add butter pieces, pulsing until small pea size clumps form.

Pulse in egg yolks and vanilla and process until just combined.

Once all ingredients have been incorporated, dough should form a ball and no longer stick to the sides of the bowl.

Separate dough into two balls.

Roll one dough ball into small disk in between 2 sheets of parchment paper. Refrigerate for 1 hour.

Press the remaining dough ball evenly into a buttered 9inch tart or springform pan.

Spread cranberry sauce over the dough and refrigerate while prepping the topping.

Preheat oven to 350 degrees.

On a lightly floured surface, roll out the cold dough disk into a 1 inch thick round.

Cut out small leaves using a cookie cutter. Assemble leaves over the top of the cranberry sauce and the entire pie.

Bake the torte for 30-35 minutes at 350 degrees or until the pastry is golden brown.

Right before serving, sprinkle with powdered sugar and garnish with sugared cranberries, if des