This Linzer Torte Recipe is comprised of a delicious hazelnut and almond spiced crust and filled with a raspberry jam filling. It is the perfect pie/torte for all your fall/winter holidays!
This year I graciously gave up the task of cooking this Thanksgiving. While I love preparing a large meal for family and friends, it is quite the task, cooking for 30+ people. Not to mention my kitchen is the size of most people's master bathroom, which makes cooking for parties next to impossible.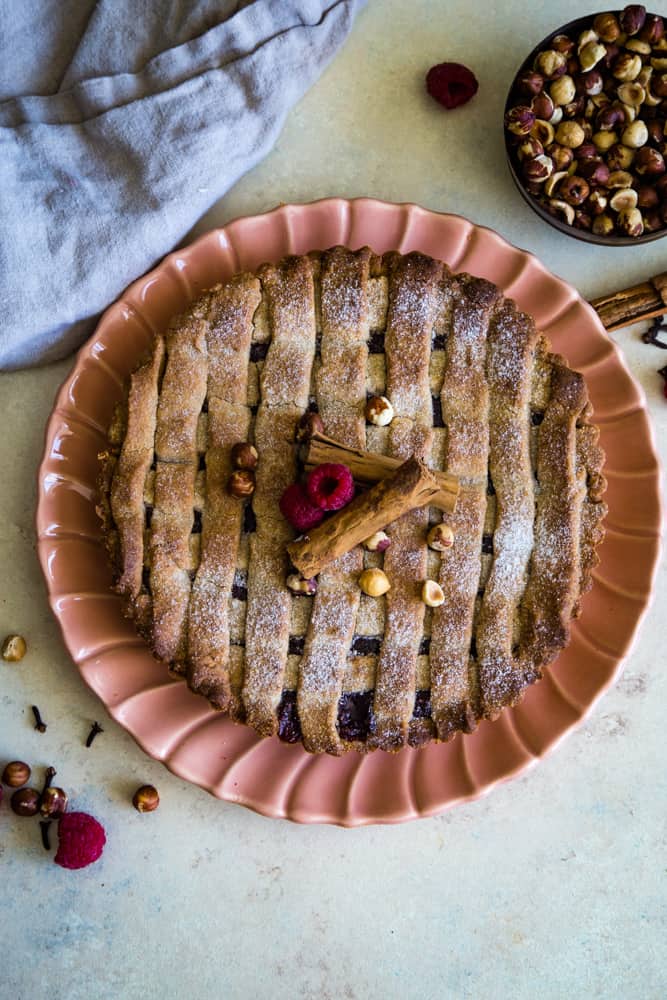 I did, however, volunteer to make desserts this Thanksgiving since the pies are my favorite part of the Thanksgiving meal anyway. I always love creating a spread of desserts. This year, I thought it would be fun to create some non-traditional pies, like this Linzer Tart.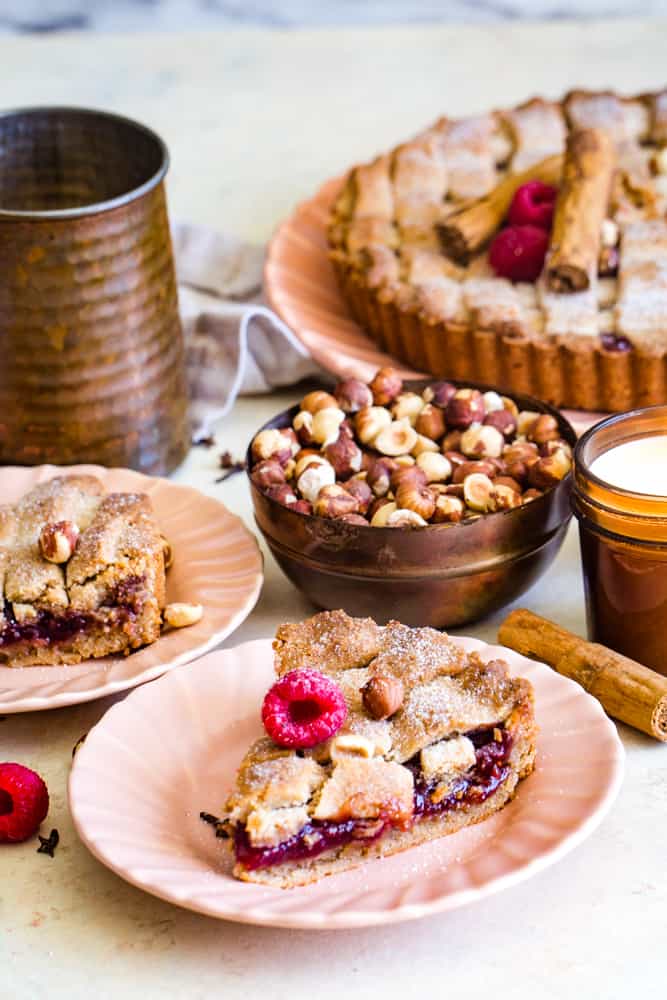 What is a Linzer Torte?
This Linzer Torte Recipe is a favorite of mine from my time spent living in Switzerland. The actual pastry is originally from Linz, Austria and is said to be the oldest cake recipe in the world! The original Linzer Torte recipe dates back to 1696. Two pastry chefs put the recipe into mass production in 1823.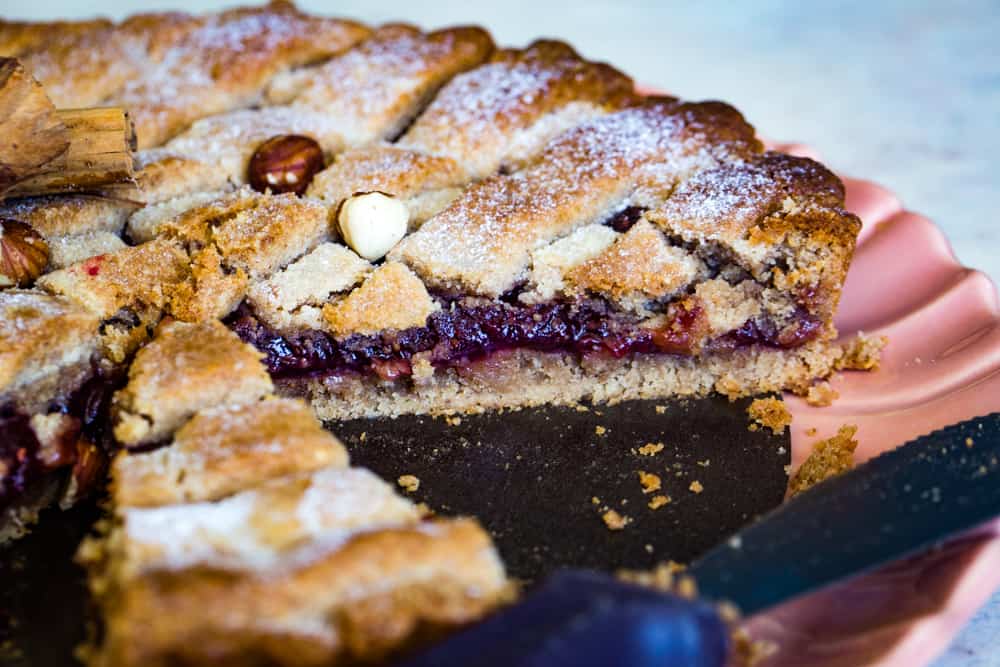 The crust is a nutty combination of almonds and hazelnuts as well as chock full of warm winter spices. The raspberry jam filling compliments the cinnamon and cloves in the crust beautifully. The smells of this torte baking are better than any store-bought candle!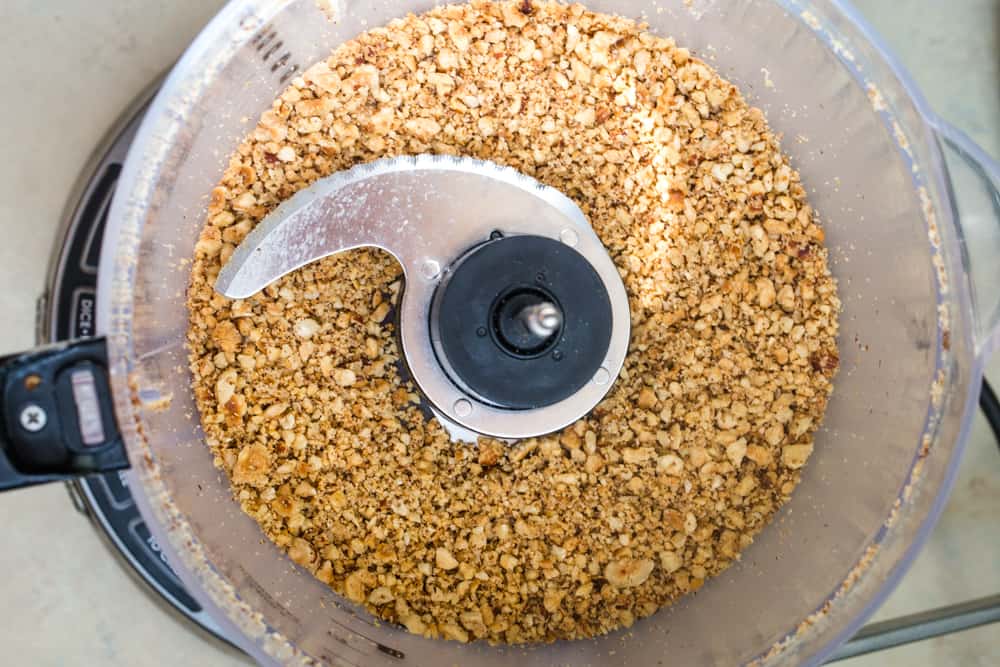 How to make Linzer Torte-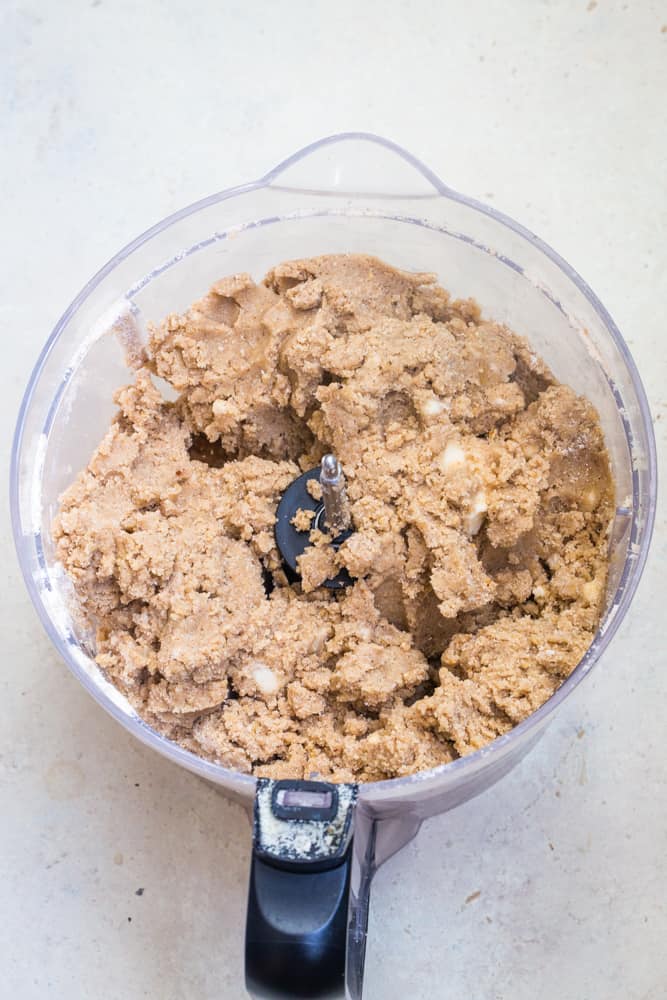 You can use pre-grounded nut flours, or grind your own in a food processor. For this recipe, I used a combination of the two- almond flour and roasted Hazelnuts. You can find hazelnut and almond flour at most stores and online.
If you do not need to ground the nuts, a food processor is not necessary, but it definitely speeds up the process. Simply put your dry ingredients into a bowl, then cut the butter into the flour mixture using a pastry cutter or two knives. As like most homemade pie crusts, you want to cut the butter into the mixture until it resembles small pea-sized clumps. Then add the egg yolks and vanilla extract and mix until the dough forms a ball.
Separate the dough into 2 balls- one ⅔ and the other ⅓.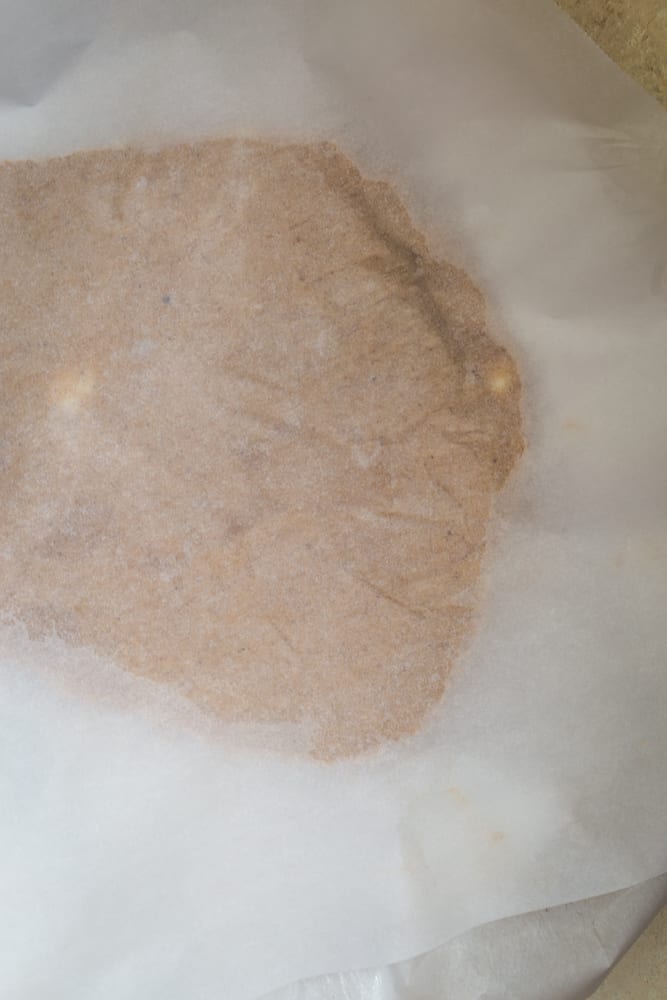 I like to roll out the dough in between 2 pieces of parchment paper or waxed paper, then refrigerate. Alternatively, you can roll the dough out on a lightly floured surface. I use all-purpose flour or almond flour for this.
Use a 9-inch fluted tart pan with a removable bottom for a traditional looking Linzer Tart. Or, a pie plate will work too.
This dough is delicate, so you will want to make sure it remains pretty cold, especially when doing the lattice top. If dough is too delicate to make the topping, place in a pastry bag fitted with a large star tip, and pipe the lattice crust over the jam.
I prefer to use raspberry jam in the center of the pie, but you can pretty much use any flavor jam you would like.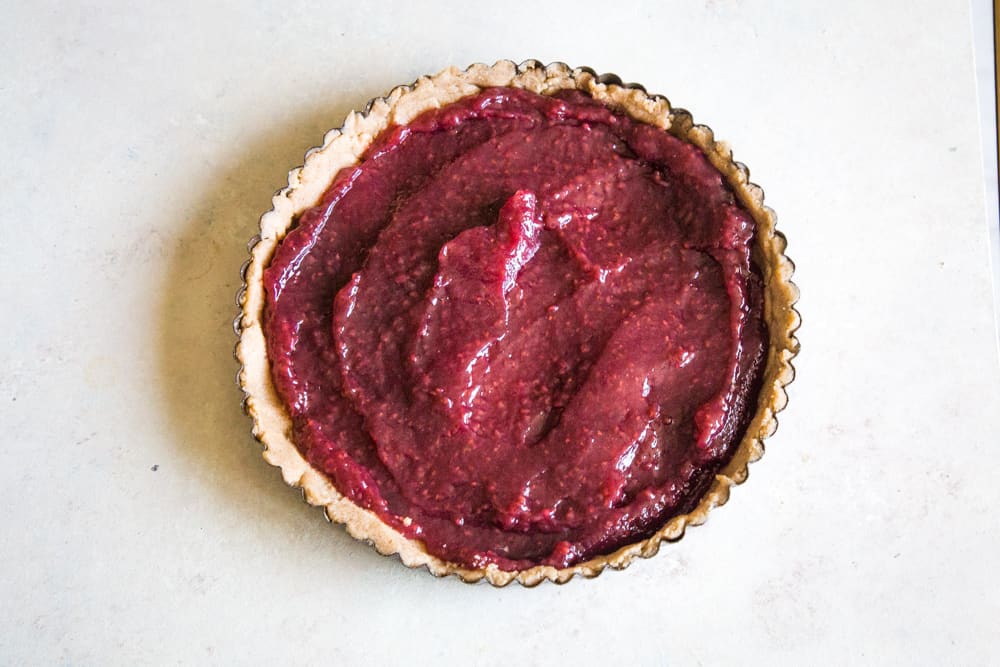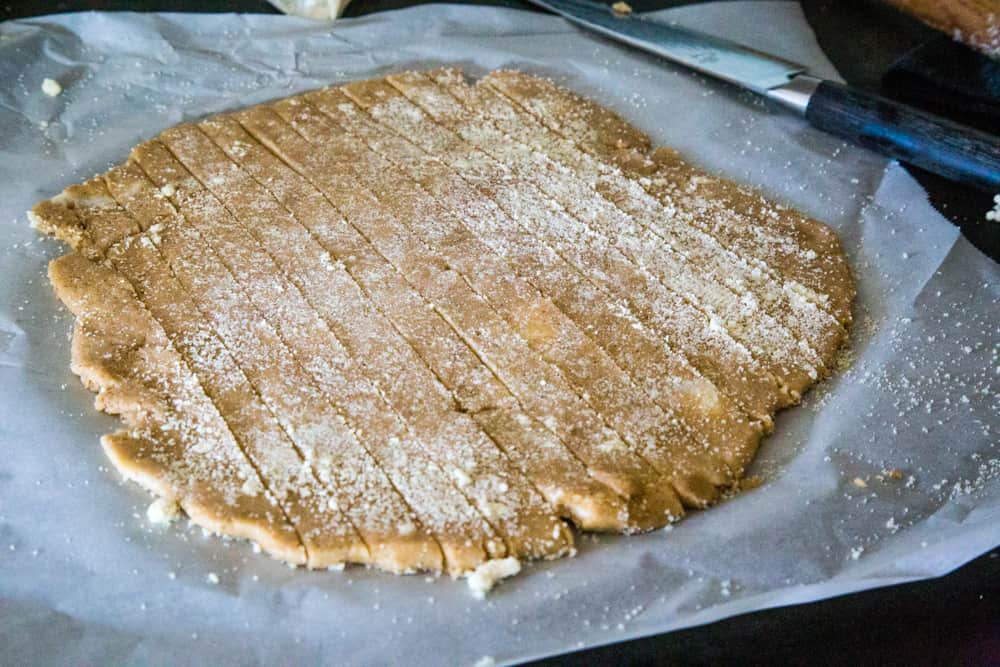 Can you make the Linzer Torte Recipe Gluten Free-
Since the base of this recipe is nuts, there is only a small amount of flour. Simply replace the all-purpose flour with your favorite gluten-free blend. I like to use Bob's Red Mill or Cup4Cup.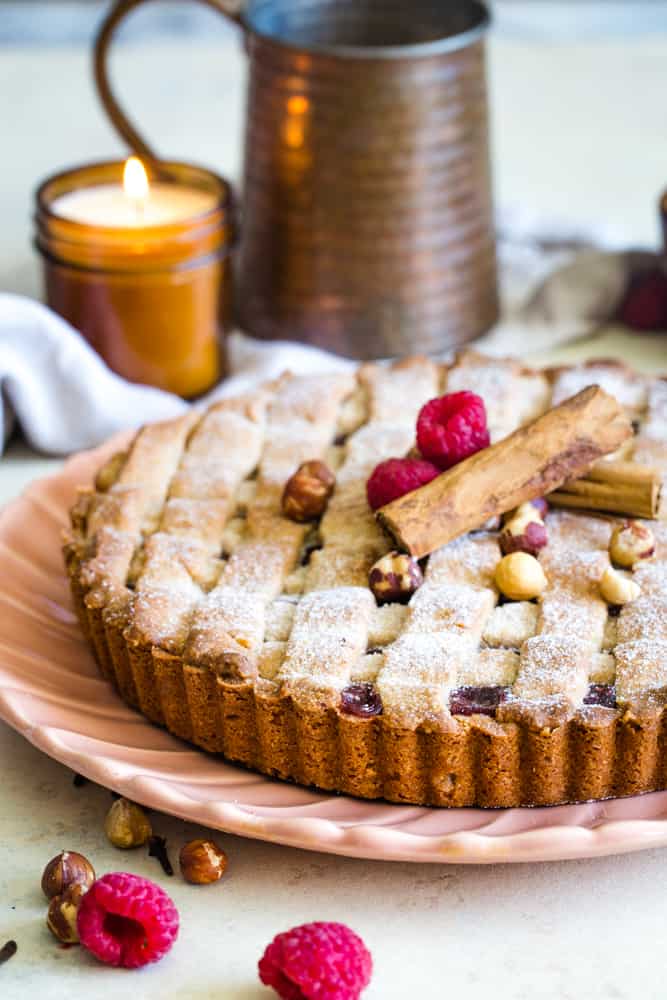 How to serve the Linzer Torte-
Serve at room temperature.
Before serving dust with confectioner's sugar.
Slice into wedges and serve just as you would any pie.
Although not traditional, a big scoop of ice cream with the torte compliments the nutty spiced crust very well.
Cover and store leftover torte in the refrigerator for up to 3 days...if it lasts that long!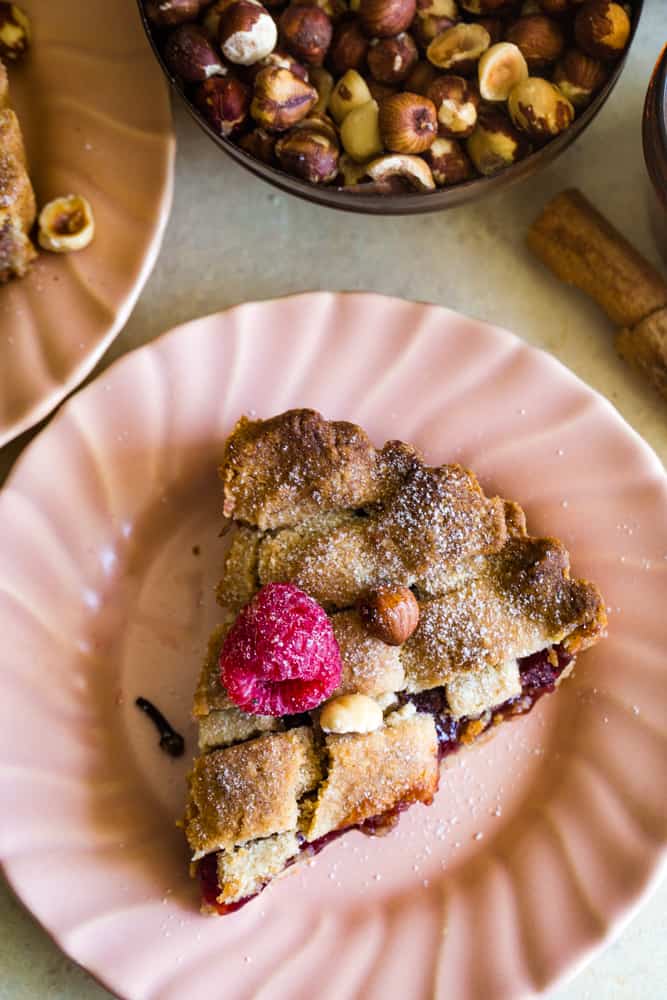 I hope you enjoy this recipe and add this torte to your holiday dessert table!
For More Great Pie Recipes-
If you are looking for more wonderful pie recipes that will compliment your dessert table like this Linzer Torte Recipe does, make sure to check out our Sweet Potato Pie with Marshmallow Topping, Apple Pear Pie, and our Apple Buttermilk Pie.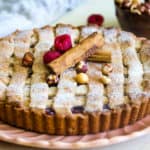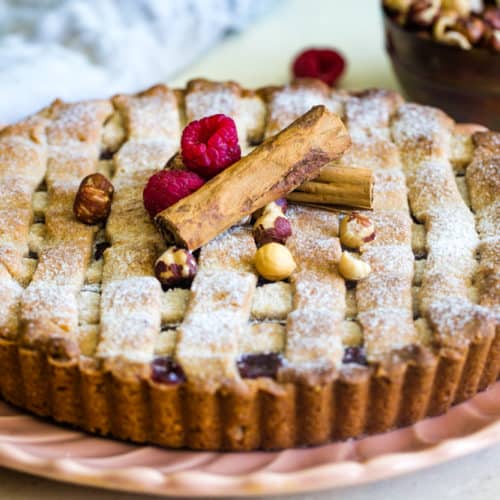 Linzer Torte
This Linzer Torte Recipe is comprised of a delicious hazelnut and almond spiced crust and filled with a raspberry jam filling.
Keyword:
hazelnut recipe, linzer tart
Ingredients
½

cup

whole hazelnuts

1 ½

cups

all-purpose flour

⅔

cup

granulated white sugar

1

teaspoon

ground cinnamon

⅛

teaspoon

ground cloves

¼

teaspoon

salt

½

teaspoon

baking powder

14

tablespoons

cold unsalted butter

sliced

2

large egg yolks

1

teaspoon

pure vanilla extract

2

cups

raspberry jam

Powdered sugar for garnish
Instructions
Using a food processor, pulse almond flour (or almonds) and whole hazelnuts until finely ground.

Add all-purpose flour, sugar, spices, salt, and baking powder and pulse until combined.

In small increments, add butter pieces, pulsing until small pea size clumps form.

Pulse in egg yolks and vanilla and process until just combined.

Once all ingredients have been incorporated, dough should form a ball and no longer stick to the sides of the bowl.

Separate dough into two balls, one ⅓ of the dough and the other ⅔ of the dough.

Roll the small dough ball into small disk in between 2 sheets of parchment paper. Refridgerate for 1 hour.

Press the large dough ball evenly into a buttered 9inch tart or springform pan.

Pour raspberry preserves over the dough and refrigerate while prepping the topping.

Preheat oven to 350 degrees.

On a lightly floured surface, roll out small dough disk into a 1 inch thick round.

Using a pastry wheel or pizza cutter, cut the pastry into 1 inch strips.

Remove pan from refrigerator. Using an offset spatula, gently transfer the strips to the tart pan. Lay half the strips, evenly spaced, across the torte and then turn the pan a quarter turn and lay the remaining strips across the first strips. If strips break, simply press back together.

Trim the edges of the strips to fit the tart pan.

Bake the torte for 30-35 minutes at 350 degrees or until the pastry is golden brown.

Right before serving, sprinkle with powdered sugar.
Recipe Video
Recipe Notes
This recipe was slightly adapted from Joyofbaking.com and tips from my Swiss mother-in-law! 
Some of the product links contained in this post are affiliate links. I earn a small commission if you purchase a product I referred, at no extra charge to you. This helps us to continue providing free recipes on Theseasidebaker.com. Thank you for your support!