Do fall and Thanksgiving right by whipping up this decadent Sweet Potato Swirled Cheesecake. This creamy dessert has a similar taste to pumpkin and you don't have to share it with anyone. The secret to the perfect flavor combination for this recipe is the gingersnap cookie crust and the blend of everyone's favorite fall spices.
This post was originally posted on November 3rd, 2014 and updated November 24th, 2019.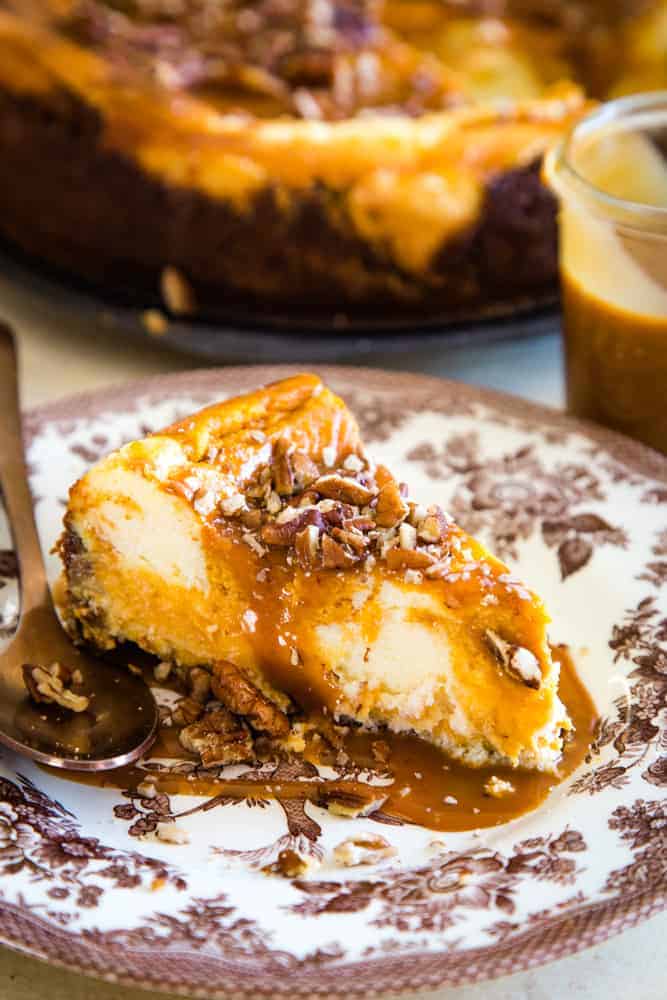 Sweet potato pie is a pretty common dessert, especially around Thanksgiving time. Sweet potatoes are actually used to make a lot of dishes around this time of the year such as sweet potato casserole and sweet potato rolls. If you've never tried them, their taste is very similar to pumpkin, with some basic differences, which is why they work so well in desserts.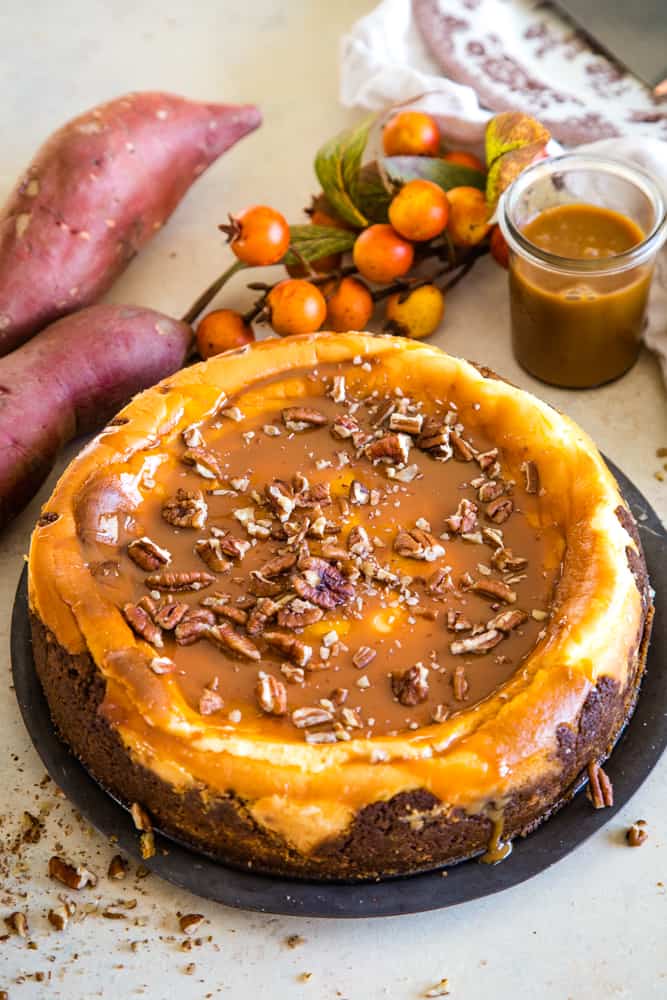 Cheesecake is a classic dessert that most people rave over. Since I'm a lover of both cheesecake and sweet potato pie, I decided they needed to come together to make a sweet potato pie cheesecake. The end result, after a few trial and errors, was magnificent and turned into this sweet potato swirl cheesecake I just had to share with you.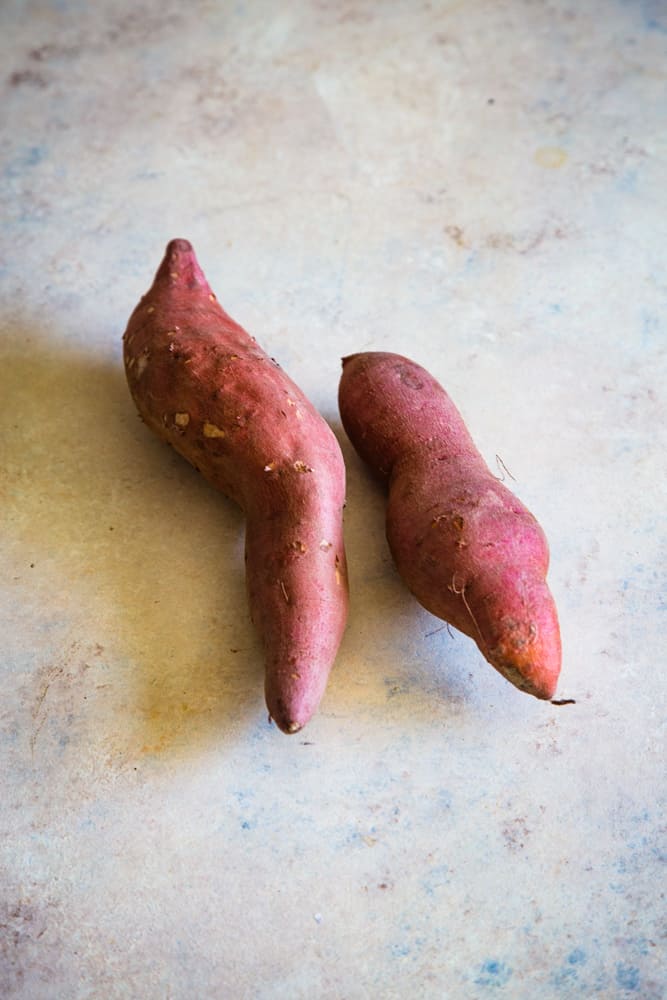 How To Cook Sweeet Potatoes
For this recipe, you can either use fresh sweet potatoes or canned sweet potato puree. To make this cheesecake using fresh sweet potatoes you must-
Preheat oven to 375 degrees F.
Pierce each sweet potato deeply with a fork or sharp knife a few times on each side at approximately 1-inch intervals. This allows the steam to escape during the baking.
Place sweet potatoes on a foil-lined baking sheet and bake for 25-35 minutes, or until tender.
Let cool for 15 minutes then carefully peel the potatoes. Place flesh in a bowl and mash until smooth.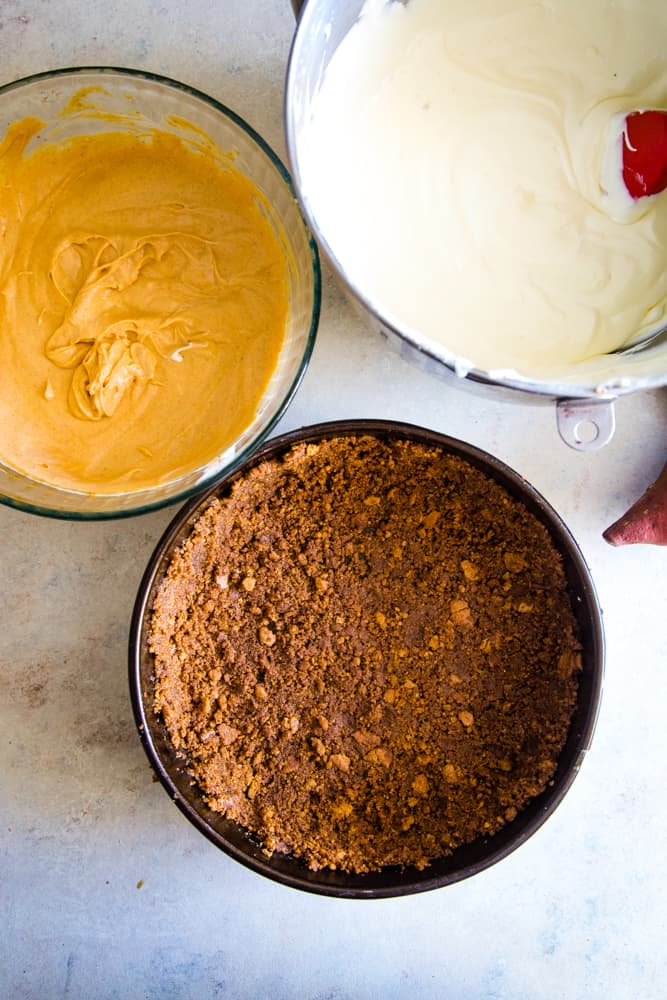 How Do You Make Sweet Potato Swirled Cheesecake?
This sweet potato cheesecake swirl has a few steps to it, but none of them are difficult or lengthy, I swear. In a small bowl, combine your gingersnap cookies and butter, then press them into your pan to make the crust before setting it in the freezer while you prep the rest. In one bowl, whip together the cream cheese, vanilla, sugar and eggs. In a separate bowl, mix together the puree, spices, and more sugar. Add a cup of the cream cheese mixture to the puree mixture and pour into your crust. Pour the rest of the cream cheese mixture on top before using a knife to swirl the two layers. Bake for an hour and, voila, you have the perfect dessert.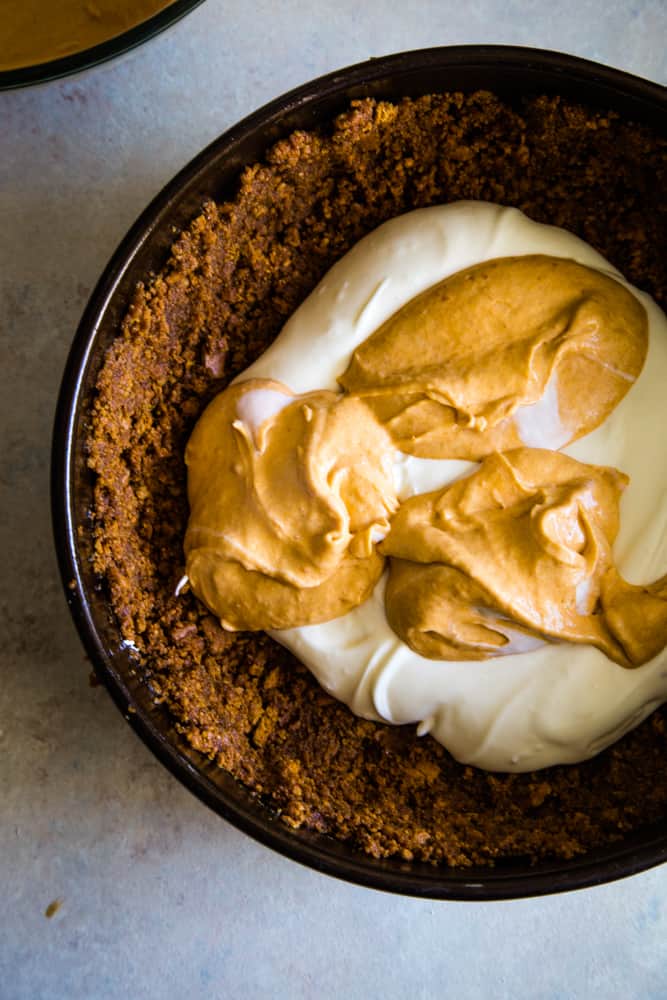 If using the salted caramel, mix all the ingredients, except the vanilla into a saucepan and simmer until thickened. Add the vanilla and continue to simmer a bit longer. Let cool to thicken further before pouring over the sweet potato cheesecake swirl.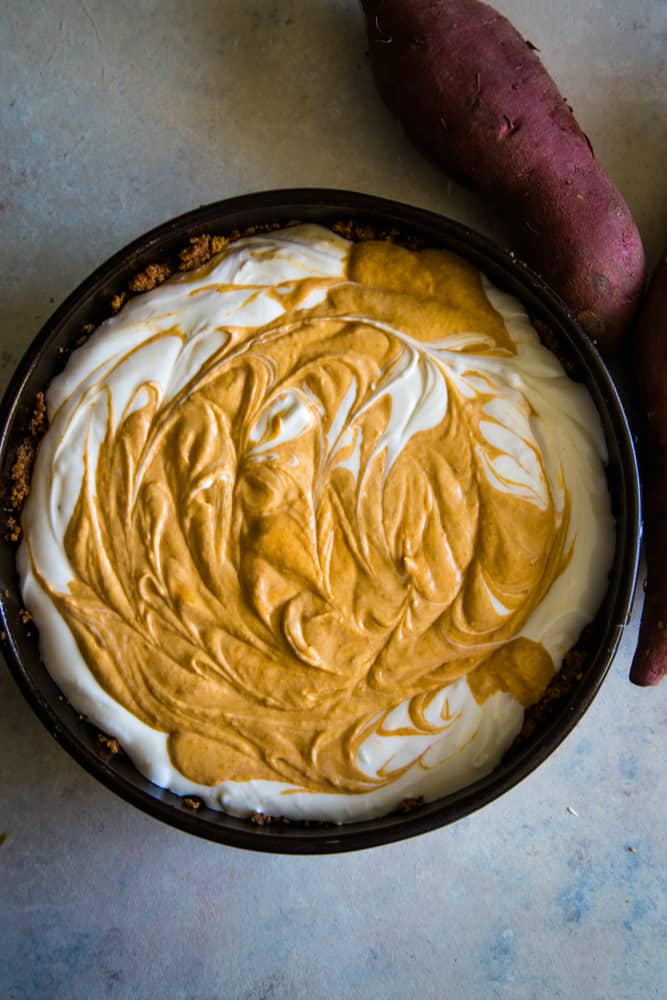 Tips for Making Sweet Potato Swirled Cheesecake?
It's tempting to want to eat the cheesecake right away, but it's important that it gets to chill for a minimum of 4 hours. This settles the ingredients and allows them to fully come together. If not fully chilled, the results aren't quite as satisfying.

To get the best caramel for the top of your sweet potato swirl cheesecake, let it chill for about an hour in a closed container. This will allow it to thicken nicely so it doesn't just run off the cheesecake, but sticks to it like a proper topping should.

When swirling the two layers together, be sure to avoid the very bottom of the cheesecake as well as the sides. In other words, don't disturb the crust or it pieces of it could end up in the sweet potato pie cheesecake. Although it would still taste good, it wouldn't look near as pretty.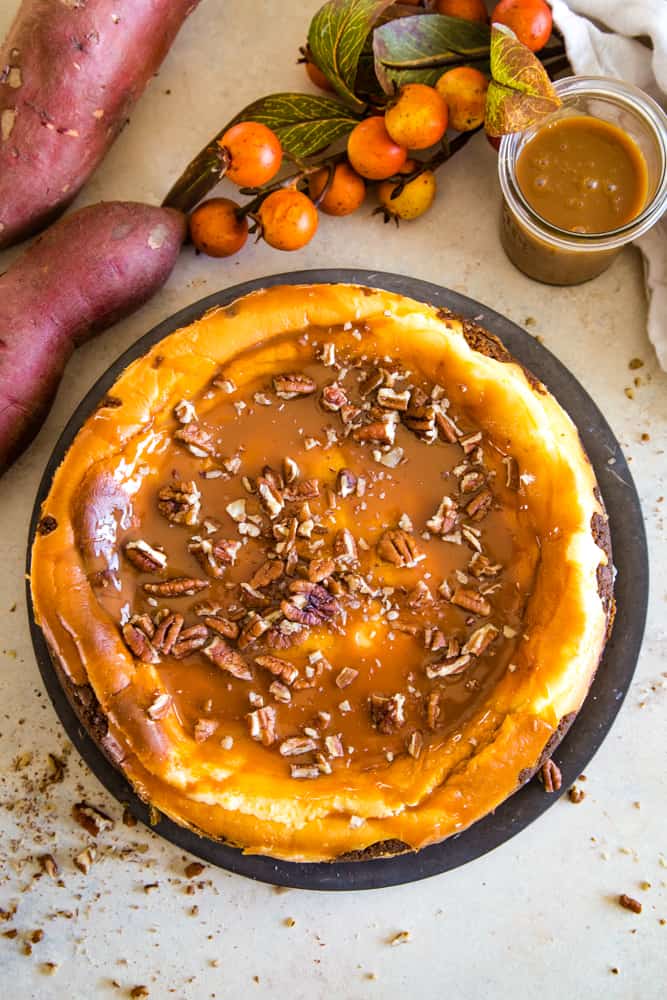 Common Questions About Sweet Potato Swirled Cheesecake
What Makes Cheesecake Fall?
If the middle of your cheesecake has fallen and looks like a sinkhole could be hiding beneath, you're not alone. The main reason for this is overmixing ingredients. It's important to mix ingredients well however, if mixed too much, a lot of extra air will be included before the baking process. During baking, the cheesecake puffs up from the added air. During cooling, the air is released, causing a cave-in. This doesn't usually ruin the taste of the cheesecake, just the look of it, which can be disappointing on its own. You may also see cracks from the added air as well.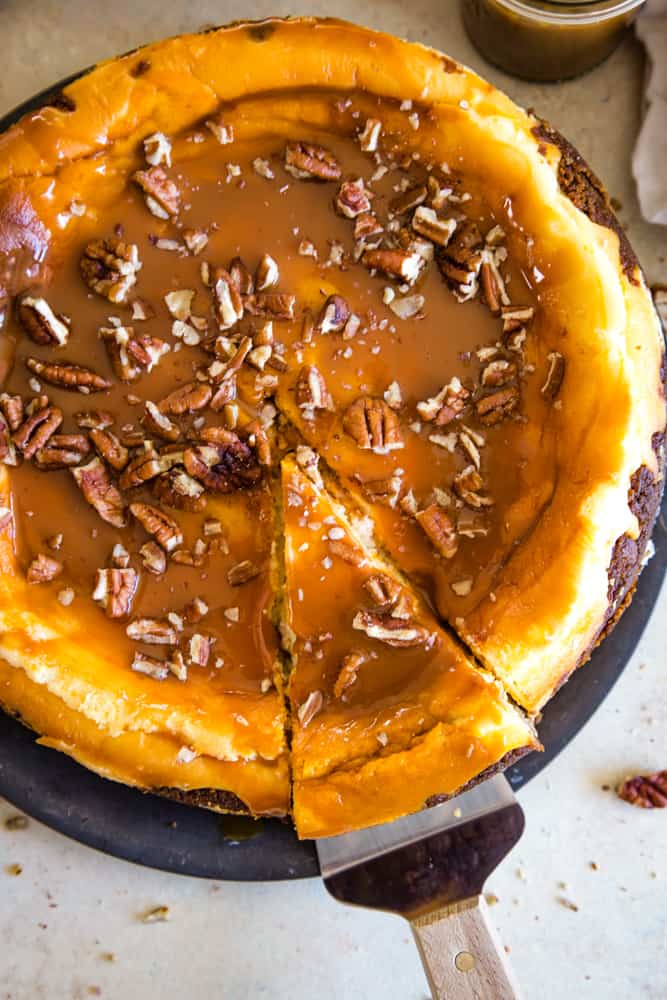 Fall is my favorite time of the year specifically because it has all the best recipes. Of course, they can be made any time of the year, but it feels better when it's socially acceptable. Whether you're a crazy fall person like I am or just need a new Thanksgiving dessert idea, give this Sweet Potato Cheesecake a try!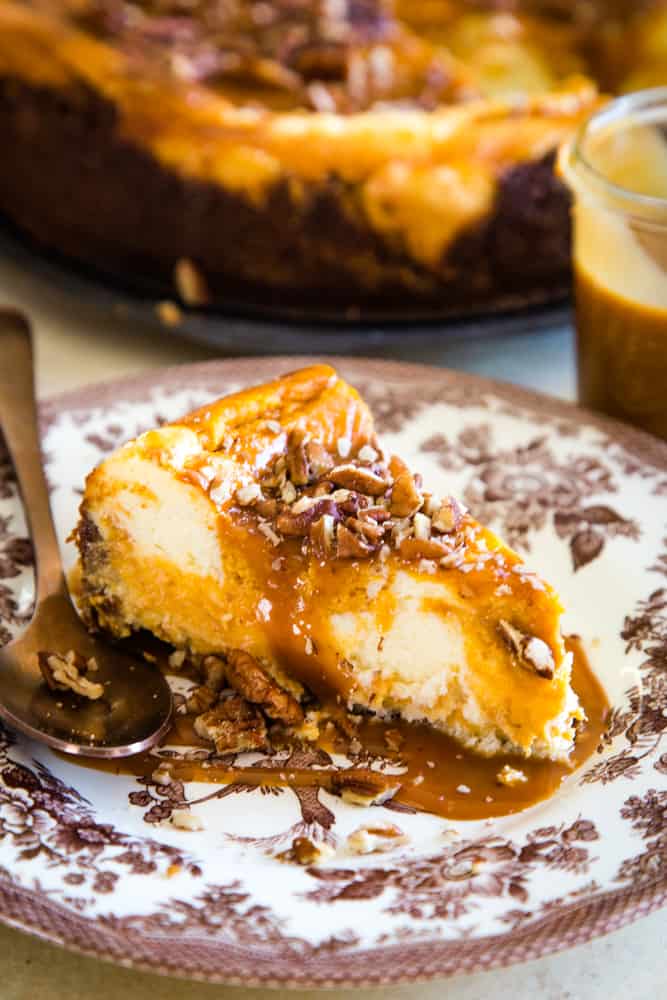 If you loved this recipe, you're sure to love these other potato recipes!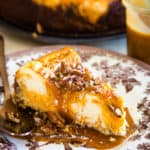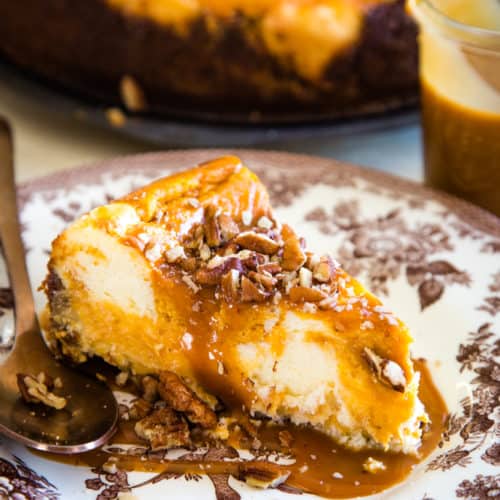 Sweet Potato Swirled Cheesecake with Spiced Salted Caramel
Keyword:
sweet potato dessert, Thanksgiving cheesecake
Ingredients
Cheesecake
1

stick

(8 tablespoons) unsalted butter

melted

24

ounces

full-fat cream cheese

room temperature

¾

cup

granulated sugar

3

eggs

1

tablespoon

vanilla extract

2

teaspoons

ground cinnamon

1

tablespoon

pumpkin pie spice

¼

cup

sugar
Salted Caramel
1

cup

brown sugar

packed

½

cup

heavy cream

4

tablespoons

unsalted butter

¼

teaspoon

salt

½

teaspoon

pumpkin pie spice

1

tablespoon

vanilla extract

Chopped Pecans for garnish
Instructions
Preheat your oven to 300 degrees if using a dark springform pan, and 325 degrees if using a light-colored springform pan.

Place rack in the middle of the oven.

Generously spray springform pan with non-stick cooking spray.

Combine gingersnap crumbs and melted butter and press into bottom and sides of pan.

Place in freezer while preparing the cheesecake filling.

Beat together cream cheese, sugar, and vanilla until smooth.

Add eggs, one at a time, and mix until combined.

In a separate bowl, mix together sweet potato puree, spices, and sugar.

Add 1 cup of cheesecake filling to sweet potato mixture and stir to combine.

Remove crust from freezer.

Pour sweet potato mixture into pan and spread carefully.

Pour remaining cheesecake filling over sweet potato mixture.

With a knife, carefully swirl the sweet potato mixture into the cheesecake mixture avoiding touching the crust.

Place cheesecake in center of the oven and bake for 1 hour or until the center is only slightly jiggly. Once done, remove from oven and cool to room temperature, about 30-40 minutes.

Once room temperature, chill for at least 2 hours before serving.

To make the caramel sauce heat brown sugar, cream, butter, salt and pumpkin pie spice in a heavy bottomed sauce pan over medium low heat.

Whisk gently for about 5-7 minutes until it has thickened.

Add Vanilla and cook for another 2 minutes.

Remove from heat and cool for 5 minutes then pour into jar.

Once room temperature, pour over cheesecake before serving and garnish with chopped pecans.