From cheeseboards at Christmas to Superbowl spreads, this Rosemary Garlic Chex Mix will soon become your go-to snack recipe. Chex cereal, nuts and pretzels are oven baked with a generous drizzling of rosemary and garlic butter to create a bowl of tasty tidbits.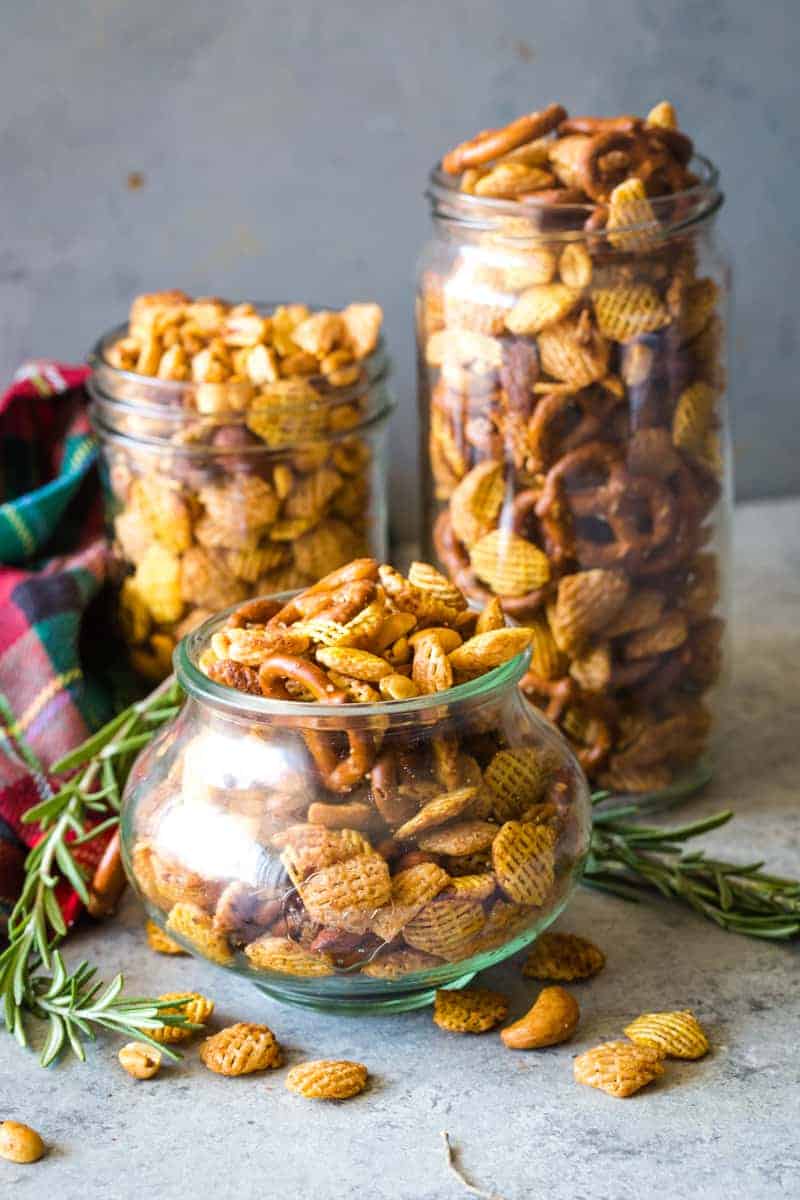 WHY WE LOVE THESE ROSEMARY GARLIC CHEX MIX
Does anyone else agree bowls of chex mix are the unofficial sign its party season? This sweet, salty mix of umami deliciousness is the perfect pairing to those cranberry mimosas or champagne punch that's compulsory during the holidays.
While store-bought chex mix is a satisfying snack, nothing beats homemade (or the bonus hosting points for making it yourself.) It's also super easy to customize to your family's tastes whether you want to switch out peanuts for pumpkin seeds or Cheerios instead of Chex.
For those unaware, this savory snack's name derives from the Chex breakfast cereal that is then given a mouth-watering makeover thanks to melted butter, Worcestershire sauce, garlic, and rosemary. The mix is then roasted for that characteristic crunch that fills your home with a sensational aroma of rosemary and garlic.
While tempting to devour straight out of the oven, one of the (many) amazing things about this rosemary garlic chex mix is that it can be stored for up to one month – perfect for the whole holiday season!
INGREDIENTS/SHOPPING LIST
corn cereal squares, either chex mix or Crispix
mixed nuts
bite-size pretzels
salted butter
Worcestershire sauce
garlic powder
onion powder
salt
dried rosemary
HOW TO MAKE ROSEMARY GARLIC CHEX MIX FROM SCRATCH
Prep - Preheat the oven to 250°F. Line 2 rimmed baking sheets with parchment paper.
Sauce - In a small bowl, stir together melted butter, Worcestershire sauce, garlic, and onion powder, rosemary, and salt.

TIPS AND VARIATIONS
Sweet & Spicey – Add sesame seeds, cayenne pepper, and a little brown sugar
Thai Chex Mex – A mix of peanut butter, rice crackers, peanuts & wasabi peas
Lemon & Rosemary – Add lemon zest & thyme to this recipe
Healthy Chex Mex – For the sauce use olive oil, soy sauce, maple syrup, nutritional yeast, rosemary & thyme.
Nutritional Yeast – This will give your Chex mex a savory, cheesy flavor
Nut allergy? Use sunflower seeds and pumpkin seeds instead of nuts.
Feeling really festive? Add red pepper flakes to contrast the rosemary for a red and green theme.
Utensil tip - Use a rubber spatula to stir to avoid crushing the cereal

COMMON QUESTIONS ABOUT ROSEMARY GARLIC CHEX MIX
WHAT KIND OF CEREAL IS BEST FOR ROSEMARY GARLIC CHEX MIX?
You can use Corn, Wheat, or Rice Chex in this recipe or even all three for added variety of textures and flavor. Alternatively, Crispix also works. Alongside chex cereal, you can also add Cheerios, which are particularly tasty as they soak up the sauce in the oven.
CAN I MAKE THIS ROSEMARY GARLIC CHEX MIX ON STOVETOP?
If you're short on time, it's possible to make this recipe on the stovetop. Start with melting the butter in a large skillet over medium heat. Then add the Worcestershire sauce, garlic and onion powder, rosemary, and salt. Add the cereal, pretzels, and nuts and toss to coat in the sauce mix. Reduce the heat to low and continue to cook for several minutes until the cereal is toasted. Add to a bowl where it will continue to crisp up as it's cooling.
CAN I MAKE CHEX MIX IN THE SLOW COOKER?
Although your chex mix won't come out as crunchy, if you're struggling for oven space, the slow cooker is always convenient. Simply transfer the mix to your slow cooker and cook for 3 hours on low. Remove the lid & stir every 45 minutes. You may also need to add a towel under the lid to collect condensation and avoid soggy chex mix. Allow to cool on a baking sheet before serving.
THE PERFECT HOMEMADE GIFT
Looking for a last-minute hostess gift? Make this rosemary garlic chex mix as normal then once cool, tip into a mason jar. Add a cute festive ribbon and a little gift tag for a homemade gift that requires minimal effort but guarantees to impress.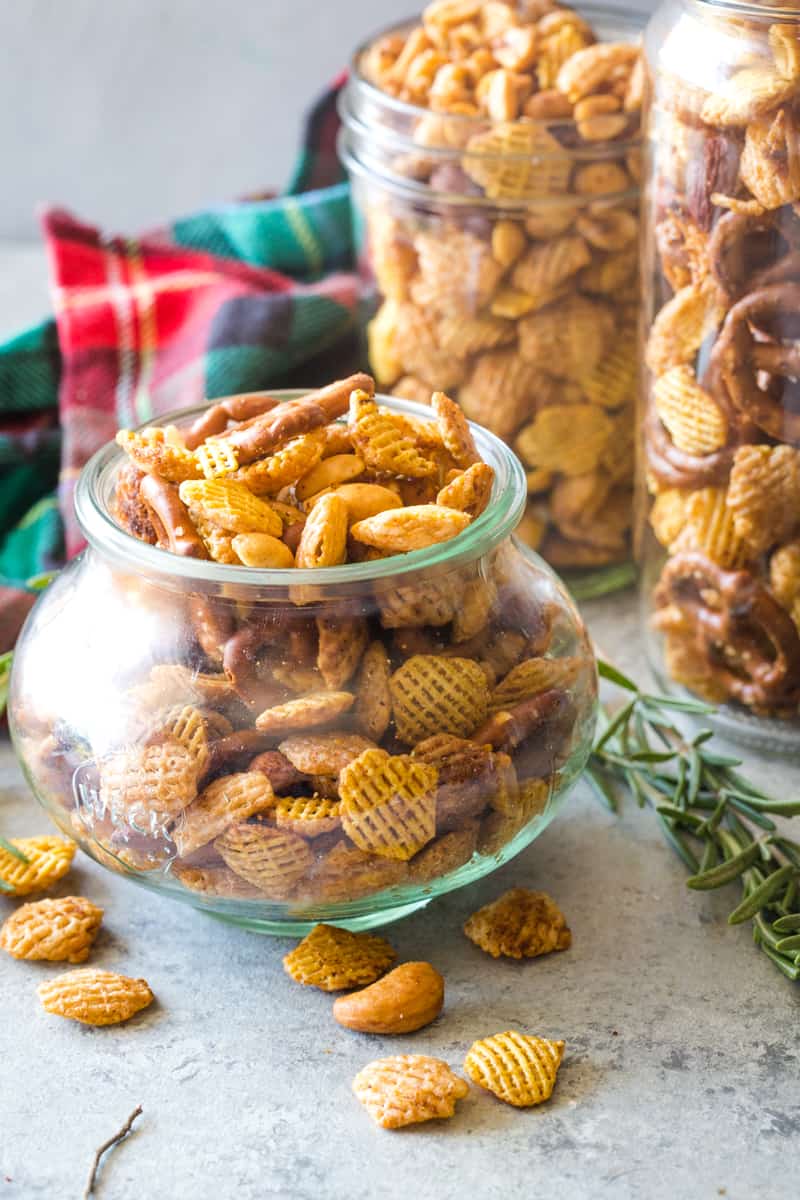 Did you enjoy this Rosemary Garlic Chex mix? Let me know in the comments below or on social media!
MORE FESTIVE NIBBLES & APPETIZERS YOU'LL LOVE