These homemade Garlic Rosemary Crackers are so simple to make that you will never buy store-bought crackers again! Serve them with some delicious Sabra Hummus for an #unofficialmeal.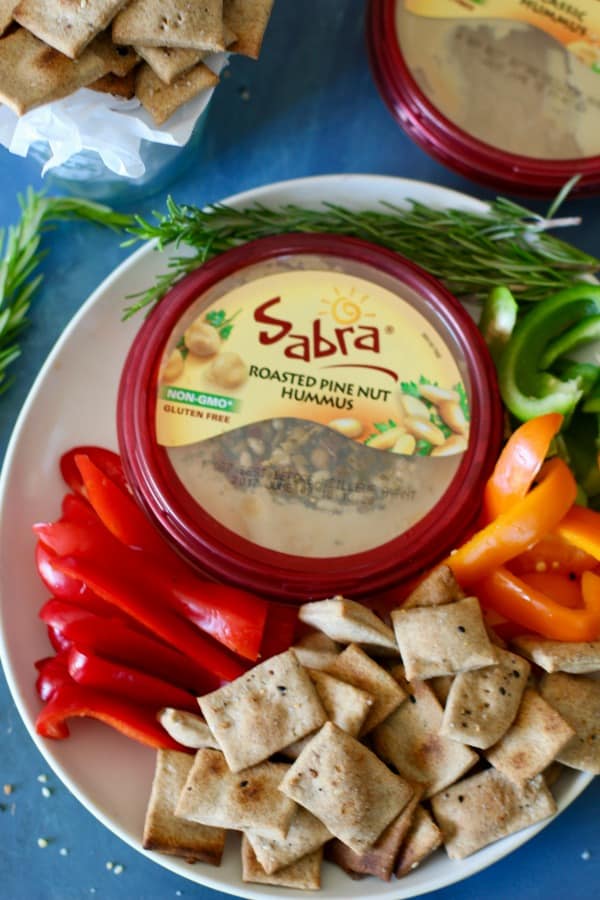 Having a teenager is great, however it poses a few problems. For one, he is always, always, always hungry. Two- he invites his friends over and they are always, always, always hungry. I can never have enough food in the house to fill their bottomless pits (aka stomachs). The worst part is when I go to grab something from the pantry and find only crumbs left in the box. This drives me crazy.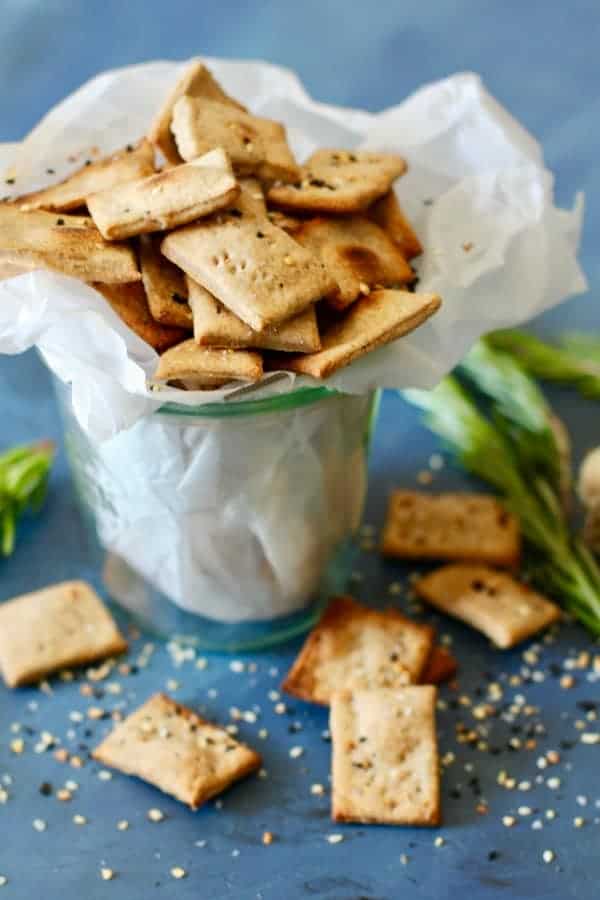 This happened last week when I had an impromptu small dinner party. I needed a delicious appetizer and also something to feed a group of boys hanging out in my son's room. For times like these, I always keep a few containers of Sabra Hummus in the fridge. With crackers and a few veggies, I am able to buy some time until dinner is ready. Call it the Unofficial Meal. It also makes a beautiful addition to your appetizer spread.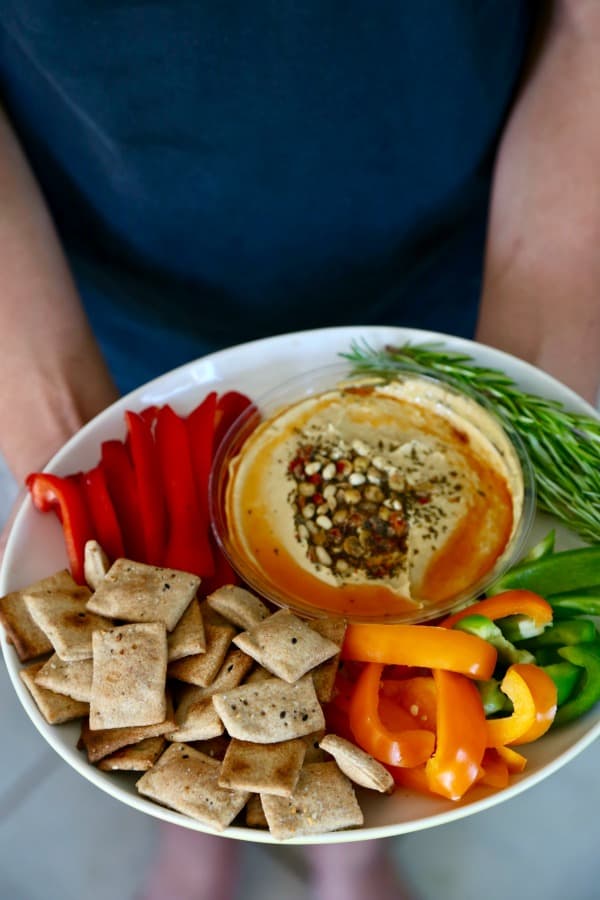 Anyway, while prepping dinner I reached for the box of crackers and low and behold, there were only 2 left in the box. After a few grunts and possibly some swear words, I quickly brought out the ingredients to make these homemade Garlic Rosemary Crackers. The dough only too about 5 minutes to put together and within 15 minutes, they were in the oven. Now if you're the type of person that makes chocolate chip cookies to make your home smell better, forget that and make these crackers. Within 5 minutes of baking all the boys were in the kitchen staring into the oven. I need to candle that scent!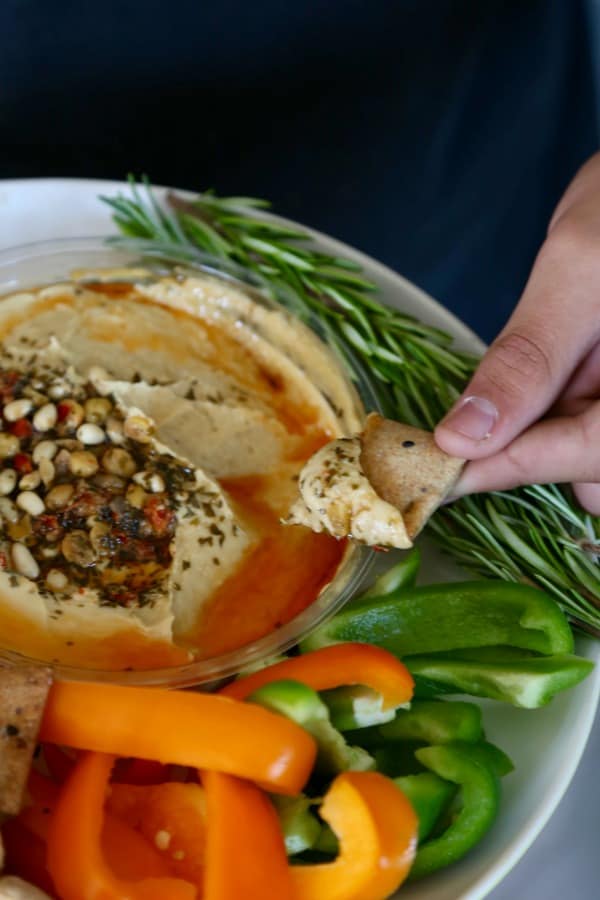 Once done, I quickly plated them on 2 platters with some Sabra and freshly sliced veggies. One plate went into the boy's room and was demolished within seconds, while my girlfriends and I sat out on the deck munching on our hummus with a nice glass of wine. With everyone fed and content and dinner in the oven, it was finally time to relax...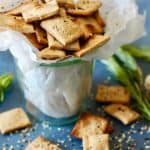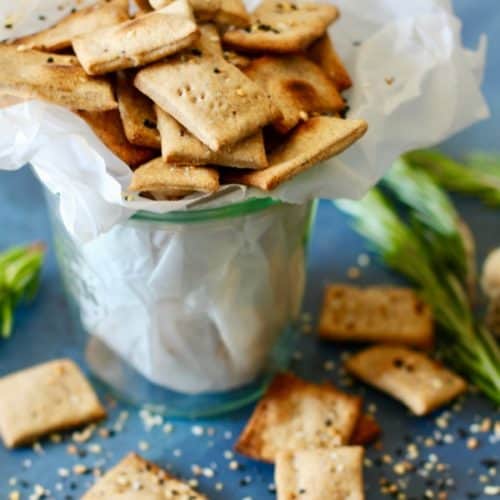 Garlic Rosemary Crackers
Crackers are so simple to make and so much better than store bought!
Ingredients
1 ½

cups

all-purpose flour

1 ½

cups

whole wheat flour

2

teaspoons

sugar

2

teaspoons

salt

1

teaspoon

fresh rosemary

, finely chopped

4

tablespoons

extra-virgin olive oil

1

teaspoon

freshly minced garlic

1

cup

+ 1 tablespoon water

Everything Bagel Seasoning

(optional)
Instructions
Preheat oven to 450 degrees.

Lightly spray 2 cookie sheets with non stick cooking spray.

In a large bowl, combine flour, sugar, salt, and rosemary.

Add oil, garlic, and water and stir until a soft, sticky dough forms.

Working with half of the dough at a time, roll dough out on a lightly floured surface to about an ⅛ inch thickness.

Sprinkle dough with a bit of water then sprinkle your seasoning.

Cut into small cracker sized rectangles and place on cookie sheet (they can be fairly close as they do not spread).

Prick each cracker with a fork a few times.

Bake for 10-12 minutes.

Cool and store in an airtight container for up to 5 days.