Just like your favorite chain restaurant's version, this Fresh Strawberry Pie has a buttery crust that is loaded to the brim with sweet sun ripened strawberries, and garnished with homemade whipped cream!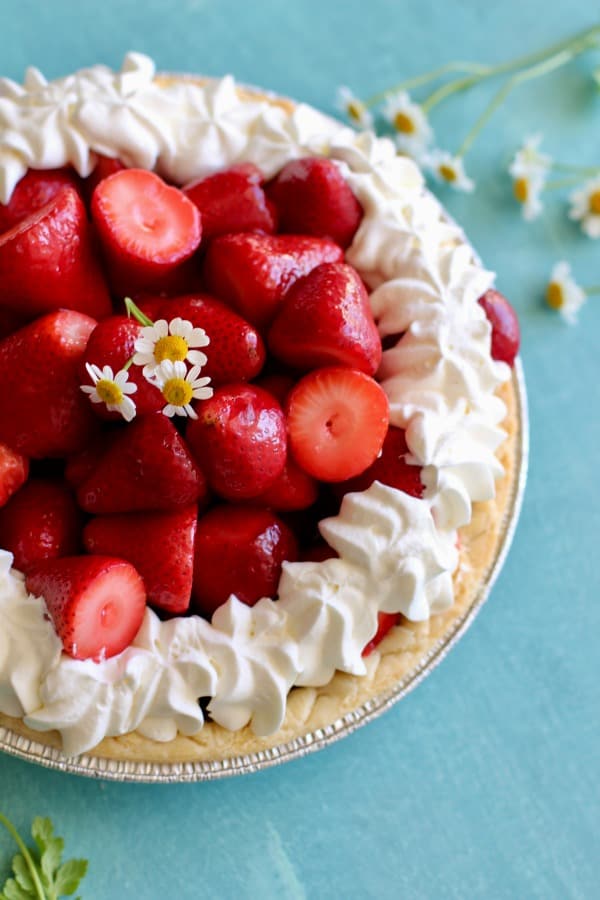 Every year I crave one of these sweet pies, but for some reason, have only gotten around to posting a recipe for it until now. I secretly believe that it was simply because I was afraid of the cut. If you don't have the right knife to slice perfectly through the whole strawberries, the photos is shot. While still fork licking delicious, nobody wants to look at a pile of broken crust and haphazard strawberries and think, "Hey, I want to make that." While not important in the real world, photos and perfect pie slices make a huge difference in the blogging world.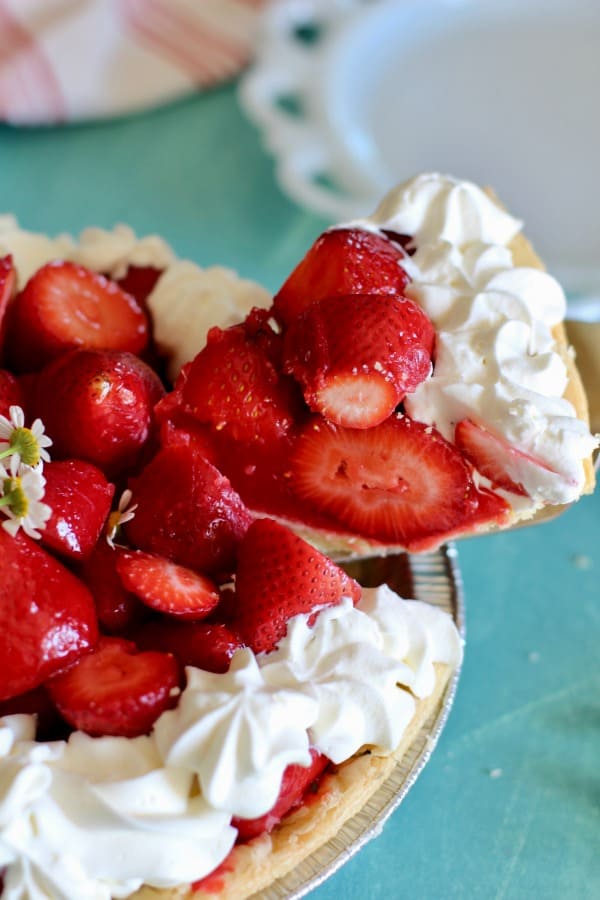 Like usual, my amazing husband came through with the perfect Mother's Day gift. He bought me my first high quality (expensive) knife that can slice through any thing! The man totally gets me. With my sharp knife, fridge full of fresh Carlsbad strawberries, and a few pounds of butter, I finally came through on my promise (x5). You see, this pie has been requested many, many times, but I always said "no" as I knew I couldn't get the cut. Now, I had no excuses!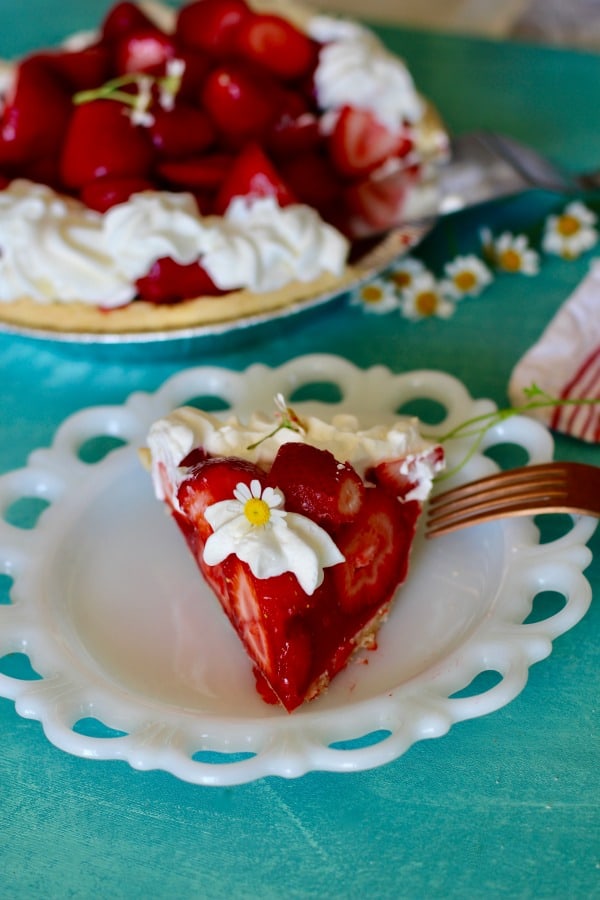 I'm so happy that I finally made this Fresh Strawberry Pie as it is one of my favorite Spring/Summer desserts. It is extremely easy to make and requires only a few minutes of bake time for the crust. Trust me when I say that even during the extreme heat of summer, those 15 minutes of oven time are worth the sweat after one bite of this pie! I have made this pie with store-bought and homemade crust. They are equally delicious! While I provided the recipe below with a store-bought crust, I have an easy fool-proof all butter pie crust recipe here.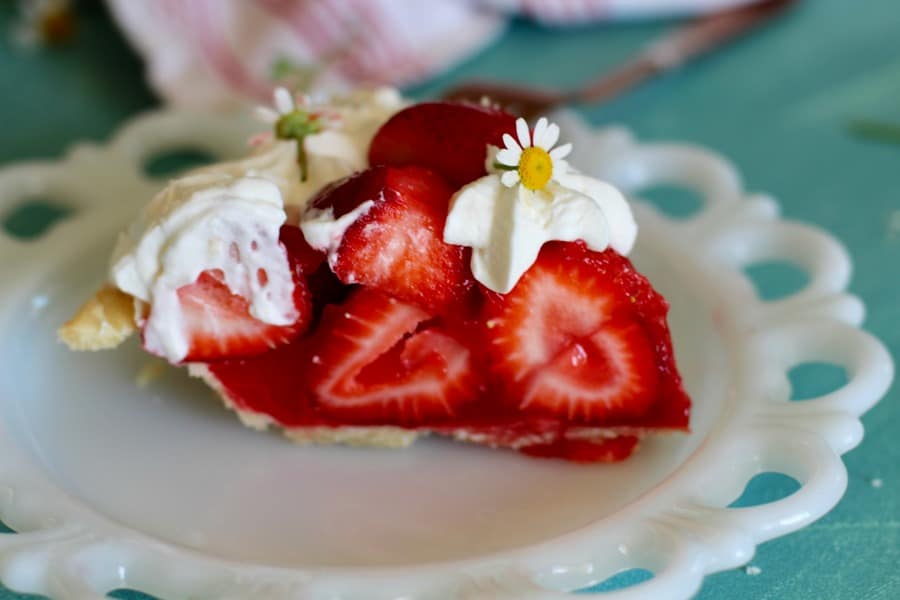 Since receiving my knife, I have made this pie several times. Each time, it only lasted a few minutes before it was gobbled up. So, if you plan to make this Fresh Strawberry Pie for an upcoming Memorial Day or Summer party, make a few! It's the only way to ensure that you actually get a slice! Enjoy!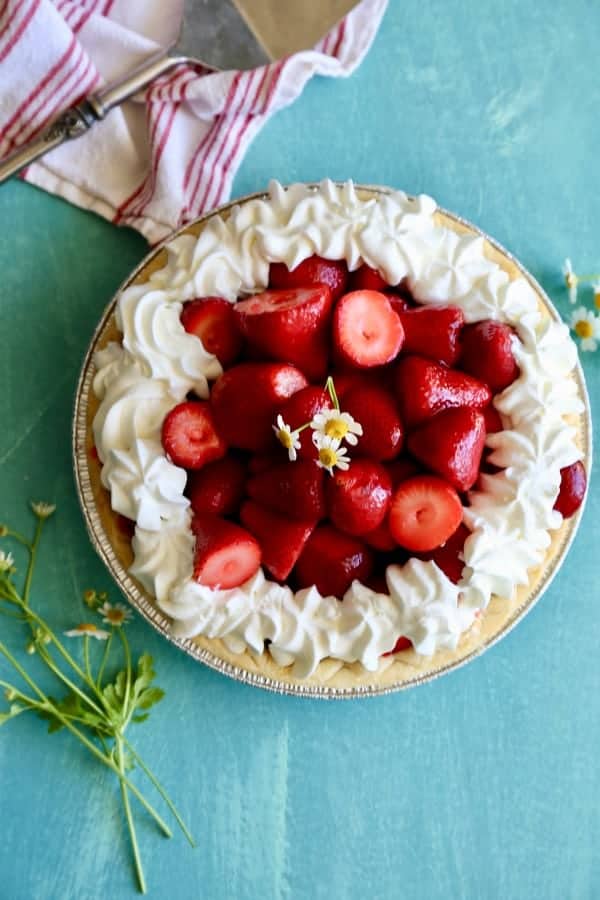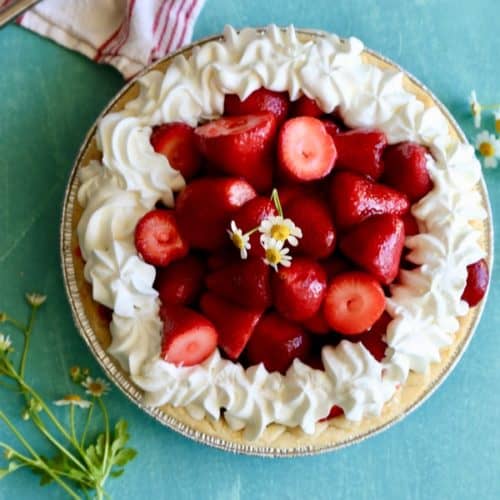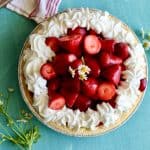 Fresh Strawberry Pie
This Fresh Strawberry Pie is a perfect Spring/Summer treat. Serve with a cold dollop of whipped cream for the perfect slice!
Ingredients
2

(8 inch) deep dish pie shells, baked

2 1/2

quarts

fresh strawberries

, hulled

1

cup

white sugar

2

tablespoons

cornstarch

1

cup

water

1

(3 ounce) package strawberry flavored gelatin (Jell-O®)
Instructions
Bake pie shells according to package instructions.

Gently rinse and towel dry strawberries.

Hull strawberries (remove leafy green top and stem).

In a saucepan, mix together the water, sugar, and corn starch; whisk until completely blended.

Bring to a simmer, and cook over medium heat until mixture thickens. Remove from heat.

Add gelatin mix, and stir until smooth. Let mixture cool to room temperature.

In a large bowl, toss strawberries with cooled gel mixture.

Place strawberries in baked pie shells; position berries with points facing up.

Pour remaining cooled gel mixture over strawberries.

Refrigerate until set.

Serve with whipped cream, if desired.