This Quadruple Berry Pie is filled with summer's finest raspberries, strawberries, blackberries, and blueberries and wrapped up in a flaky all-butter crust!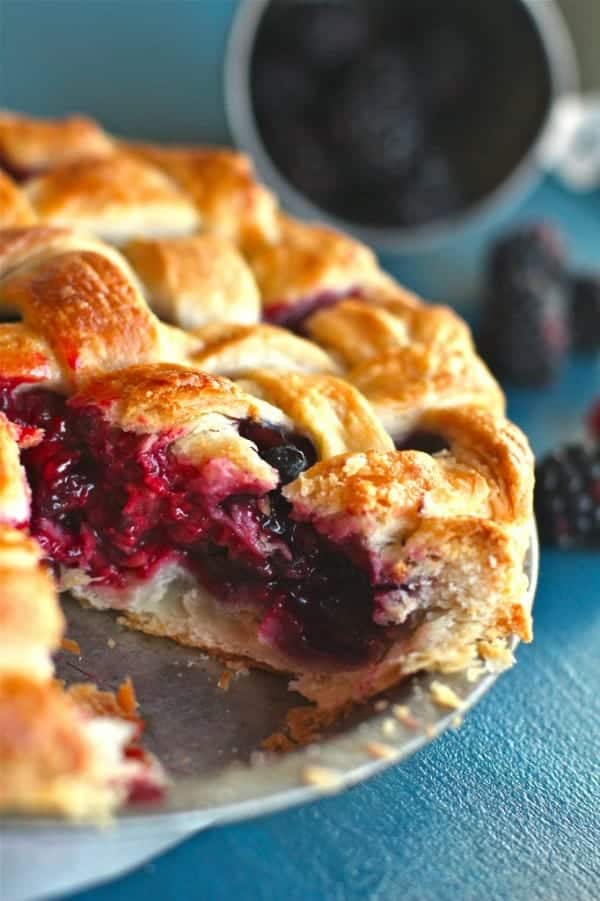 It's berry season!!! I get so excited when Spring hits because it means farm tours and berry picking! There is nothing better than munching on sweet fresh berries or baking them until they burst with luscious juices.Since my refrigerator was jam packed with berries and we are planning a massive berry picking road trip (seriously it is going to be awesome!), I decided to make one of my favorite desserts, Berry Pie.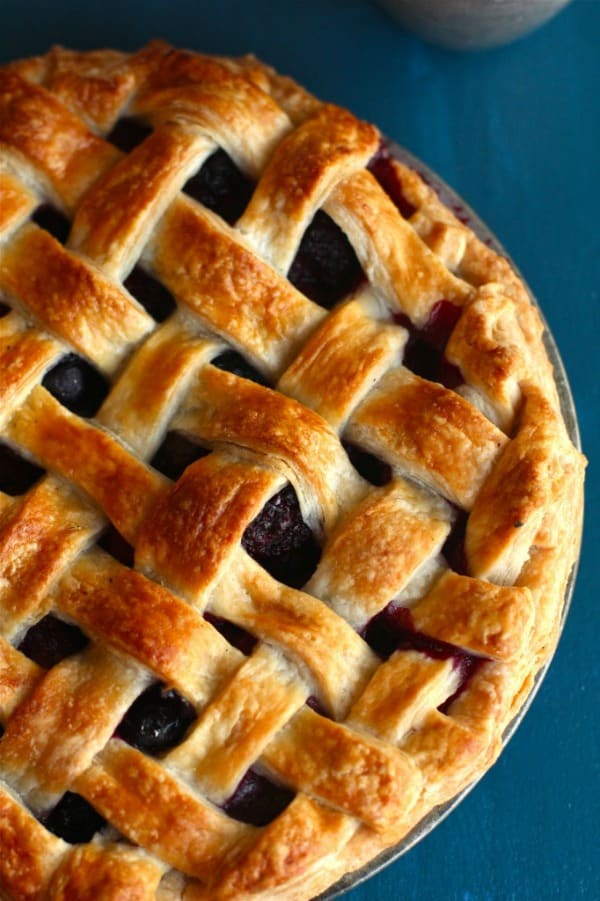 Only sprinkled with a touch of sugar, the blueberries, blackberries, strawberries and raspberries melt together to create a decadently sweet chunky syrup which can only be soaked up by a perfectly flaky thick crust and a scoop of vanilla bean ice cream. Anything else would not do this pie justice.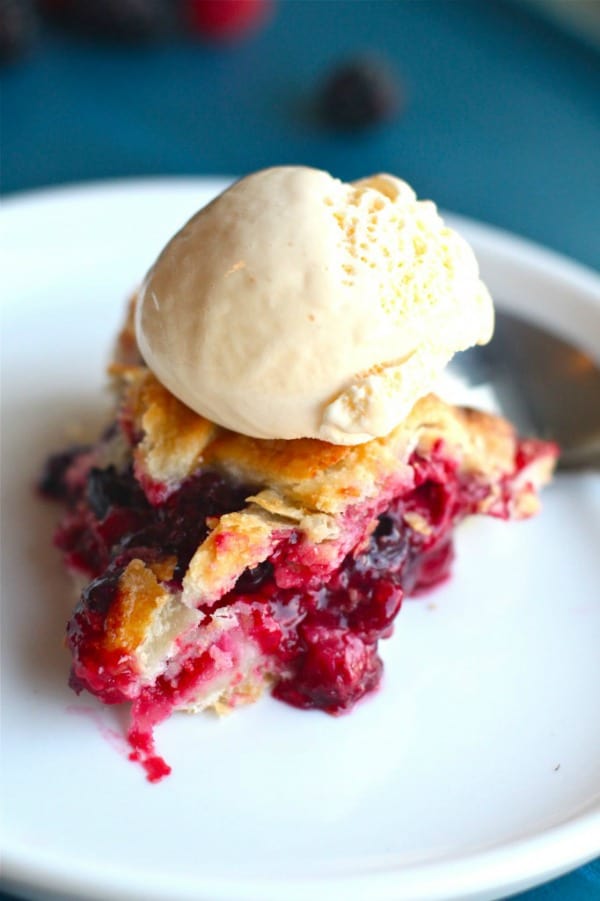 Now let's talk about the crust. It is, like most things baked, a labor of love. I too have cheated by using a food processor, but if you are planning on filling your pie with such beautiful ingredients, you might as well do it right.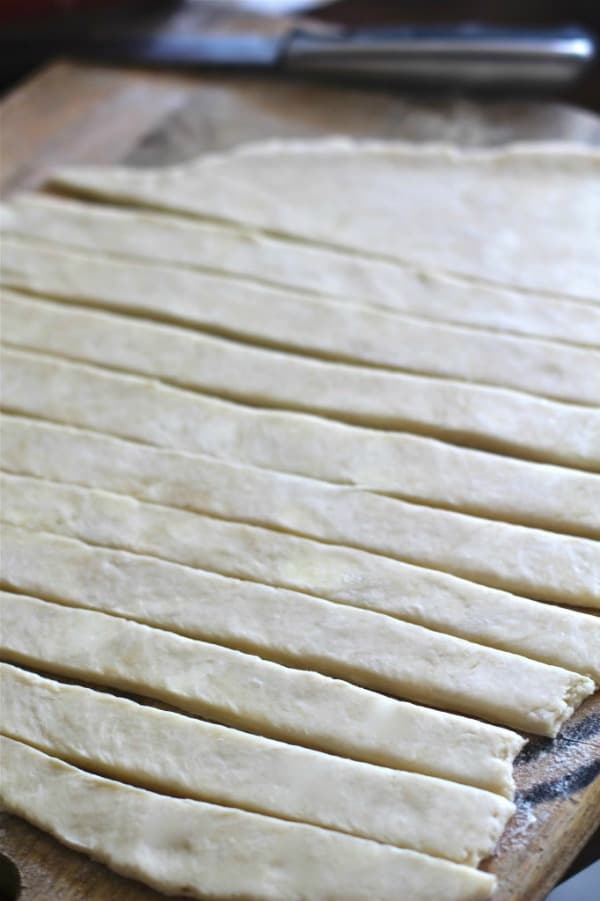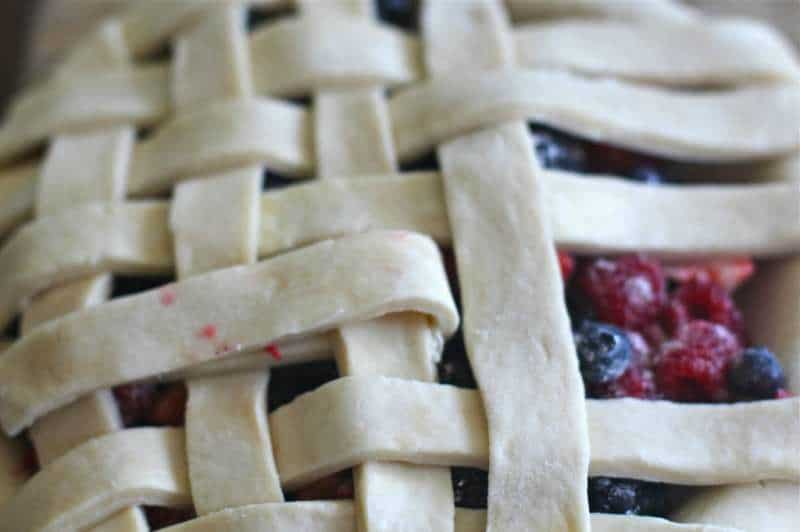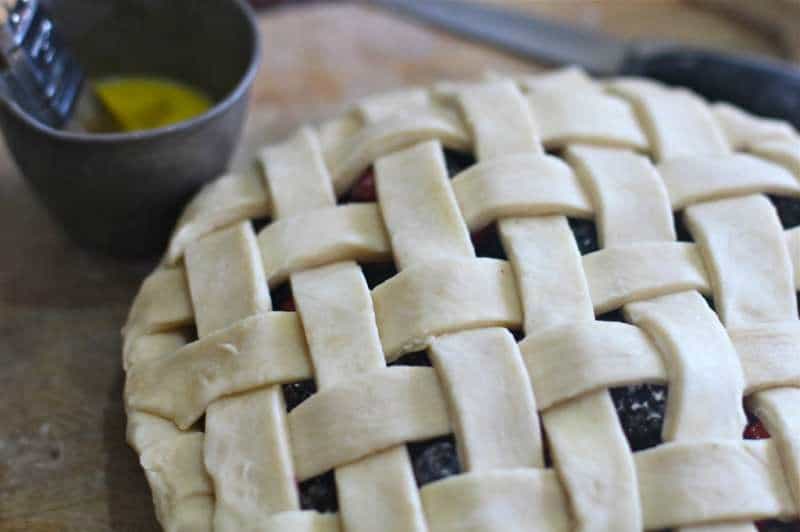 There are a few things that make the perfect pie crust. First is a pastry cutter. I have gone through many of these things, but this one is my favorite. It is sturdy and will not break or bend when you are cutting through cold butter. It is called Oxo Good Grips Pastry Blender (aff link).
Lastly, you want your butter to be right out of the refrigerator cold. Also, when you are working your dough, don't be alarmed by the little pieces of butter that remain. Those little pieces of gold will melt while baking creating air pockets making your dough extremely flaky! Cheers to the perfect pie crust and an unbelievable summer Quadruple Berry Pie!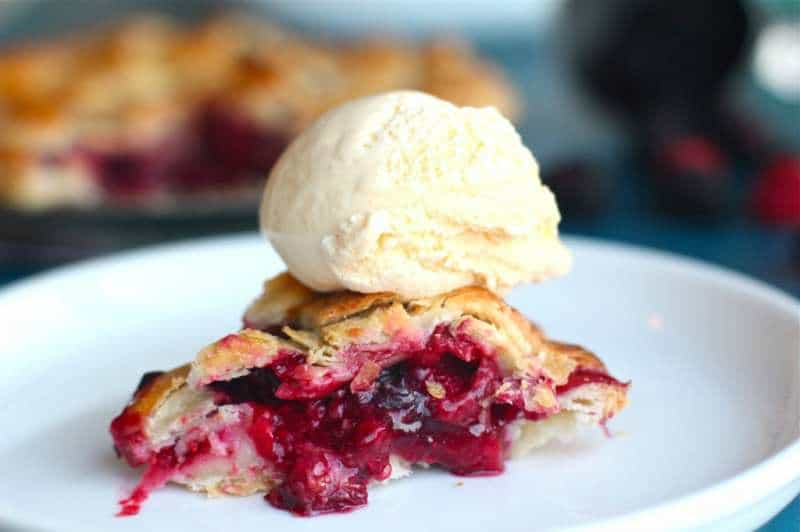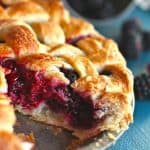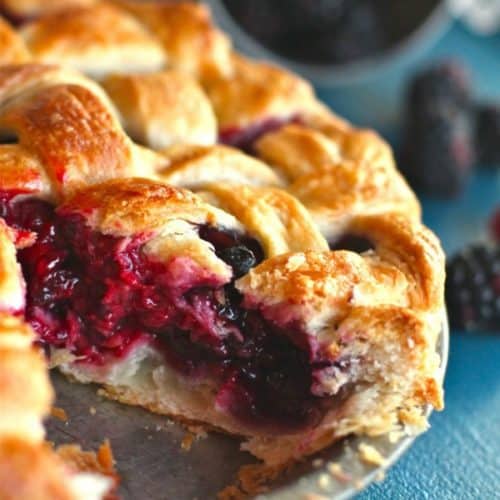 Quadruple Berry Pie
A butter pie that contains all of Summer's best bounty-blueberries, strawberries, raspberries, and blackberries!
Ingredients
Perfect Pie Crust

2 ½

cups

flour

1

tablespoon

sugar

1

teaspoon

salt

1

cup

butter

, very cold, cut into small cubes

¾

cup

ice cold water

Filling-

½

cup

Blueberries

½

cup

Blackberries

½

cup

Strawberries

½

cup

Raspberries

2

tablespoon

sugar

2

tablespoon

corn starch

1

batch of the pie crust recipe above

1

egg

, slightly beaten

1

tablespoon

sugar for sprinkling
Instructions
For the crust-

In a large bowl, mix together flour, sugar and salt.

Add your cubed butter and cut it into the dough using a pastry cutter.

When butter and flour have come together forming little pea size clumps, mix in the water.

Once everything is wet, gently knead dough with your hands until it all comes together and there is no flour at the bottom of the bowl.

Separate the dough into two pieces and wrap in plastic wrapping.

Refrigerate dough for at least an hour before using, or freeze up to 1 month.

To assemble the pie-

Preheat your oven to 350 degrees.

Spray a regular pie dish with non-stick cooking spray.

Place washed and dried berries in a bowl.

Fold in sugar and cornstarch.

Roll one of the pie crusts out to a roughly 12-inch diameter and transfer it to your pie pan. Snug it against the sides and corners of the pan, letting the excess hang over the edges.

Fill the pie with your filling.

Roll out the second pie crust to a roughly 12-inch diameter.

Using a pizza cutter or sharp knife, cut the crust into even strips about ¾-inch wide.

Lay half the strips horizontally over the pie, using the longer strips in the middle of the pie and shorter strips toward the edges, with a bit of space in between each strip.

Fold every other strip back on itself.

Lay one of the remaining strips of pie crust vertically over the pie so that it lays across the unfolded horizontal strips.

Swap the folded and unfolded horizontal strips: unfold the folded horizontal strips so they lay over the vertical strip and fold the strips running under the vertical strip back over top.

Continue with remaining strips.

Brush with egg wash and sprinkle sugar on top.

Place pie on a cookie sheet and bake at 350 degrees for 50 minutes.

Serve with a scoop of vanilla bean ice cream.