A buttery crust filled to the brim with peach slices and topped with creamy whipped cream equals Fresh Peach Pie perfection.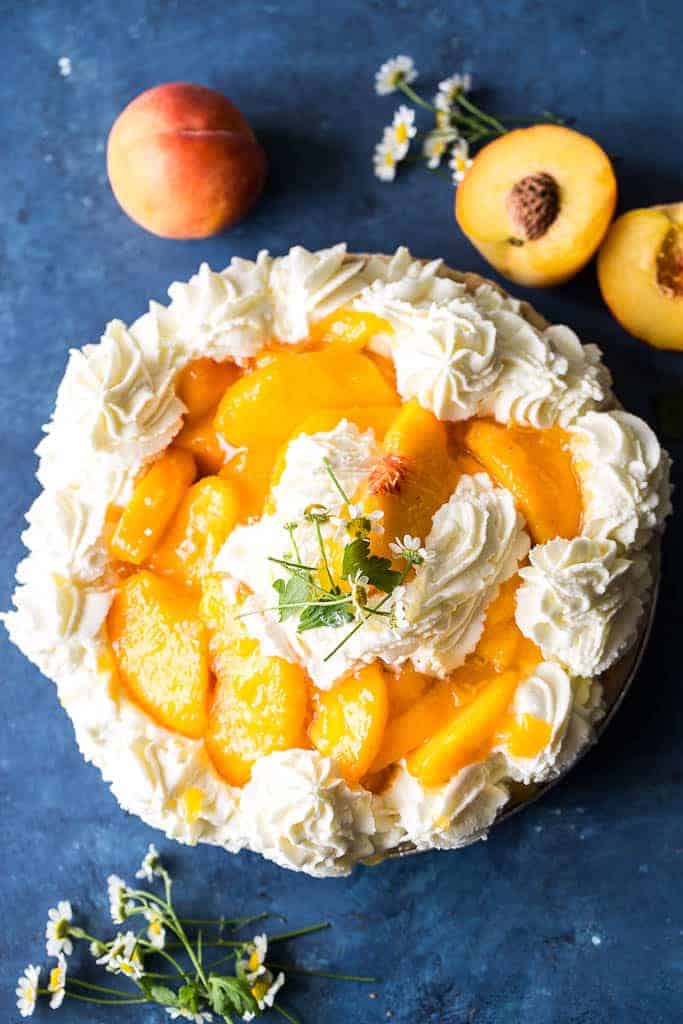 This time of year, I just can't get enough peaches. Peaches are one of my favorite foods, so I live for this time every year when they're everywhere and at their peak freshness. I probably go a bit (okay, a lot) overboard with my peach-buying and end up with a zillion peaches that have to be used immediately.
You could say that I'm just overzealous with my peach-buying and can't accurately forecast how many peaches I'll really need... but sometimes I think I subconsciously buy so many so I "have" to make recipes like this Fresh Peach Pie.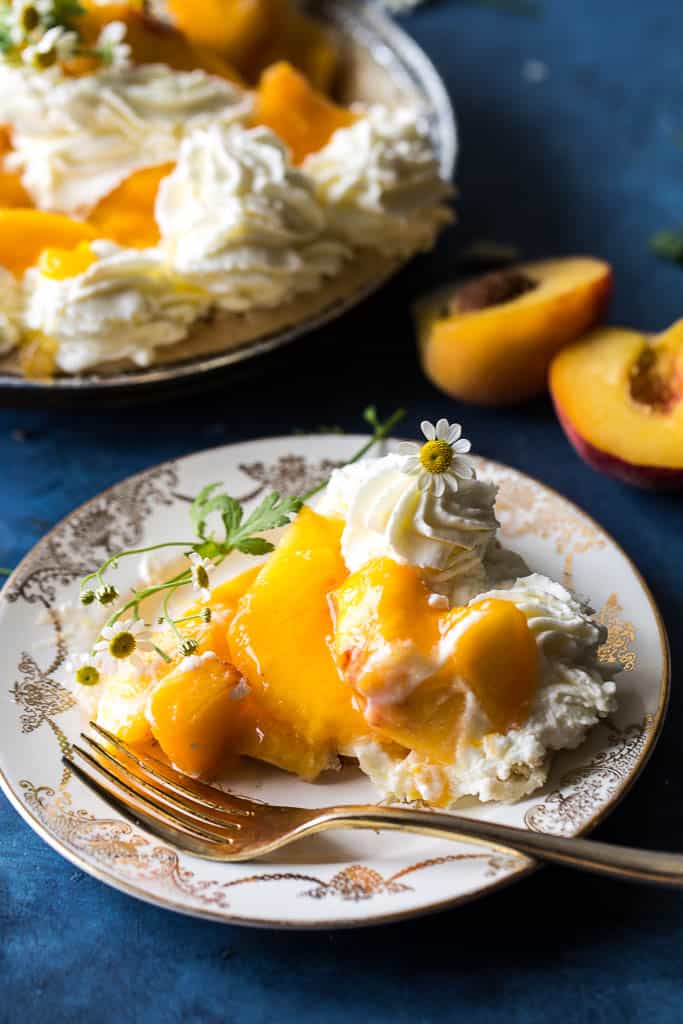 I mean, can you blame me? A buttery crust filled to the brim with fresh peach slices and accented with whipped cream... that is total bliss in a pie dish!
What I especially love about this easy peach pie recipe is that the peaches are on full display. They aren't completely hidden by a layer of crust or obscured from view by a lattice crust. While I love all pies, when it comes to fresh fruit, sometimes you just have to let it shine. And the peaches in this Fresh Peach Pie certainly shine!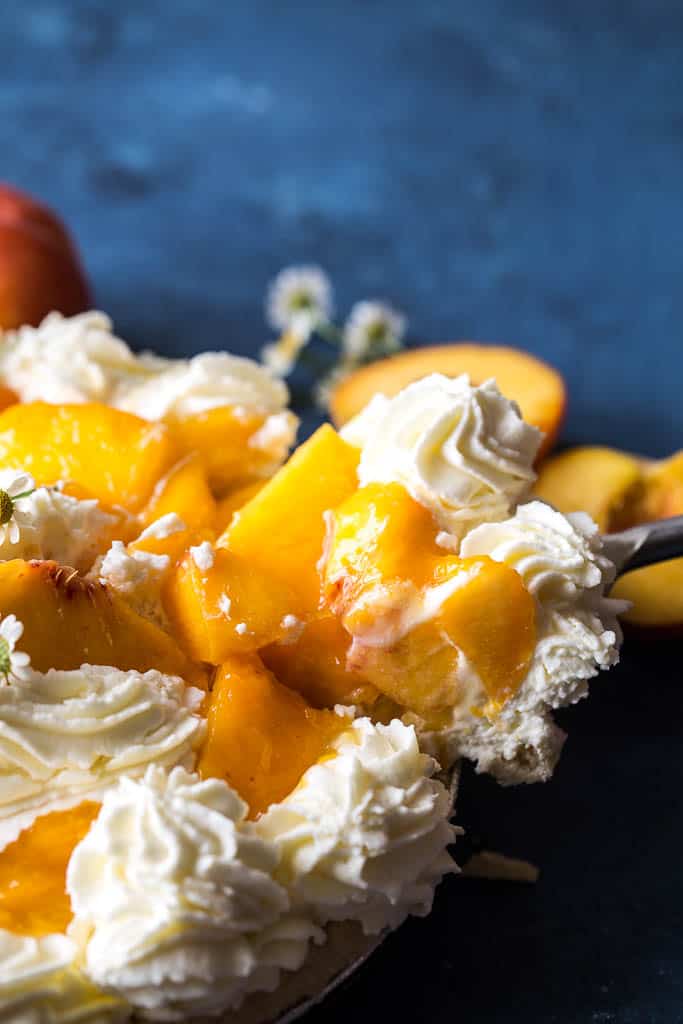 How to Peel Peaches for Fresh Peach Pie
Before you dive into making this gorgeous fresh fruit pie, I wanted to give you a quick run-down on how to peel peaches:
First, start with ripe peaches. Those hard, not-yet-ripe peaches you find piled high at the grocery store won't work for this process. Make sure your peaches are firm, but the flesh gives slightly when you press on them.
Bring water in a pot to a rolling boil. While waiting for the water to boil, prepare an ice bath.
Carefully place your peaches in the boiling water and leave them there for 30 seconds.
After 30 seconds, remove them with a spoon and immediately put them in your ice bath.
After 10 seconds, remove the peaches from the ice bath. Pinch the skin and pull it off the peach flesh. (Be careful because the "naked" peaches are slippery!)
This method will give you perfectly peeled peaches!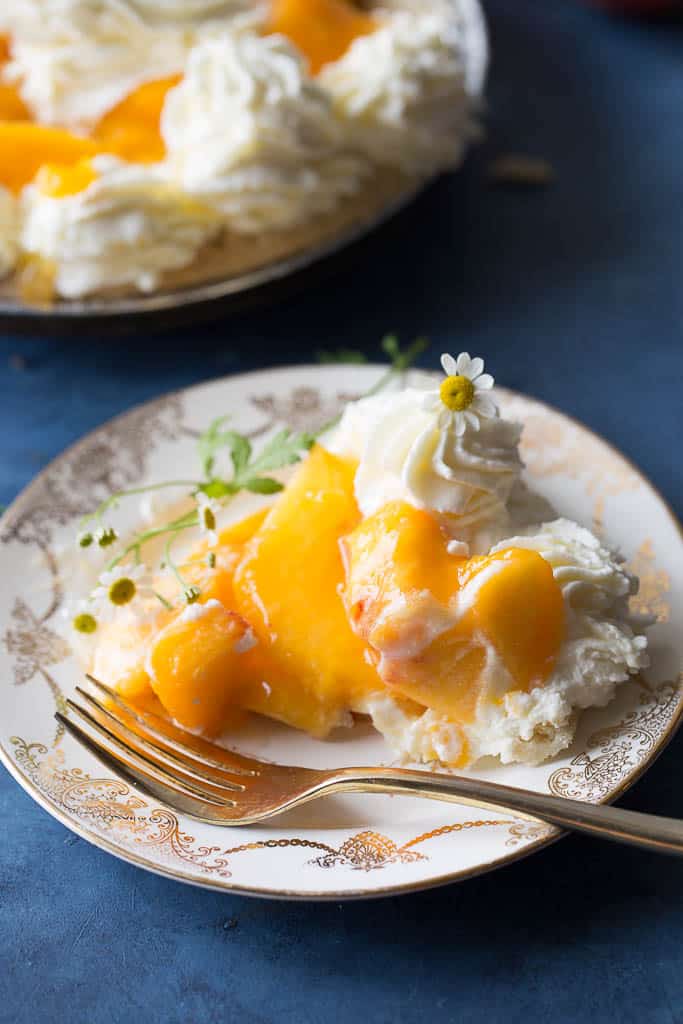 More Peach Recipes
For more delicious peach recipes, try my White Peach Coffee Cake or my Bourbon Peach Streusel Cupcakes.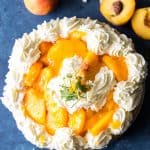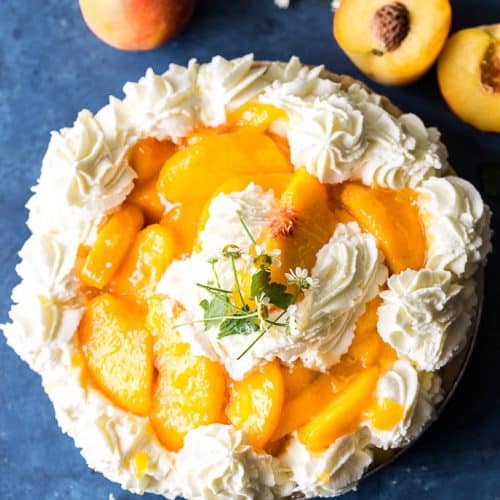 Fresh Peach Pie
A buttery crust filled to the brim with peach slices and topped with creamy whipped cream equals perfection.
Keyword:
peach pie recipe, summer pie
Ingredients
1

8 inch baked deep dish pie shell, homemade or store-bought

4

cups

peeled peach slices

fresh or frozen

¾

cup

white sugar

1

tablespoon

cornstarch

½

cup

water

3

tablespoons

peach flavored gelatin

Jell-O®

Whipped cream for garnish
Instructions
If using fresh peaches, peel, core, and slice.

In a saucepan, mix together the water, sugar, and corn starch; whisk until completely blended.

Bring to a simmer, and cook over medium heat until mixture thickens. Remove from heat.

Add gelatin mix, and stir until smooth. Let mixture cool to room temperature.

In a large bowl, toss peaches with cooled gel mixture.

Place coated peach slices in baked pie shells.

Pour remaining cooled gel mixture over peaches.

Refrigerate until set.

Serve with whipped cream, if desired.