These Lemon Bar Cookies house all the flavors of summer with their perfectly citrusy sweet taste. The zingy tartness of lemon pairs perfectly with the richness of cream cheese and powdered sugar to make a delightful cookie recipe. Nix those typical cookie flavors and give these a shot instead!
This post was originally posted on March 24th, 2014. Text and photos have been updated.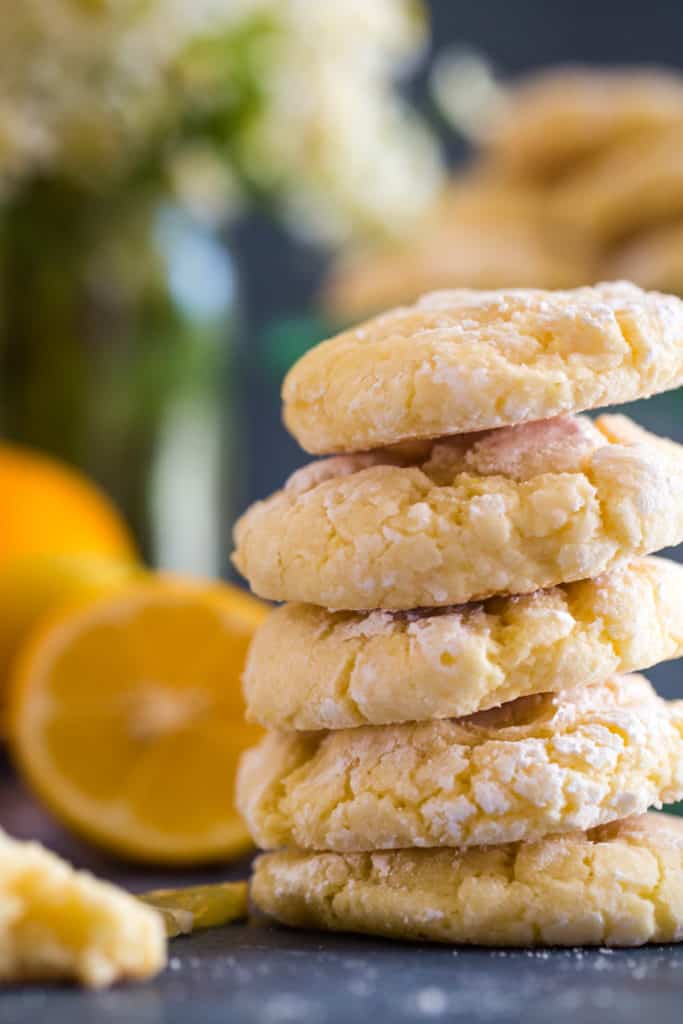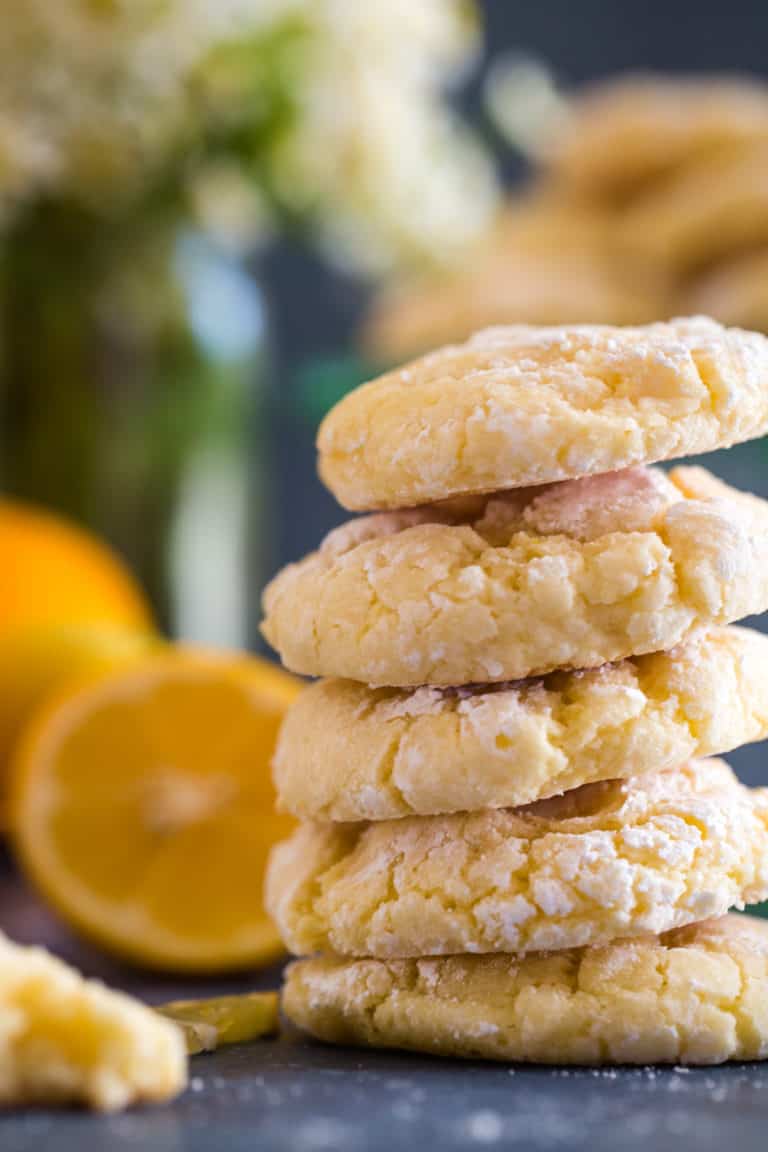 Lemon bars are one of those classic desserts everyone knows about. In fact, I don't know many people who haven't tried one, unless you start asking the younger kids around you. They've always been one of my favorites, although I feel like that might show my age a touch. I have noticed that they used to be more popular back in the day than they are now.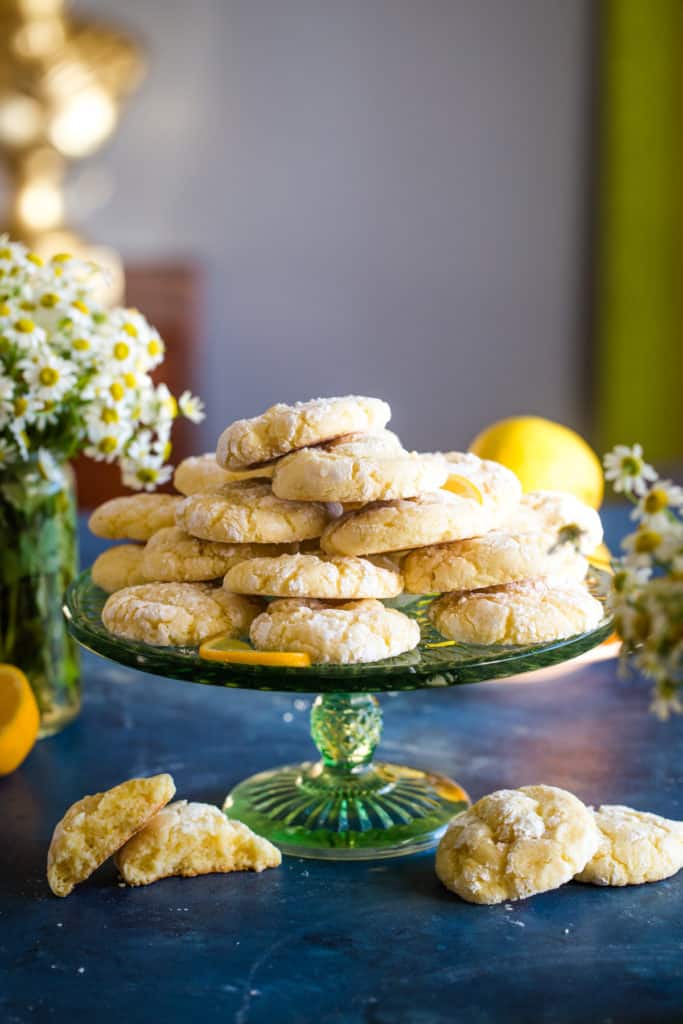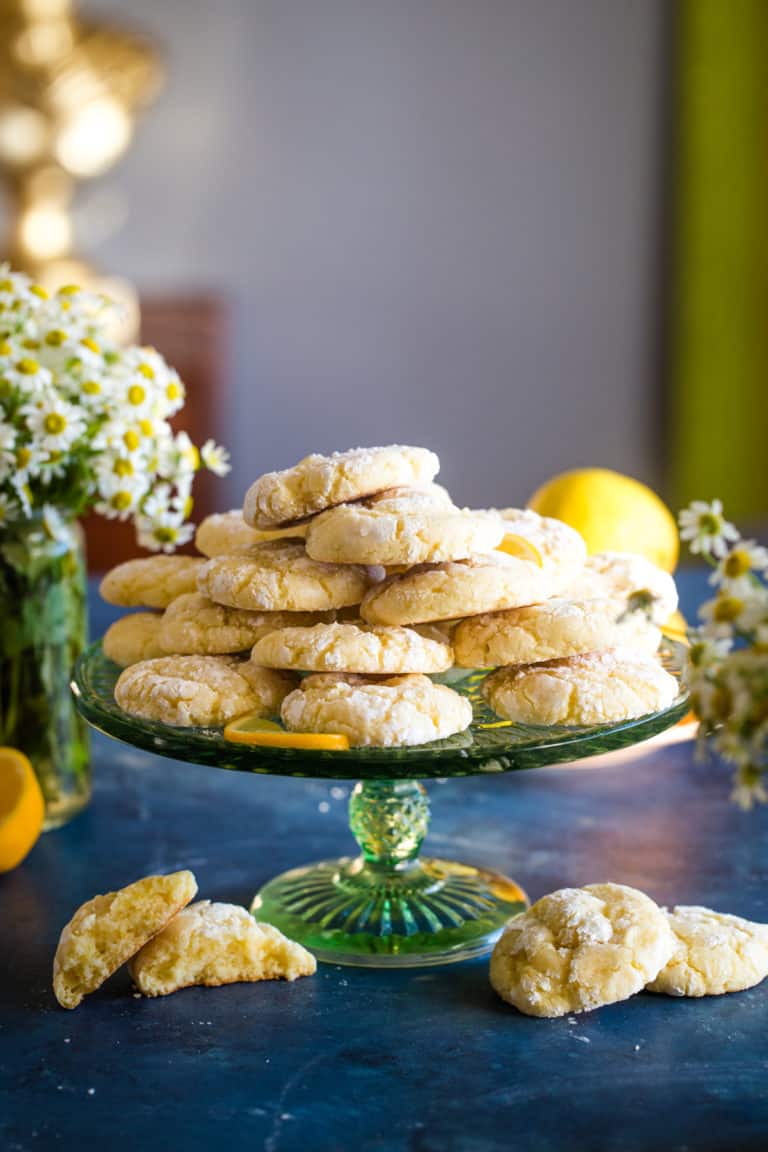 Lemon bars have kind of a vague history as it's unknown who officially came up with the idea for them. So, no one person, company, or entity can be given the credit for their creation. However, basic desserts similar to them have been heard of and passed on since the Renaissance. One way or the other, I'm glad they were created because they were the inspiration for these Lemon Bar Cookies! They capture the flavors of lemon bars quite perfectly, making them one epic cookie.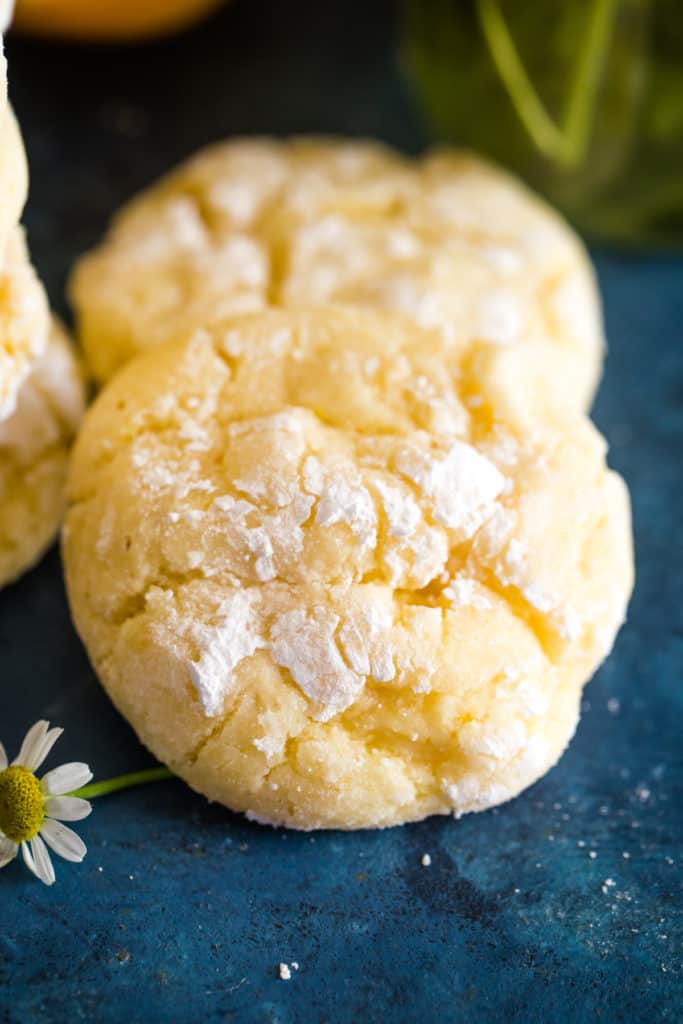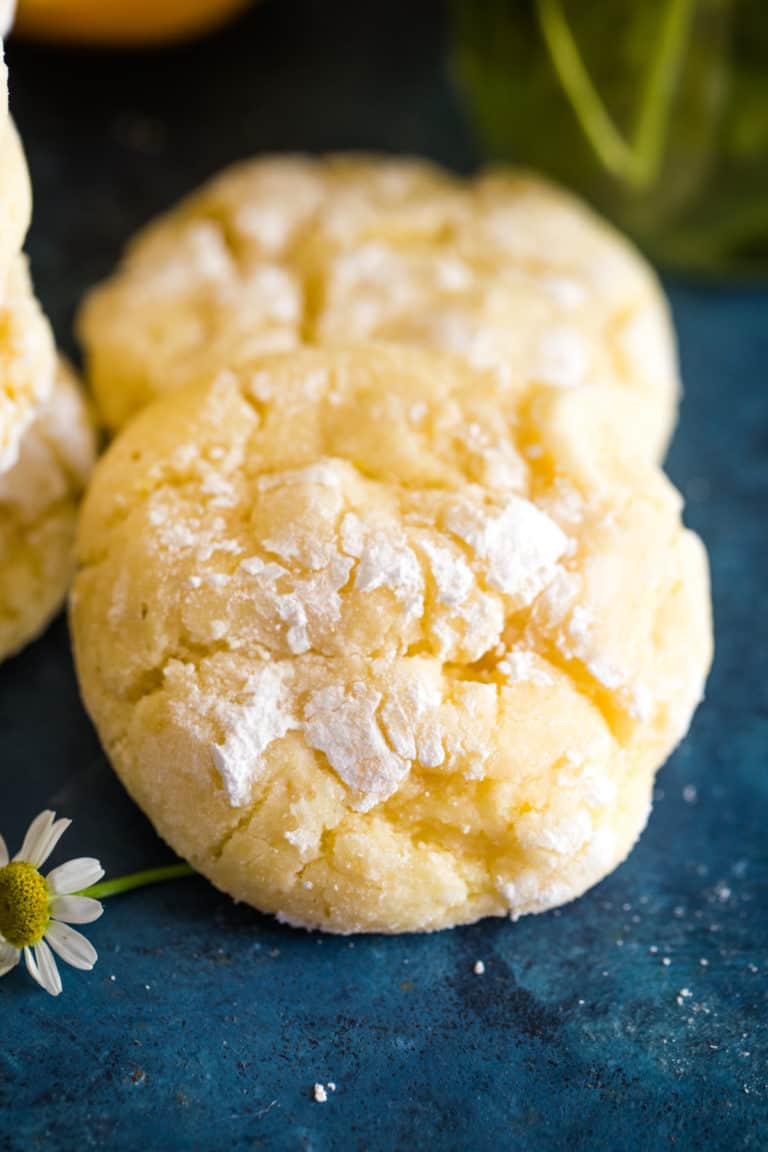 How Do You Make Lemon Bar Cookies?
In order to begin making these lemon pudding cookies, you'll want to begin with a big bowl and combine the lemon pudding mix, flour, baking powder, and salt. Mix well. In another bowl, beat together cream cheese, butter, sugar, zest, and extract. Mix in the lemon juice and eggs, one at a time, to the cream cheese mixture before slowly adding the flour mixture a bit at a time.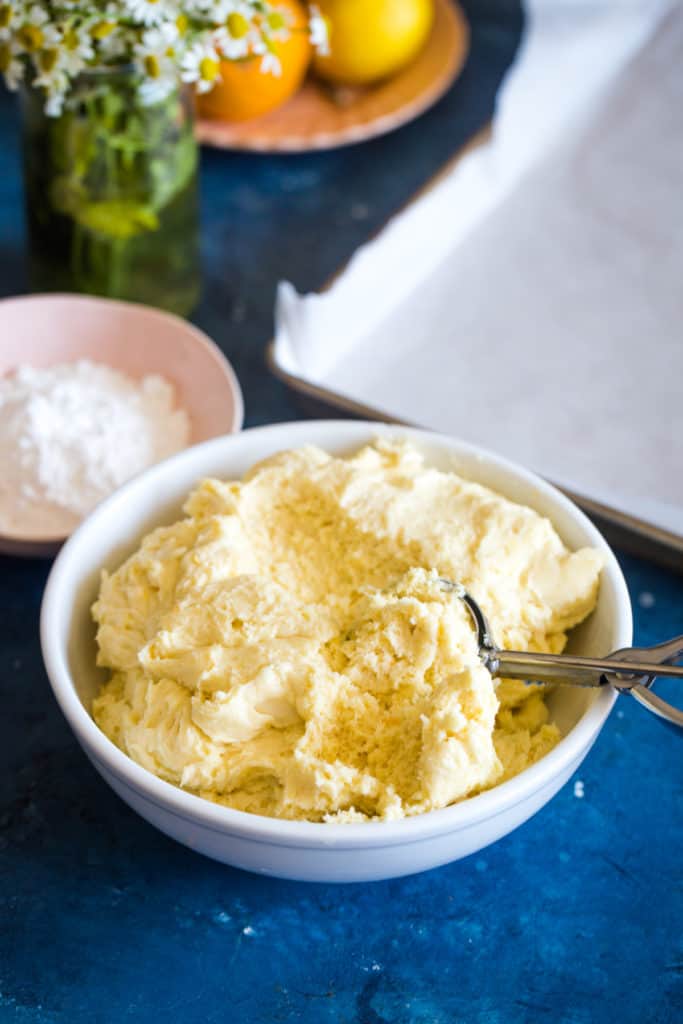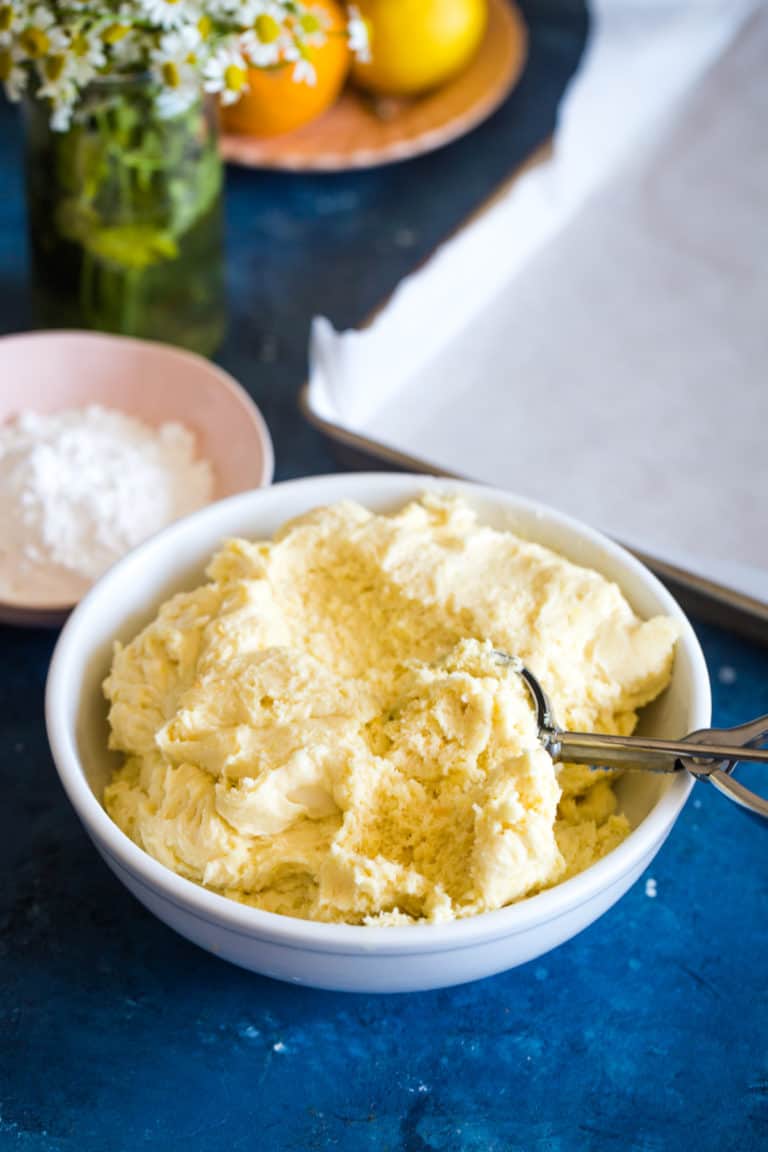 Scoop out 1-inch balls of dough, roll them in powdered sugar, place them two inches apart on a parchment paper covered pan, bake in preheated oven for up to 9-11 minutes, let cool, and enjoy!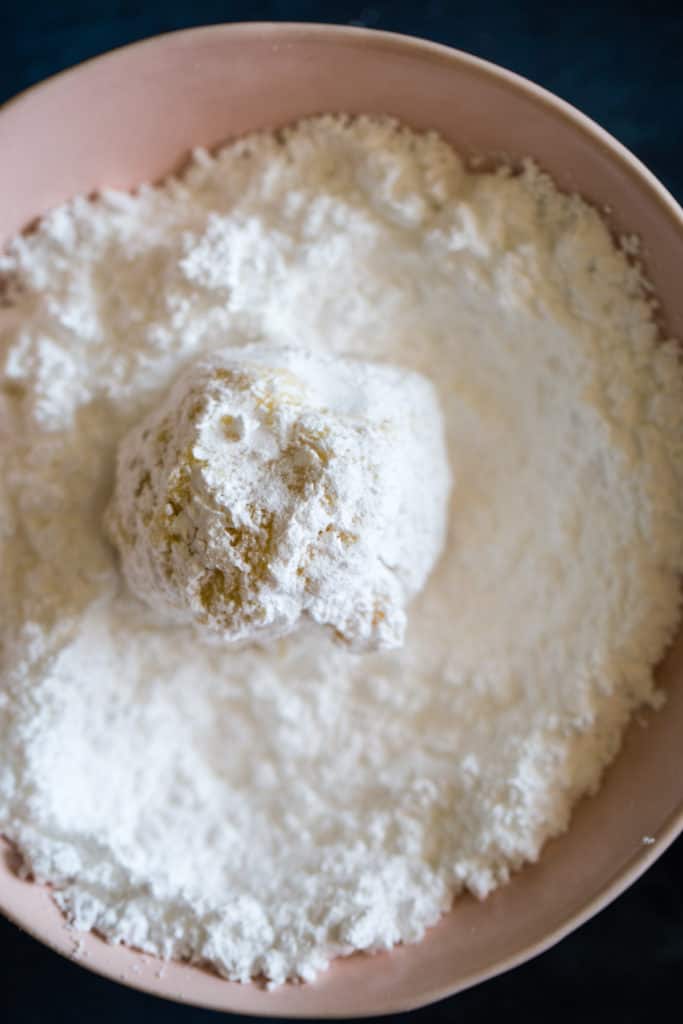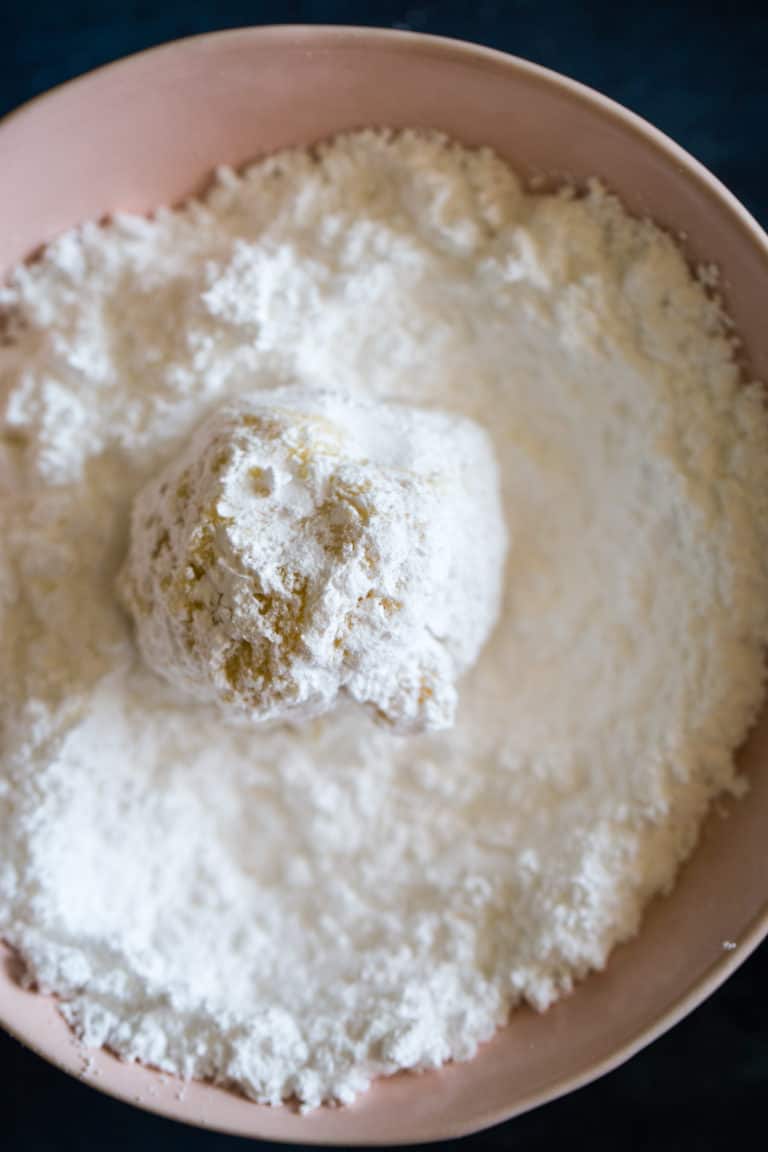 Tips for Making Lemon Bar Cookies
Be sure to leave plenty of room between these lemon crinkle cookies or they will expand and collide with each other during the cooking portion. This will create one large cookie. Although it will still taste good, it won't be as pretty.

Make note that the dough will be sticky even upon coming out of the refrigerator. The powdered sugar will help with this issue. So, don't think you messed up the dough for these lemon pudding cookies.

You want to roll the cookies and get a good, thick powdered sugar coating. This helps them crinkle and keep all of the powdered sugar from dissolving during baking.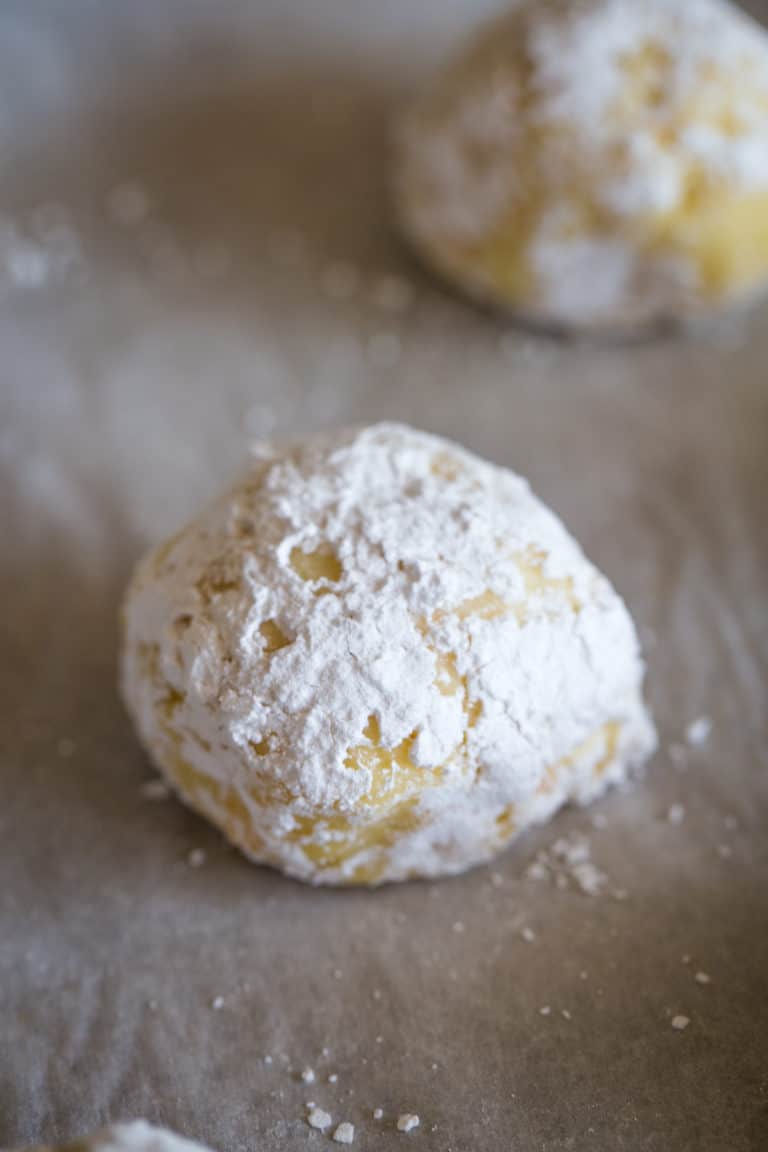 Common Questions About Lemon Bar Cookies
How to make lemon cookies extra lemony
There are a few ingredients that I added to really up the lemon flavor. In addition to the lemon zest and juice I added instant lemon pudding. This is not necessary, but it does help keep the cookies soft and fresh for days. If you don't want to add the pudding or can't find it, replace it with cornstarch and it will keep the cookies soft.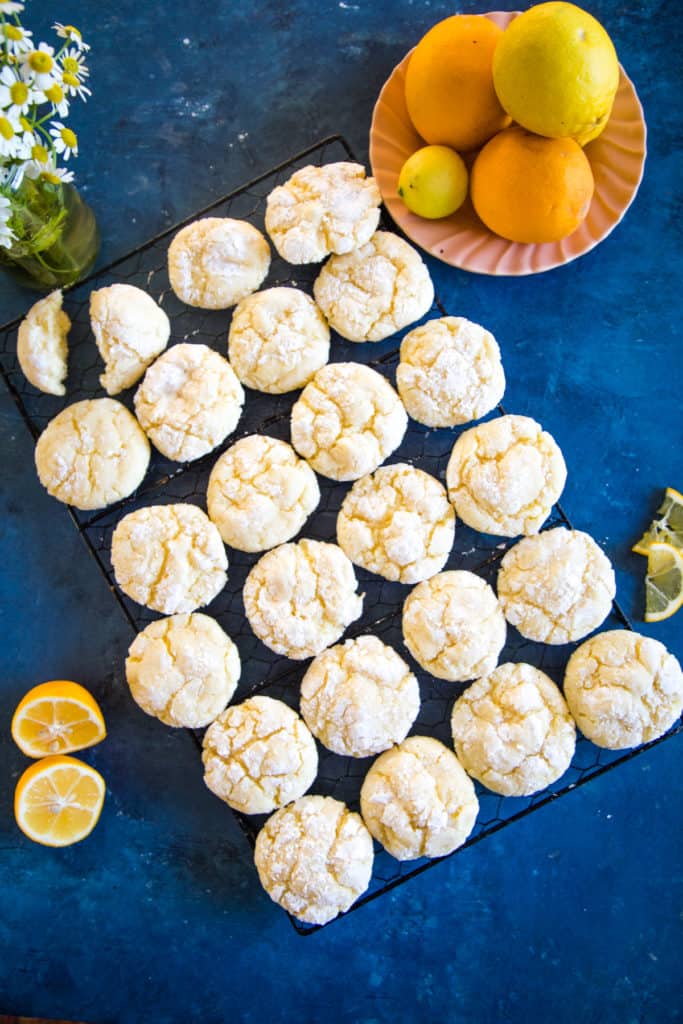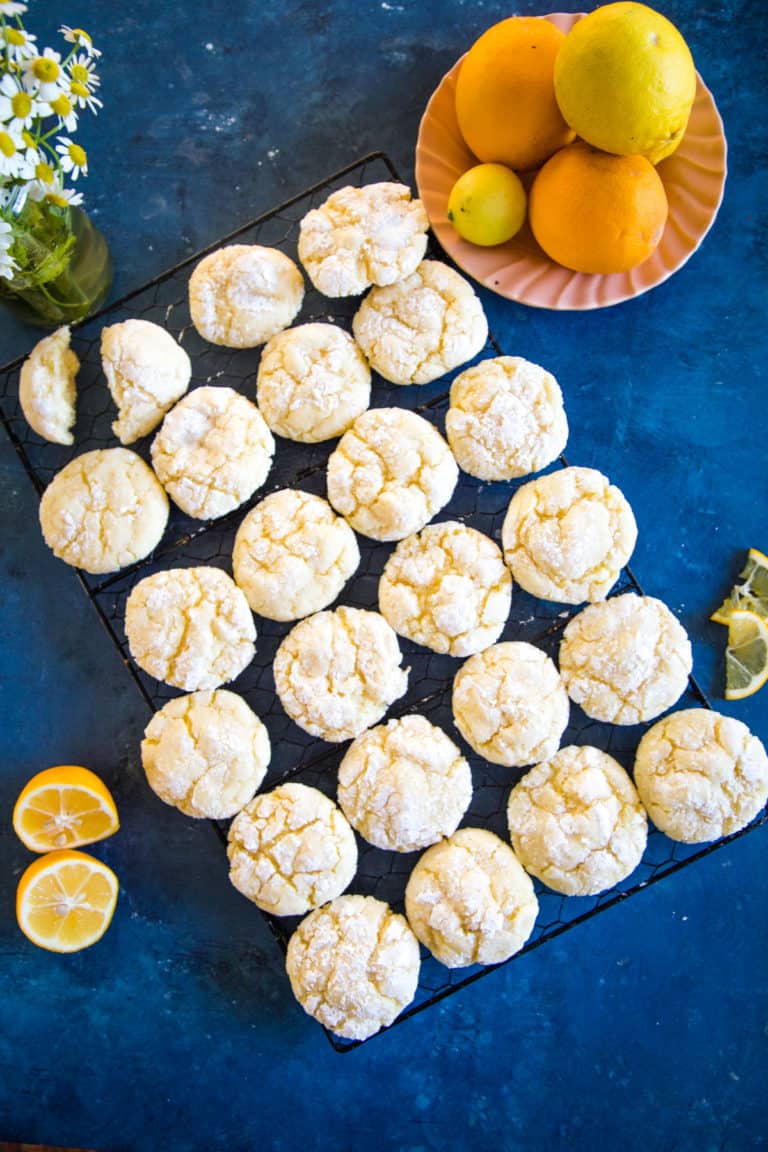 I also added lemon extracts, but I would like to point out that not all extracts are the same. I highly suggest using Lemon Extract because it has a true lemon flavor, unlike the artificial tasting extract found at the grocery store. Again, this extract is not absolutely necessary but highly suggested. You can always add vanilla in its place too.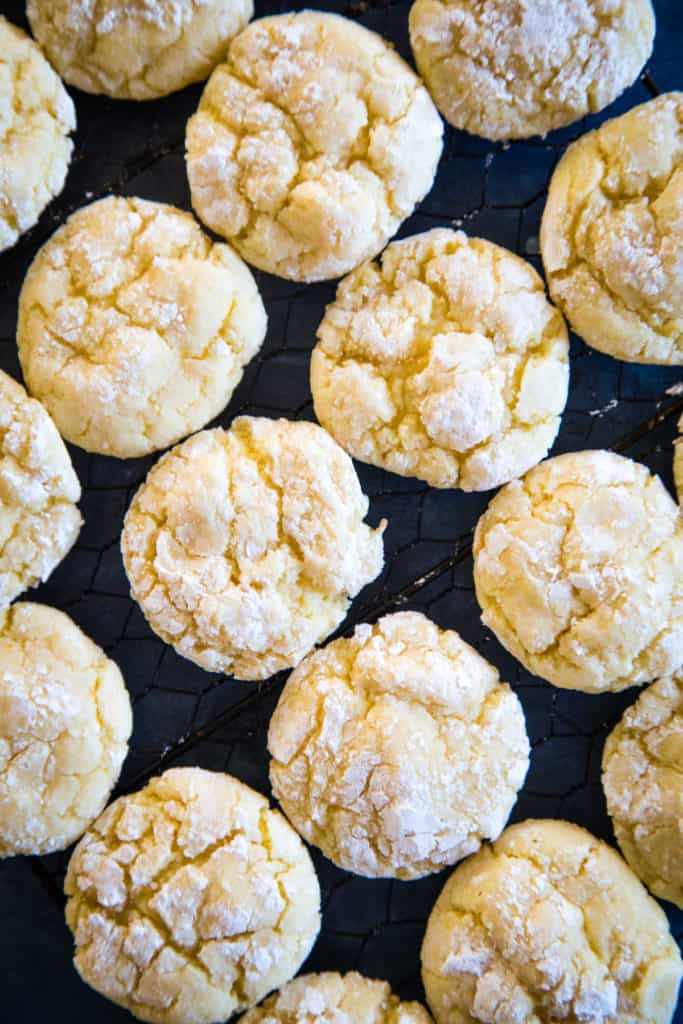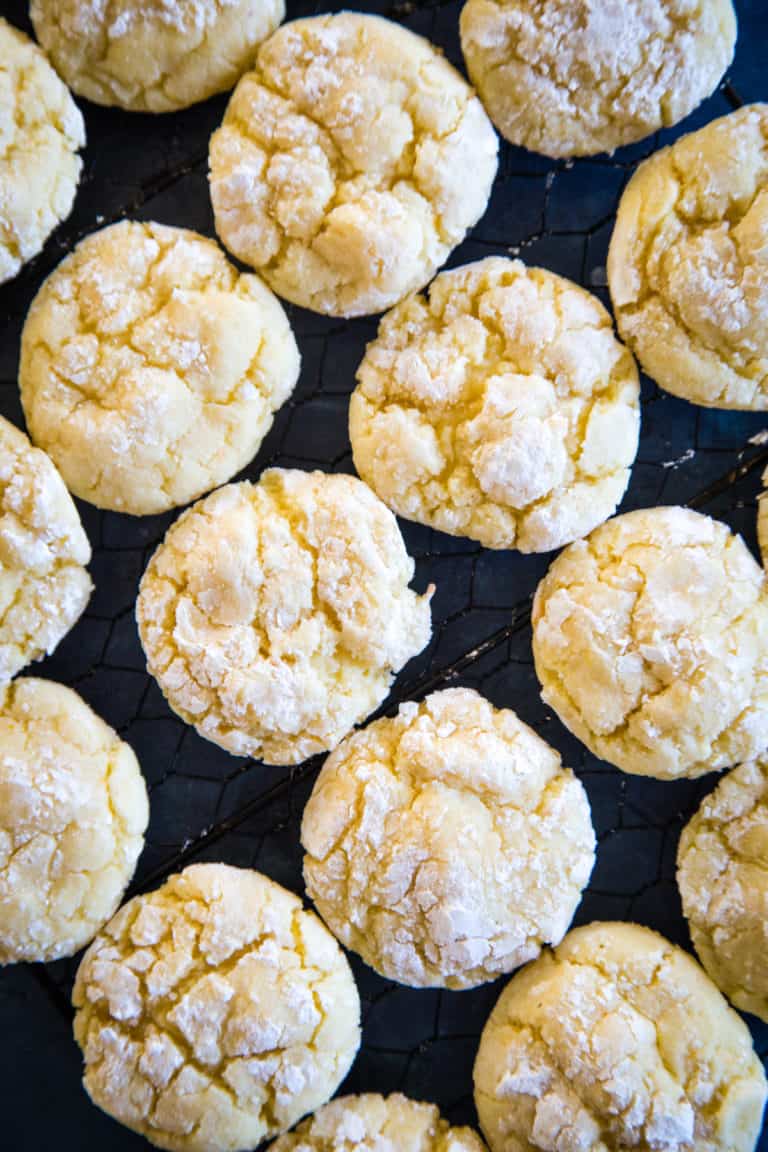 Can You Use Lemon Juice Instead of Lemon Extract in Cookies?
If a recipe calls for lemon extract (like these lemon crinkle cookies), lemon juice will definitely do the trick in a pinch. However, it's important to note that lemon juice is more acidic and tart than lemon extract.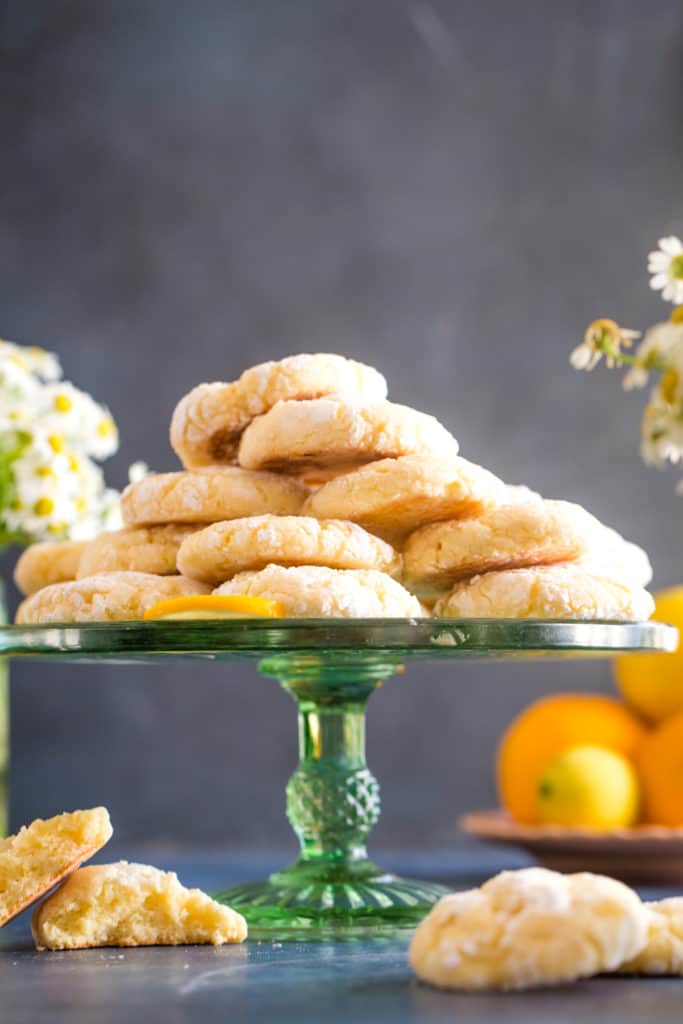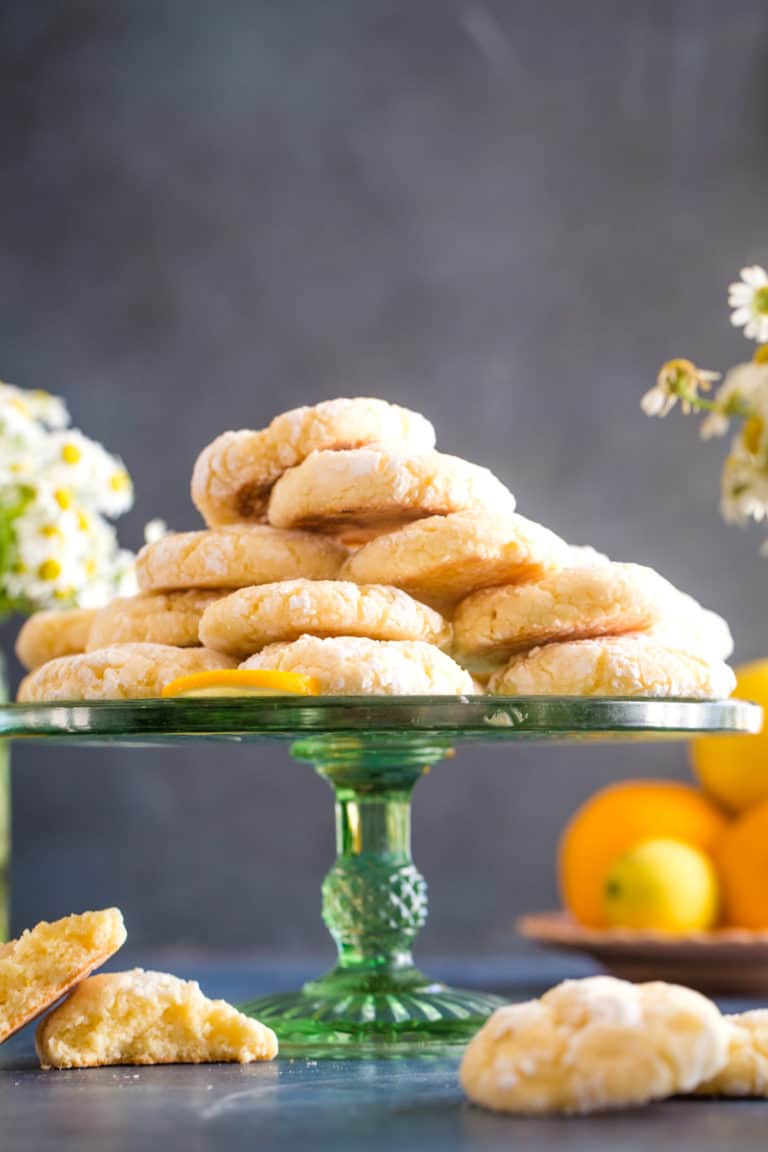 Lemon extract has a bit different flavor as well since it incorporates the entire flavor of the fruit instead of just the sour portion. The acidic nature can also change up the properties of a recipe, although if a small portion is being used, it might not be noticeable.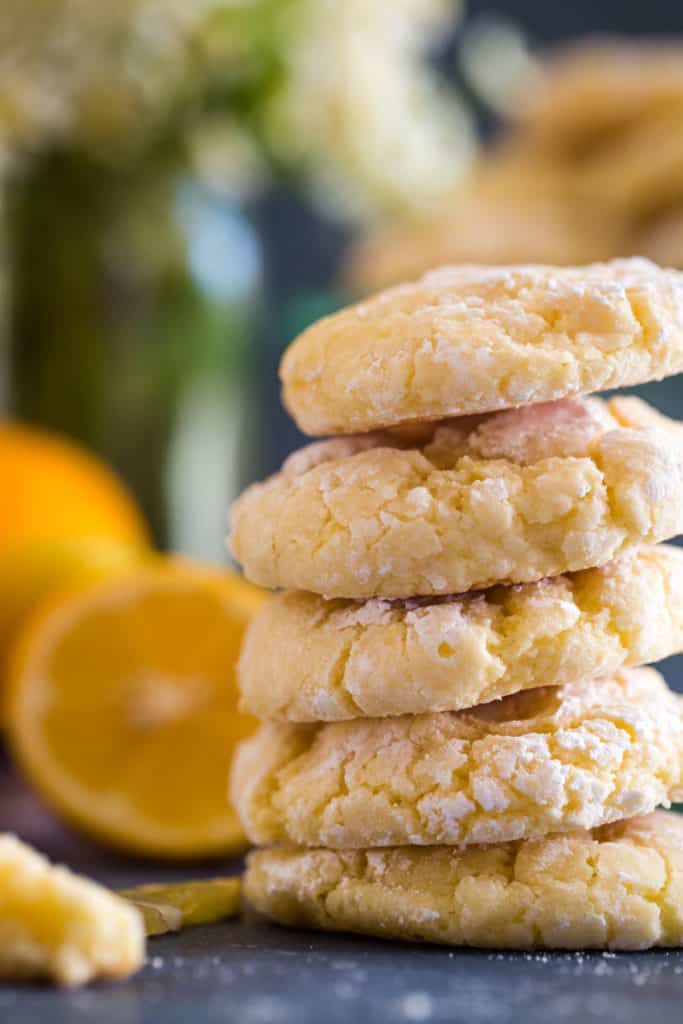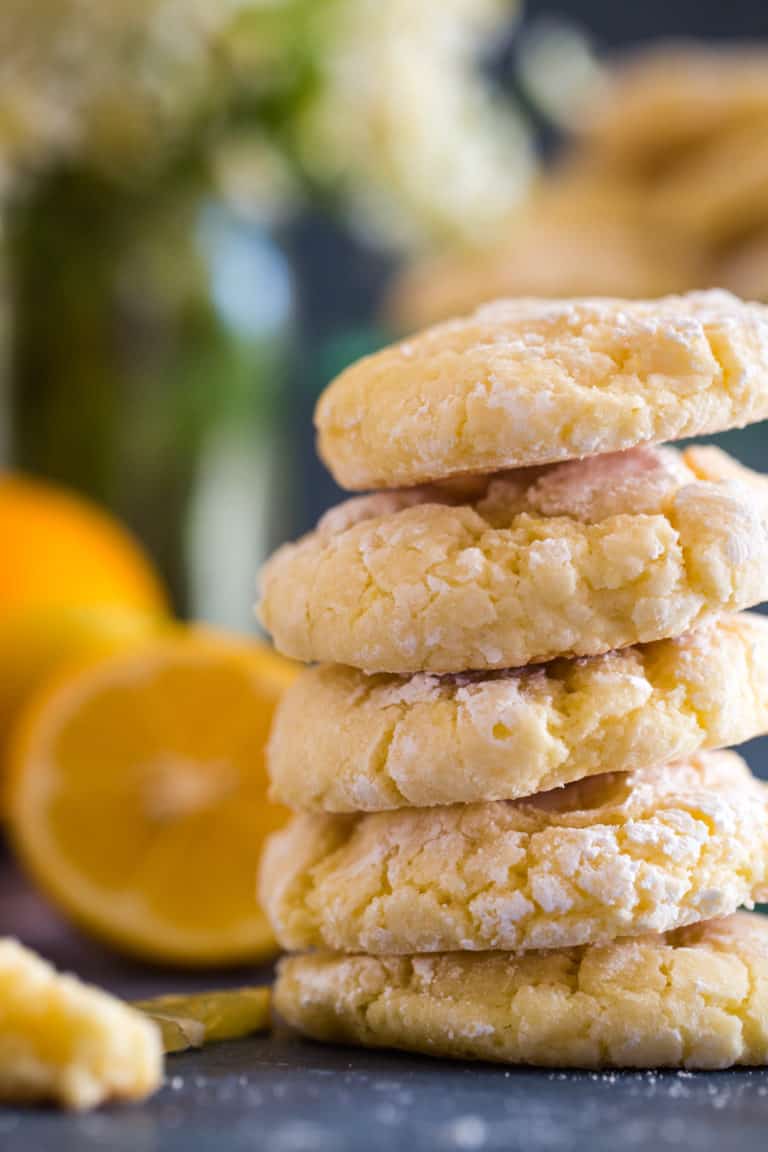 Why Use Baking Powder Instead of Baking Soda in Lemon Cookies?
Baking soda reacts with the acidic nature of lemons. Because of this, you'll have a foaming mess if you're not careful. Therefore, baking powder gets the job done just fine without baking soda being incorporated.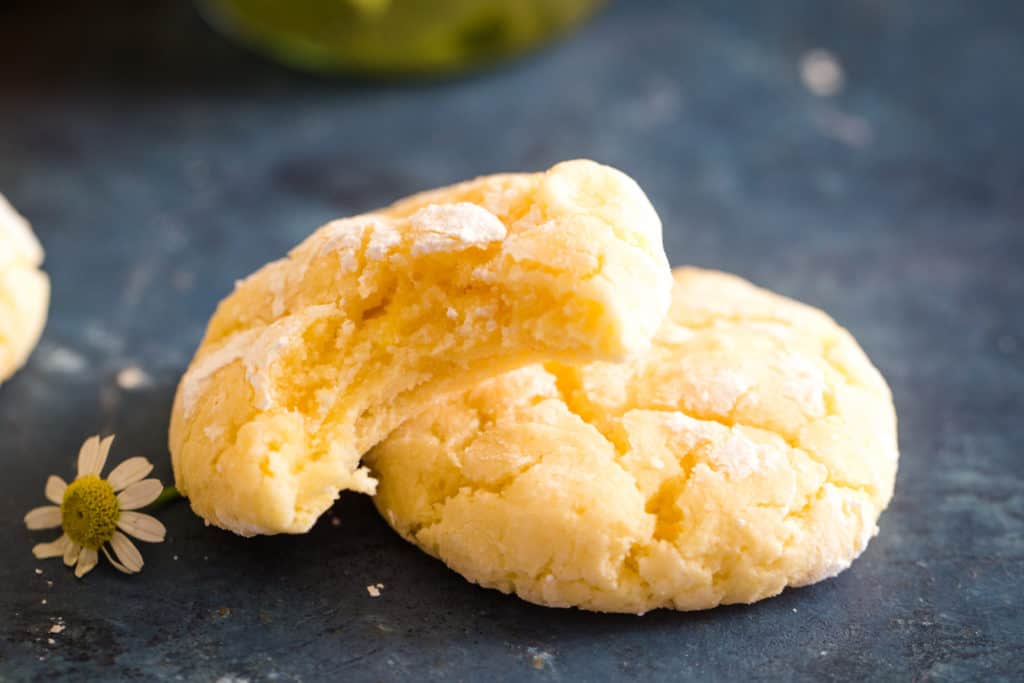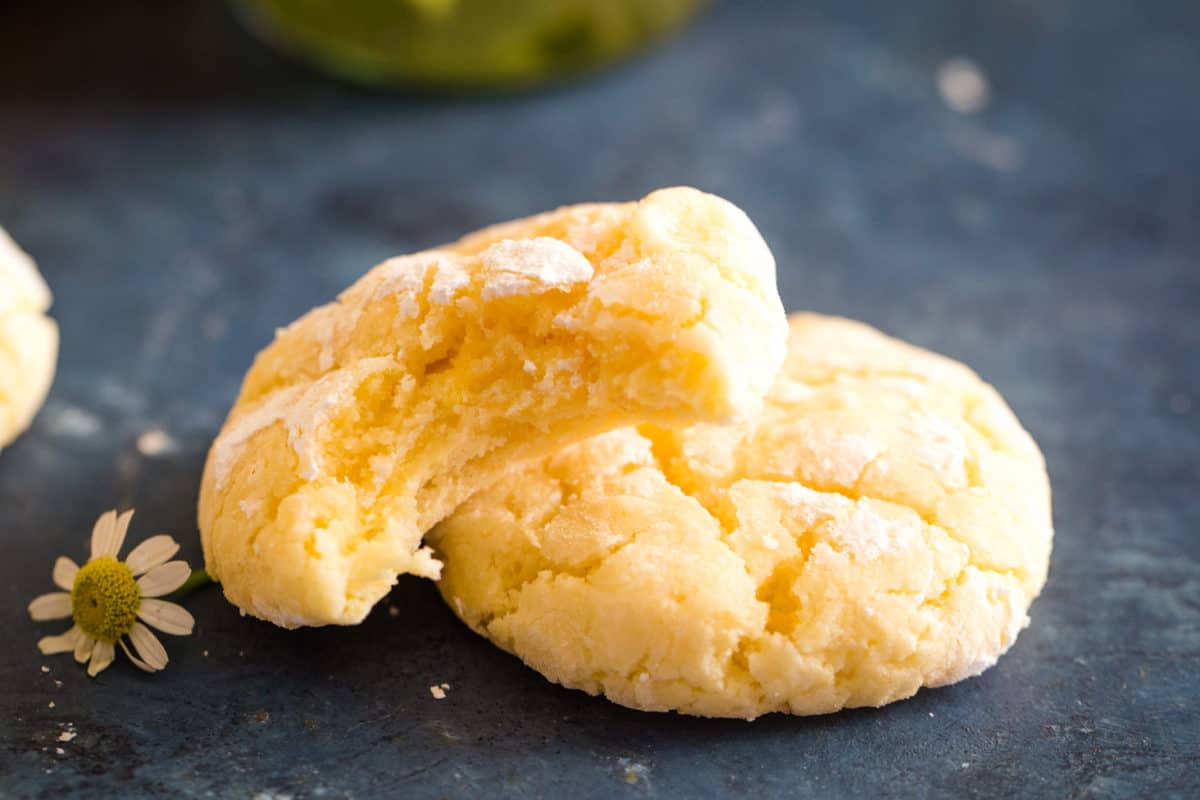 Do I need to chill lemon crinkle cookie dough?
I tried this recipe both ways- chilling the dough and using it right away. I found that chilling the dough results in a thicker more round cookie whereasnot chilling it resulted in a slightly less puffy more cookie-like cookie. When I remove the pan from the oven, I like to tap the cookie sheet on the stove a few times to quickly reduce the steam in the cookies. This flattens them slightly and makes for a more chewy cookie.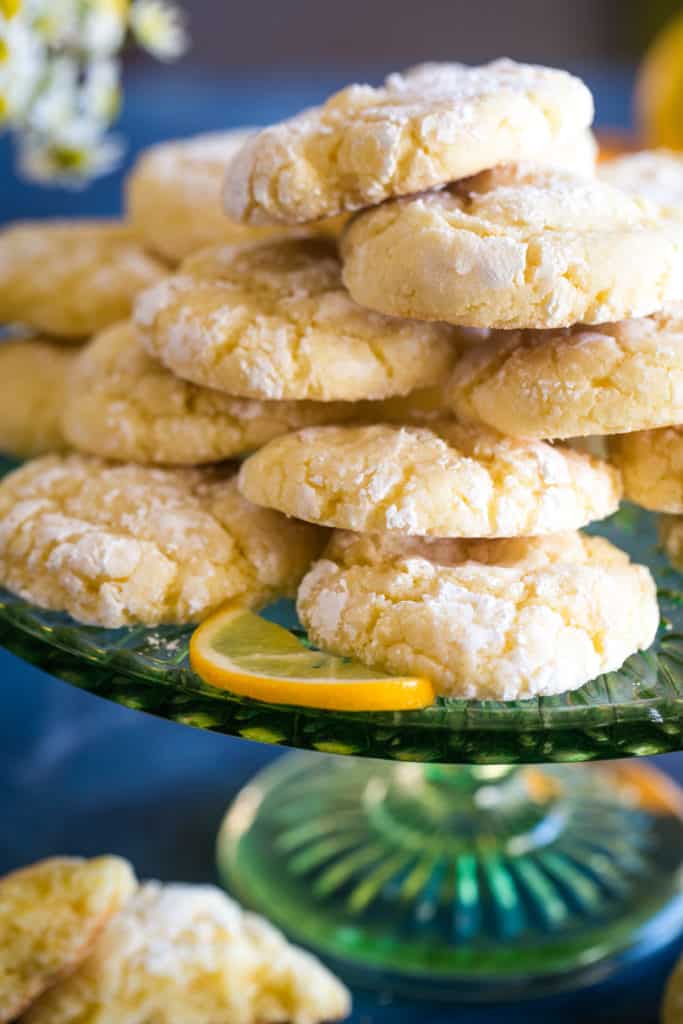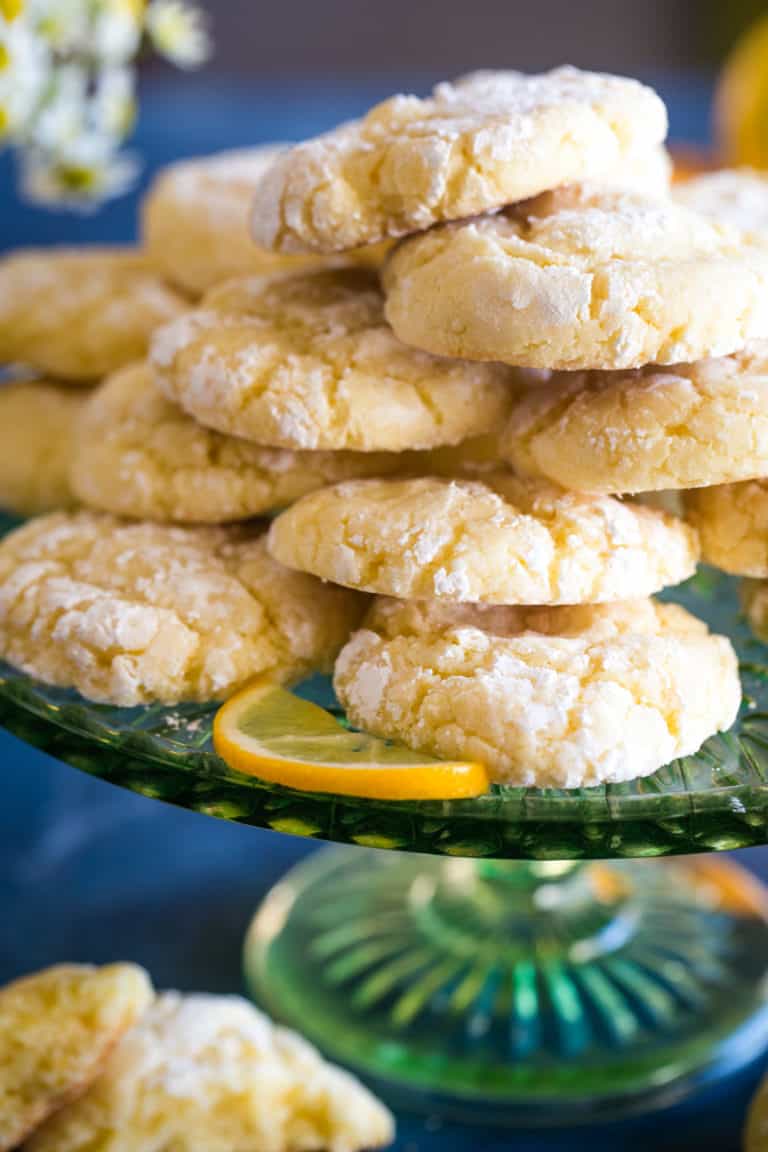 If you're head over heels for a delicious lemon dessert, you've come to the right place. I have no doubt you'll love these Lemon Bar Cookies just as much as we have.
More Cookie Recipes You'll Love: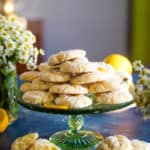 Lemon Bar Cookies
These Lemon Bar Cookies house all the flavors of summer with their perfectly citrusy sweet taste. The zingy tartness of lemon pairs perfectly with the richness of cream cheese and powdered sugar to make a delightful cookie recipe.
Keyword:
lemon cookies, lemon crinkle cookies
Ingredients
2

cups

all purpose flour

3

tablespoons

Instant Lemon Pudding Mix

(powder)

2

teaspoons

baking powder

¾

teaspoons

salt

8

ounces

cream cheese

room temperature

4

ounces

unsalted butter

room temperature

1 ½

cups

granulated sugar

1

tablespoon

lemon zest

1

large egg

½

teaspoon

lemon extract

optional

¼

cup

lemon juice

1

cup

powdered sugar

for rolling
Instructions
In a bowl combine flour, lemon pudding mix, baking powder, and salt. Mix together with a whisk. Set aside.

Using your electric mixer or beaters, beat together cream cheese, butter, sugar, extract and zest.

Add egg and beat until combined.

Mix in lemon juice, zest, and extract (if using).

Slowly add flour mixture to wet mixture, beating on slow until just combined.

Preheat oven to 350 degrees and line 2 baking sheets with parchment paper.

Scoop out 1 in rounds and roll in a bowl of powdered sugar *note dough will be sticky

Place on cookie sheet leaving 2 inches between each cookie dough ball.

Bake for 9-11 minutes or until edge a just barely browned.

Cool on cookie sheet for 10 minutes then cool completely on cooling rack.
This post contains one amazon affiliate link.