Shortbread Lavender Cookies are lavender-infused shortbread cookies that are full of flavor and perfect for spring.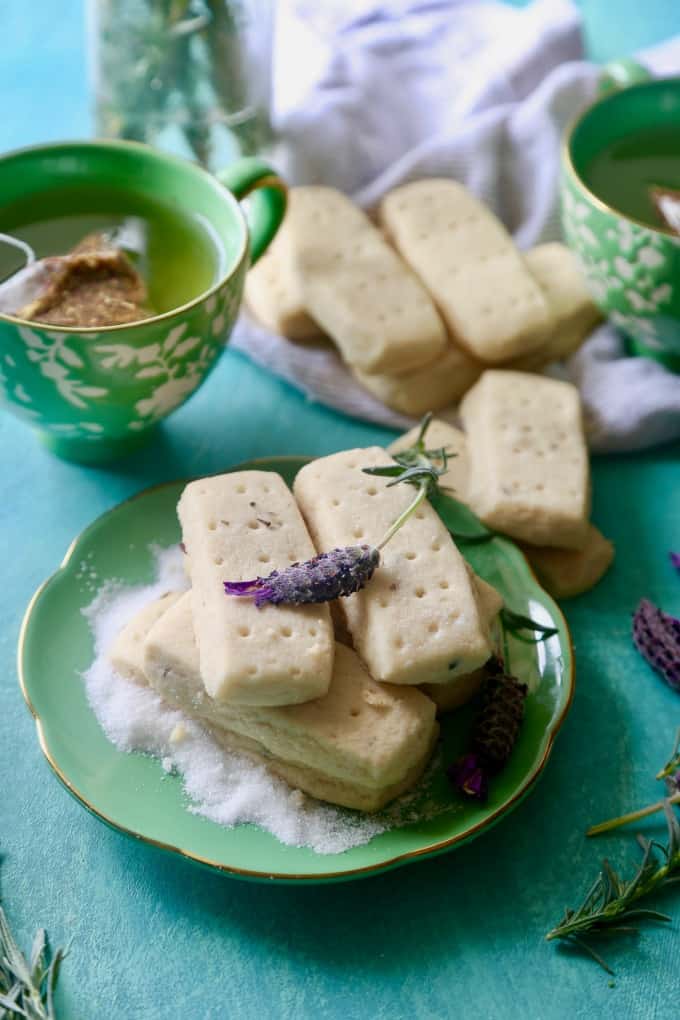 Spring is officially here and I couldn't be happier about it! To me, spring is all about being outside with the kids, grilling, hitting as many produce U-Picks as we can, and breathing in all the wonderful scents of spring.
While lavender is more of a summer bloomer (although some lavender plants bloom in late spring), I can't help but associate the soothing, floral aroma of lavender with spring. It just feels like a spring scent.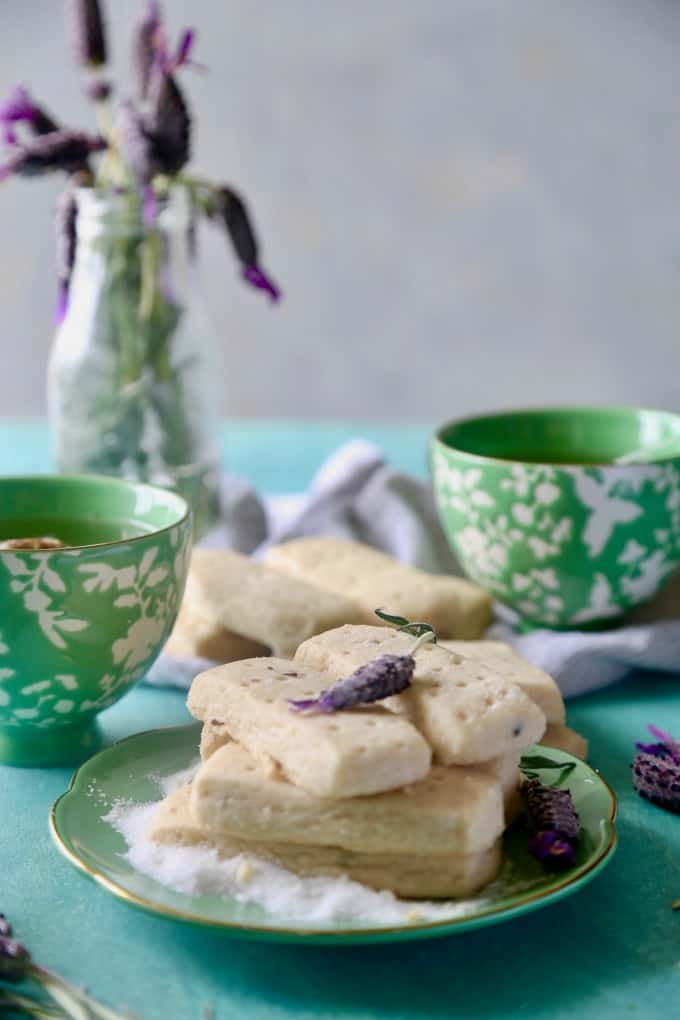 The good news is, with dried lavender, waiting until lavender is in full bloom isn't necessary at all. You can start incorporating it into your recipes right now, and that was the plan with these Lavender Cookies.
I wanted to infuse a simple shortbread recipe with just enough dried lavender (1 ½ teaspoons) to give the cookies a hint of that amazing lavender scent without going overboard. They turned out so well and I know these lavender cookies will quickly become one of my favorite spring recipes!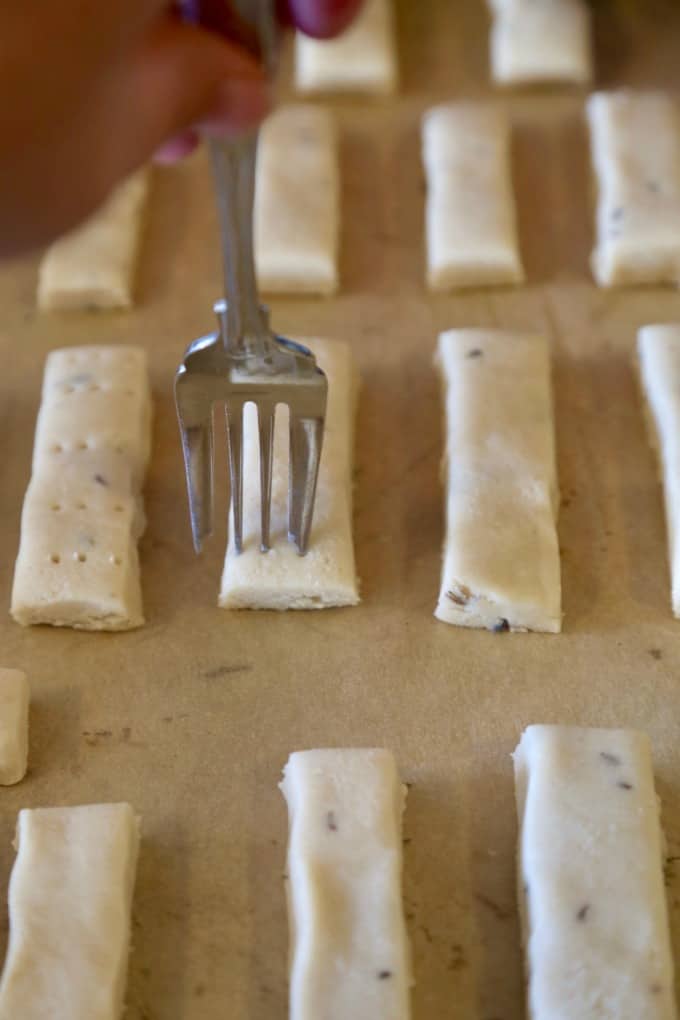 How to Serve Shortbread Lavender Cookies
Melt-in-your-mouth Shortbread Lavender Cookies pair so well with a cup of tea.
You can enjoy these cookies on a quiet solo afternoon with a good book, or they can be shared at parties and other gatherings. They would be great for baby showers and wedding showers! (Just be sure to make enough so you don't run out early — they'll go quickly!)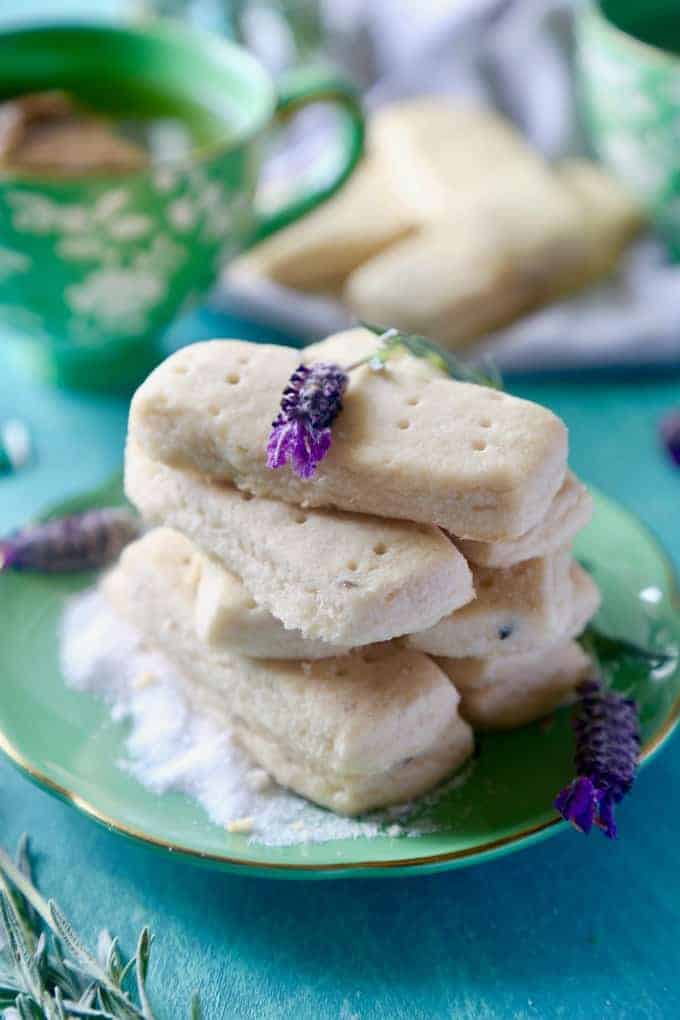 How to Make Shortbread Lavender Cookies
Prep - Preheat the oven to 350 degrees and line two cookie pans with parchment paper.
Mix Ingredients - In a large bowl, beat together the butter and sugar before beating in the flour and lavender. Mix until just combined - don't over mix.
Roll out the dough - Sandwich the dough between two pieces of parchment paper and roll it out to an ½ inch thick.
Slice and bake - Cut the dough into small rectangles, about 2 inches by 1 inch. Place on the prepared cookie sheets, about 2 inches apart. Bake for 8-10 minutes. Serve and enjoy!
Tips and Variations
Storage - Store cookies in an airtight container for up to one week. I wouldn't suggest freezing these cookies. However, if you really want to try it, be sure to let them come to room temperature on their own when thawing. You also might want to store them between napkins to absorb any excess moisture when thawing as they'll want to fall apart.
Skip the lavender - Although lavender doesn't add a strong taste in the slightest, if you don't want to add it in, you can definitely skip it if desired.
Thin out the dough - If your dough is too thick for this lavender cookies recipe, and not holding together to roll out, you can add a bit of butter until it reaches the right consistency.
Thicken the dough - If your dough is too sticky, you can add some more flour until the right consistency is reached.
Other flavors - If you want to make your shortbread other flavors, you can always add a bit of extract to the dough mixture. For example, there's coconut extract, lemon extract, orange extract, etc.
Common Questions About Shortbread Lavender Cookies
What is the Difference Between a Sugar Cookie and a Shortbread Cookie?
The biggest difference between sugar cookies and shortbread cookies is that shortbread cookies don't contain egg-like sugar cookies do. The ratio of butter to flour is also significantly different between the two recipes which makes sugar cookies more uniform while shortbread cookies are softer and more crumbly. This makes them the perfect cookie for brunch, coffee, and tea and with sugar cookies being more uniform, it's why they're used to decorate more.
If you enjoyed these Shortbread Lavender Cookies just as much as I have (I have no doubt you will), let me know in the comments below!
More Lavender Recipes You'll Enjoy: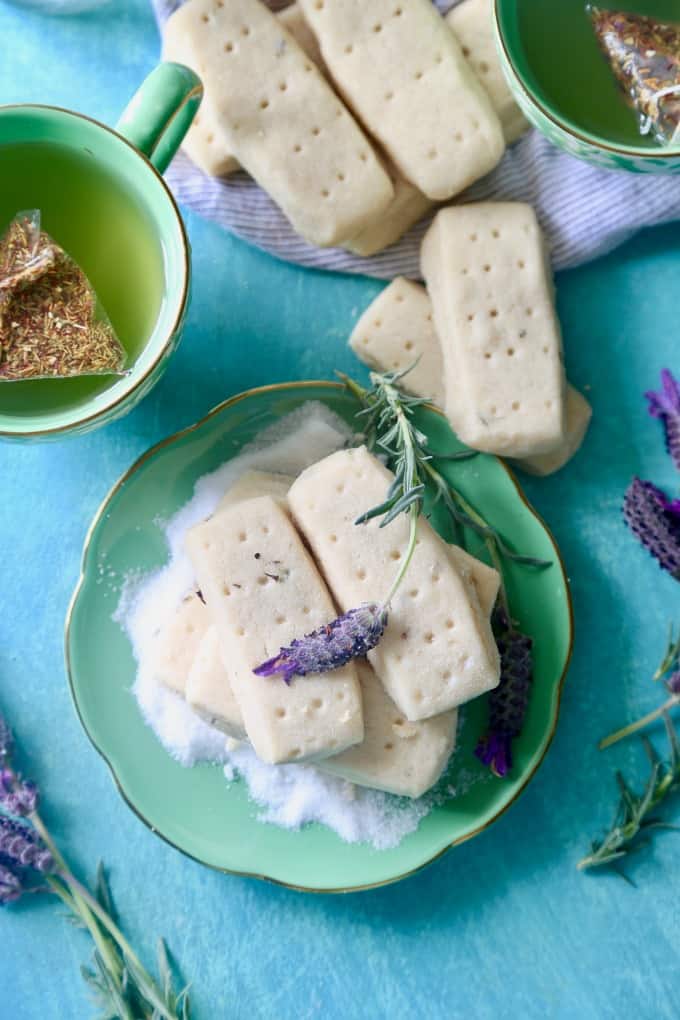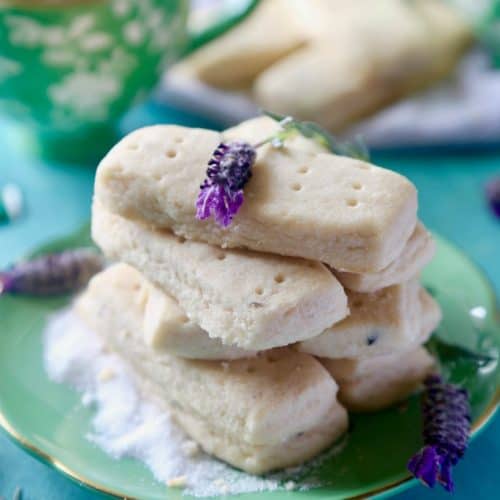 Shortbread Lavender Cookies
These lavender-infused shortbread cookies are full of flavor.
Ingredients
1

cup

unsalted butter

softened

½

cup

sugar

2

cups

all-purpose flour

1 ½

teaspoons

dried lavender
Instructions
Preheat oven to 350 degrees. Line 2 baking sheets with parchment paper.

Beat butter and sugar together until light and creamy.

Beat in flour and lavender until just combined.

Between 2 pieces of parchment paper roll out dough into a rectangle, about ½ thick.

Slice dough into 2x1 inch rectangles.

Place on cookie sheet 2 inches a part.

Pierce each cookie with a fork a few times.

Bake cookies for 8-10 minutes or until edges are slightly golden.

Store in an airtight container for up to 1 week.