Butternut Squash Beef Stew is the perfect meal for cold weather days. Warm and comforting, this stew features flavorful chunks of beef and bites of sweet butternut squash. Hearty and satisfying, this recipe comes together easily, making it the ideal meal for those busy weeknight suppers.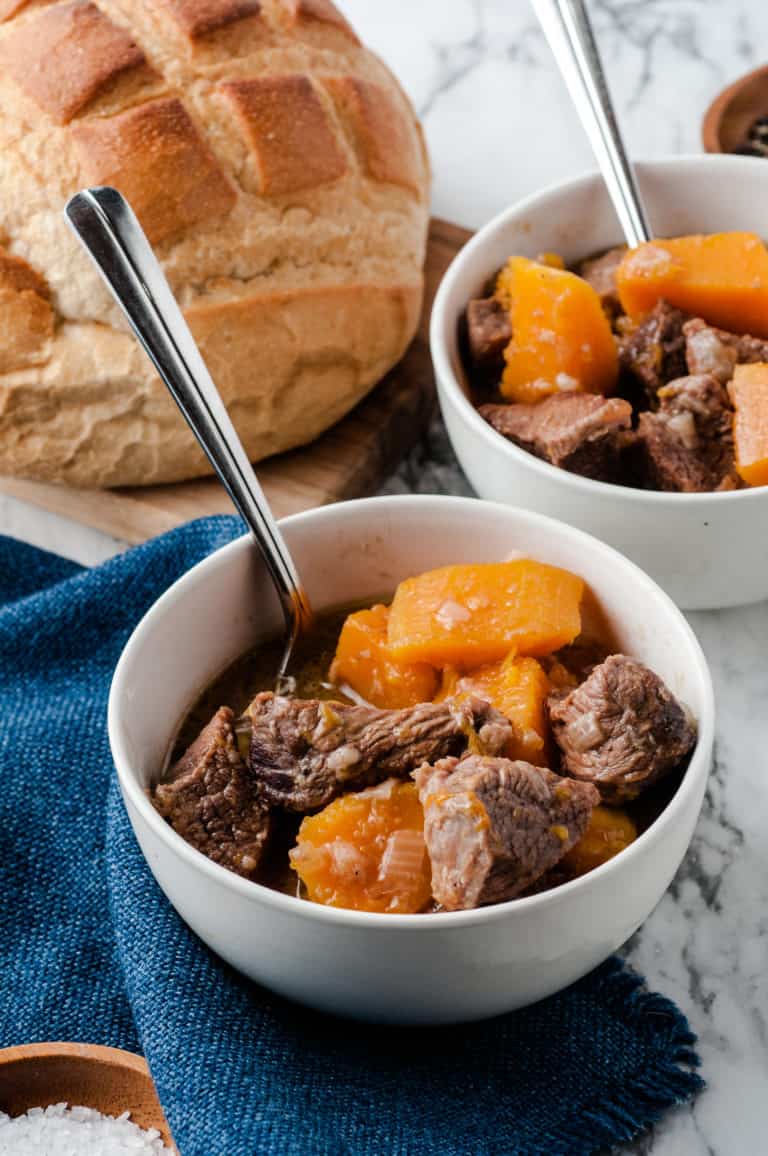 Winter is here and that means lots and lots of soups and stews in my house! There's just something so cozy about a big pot of delicious ingredients simmering away on the stove.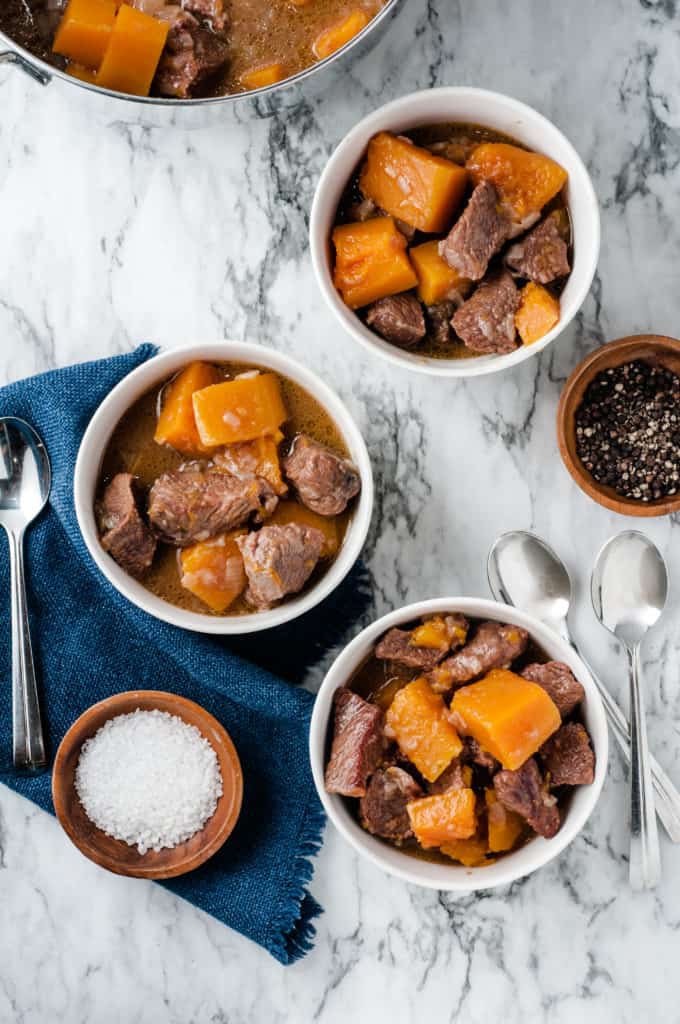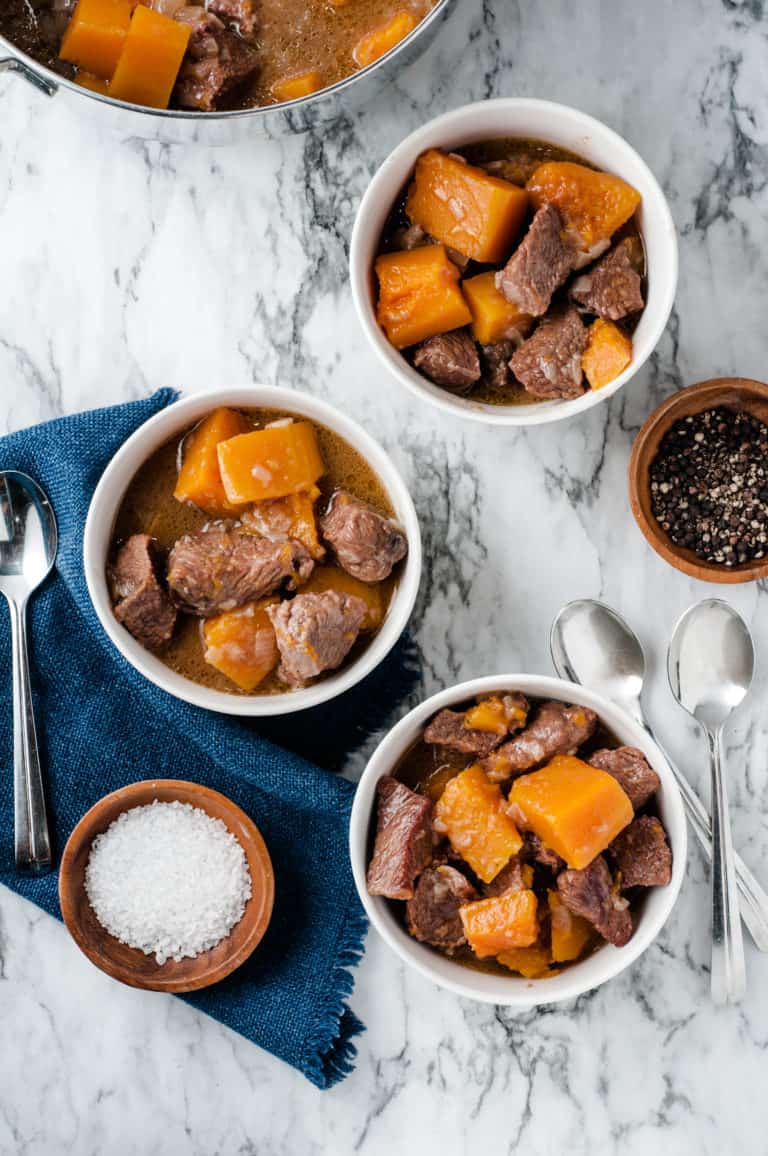 And this easy to make recipe for butternut squash stew is a true family favorite. All that's needed is just a handful of ingredients to cook up a great tasting one-pot meal. Plus this stew freezes well, which makes it a great meal prep solution. Whip up a batch (or two) then stash in the freezer to thaw and reheat when needed. I love to use my vacuum sealer to freeze extra meals to avoid freezer burn!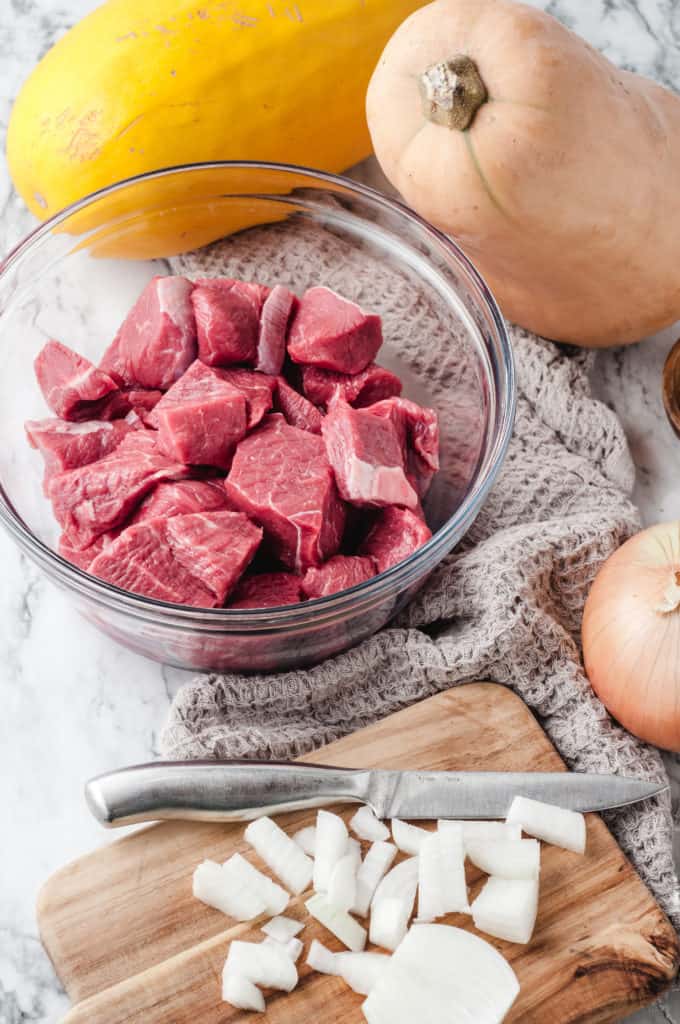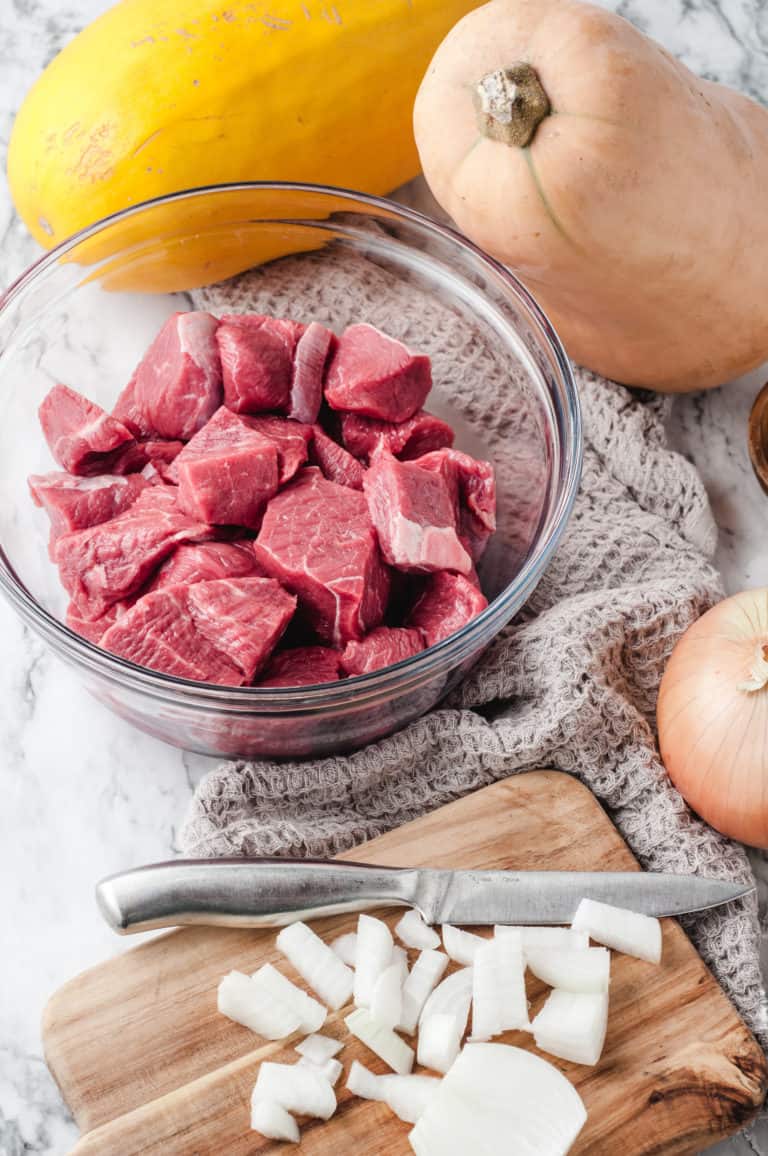 What Kind of Meat to Use in Beef Stew?
The best kind of meat to use in beef stew are those tougher cuts of beef that come from the shoulder, leg and butt. This is because they will become nice and tender when slowly simmered in liquid without becoming overcooked. You can often find convenient packages of beef stew meat, generally chuck roast that is cut into bite-size pieces, in your local grocery store.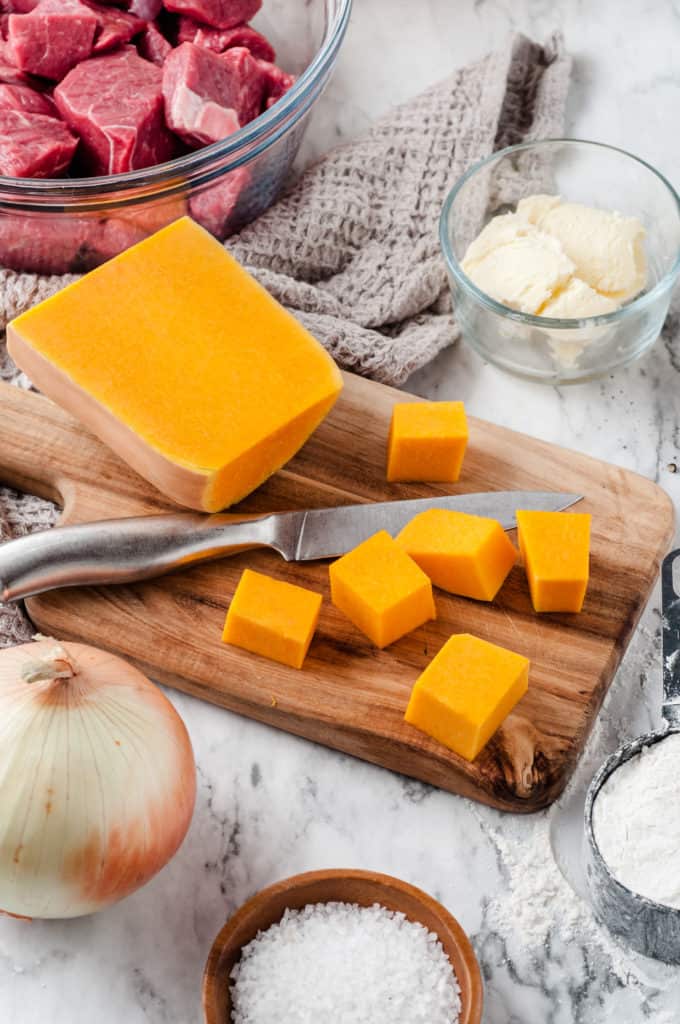 How To Peel and Cut a Butternut Squash
I'll admit that the task of cutting and peeling a whole butternut squash can be intimidating. But after much trial and error, I found a method that makes quick work of this job. Make sure to use a sharp, good-quality kitchen knife, then follow these steps:
Cut about ¼-inch off the top and the bottom, so that you have two flat ends.
Place the wider flat end of the butternut squash on a cutting board.
Use a vegetable peeler and work from top to bottom to remove the skin.
Then, slice the peeled butternut squash in half, where the thinner end begins to widen in the middle.
Stand the two halves on end and cut them in half, slicing vertically.
Use a spoon to remove the seeds and pulp from the four section.
Cut the sections into 1-inch cubes.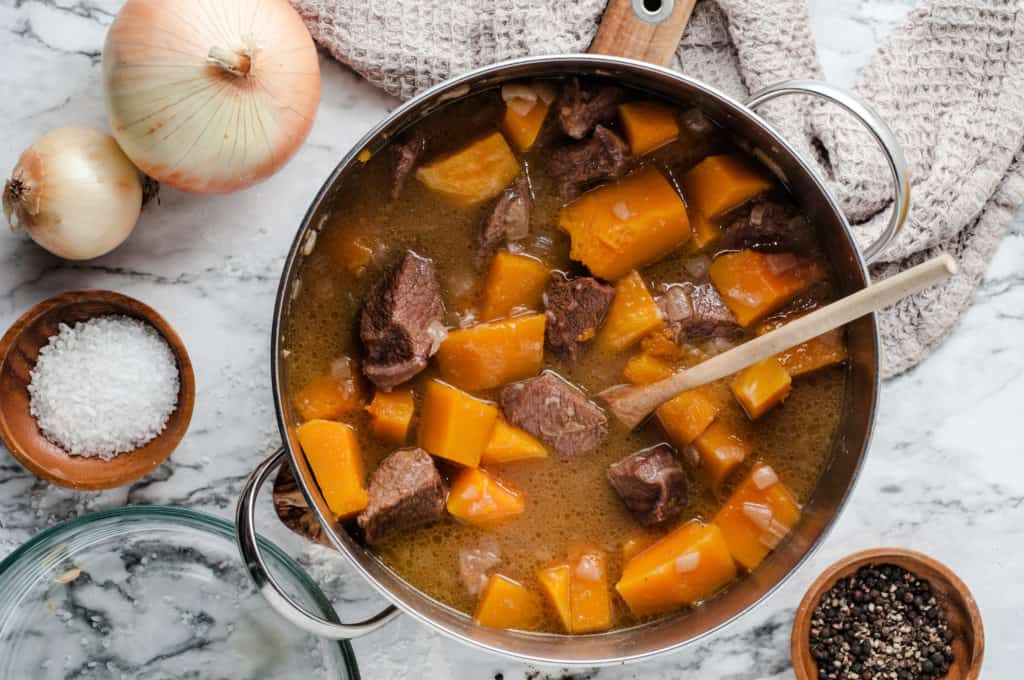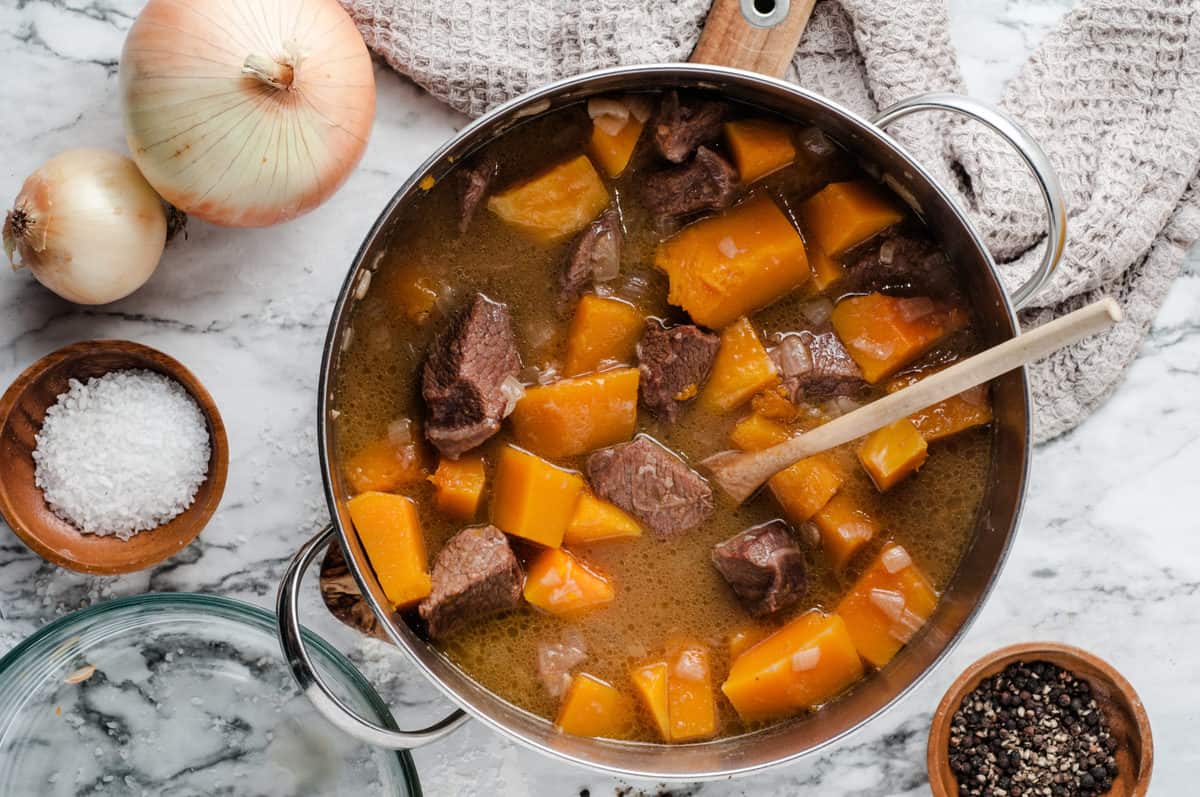 How to make stew in the crockpot or Instant Pot
To make the stew in the crockpot, simply saute the onions and garlic in a pot. Remove from pot and brown the flour-coated beef cubes. Place beef, onions, garlic, and broth in the crockpot and cook on low for 4 hours. Add the butternut squash and cook for an additional 1-2 hours or until squash is tender.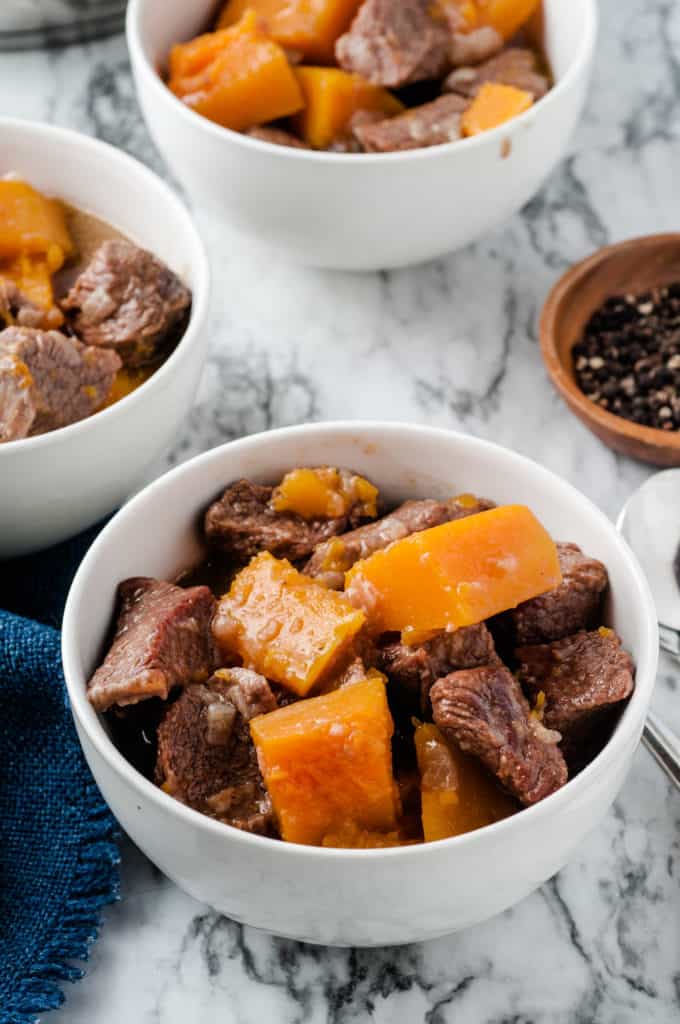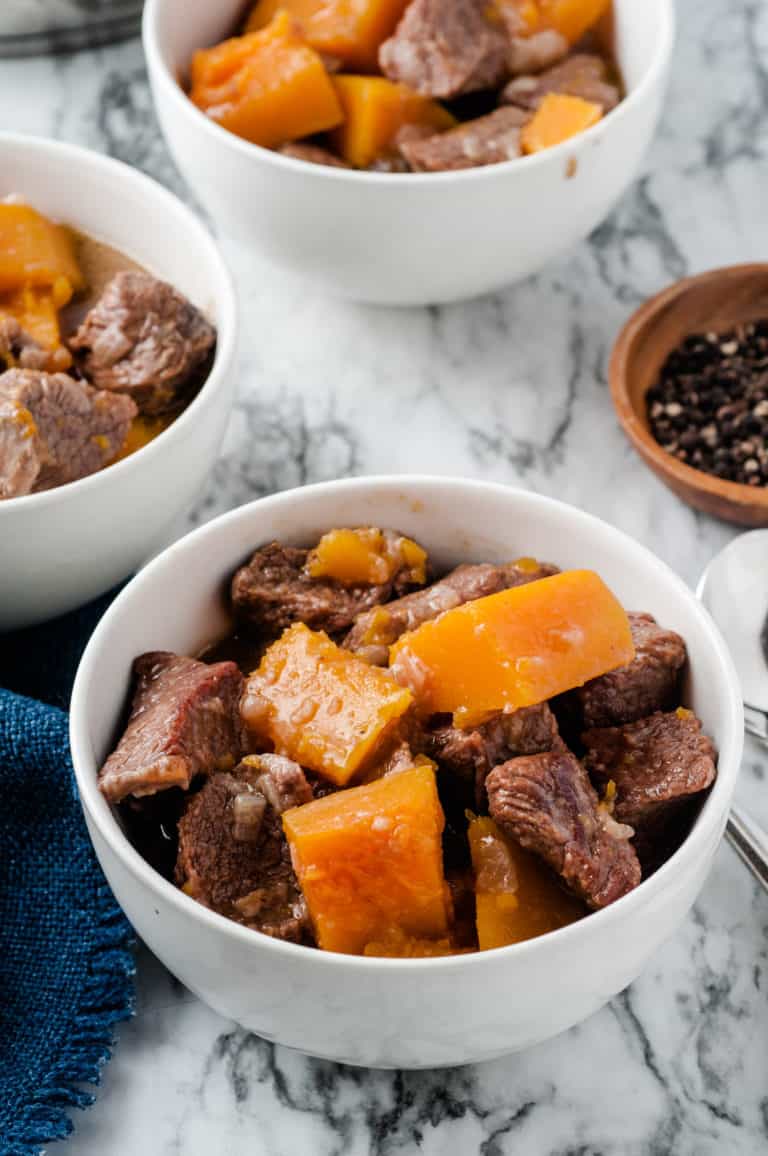 To make the stew in the instant pot, saute the onions and garlic directly in the instant pot, then remove and brown the flour-coated beef cubes. Return the onions and garlic back to the pot with the beef and add the broth. Close and lock the lid. Select Meat/Stew function according to the manufacturer's instructions; set timer for 25 minutes. Once down, manually (and carefully) release the pressure. When the pressure has been released, remove the lid and add the butternut squash. Cover and cook on pressure cook for an additional 10 minutes. Serve once pressure has been released.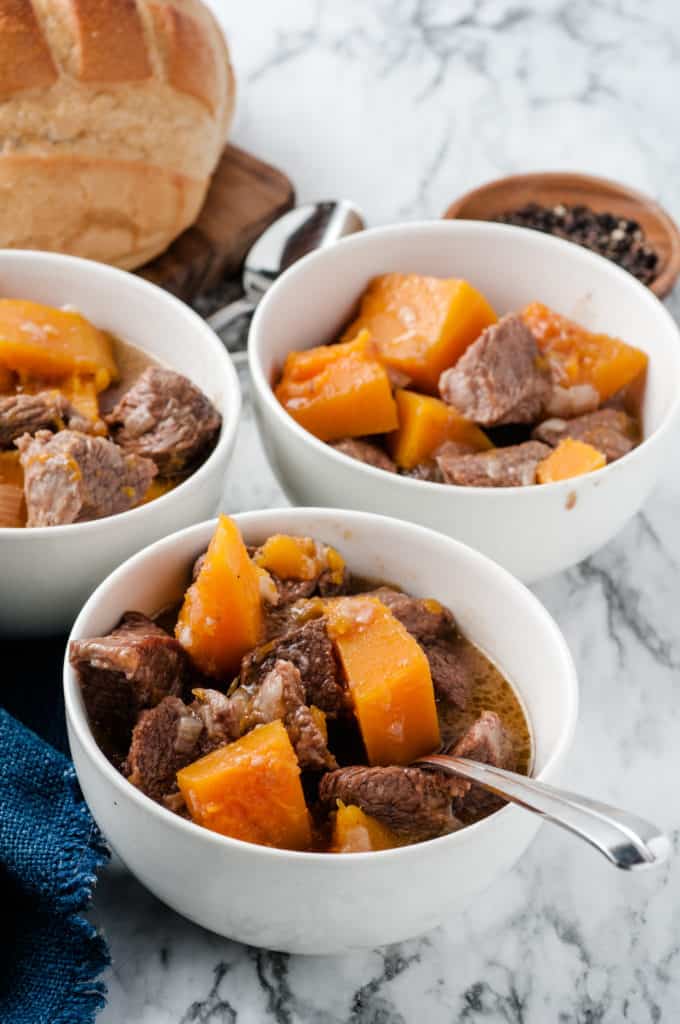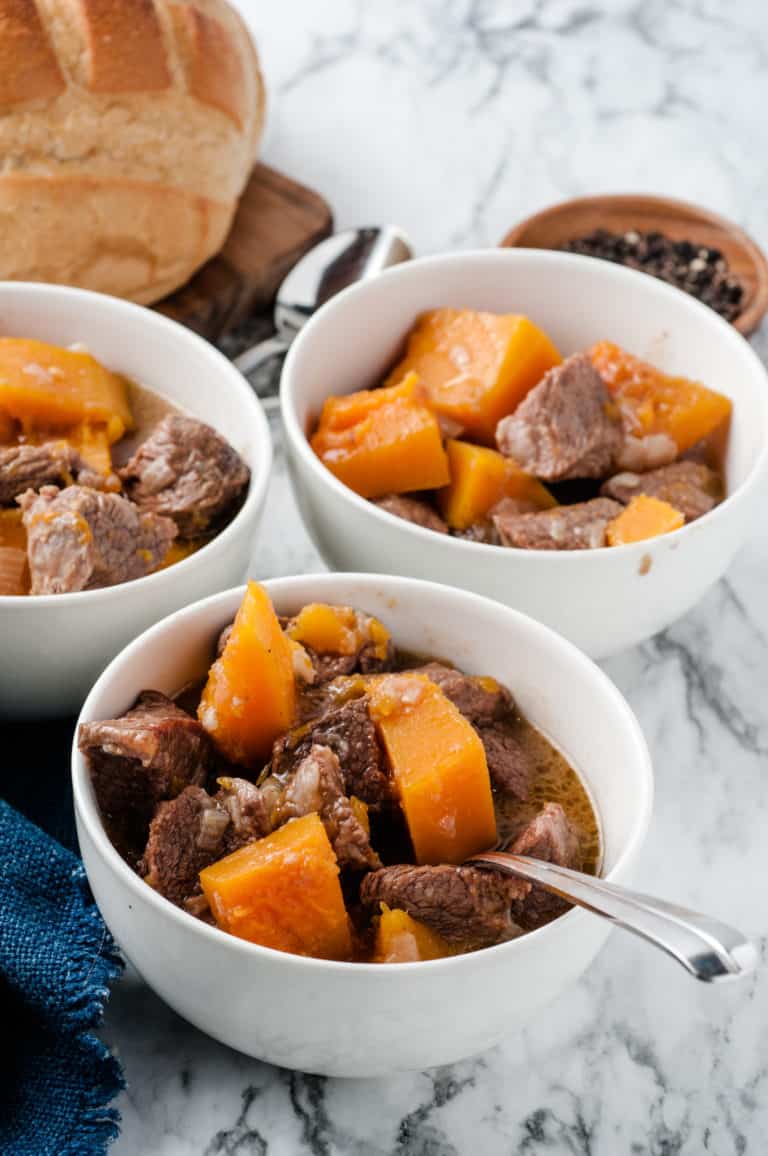 Butternut Squash Beef Stew Serving Suggestions
This butternut squash stew is quite versatile. Here are some of my favorite ways to enjoy it:
Dish up into soup mugs and serve with a piece of crusty bread on the side.
Ladle over a bed of mashed potatoes or rice.
As a topping for baked potatoes.
Any way you decide to serve it, this butternut squash stew is comfort food at its finest!
More Recipes Like Butternut Squash Beef Stew
If you like this butternut squash stew recipe, you'll want to try my Spanish Saffron Meatball Soup, Firecracker Chili, and this recipe for Butternut Squash Kale Stuffed Shells.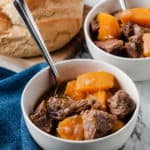 Butternut Beef Stew
Ingredients
2

large onions

chopped

2

cloves

garlic

chopped

3

Tablespoons

butter

2

pounds

lean stew meat

cut in 1-inch cubes

½

cup

flour

1 ½

teaspoons

salt

2

teaspoons

pepper

1

large butternut squash

peeled and diced into 1-inch cubes

4-5

cups

beef broth

or water
Instructions
Melt 1 tablespoon of the butter to a heavy-bottomed pot. Add the onions and garlic and cook until tender and golden brown.

Remove onions from the pot and set them aside.

In a small bowl mix together the flour salt and pepper.

Place beef cubes in a large bowl. Add the flour mix and toss to coat.

Melt the remaining 2 tablespoons of butter in the pot. Add the flour-coated beef and allow to brown, turning as necessary.

When meat is brown on all sides return onions to the pot.

Add just enough broth to the pot to cover the beef.

Bring to a boil then turn down the heat and allow to simmer covered for about 1 hour, until the meat is tender.

Add the butternut squash to the top of the stew, do not stir in. Replace the lid and cook for another 30 minutes or until the squash is tender.

Stir gently. Turn off the heat and allow to stand for 20 minutes before serving.
Recipe Video
Recipe Notes
* Freezes well and reheats well in the microwave
* Delicious on its own served over rice or mashed potatoes.
This post contains affiliate links.