This post has been sponsored by Aidells Sausage Company, Inc. All thoughts and opinions are my own.
These Teriyaki Meatball Subs, made with Aidells® Teriyaki Pineapple Meatballs, will have you hooked on the first bite. The meatballs themselves have thoughtfully unexpected flavor combinations that turn this recipe into an unforgettable dinner. Quick to toss together and bursting with flavor, this might just become your new favorite dish.
Everyone has that one store they just automatically go to for all their grocery needs. Well, that store for me is Albertsons. I just can't help it, they have so many great options and everything is so easy to find. Plus, they always have great deals that are just too hard to pass up. I mean, they even have a mobile app that makes finding those deals a breeze. Not to mention, they carry some of my favorite brands and products like Aidells® Teriyaki Pineapple Meatballs (keep an eye out for them in the refrigerated meat section) that I use to make amazing recipes like these Teriyaki Meatball Subs.
Overall, the most important aspect to me is the fact they carry Aidells®. Providing a healthy meal for my family goes beyond just choosing the right foods. It involves choosing the right brands as well. Aidells® has high-quality meats and ingredients (all-natural, no artificial ingredients, no nitrites, and the chicken is raised without added hormones). Take this, and add it to the fact that Albertsons carries multiple options from this brand, and I'm one happy mama. Not only does it make for a great dinner, but my 18-year-old (and the rest of the kiddos) love it. My oldest especially loves it, because it's a protein-rich snack that he can heat up and enjoy whenever he likes.
How to Make Teriyaki Meatball Subs
Make the sauce - In a bowl, mix together the brown sugar, soy sauce, and rice wine. Whisk until the brown sugar has dissolved into the mixture.
Heat the sauce - In a small pot, add the sugar mixture, green onions, garlic, and ginger. Mix water with the cornstarch until a thick paste forms. Add this to the mixture and whisk until the mixture begins to boil and thicken.
Heat up the meatballs - Once the sauce has thickened, add the meatballs to the mixture to let them heat up until they are warm. Since Aidells® Teriyaki Pineapple Meatballs come precooked, it doesn't take much to heat them up.
Assemble the subs - Once the meatballs are ready, place them in a sliced open baguette and top with sliced pineapple and avocado if desired.
Tips and Variations
Storage - I would suggest storing the meatballs separately from the bread if you have leftovers. This way, the bread won't end up soggy and all the separate ingredients will last longer. Simply store the meatballs in an airtight container, and keep them in the fridge for up to 4 days. If keeping in the freezer, store in an airtight container for up to 2 months.
Reheating - Simply toss the meatballs into a microwave-safe container and heat on high for about 1 minute if coming from the fridge, and around 2.5 minutes if coming from the freezer. Heating times will vary from microwave to microwave.
Make it spicy - If you want a little kick with your Teriyaki Meatball Subs, you can add in a teaspoon of crushed red pepper flakes to the sauce.
Make the marinade thicker - If you feel like your marinade isn't thick enough, you can always add in more cornstarch. Be sure to dissolve it in a touch of water first. You may try letting it cook longer to evaporate some of the excess liquid as well.
Common Questions About Teriyaki Meatball Subs
What Toppings Do You Put on a Meatball Sub?
When it comes to toppings for this meatball sub, you can choose what would best pair with an Asian, slightly sweet flavor. I like to put slices of grilled pineapple and avocado on the top. You can also garnish with a sprinkle of fresh herbs or more green onion. This sub recipe is easily customized to suit the consumer.
If you gave these Teriyaki Meatballs Subs a try and love them, or Albertson's, as much as we do, let me know about it in the comments below!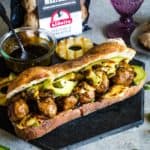 Teriyaki Meatball Subs
A quick and easy meal that is tasty and filling!
Keyword:
meatball sub sandwich, teriyaki sauce
Ingredients
1 ½

cups

soy sauce

2

tablespoons

sweet rice wine

¼

cup

brown sugar

¼

cup

thinly sliced green onions

1 ½

teaspoons

minced garlic

1 ½

teaspoons

minced ginger

½

tablespoon

cornstarch

1

tablespoon

water

1

package Aidells® Teriyaki Pineapple Meatballs

Grilled Pineapple Slices

Avocado

sliced

Baguette
Instructions
In a bowl combine soy sauce, rice wine, and brown sugar. Whisk together until sugar has dissolved.

Stir in green onions, minced garlic and ginger.

Pour sauce into a small sauce pan set over medium heat.

Mix water with cornstarch to a thick paste consistency.

Pour cornstarch mixture into sauce and whisk teriyaki sauce until it begins to boil and thicken, about 4 minutes.

Toss in meatballs and heat until warm.

Assemble the sandwiches by slicing bread and layering with meatballs, grilled pineapple, and avocado slices.
Other Dinner Recipes You'll Love: