This post has been sponsored by Farm Rich, however all opinions are 100% my own.
If you love a comforting breakfast, but don't have the time, you'll love this Strawberry French Toast Tiramisu. Delicious, microwavable Farm Rich French Toast Sticks are the most convenient aspect of this meal. Made with real bread and full of vitamins and minerals, top them with mascarpone cheese and strawberry syrup for the ultimate sweet breakfast.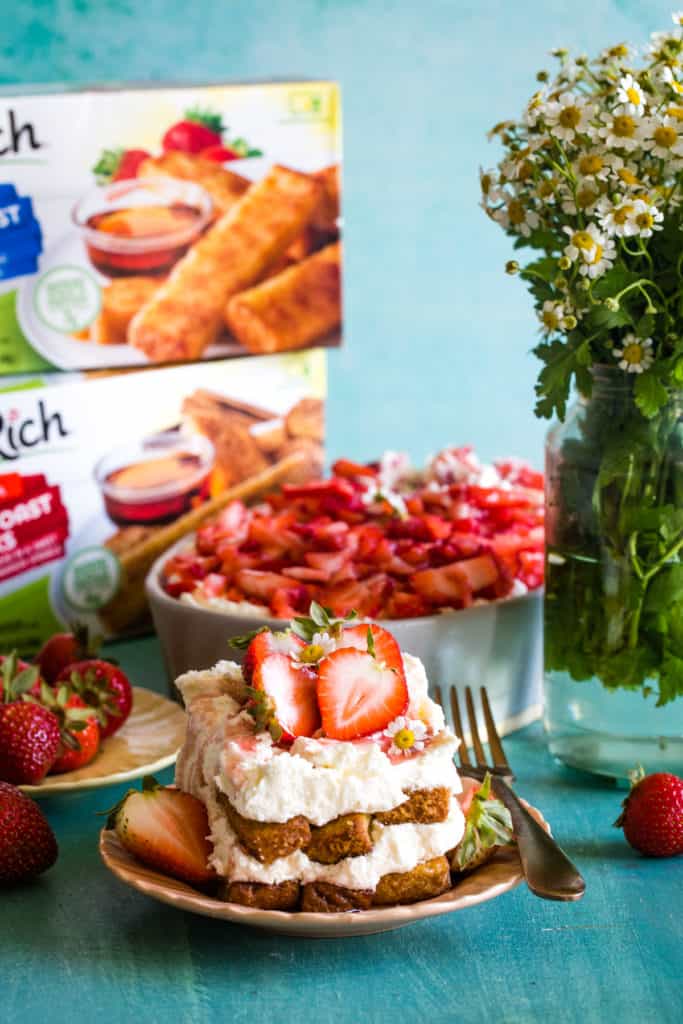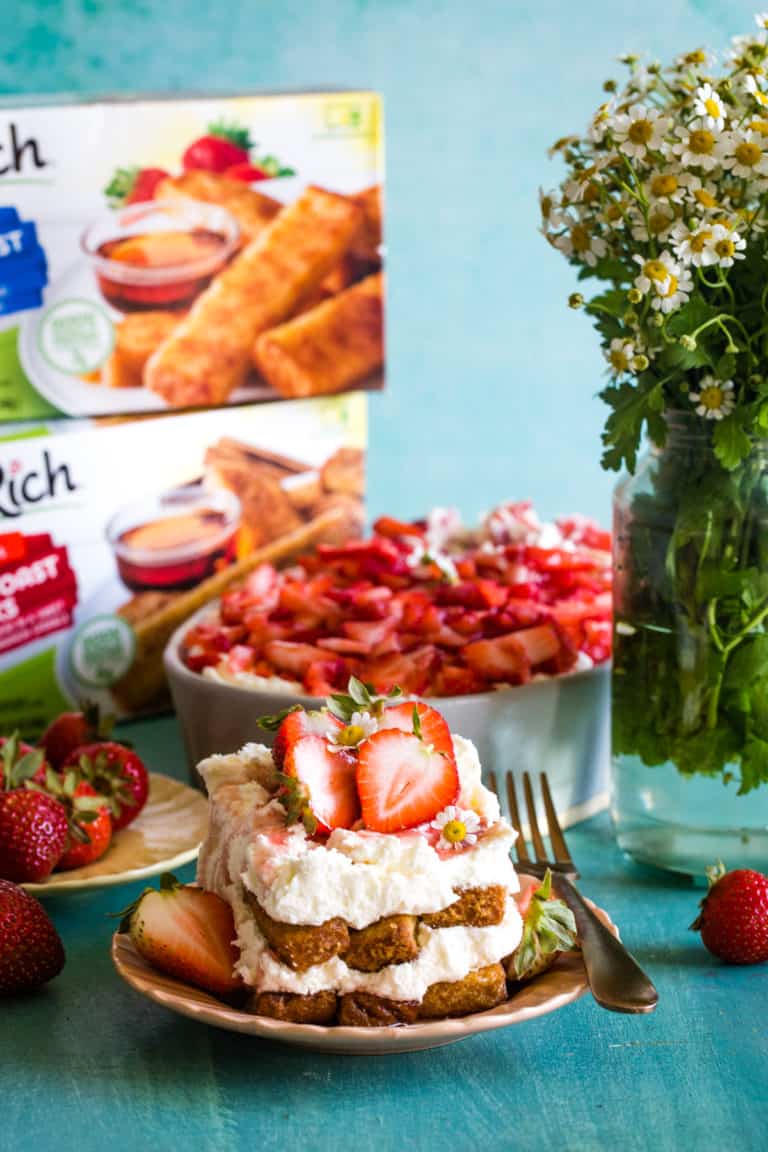 It definitely feels like I've got an incomplete kitchen without a few Farm Rich products in my freezer. I have no doubt you're familiar with the name. They're one of America's favorite frozen snack and appetizer brands. Having that option takes pressure off of me when I'm running short on time for a meal. The best part is that the food is delicious and wholesome, taking only a few minutes to prepare.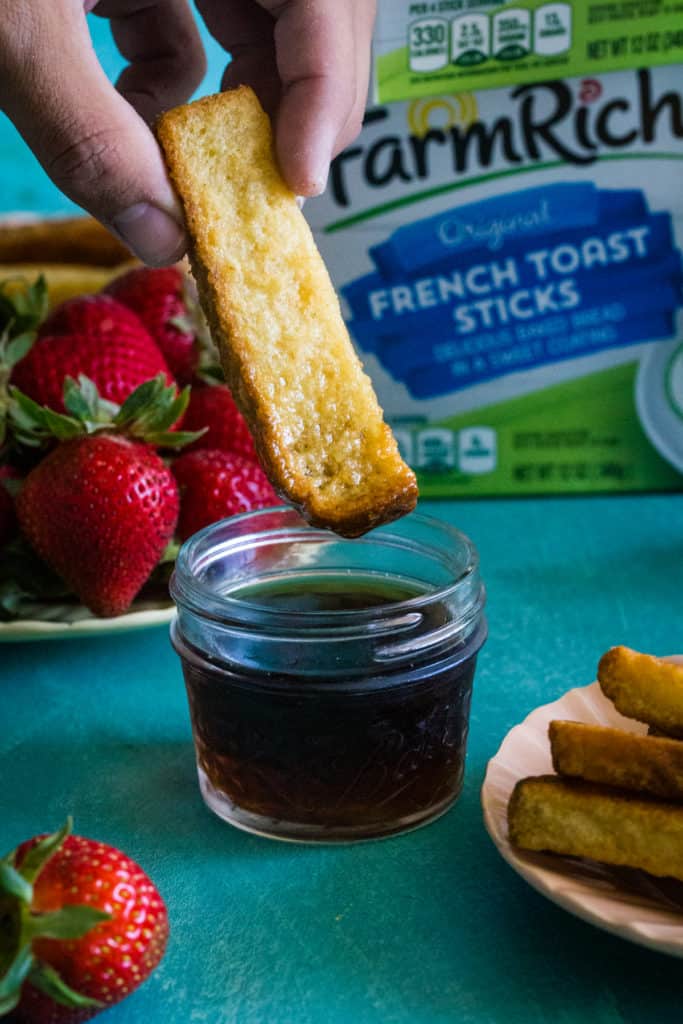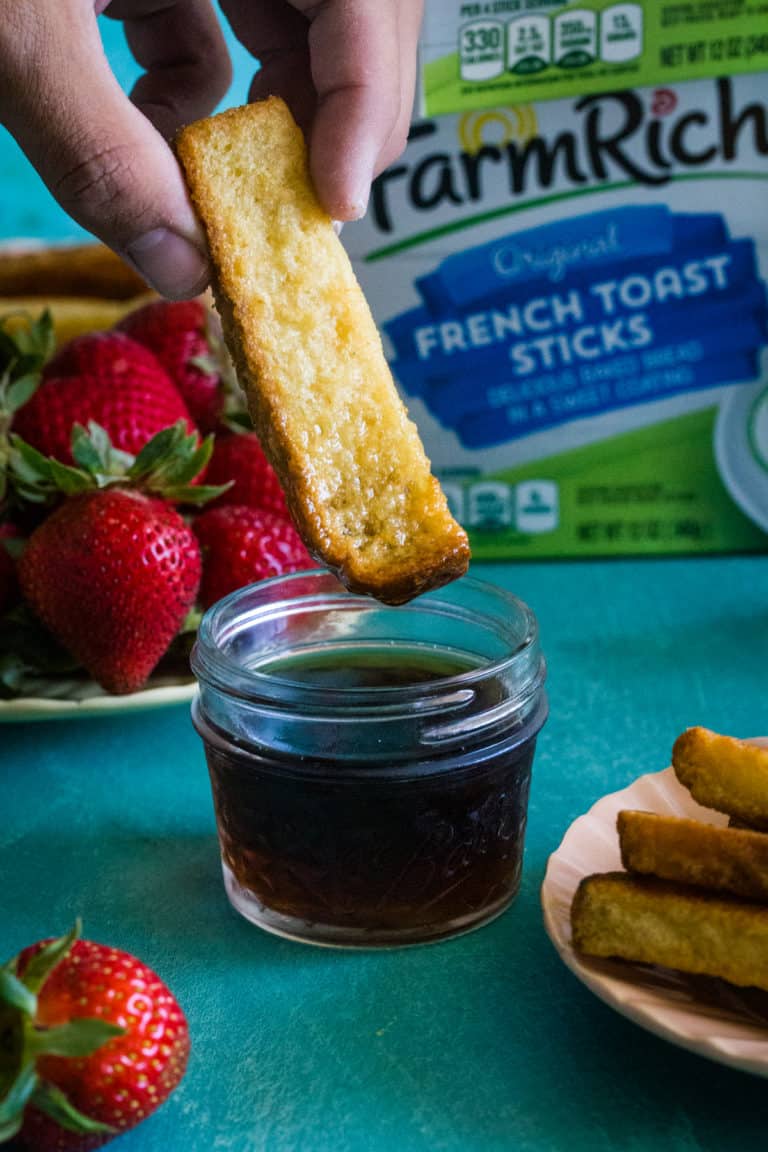 They have many different items to choose from. Some of our favorites are Mozzarella Sticks, French Toast Sticks, Chicken Bites, Potato Skins, Mozzarella Bites, Meatballs, etc. As mentioned, I always keep a few boxes on hand for quick recipes or if I have a hankering for a snack. One of the biggest perks to this brand is that they're easy to get your hands on. You can order Farm Rich online via Instacart, Amazon Fresh, Walmart, Peapod, Kroger, etc. They're also readily available at most grocery stores in the freezer section (see here for the Product Locator). I found the Original and the Cinnamon French Toast Sticks at Smart & Final. I not only love how easy these French Toast Sticks come together, but they're also fortified with 8 vitamins and minerals, and are a good source of iron.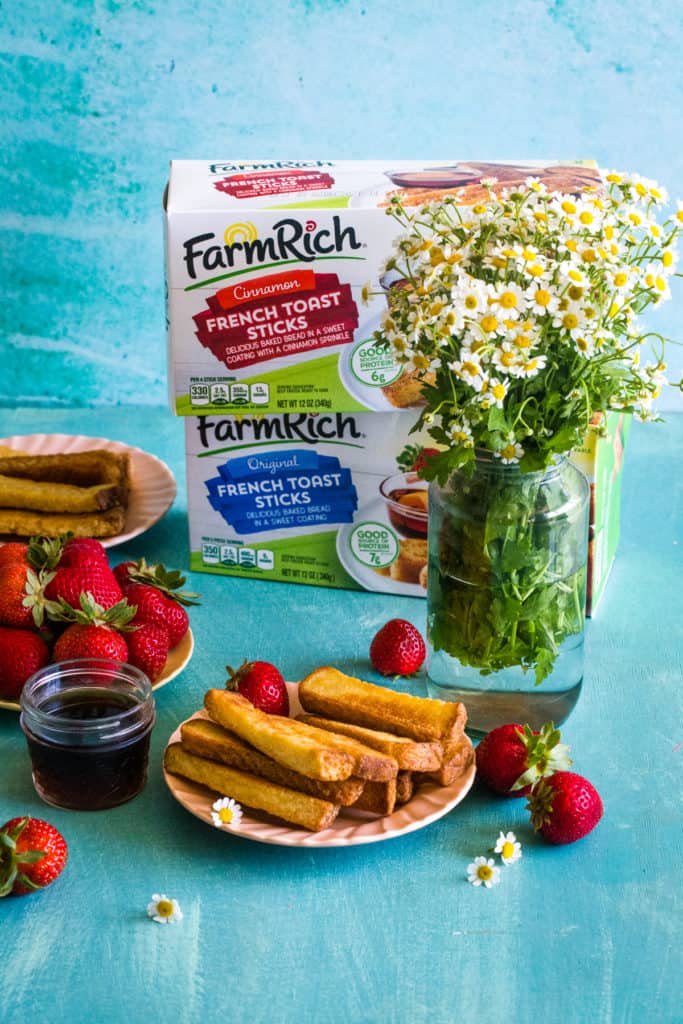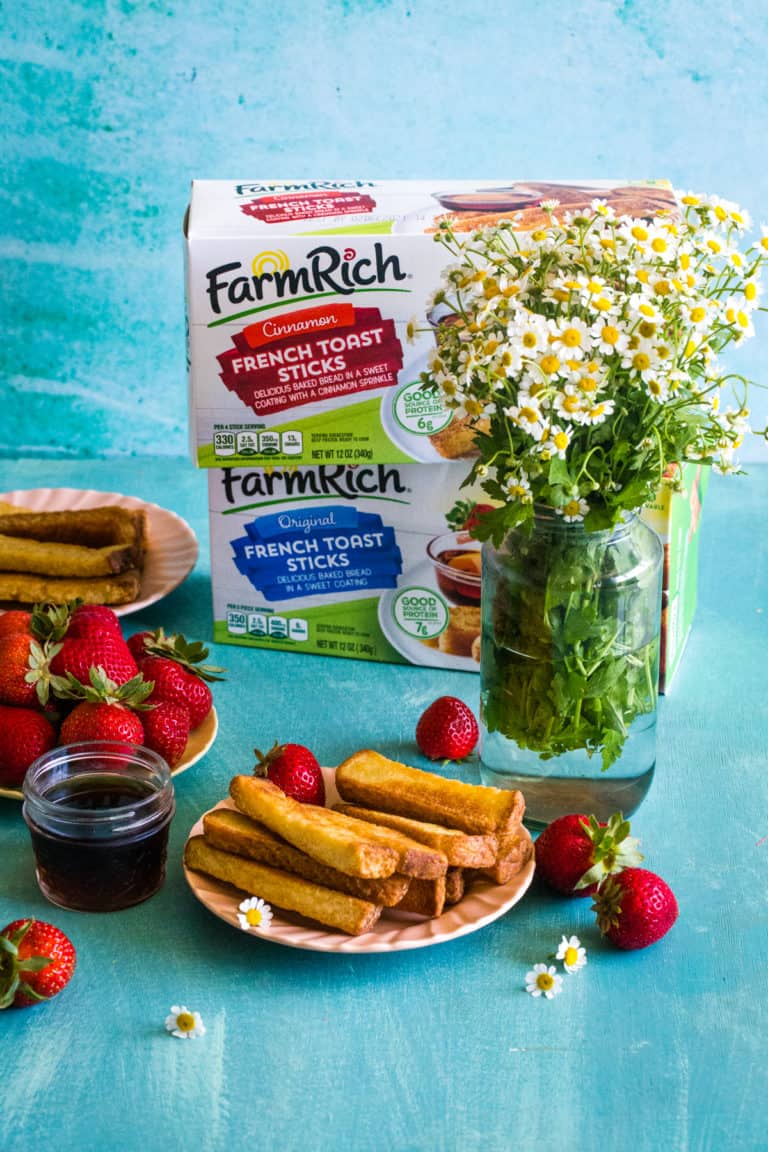 How to Make Strawberry French Toast Tiramisu
Prep

- Microwave the Farm Rich French Toast Sticks. Cool to room temperature.

Make the filling

- Beat the cream, sugar, and vanilla until stiff peaks form. Add in the mascarpone and whip again.

Layer the ingredients - Pour some of the syrup in the bottom of the dish. Place a layer of French Toast Sticks, another bit of syrup, then half of the cream mixture. Repeat.
Garnish and chill - Sprinkle the top of the breakfast tiramisu with sliced strawberries and chill for an hour. Serve and enjoy!
Tips and Variations
Storage - Store in the fridge in an airtight container for up to 4 days. You can freeze this breakfast tiramisu for up to 2 months, in an airtight container.
Reheating - I wouldn't reheat this manually as it could cause it to melt. Instead, let it come to serving temperature naturally. It's meant to be served chilled anyways.
Try other flavors - If desired, you can always switch up the main flavor of this dish. For example, you can use blueberry syrup and fresh blueberries instead of strawberries. There are many flavor options to choose from. You can also use Farm Rich Original French Toast Sticks or Cinnamon French Toast Sticks.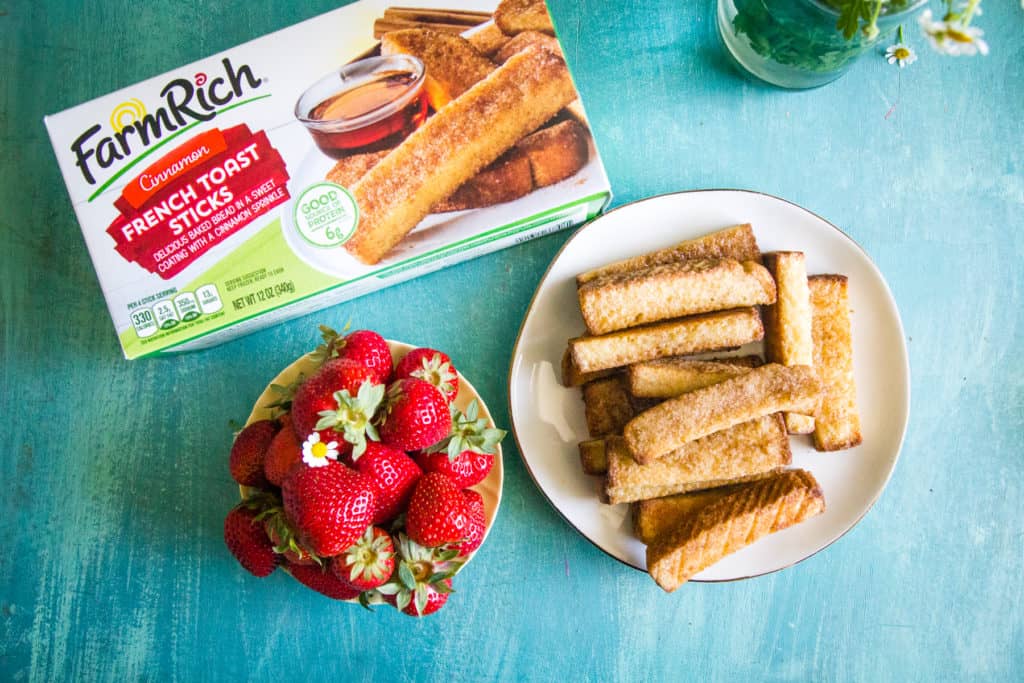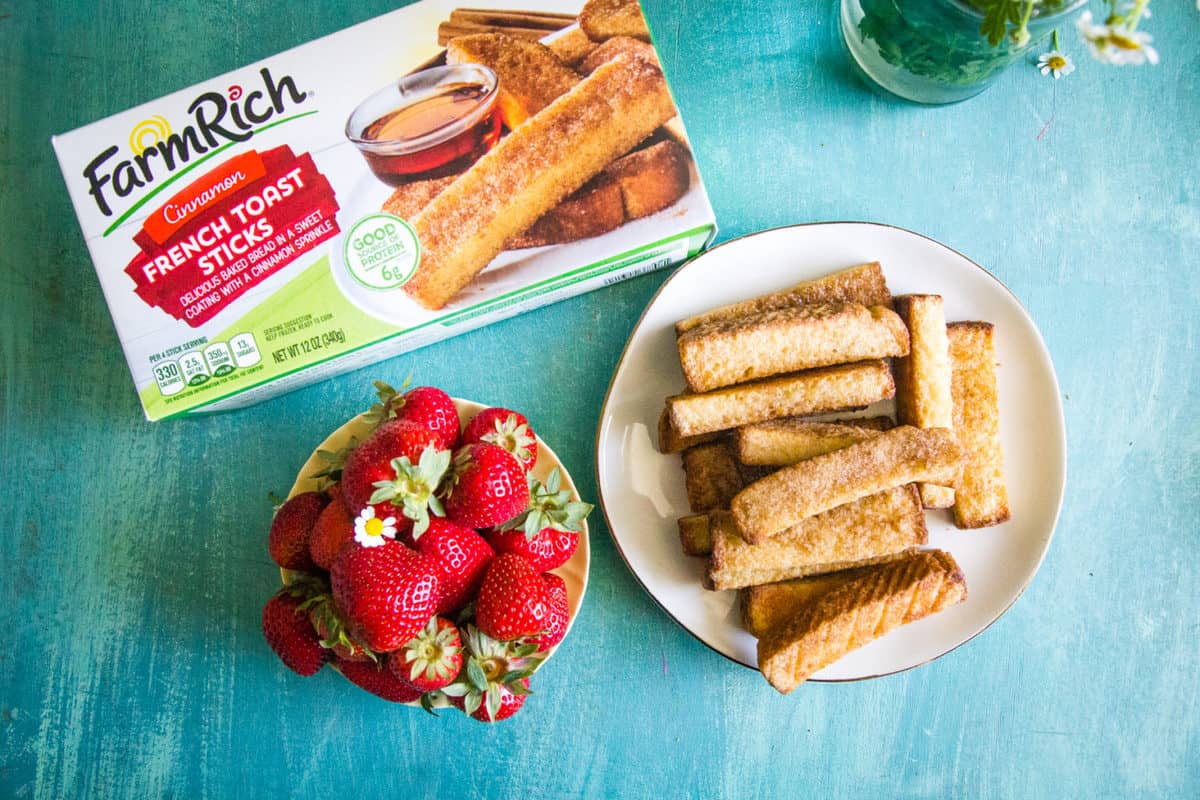 Mascarpone substitute - If you can't get your hands on some mascarpone, you can whip a package of cream cheese with a fourth cup whipped cream instead. Just as delicious and they have a very similar consistency.
My cream mixture is runny or too thin - If your cream mixture isn't sitting up, you didn't whip it long enough. If need be, chill it for a bit and then continue whipping it. You want stiff peaks in the mixture before applying it to the dessert.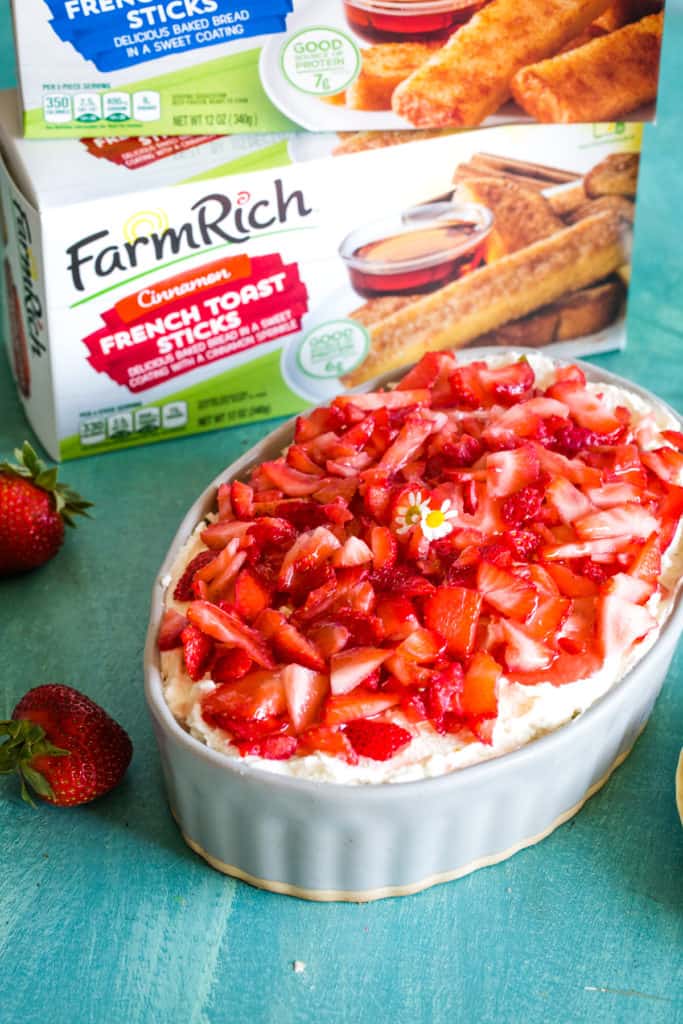 Common Questions About Strawberry French Toast Tiramisu
Does Tiramisu Have Alcohol in it?
This strawberry french toast tiramisu does not have alcohol in it. However, some vanilla extracts contain alcohol, so double check the ingredients of your vanilla to make sure. Depending on the type of tiramisu being made, other recipes might contain alcohol. The success of tiramisu, in general, isn't dependent on the use of alcohol.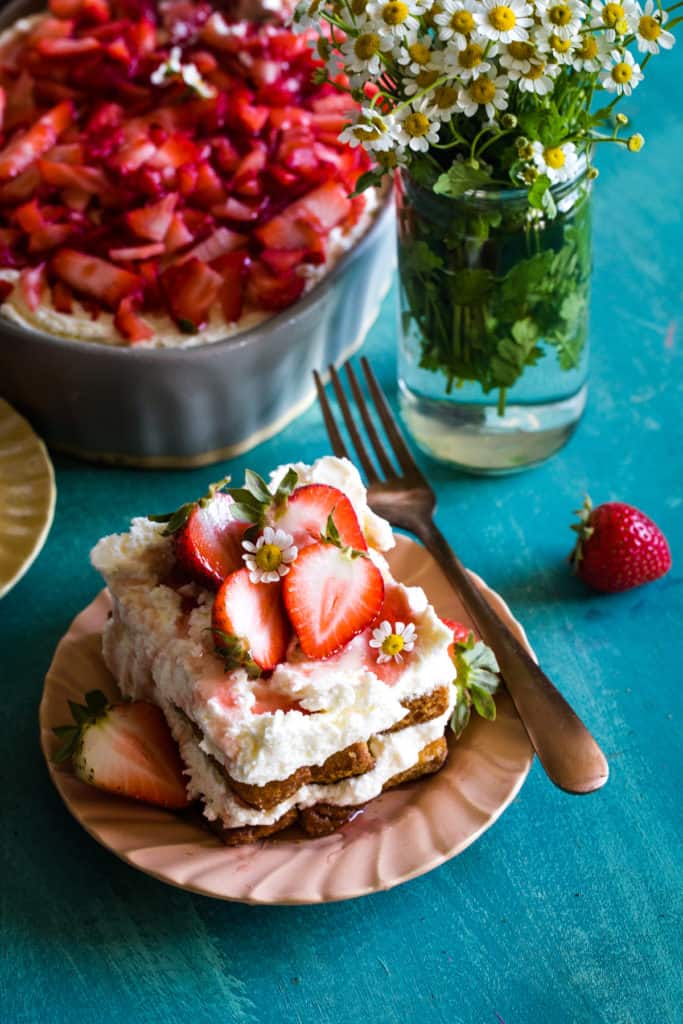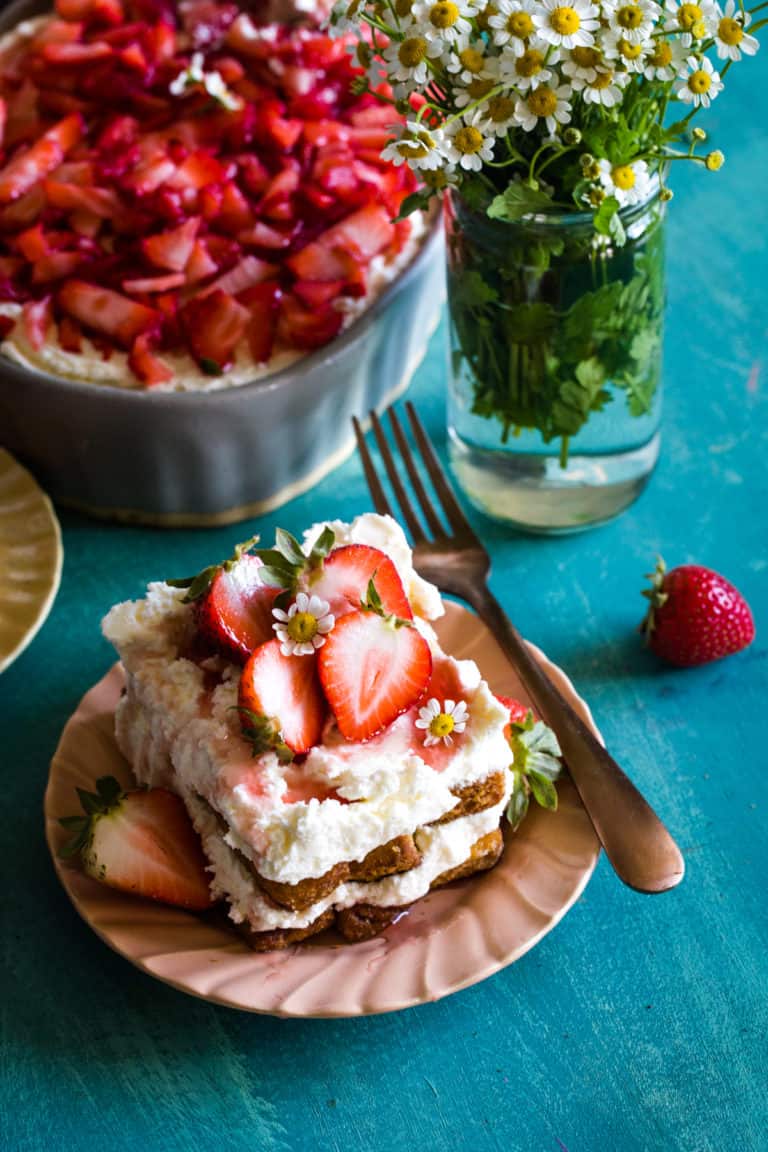 If you have any questions or comments about this Strawberry French Toast Tiramisu, feel free to use the comment section below or let me know through social media!
Other Breakfast Recipes You'll Love: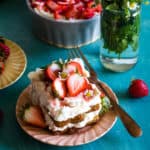 Strawberry French Toast Tiramisu
A simple breakfast Tiramisu using french toast sticks!
Keyword:
breakfast tiramisu, french toast sticks
Ingredients
2

packages Farm Rich Original French Toast Sticks

1 ½

cups

heavy whipping cream

cold

1 ½

cups

mascarpone cheese

room temperature

1

tablespoon

granulated sugar

1

teaspoon

vanilla extract

1

cup

strawberry syrup

1

cup

diced strawberries

½

tablespoon

sugar
Instructions
Microwave French Toast Sticks, then cool to room temp.

In a large bowl, beat heavy whipping cream, sugar, and vanilla until soft peaks form.

Add in the room temperature mascarpone cheese and whip mixture to stiff peaks.

Pour ¼ of the strawberry syrup in the bottom of a small dish (8x8 would be ideal).

Add a layer of French Toast Sticks, drizzle with strawberry syrup, then spread with half of the mascarpone mixture. Repeat with a 2nd layer. Sprinkle strawberries on top. Refrigerate for 1 hour to set.

Serve chilled.