Pumpkin Spice Coffee Cake is full of irresistible fall flavors! The perfect treat to have with your morning coffee or as a delicious dessert.
The arrival of October means that fall is officially in the air, the first frost is on the ground, and this warm and delicious Pumpkin Coffee Cake is in my oven! Coffee cake has always been one of my favorite baked goods. And this version, topped with a pumpkin streusel and maple glaze, is exactly what I crave this time of year.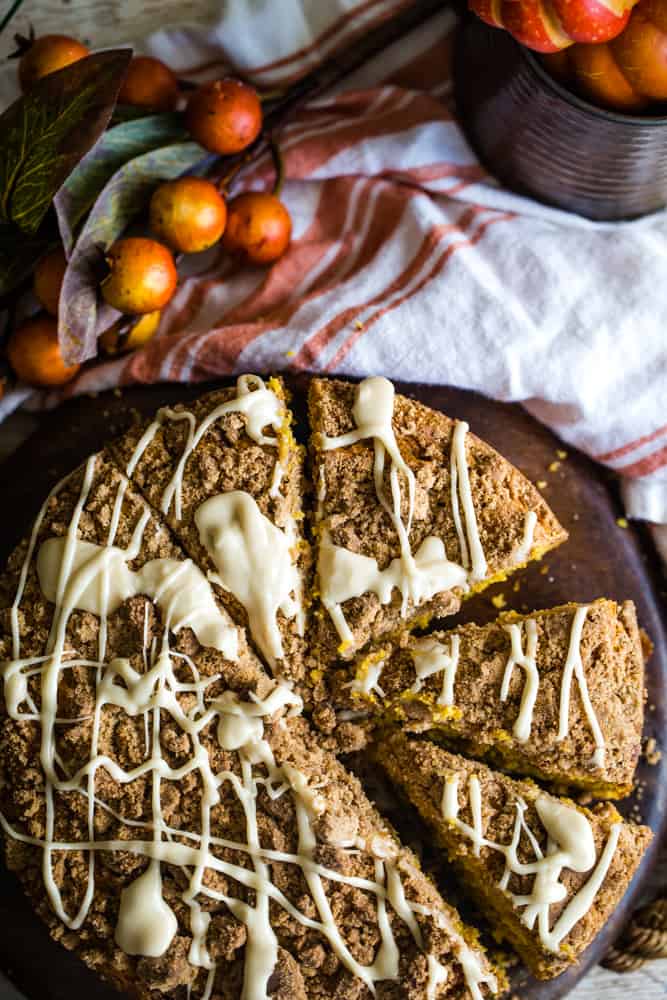 It's true that there is a pumpkin spice version of everything nowadays. But, I think coffee cake is one of the few items that is truly enhanced by the addition of pumpkin and the accompanying spices. This Pumpkin Coffee Cake really does have the perfect balance of texture and flavors. It's light yet substantial, sweet but not overly so. The fluffy cake contrasts nicely with the crunchy streusel filling/topping, and the drizzle of silky maple glaze ties it all together.
What is Coffee Cake?
A traditional coffee cake is first making a crumb or flour mixture and then stirring in the milk and egg. It gets topped with a butter-sugar streusel topping and baked and then served with coffee or tea either in the morning or for an afternoon snack.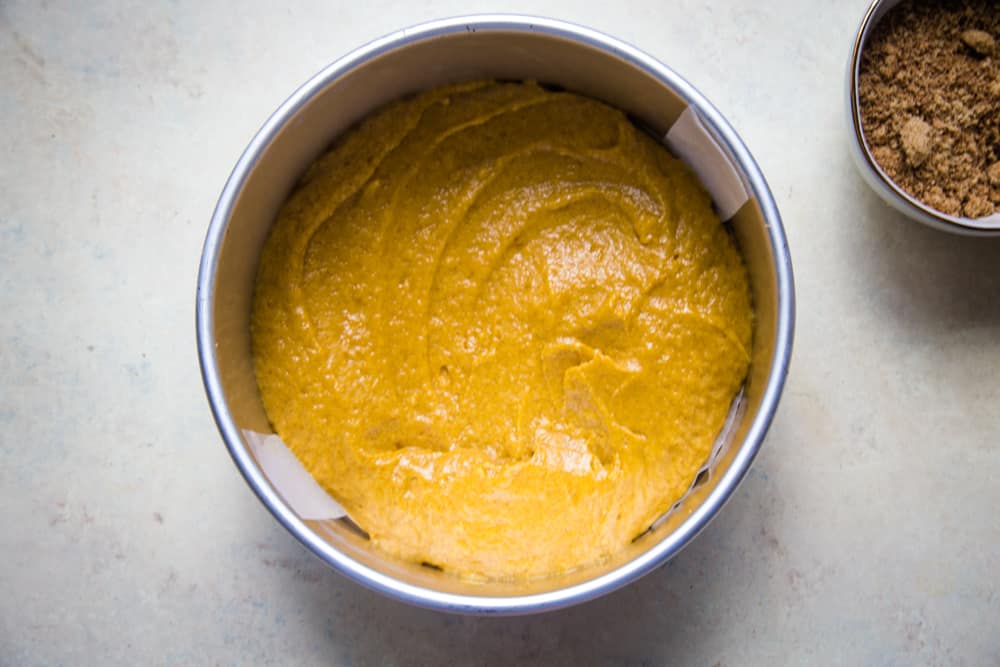 Does Coffee Cake Have Coffee In It?
The answer is no. The name comes from the fact that coffee cake is typically served alongside coffee or tea. However, they did use to contain dried fruits, spices, and nuts.
Why You'll Love This Pumpkin Spice Coffee Cake
The pumpkin spice spiked streusel filling and topping provides a delightful crunch.
It's a great recipe to make ahead of time and then serving up at weekend brunches, dessert, or afternoon snacks.
A maple glaze makes this pumpkin coffee cake truly hard to resist.
It contains pumpkin puree, which makes it healthy right!?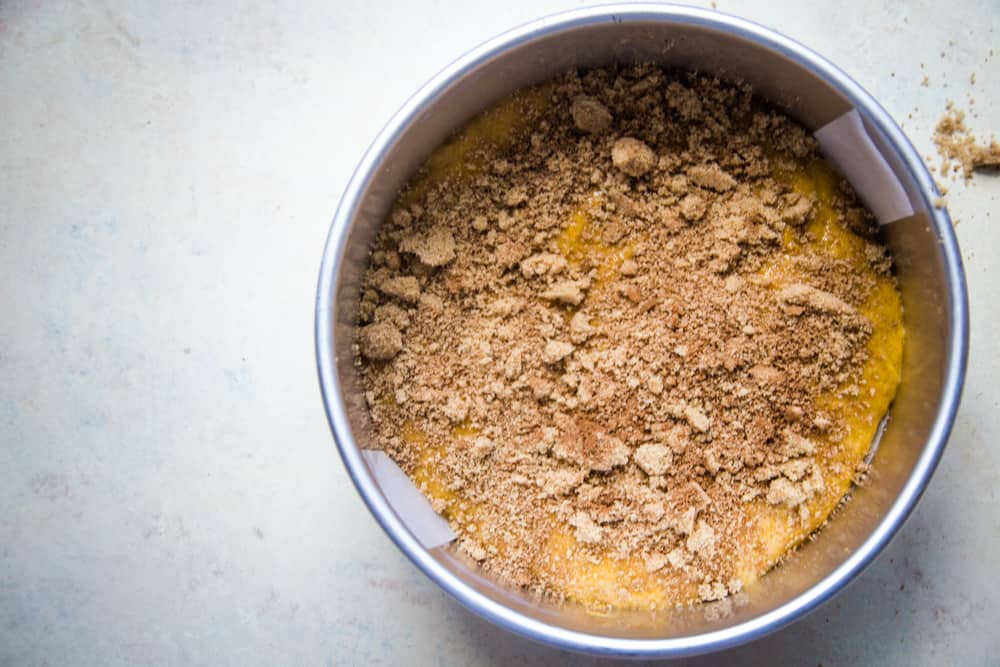 How To Make Homemade Pumpkin Pie Spice
While buying pre-mixed pumpkin pie spice blends is nice and convenient, making your own is quite easy (and fun)! Plus all it takes is 5 ingredients and a couple of minutes to whip up a batch of homemade pumpkin pie spice to have on hand all season long. Here's how to do it:
To a bowl, add 3 tablespoons of cinnamon, 2 teaspoons each of ground ginger and nutmeg, and 1 ½ teaspoons each of ground cloves and ground allspice.
Whisk the spices together to combine.
Then transfer the pumpkin spice mixture into a small jar and seal with an airtight lid.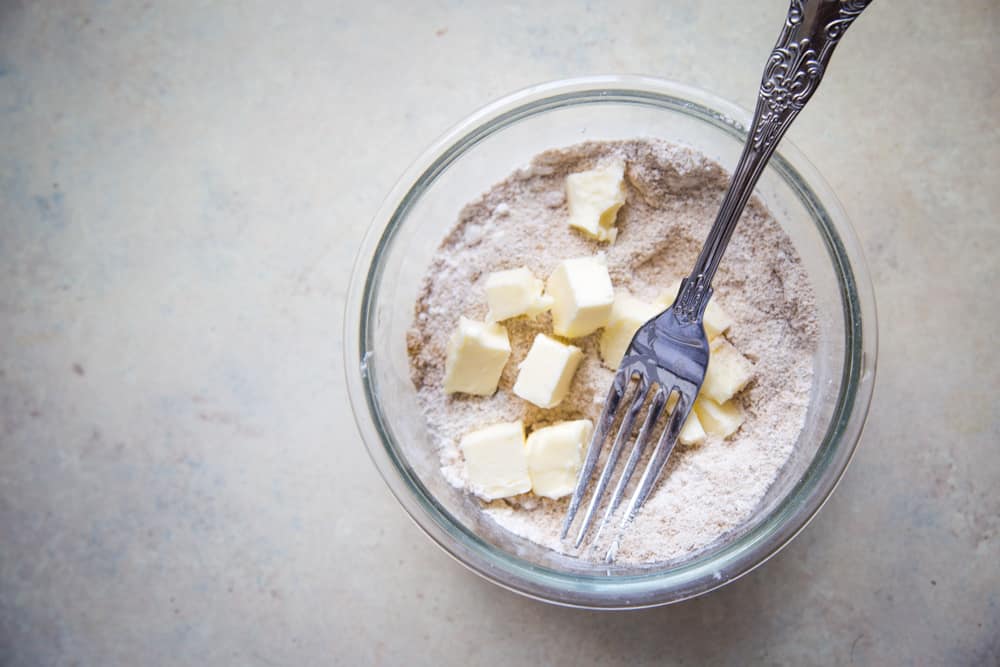 How To Make Streusel Topping
Combine the flour, sugars, and spices into a small bowl to make the crumb topping and filling.

Small pieces of cold butter are then cut into the streusel flour mixture using either a pastry blender or a fork which creates a crumbly pea-sized mixture that is then sprinkled on the batter.

The streusel topping can be made up to three days ahead of time and kept in an airtight container in the refrigerator until ready to use.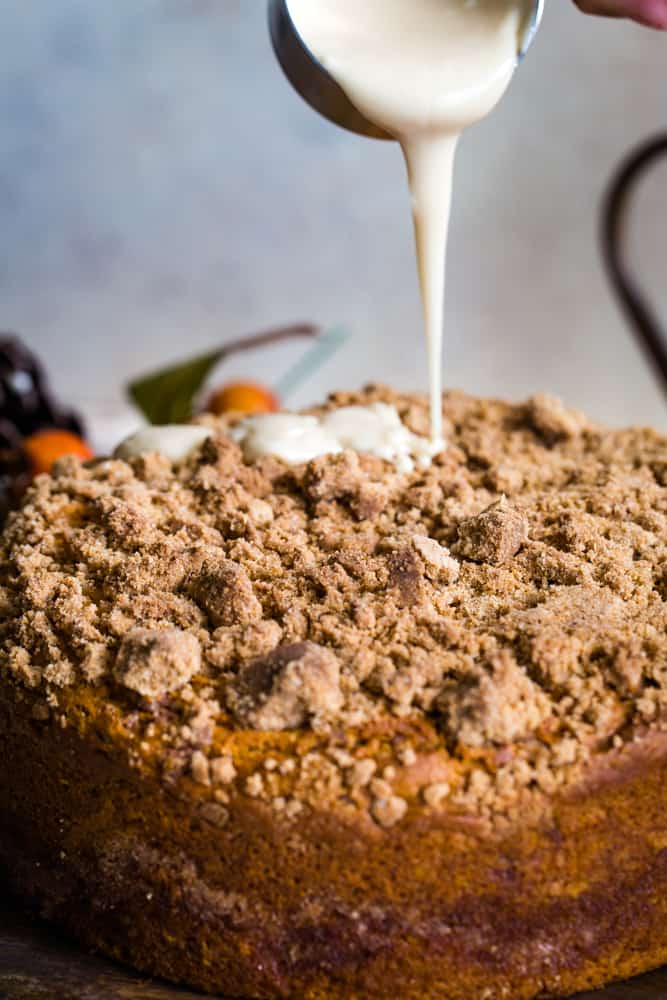 How To Make Glaze With Powdered Sugar
For this Pumpkin Spice Coffee Cake Recipe, I make a Maple Glaze Recipe. The maple glaze adds an extra bout of sweetness and flavor. It is quite simple to make and only takes about 2 minutes. The most important part of making a glaze with powdered sugar is making sure your wet ingredients are hot. For this maple glaze recipe, you heat the maple syrup in the microwave for 45 seconds. You then whisk in the powdered sugar. Because the liquid is hot, the powdered sugar melts, which results in a smooth glaze. This method also helps eliminates a sticky glaze. Once the glaze cools, it becomes hard and stiff. Drizzle the maple syrup glaze over the Pumpkin Spice Coffee Cake and allow to set for 5 minutes before slicing.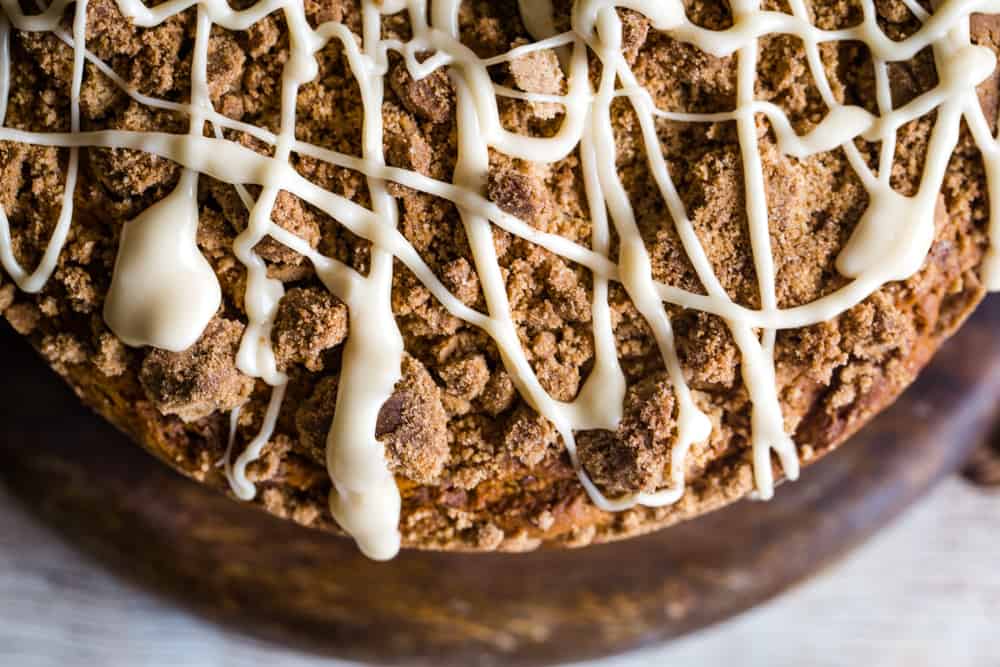 More Pumpkin Recipes
Looking for more ways to embrace the pumpkin craze and add more pumpkin spice to your life? Then try my recipe for delicious Pumpkin Chocolate Chip Cookies, these Pumpkin Cheesecake Muffins, and this recipe for Pumpkin Flan Cake.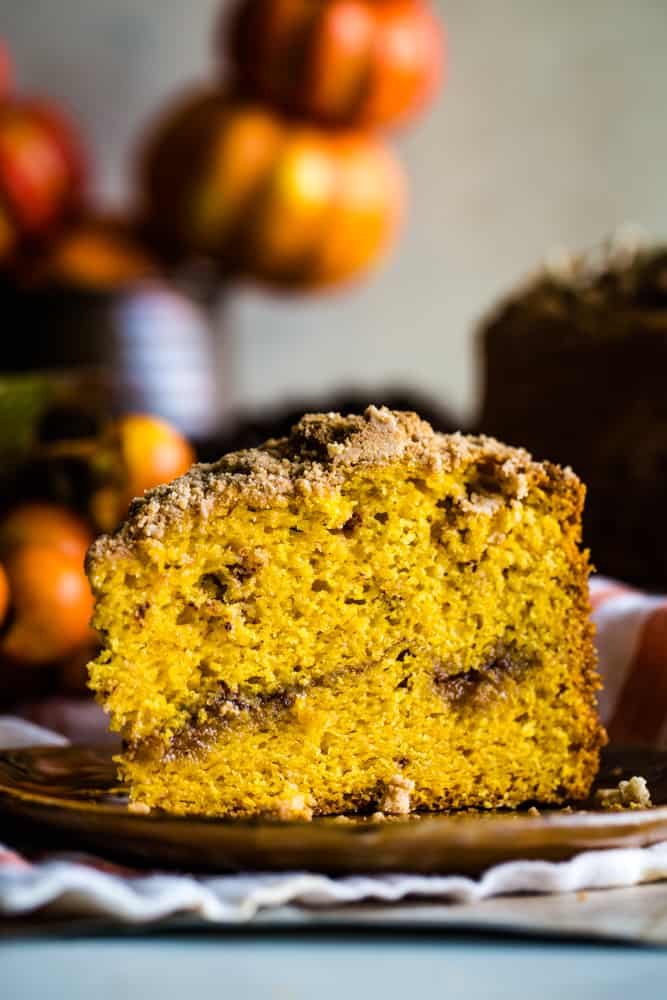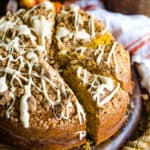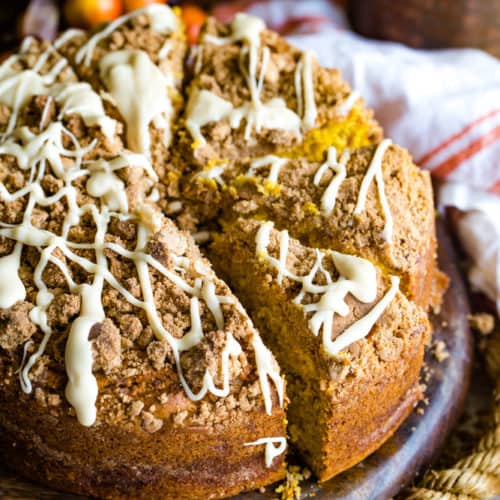 Pumpkin Coffee Cake
This pumpkin spiced coffee cake is the perfect fall treat!
Keyword:
pumpkin coffee cake recipe, pumpkin cake recipe
Ingredients
Streusel Filling and Topping-

½

cup

brown sugar

firmly packed (light or dark brown)

½

cup

granulated sugar

½

cup

all-purpose flour

1 ½

teaspoon

ground cinnamon

½

teaspoon

pumpkin pie spice*

⅛

teaspoon

salt

¼

cup

unsalted butter

cold and cut into small pieces

Pumpkin Cake-

2

cups

all-purpose flour

1 ½

cups

granulated sugar

1

teaspoon

ground cinnamon

1

teaspoon

pumpkin pie spice

2

teaspoons

baking powder

⅓

cup

vegetable oil

2

large eggs

½

pumpkin puree

1

teaspoon

vanilla

Glaze

2

tablespoons

maple syrup

1

cup

powdered sugar
Instructions
Preheat oven to 350 degrees. Line a 9-inch cake pan or 8x8-inch square pan with parchment paper.

To make the filling and topping, whisk together cinnamon, sugar, flour, pumpkin spice, and cinnamon to a medium-sized bowl.

Add cold cubed butter Cut butter into sugar mixture using a pastry blender or crisscrossing 2 knives, until crumbly. Set aside.

To make the cake batter, combine dry cake ingredients in a large bowl and whisk to combine.

Create a well in the center and add the oil, eggs, pumpkin, and vanilla; whisk until smooth.

Pour half of the batter into the prepared pan.

Sprinkle with ⅓ of the topping mixture.

Pour remaining batter over the streusel topping and sprinkle with remaining streusel topping.

Bake coffee cake for 45-50 minutes or until a knife is inserted in the center of the cake and comes out with only a few moist crumbs.

Cool for 15 minutes before serving.

To make the glaze, warm the maple syrup for 15 seconds in the microwave. Add the powdered sugar and whisk until smooth.

Pour glaze over cake and allow 10-15 minutes to set.

Slice cake into wedges and serve warm or at room temperature.