This post is a sponsored collaboration between The Seaside Baker and the Partnership for Food Safety Education however all opinions are my own. It's officially fall and time for these deliciously chewy Pumpkin Chocolate Chip Cookies! They are easy to make and make your house smell amazing!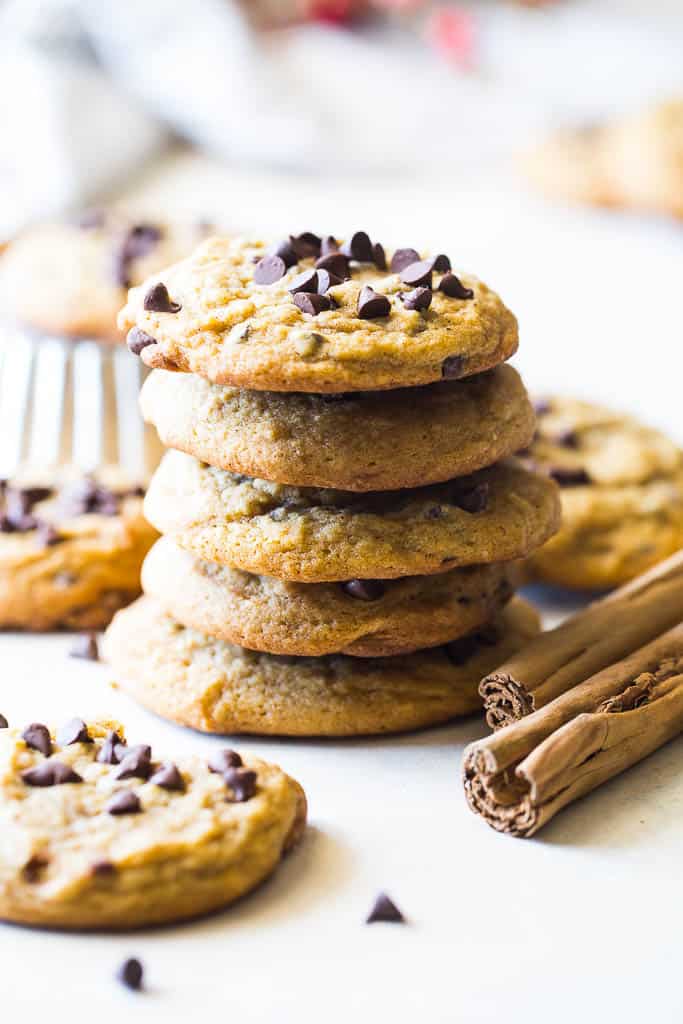 After having worked in the food industry for many years, I have had to take my fair share of food safety classes. The all day class was a bit overwhelming but definitely taught me a lot.
No matter what, food is fun, and the experience of cooking should be fun. Food safety doesn't have to be this scary thing, or an after-thought. It's simple habits that you learn that will protect your loved ones from getting sick.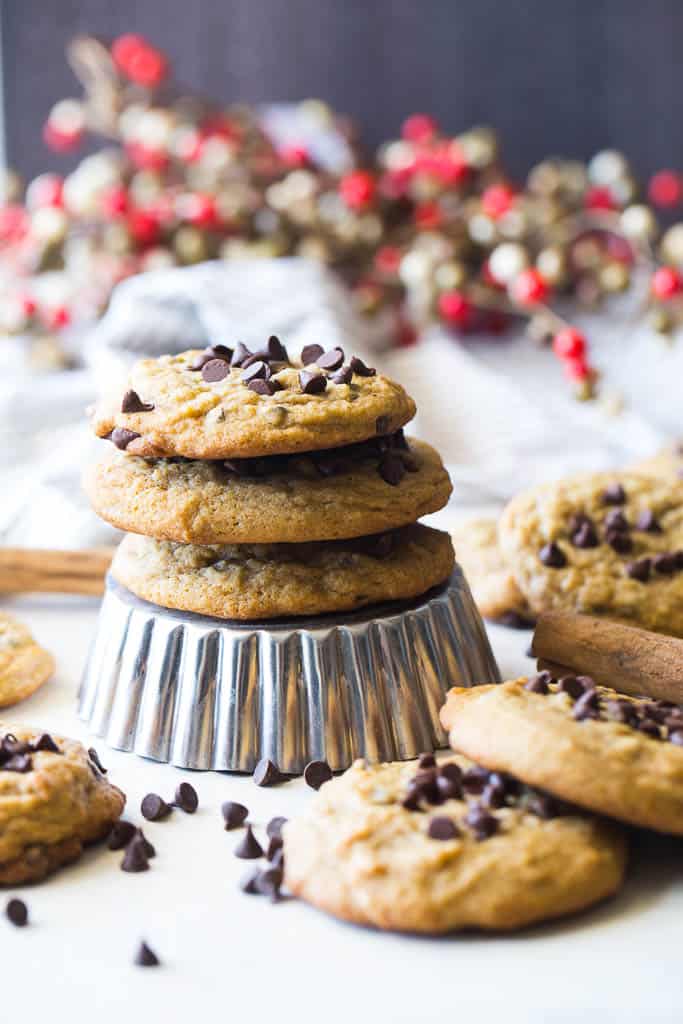 Washing your hands and properly cleaning your preparation area is an essential part of reducing contamination. Although tempting, avoid licking you beaters when baking. Not only are raw eggs dangerous to eat due to Salmonella, but so is raw flour. Who would have thunk!? Raw flour can contain particularly harmful strains of E. coli.
Other forms of food safety include cooking foods to proper internal temperature and chilling food correctly. For more in-depth information, and to learn about the simple actions it takes to reduce the risk of foodborne illness head over to The Story of Your Dinner webpage.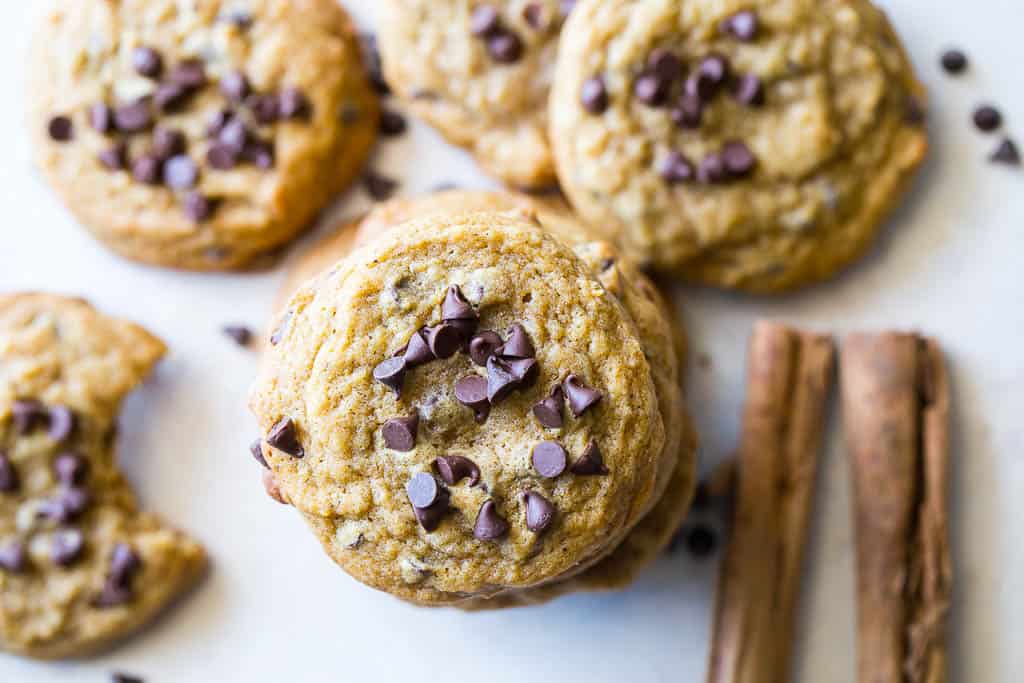 Resisting the urge to take a scoop of these delicious Pumpkin Chocolate Chip Cookies before they have baked may be difficult, but so worth the wait. They are the perfect cookie to inaugurate the fall season and also fill your home with sweet cinnamon-y aromas as they bake. I love it when my recipes double task!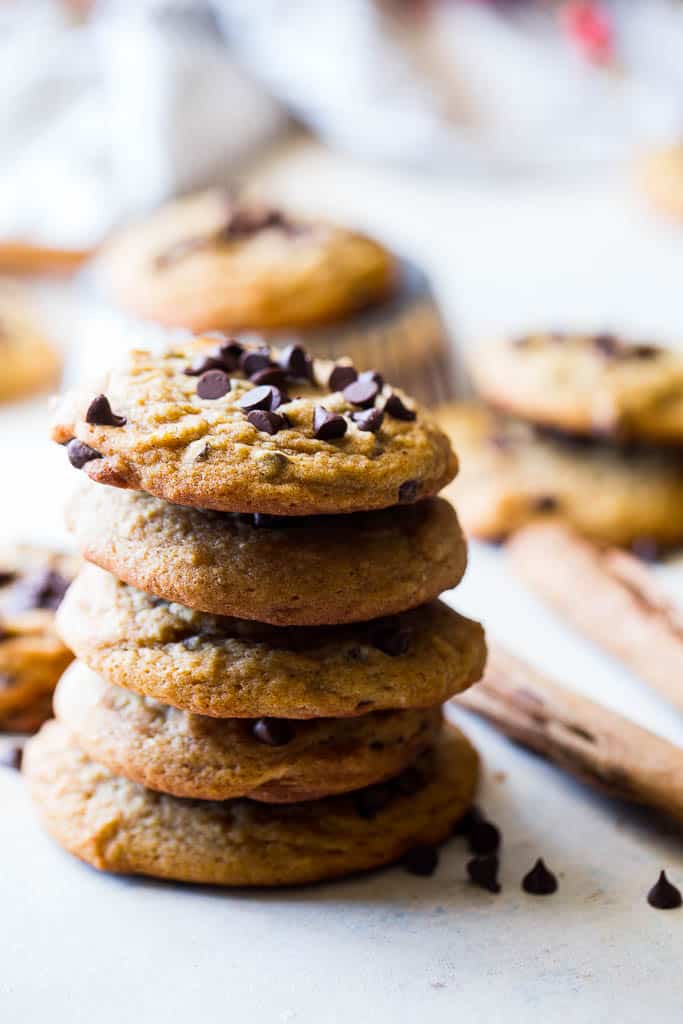 Whether you are making a batch of these Pumpkin Chocolate Chip Cookies for your kids when they get home or dining with your family, sharing food is a precious time. So make sure that the meals you put on the table are be treated with care. The month of September is Family Meals Month. Visit Story of Your Dinner for more recipes and easy food safety tips. Enjoy and happy fall!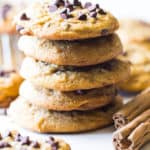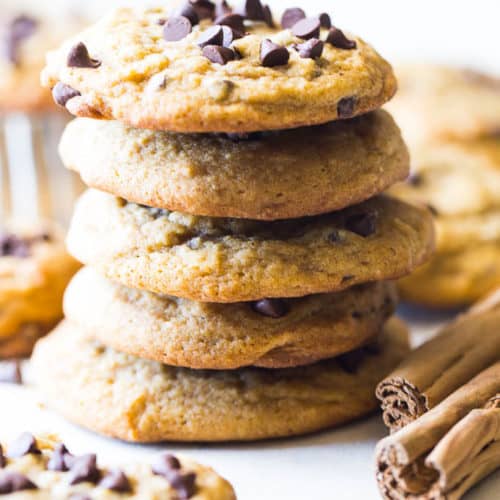 Pumpkin Chocolate Chip Cookies
Keyword:
chewy cookies, chewy pumpkin cookies
Ingredients
½

cup

butter

softened

½

cup

white sugar

½

cup

packed brown sugar

⅓

cup

pumpkin puree

not pumpkin pie filling

1

egg yolk

1

teaspoons

vanilla extract

½

teaspoon

baking soda

1

teaspoons

hot water

¼

teaspoon

salt

1 ½

cups

all-purpose flour

½

teaspoon

cinnamon

1

teaspoon

pumpkin pie spice

1

cups

semisweet chocolate chips
Instructions
Wash hands with soap and water.

Pre heat oven to 350 degrees. Line 2 cookie sheets with parchment paper or silpats.

In a large bowl, cream butter and sugars until light and fluffy. Beat in pumpkin, egg yolk, and vanilla.

In a small bowl, whisk together baking soda and HOT water. Pour into butter/pumpkin mixture and beat to combine. Add flour, salt, and spices mixing until just combined. Stir in chocolate chips.

Scoop 1" balls onto lined cookie sheet 2" apart from one another. Sprinkle with additional chocolate chips, if desired.

Don't eat raw dough or batter.

Bake cookies for 9-11 minutes or until edges begin to turn golden. Remove from oven and allow to cool on cookie sheet for 5 minutes before removing with a spatula and placing on a wire rack to cool completely.

Store cookies in an air-tight container for up to 4 days.