This homemade Raspberry Cream Cheese Danish is flaky, buttery, and absolutely delicious. With only a few steps and a bit of chilling time, you can have better than the bakery fresh danishes straight from your kitchen!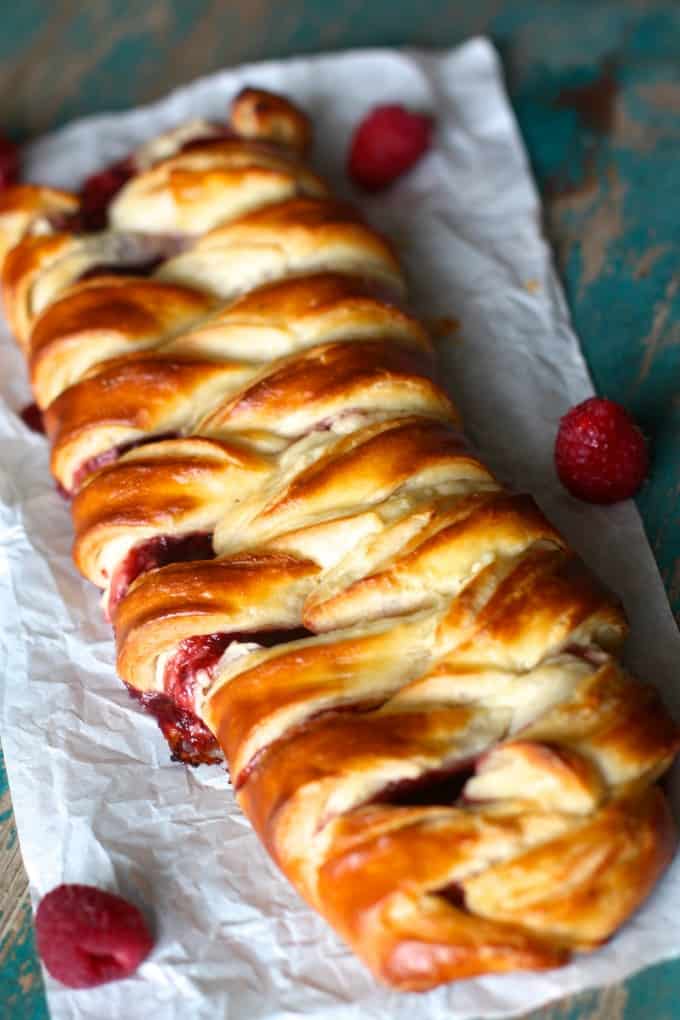 Raspberry Cream Cheese Danishs are my absolute favorite. I will always choose it over a donut or another flavor danish any day. The combination of the buttery, flaky dough with fresh raspberry preserves and sweet cream cheese is pure perfection in my eyes. However, until know, I never made a homemade version.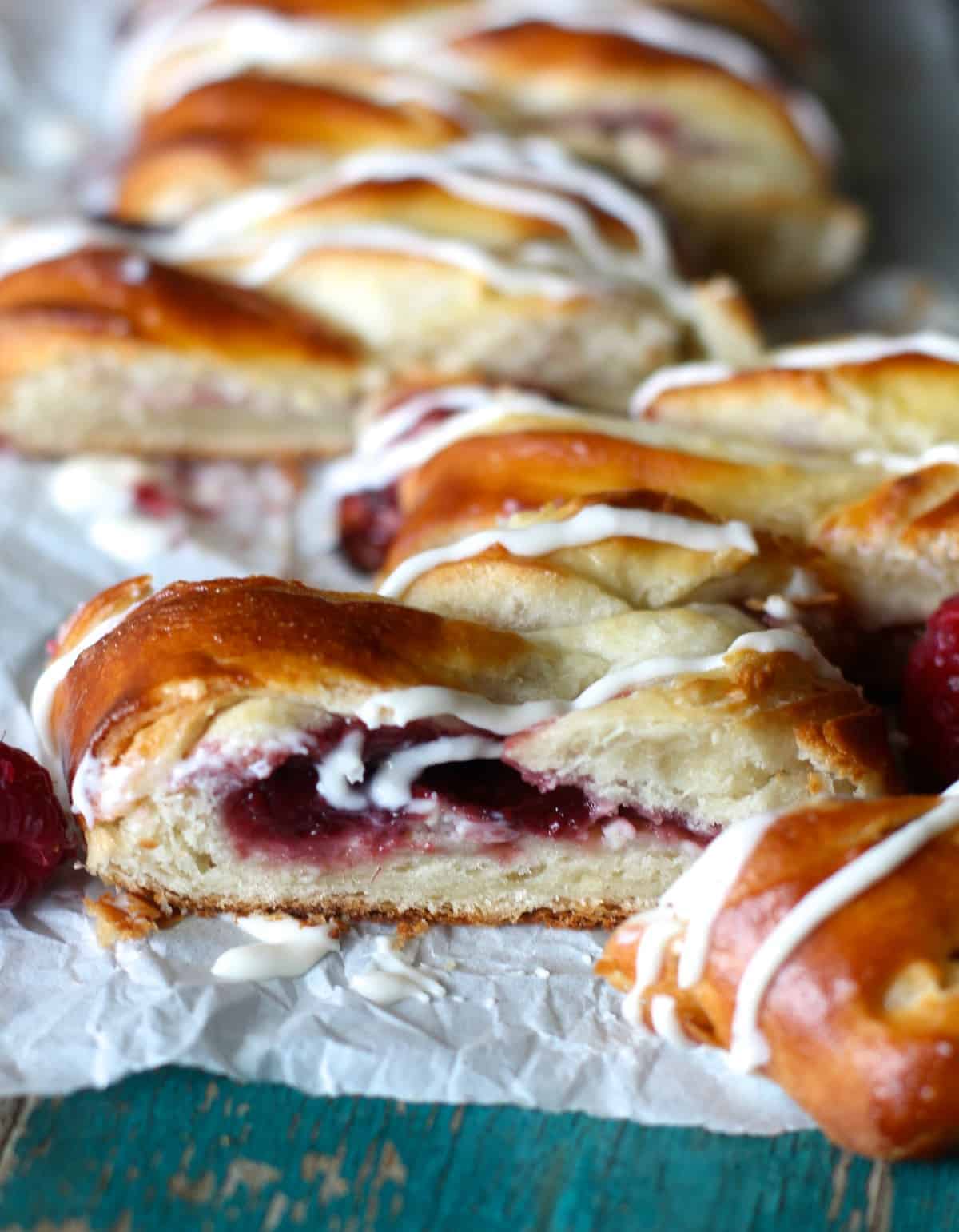 I always had this idea that making danish dough was like making croissant dough, and it in fact is. However, one of my favorite chefs, Nigella Lawson, recreated the dough into a simple food-proccessor made dough, and it is life changing. The dough takes a bit of chill time, but can be frozen after a few steps. Let's just say I will never be without a few frozen batches again!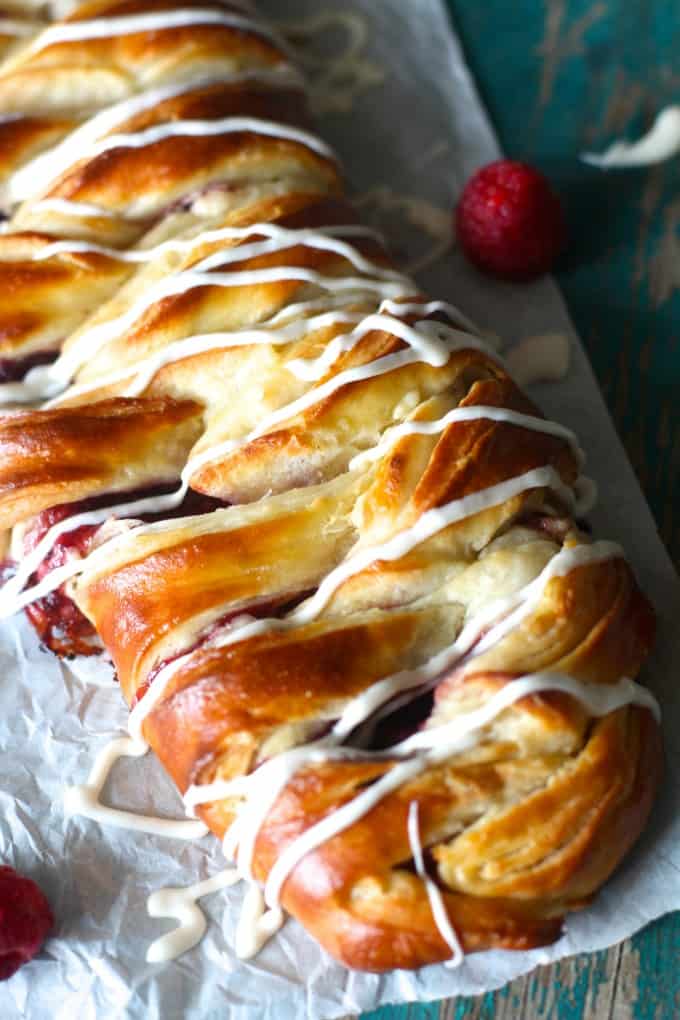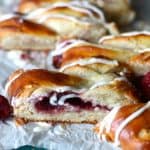 Raspberry Cream Cheese Danish Braid
This homemade Raspberry Cream Cheese Danish is flaky, buttery, and absolutely delicious. Simple and easy to make, you can have a fresh danish in no time!
Ingredients
Nigella's Processor Pastry Dough-

¼

cup

warm water

½

cup

milk at room temperature

1

large egg at room temperature

2 ¼

cups

(286g) bread flour

2 ¼

teaspoons

rapid rise yeast

1

teaspoon

kosher salt

1

tablespoon

sugar

1

cup

unsalted butter

, cold, cut into thin slices

Cream Cheese Filling-

8

oz

cream cheese

, softened to room temperature

1

egg yolk

¼

cup

granulated sugar

1

teaspoon

vanilla extract

½

cup

raspberry jam

1

egg

, slightly beaten, for basting

¾

cup

powdered sugar

2

tablespoons

milk

1

teaspoon

vanilla extract
Instructions
In a small bowl, combine water and yeast. Let sit for 5 minutes.

Put the flour, yeast, salt and sugar into the processor and briefly pulse just to mix it up.

Drop in the cold butter, and process briefly to chop up the butter to pea sized crumbles.

In a bowl whisk together yeast, milk, and egg.

Pour the flour mixture into the wet ingredients. Very gently fold the two mixtures together.

Wrap dough in plastic wrap and refrigerate for at least 3 hours, but ideally overnight.

Makes 2 braided loaves and serves 4-6 people each.

Once chilled, roll dough out into a large square on a lightly flour surface.

Fold it into thirds (like folding a business letter). Repeat this step 2 more times for a total of 3 times.

Wrap dough in plastic wrap and refrigerate for at least one hour. If planning to freeze for later, wrap up tightly and place in a plastic bag. Freeze for up to 1 months. Before moving to next step, defrost dough in fridge over night.

While dough is chilling, make cream cheese filling.

Combine cream cheese, egg yolk, sugar, and vanilla in a bowl and whisk until smooth. Chill until ready to use.

After dough has chilled, cut in half, and wrap and refrigerate 1 half while working with the other.

Roll dough out on a lightly floured surface to a 12x6 inch rectangle.

Transfer dough to a lined baking sheet.

Spread ½ of the cream cheese filling and ¼ cup of jam down the length of the center of the strip.

Cut slanting strips (about 1 inch each) along both sides.

Tightly fold the diagonal strips of dough over the filling, alternating sides until all loaf is braided. Press ends to seal.

Repeat with second loaf.

Let rest for 15-20 minutes.

Preheat oven to 400 degrees.

Baste loaves with egg wash.

Bake braided loaves for 15-20 minutes or until golden brown.

While baking, make the glaze.

Whisk powdered sugar, milk, and vanilla until smooth.

Allow braids to cool for 10 minutes then drizzle with glaze.

Slice and enjoy!