This post has been compensated by Inmar Intelligence and its advertiser. All opinions are mine alone. #MyMazolaMarinade
This Grilled Flank Steak is a deliciously prepared dinner - quick for any night of the week. A healthier option to eating out and tastier too! Marinated in Mazola® Corn Oil, herbs, and spices, this dish is bursting with flavor. If you want a meat dish that feels like it's melting in your mouth, here it is. I always find it so interesting when I find out neat health facts about products I already use. For example, did you know that a clinical study showed Mazola® Corn Oil reduces cholesterol 2x more than extra virgin olive oil? To learn more about this claim, visit Mazola.com.​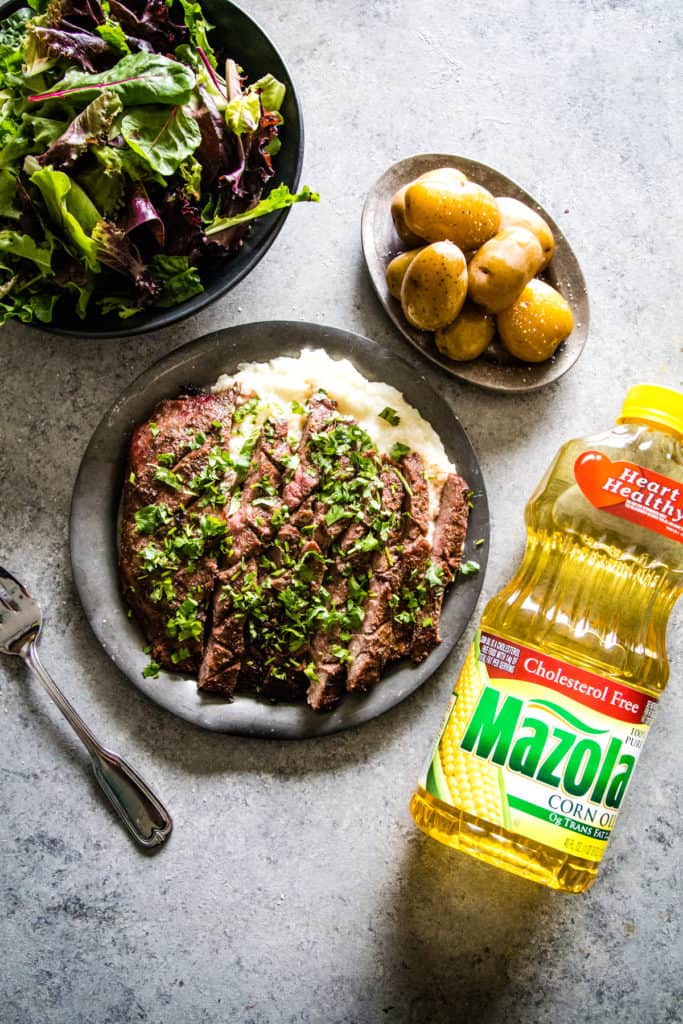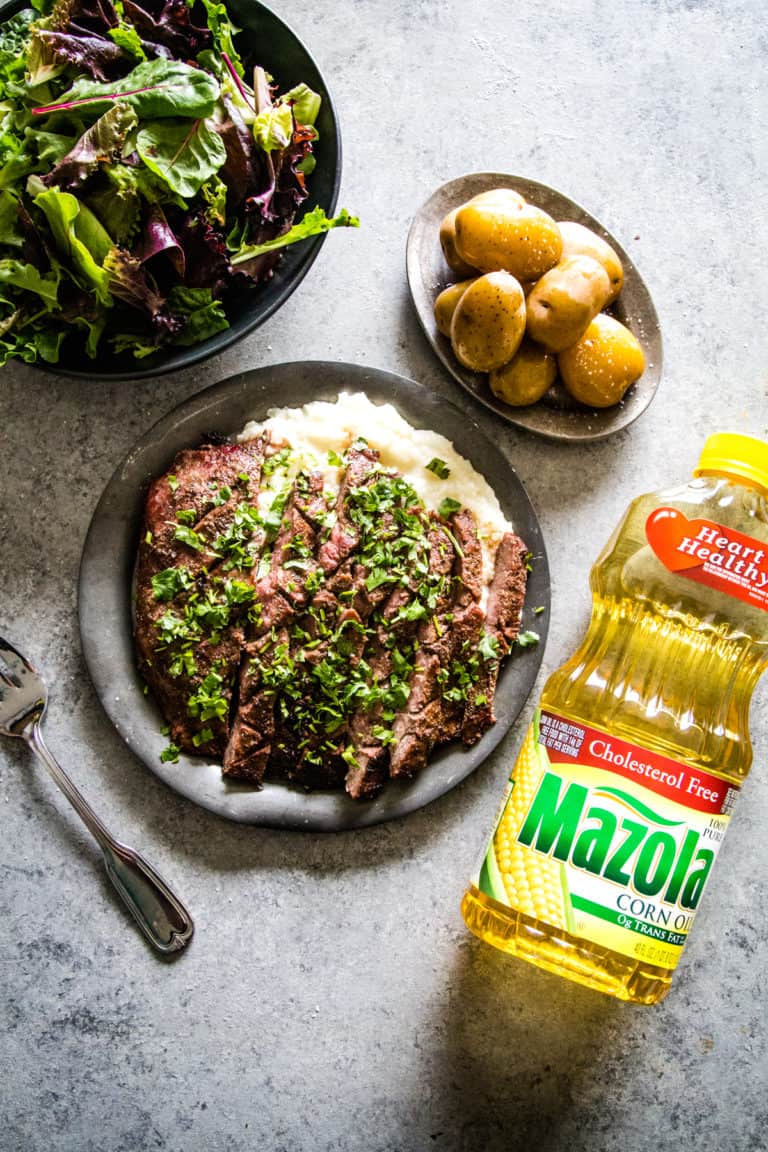 I had no idea about this fact and was thrilled to learn one of my oil choices was better than I first thought.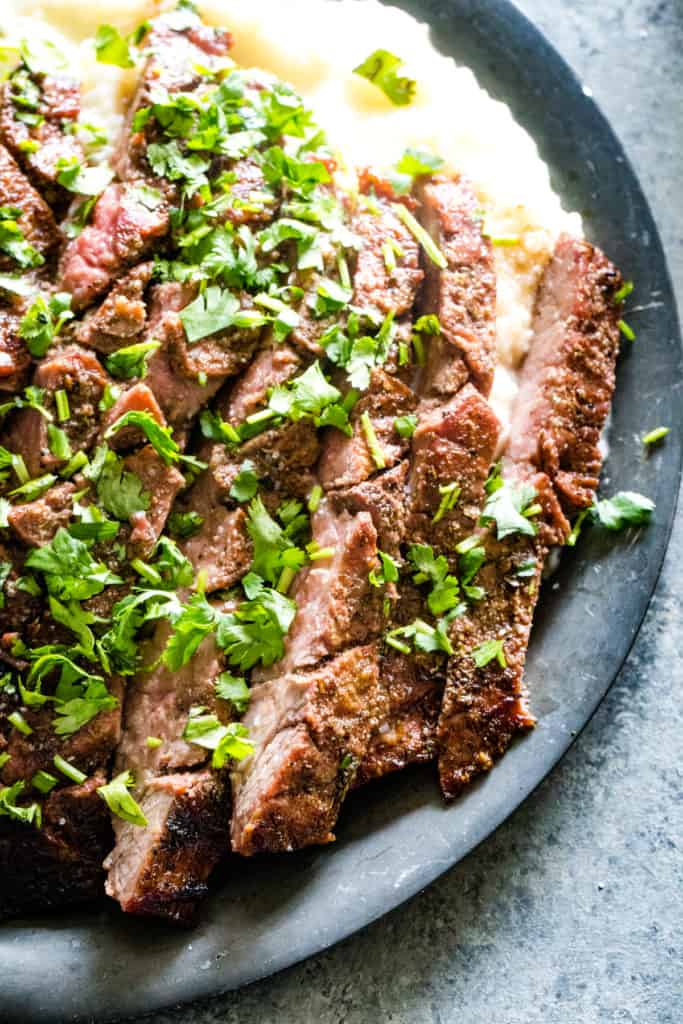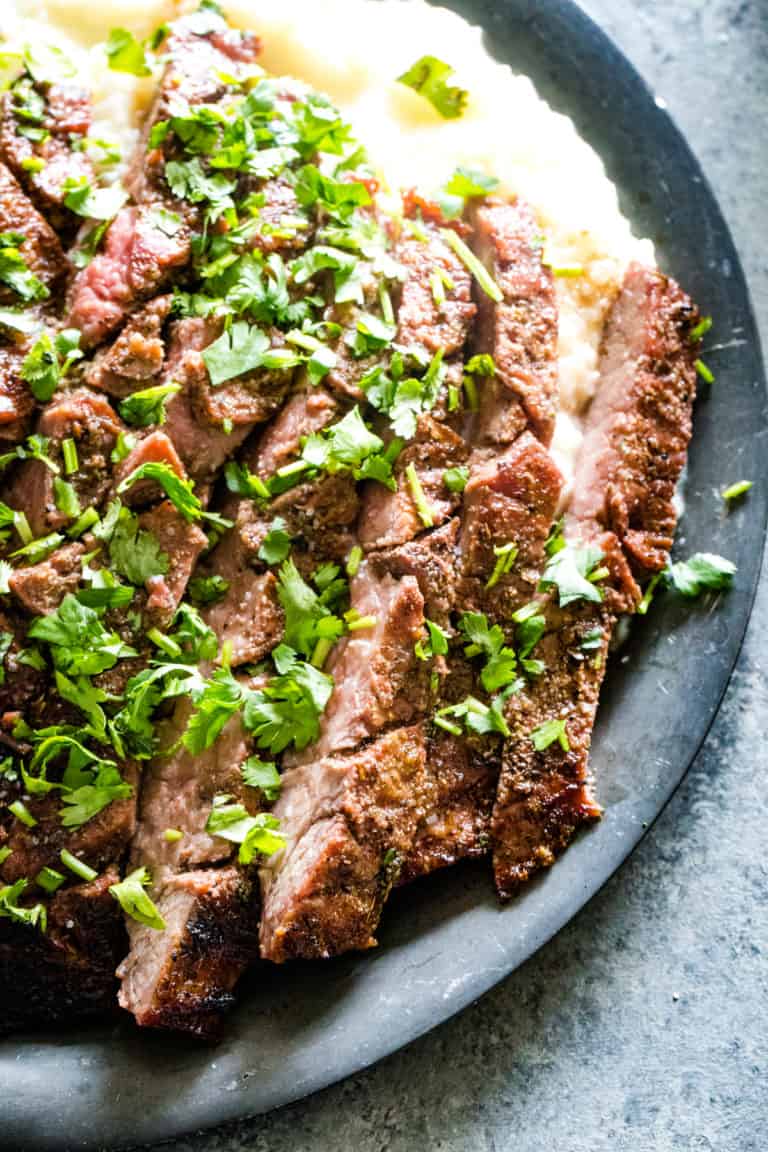 Not to mention, Mazola Corn Oil is a heart-healthy* cooking oil and creates marinades that make great-tasting food because it has a neutral taste that lets the natural flavor of your food stand out. I love using it in this Grilled Flank Steak recipe because it just helps keep the meat so moist and flavorful. You definitely can't go wrong with it as your oil of choice.
How to Make Grilled Flank Steak
Prep - Score the top of the steak and place it in a dish where it can lay flat and not stacked with other steaks. I prefer glass.
Dress the steaks - Drizzle the Mazola corn oil over the steaks (1 Tablespoon each) and spread even. Top with salt, pepper, garlic, and oregano. Lastly, drizzle 1 Tablespoon of apple cider vinegar over each steak. Flip and repeat the same steps for the other side of the steak. Allow to marinate for an hour at minimum.
Grill the steak - Grill each steak for about 5 minutes on each side and then let them rest for 5 minutes before consuming.
Serve and enjoy - You can garnish the steaks with some steak sauce, butter, chopped herbs, or whatever you prefer. Slice, serve, and enjoy!
Tips and Variations
● Storage - Store your Grilled Flank Steak in an airtight container in the fridge for up to 4 days. You can freeze your flank steak in an airtight container in the freezer for up to 2 months. However, I'm not a huge fan of freezing steak once it's been cooked because the flavor isn't stellar after that.
● Reheating - If frozen, let the meat come to room temperature and then heat in the microwave beginning at a minute with a moist paper towel over the top of it. You can also place it in a pan and heat it on each side for about a minute. Follow these same steps, outside of the bringing to room temp, for heating out of the fridge.
● Serve with an appetizer or side - There are so many great appetizers or sides that would go well with this dish. Some of my favorites are Bourbon Baked Beans, Creamed Corn Cornbread, or Roasted Grape Brie Crostini.
● Make spicy - If you want a little kick with your steak, simply add in some crushed red peppers to the marinade.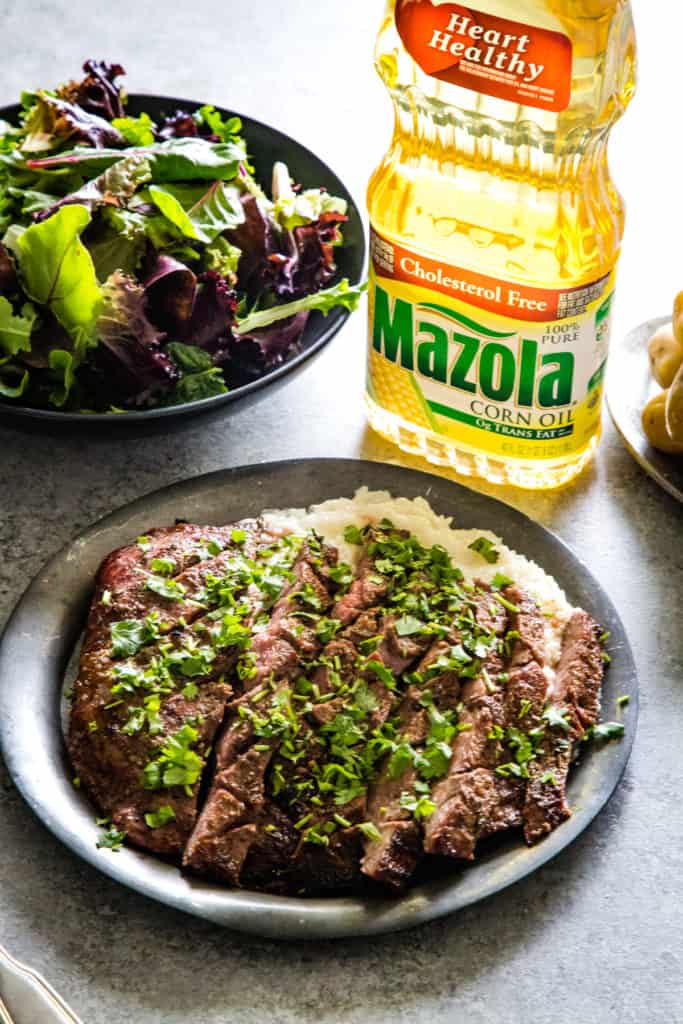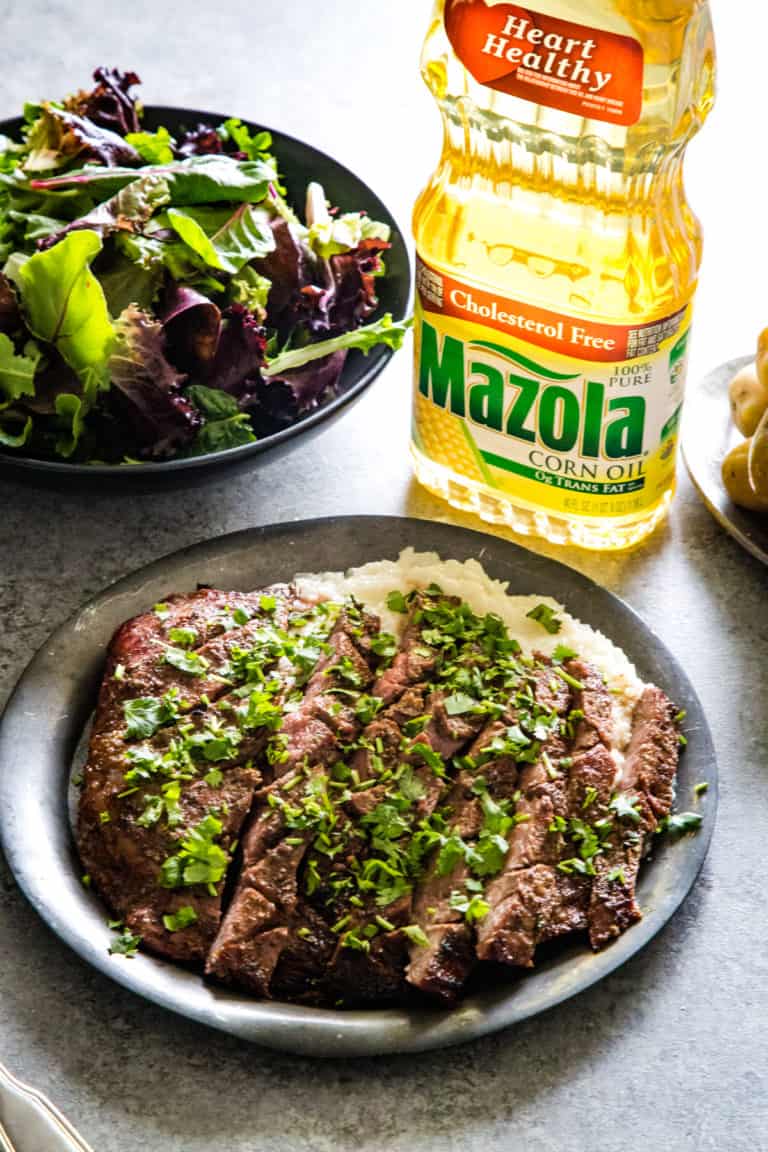 Common Questions About Grilled Flank Steak
How Long Do I Grill a Steak?
The amount of time you cook a steak depends on if you want it rare, medium rare, well done, etc. For this recipe, I prepare it as medium rare and grill it for about 5 minutes on each side. The times will also vary depending on your steak and its thickness. The thicker the steak, the longer you'll have to cook it on each side. You can always put a little slit in the middle of the steak to check what stage it's at.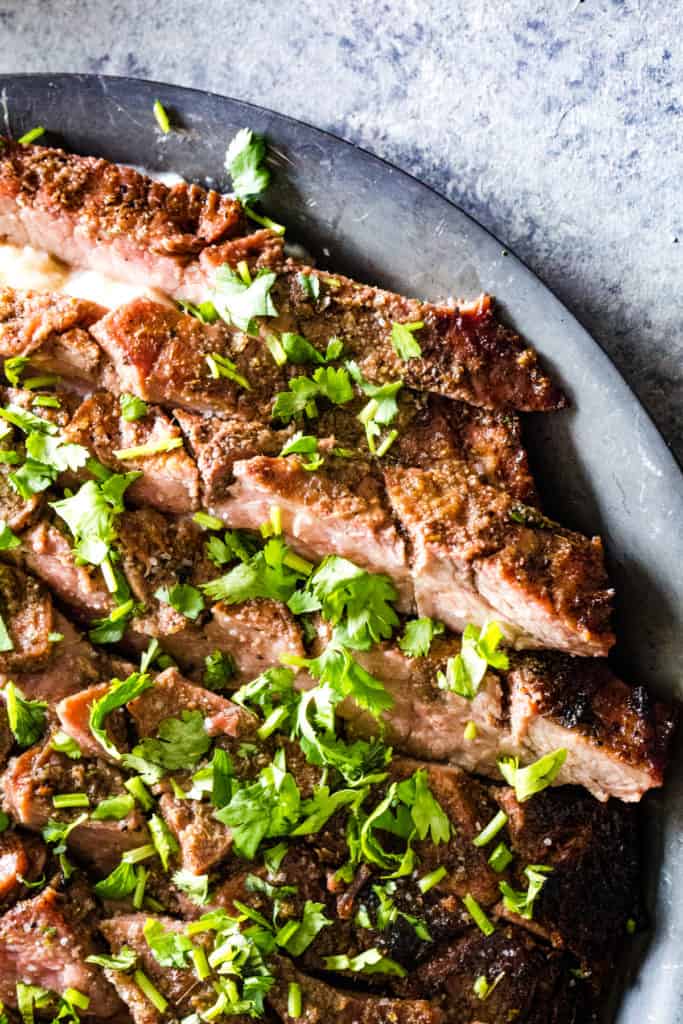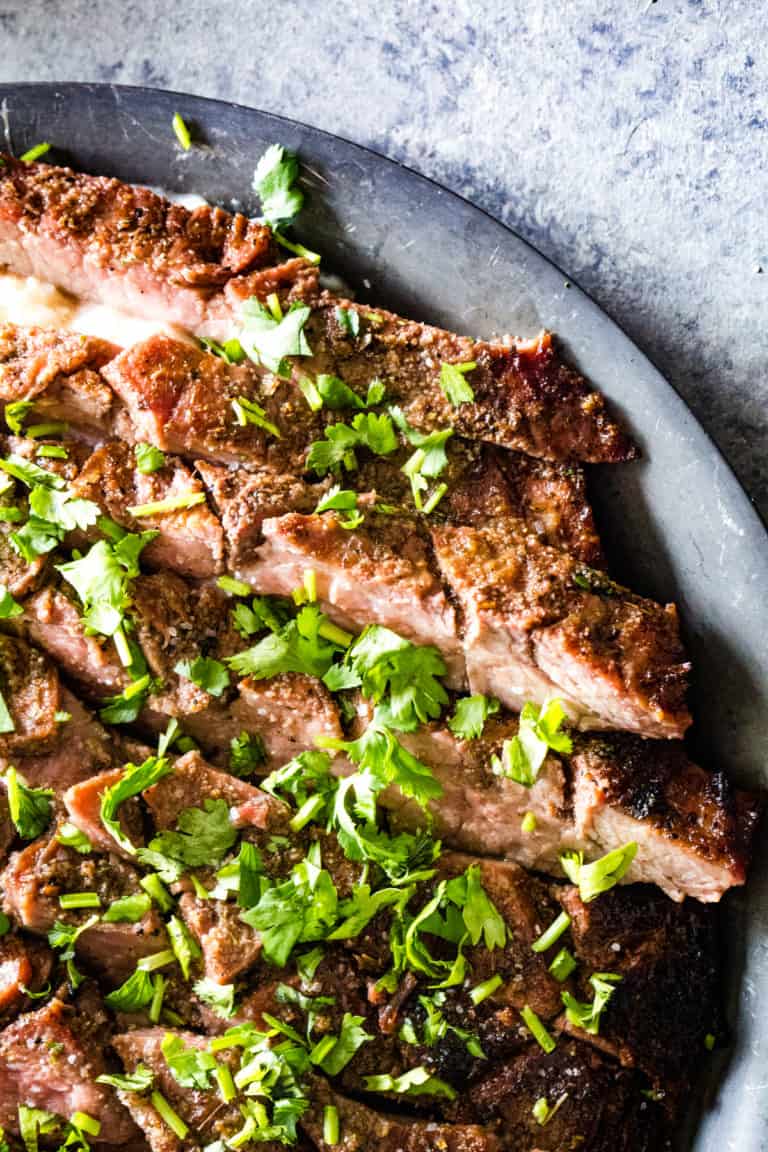 If you loved this Grilled Flank Steak just as much as my family and I did, let me know about it and any adjustments you used, in the comments below!
More Steak Recipes You're Sure to Love:
● Pan Fried Steak with Garlic Butter
● Chipotle Steak with Mango Salsa
*see Mazola.com for more information on the relationship between corn oil and heart health.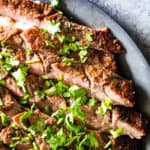 Grilled Flank Steak
This Grilled Flank Steak is a deliciously prepared dinner- quick for any night of the week. Marinated in oil, herbs, and spices, it is bursting with flavor.
Keyword:
grilled flank steak recipe, marinated flank steak
Ingredients
1

3-4 pound

Flank Steak

1

teaspoon

sea salt

1

tablespoon

dried oregano

1

tablespoon

garlic powder

1

teaspoon

Pepper

2

tablespoon

Mazola Corn Oil

2

tablespoon

apple cider vinegar
Instructions
Score the surface of the flank steak, and put it into a glass baking dish

Drizzle on one tablespoon of Mazola Corn Oil, then sprinkle salt, pepper, oregano, and garlic.

Finally, drizzle with one tablespoon vinegar. Turn the flank steak and repeat.

Marinate for at least one hour or up to overnight.

Grill Flank Steak on high heat for 8-10 minutes on each side. Check the steak using a meat thermometer and pull off the grill at 120 to 125°F for rare, 130-140°F for medium rare, and 145°F for medium.

Remove the steak from the grill and let rest for 5 minutes.

Slice steak into strips against the grain. Serve.