It's easy to learn how to make caramels, and I have got the perfect recipe! Brown Sugar Sea Salt Caramels are so delectable and sophisticated, yet simple and straightforward to make. Full of amazing flavor, they are a perfect homemade gift that is sure to impress.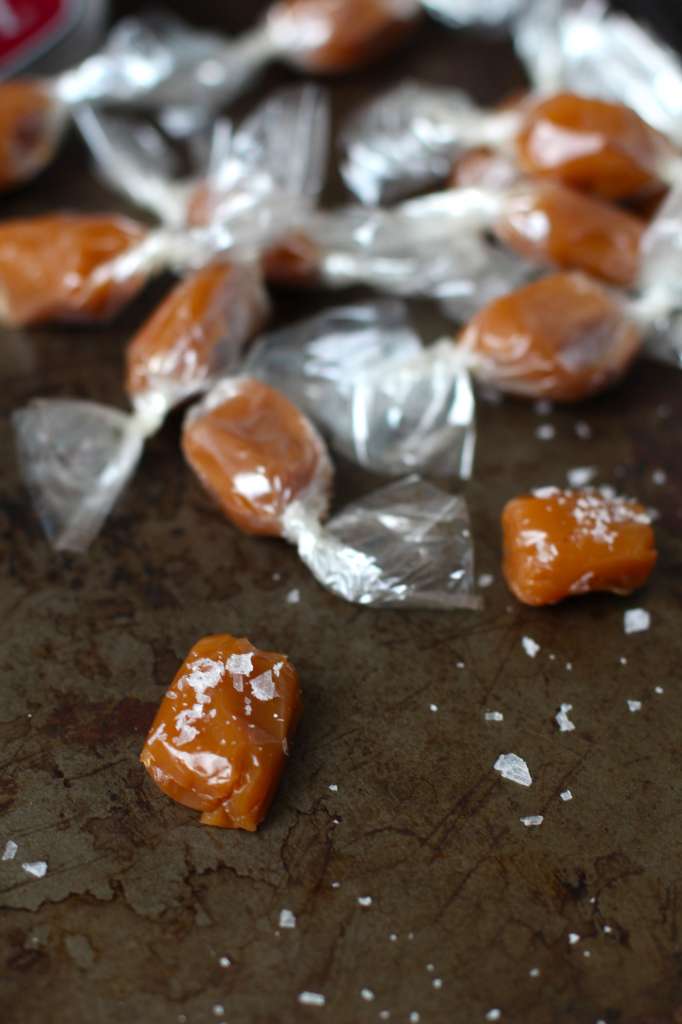 I love making candy, especially caramel. If you plan on making homemade gifts this year, I highly suggest making these Brown Sugar Seal Salt Caramels.
Unlike most caramel recipes, where you have to stand over the stove for hours stirring, this recipe does not require constant stirring. You'll only need to stir occasionally until the end, when it needs a bit more attention.
This recipe makes about 4 pounds of caramel (approximately 150 wrapped caramels), so it is perfect for gift giving. Put together bags for your neighbors, friends, the kids' teachers....and don't forget to save some for yourself!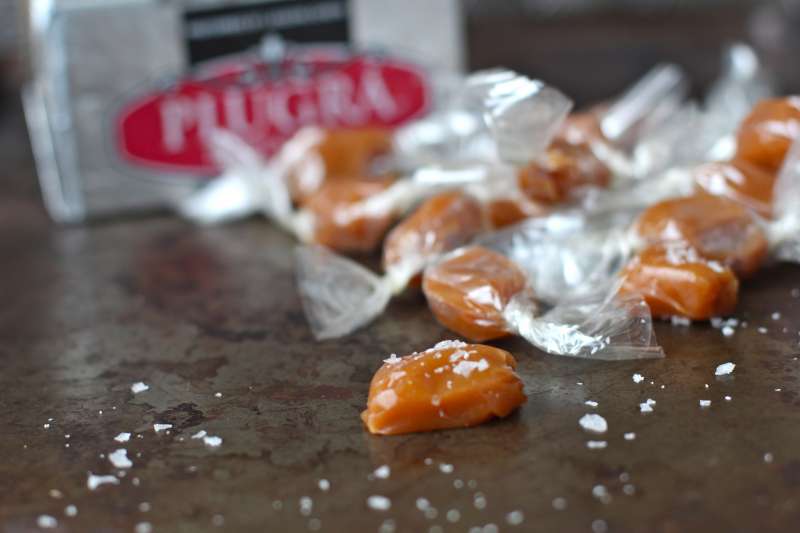 Why You'll Love Brown Sugar Sea Salt Caramels
Here's why you will love making these homemade caramels:
Using brown sugar instead of white gives these caramels a deep, complex flavor.
This recipe requires a handful of ingredients and comes together in just minutes.
The sea salt flakes adds a level of sophistication and provides a great contrast to these caramels.
How Do You Know When Caramel is Ready?
When making caramel, or any candy for that matter, it is imperative that you monitor the temperature using a candy thermometer. The caramel will be ready to remove from heat when it reaches 250 degrees.
Important Tip ==> once the temperature reaches 235 degrees, the caramel enters 'soft ball' stage. From here it will only take a few minutes to get to 250 degrees (hard ball stage), so you need to stir the caramel constantly.
You can also use the cold water test to check the consistency of the caramel. Just fill a cup with cold water, and then drizzle a small portion of the caramel mixture into the water. The caramel is ready if you can form it into a stable ball while remaining soft and pliable.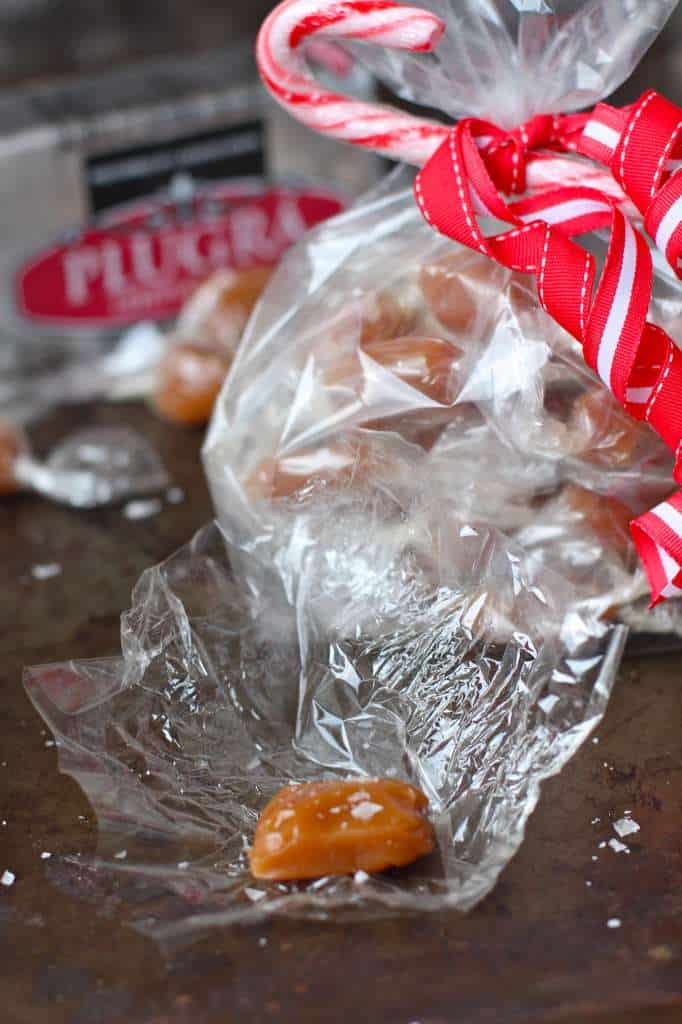 How To Make Caramels – Tips and Tricks
Using non-stick candy wrappers is a must! I always use these caramel wrappers, as they are non-stick and and biodegradable.
Make sure that you add the sea salt flakes just before wrapping your caramels.
Use good quality ingredients, especially the vanilla! I always make these with this vanilla bean paste. No only does it add so much amazing flavor, but I love that there are visible vanilla bean specks throughout.
You will want to remove your mixture from the heat before adding in the vanilla, as it spits and can burn you.
More Recipes Like Brown Sugar Sea Salt Caramels
Did you love learning how to make caramels? Then you'll want to check out my post on How To Make Ladyfingers.
And if you're in the mood for even more caramel goodness, try this recipe for Caramel Apple Pie Cake, or whip up a batch of these amazing Caramel Apple Cinnamon Rolls.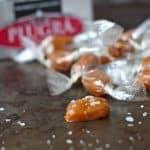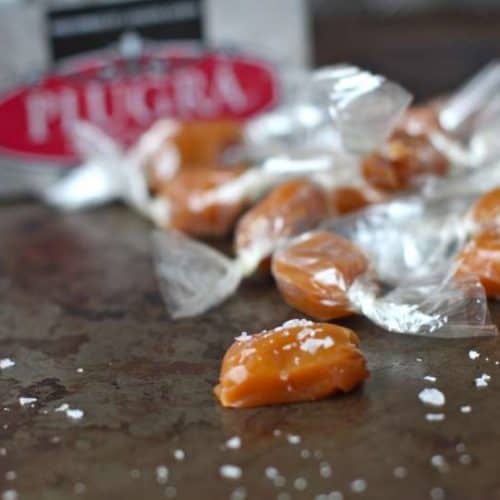 Brown Sugar Sea Salt Caramels
Delicious and sophisticated, these Brown Sugar Sea Salt Caramels are the perfect homemade gift.
Ingredients
4

cups

brown sugar

4

cups

heavy cream

2

cups

light corn syrup

2

sticks Plugrá Butter

(16 tbsp)

2

teaspoon

salt

4

teaspoon

vanilla

Sea Salt Flakes
Instructions
Generously grease a large 9x13 inch glass dish or jelly roll pan with non-stick cooking spray.

In a large heavy bottomed TALL pot, combine brown sugar, cream, corn syrup and butter.

Cook at medium heat until you candy thermometer reaches 250 (hard ball stage) degrees, stirring frequently.

When caramel gets to about 240 degrees you are going to need to stir constantly, but it will only be for about 5 minutes until it reaches 250 degrees.

Once caramel has reached hard ball stage, remove from heat and add vanilla, and salt, stir a few more times to combine.

CAREFULLY pour caramel into greased pan.

Let sit and cool for 3 hours.

Cut into small squares and sprinkle with sea salt flakes.

Wrap in wax paper or clear caramel wrappers.
This post does contain Amazon affiliate links.