Welcome fall with a warm and decadent Apple Galette with Salted Caramel Sauce. The base of this dessert is a lightly sweetened pie dough, topped with brown sugar, cinnamon, and apples. Topped with a homemade caramel sauce, this recipe is irresistible.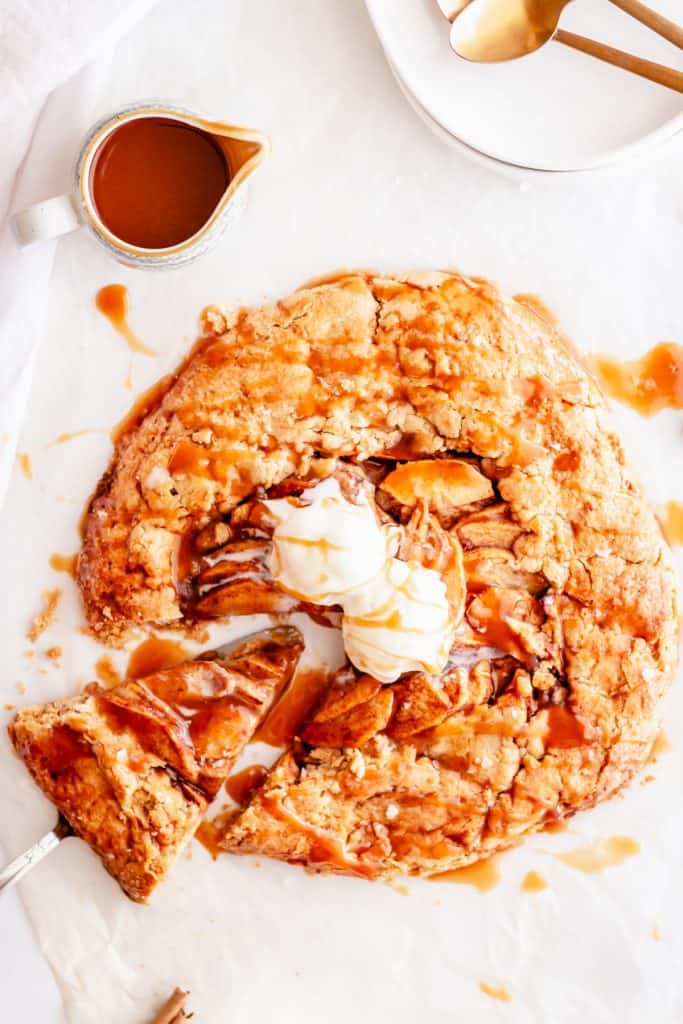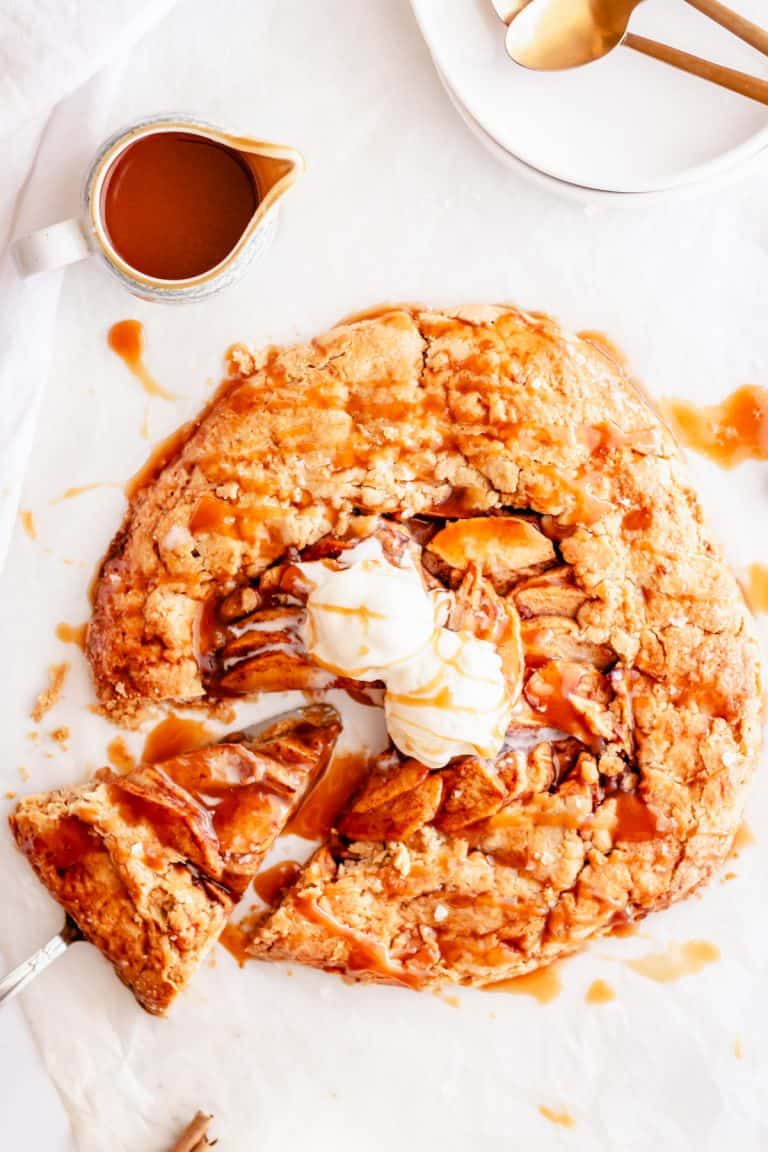 Pumpkin isn't the only food that deserves recognition during the autumn season. Apple doesn't get near enough notice when fall hits and I wish that would change. There are some amazing apple recipes out there including pork tenderloin with apples, air fryer blueberry apple crumble, apple caramel, etc. In fact, there's too many to choose from!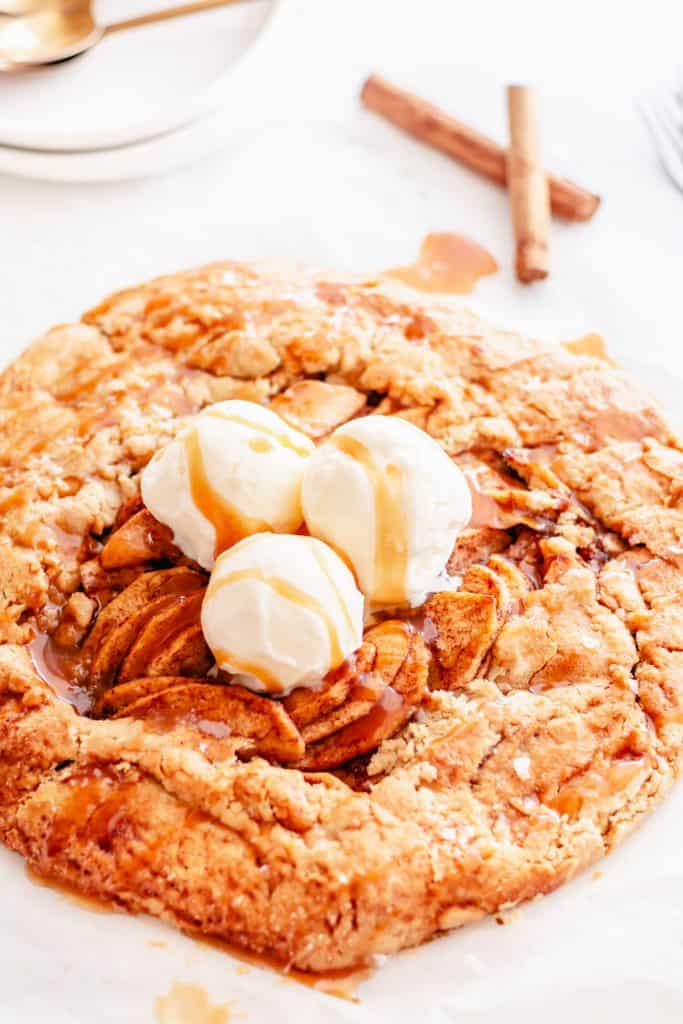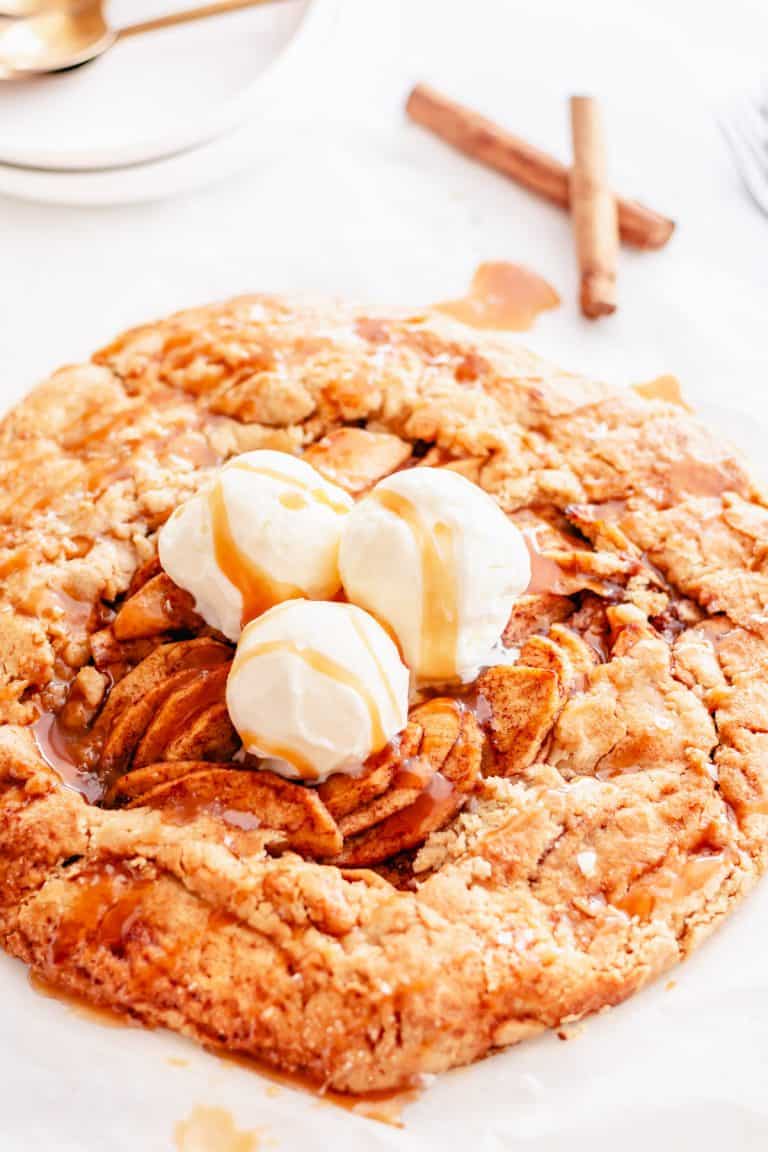 In my quest to bake more apple recipes, I landed on this delightful apple galette. I didn't feel like making an apple pie, but the idea of pie sounded so good. So, I settled for something similar to pie and went from there. Of course, I loved it so much, I just had to share it with you guys, so enjoy!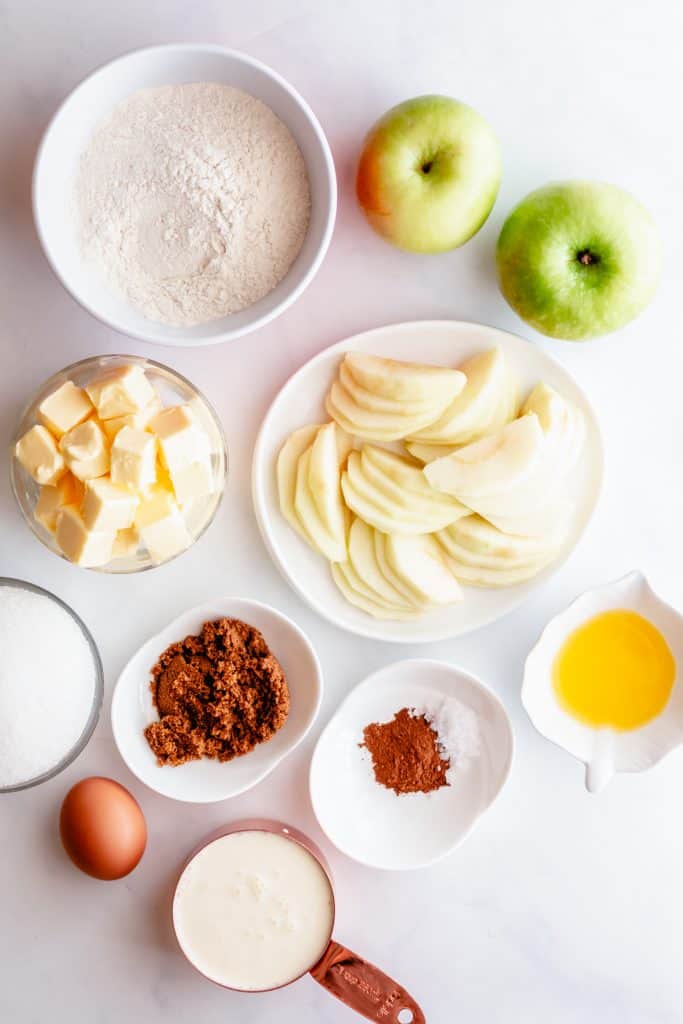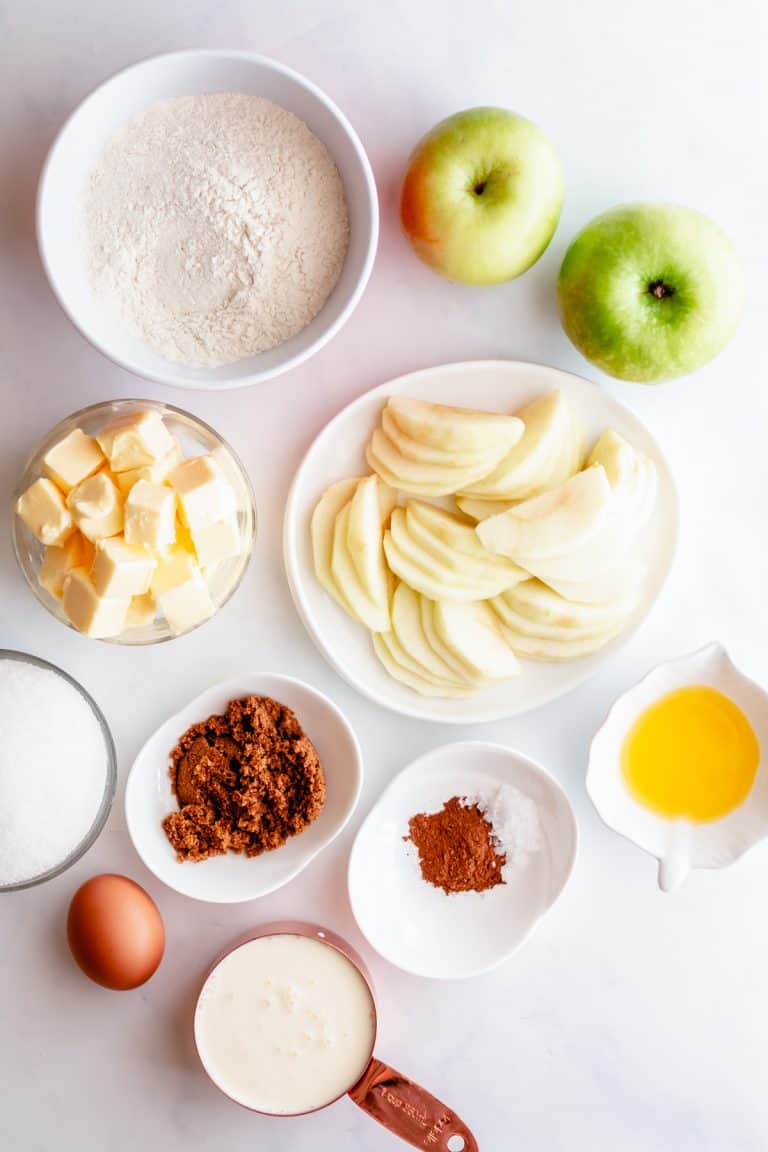 How Do You Make an Apple Galette from Scratch?
Make the crust - Mix the flour, sugar, and salt. Add the water and knead a bit. Cover and place in the fridge.
Make the filling - Combine the cinnamon, apples, and brown sugar. Cover and let rest.
Make the sauce - Heat sugar over the stove until it turns to a dark liquid. Add the better, followed by the cream. Boil then add the salt.
Prep - Preheat the oven to 375 degrees and line a baking sheet.
Assemble - Roll dough into a circle and place on the pan. Arrange the apples in the center and fold dough over the edges. Brush with egg.
Bake - Bake for 35 minutes or until golden brown. Allow to rest for 15 minutes.
Serve - Drizzle with the homemade caramel sauce, slice, serve, and enjoy!
Tips and Variations
What apples are best for apple galette? - The best apples to use when making an apple galette are the firm and tart varieties like Pink Lady, Honeycrisp, Fuji, or Granny Smith.
How do I keep my galette from getting soggy? - You can dust the galette dough with semolina flour or a few breadcrumbs before adding the filling. This will ensure a firm and crispy crust even under all those juicy fruits.
Skip the salt - If you prefer an unsalted caramel sauce, go ahead and just leave the salt out. It won't hurt anything if you do.

Storage - Treat this apple galette recipe as you would any pie. I tend to keep mine in a cake keeper in the pantry. However, the fridge or freezer would work as well. Be sure to use an airtight container.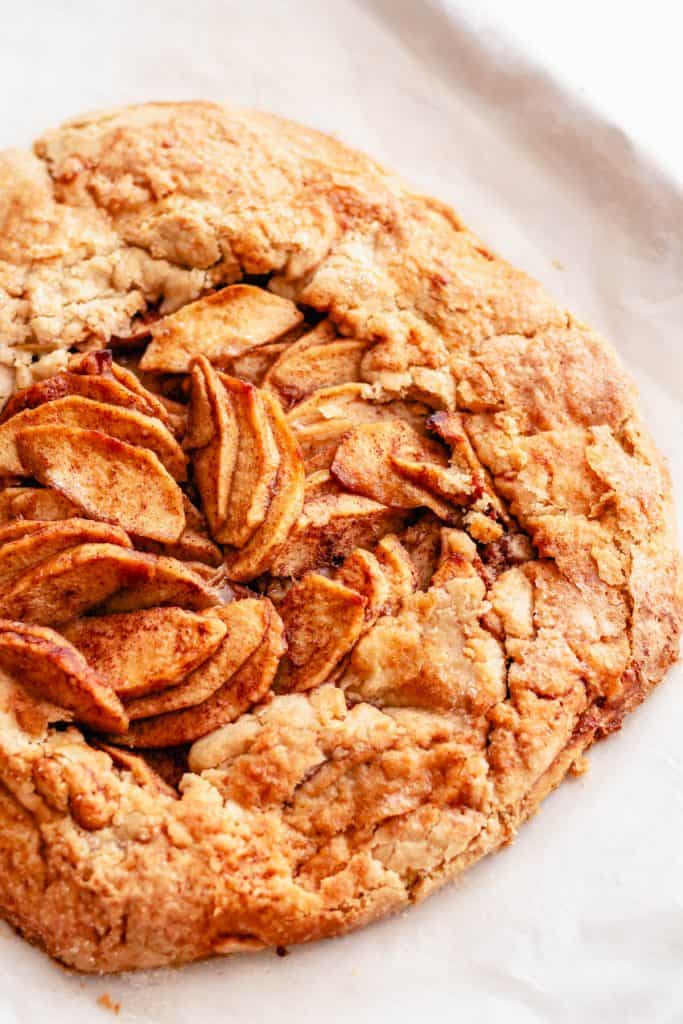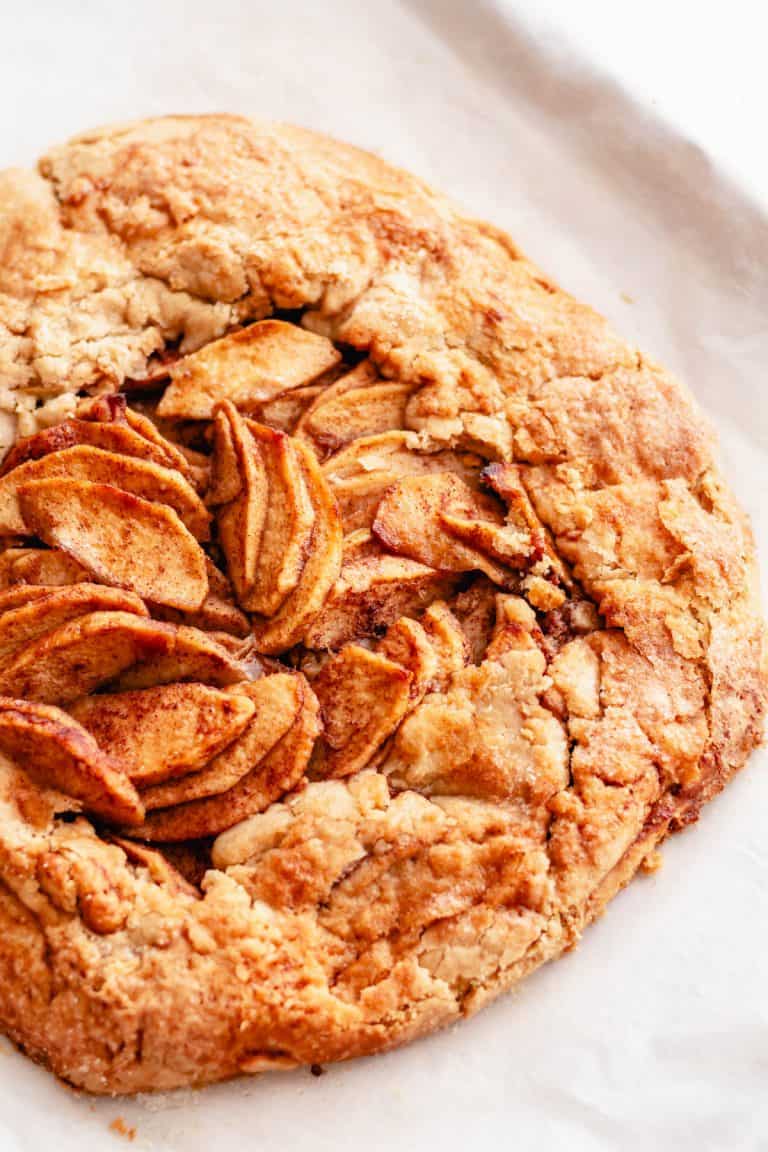 Common Questions About Apple Galette
What is the Difference Between a Galette and a Crostata?
The only difference between a galette and crostata is their name. A galette and a crostata are the same dessert, they just have different titles that stem from different areas. Crostata is an Italian term and galette is a French term. In other words, just a regional thing. So, feel free to call it either or because both are correct and refer to the same dessert.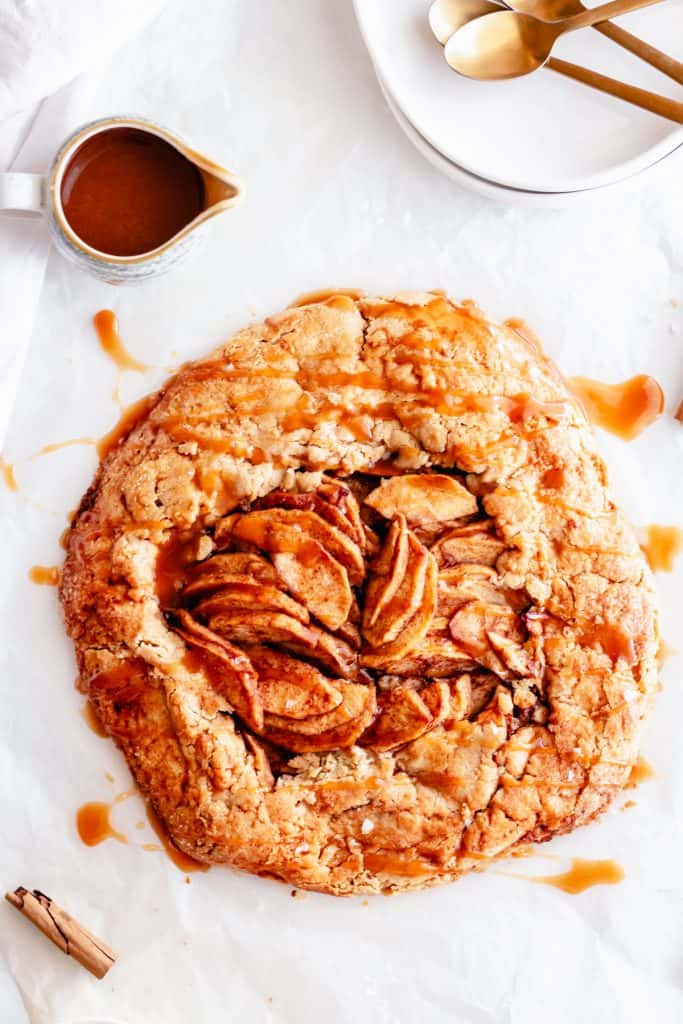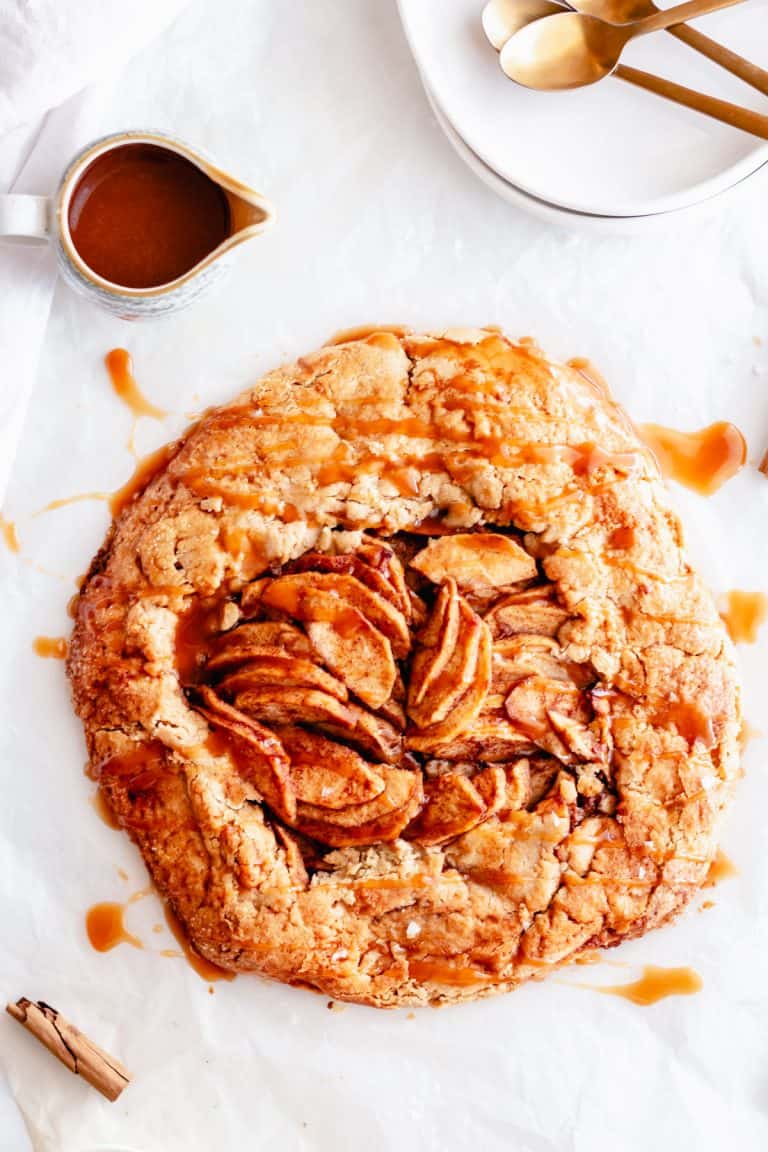 Is Galette Dough the Same as Pie Dough?
You bet it is! I've always said that galettes and crostatas were just flatter pies. They're like the pastry or pizza version of pie. One of the great things about galettes is getting to skip worrying about making two crusts and decorating them, etc. A quicker and easier pie is what a galette is, ha!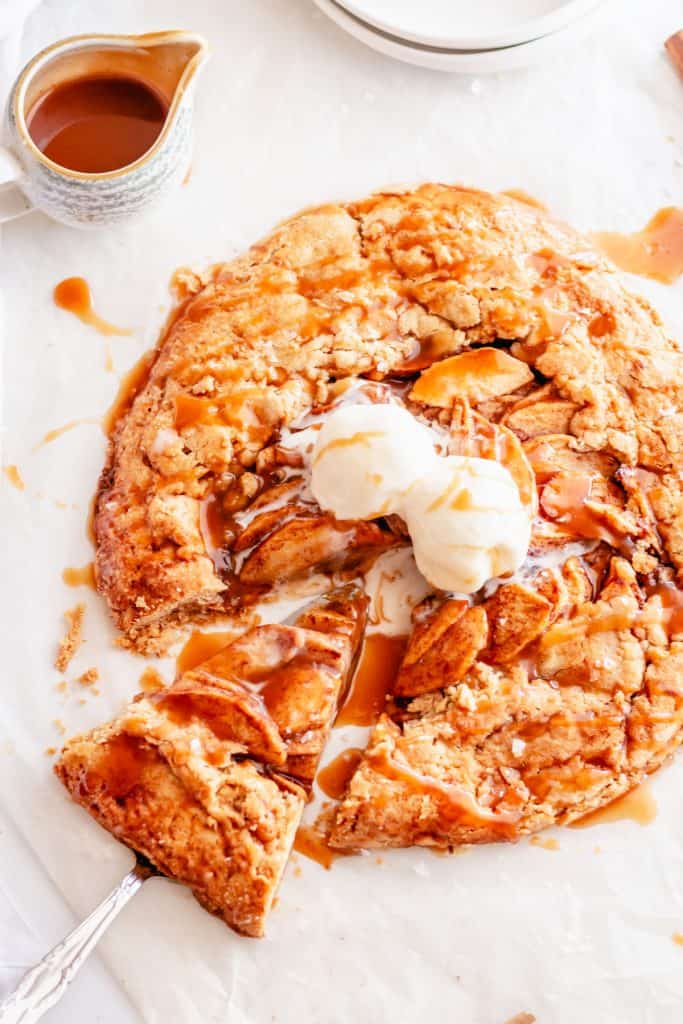 Please feel free to share your experience with making this Apple Galette with Salted Caramel Sauce in the comments below or on social media!
More Apple Recipes You're Sure to Love: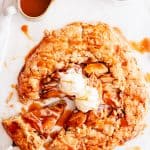 Apple Galette with Salted Caramel Sauce
This Apple Galette with Homemade Salted Caramel Sauce and a flaky and buttery crust is as delicious and impressive as an apple pie but way less work. Serve this galette with the caramel sauce (you can also use store bought) and some vanilla ice cream scoops for a decadent dessert.
Keyword:
caramel apple pie, rustic apple pie recipe
Ingredients
For the Galette

1 ½

all-purpose flour

plus extra for dusting

¼

white granulated sugar

1

cup

unsalted butter

cubed

¼

cup

ice cold water

3

Granny Smith apples

peeled, quartered and thinly sliced

1

tablespoon

ground cinnamon

2

tablespoons

brown sugar

1

large egg

For the the salted caramel sauce:

1

cup

granulated sugar

3

tablespoons

melted butter

1

cup

heavy cream

at room temperature

1

teaspoon

sea salt flakes

To serve:

Salted caramel sauce

Vanilla ice cream

Toasted almond flakes
Instructions
To make the crust whisk the flour, sugar and salt together. Add the cubed butter and mix until the mixture resembles crumbs. Add the water and stir until the flour is moist. Knead the dough a few times on a floured surface until it comes together. Shape the dough into a ball and cover it with plastic wrap and refrigerate for at least one hour.

While the dough is chilling, prepare the apple filling. Mix the apples, cinnamon and brown sugar in a large mixing bowl. Cover and let the apples ist until the dough is ready.

Now for the salted caramel, heat the granulated sugar in a medium size saucepan over medium heat stirring constantly. Sugar will eventually melt into a thick brown liquid. Be sure not to burn it.

Once the sugar is completely melted, add in the butter and stir well. Then add in slowly the cream until well incorporated. Let the mixture boil for 1-2 minutes.

Add the salt and taste. If you wish you can add more salt. Add the caramel to a glass jar until ready to serve. The caramel will thicken as it cools down.

Preheat the oven to 375ºF and line a large baking sheet with parchment paper.

Lightly flour a work surface and place your chilled dough onto it. Roll the dough into a circle and transfer the dough to the prepared baking sheet.

Arrange the apples (without the juices) into the center of the dough leaving a 3-inch border all around. Gently fold the edges of the dough over the apples. Brush the crust with the egg wash and sprinkle 1 tablespoon of coarse sugar over the top.

Bake in the oven for 35 minutes until the filling is bubbly and the crust is golden brown.

Allow the apple galette to cool on the baking sheet until for at least 15 minutes before slicing and serving.

Serve with the homemade salted caramel sauce and vanilla ice cream. Enjoy!
Recipe Notes
Make sure when you make the crust the butter and water are super cold. This will help the dough hold it's shape.
You can use any apple variety. We recommend granny smith, honeycrisp or pink lady.
You can also use store bought salted caramel sauce or normal caramel. However the caramel recipe makes 1 cup of caramel which can be used for other recipes and it's very easy to make.