This recipe for Apple Strudel with Phyllo Dough combines crisp, juicy apples, thin layers of delicate pastry with the delectable flavors of rum raisin. Served warm or chilled, this perfect pastry celebrates the best that this time of year has to offer.
What is a Strudel?
Strudel is a layered pastry with sweet filling. While its origin is attributed to Vienna, strudel is commonly found across central Europe and throughout the world.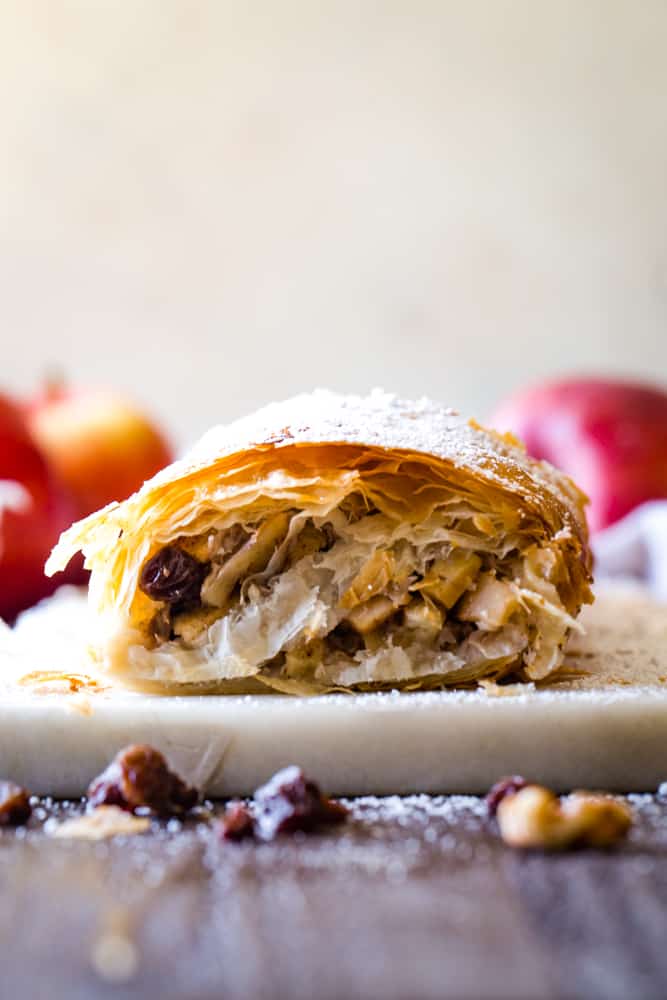 Traditional apple strudel recipes are quite laborious, with many hours and complicated steps to create the perfectly thin layers of strudel dough. I have heard that some pastry chefs require their strudel dough be so thin that you can read the newspaper through it.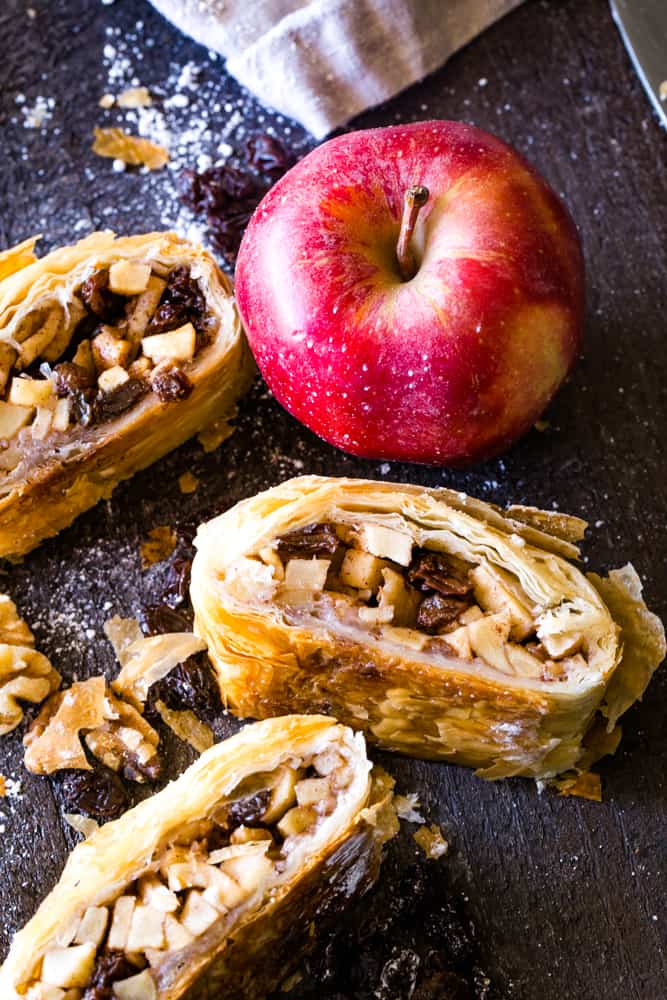 Fortunately, while in Switzerland my husband's family taught me how to make this version using phyllo dough. It's every bit as delicious as the traditional variety, but so much easier to make!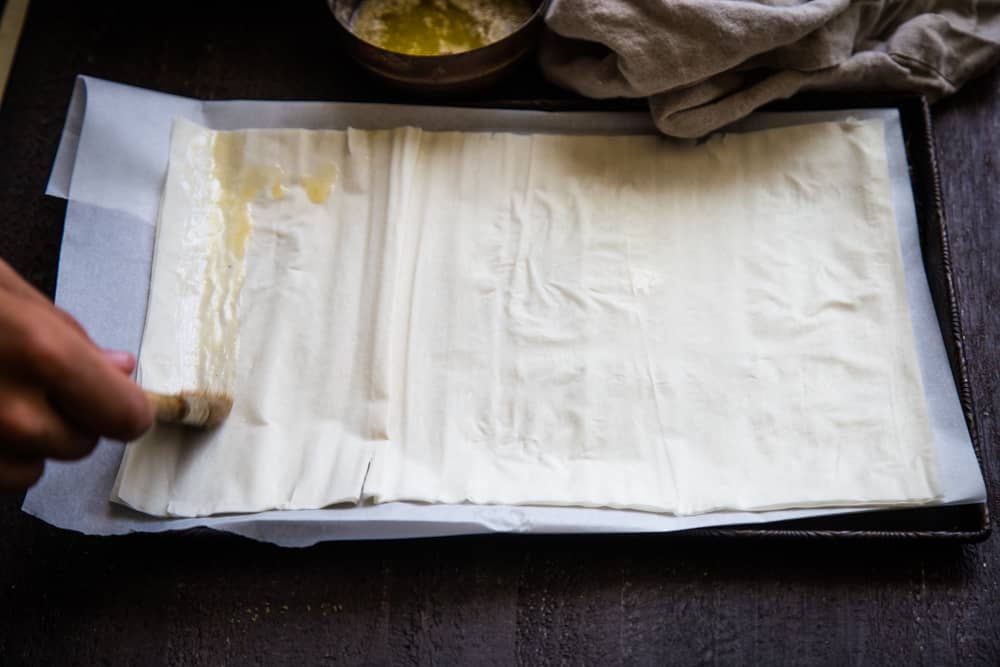 What is Phyllo Dough?
Phyllo dough is a very thin unleavened dough. Phyllo (or filo) is Greek for sheet, and that is exactly how pre-made phyllo dough comes packaged. You can buy fresh or frozen phyllo dough sheets that are stacked and carefully rolled in parchment paper.
If you purchase frozen phyllo dough for this apple strudel recipe, you'll need to allow it to defrost in the fridge for at least 24 hours before attempting to work with it.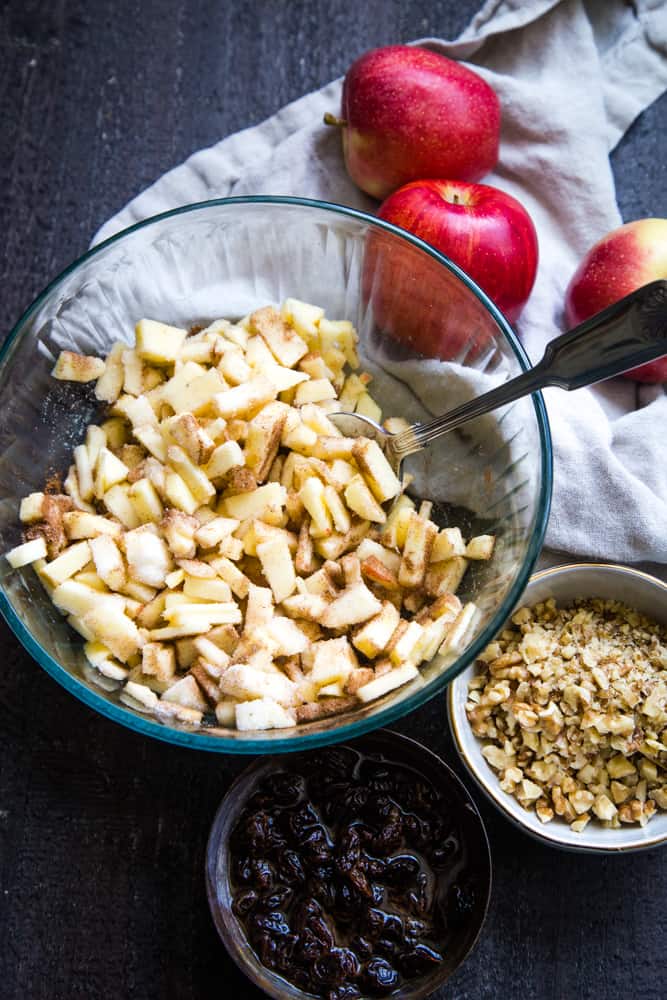 How To Make Apple Strudel with Phyllo Dough Ahead of Time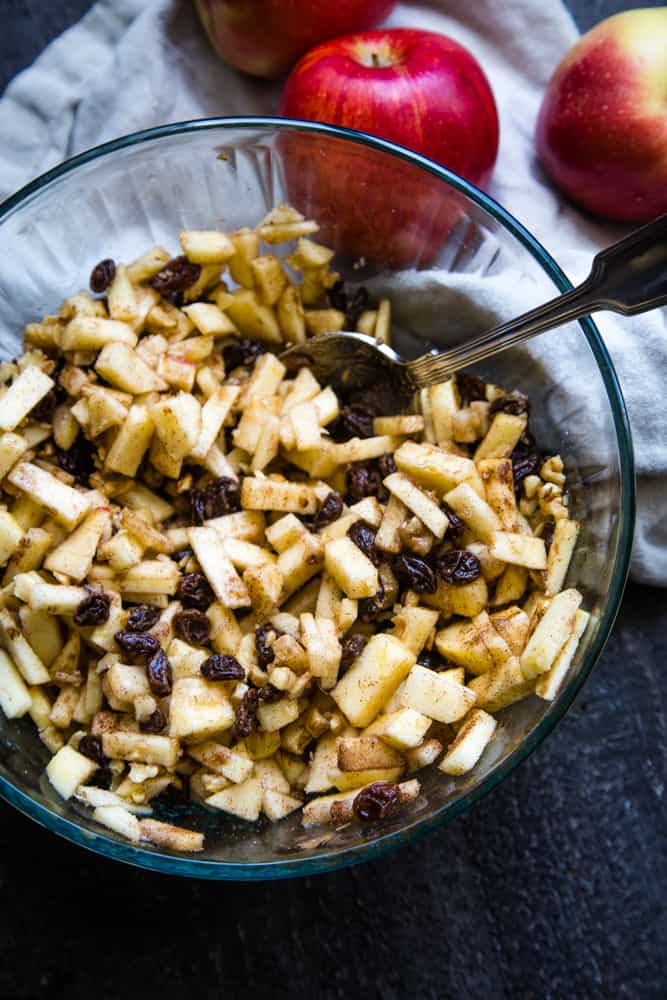 You can make the apple strudel filling in advance, and keep in the fridge until you are ready to assemble. Just follow these steps:
Simmer the rum and raisins in a saucepan over medium heat, then allow to the mixture to cool.
Prepare the apples. I recommend using this tool for quickly coring, peeling, and slicing apples (I then quickly chop the slices for this recipe).
In a bowl, combine the diced apples with cinnamon, brown sugar and the rum raisins.
Cover the bowl tightly and refrigerate.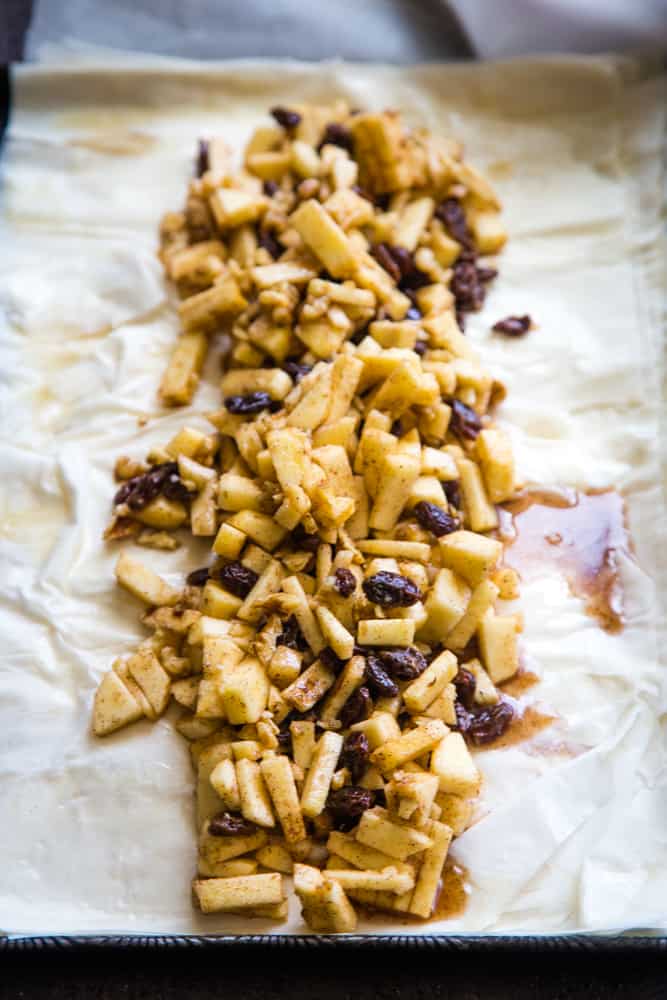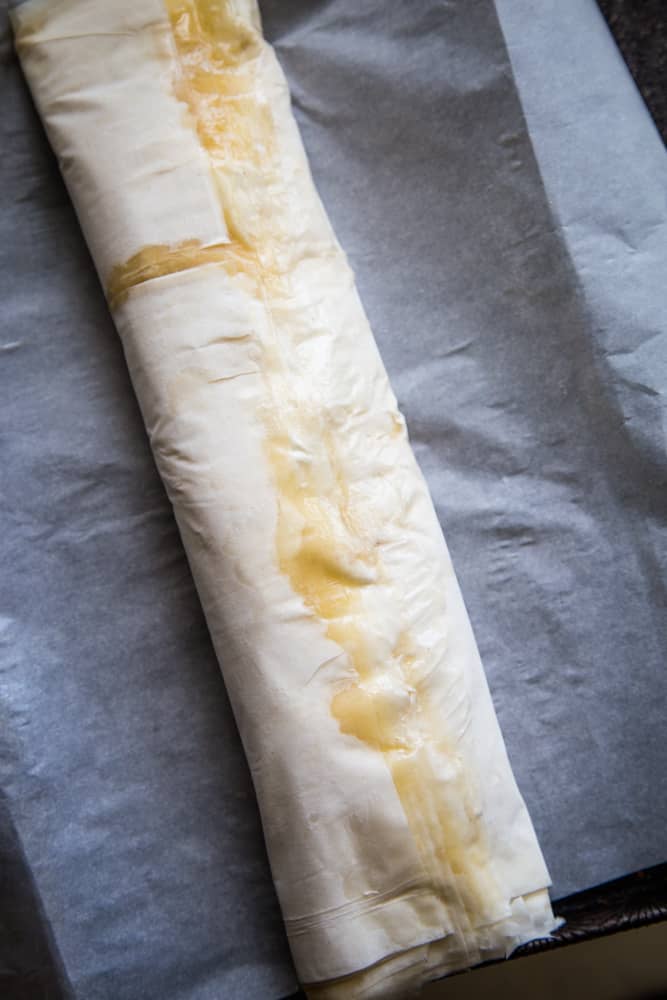 How To Serve Apple Strudel With Phyllo Dough
To serve, you can top apple strudel with vanilla ice cream, whipped cream, or caramel sauce. I love the simplicity of topping apple strudel with powdered sugar. My kids love to help by manning the sifter and making it "snow". Apple Strudel with Phyllo Dough can get messy, so I recommend slicing it with a serrated knife. But make sure you get all those buttery crumbs on the plate too!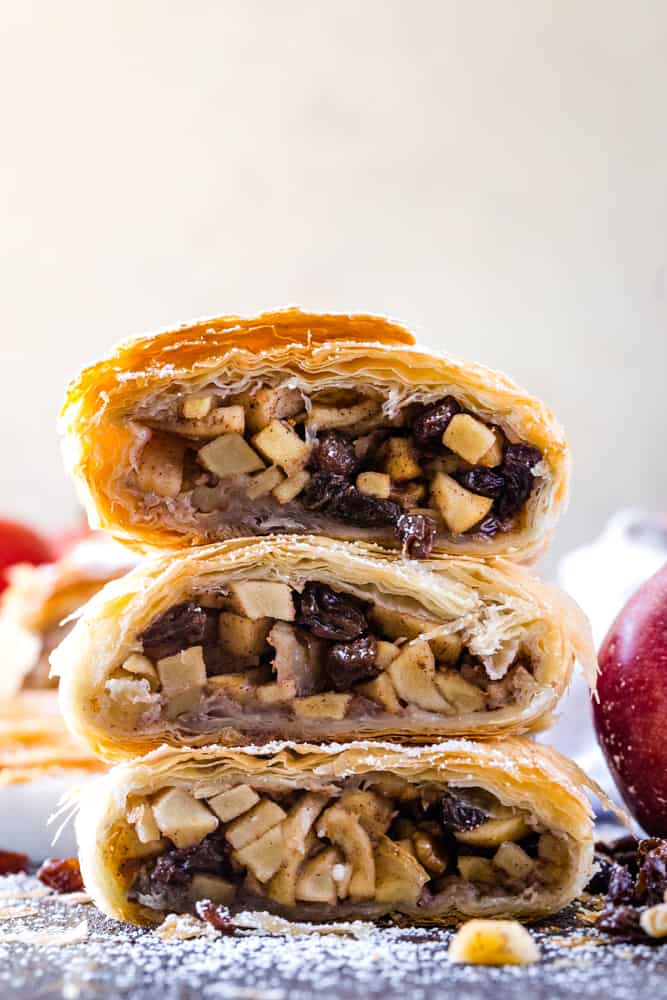 Great Beers That Pair With Apple Strudel
Apple Strudel is a popular coffeehouse offering, and is typically enjoyed with coffee or tea. It is also a fixture at most Oktoberfest celebrations and pairs quite well with beer. Choose a brew with a higher yeast content, like hefeweizens, dunkels, and Belgian abby ales. The maltier profile of brown ales also pairs nicely with the rum raisin flavors in this apple strudel filling.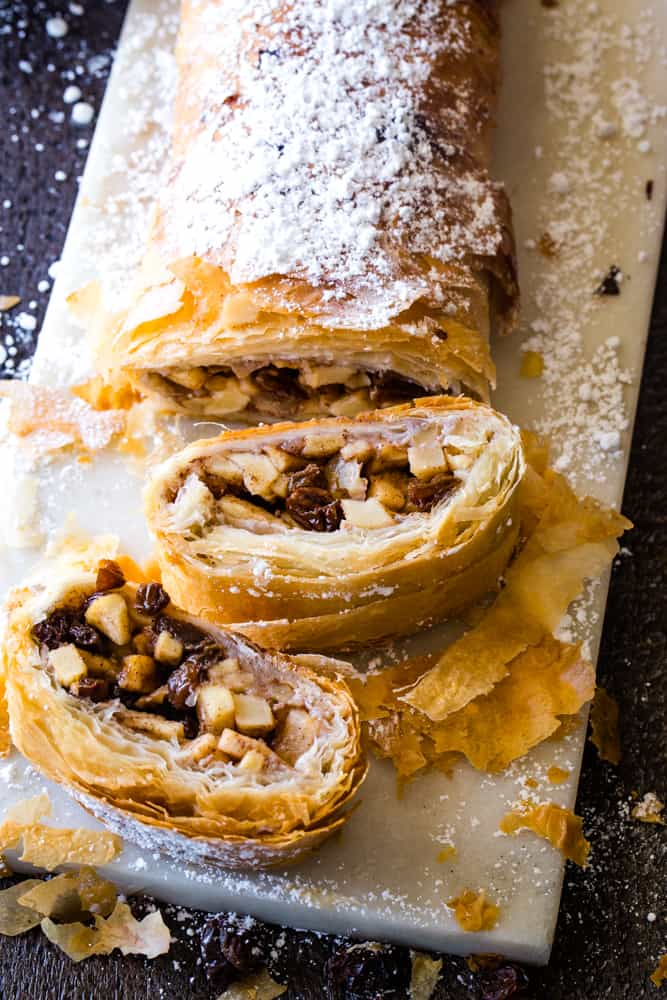 More Delicious Autumn Recipes
If you love this Apple Strudel with Phyllo Dough, then you'll want to check out my recipe for Caramel Apple Pie Cake, Apple Cinnamon Cheesecake and these Pumpkin Cheesecake Muffins.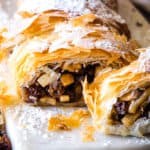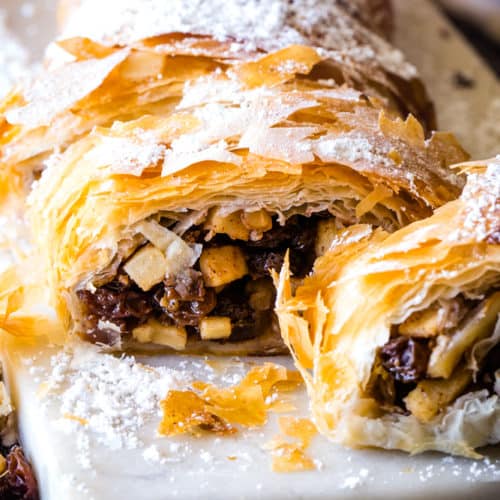 Easy Apple Strudel Recipe
Crunchy, flakey phyllo dough is filled with apples, rum-soaked raisins, and brown sugar. It's the perfect Oktoberfest desert!
Keyword:
german strudel recipe, phyllo dough dessert
Ingredients
1

cup

raisins

⅓

cup

rum

3

apples

preferably Granny Smith or Jonagold, peeled, cored and diced into small ½" pieces.

1

cup

brown sugar

1

teaspoon

cinnamon

8

layers phyllo dough

4

tablespoons

butter

melted
Instructions
Pour rum into a small saucepan set over medium heat. Add raisins and bring to a simmer. Remove from heat and let raisins cool for 10 minutes.

In a large bowl, toss together raisins, diced apples. brown sugar, and cinnamon until apples are coated.

Preheat oven to 350 degrees. Line a large baking sheet with parchment paper.

Lay 1st sheet of phyllo dough onto the lined baking sheet. Brush with melted butter and top with next layer of phyllo. Continue stacking and brushing with butter until you have completed all 8 sheets.

Spoon filling onto the left longside of the phyllo rectangle. Roll the dough up to enclose the filling and turn so that the seam is at the bottom.

Brush log with melted butter.

Bake for approximately 30 minutes or until strudel is golden brown and puffed.

Cool for 5 minutes before slicing, if serving warm. Otherwise, serve room temperature.

Sprinkle with powdered sugar before serving.