This post has been sponsored by Brach's. All thoughts and opinions are on my own.
Whether you are making a fall/Halloween treat or simply trying to use up excess candy, these Candy Corn Cookies are perfect! They are loaded with Brach's Candy Corn and white chocolate chips, making them not only a festive treat but also the perfect companion to a glass of milk!
I am one of those people who eagerly await the arrival of fall. My favorite thing to do on my kid's first day back at school is to grab a coffee and stroll through Target in hopes that their Halloween stuff is out! I just love looking at all the decorations and planning my annual Halloween party.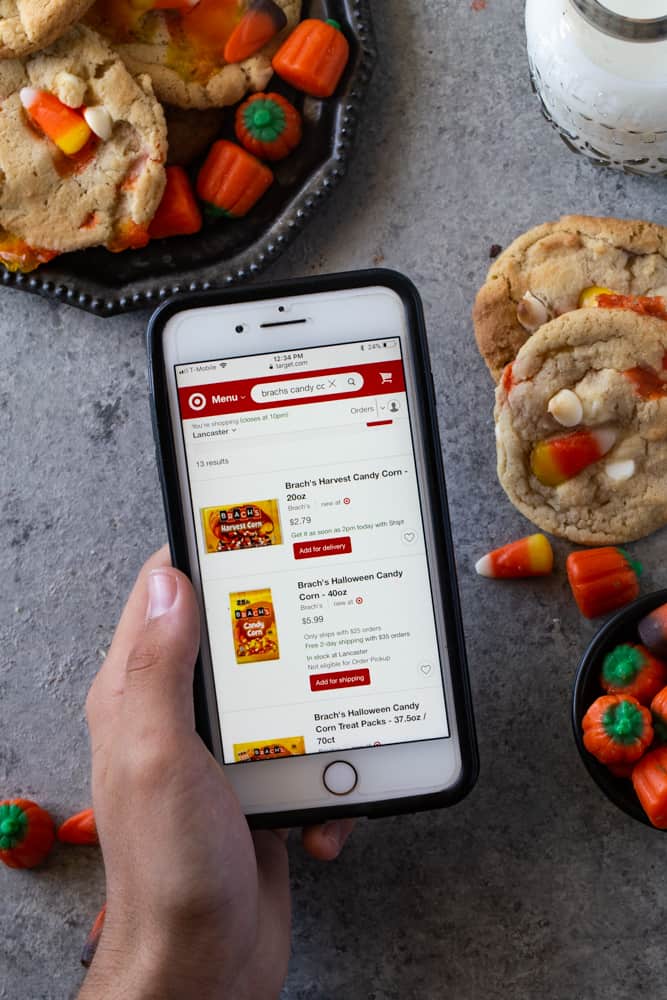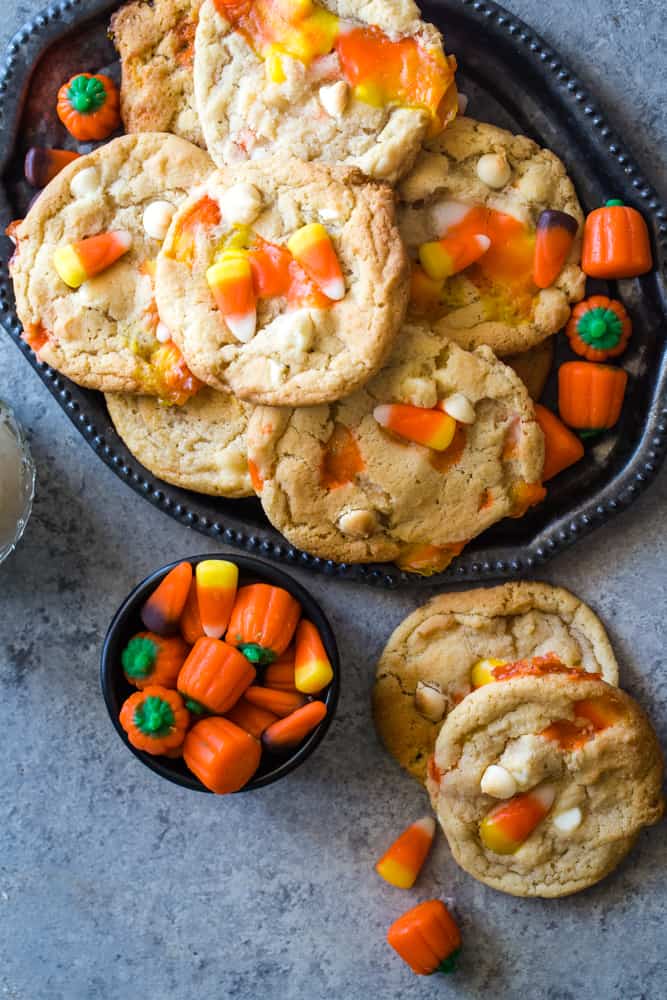 A couple of things I always purchase as soon as they hit the Target shelves are Brach's candy corn and candy pumpkins. I love having little candy dishes in the kitchen and living room filled with these sweet treats. They are cute, colorful, and sweet—the perfect kind of decoration, if you ask me! More exciting, though: the week of 9/22-9/28, candy corn will be 2 for $5! Time to stock up!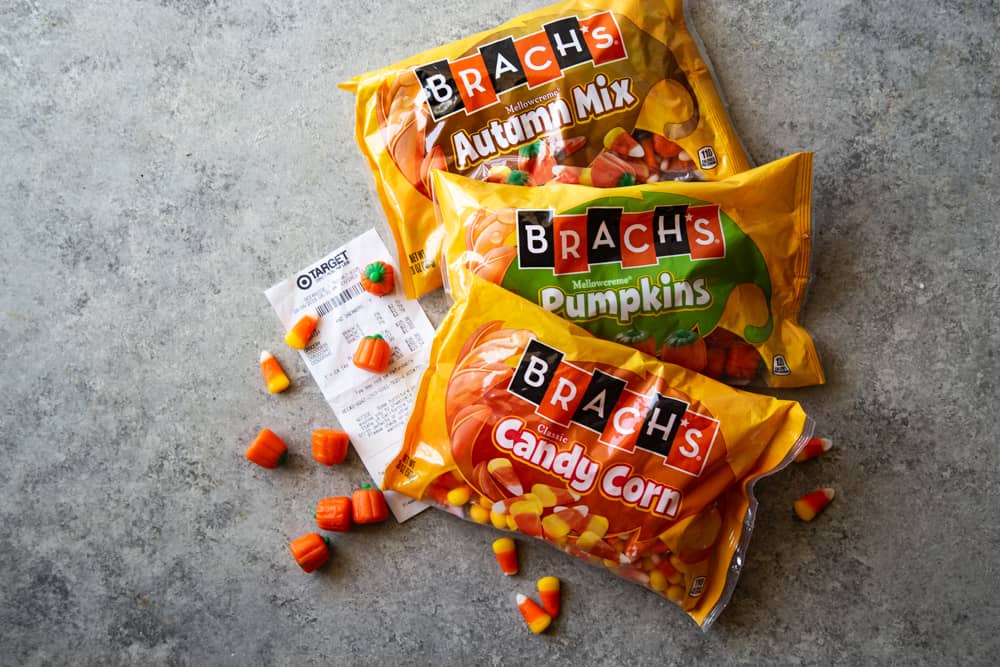 It's a bit too early, so I don't have any pictures to share yet, but I make Pumpkin Topiaries every year by hot-gluing Pumpkin Mellowcreme to a styrofoam ball. They are so cute and get tons of compliments!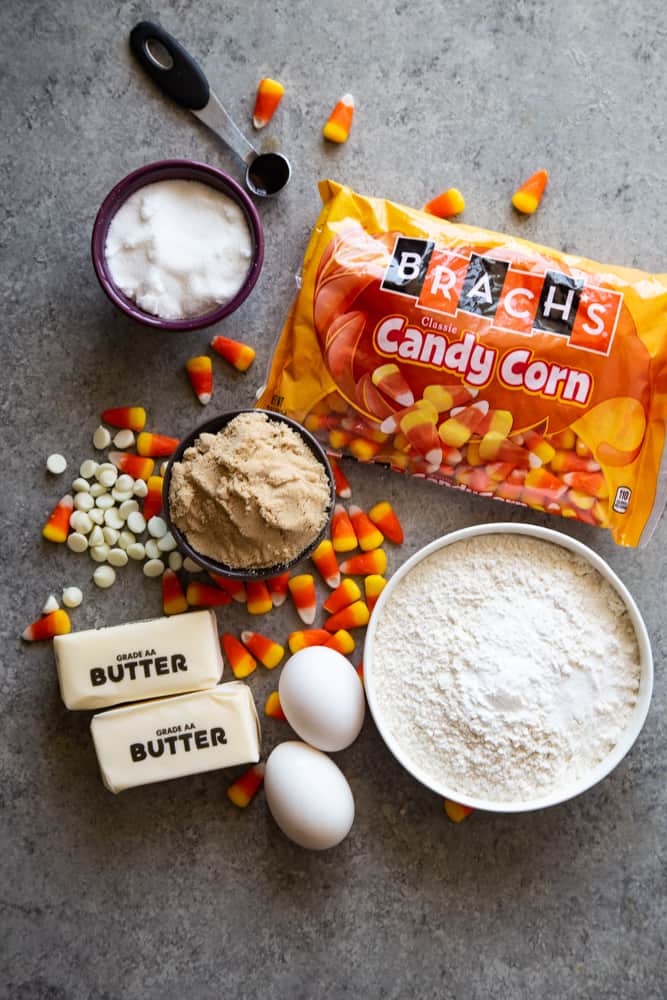 I also love putting the candy corn into cookies, and so do the kids! They are so festive and a great treat for parties, school lunches, or just to use up excess candy.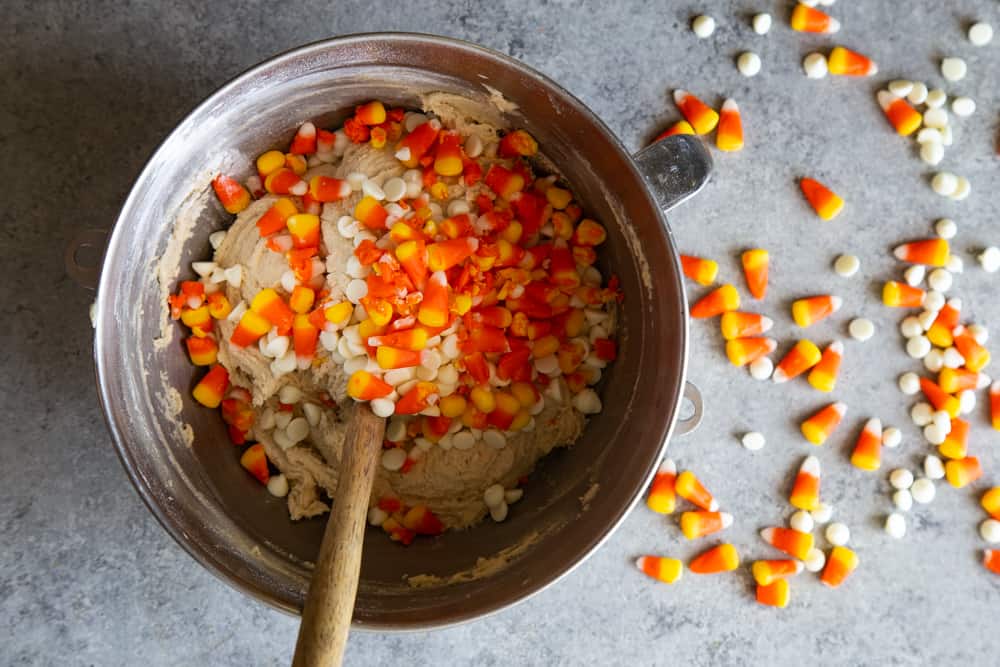 How to make perfect Candy Corn Cookies?
The base of this recipe is my favorite chocolate chip recipe, so they are automatically chewy and delicious! What makes them even better is the buttery candy corn flavor. The candy corn melts into the cookie while baking, which provides even more chewiness and fun colors to the cookies. #momentmade #madetoshare #breakoutthebrachs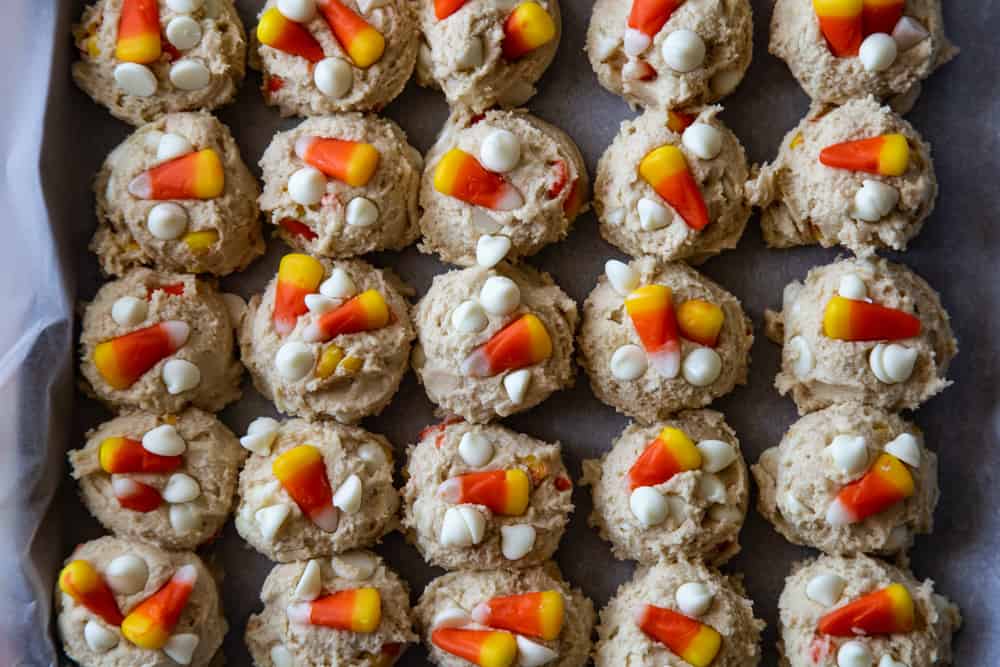 To make the perfect base, here are my tips-
Make sure to really cream your butter and sugars. This process could take 2-3 minutes, but it is totally worth it. You want to make sure that the mixture is light in color and texture before adding the eggs and vanilla.
Add the eggs and vanilla, and beat again for 2-3 minutes. This helps the egg really break down and saturate itself into the dough.
Chill your dough. Yes, I know this is the hardest part. Chilling the dough solidifies the fat in the cookies and leads to less spreading while baking. Baking the candy corn cookies right after making the dough will still yield a delicious cookie, it may just be a bit flatter.
When you remove the pan from the oven, immediately tap the cookie sheet against the stove or counter. This method is called "rap," and it helps remove excess air in the cookies, between the cookies and the pan, and creates a chewier cookie in my opinion.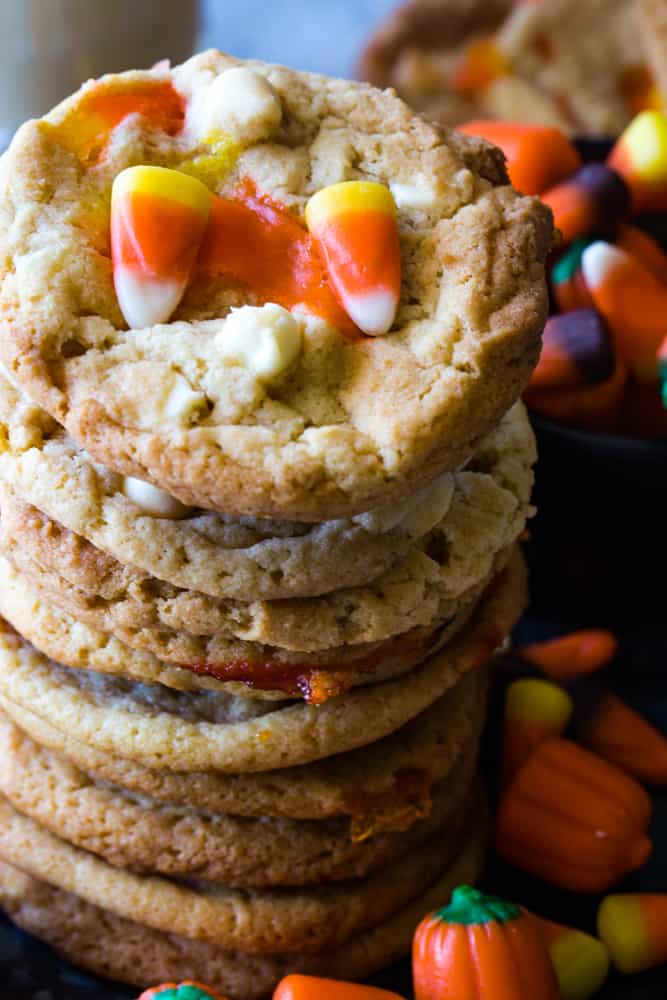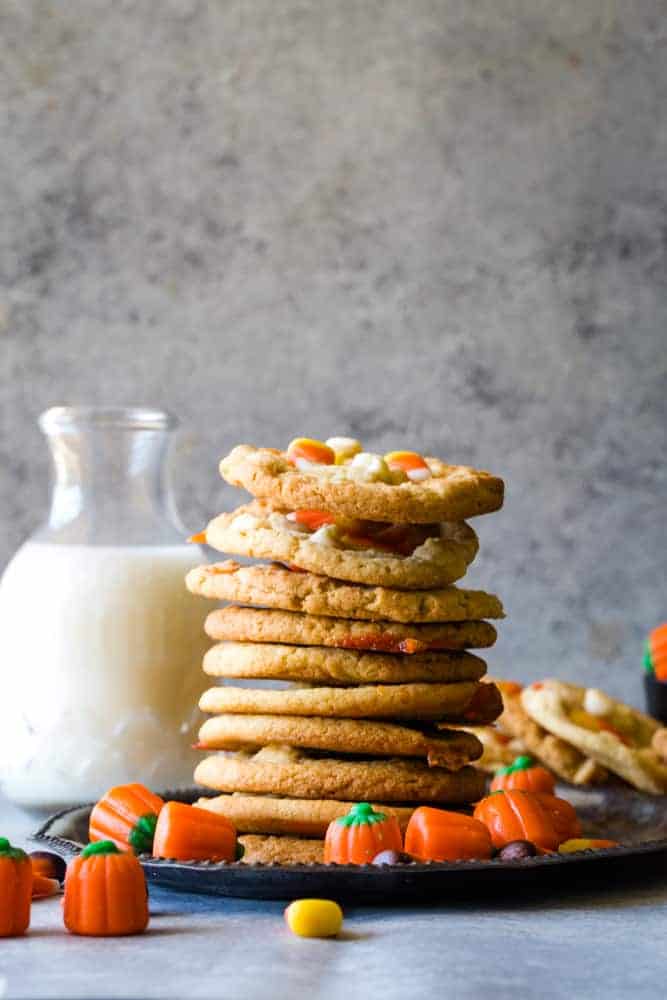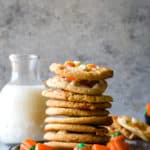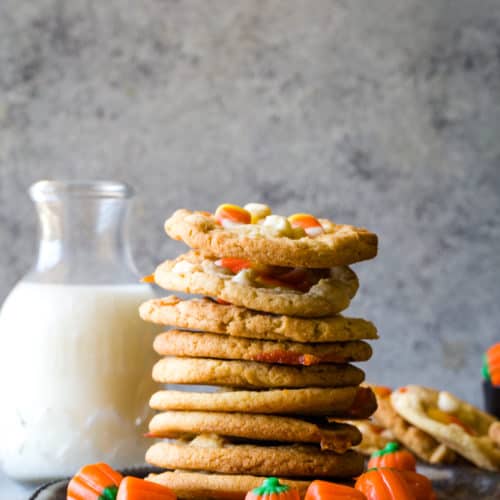 Candy Corn Cookies
These delicious candy corn cookies are buttery and chewy. Make them before Halloween for a corny treat or after to use up excess candy!
Keyword:
candy corn, Halloween Cookies
Ingredients
1

cup

unsalted butter

room temperature

1

cup

brown sugar

1

cup

granulated sugar

2

large eggs

1

teaspoon

vanilla extract

2 ½

cups

all-purpose flour

1

teaspoon

salt

1

teaspoon

baking soda

1

teaspoon

baking powder

1

cup

White Chocolate Chips

1

cup

Brach's Candy corn

coarsely chopped plus more for garnish
Instructions
In the bowl of your mixer, cream together the butter and sugars until light and fluffy, about 2-3 minutes.

Add the eggs and vanilla extract and beat for an additional 2-3 minutes, scraping down the bowl occasionally.

Mix in the flour, salt, baking soda and baking powder on low speed until everything is just combined; do not overmix.

Stir in white chocolate chips and chopped candy corn.

Scoop out balls onto a parchment-lined cookie sheet and refrigerate for at least 1 hour.

If desired, top cookie dough balls with additional candy corn and white chips.

Preheat oven to 350 degrees.

Transfer about 12 balls onto a parchment-lined baking sheet, about 2 inches apart.

Bake for 9-10 minutes or until the edges of the cookies are golden, but the center of the cookie is still soft.

Remove pan from oven and carefully tap to remove excess air in the cookies. Cool for 10 minutes before transferring cookies to a cookie sheet to cool completely.

Repeat with remaining dough.