Thank you Karo® Syrup for sponsoring this post. Celebrate sweet moments together with Karo®!
This Apple Caramel Recipe will quickly become your favorite fall recipe. With a thin layer of buttery spiced shortbread and a layer of deep apple caramel, these candies are delicious!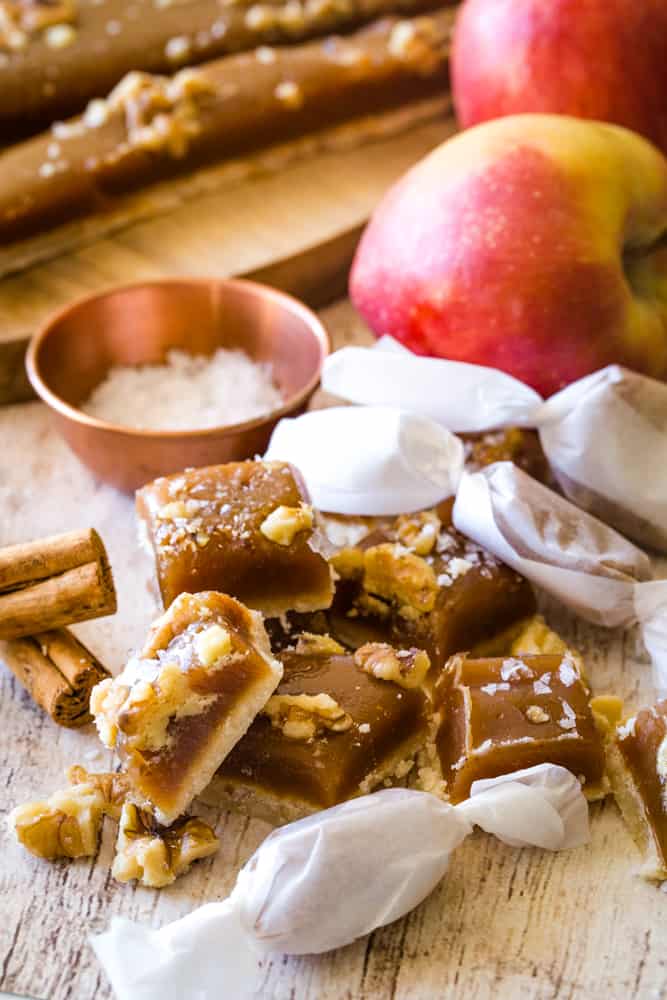 While summer berries are a glorious treat, fall provides quite the delicious bounty as well. With the crisp air and scents and flavors of cinnamon, apples, and pumpkins, it is a welcoming time after a warm summer. Making caramel is one of my favorite ways to welcome the cooler temperatures. Not only is candy making one of my favorite things to do, but it also yields the perfect treat to gift to friends and family.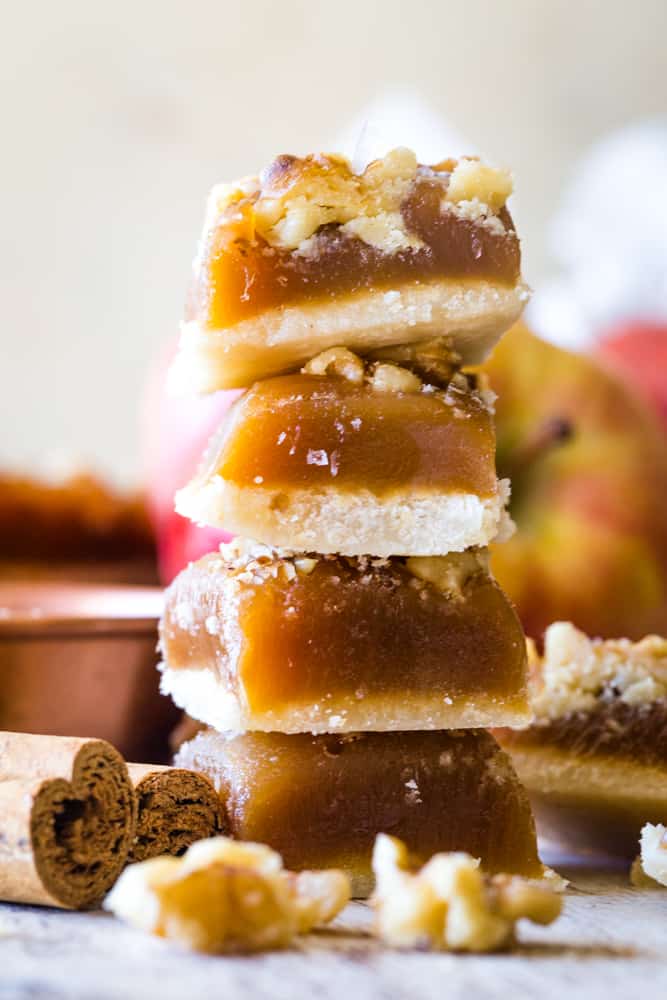 I always make a batch of this Apple Caramel recipe after a day of apple picking, since we come home with tons of fresh apples and a few gallons of fresh-pressed apple cider. There is something amazing about taking a bite of buttery caramel that is met with a crisp apple flavor. The spiced shortbread layer adds an extra buttery delicious appeal that ties the whole apple pie caramel together. It's like taking a bite of pie, but better!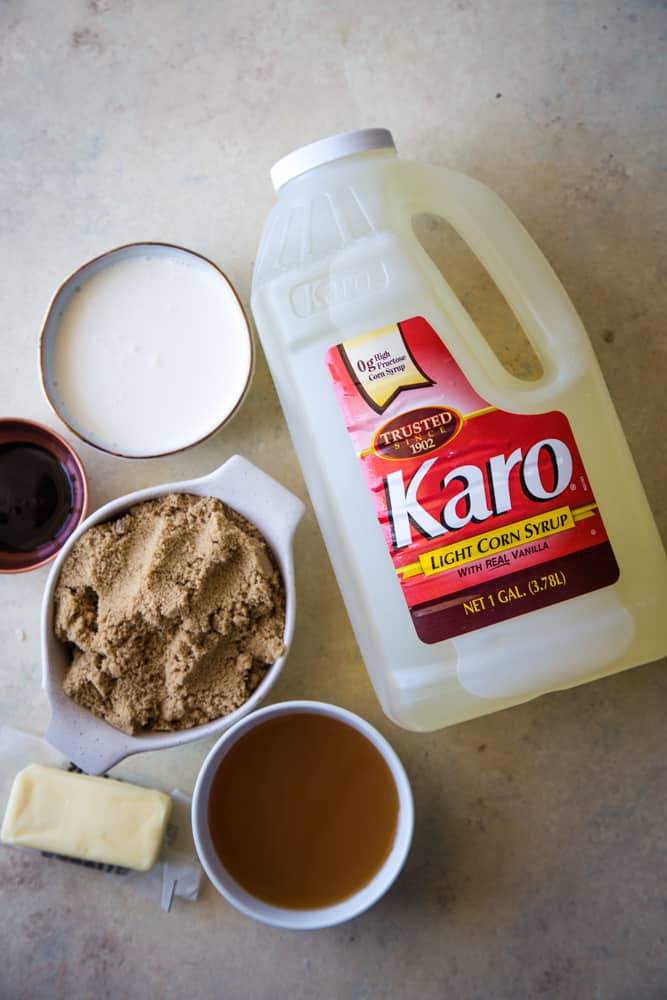 Is this Apple Caramel Recipe difficult to make?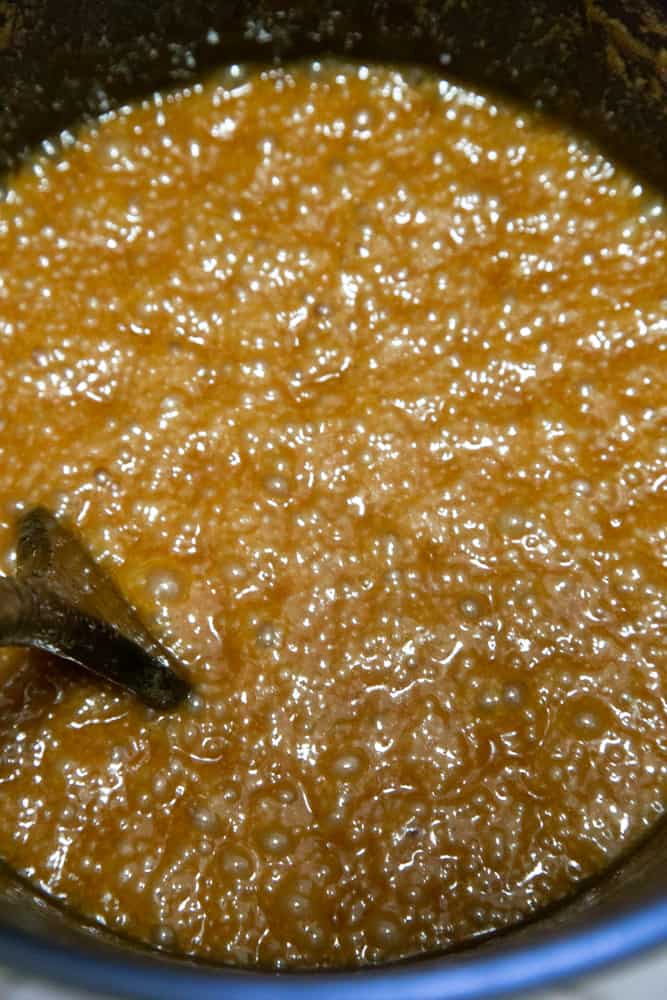 The answer is no...if you have the right ingredients and tools. Since there are so few ingredients, you want to make sure your ingredients are of high quality.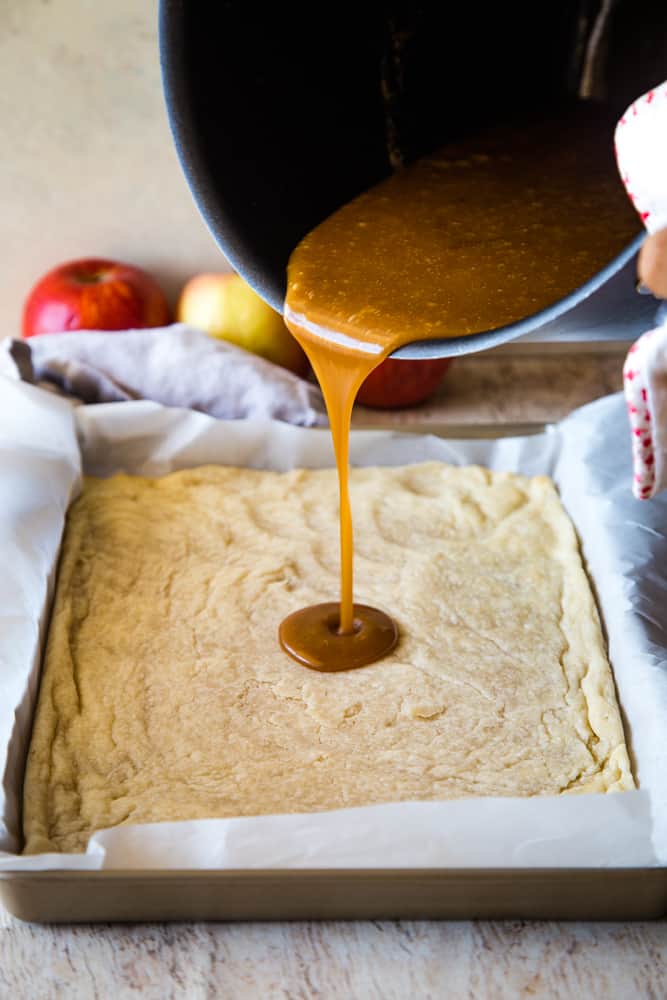 Good quality butter and cream are not 100% necessary, but always make for a creamier caramel.

Make sure that your candy thermometer is working. If you do not have one, refer to

this article

about determining when your apple caramel recipe reaches the firm ball stage.

I have worked on this recipe for years and have perfected it so that you do not need to spend hours over the stove stirring, and you can put everything in the pot at once (except the vanilla and salt)!

Use a tall pot. The caramel will boil and foam and there is nothing worse than having to clean caramel off a stove!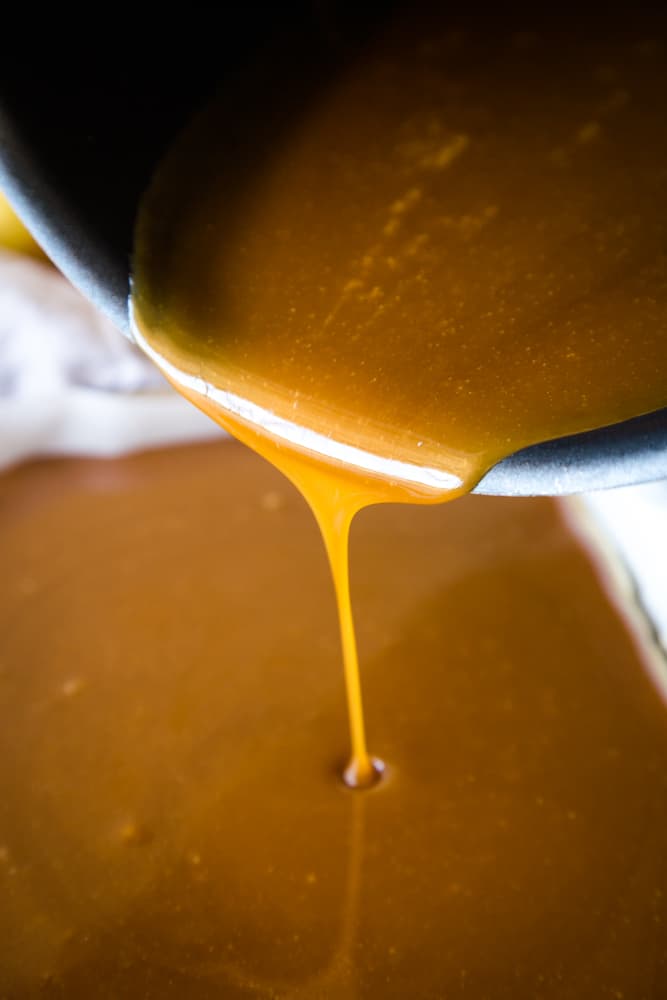 Why do I need to use Corn Syrup in this Apple Caramel Recipe?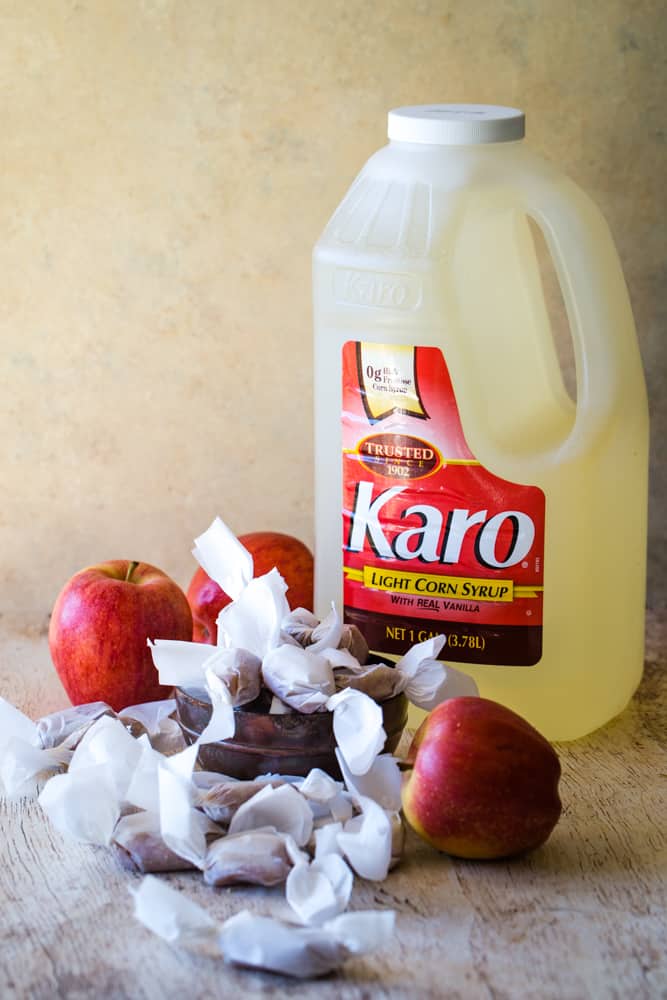 Corn syrup is an invert sugar, which means that it prevents sugar crystals from forming, which is imperative when making caramel! Without it, you will have a gritty caramel. My absolute favorite brand is Karo® Syrup. It delivers a smooth, amazing texture with a balanced sweetness that lets the true flavor of other apple caramel recipe ingredients shine through. Karo® Syrup is a versatile, yet key ingredient that perfects anything from delicious marshmallows, to fudges, caramels, or pies. It is wonderful to use just a touch in a ganache too, to provide a bit of shine. I always have the gallon-sized jug on hand for holiday candy and pie-making.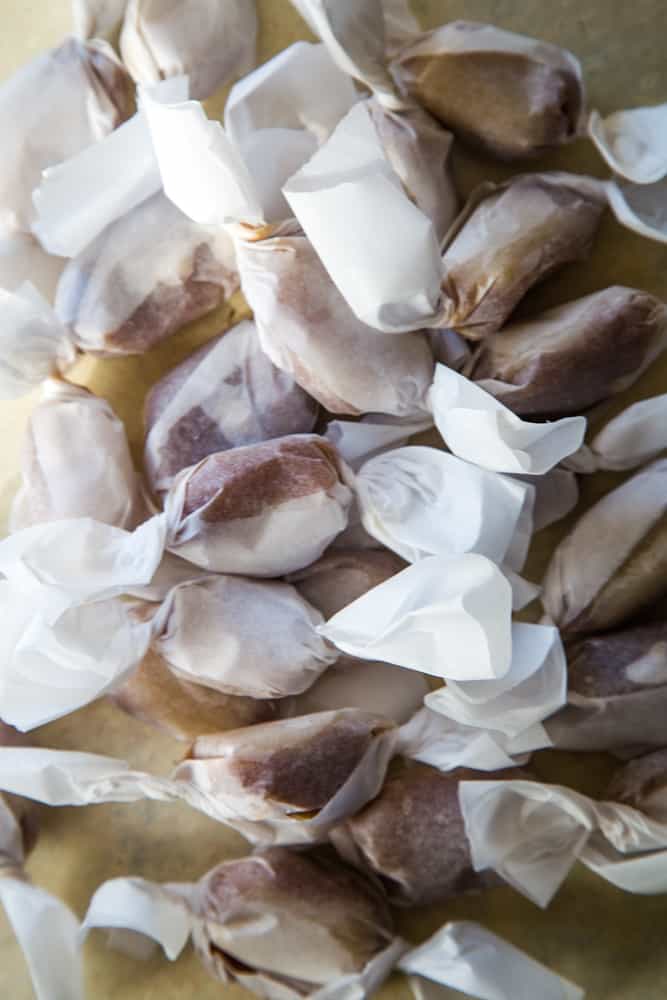 How to make the reduced apple cider syrup?
In this apple caramel recipe, one of the steps is to reduce the fresh apple cider. It is quite simple to do, but takes a bit of time. In a large pot, simply bring the apple cider to a gentle boil or simmer. Continue to cook, while stirring occasionally, until the cider is a deep brown and syrupy consistency and has reduced to about ½ cup. This could take anywhere from 45 minutes to an hour, but can be made up to a week ahead of time. Alternatively, you can just purchase the boiled cider on most gourmet kitchen shops.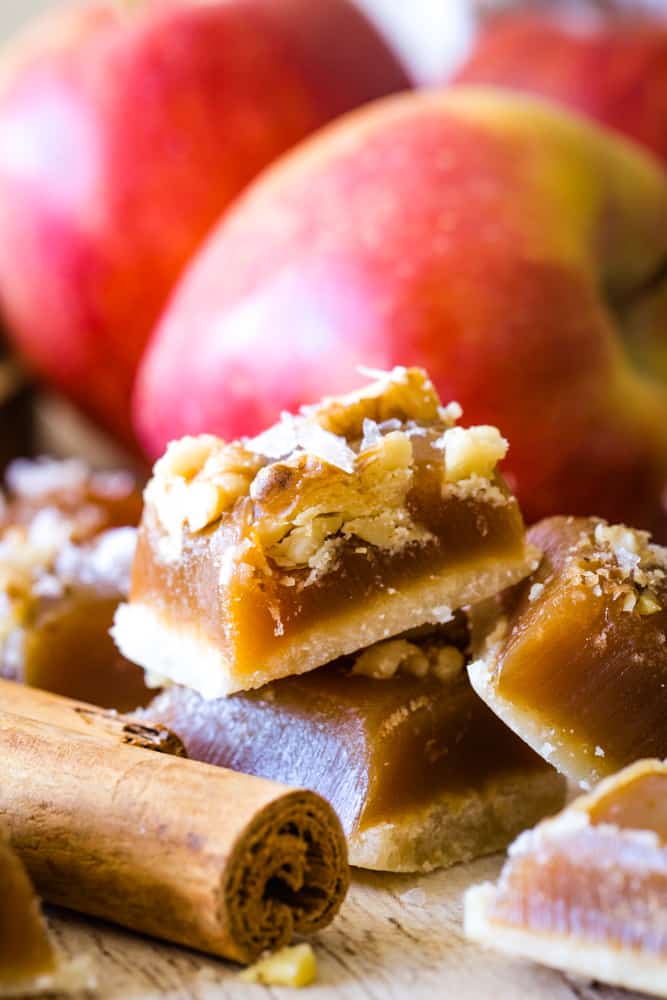 This Apple Cider recipe makes approximately 2 pounds of caramel, which makes quite a bit of caramel pieces. I like to cut them into 1-by-1-inch squares and wrap them in a 4-inch square of waxed paper, twisting the sides to close. I then gift them to friends and family or store them in an airtight container for up to 2 weeks, if they last that long!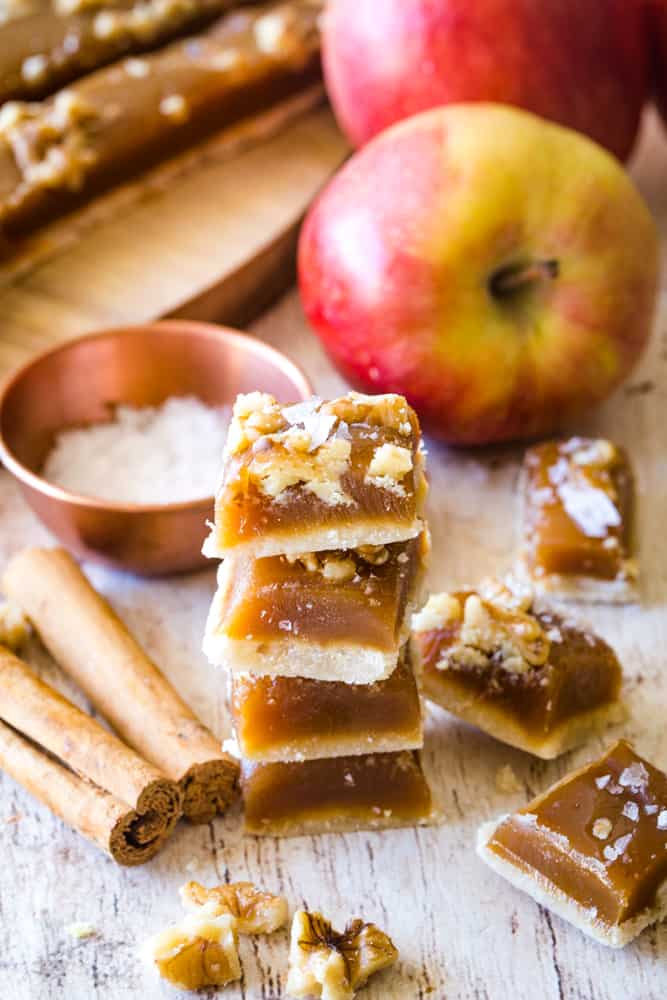 More delicious Caramel Recipes
Do you love making caramel just as much as me? Check out my recipes for Brown Sugar Sea Salt Caramels, Chocolate Caramel Pecan Bars, Apple Caramel Cheesecake Bars, or this Chocolate Hazelnut Caramel Tart.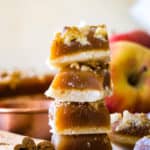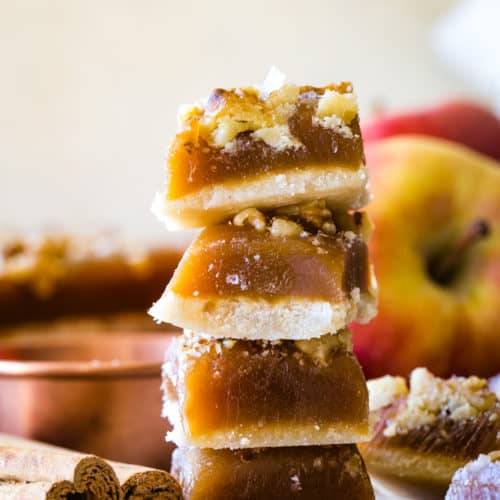 Apple Caramels
Ingredients
Shortbread Layer-
1

cup

unsalted butter

softened

½

cup

powdered sugar

1 ¾

cups

all-purpose flour

¼

cup

cornstarch

1

teaspoon

apple pie spice*
Caramel Layer-
4

cups

fresh apple cider

reduced to ½ cup*

2

cups

brown sugar

packed

1 ½

cups

heavy whipping cream

1

cup

Karo® Syrup (Light)

½

cup

unsalted butter

1

teaspoons

salt

2

teaspoons

vanilla

½

cup

chopped walnuts

optional
Instructions
Shortbread Layer
Preheat oven to 350 degrees. Line a 9x13 inch baking dish with parchment paper.

In the bowl of your mixer, cream together butter and powdered sugar for 2-3 minutes on medium speed. Add flour, cornstarch and apple pie spice; beat on low until just combined.

Evenly spread shortbread dough in prepared pan.

Bake until edges are just slightly golden brown, 7-9 minutes. Remove from oven and set aside to cool while making the caramel.
Caramel Layer
In a medium-sized saucepan on medium heat, gently boil the cider until it has reduced to a thick, dark syrup and yields about ½ cup, stirring occasionally. This process should take around 35-45 minutes. See notes below for an alternative.

In a heavy-bottomed pot, combine sugar, cream, apple cider reduction, Karo® Syrup, and butter. Cook at medium heat until your candy thermometer reaches 247 degrees (firm ball stage), stirring frequently.

Once the caramel has reached hard ball stage, remove from heat and add vanilla and salt, stir a few more times to combine.

Carefully pour the hot caramel over shortbread crust and sprinkle with chopped walnuts, if desired.

Allow caramel to cool for at least 8 hours.

Cut into small 1"x1" squares and wrap in parchment paper or caramel wrappers.
Recipe Notes
If you do not have apple pie spice on hand-make your own with this recipe here.
The apple cider syrup can be made up to 1 week ahead of time if stored in an airtight container and refrigerated.
You can also purchase boiled cider (aka apple cider syrup) on Amazon or other kitchen stores.
If you do not have a thermometer, go here for other methods.