What do you get when you combine chocolate, caramel, club crackers, and pecans? These amazing Crunchy Chocolate Caramel Bars.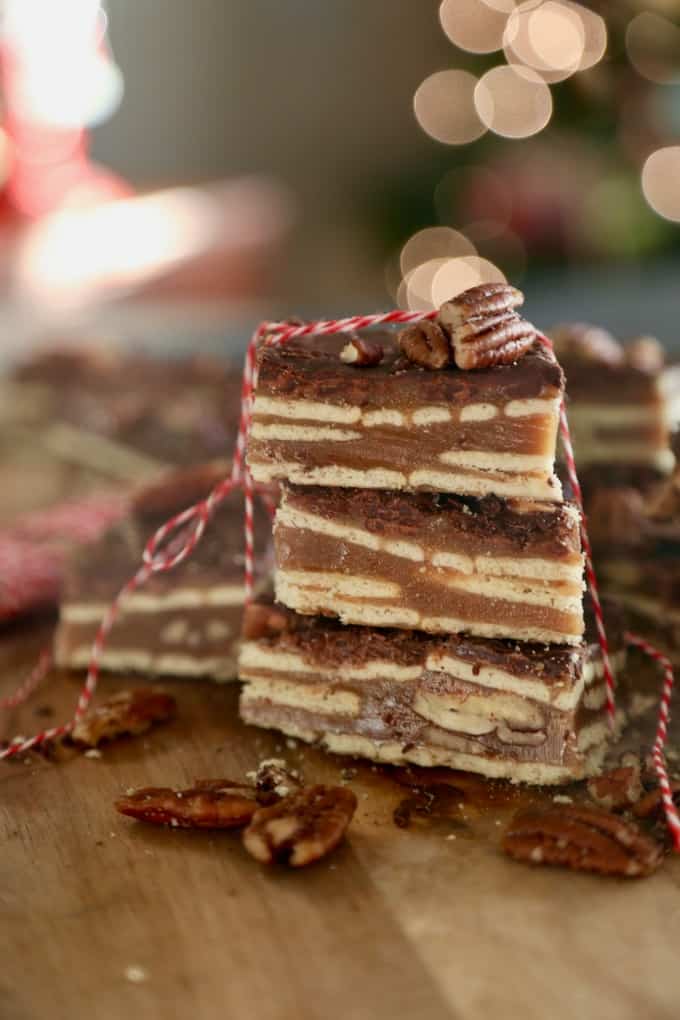 I'm sure many of us have had a more traditional style of chocolate caramel bars. They're usually a brownie-caramel combo, and they're buttery, gooey, rich, and definitely melt-in-your-mouth. I'm sure many of us can also say those types of chocolate caramel bars are very, very good.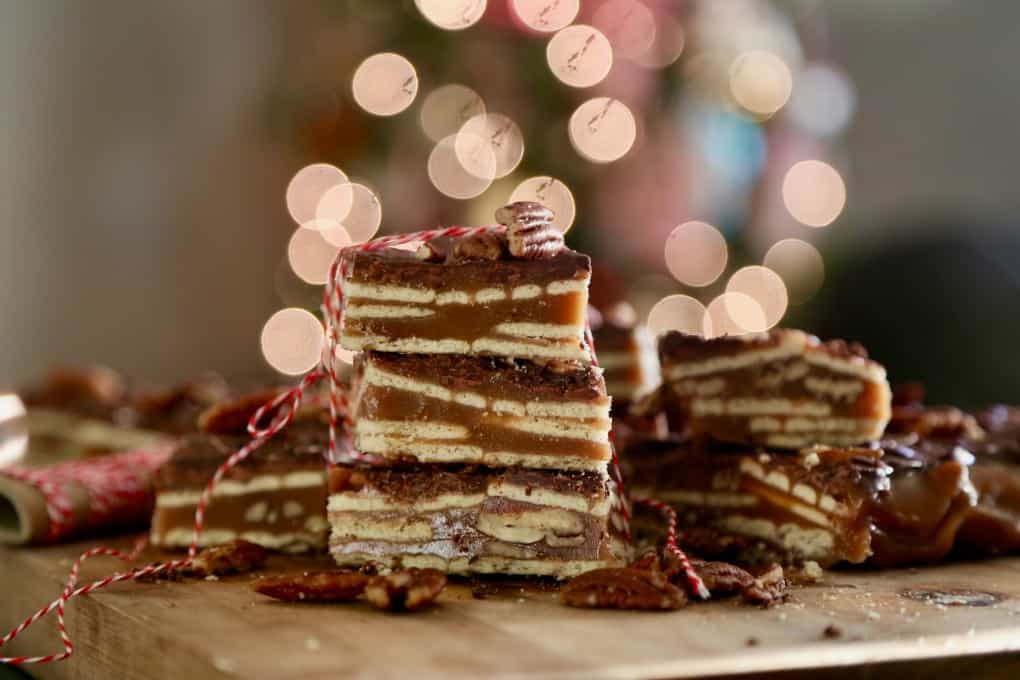 How about something a little different that is equally good, if not better? (I vote for better.)
Instead of making chocolate caramel bars the way they're usually made, I wanted to make them in a fun, layered style with a bit of a crunch to them. I used club crackers for the crunch factor, and once you try them, I know you'll agree that the salty, crunchy addition to these bars makes them dangerously good.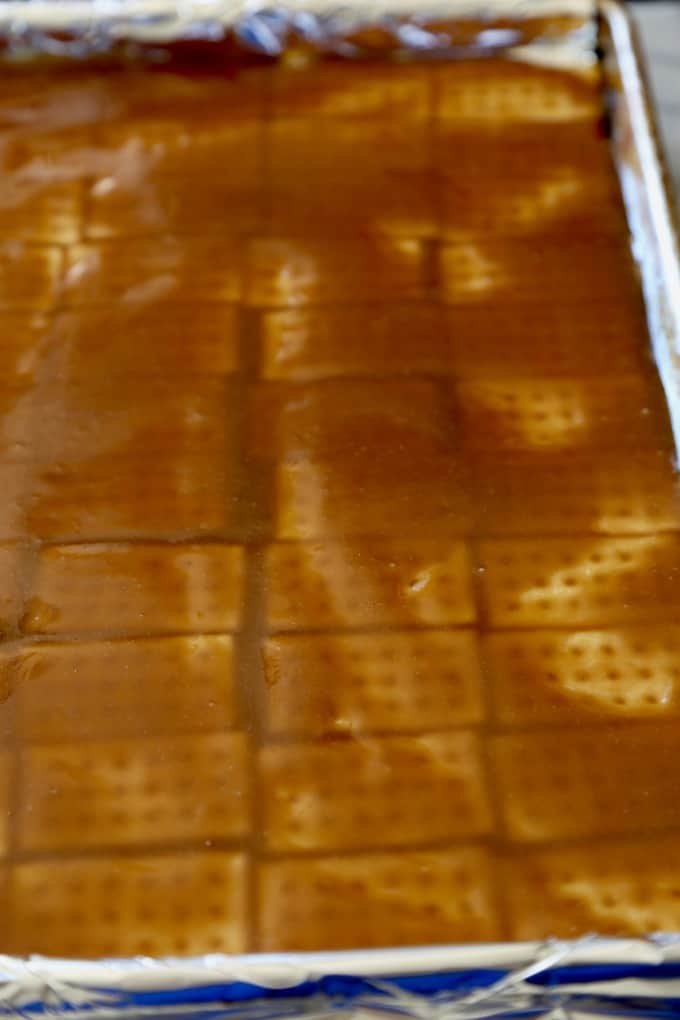 Crunchy Chocolate Caramel Bars start with a layer of club crackers and pecans at the bottom of the pan. This layer serves as a base for the caramel, giving it a safe place to solidify without running all over the pan. On top of this layer goes half of your caramel, another layer of club crackers and pecans, and then the other half of the caramel.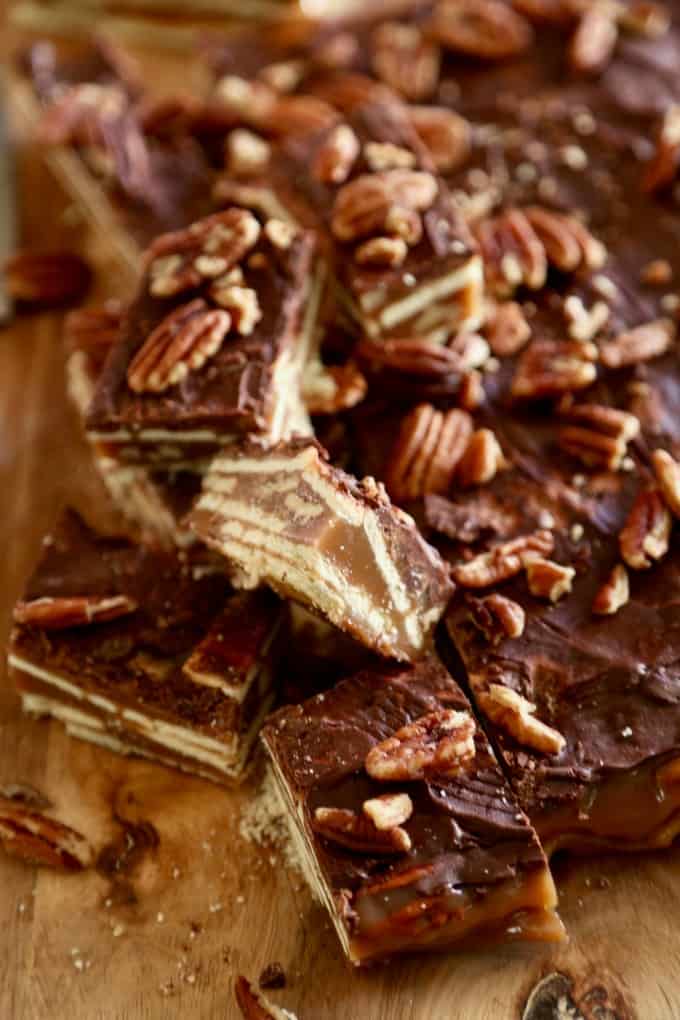 One thing I want to note is to please be super careful with your caramel! You've heated it to 250 degrees, so be careful when pouring your layers. Go slowly and carefully... it will taste just as good.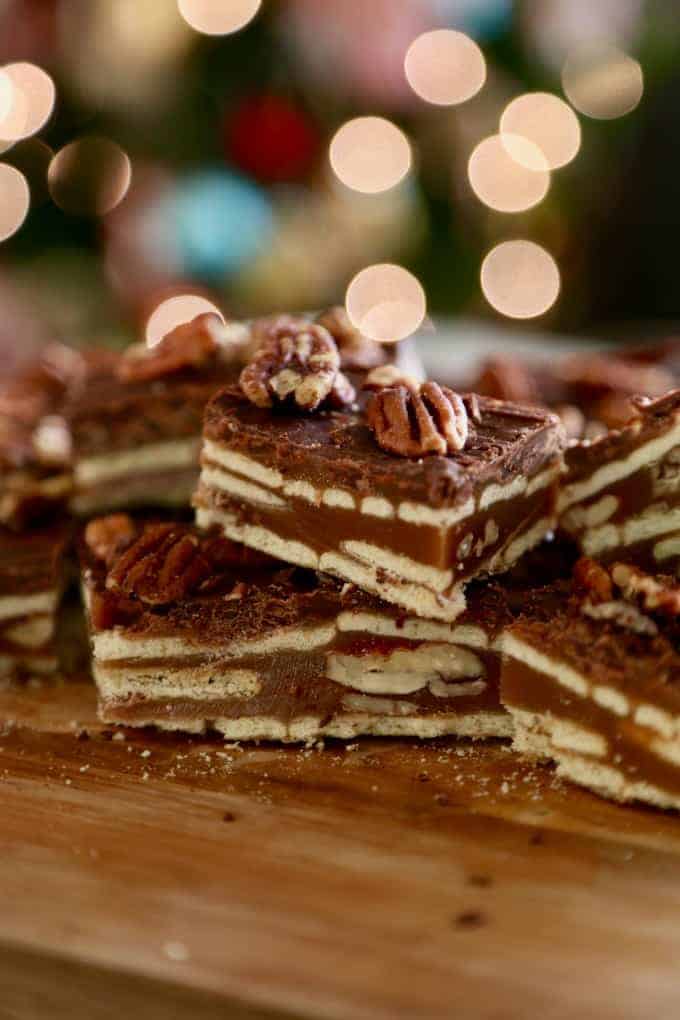 The chocolate layer is easy. All you need to do is sprinkle the chocolate chips over the top layer of hot caramel and let the high temperature of the caramel work its magic. The chocolate chips will melt, and you can spread the melted chocolate with the back of a spoon after about five minutes. All that's left to do after that is add a sprinkling of pecans.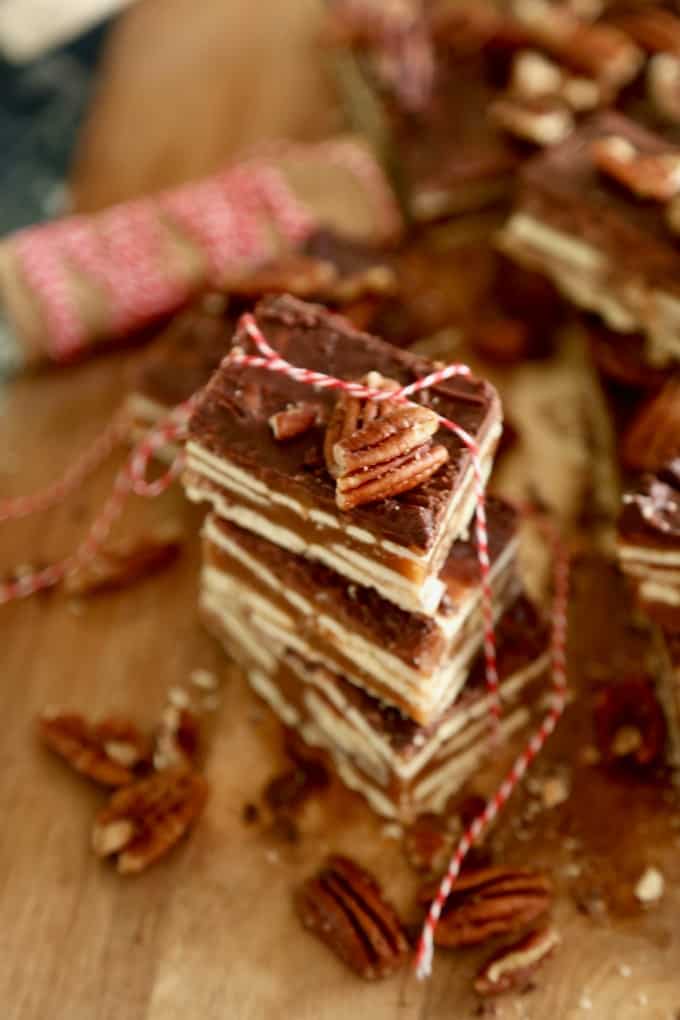 These Crunchy Chocolate Caramel Bars are as easy to enjoy as they are to make. They'd be perfect to bring along to a holiday party or really any gathering. If you try them, please let me know!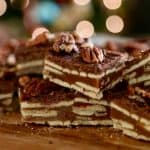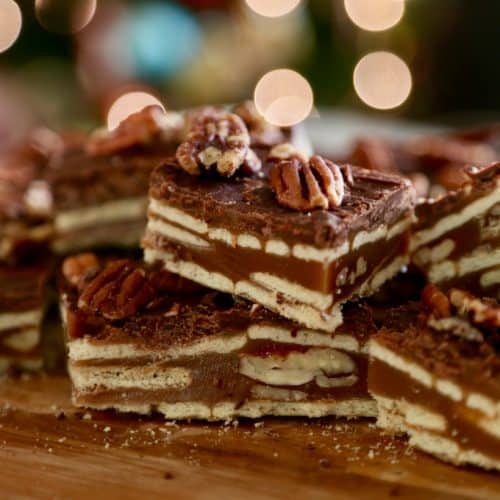 Crunchy Chocolate Caramel Bars
A little bit of crunch and nuttiness make these bars a caramel lover's favorite!
Ingredients
2

cups

brown sugar

2

cups

heavy cream

1

cups

light corn syrup

½

cup

salted butter

2

teaspoons

vanilla extract

60

club crackers

2

cups

chopped pecans

2

cups

chocolate chips
Instructions
Line a 9x13 inch baking dish with foil then spray foil with non-stick cooking spray.

Lay 1 layer of club crackers on the bottom of pan.

In a large heavy bottomed TALL pot, combine brown sugar, cream, corn syrup and butter.

Cook at medium heat until you candy thermometer reaches 250 (hard ball stage) degrees, stirring frequently.

When caramel gets to about 240 degrees you are going to need to stir constantly, but it will only be for about 5 minutes until it reaches 245 degrees.

Once caramel has reached hard ball stage, remove from heat and add vanilla, and salt, stir a few more times to combine.

CAREFULLY pour half of caramel into greased pan over crackers and pecans.

Layer remaining crackers and pecans over hot caramel, very carefully because caramel is hot.

Pour remaining caramel over crackers and pecans.

Sprinkle chocolate chips over hot caramel and let sit for 5 minutes.

After 5 minutes, spread and smooth chocolate with the back of spoon to coat caramel. Sprinkle with pecans.

Let sit and cool for 5 hours.

Cut into small squares and sprinkle with sea salt flakes.