Slap some adorable and silly into your fall baking with these Frankenstein Peanut Butter Cookies! Decadent peanut butter cookies are topped with Reese's peanut butter cups and candy eyes to make one adorable treat. Super simple and no fancy decorating skills required!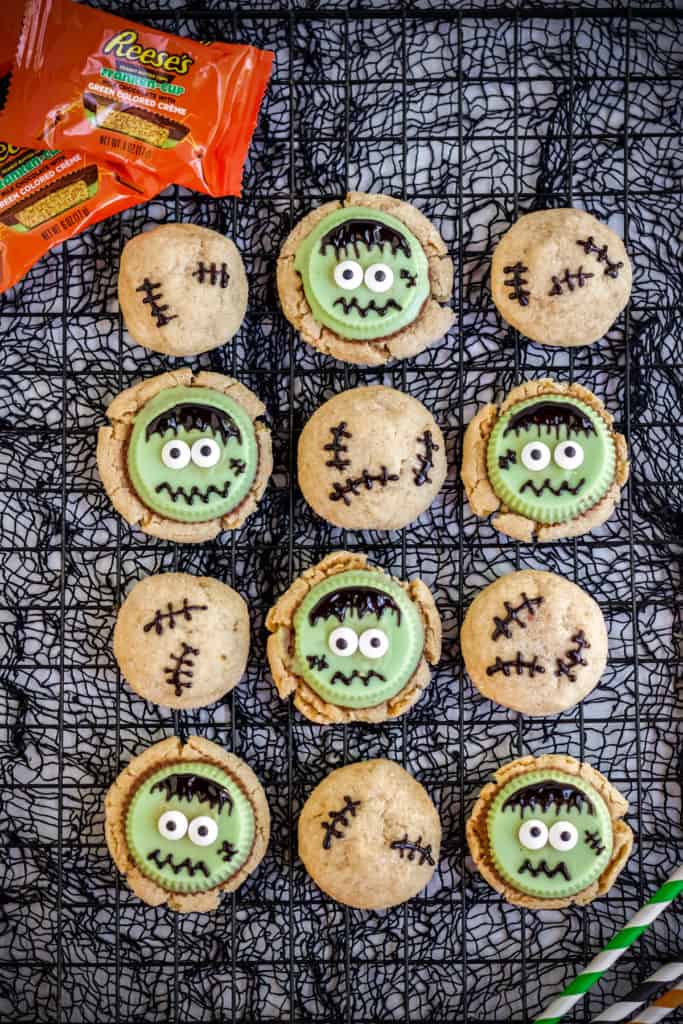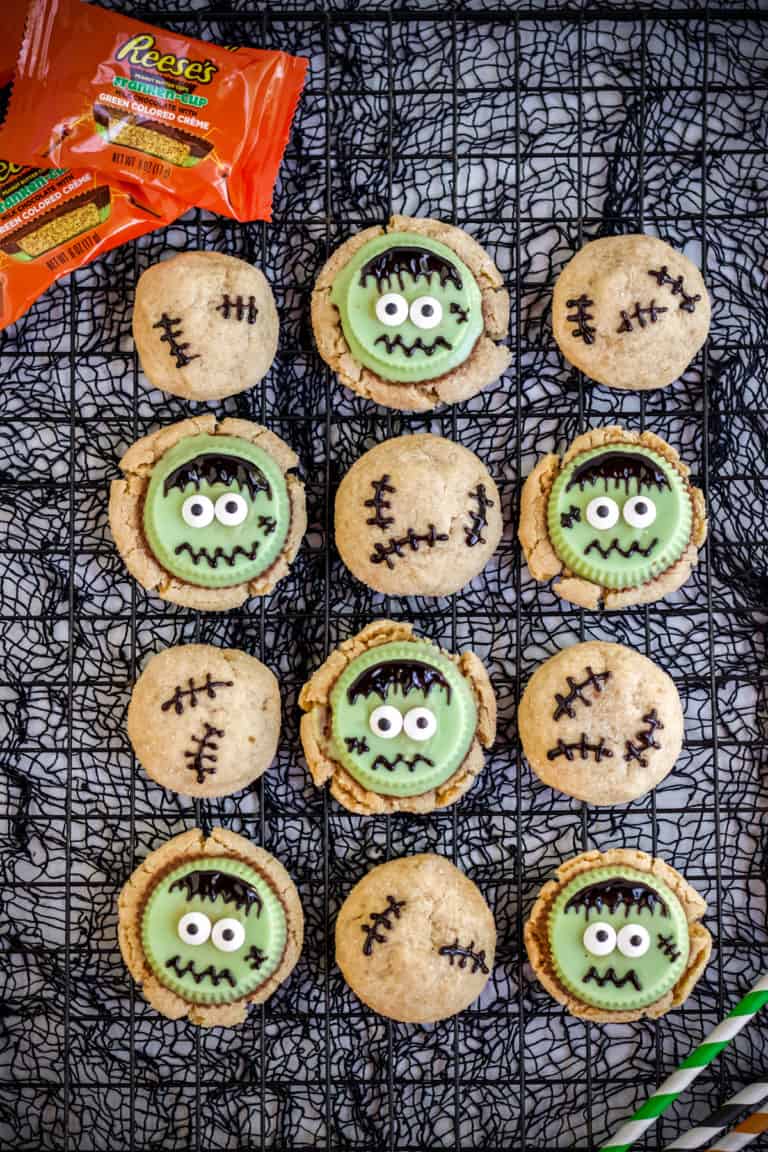 Fall is the perfect time to start breaking out all of those themed dessert recipes. Of course, I go a bit further and make a lot of my foods themed for this time of year. For example, I absolutely love making this Poison Apple Halloween Cocktail, just for the adults. I sometimes throw in my Halloween Face Pie Dip, because what's a good get together without appetizers?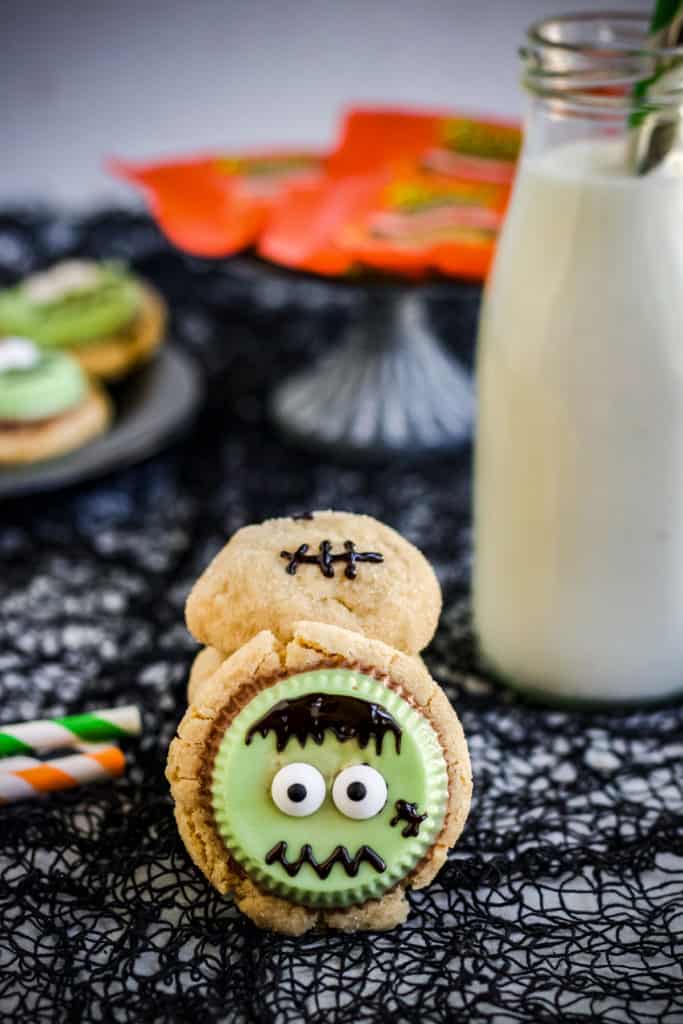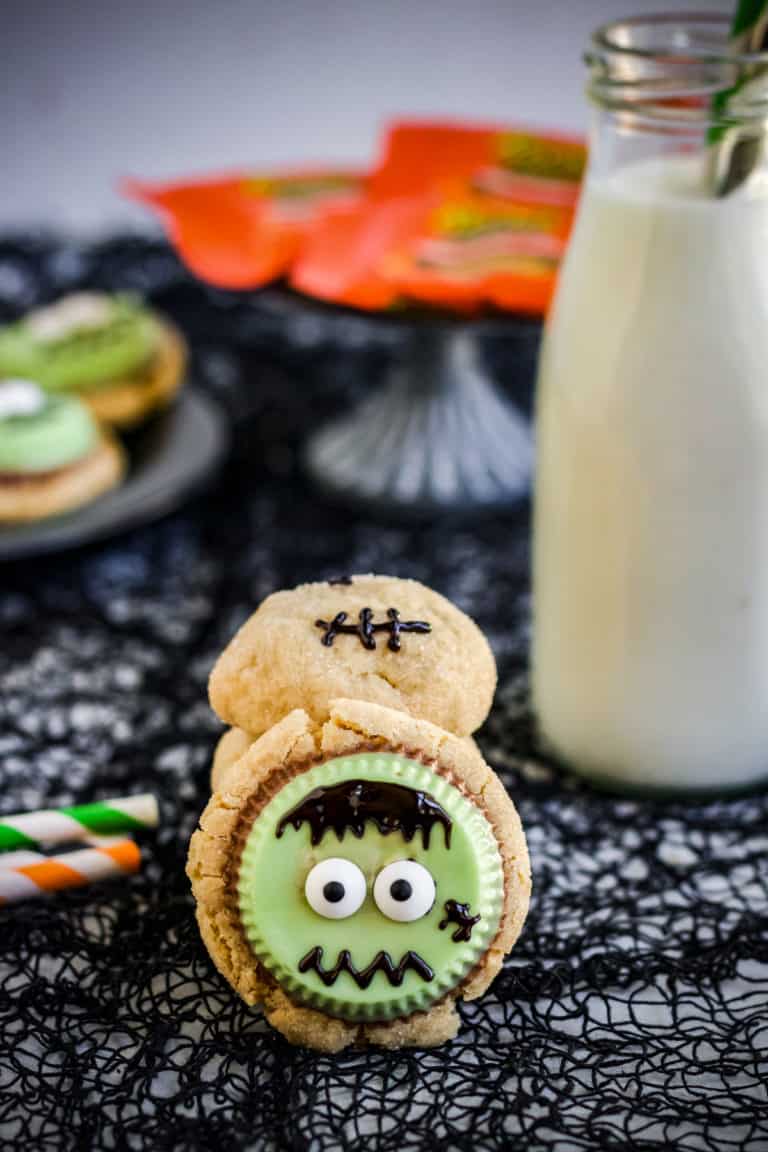 Don't get me wrong, this holiday and time of year is all about the kids. Most of what I make is to thrill them more than anything. These Frankenstein Peanut Butter Cookies being one of them. The kids also like when I whip up some Graveyard Pudding Cups, Halloween Root Beer Floats, or Halloween Macarons. Either way, whatever you decide to make for the kids, have fun with it!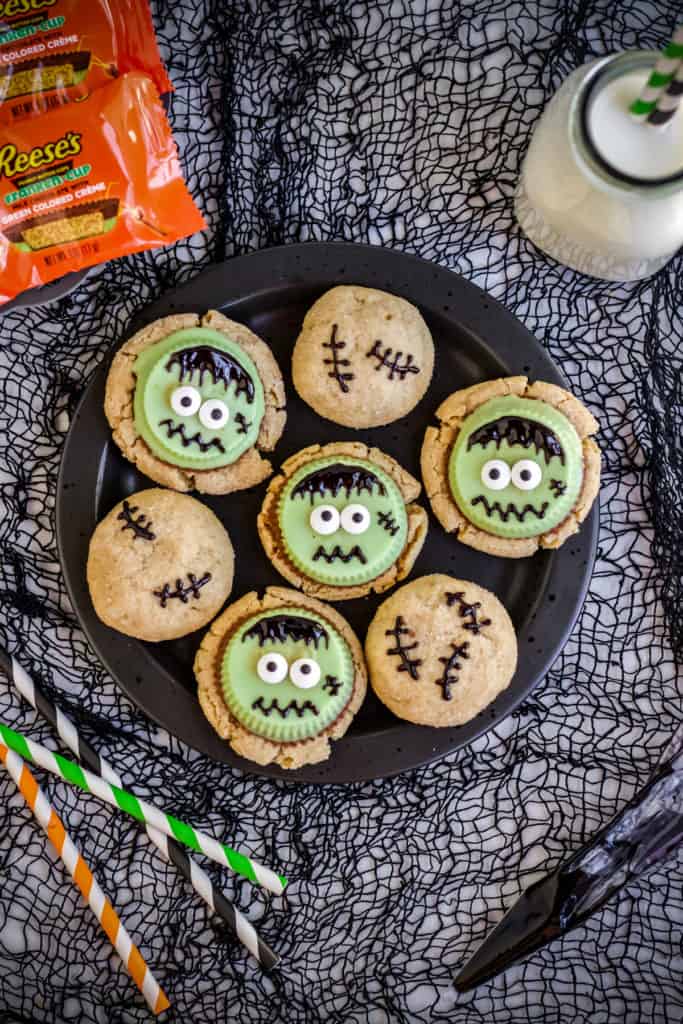 How to Make Frankenstein Peanut Butter Cookies
Prep - Place the Reese's cups in the fridge and preheat the oven to 375 degrees. Line a baking sheet with parchment paper.
Make the batter - In a large bowl, mix together the peanut butter, both sugars, and butter until fluffy. Add in the vanilla and egg; mix well. Add in the flour, salt, and baking soda. Mix well again.
Bake - Use a cookie scoop to make dough balls. Roll them in sugar and place them on the prepared baking sheet. Bake for 8-10 minutes.
Decorate the cookies - Unwrap and press the Reese's brown side down on each cookie. Place in the fridge until cookies have cooled. Press the candy eyes into the chocolate and use the gel to draw a frankenstein face. Enjoy!
Tips and Variations
Storage - Store in the pantry in a covered container for up to 3 days. Can be stored in the fridge in an airtight container for up to a week. Store in the freezer in an airtight container for up to 2 months.
Reheating - If you decided to freeze these cookies or store them in the fridge, you can easily pop them into the microwave for a couple of seconds to warm them up. However, you'll see the best results if you simply let them sit out and warm up on their own.
Can I use crunchy peanut butter? - You can definitely use crunchy peanut butter if you desire. However, the cookies might have trouble sticking together as well after baking due to the chunks of peanuts. All in all, it's not terrible, but not the best choice if decorating the cookies.
I can't find Reese's Frankcups - You should be able to find Frankencups at most grocery stores or wherever Reese's are sold. However, if by some chance they're not being carried in a store near you, you can grab them off Amazon, HERE!
Tips for using the drawing gel - I took the gel from the tube it came in and added it to a frosting bag and used my own tip. Much easier to handle this way.
My Reese's cups are ugly - If the chocolate peels off the side of the cup onto the wrapper, you can always use some melted green chocolate to cover it up with a spoon. If not, I wouldn't worry too much as the eyes and drawing will cover up a good portion of it.
Common Questions About Frankenstein Peanut Butter Cookies
Why Are My Peanut Butter Cookies Dry?
Peanut butter cookies can easily get dried out if they're cooked too long. The trick to a delicious peanut butter cookie is to pull it out while it still looks soft in the oven. Once it cools a bit, it settles and is a normal cookie. However, if you leave the cookies in the oven until they look crispy, they will turn out very dry. You can also end up with a dry Frankenstein Peanut Butter Cookie if you don't have enough moisture in your batter. Be sure to follow the recipe closely.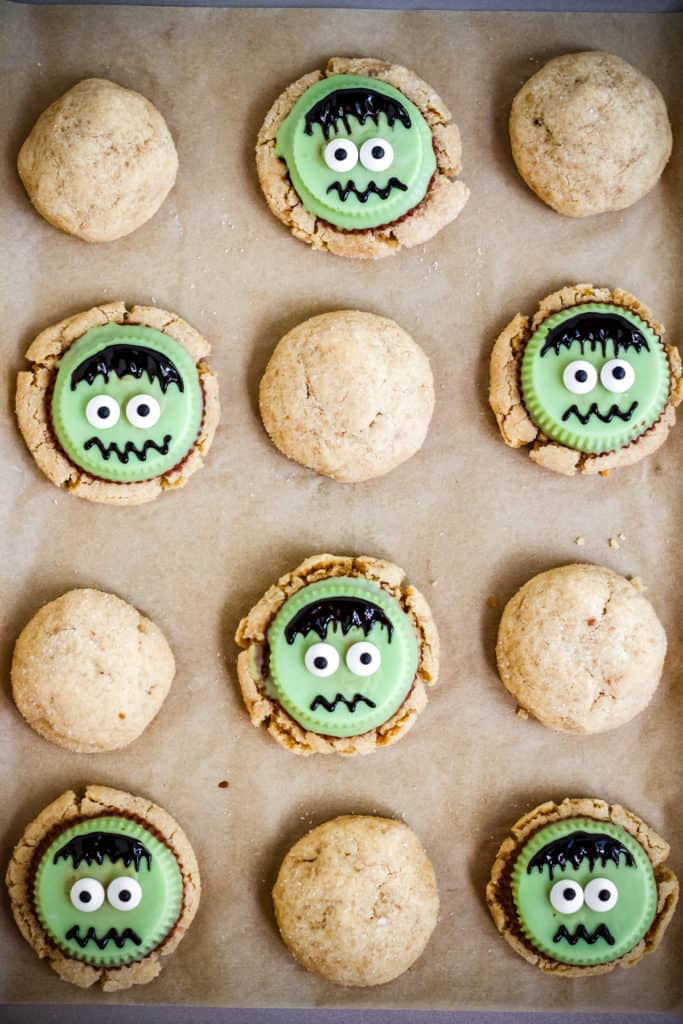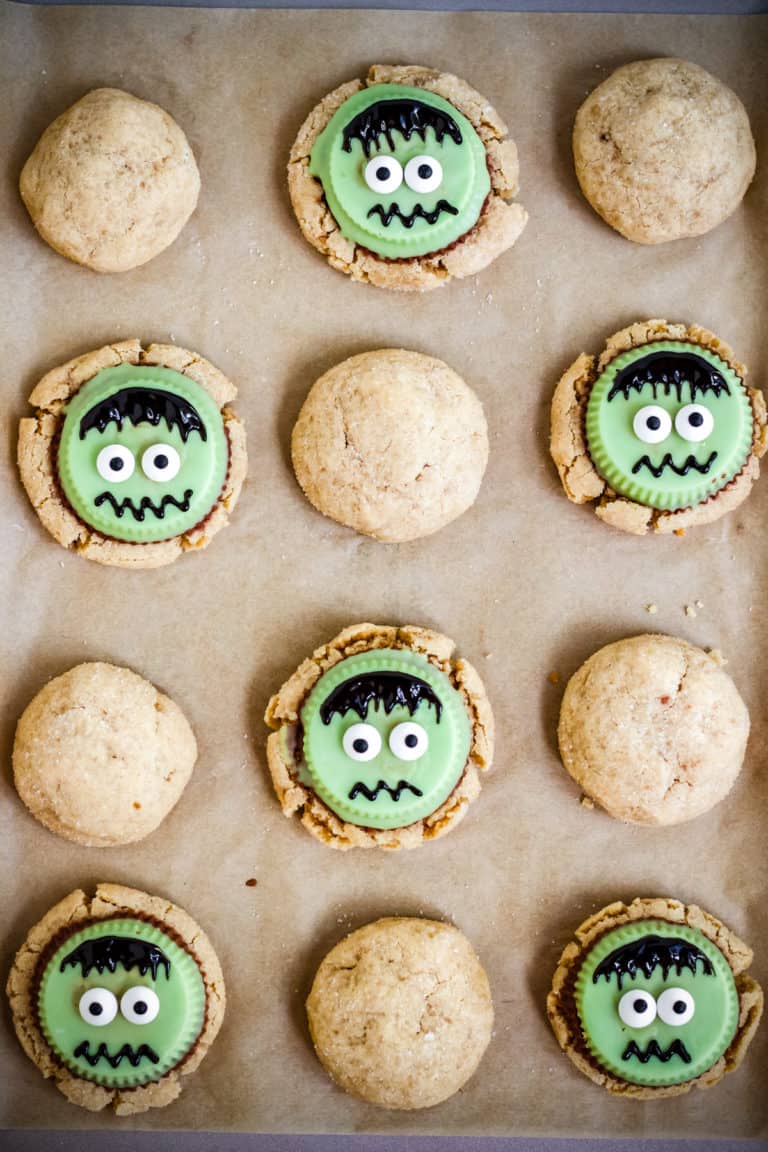 If you loved these Frankenstein Peanut Butter Cookies, let me know in the comments below or on social media @theseasidebaker!
Other Cookie Recipes You'll Love: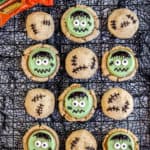 Frankenstein Peanut Butter Cookies
Slap some adorable and silly into your fall baking with these Frankenstein Peanut Butter Cookies! Simple and no decorating skills required!
Keyword:
frankenstein cookies, halloween cookie recipe
Ingredients
1

cup

creamy peanut butter

½

cup

unsalted butter

softened

½

cup

granulated white sugar

½

cup

brown sugar

1

large egg

1

teaspoon

vanilla extract

1 ½

cups

all-purpose flour

1

teaspoon

baking powder

½

teaspoon

salt

Additional ¼ cup sugar for rolling dough
Instructions
Place the Reese's Frankcups in the refrigerator to help cleanly remove from the wax paper and also minimize the melting process.

Preheat the oven to 375 degrees and prepare a baking sheet by lining with parchment paper. Set aside.

In a large bowl, use an electric mixer to blend the peanut butter, butter, white sugar and brown sugar together until light and fluffy.

Add the egg and vanilla and continue mixing until well combined.

Add the flour, baking powder and salt. Mix until everything is well incorporated.

Using a large cookie scoop, form 24 dough balls.

Roll each dough ball in granulated sugar and place on the cookie sheet, evenly apart.

Bake for 8-10 minutes or until the bottoms start to turn light golden brown. Do not overcook.

Meanwhile, carefully unwrap the reese's from the fridge being careful when removing the wax paper cup.

When the cookies are done baking, press the reese's brown side down into the cup.

Place in the fridge to minimize melting.

Use the black writing gel to draw frankenstein's face and gently press the candy eyeballs into the chocolate to complete the cookies.