Thank you Farm Rich and Litehouse for sponsoring this post. All opinions are 100% my own.
This delicious Cheesy Meatball Crescent Ring is a great appetizer or after school snack. It only takes 5 ingredients and little effort to toss it together. Savory meatballs and soft crescent rolls come together to make one unforgettable recipe.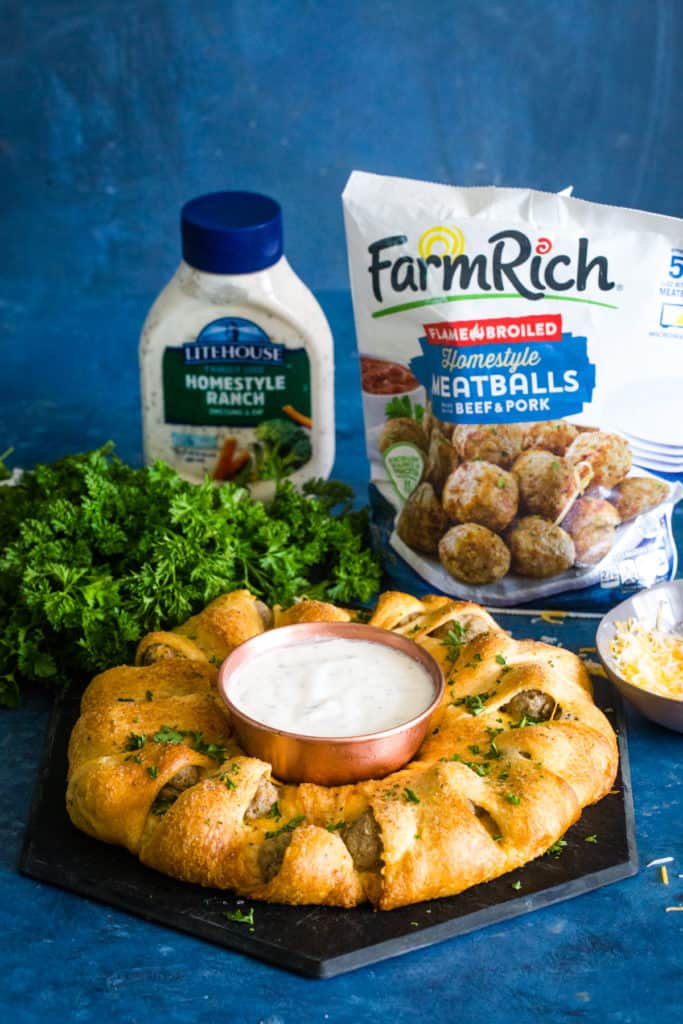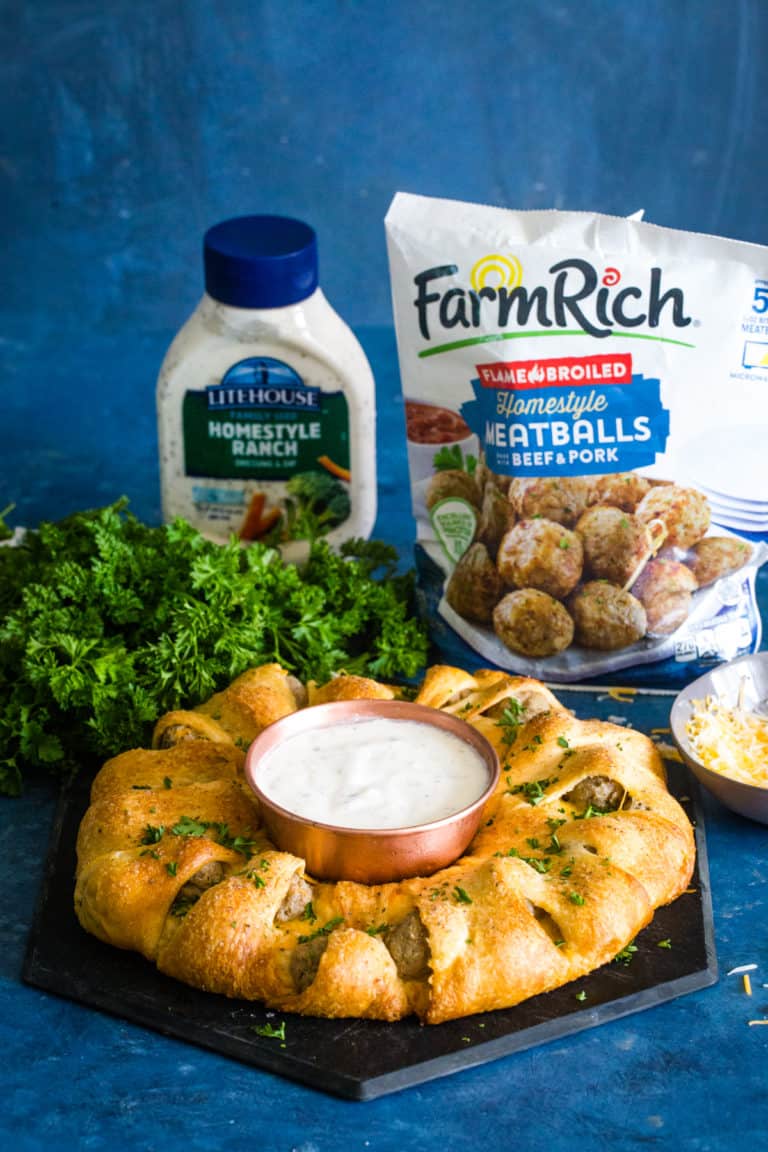 I have a few brands my kids and I obsess over and Farm Rich is definitely one of them. My freezer wouldn't be fully stocked without Farm Rich! They're one of America's favorite frozen snack and app brands with a full array of delicious and wholesome products. My favorite part is how many nutrients and wholesome ingredients are packed into their convenient products. For example, their Homestyle Meatballs pack in 11 grams of protein per serving. Not to mention, they're made of a combination of savory pork and beef. You can order Farm Rich Meatballs online or grab them at the grocery store in the freezer section. (There's a product locator at FarmRich.com.)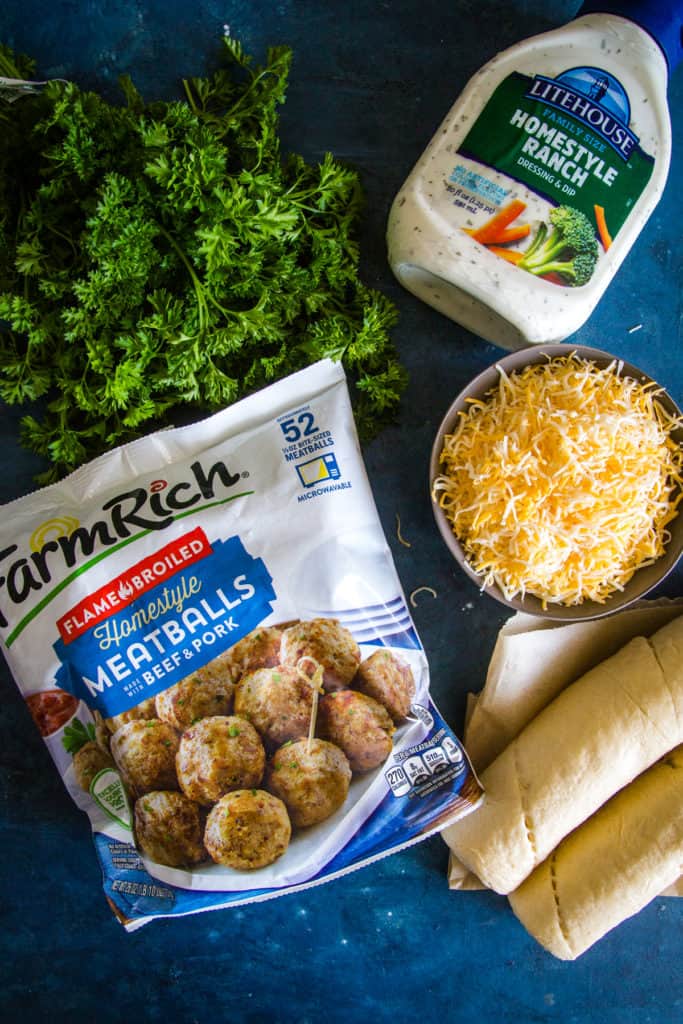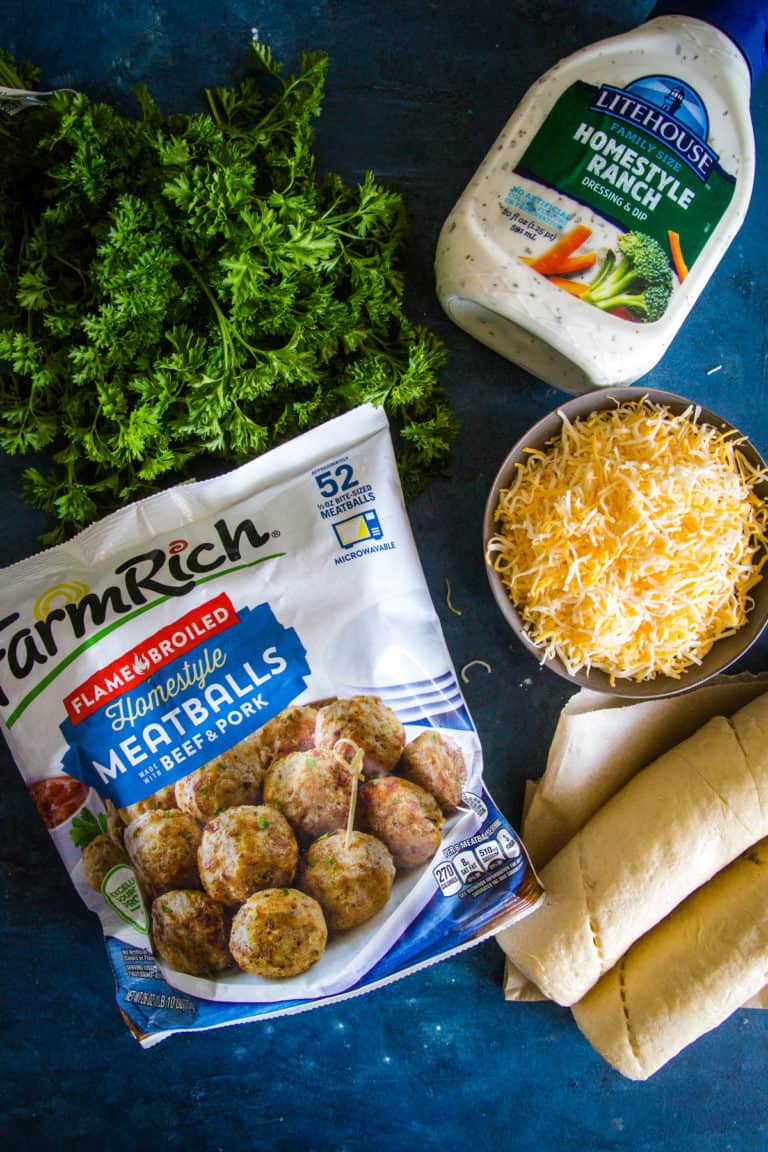 When my kids come home after school, it's always snack time without fail. So, I have to be prepared. Of course, let's not forget that it's vital to have plenty of ranch dressing on hand as well. If I get the wrong dressing, I definitely hear about it. That's why I stay stocked up on Litehouse Homestyle Ranch Dressing. We use the 20oz. Family Size Homestyle Ranch Dressing in a convenient squeeze bottle, perfect for quick weeknight dinners and snacks. Litehouse Homestyle Ranch is made with a delicious combination of fresh herb and vegetable flavors that pair perfectly with salad (like this Bacon Pea Salad) and for topping off kid-friendly favorites like heirloom tomato pizza, fries, tacos, and more (find where to buy here)! Alright, on to the best part - how to make one of the best meatball recipes!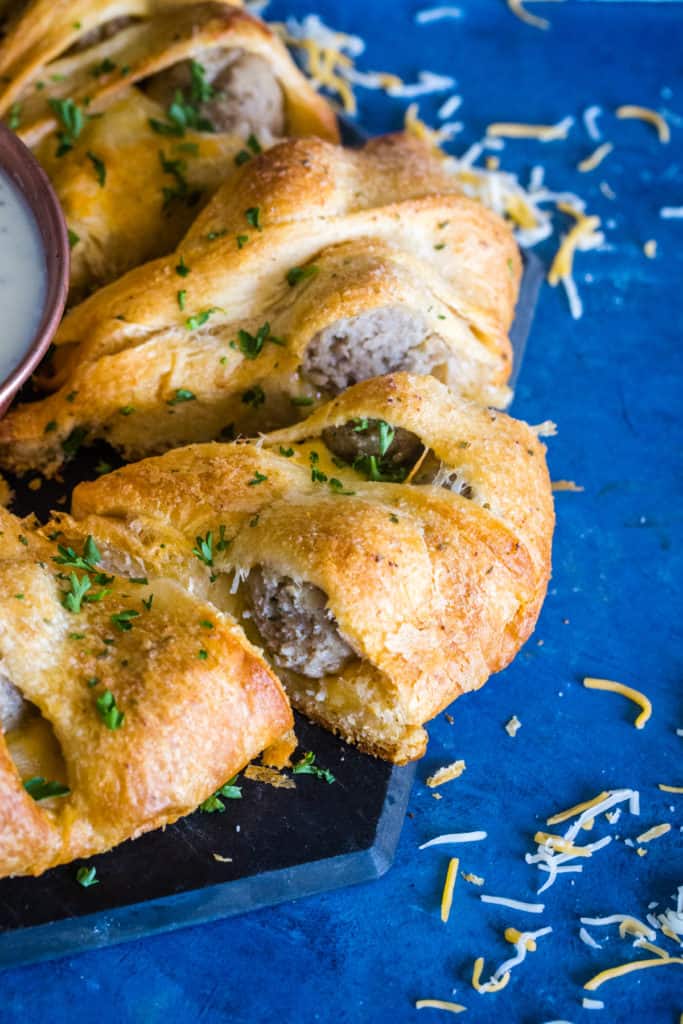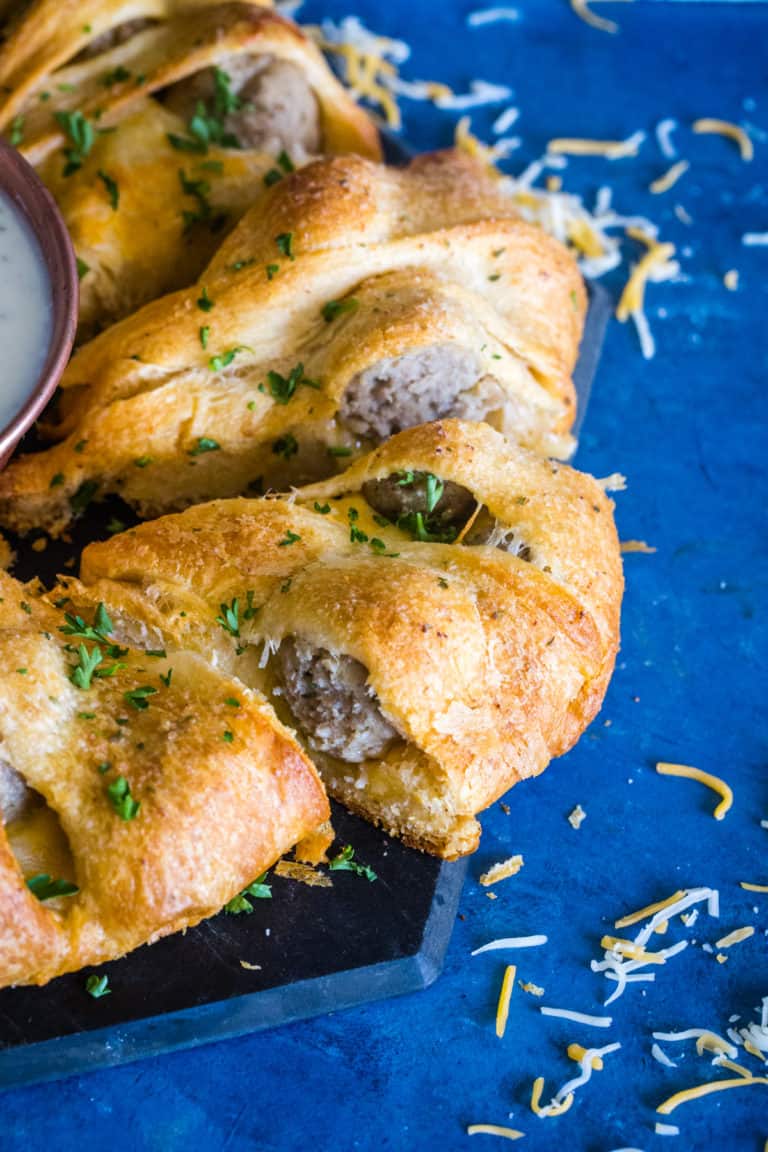 How to Make Cheesy Meatball Crescent Ring
Prep - Preheat the oven to 350 degrees. Line a baking sheet with foil. Place a small bowl in the middle of the sheet.2. Make the ring - Arrange the crescent dough around the bowl. Sprinkle with cheese and top with meatballs. Fold in the tips of the crescent triangles. 3. Bake - Brush the ring with butter and sprinkle with garlic powder. Bake for 20-25 minutes.4. Serve - Let cool for 5 minutes. Slice, serve, and fill the center bowl with Litehouse Homestyle Ranch Dressing.
Tips and Variations
Other dipping sauces - You can add other sauces on the side, such as marinara sauce or garlic butter.
Use other cheeses - You can mix and match the shredded cheese you use to suit your preferences.
Make your own crescent dough - If you have some extra time and prefer to make your own crescent dough, go right ahead! I'm always a big fan of the homemade options.
Storage - Store in a sealed container in the fridge for up to 3 days. I wouldn't suggest freezing this as the crescent dough doesn't come out the best.
Reheating - Reheat using the microwave.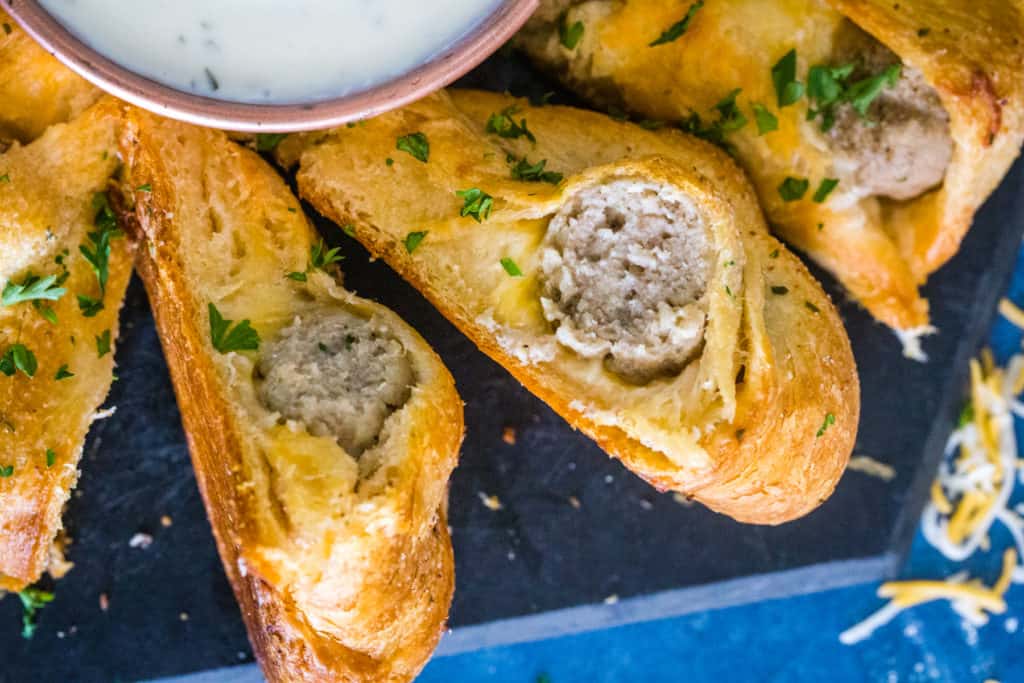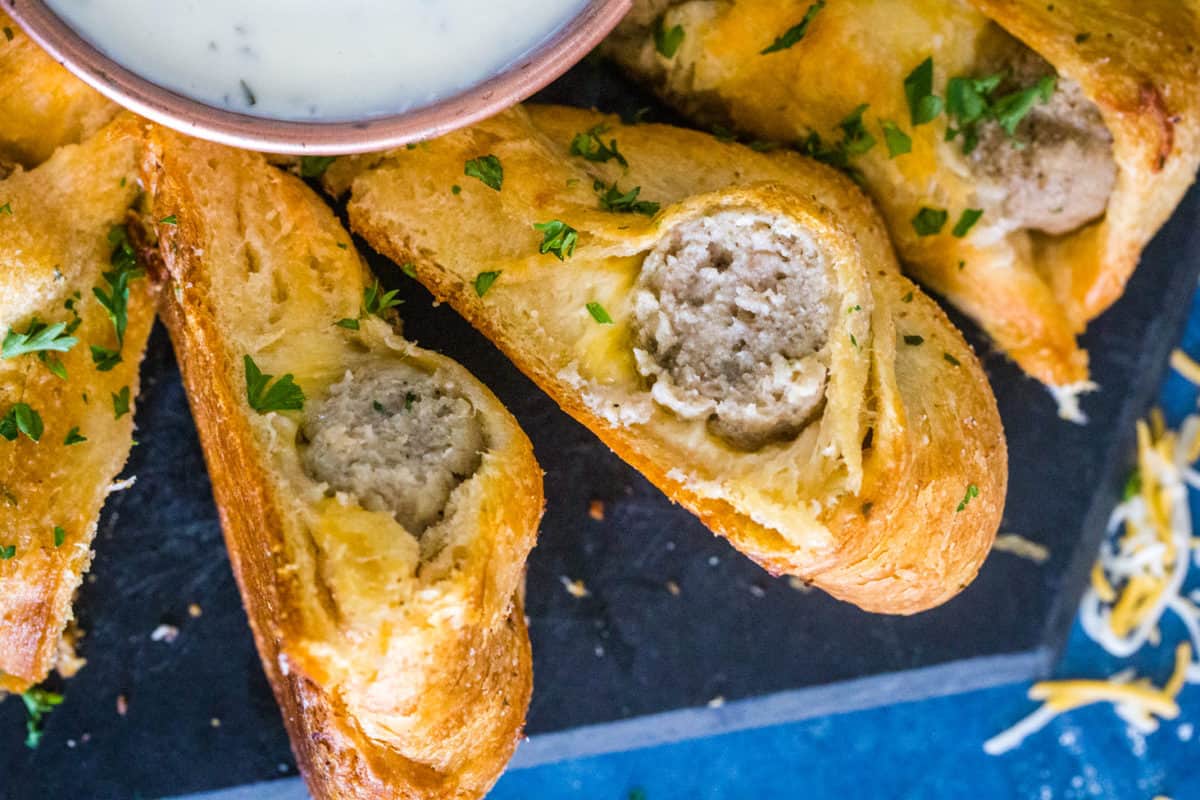 Common Questions About Cheesy Meatball Crescent Ring
Is it Better to Bake or Fry Meatballs?
This all depends on the type of recipe you're making. For crescent roll appetizers I like to go with the baking method. However, other recipes might taste better with the fried option. For example, I like to fry the meatballs for spaghetti or even subs. You will get a different texture to the meatball and this will be based on how you choose to cook it. Honestly, baking or frying the meatball is almost always interchangeable. However, sometimes it's easier to bake and other times it's easier to fry. Again, it all depends on the recipe and is up to you.
If you loved this Cheesy Meatball Crescent Ring, let me know in the comments below or on social media!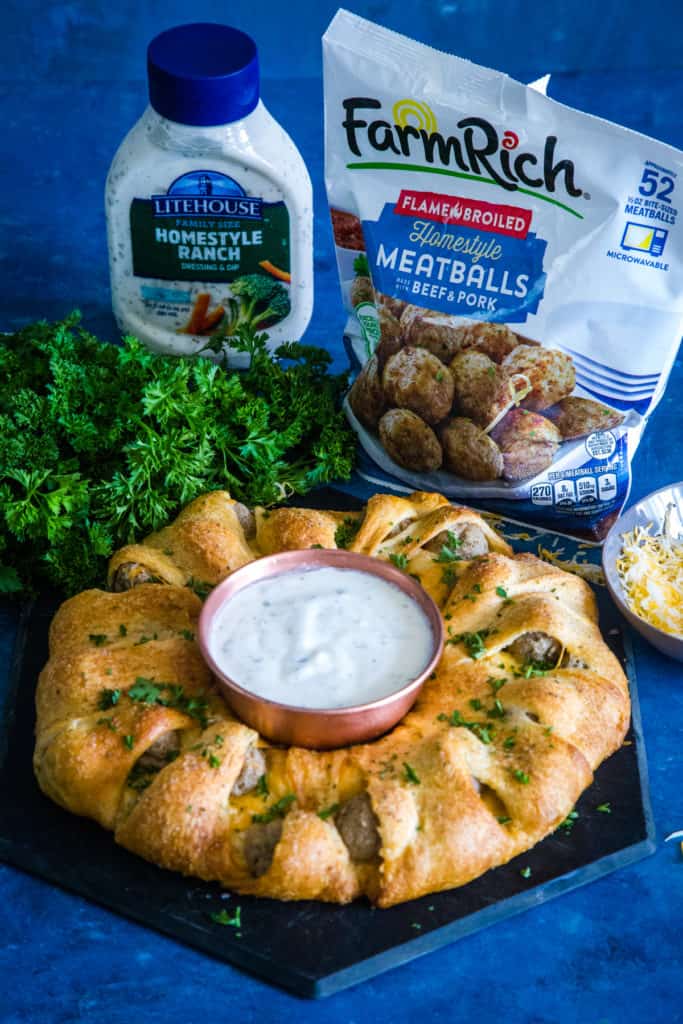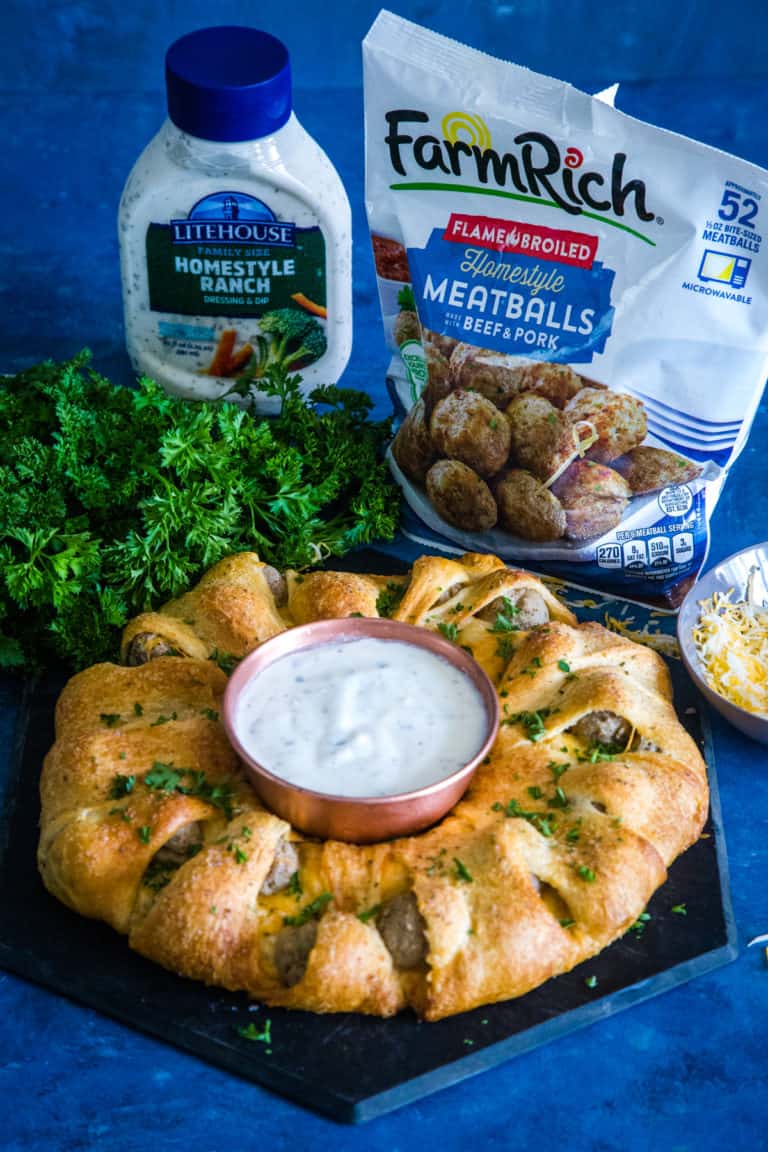 Other Snack Recipes You'll Love: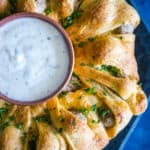 Cheesy Meatball Crescent Ring
A buttery crust with a cheesy meatlball filling makes this appetizer a delicious treat!
Keyword:
after school snacks, meatball appetizers
Ingredients
2

cans refrigerated crescent rolls

1

cup

shredded cheddar cheese

1

bag Farm Rich Homestyle Meatballs

1

tablespoon

unsalted butter

melted

1

teaspoon

garlic powder

Litehouse Ranch 20oz Family Size Homestyle Ranch Dressing

for dipping

Chopped parsley

for garnish
Instructions
Preheat oven to 350 degrees. Line a large cookie sheet with foil or parchment paper.

In the center of the cookie sheet, place a small bowl or cup.

Arrange crescent dough triangles overlapping around the bowl.

Sprinkle cheese over inner base ring, and top with a layer of frozen meatballs.

Bring each triangle tip up and over the filling, tucking it under bottom layer of dough to secure it.

On ungreased large cookie sheet, arrange crescent dough triangles in ring so short sides of triangles form a 6-inch circle in center. Dough will overlap.

Bring each triangle tip up over filling, tucking it under bottom layer of dough to secure it.

Brush dough with melted butter and sprinkle with garlic powder.

Bake for 20-25 minutes or until ring turns a golden brown.

Allow to cool for about 5 minutes before slicing. Sprinkle with chopped parsley.

Place a bowl of Litehouse Homestyle Ranch Dressing in the center of the ring for dipping.