This poison apple Halloween cocktail is a wickedly delicious way to celebrate the spooky season. Electric green and the perfect balance of sweet and sour, it's ideal for a single serving or as a punch at your Halloween party.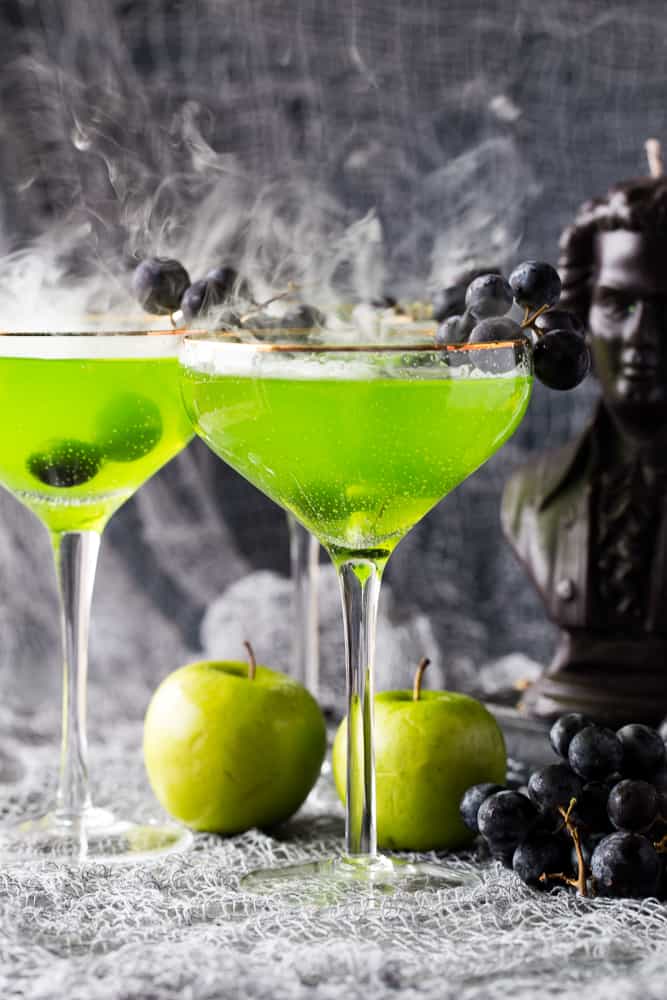 Who says kids should have all the fun? Once the costumes are made, decorations done, and trick or treating complete, us adults are SO deserving of a drink or two. And boy, do I have the perfect drink. Inspired by an apple martini - appletini – this poison apple Halloween cocktail recipe is sweet yet sour with a vodka base.
If you're entertaining adults this Halloween season, it is a super quick and easy way to impress without the stress. This is because you can whip up a batch of these Halloween Cocktails ahead of time and serve as a party punch for your grown-up party guests. Or shake up a single serve as a well-deserved treat once your costume designing/candy testing/décor designing duties are done and sit back and watch scary movies.
While some holiday cocktails call for exotic ingredients that have you hunting around the grocery store, I've kept these green Halloween drinks simple with just three ingredients. First, you'll need vodka for your boozy base, followed by Sour Apple Schnapps and Sour Apple Mixer. Then you simply shake it with ice for a chilled, delicious drink inspired by the forbidden fruit.
The possibilities are then endless for how you serve this spooky tipple. For a witchy twist serve up a large batch in a witch's cauldron or experiment with glassware such as beakers or test tubes. You can also play around with garnish and coloring for an added eerie effect.
Beware however that this emerald liquid is often described as dangerously good. The perfect balance of sweet yet tart, it is easy to forget it even contains alcohol. If you'd prefer to keep it PG you could opt for Poison Apple Mocktails by combining apple cider or apple juice, cranberry juice and lemon-lime soda or sparkling water. Equally delicious but a lot less likely to encourage those embarrassing Thriller dance moves.
For other popular Halloween cocktail recipes, check out our Black Raven's Blackberry Rum Drink, Witch's Brew Halloween Vodka Cocktail, or our Cranberry Orange Hard Lemonade.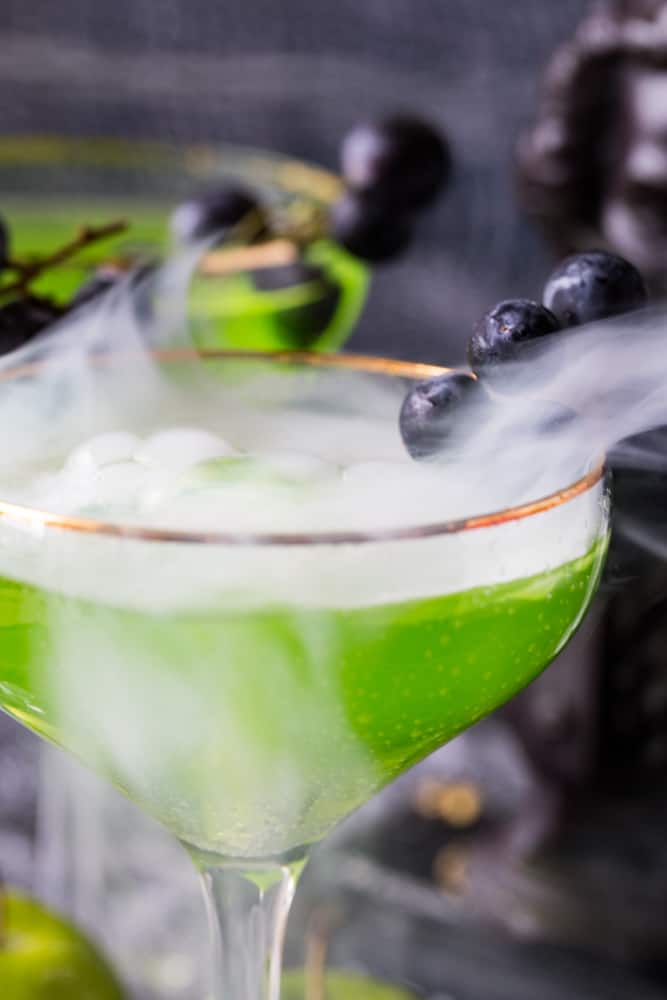 WHY WE LOVE THIS POISON APPLE HALLOWEEN COCKTAIL
Perfect for parties – I've purposely kept this recipe super simple, to limit any additional stress when party prepping. You can make it in just a few minutes without the extra fuss of rimming your glasses or fancy garnishes. It can also be made ahead and served when your guests arrive so you spend less time playing bartender, and more time partying. It's the perfect signature cocktail.
Forbidden flavor – There's nothing worse than a cocktail that looks the part but tastes substandard. With a cocktail this green, you expect a flavor that packs a punch. Fear not, this drink definitely needs a disclaimer as it's so delicious your guests will be slurping them up in no time.
Only 3 ingredients – I can't be the only one who doesn't have time for those complicated cocktail recipes that ask for an entire bar's worth of ingredients. This poison apple Halloween cocktail only requires three ingredients plus a little ice. Simple but effective.
Not just for the spooky season – Who says green cocktails should only be sipped on Halloween? Whip these up for St Patrick's day celebrations or even as a Grinch-inspired Christmas aperitif.
POISON APPLE DRINK INGREDIENTS/SHOPPING LIST
Vodka- If you want extra apple flavor, try an apple vodka. If vodka is not your thing, Crown Royal Apple would work too.
Sour Apple Schnapp Liqueur
Sour Apple Mixer
Ice for shaking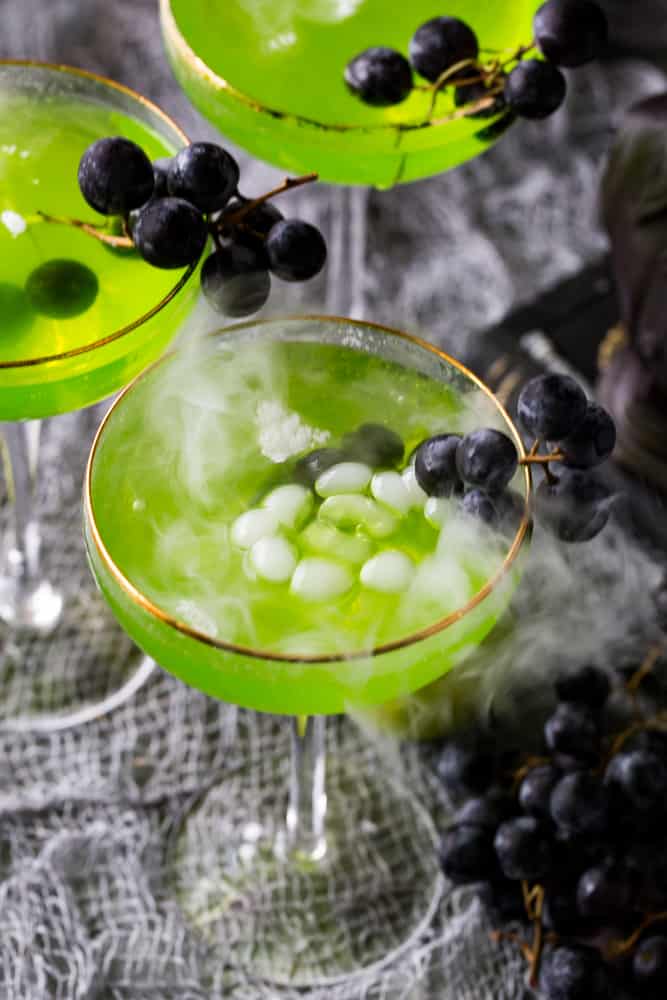 SUBSTITUTIONS AND ADDITIONS
Experiment with Color – Although I love this gruesome green Halloween drink, you can customize the color of this cocktail to match your party theme. For example, turn this cocktail blood red by adding pomegranate juice or cranberry juice. You could even add a drop of black or purple food color if you have some to hand. For extra coloring, add a few drops of neon green food coloring.
Switch up the alcohol – If you'd prefer to swap the vodka for whiskey, this will give the drink a darker hue as well as a deep, smoky flavor. Alternatively, try white rum instead of vodka if you'd prefer. Either way, this festive Halloween cocktail will be delicious!
Mocktail idea - For those seeking a non-alcoholic alternative, you can easily make Poison Apple Mocktails by combining apple cider, cranberry juice and lemon-lime soda or sparkling water. You could also try my Vampire apple pie milkshakes which are just as spooktacular.
Candy Apple Twist – For ultimate fall vibes, give this cocktail a candy apple twist by adding butterscotch schnapps or by switching regular vodka for salted caramel vodka.
Balance the Sweet and Sour – If you find this cocktail too dry or tart, you could also add a touch of lemon juice or simple syrup. Note, if you do add lemon juice this may make your cocktail a little cloudy.
Garnish – You can skip the garnish and let the green do all the talking or feel free to get creative. Frozen fruit on a cocktail stick (such as blueberries or grapes work great as they'll soak up the alcohol providing a tipsy treat when you've finished your drink. Or opt for the more traditional garnish like a Lemon twist or Apple slice. If adding an apple slice, make sure to dip it in lemon juice beforehand. This will avoid the garnish going brown when exposed to oxygen.
Extra Drama – A little dry ice would also be an epic addition to help present this poison apple Halloween cocktail.
RECOMMENDED TOOLS TO MAKE THIS RECIPE
Cocktail shaker
Jigger (alcohol measure)
Strainer
Martini glass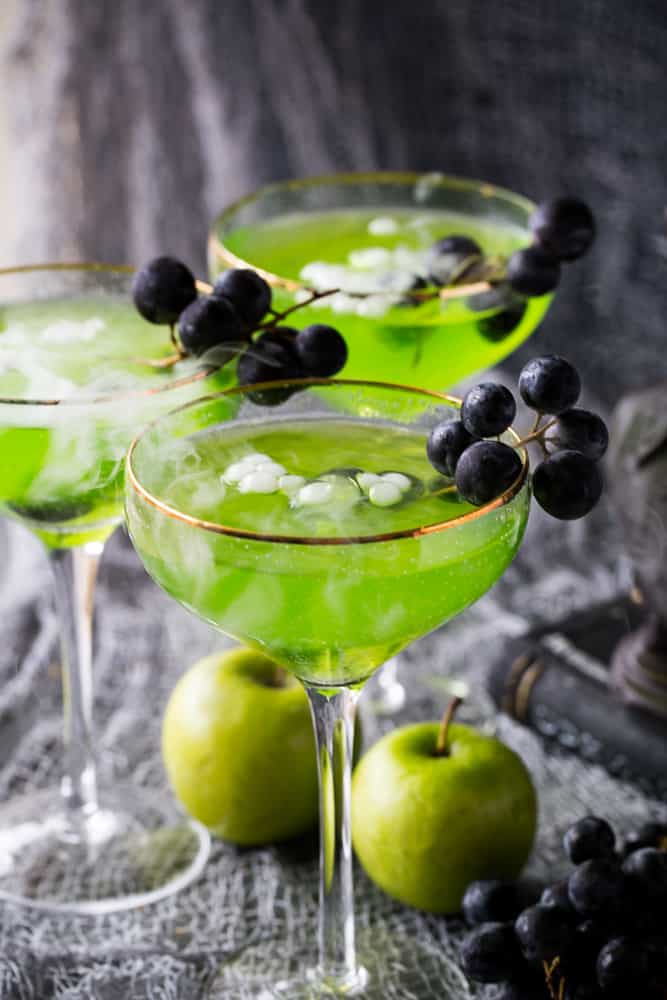 HOW TO MAKE THIS POISON APPLE HALLOWEEN COCKTAIL
You don't need to be a cocktail connoisseur to nail this recipe. Simply add the ingredients and ice to a cocktail shaker, shake then strain to serve. With a cocktail this easy to make AND drink your guests will request your bartending skills every Halloween so make it if you dare!
1. Combine vodka, liqueur, and mixer in a cocktail shaker.
2. Fill the cocktail shaker with ice.
3. Cover and shake for a good 30 seconds to combine.
4. Strain the drink into a serving glass.
HOW TO MAKE YOUR HALLOWEEN COCKTAIL SMOKE?
Besides the vibrant green color, what really makes this Halloween Drink, and my Halloween Vodka Cocktail stand out is that it's smokey. This is achieved by using a little chips of dry ice in the glass. You only need a small amount to get the awesome effect in each glass. Make sure you carefully (using kitchen tongs) place the ice in the glass right before serving.
If you're making this martini recipe for a crowd, place a large chunk of dry ice in the bottom of the punch bowl right before serving. Just make sure that only the adults are serving the drinks and keep the kids away to avoid them burning themselves on the ice.
POISON APPLE MARTINI TIPS
If serving as a punch – I would avoid adding ice to your punch bowl as it will melt and dilute the flavors. Instead, serve your punch alongside a bucket of ice for guests to add in a cube or two as they please.
Premium vodka – As this poison apple Halloween cocktail is vodka based, I recommend using top shelf vodka such as Grey Goose for best results. You could then also try my Halloween Vodka Cocktail next.
Too easy to drink – As there is minimal mixer, this cocktail is pretty potent and thanks to the sweetness it's only natural you'll crave more. Keep this in mind (especially if you or your guests are driving) because it's all too easy to have one too many of these delicious drinks. To make it less potent, try adding a splash of lemon mine soda or ginger ale.
Chill your glass – this is a simple tip that will take your tipple to the next level. Place your empty martini glasses in the freezer for 30 minutes before pouring in your cocktail. This will ensure your poison apple Halloween cocktail is enjoyed ice cold.
STORAGE TIPS
If you plan on making a batch ahead of time and storing it, multiply the recipe by the number of guests then decant it into a glass bottle or container with a seal. Store in the refrigerator until you are ready to serve.
If you can, I'd recommend storing it in the freezer. It won't freeze thanks to the alcohol however the cocktail will thicken a little creating an extra delicious, velvety texture that makes this drink even more irresistible.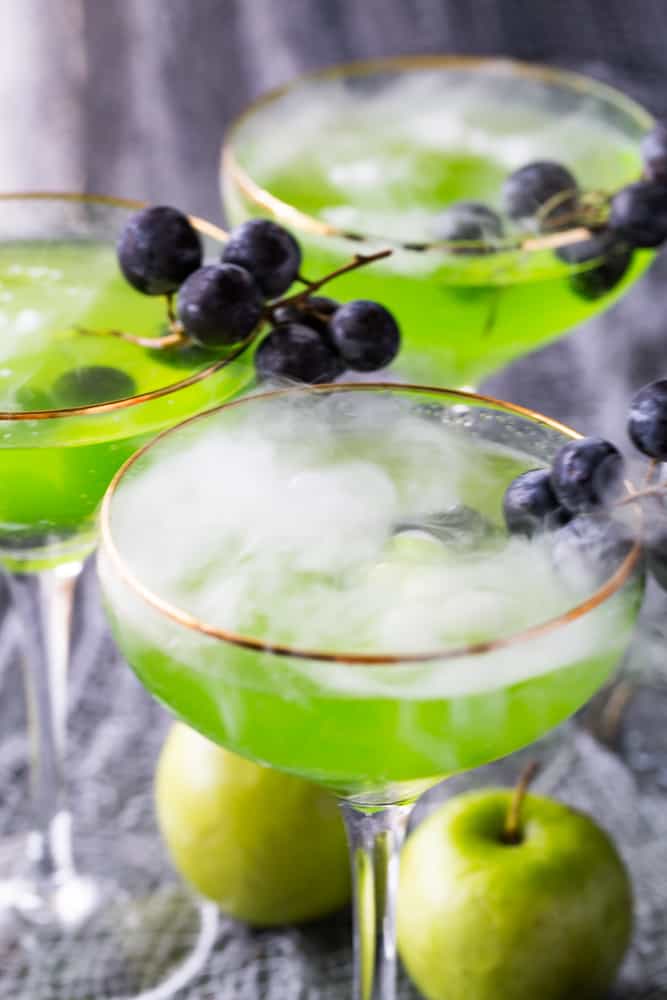 FREQUENTLY ASKED QUESTIONS
WHAT DOES THIS POISON APPLE HALLOWEEN COCKTAIL TASTE LIKE?
With a cocktail this eye-catching you want the flavor to live up to the appearance so it will pack a punch. A deliciously sweet apple, slightly tart sour apple pucker with a vodka-forward punch.
WHAT'S THE BEST WAY TO SERVE THIS POISON APPLE HALLOWEEN COCKTAIL?
While sometimes less is more, Halloween is the perfect time to get creative, so here are a few serving suggestions:
Decant into laboratory-style glassware such as beakers and test tubes for added freaky fun.
You could also core and hollow out the inside of large green apples and either insert a shot glass, or pour the cocktail directly into the apples.
Decorate your glass with dripping "blood" for extra spooky vibes. Coat the rim of your martini glasses with light corn syrup mixed with red food coloring for the perfect fake blood.
Make a large batch and serve it in a witch's cauldron (or large punch bowl) with some dry ice for extra drama.
HOW DO YOU ADD A SUGAR RIM TO A MARTINI GLASS?
It goes without saying but you need to rim the glass with sugar before you pour in your poison apple Halloween cocktail. To do this you will need a lemon or lime and some plain white sugar.
Firstly, pour the sugar onto a small plate and slice your lemon or lime. Cut a small slit in your fruit wedge then run this around the edge of your martini glass. To finish, dip the glass onto your sugar plate to coat the rim.
If you have several glasses to do, it may be easier to juice the lemon or lime into a small bowl or plate. That way you can dip the glass into the juice to save you time.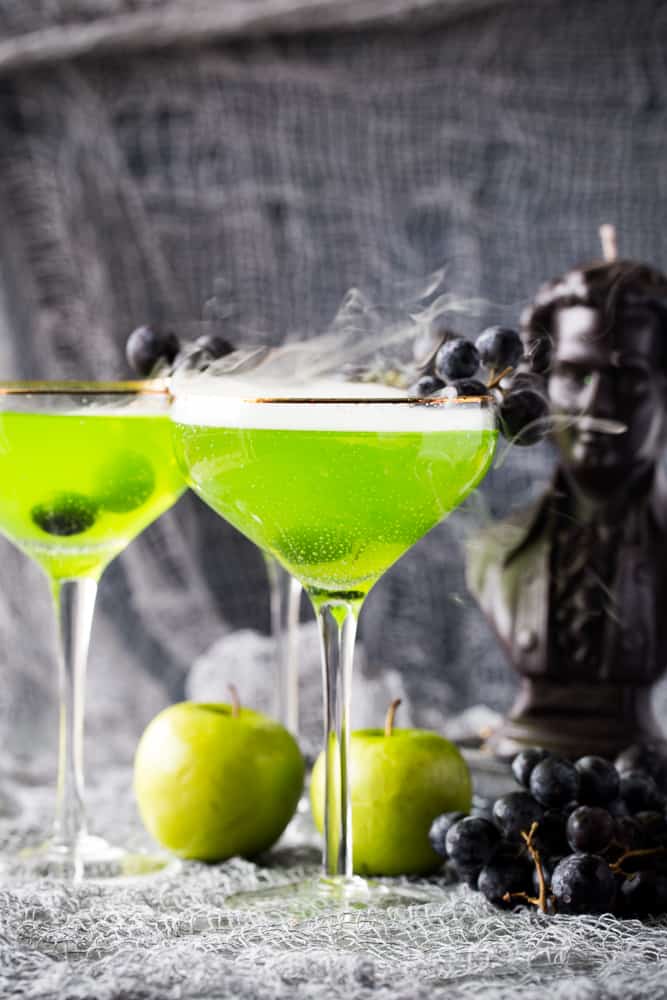 CAN YOU MAKE THIS POISON APPLE COCKTAIL FOR A CROWD?
Definitely! This recipe is for one serving so simply multiply for your number of guests. Then store it in the refrigerator to keep cold until you're ready to serve. It pairs perfectly with some spooky snacks such as Halloween Jalapeno Mummies or Halloween Face Pie Dip.
MORE HALLOWEEN TREATS YOU'LL LOVE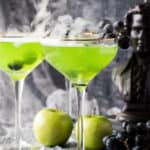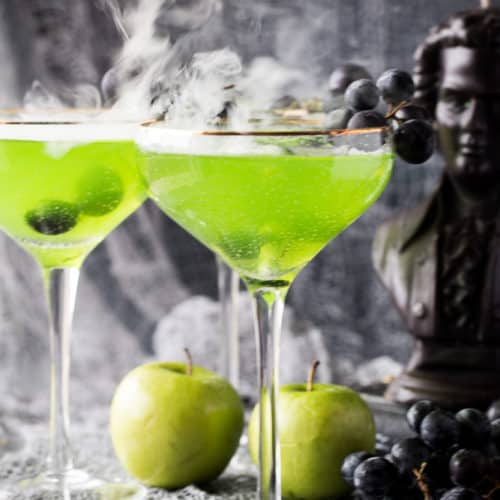 Poison Apple Halloween Cocktail
This crisp apple drink is so delicious, you don't even know there is alcohol in it!
Keyword:
halloween cocktail, sour apple martini
Ingredients
1.5

ounces

Vodka

¾

ounce

Sour Apple Schnapp Liqueur

¾

ounce

Sour Apple Mixer

Ice for shaking
Instructions
Combine vodka, liqueur, and mixer in cocktail shaker and fill with ice.

Cover and shake for a good 30 seconds.

Strain into serving glass.