Create your own Witch's Brew with this Halloween Vodka Cocktail. With a few simple ingredients and a bit of dry ice, you'll put a spell on all your guests!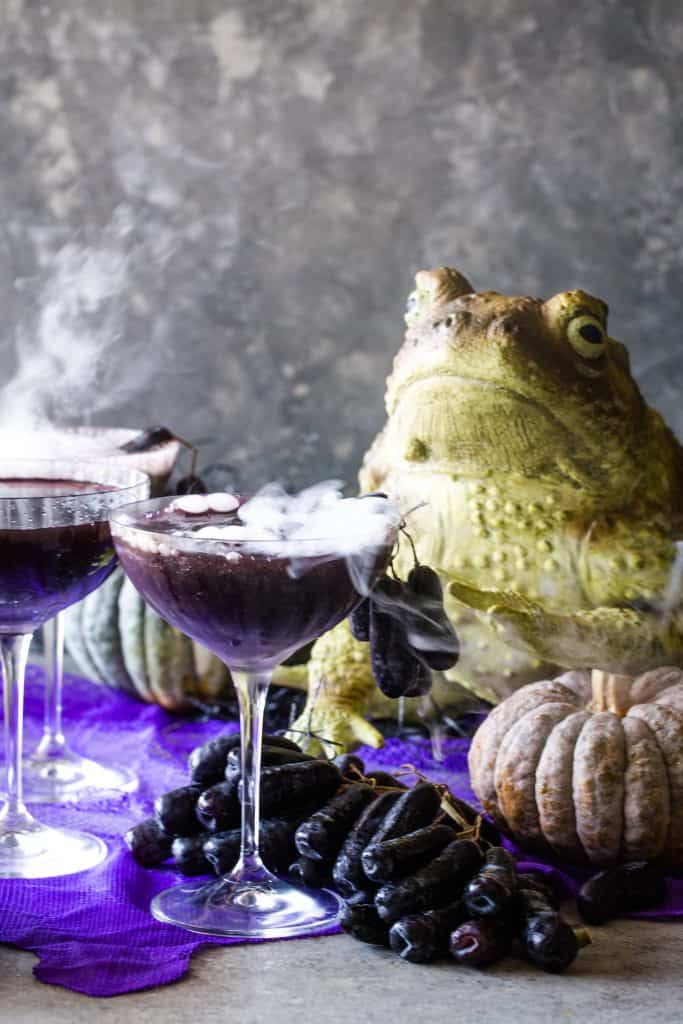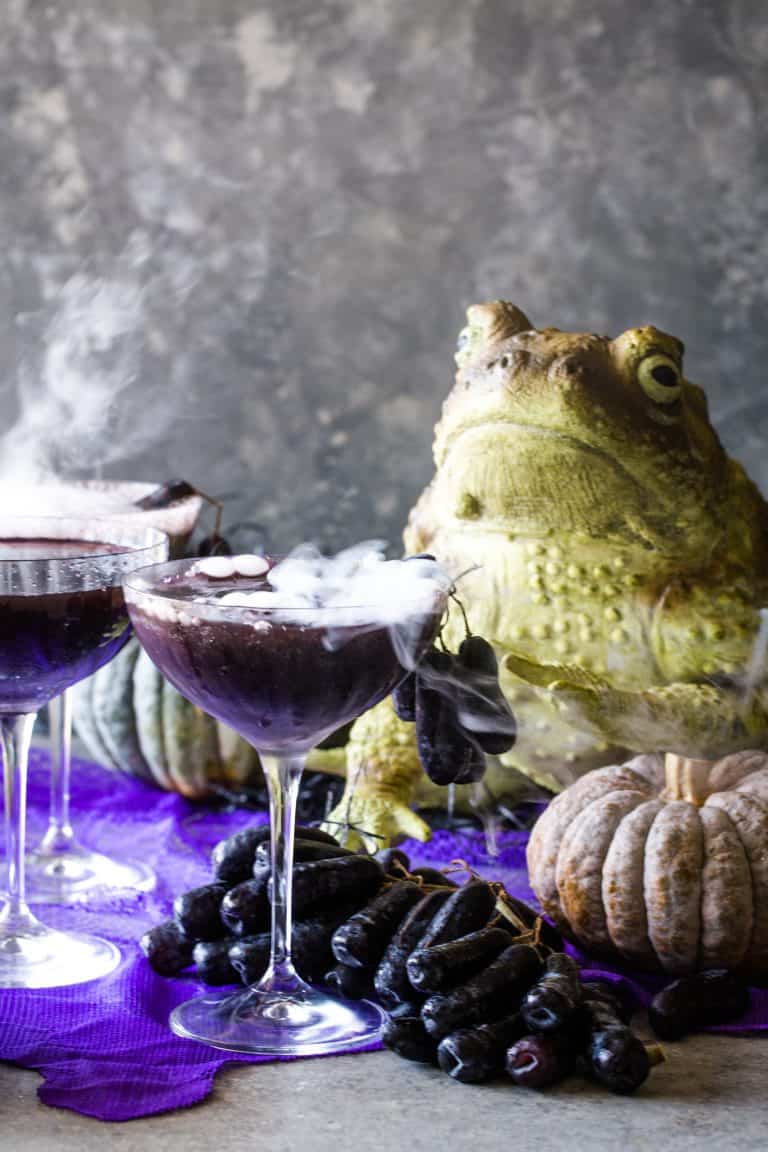 WHY WE LOVE THIS HALLOWEEN VODKA COCKTAIL
Want to be Queen Witch at your next Halloween Party? Try this Witch's Brew Cocktail. Simply add some vodka, grape or cherry juice, and sparkling water (with some edible glitter if you want to be extra schmancy), and top it off with a small cube of dry ice. The cocktail will bubble and smoke into the perfect magical brew!
This is such a fun drink to serve to friends for halloween. With its dramatic smoking and dark color, not only is this drink tasty, but it's a crowd pleaser. It's easy to turn into a punch or a non-alcoholic version by simply omitting the vodka. Make sure to make a batch at your next Halloween soiree!
If you're looking for more Halloween Entertaining ideas, make sure to check out our Edgar Allen Poe Party, Spooky Deviled Eggs, Halloween Face Pie Dip, and Monster Halloween Cake to name a few. Seriously we have so many Halloween posts here on The Seaside Baker!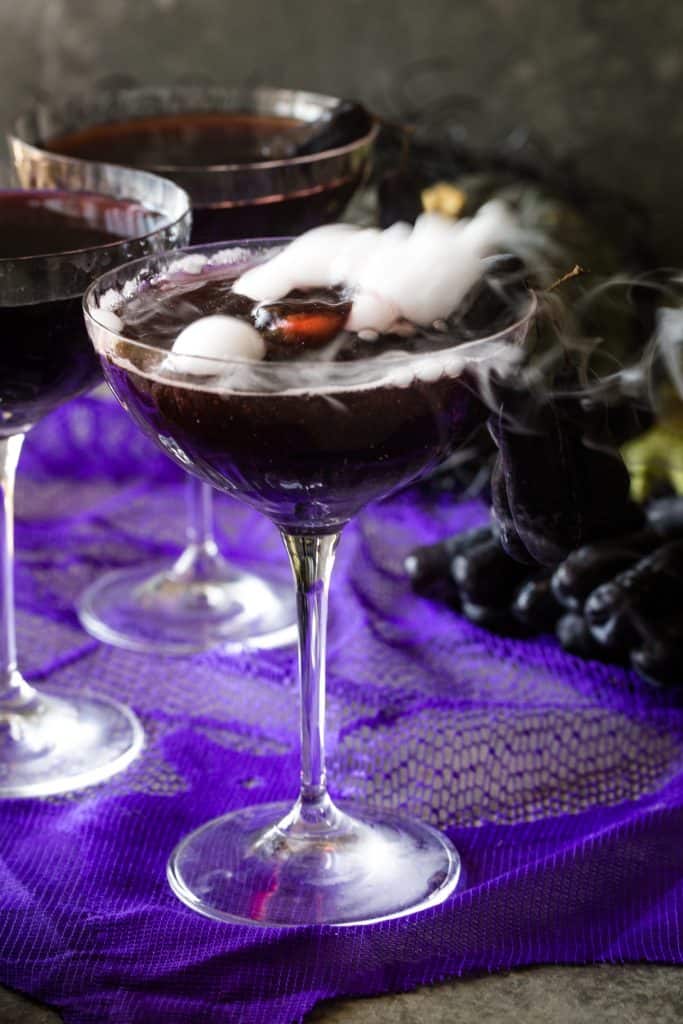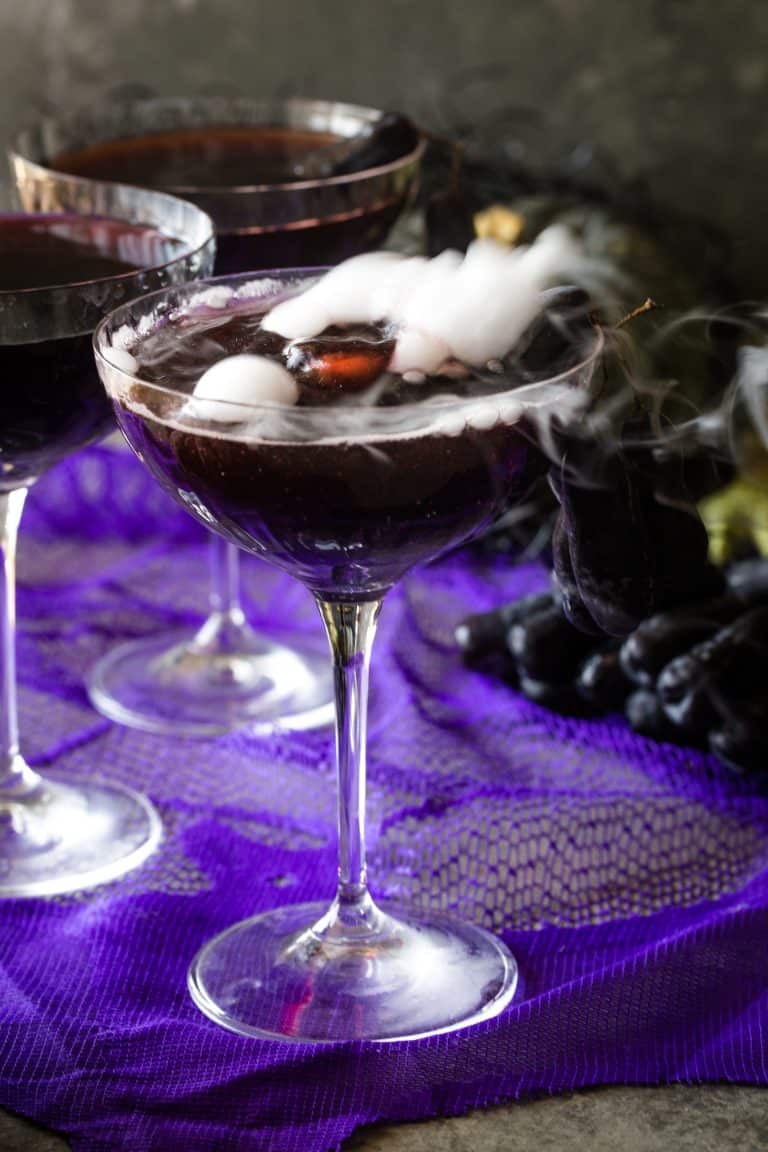 INGREDIENTS/SHOPPING LIST
Vodka- I recommend Titos vodka, but any vodka would work.

Black cherry juice

Lime juice- fresh is always better

Sweet and sour

Sparkling Ice Black Cherry- you can also use club soda, or a flavored seltzer.

Dry Ice

Grapes- grapes are in season right now so you can find the really funky looking grapes. The grapes I used in the photos were called moon grapes. Champagne grapes would look great too.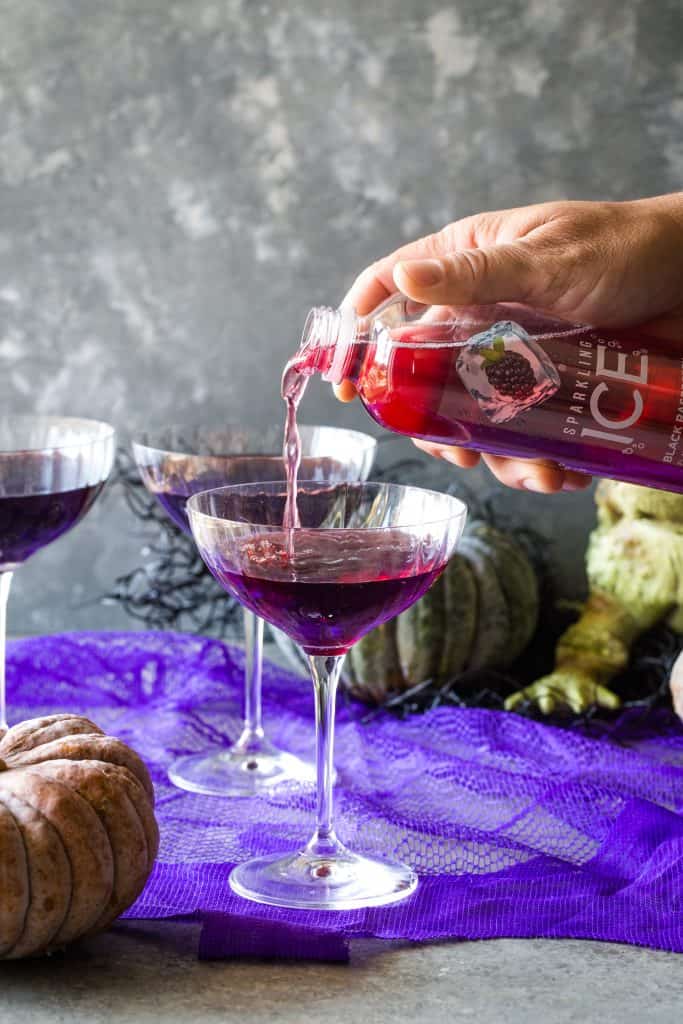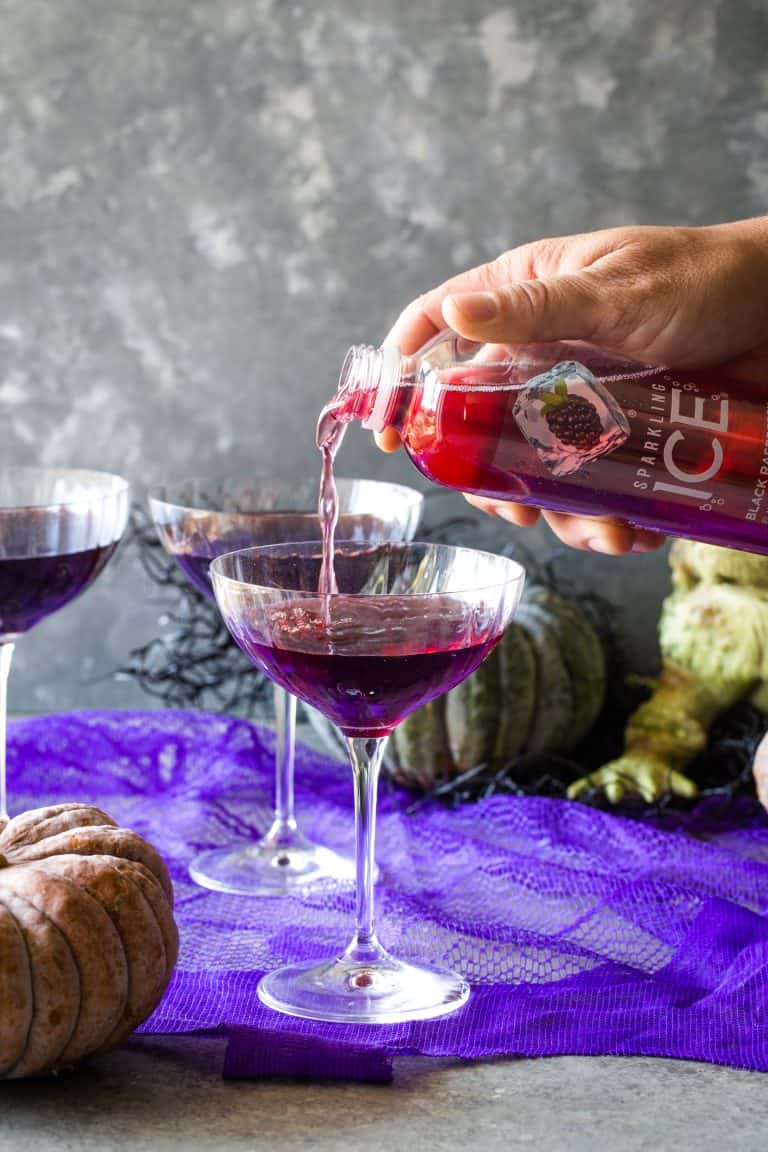 SUBSTITUTIONS AND ADDITIONS
If you are not a fan of vodka, Gin would also work as a substitute. Cherry Vodka or Black Vodka are also great substitutes!
You can use grape juice in place of the cherry juice.
To make this cocktail a mocktail, simply omit the alcohol.
To really glam up the cocktail, use edible glitter in the drink!
For a little more oomph, rim the edges of the glass with lime then sip in black or purple sanding sugar.
To make this for a crowd, multiple the recipe by 5 and pour into a large punch bowl. That will serve 20 people.
RECOMMENDED TOOLS TO MAKE THIS RECIPE
Cocktail shaker
Shot Glass
Lime juicer
Martini Glasses for serving
Tongs and kitchen towel for handling the dry ice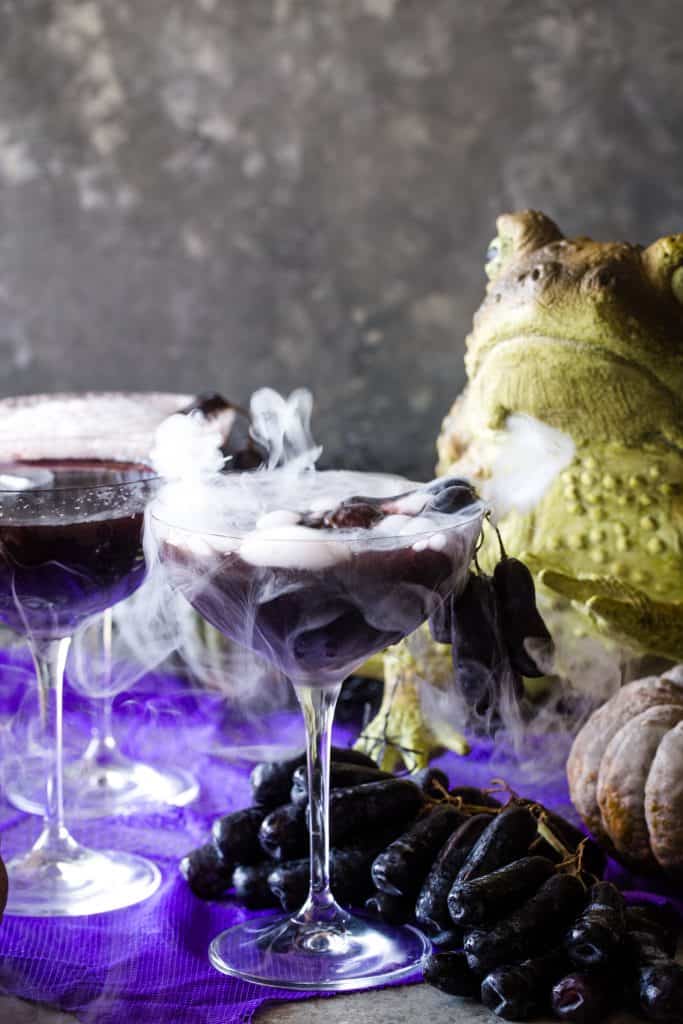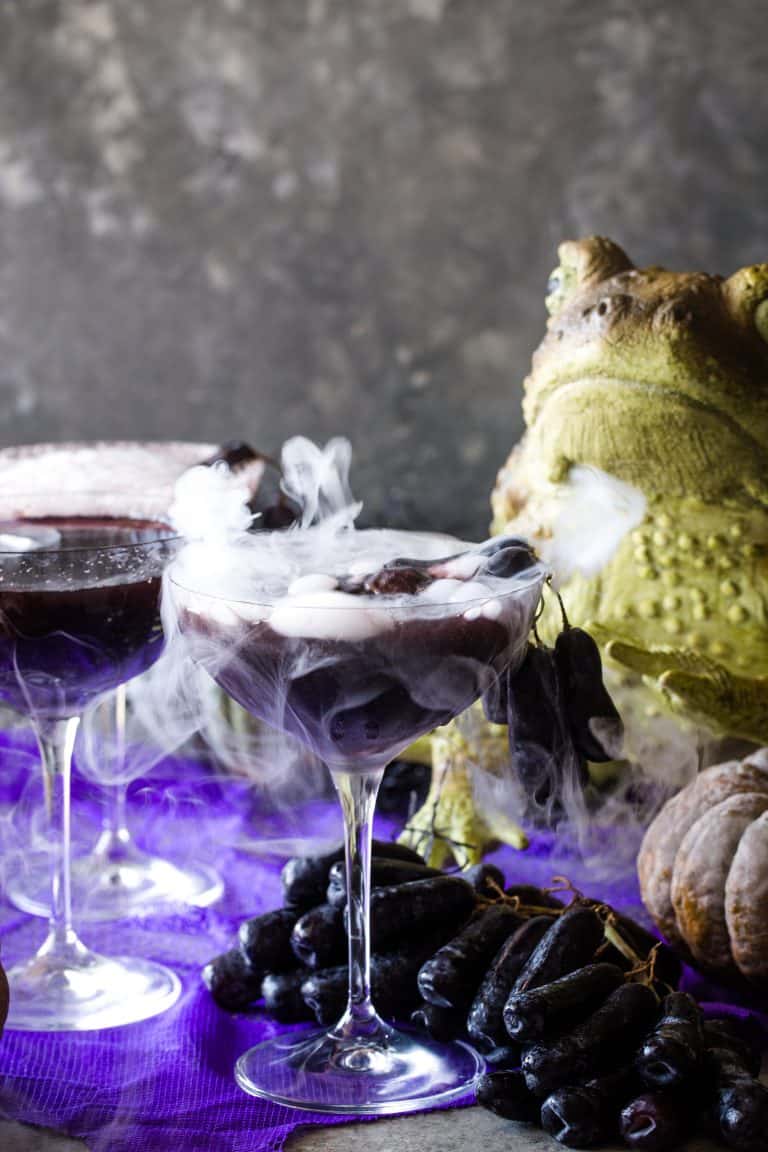 HOW TO MAKE HALLOWEEN VODKA COCKTAILS
Combine vodka, cherry juice, lime juice and sweet and sour in a shaker with ice; shake to combine.

Strain into 8-ounce glasses top with sparkling ice or club soda.

Using the proper tools, break off a small piece of dry ice and place it into the filled glass.

Garnish with grapes and serve.
DRY ICE FAQS
Dry ice is the perfect component to foggy cauldrons and spooky drinks, but needs to be handled correctly and safely. Bellow are my tips on safely using dry ice.
WHAT IS DRY ICE?
Dry ice is the solid form of carbon dioxide. Carbon dioxide gas turns to a solid and can be shaped into blocks when temperature dip below -110ºF. When the "ice" is exposed to higher temperatures the solid carbon dioxide sublimates, and changes directly from a solid to a gas, without going through the liquid phase like traditional ice melting– hence the term "dry ice." When carbon dioxide is placed into a liquid, that vaporization process is more visible- which is why you see the smoke like effects in the drinks.
For home purposes, dry ice is usually used to keep things very cold, or for adding to drinks. It carbonates liquids, and in the process, produces extremely cool looking smoke and bubbles in the liquid. When using carbonated beverage, it bubbles and boils. That's why we use it here!
We also buy a large block when we go camping. Combined with regular ice, it will keep your items chilled in the cooler for days. Just make sure the kids don't have access to it!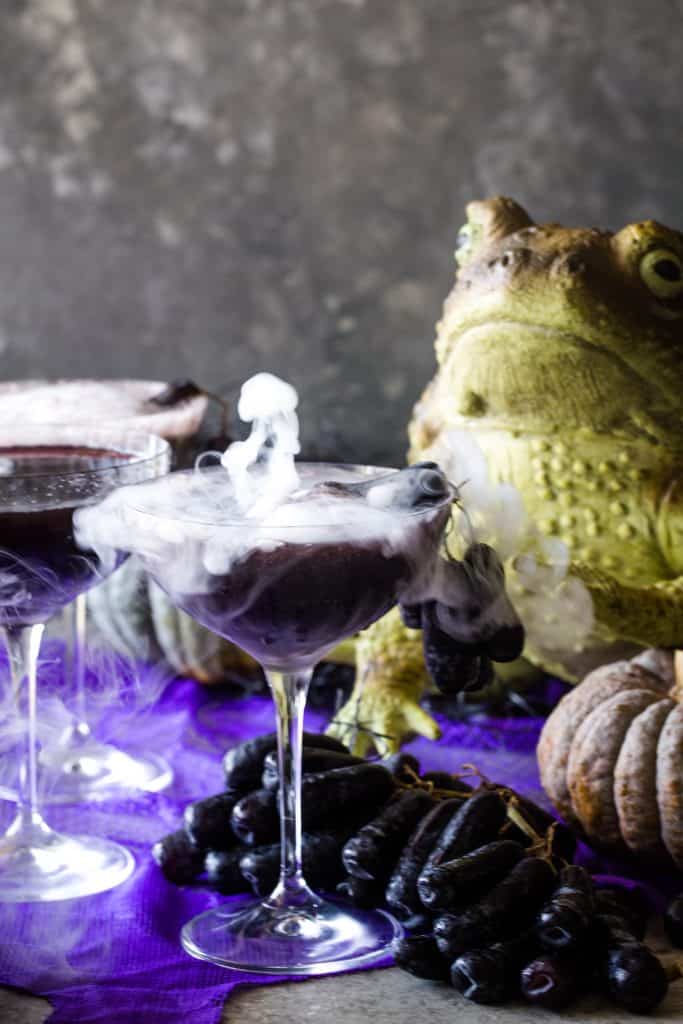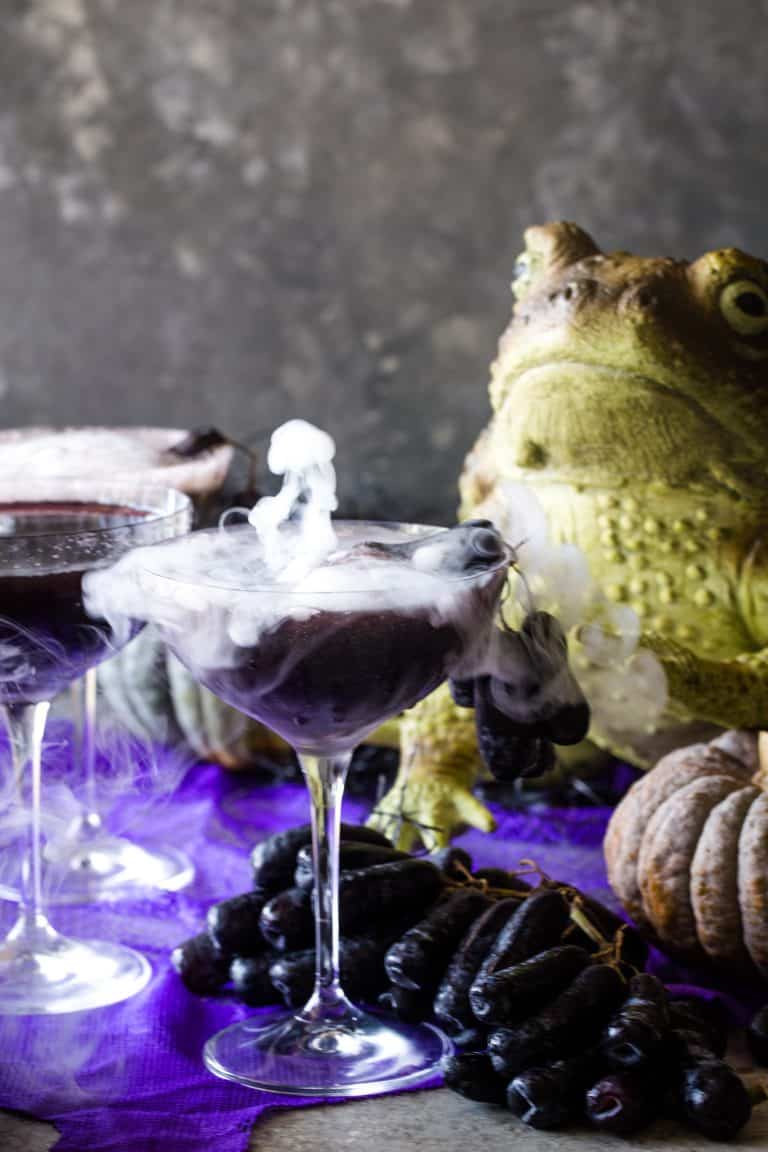 WHERE CAN YOU FIND DRY ICE?
I typically find my dry ice at Albertsons. You can go here to find it near you. It is usually in a locked freezer near the front of the store. You need to ask a store employee to bag it for you. Alternatively you can ask the butcher if they have some in the back. They will bag it for you as well.
Dry ice is sold by weight and will usually cost between $2.50-$3.50 per pound. To make individual cocktails, a one pound block will make 8-10 cocktails. Keep in mind, you only want a small piece to go into the glasses. For a larger batch, such as a punch, a 2-3 pound block will last around 90 minutes.
When using dry ice for cocktails, you want to purchase it as close to serving as possible, because it will evaporate. Store in freezer or cooler until ready to use.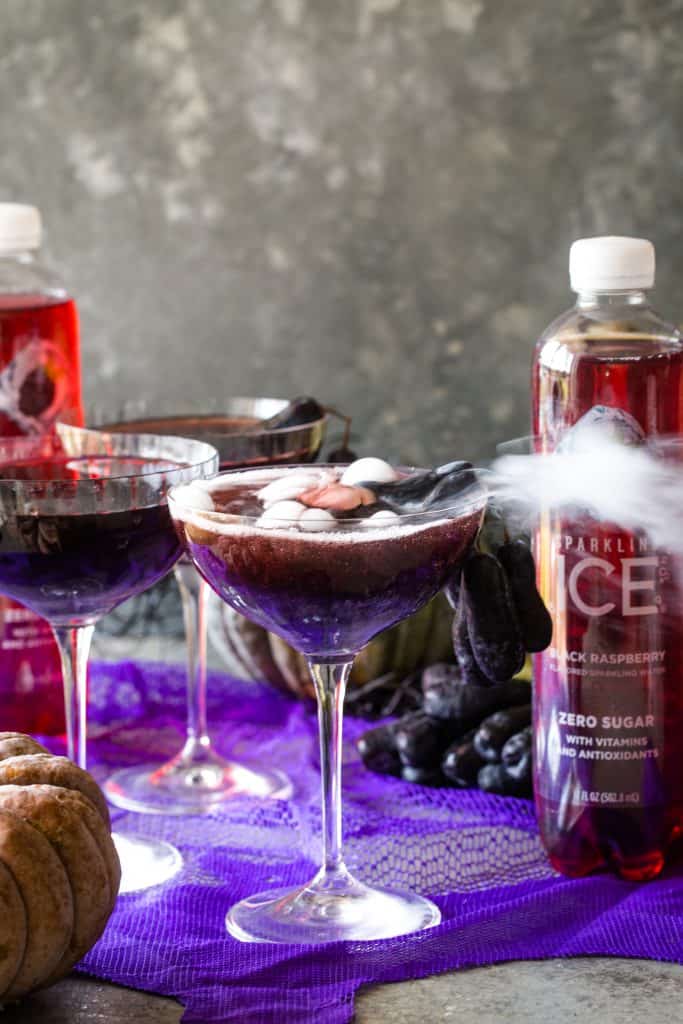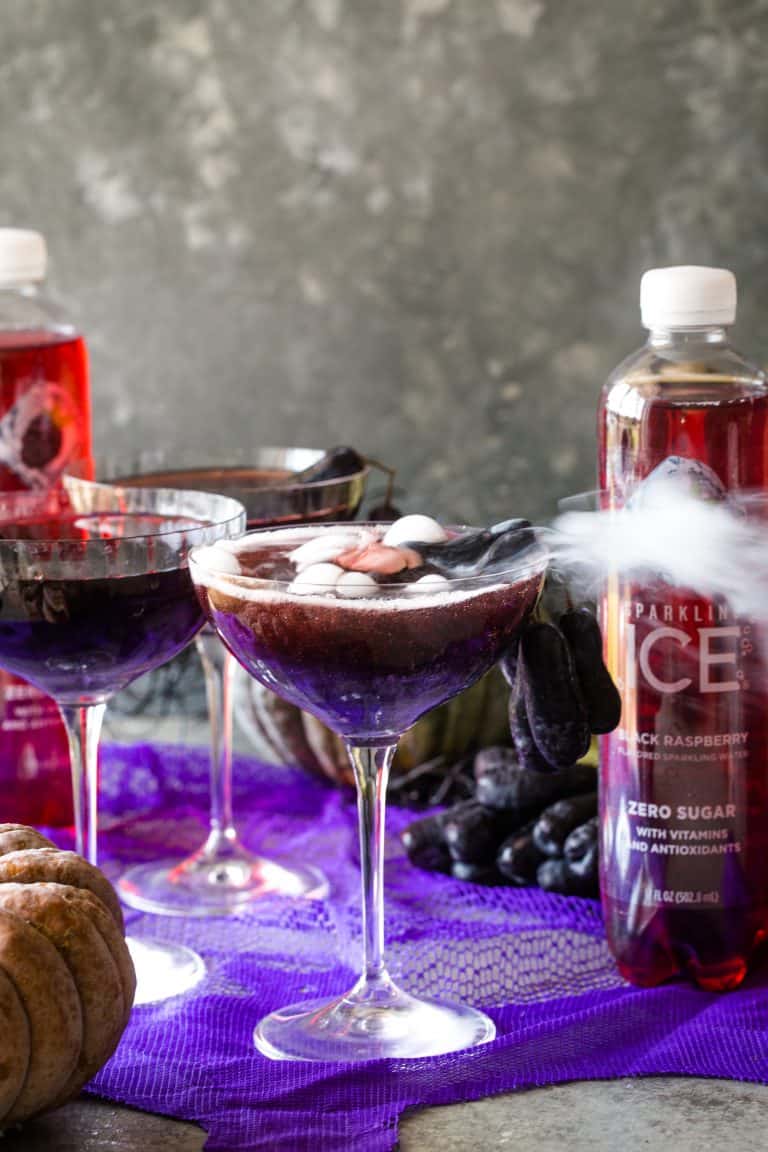 HOW DO YOU HANDLE DRY ICE?
Because dry ice is so cold, it needs to be handled very very carefully otherwise it could cause sever frostbite. Setting a barrier between your bare hands and the ice is essential. Kitchen towel, tongs, and gloves are good items to safely work with dry ice.
There are two ways to prepare the dry ice for cocktails, depending on the size block you purchase. A one-by-one inch cube is the perfect amount for a standard cocktail. For a smaller block you wrap a towel around the handle of the bag (make sure the bag is closed) and crush it on a cement walkway (as you would to break up a bag of ice). For larger blocks, line the bag of dry ice with a towel. Using a hammer and screw driver, gently tap on the ice until it breaks apart. Using tongs, drop into the prepared cocktails right before serving. To use a larger block for a punch bowl, carefully place 2-3 pound block into punch bowl using gloves or tongs.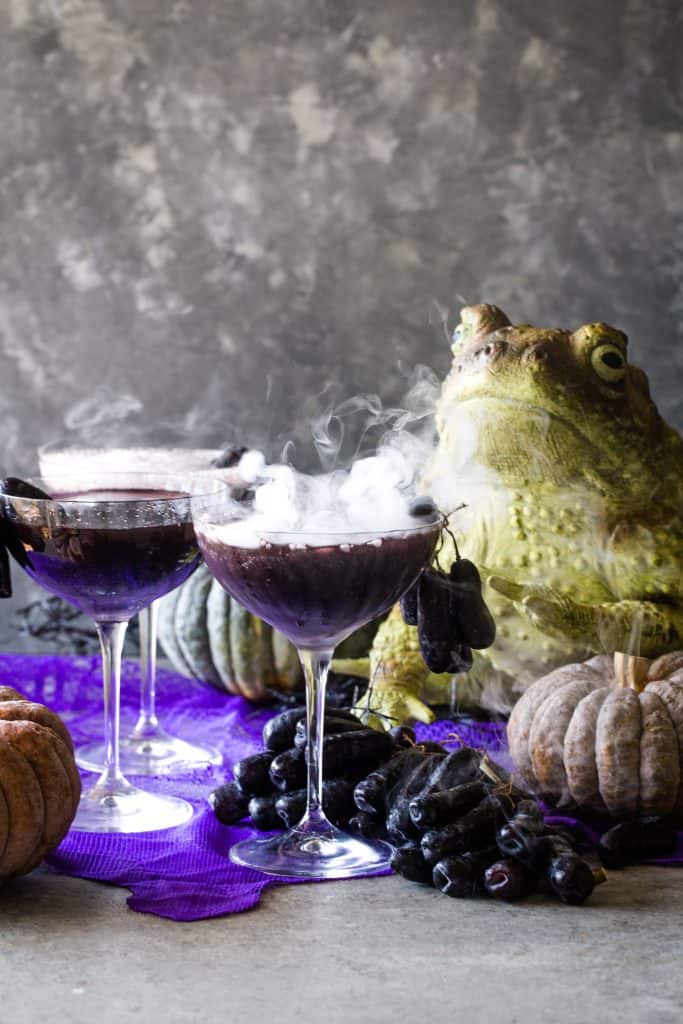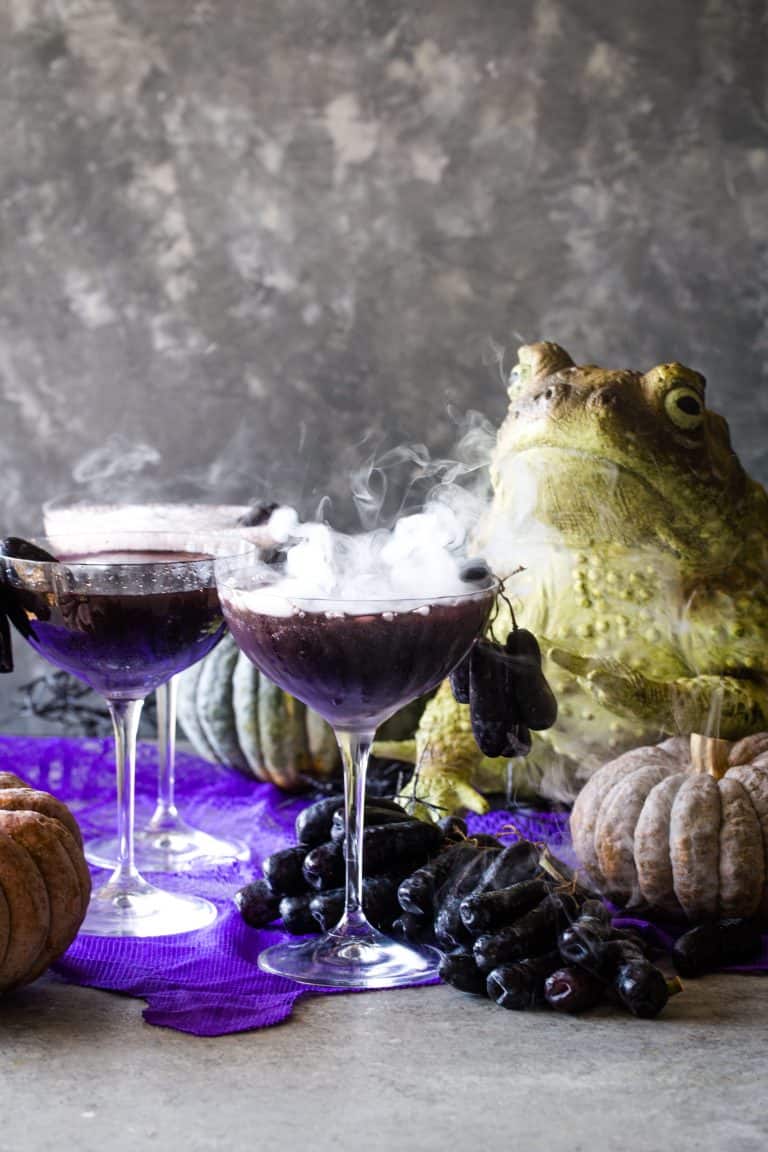 Be sure to tell your guests not to swallow or eat the dry ice. In a cocktail glass, it should dissolve within 5 minutes, however in a punch bowl it will be a bit longer and the ice typically sinks and stays at bottom of the glass. Using a large block in the punch bowl will insure that no one gets a piece in their glass. Make sure to always have adult supervision around the dry ice.
Please feel free to share your experience with making these Halloween Vodka Cocktails in the comments below or on social media!
More Halloween Cocktails You're Sure to Love: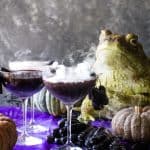 Halloween Cherry Vodka Cocktail
The perfect witches brew to put a spell on all your guests
Keyword:
halloween cocktail, halloween vodka drink
Ingredients
6

ounces

vodka

6

ounces

black cherry juice

3

ounces

lime juice

2

ounces

sweet and sour

4

ounces

Sparkling Ice Black Cherry

or club soda

¼

pound

dry ice

Grapes

for garnish
Instructions
Combine vodka, cherry juice, lime juice and sweet and sour in a shaker with ice; shake to combine.

Strain into 8-ounce glasses top with sparkling ice or club soda.

Using the proper tools, break off a small piece of dry ice and place it into the filled glass.

Garnish with grapes and serve.