Mix things up a bit and give these Whole Wheat Chocolate Cookies a try! These cookies are perfectly chewy with a light crisp on the outside. Plenty of decadent chocolate to please any chocolate lover.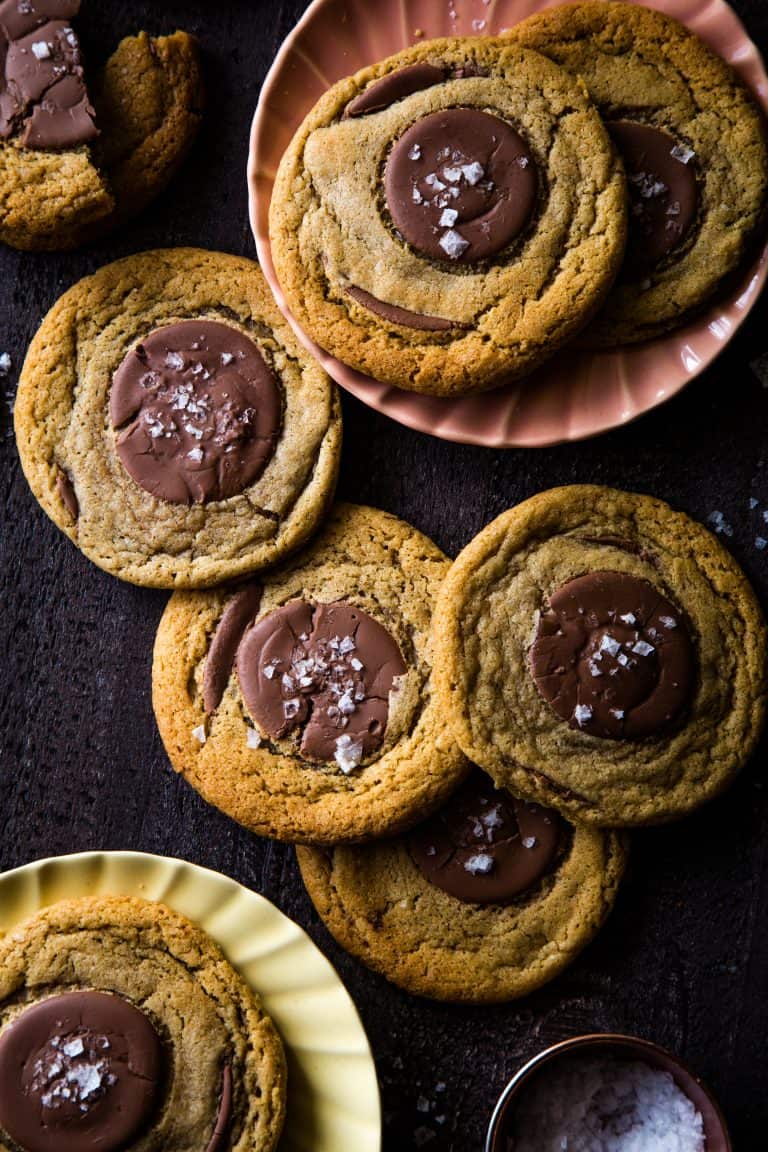 Ok, I know you're probably thinking, "I bet these are dense." If you've not tried whole wheat options in your baking, you will be surprised to find that these don't taste any different. In my opinion, they taste exactly the same, just maybe a touch healthier.
Which, of course, it's a chocolate chip cookie, so there's only so much you can do with that, as far as healthier goes. Unless you start taking out a bunch of ingredients, but I didn't want to do that. Whole wheat flour is healthier in that it doesn't remove the bran and germ like white flour, which is the most nutritious portion of flour.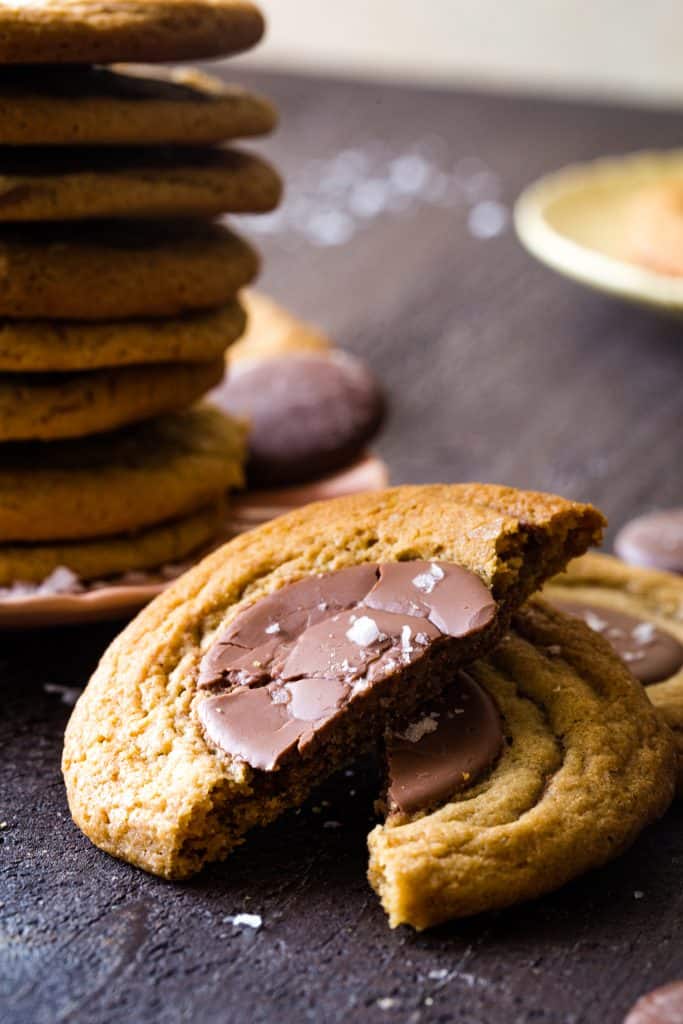 In other words, you're not taking out calories and carbs, but you're definitely gaining some extra nutrients that you were losing before. Hey, if a cookie can pack some nutrients, I'm ok with that. While you're whipping up some of these whole wheat chocolate chip cookies, try some of these chocolate chip strawberry cookies or Tahini chocolate chip cookies.
Why We Love Whole Wheat Chocolate Cookies?
Between the whole wheat flour and the browned butter in this recipe, there is an added nuttiness flavor in these cookies that makes them extra delicious. The addition of chocolate disks and sea salt, take them over the top.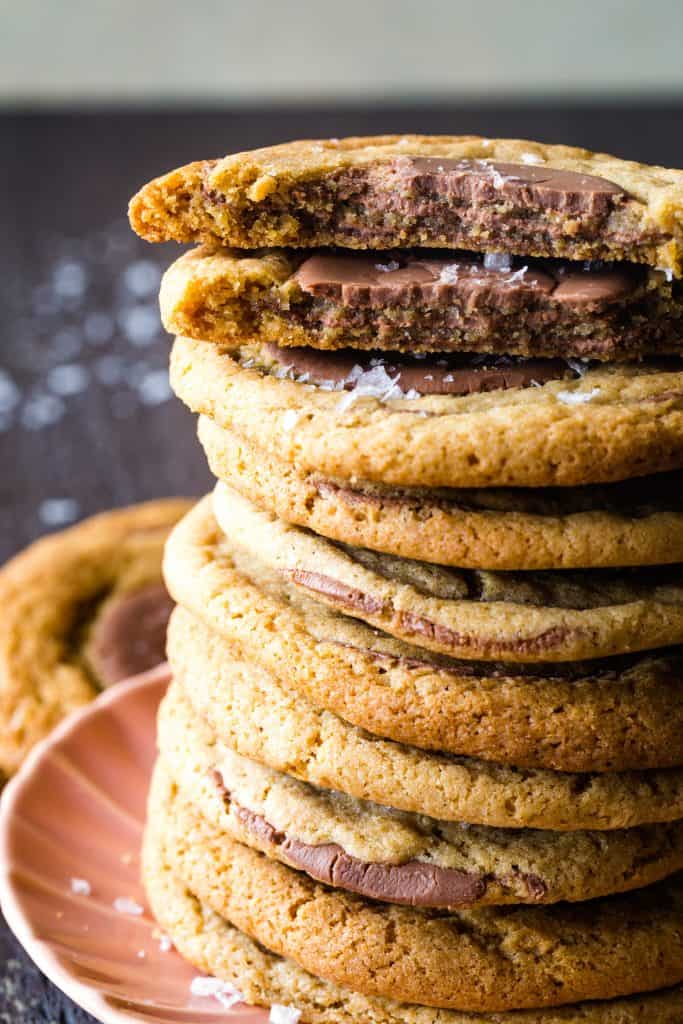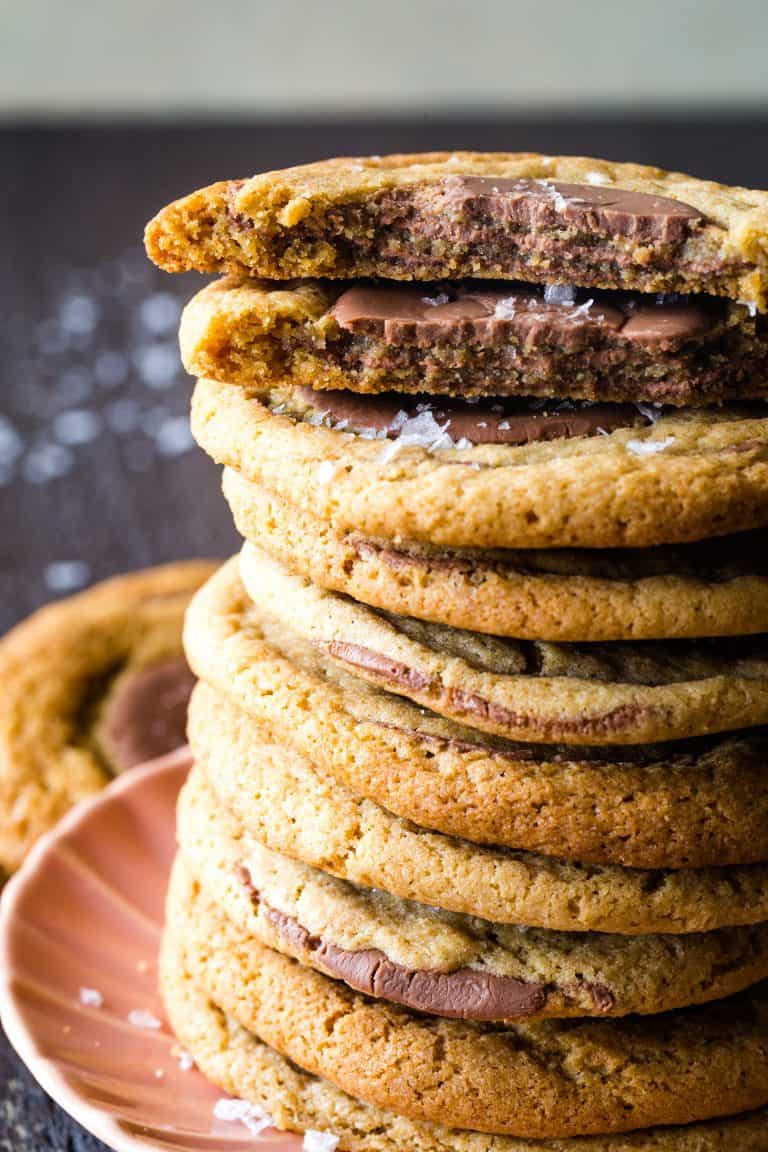 Where to buy Chocolate Disks for Baking?
I know it's a bit confusing. We used Chocolate Chips in the recipe name, but actually used chocolate disks...blame google. They like that name better. But here's the deal...if you've never used chocolate disks before, you need to jump on that right now!! These chocolate disks are large and actually layered into the cookie dough. The cookie dough bakes around the disks making it like a multi layer cookie. When warm, you break the cookie in half and you have a delicious melty chocolate center. Add some flaked sea salt on that and you will have a party in your mouth!
Ingredients/Shopping List
Unsalted Butter

All-Purpose Flour

Whole Wheat Flour

Baking Soda

Salt

Light Brown Sugar

Granulated Sugar

Large Eggs

Chocolate Disks, or Chips, Wafers, Chunks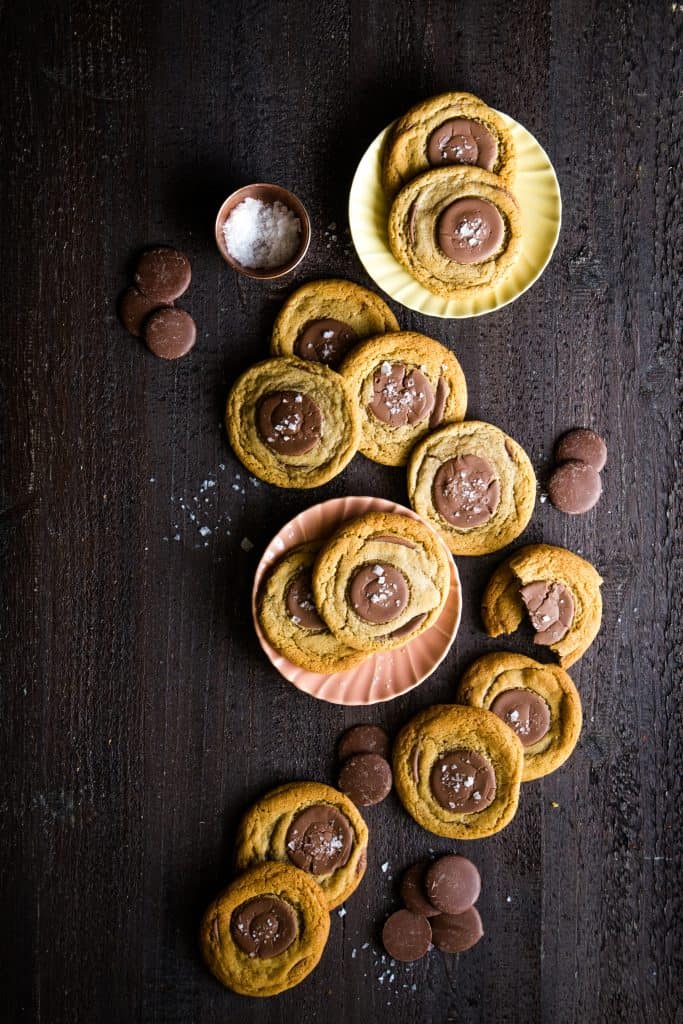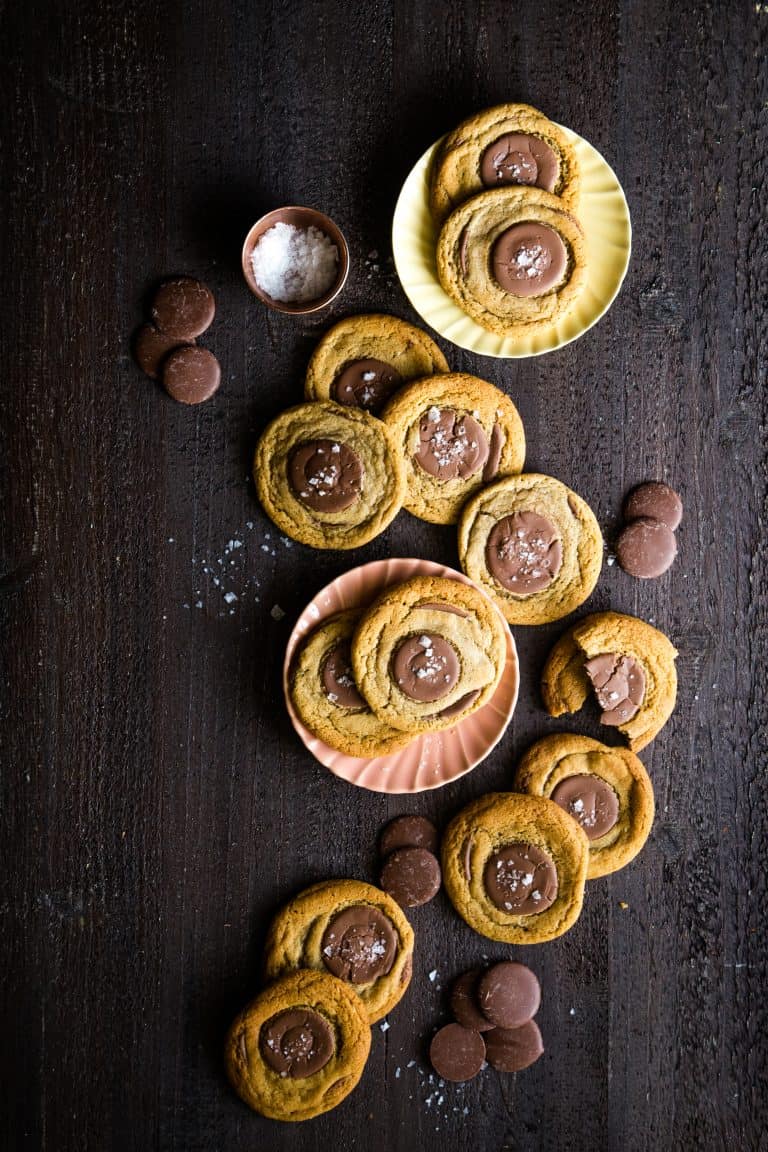 How Do You Make Chocolate Chip Cookies from Scratch?
Prep - Preheat your oven to 350 degrees and line a baking sheet with parchment paper.
Brown the butter - This will take about 5 minutes in a saucepan. Allow to cool.
Make the dough - Mix dry ingredients. In a separate bowl, beat together butter and sugars. Add eggs and vanilla, mix well. Mix in flour and fold in chocolate chips.
Chill - Allow the dough to chill for about 30 minutes.
Bake - Roll into 1-inch balls and place chocolate wafers into the middle of each ball. Bake for 12-14 minutes. Enjoy!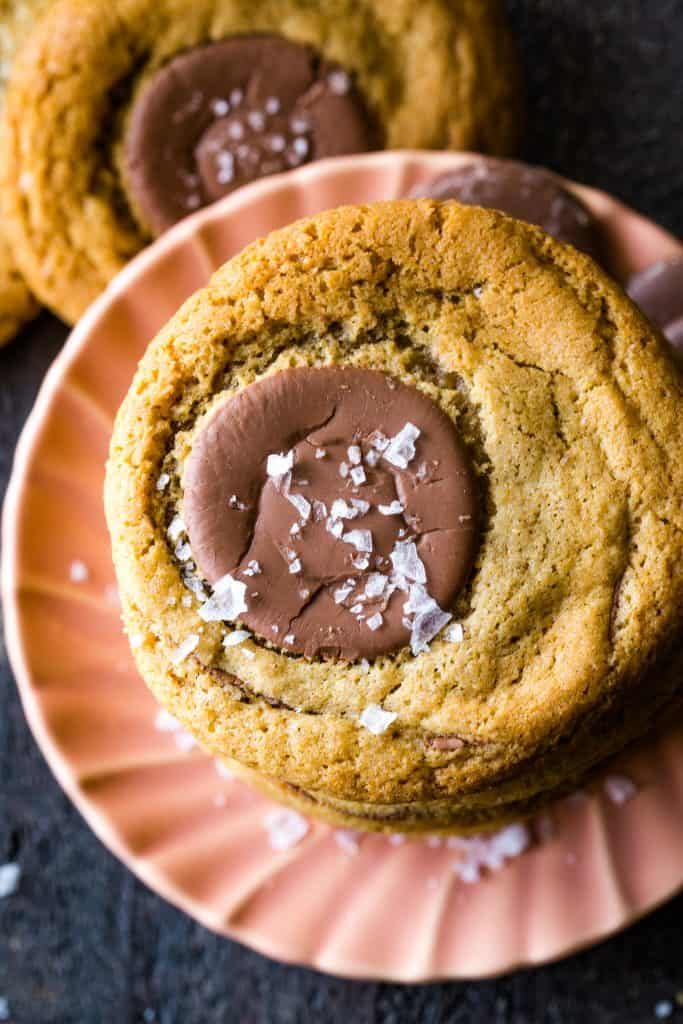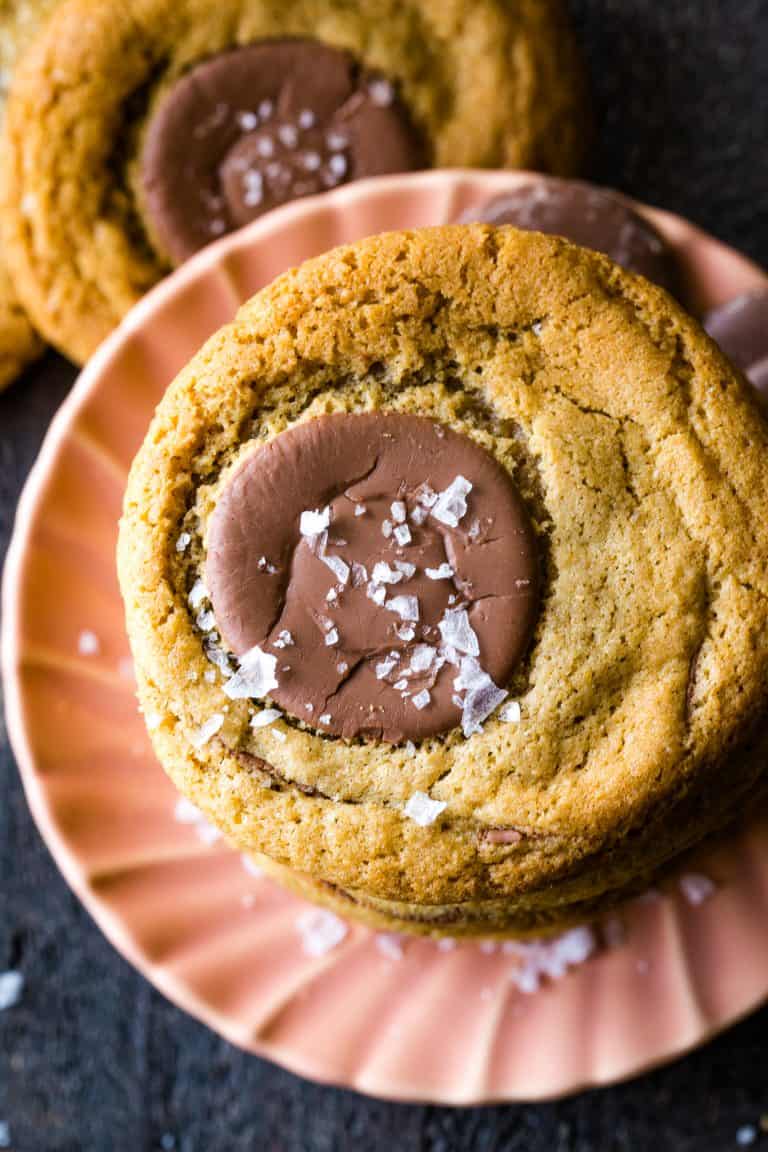 Substitutions and Additions
Watch your butter - It's very easy to go from brown butter to burnt butter. So, hover over that browning butter like a good sale on heels. I've noticed it takes about 5 minutes for it to brown properly.

If you're short on time, you can also use the same amount of softened unsalted butter.

Add-ins - I usually just use two discs of chocolate for each cookie. However, you can add in chocolate chips as normal and skip the chocolate disc. You can sprinkle your chocolate chip cookies with coarse sea salt as well. Other fun additions can be other flavored chocolate chips, pecans, almonds, walnuts, or fun candies like Reese's Pieces.
Don't skip chilling the dough - Since these cookies are butter based, they will spread out and turn into a very thin cookie if not chilled first. If you don't want a wafer cookie, don't skip the cooling step.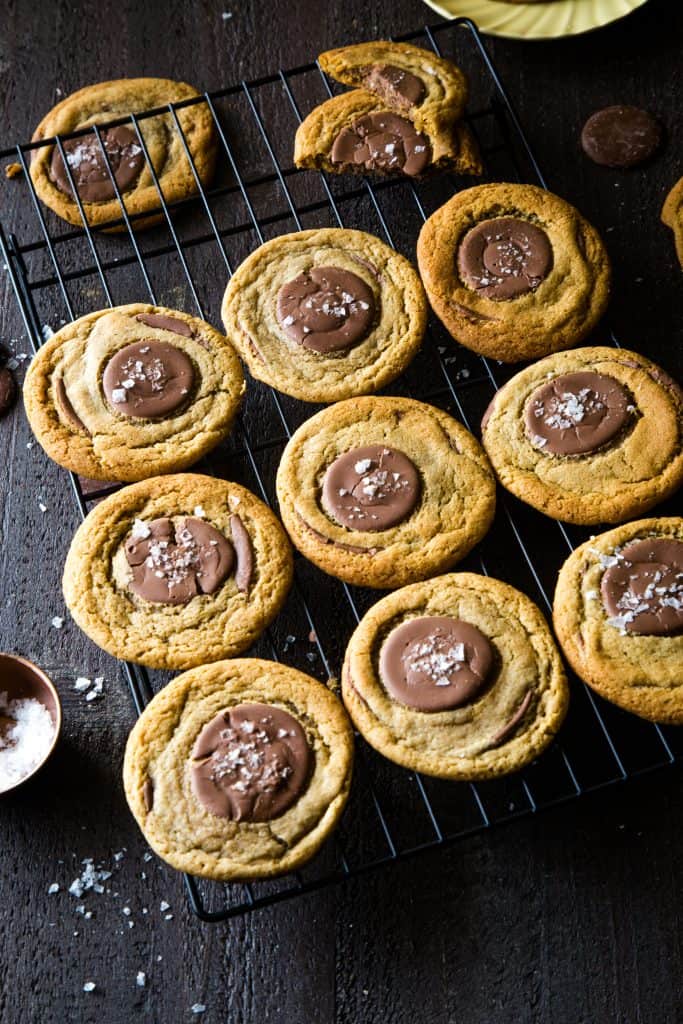 Recommended Tools To Make This Recipe
Stand mixer or handheld mixer
Baking sheet
Parchment Papper
Mixing bowls
Measuring tools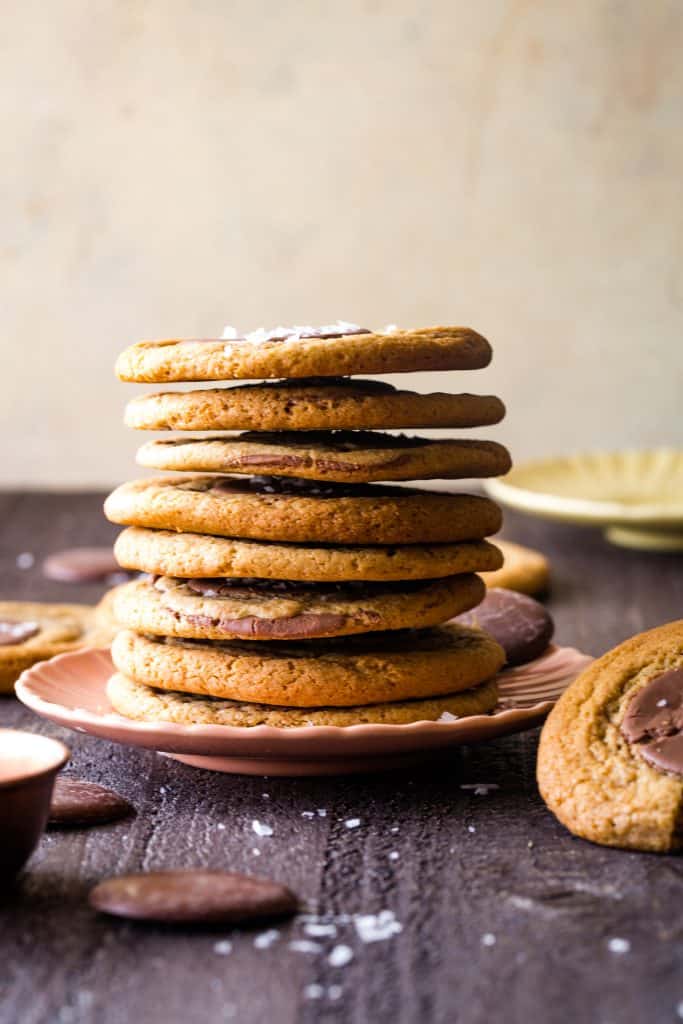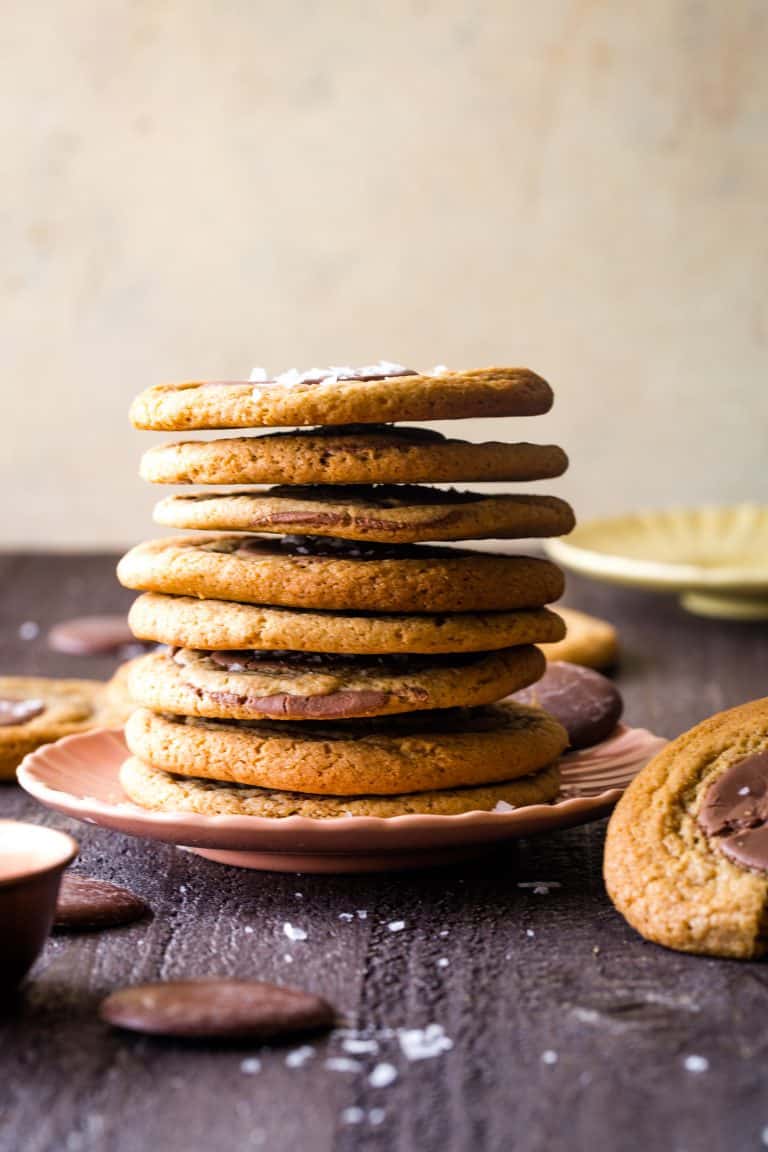 Common Questions About Whole Wheat Chocolate Cookies
What Does Adding an Extra Egg Do to Cookies?
It makes them chewy! Protein within the egg assists in making a cookie soft, but extra egg eventually makes it chewy. The egg also interacts with the brown sugar on a scientific level to help with the chewiness as well. So, it's not just the egg working alone.
Why Are My Chocolate Chip Cookies Flat and Chewy?
Odds are, you added too many eggs, or the recipe you're using was a chewy chocolate chip cookie recipe. If you don't like chewy cookies, reduce the amount of egg used in it, and you should be good to go. However, I wouldn't suggest removing the egg altogether as that definitely subtracts from the recipe in more ways than one.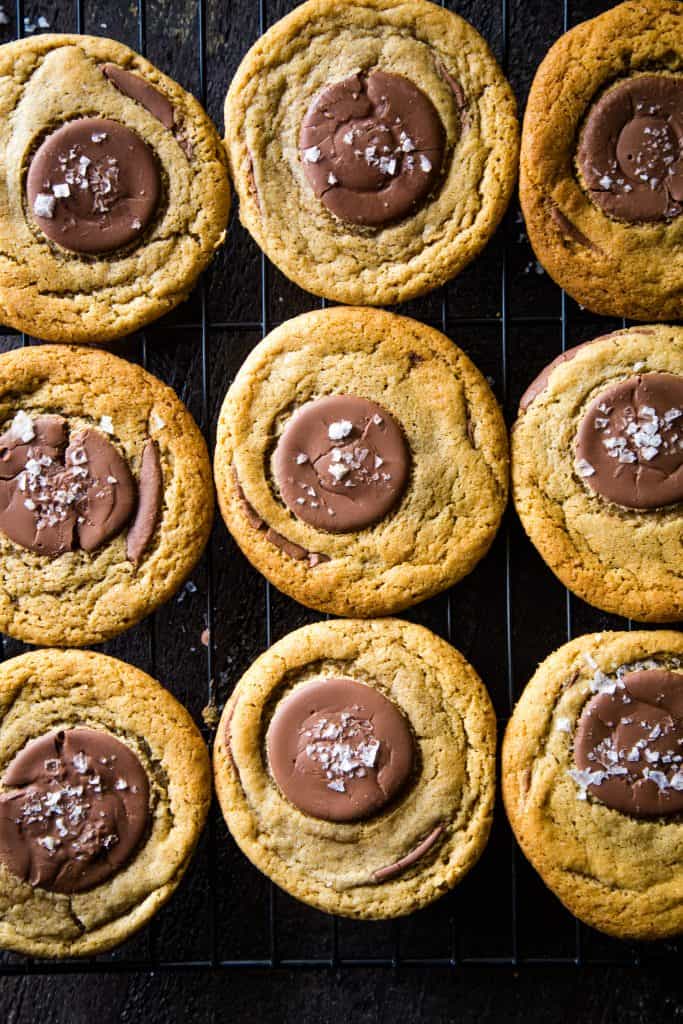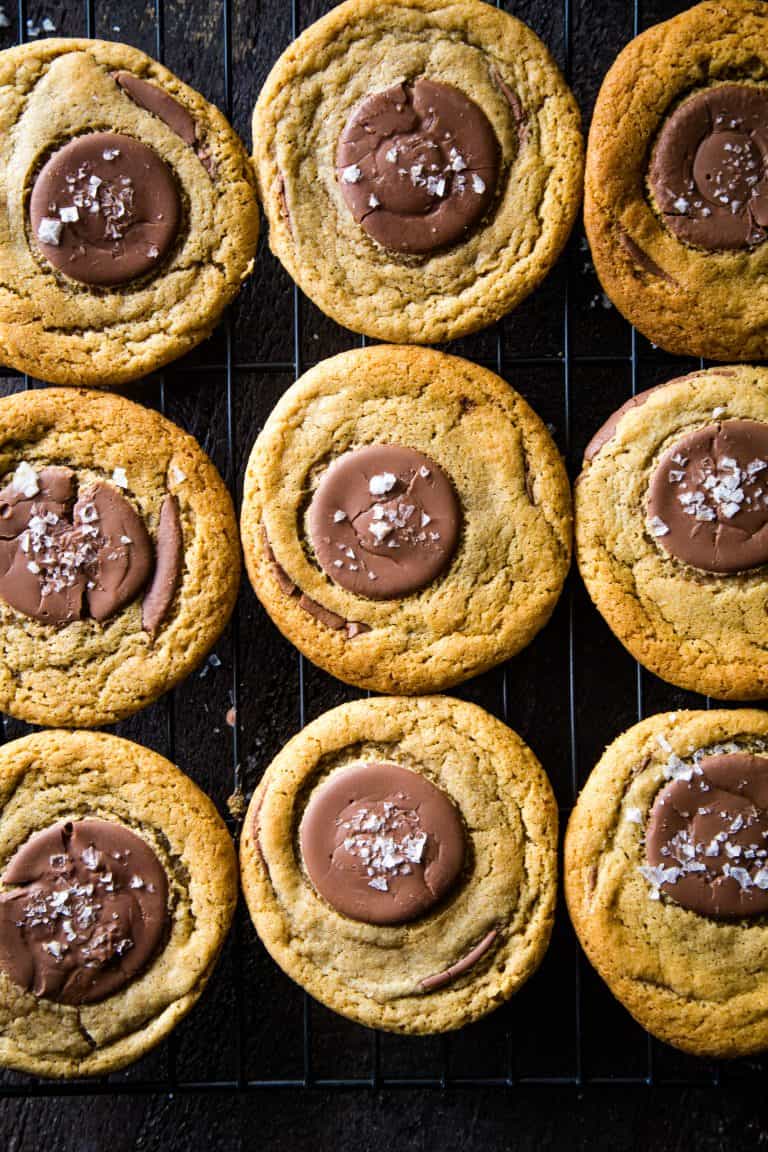 STORAGE TIPS
To Store: Store any leftover cookies in an airtight container at room temperature for up to 3 days, or in the refrigerator for up to 5 days.
To Freeze: You can freeze the baked cookie for up to 2 months. Allow the cookies to completely thaw before serving. You can also freeze dough balls on a metal cookie sheet until frozen, then transfer to a bag (this process avoids sticking) for up to 3 months. Sprinkle salt on dough balls right before baking.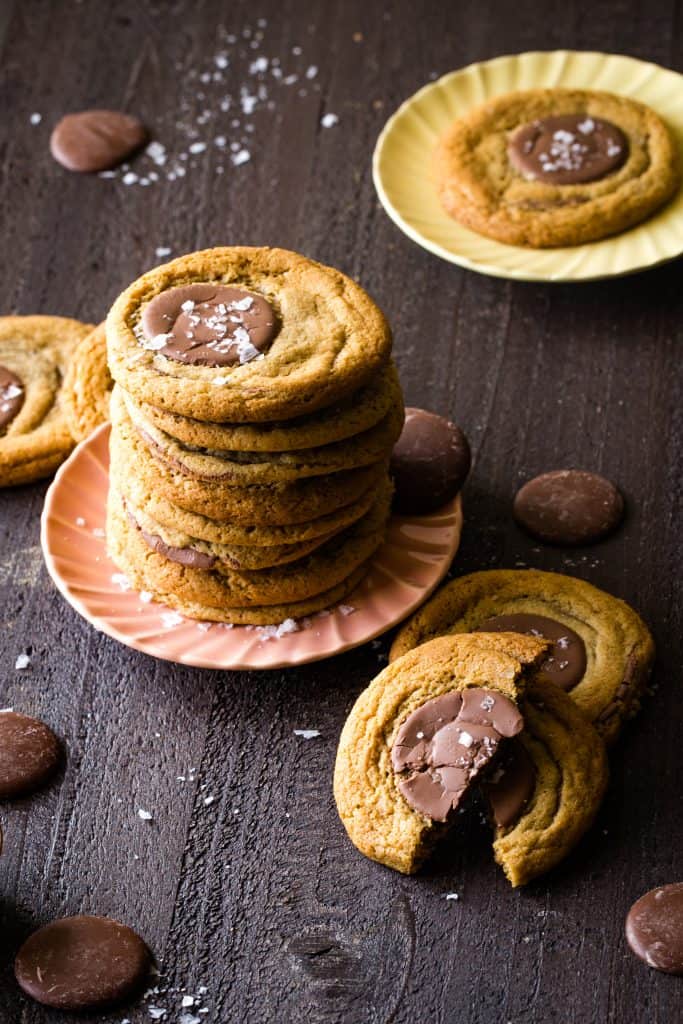 Please feel free to share your experience with making these Whole Wheat Chocolate Cookies in the comments below or on social media!
More Cookie Recipes You're Sure to Love: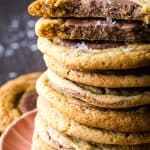 Whole Wheat Chocolate Cookies
Mix things up a bit and give these Whole Wheat Chocolate Cookies a try! These cookies are perfectly chewy with a light crisp on the outside. Plenty of decadent chocolate to please any chocolate lover.
Keyword:
chocolate stuffed cookies, whole wheat chocolate chip cookies
Servings
:
2
dozen cookies
Ingredients
1

cup

unsalted butter

room temperature

1

cup

all-purpose flour

1

cup

whole wheat flour

1

teaspoon

baking soda

¾

teaspoon

salt

1

cup

light brown sugar

packed

⅓

cup

granulated sugar

2

large eggs

room temperature

2

cups

chocolate disks

or chips, wafers, chunks
Instructions
Preheat oven to 350 degrees. Line 2 cookie sheets with parchment paper or a silicon liner.

In a heavy bottomed sauce pan, melt butter until browned. It takes about 5 minutes for butter to begin to smell nutty and start to brown, but watch carefully because it goes from perfectly browned to burned very fast.

Once browned, remove from heat and allow to cool for 5 minutes.

Combine flours, baking soda, and salt in a large bowl; set aside.

Combine browned butter and sugars in the bowl of your mixer and mix until combined.

Add eggs, one at a time, mixing thoroughly until combined.

Stir in vanilla extract.

With your mixer running on low, gradually add flour mixture; mixing until just combined. *if using chips or chunks, stir into dough now.

Refrigerate dough for 30 minutes.

Once dough has chilled, roll out into 1 inch balls.

Place disks in the middle of the dough and press on top of the dough.

Place on a cookie sheet 2 inches apart.

Sprinkle balls with flaked sea salt (optional).

Bake cookies for 12-14 minutes.

Cool and serve.