Welcome fall with these decadent Pumpkin Streusel Cheesecake Bars. This recipe starts and ends with a streusel crust and topping packed with oats and pecans. The middle is filled with a creamy cheesecake and pumpkin layer for one heck of a dessert.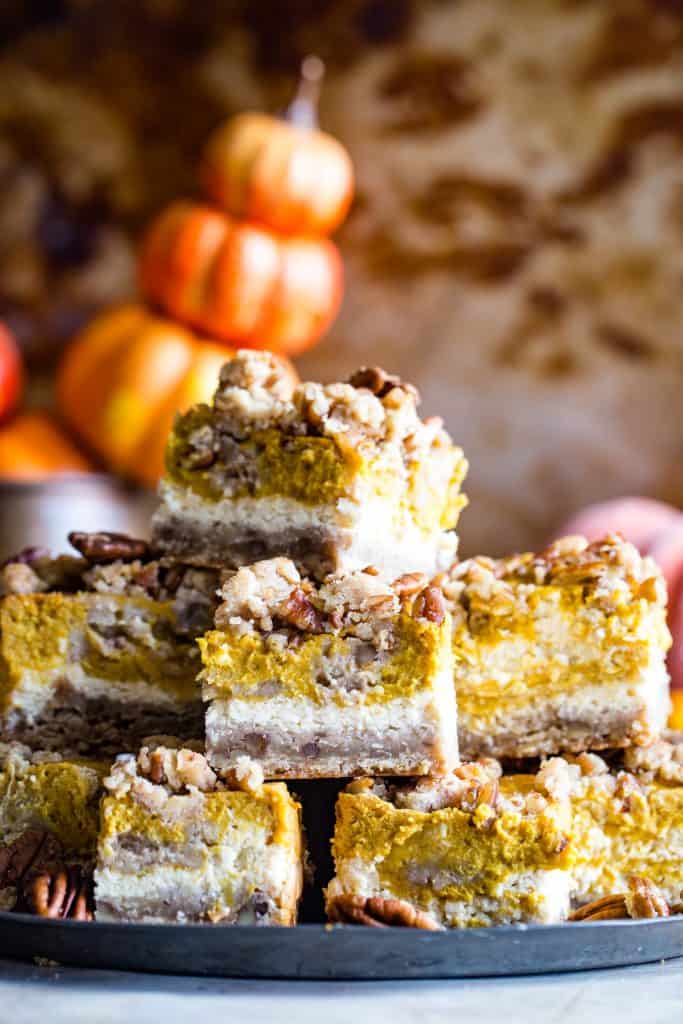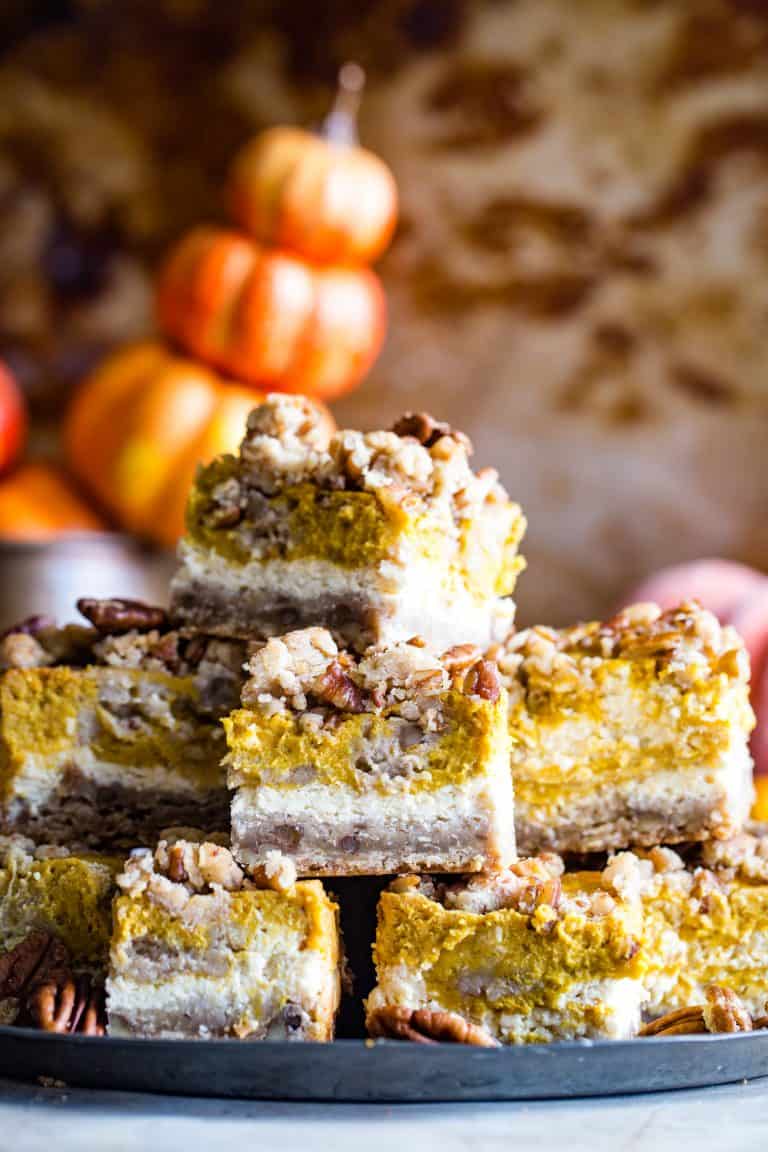 When pumpkin recipes start rolling out, you can find me in my kitchen making all of them. Well, as many as I possibly can. I usually start with the pumpkin blueberry bread or pumpkin cream cheese bread and end with pumpkin spice macarons or pumpkin snickerdoodle cupcakes.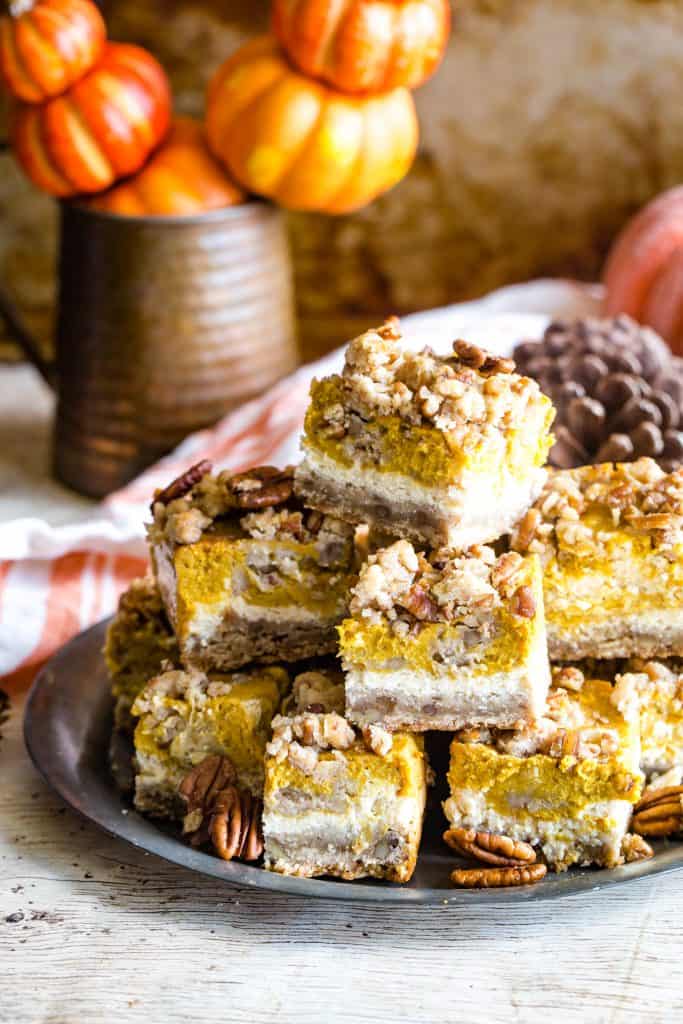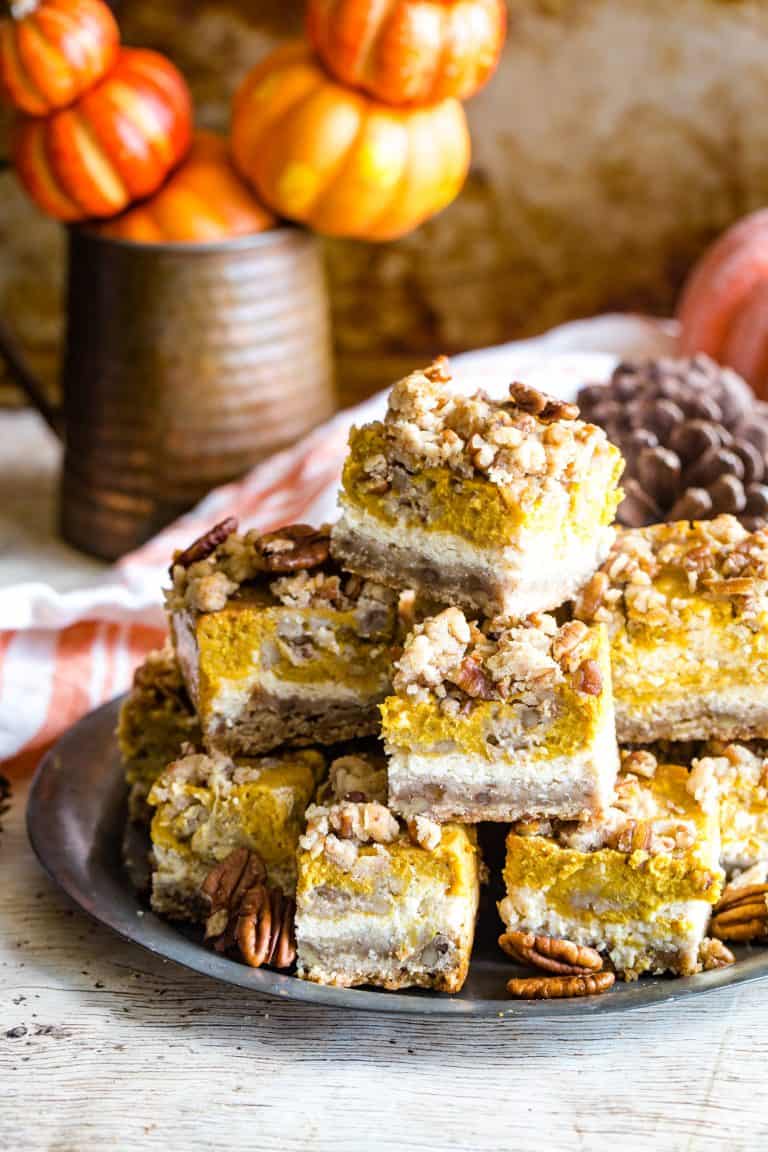 Who am I kidding, I don't think I ever fully pause on making pumpkin recipes throughout the year. However, when fall hits, it's like a pumpkin recipe storm. Let me be clear, it's exclusively desserts that happen in this pumpkin kitchen enigma.
Desserts are my specialty, which is why you need to go try these pumpkin streusel cheesecake bars. They're freaky good.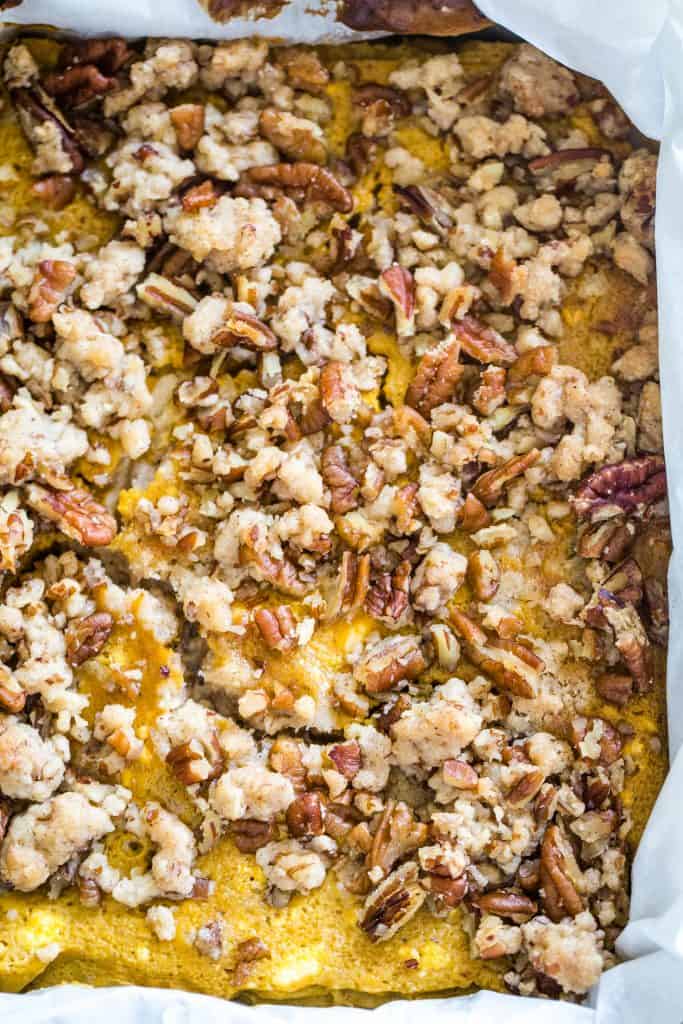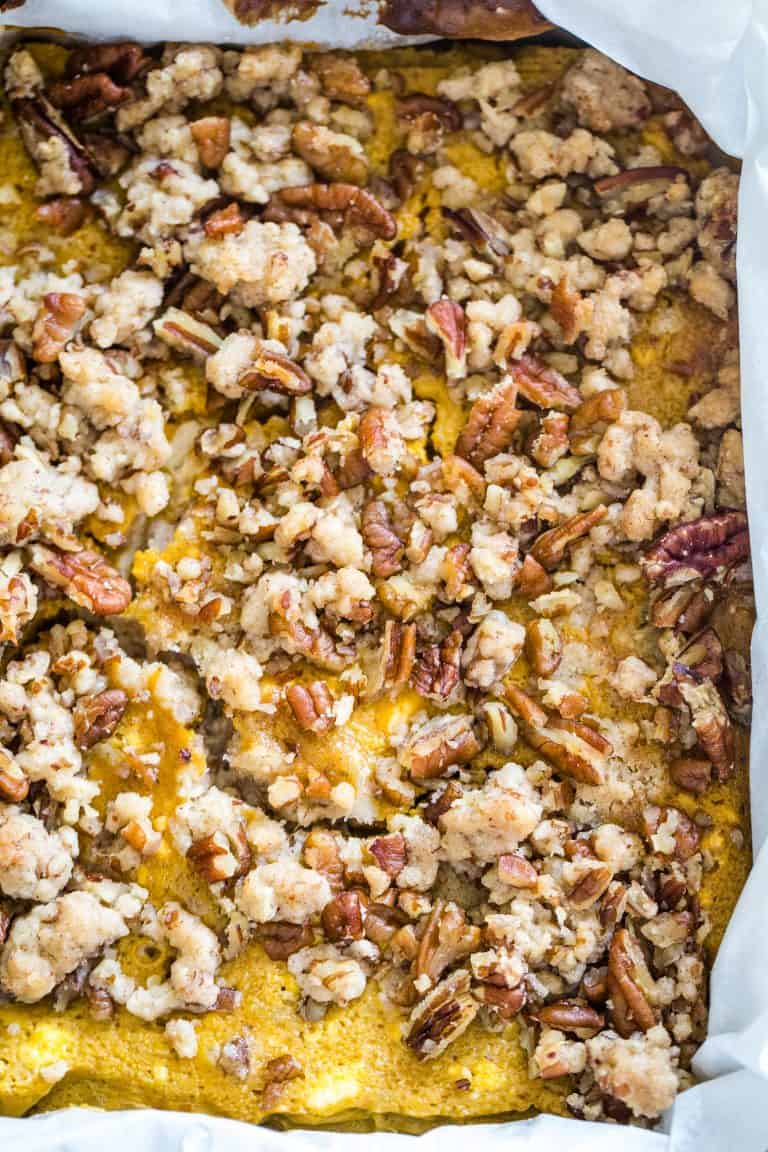 How Do You Make Pumpkin Cheesecake Bars from Scratch?
Prep - Preheat the oven and line your pan with parchment paper.
Make the crust and streusel - Combine everything but the butter, stir, then work in the butter.
Bake - Press some of the mixture into your prepared pan. Bake the crust for up to 10 minutes.
Make the filling - Beat the cream cheese and sugar. Add in one egg, beating in between. Add vanilla. Pour half over the prepared crust. Add the remaining pumpkin ingredients to the leftover batter and pour over the top.
Bake - Top with remaining streusel and bake.

Chill - Chill completely, slice into bars, and enjoy!
Tips and Variations
Use full fat cream cheese - Don't skimp on that fat content. It's what makes the cheesecake super creamy and flavorful.

Be patient - Let your pumpkin cheesecake recipe have all the time it needs to chill through. It always tastes the best when you're patient and don't rush it out of the fridge.

Use softened butter - You don't want to use chilled or melted butter or the consistency of the crust and streusel won't be as desired. Melted butter will cause the sugar to dissolve, resulting in a sticker topping and crust. If using chilled butter, it won't pull all the ingredients in and will take longer to work in. This goes for your cream cheese as well.
Storage - Store in a sealed container in the fridge for 3 days and in the freezer for up to 2 months. Be sure to store properly or your cheesecake bars will go bad quicker than average.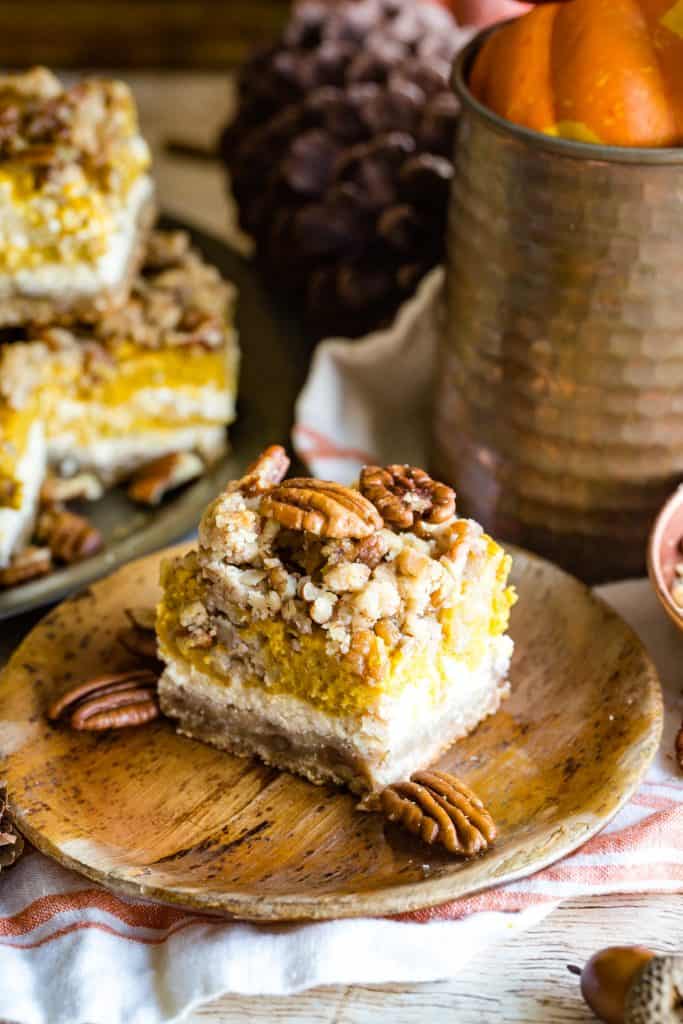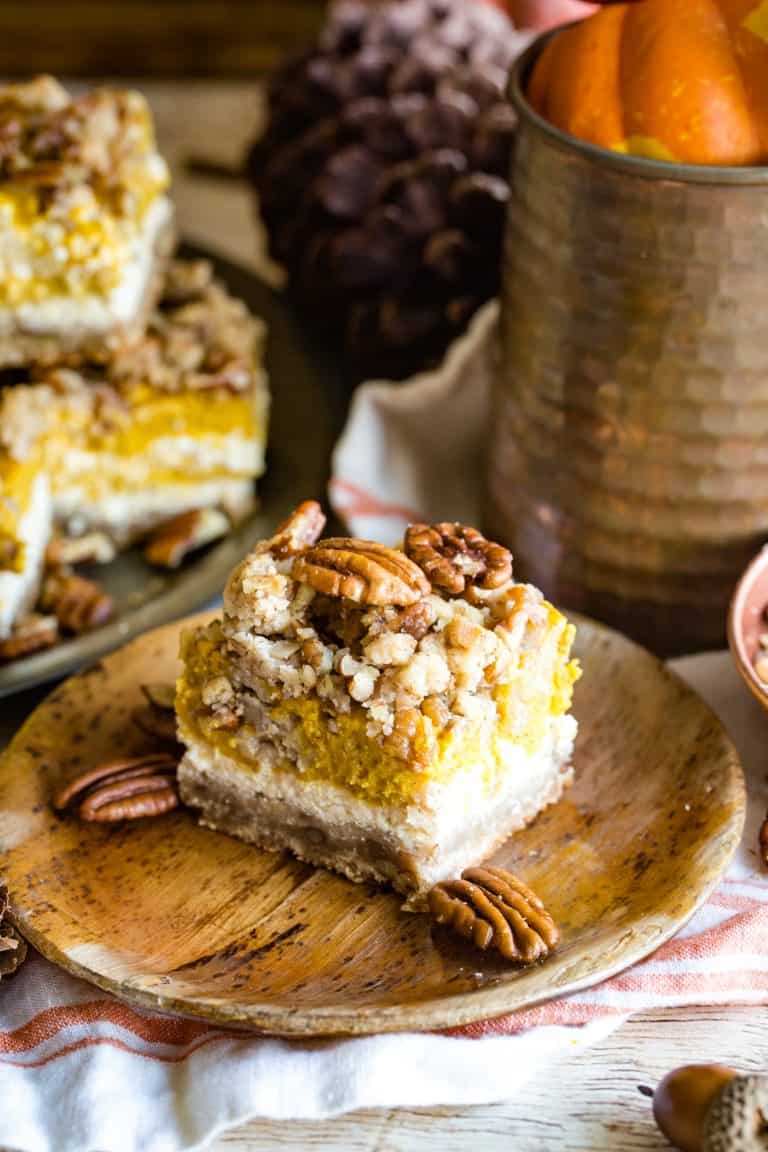 Common Questions About Pumpkin Streusel Cheesecake Bars
Is Pure Pumpkin the Same as Pumpkin Pie Filling?
This is a big NO! You will kick yourself if you try to use pumpkin pie filling in place of pure pumpkin. Pure pumpkin is exactly that, 100% pumpkin that's been pureed. Pumpkin pie filling is a gross, canned attempt, and making pumpkin pie easier and quicker. It doesn't taste good and it definitely won't work in place of the canned pumpkin.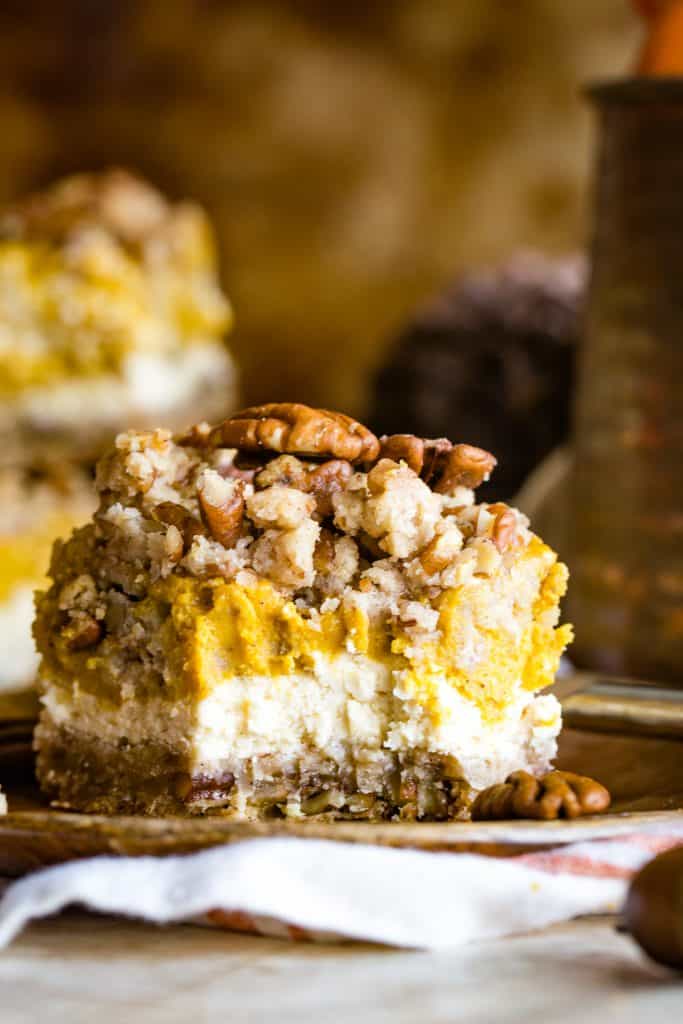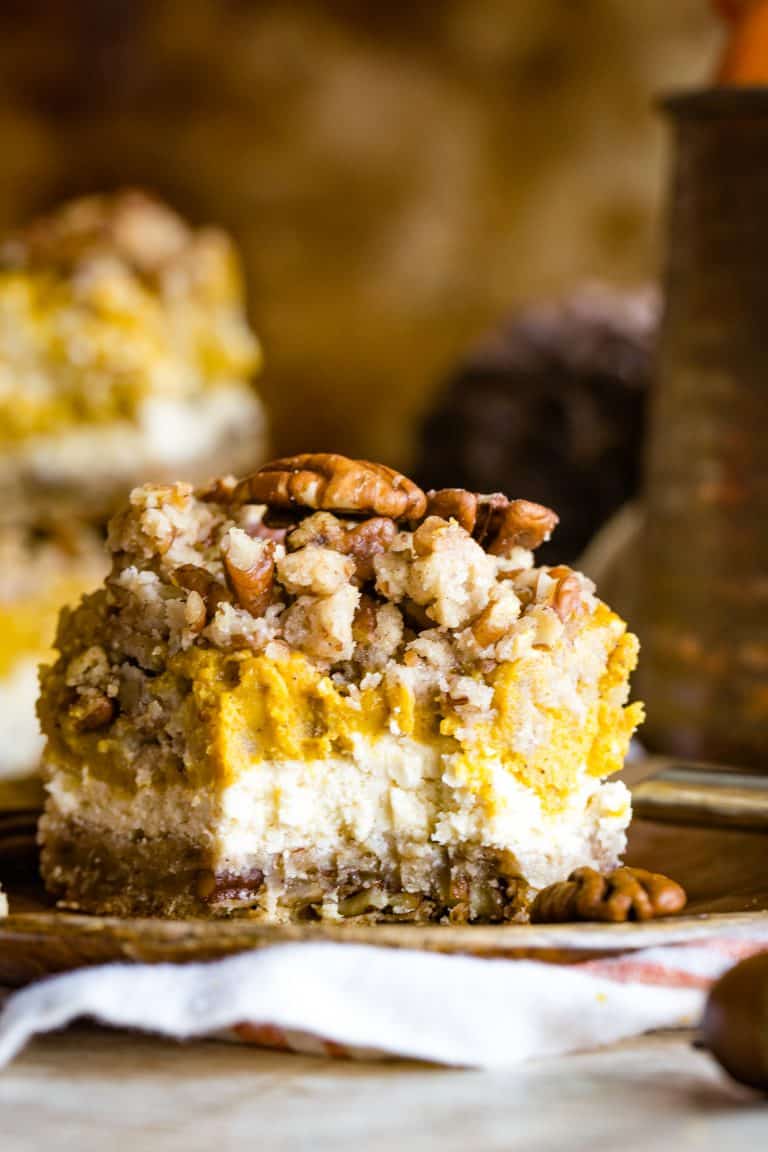 How Long Does it Take Cheesecake Bars to Cool?
This can vary, but I like to give my cheesecake bar recipe at least 4 hours to chill. I'm not a fan of lukewarm cheesecake or cheesecake that won't hold its form. It's too gooey for me! So, I always check them around the 4-hour mark and let them stay longer, if needed.
Please feel free to share your experience with making these Pumpkin Streusel Cheesecake Bars in the comments below or on social media!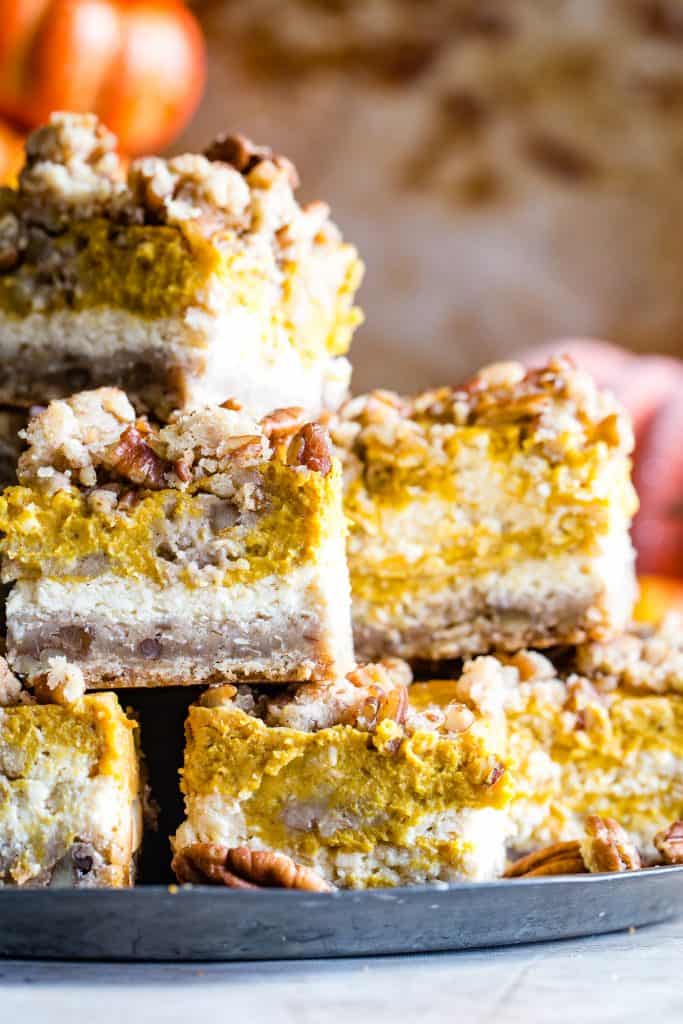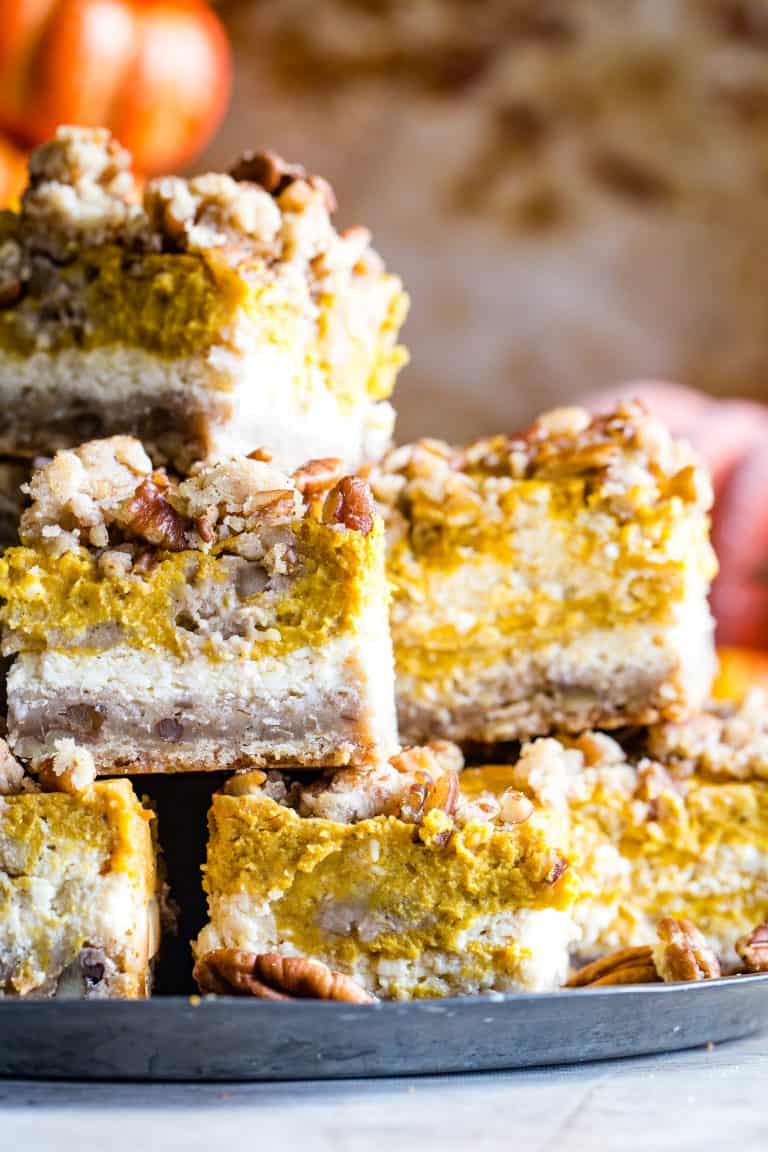 More Cheesecake Recipes You're Sure to Love: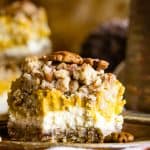 Pumpkin Cheesecake Streusel Bars
Welcome fall with these decadent Pumpkin Streusel Cheesecake Bars. This recipe starts and ends with a streusel crust and topping packed with oats and pecans. The middle is filled with a creamy cheesecake and pumpkin layer for one heck of a dessert.
Keyword:
pumpkin cheese bars, pumpkin cheesecake
Ingredients
Streusel Topping and Crust:
1 ½

cup

light brown sugar

firmly packed

2 ¼

cups

all-purpose flour

1

cup

old fashioned rolled oats

¼

cup

chopped pecans

¼

teaspoon

salt

1 ½

cup

unsalted butter

softened
Filling:
32

ounces

4 blocks cream cheese, softened

1

cup

sugar

4

large eggs

2

teaspoons

vanilla extract

1 15

oz.

can pure pumpkin

not pumpkin pie filling

2

teaspoons

ground cinnamon

1 ½

teaspoons

ground cloves

1 1/15

teaspoon

ground nutmeg

½

teaspoon

ground ginger
Instructions
Preheat oven to 350 degrees F. Line a 9x13 inch pan with parchment paper or spray well with nonstick cooking spray.

To make the crust/ streusel topping, combine brown sugar, flour, oats, chopped pecans, and salt. Work in the butter, mixing until coarse crumbs form.

Press ⅔ of the crumb mixture evenly into the bottom of the prepared pan.

Refrigerate remaining mixture until ready to use.

Bake crust at 350 degrees for 8-10 minutes or until lightly browned. Remove from the oven and cool for at least 15 minutes.

To make the cheesecake filling, beat cream cheese with sugar in a large bowl until smooth.

Add the eggs, one at a time, and vanilla; stir until smooth.

Pour HALF of the cheesecake filling over the cooled crust.

Mix in pumpkin puree and spices into the remaining cheesecake filling.

Spread pumpkin layer over cheesecake layer.

Sprinkle with reserved streusel topping.

Bake for 30 minutes, or until filling has set.

Cool completely then refrigerate for 1 hour before serving.

Once cheesecake has chilled, slice into bars and serve.