Switch up your fudge game and start making this Cherry Cheesecake Fudge for the holidays! Candied cherries are buried in premium white chocolate, and chilled to perfection. Creamy, rich, and decadent, this recipe is easy and addicting all at once.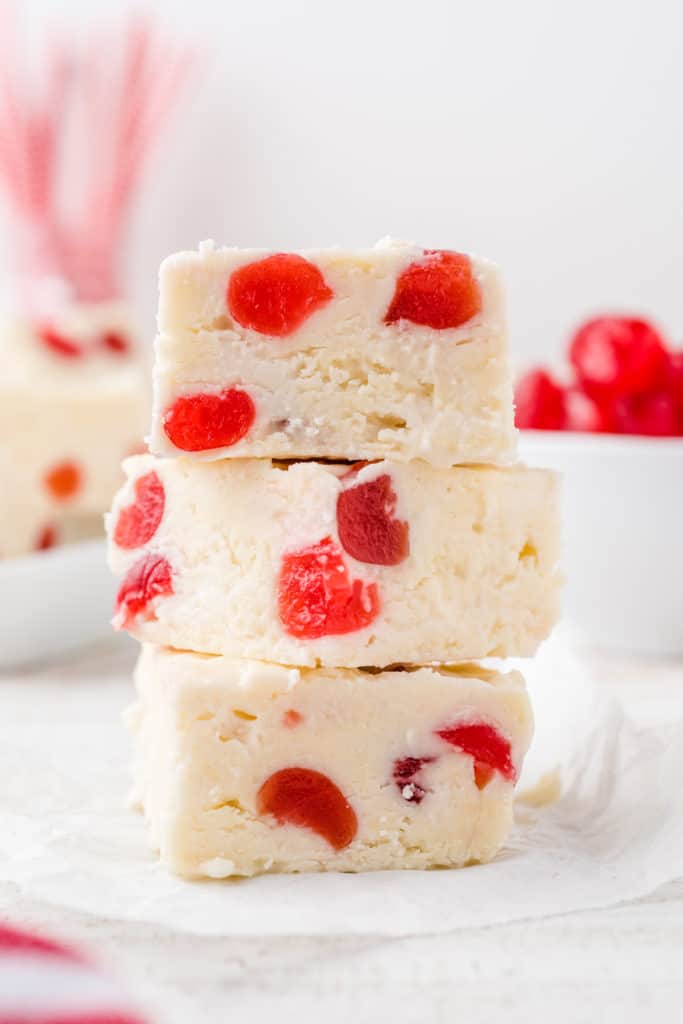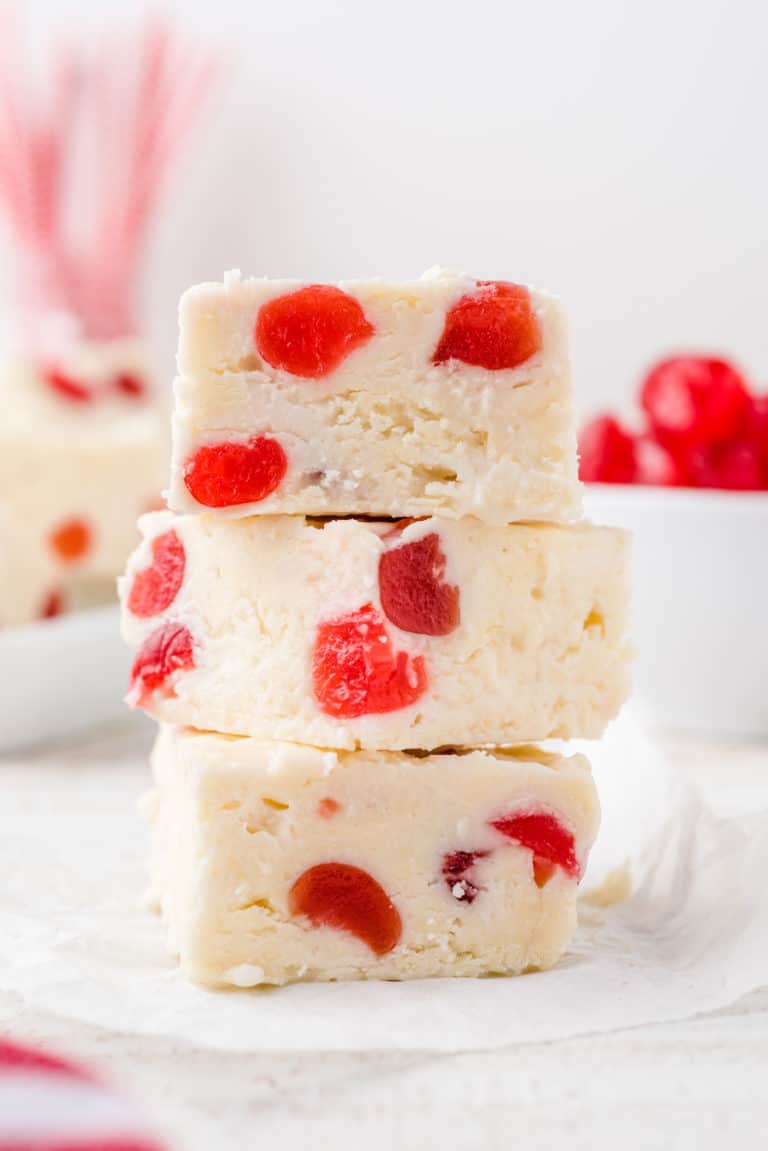 One of my favorite parts about the holidays is getting my kids together to help me make Christmas candy. Of course, what's holiday candy making without Christmas fudge? I personally love including more than one easy fudge recipe in my candy batches. Especially because it's nice to add in the traditional chocolate fudge, but also a white fudge to keep things interesting. But this Cherry Cheesecake Fudge isn't just for Christmas. It also makes a wonderful gift for Valentine's Day or any other holiday!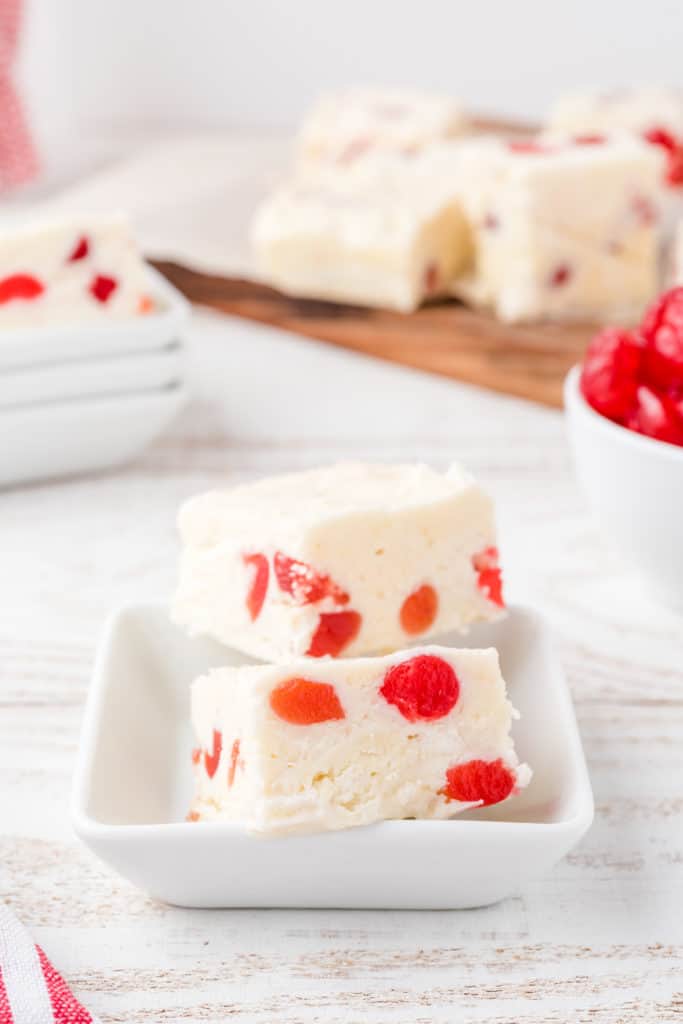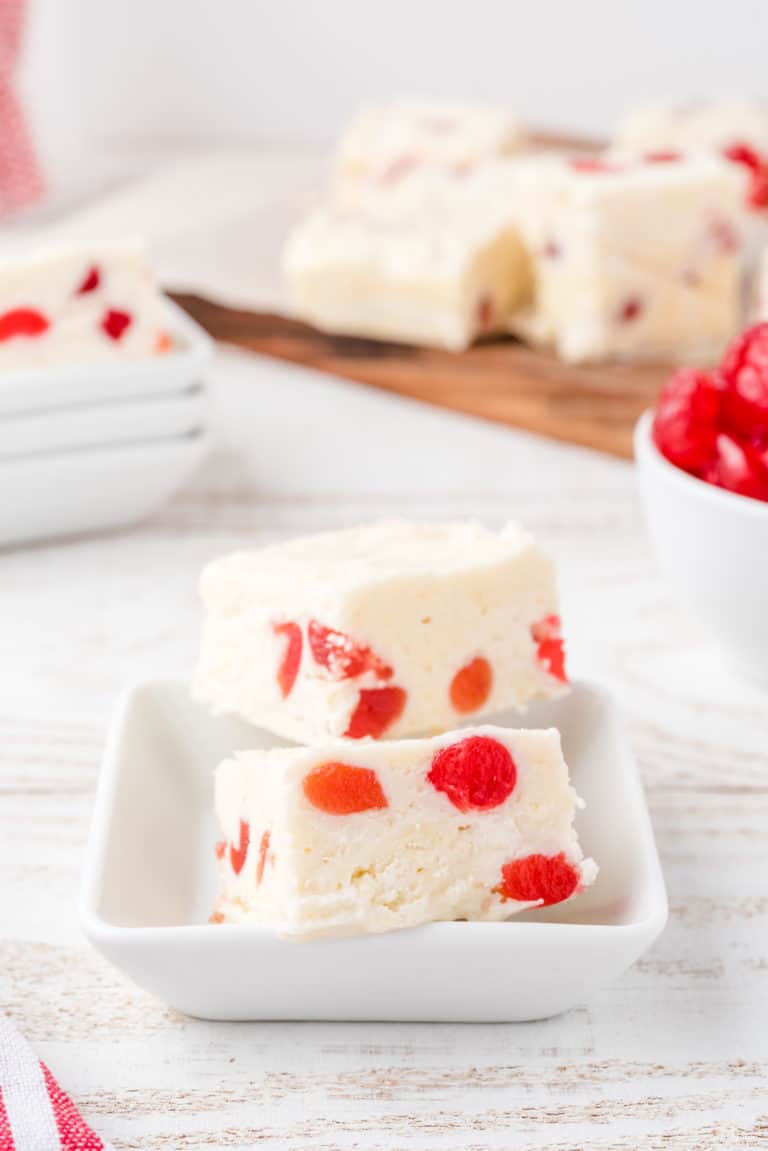 I'm one of those people that like to include the classics when I give foods as gifts. However, I genuinely love keeping things fresh as well, which is why I include something newer. For example, some of my most successful ideas to date are my Double Chocolate Biscotti, Chocolate Almond Truffles, and Almond Butter Truffles. Don't forget to toss in this Cherry Cheesecake Fudge as well!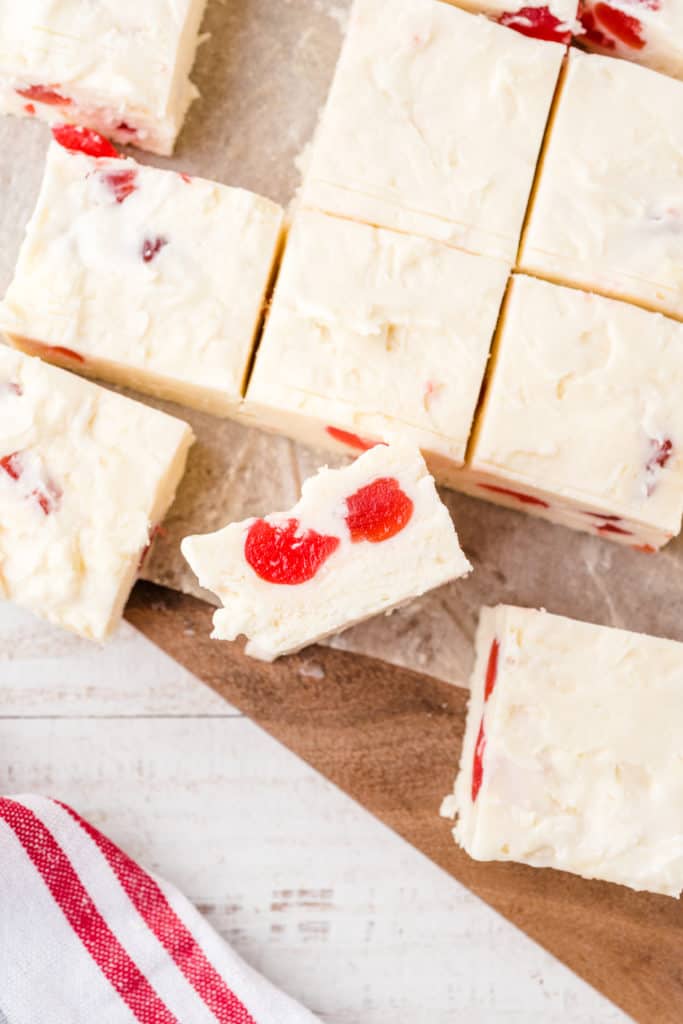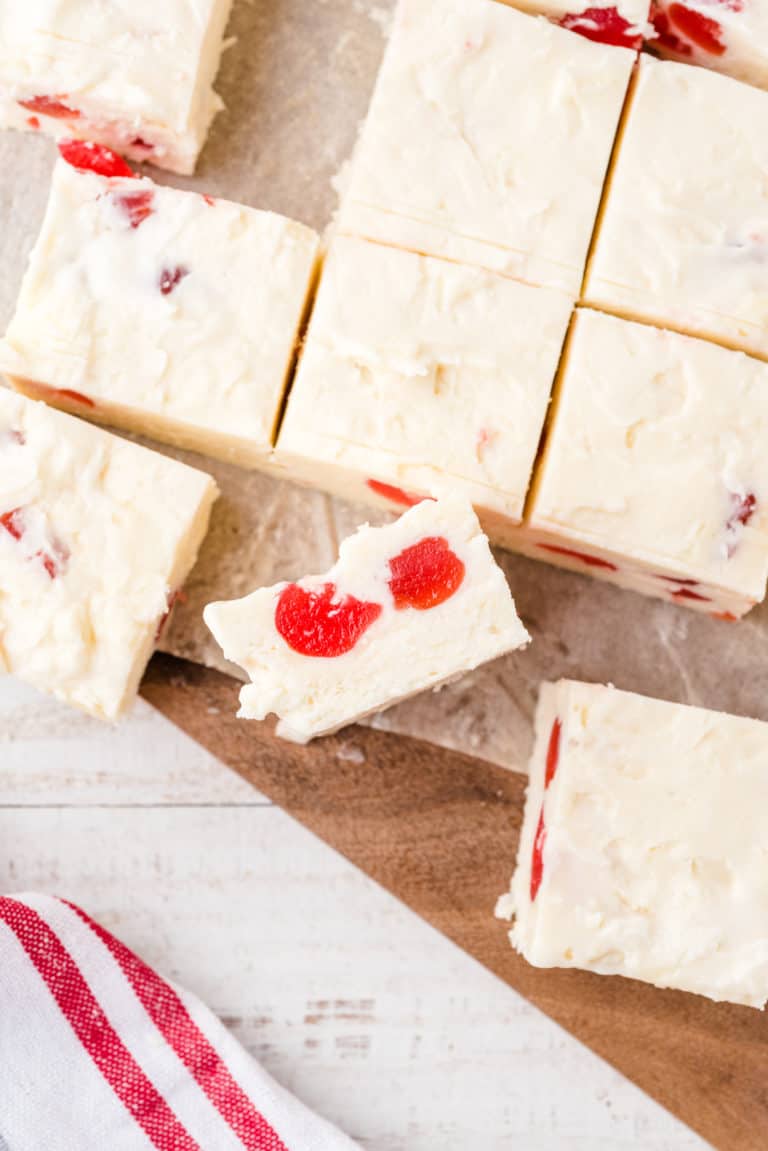 How to Make Cherry Cheesecake Fudge
Prep - Line an 8x8 inch pan with parchment paper and spray with cooking spray.
Start the fudge - Beat the cream cheese in a large bowl. Add the vanilla and beat again. Add a bit of powdered sugar at a time and beat until smooth.
Finish the fudge - Melt the chocolate in a bowl in the microwave for a minute. Stir and return to the microwave in 30-second intervals until smooth.
Combine - Fold the candied cherries and melted chocolate into the cream cheese mixture. Don't overmix.
Chill - Pour into the pan and spread evenly. Chill for a minimum of 1 hour. Slice, serve, and enjoy!
Tips and Variations
Storage - Store in an airtight container in the fridge for up to 2 weeks. You can also freeze this white chocolate fudge in an airtight container for up to 2 months. Do not store outside the fridge or your white fudge will become very soft and messy to eat.
Reheating - I do not suggest heating this fudge as it will make it far too soft. It could also potentially ruin its consistency altogether. This means that even chilling it again might not fix it.
What chocolate should I use - I use Baker's Premium White Chocolate for this recipe but any high quality chocolate or white chocolate chips will work.
Sift the powdered sugar - It's important to sift the powdered sugar because you want a smooth consistency. It's easy to end up with lumps if you don't sift the powdered sugar.
Dry the cherries - If your candied cherries have extra moisture, blot them with a paper towel before using. This will ensure a better consistency within your fudge.
Don't use maraschino cherries - Maraschino cherries are not the same thing as candied cherries. It's important that the correct cherries are used for this recipe. I do not believe maraschino cherries would work for this recipe, but I haven't tried them to know for sure. Use at your own risk.
How many squares of fudge does this recipe make? - I cut this batch of fudge into 16 equal squares. However, you can cut them smaller if desired.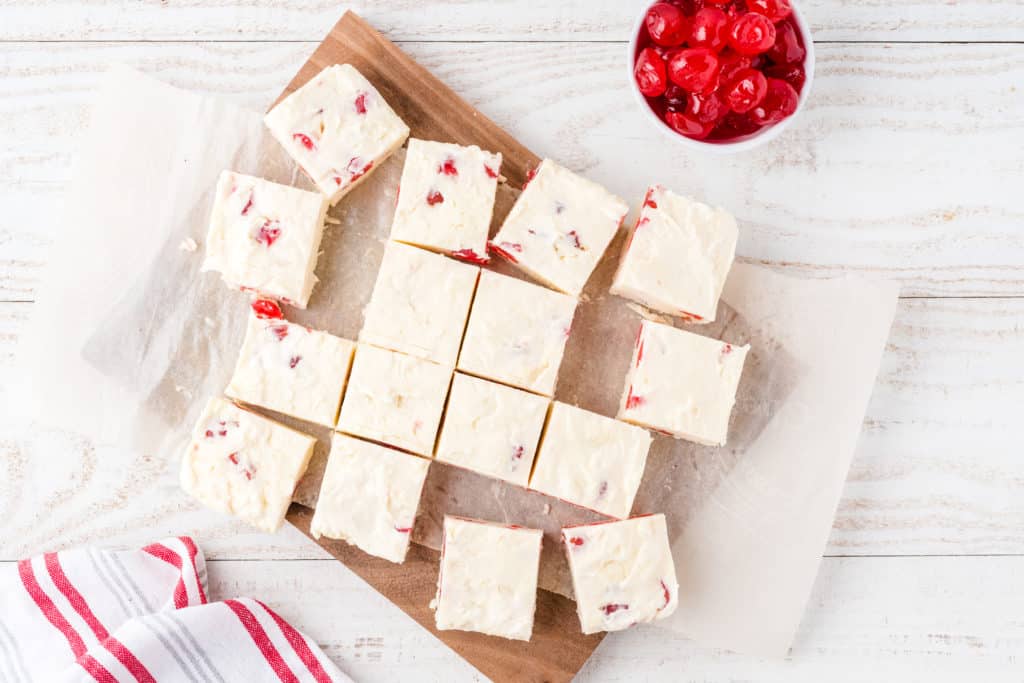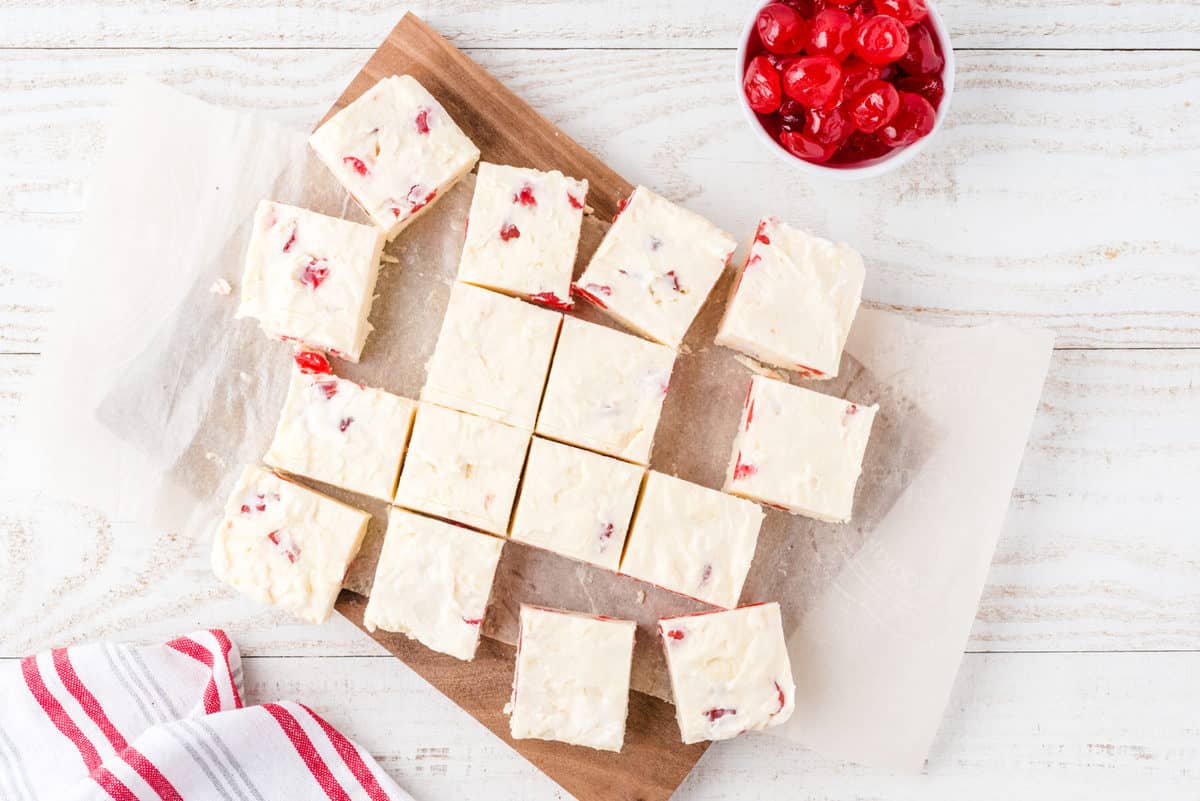 Common Questions About Cherry Cheesecake Fudge
Why is Fudge Made on Marble?
Not all fudge needs to be made on marble. Each fudge recipe is different and not prepared the same. This easy fudge recipe doesn't call for marble. However, marble is sometimes used simply as a cooling agent. Once the fudge is finished, it's placed on the marble slab in the chilling area. The marble helps the fudge cool in a more even manner while chilling it more quickly than usual.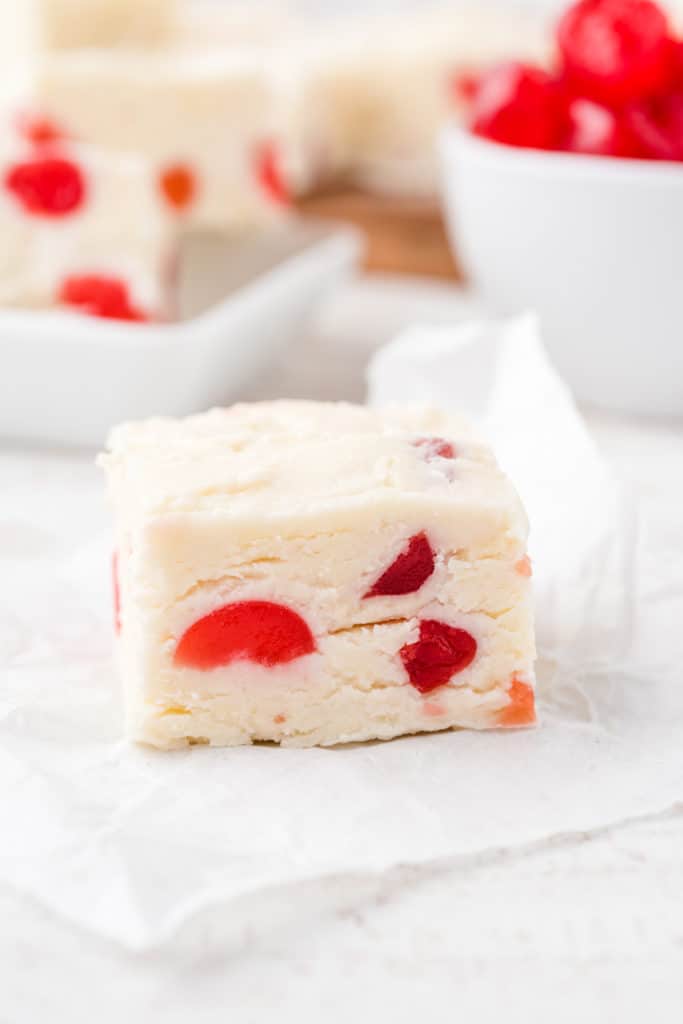 If you loved this Cherry Cheesecake Fudge, let me know in the comments below or on social media!
Other Dessert Recipes You'll Love: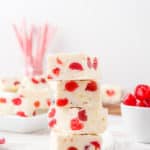 Cherry Cheesecake Fudge
Made with cream cheese and white chocolate this creamy cherry cheesecake fudge is a decadent treat!
Keyword:
fudge recipe, white chocolate fudge
Ingredients
8

oz.

cream cheese

4

cups

powdered sugar

sifted

1

teaspoon

vanilla

14

oz.

white chocolate

chopped

1

cup

candied cherries

chopped
Instructions
Line an 8x8 inch pan with parchment paper. Spray with non-stick cooking spray and set aside.

In a large bowl, with an electric mixer, beat the cream cheese until creamy.

Beat in the vanilla.

Slowly add the sifted powdered sugar to the cream cheese and beat until smooth.

In a medium microwave safe bowl, microwave the white chocolate pieces for 1 minute. Stir the chocolate then return it to the microwave for 30 second intervals, stirring between each, until the chocolate is fully melted.

Fold the melted chocolate and the chopped cherries into the cream cheese mixture.

Spread the mixture into the prepared pan.

Chill in the refrigerator for at least 1 hour before cutting into squares.
Recipe Notes
I use Baker's Premium White Chocolate for this recipe but any high quality chocolate or white chocolate chips will work .
It's important to shift the powdered sugar to ensure that there are no sugar lumps in the finished fudge.
If your candied cherries have some liquid on them blot them with a paper towel before chopping them.
Candied (or glace) cherries are not the same as maraschino cherries. I have not tried maraschino cherries for this recipe and don't think they would work well.
This fudge must be kept in the refrigerator, it will get very soft if it is left out at room temperature. Stored in an airtight container in the refrigerator this fudge will last for about 2 weeks.
I cut this batch of fudge into 16 equal squares, you may want to cut them smaller.