Happy New Year friends! I hope everyone had a wonderful evening and a wonderful start to 2016!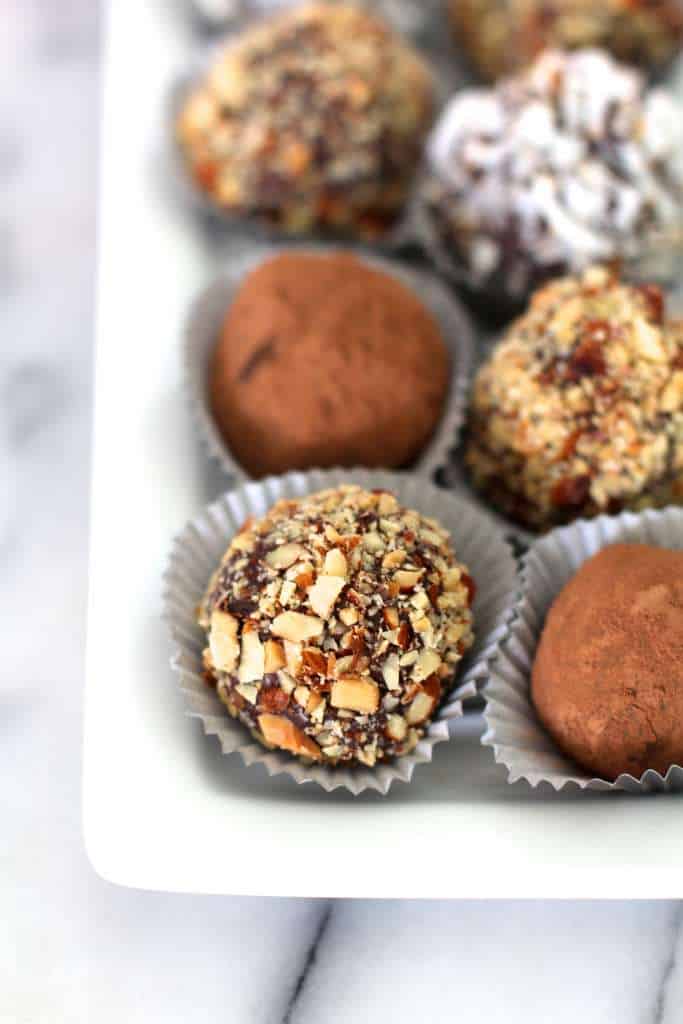 We spent the evening creating a 2016 bucket list. While not all of the 27 items may come to fruition, we are going to do the best we can to complete everything. That means that this year will be full of good food, fitness goals, and lots and lots of travel! We are set on creating memories with the kids over anything else.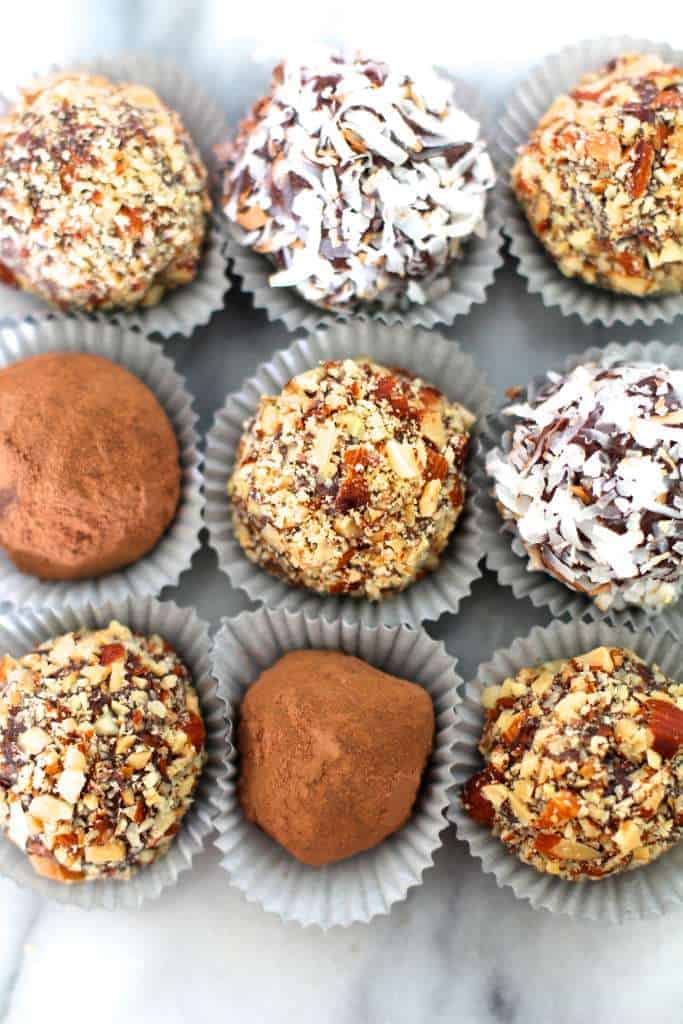 Another goal of mine is to teach my teen how to cook. Within four short years he will be heading off to college, a thought that gives me goose bumps. I want him to know and understand life essentials before he goes. Since the kid has a massive sweet tooth, and it was New Year's Eve, we decided to make these decadent Chocolate Almond Truffles. This recipe could not get much easier. While I will be teaching him how to make actual meals, it is also important to have a few dessert recipes up your sleeve too!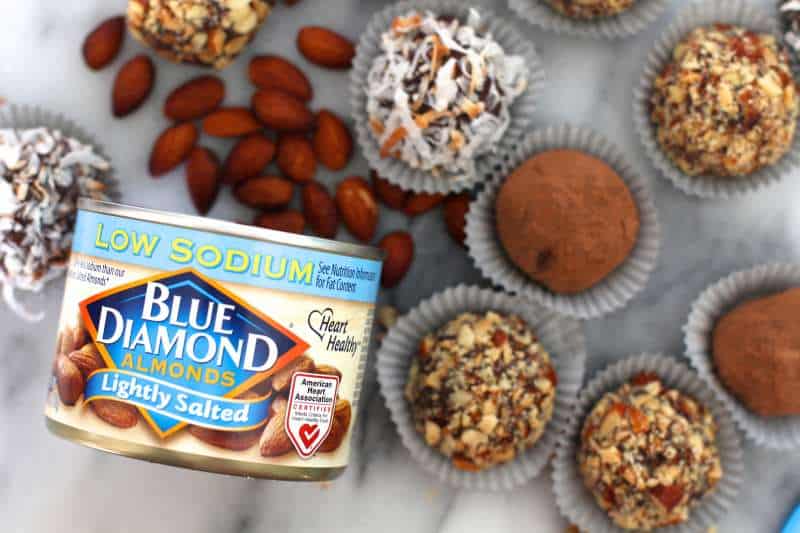 Just 4 simple ingredients make up these decadently rich chocolate bites. Since we love pairing Blue Diamond Almonds with chocolate, we not only put them in the truffle mixture, but also coated some of them in it too!
These chocolate almond truffles were the perfect bite to ring in the New Year with. They would also be the perfect homemade recipe for your special someone come Valentine's Day. I know I know, but you can never think too far ahead 😉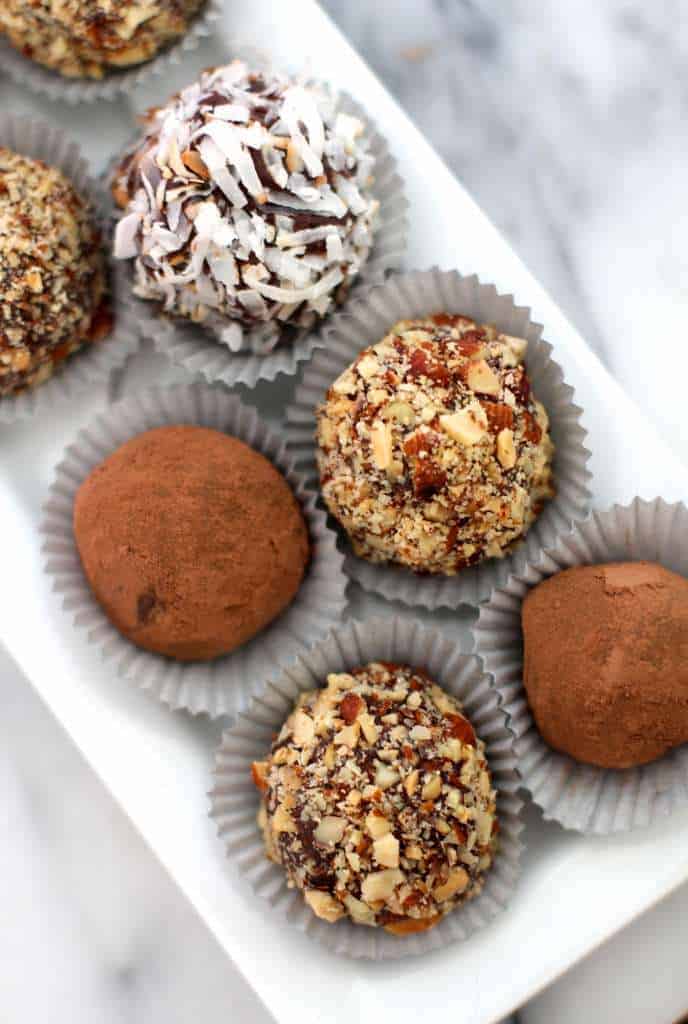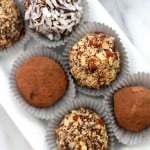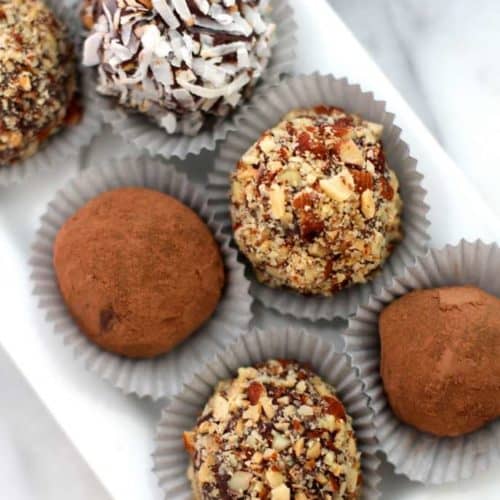 Chocolate Almond Truffles
A simple and delicious dessert that is sure to make everyone swoon.
Ingredients
8

ounces

of semi-sweet or bittersweet chocolate

(high quality, 62% cacao or higher), well chopped into small pieces

½

cup

of heavy whipping cream

1

teaspoon

of vanilla extract

½

cup

finely chopped Blue Diamond Roasted Almonds

Optional Coatings:

Cocoa powder

Finely Chopped Blue Diamond Roasted Almonds

Toasted Coconut
Instructions
In a small, heavy saucepan bring the heavy whipping cream to a simmer.

Place the chocolate in a separate bowl. Pour the hot cream over the chocolate, add the chopped almonds and vanilla, and allow to stand for a few minutes then stir until smooth.

Set the mixture in the refrigerator to chill uncovered for 2-3 hours, or until almost completely solid.

Once chilled and firm, prepare a small dish of cocoa powder, chopped almonds, and/or toasted coconut.

Use a Tablespoon-sized scoop to scoop out small balls, then use your hands to gently but quickly roll/form the chocolate into balls.

Roll balls into the coating.

Enjoy truffles immediately or store in the refrigerator in a air tight container for up to one week.
This post is sponsored by Blue Diamond Almonds. Thank you for supporting the companies that help make The Seaside Baker possible!