OLD FASHIONED PECAN FUDGE IS A WINNER OF A RECIPE. DECADENT, CREAMY FUDGE WITH MARSHMALLOWS AND PECANS... IT DOESN'T GET MUCH BETTER THAN THIS!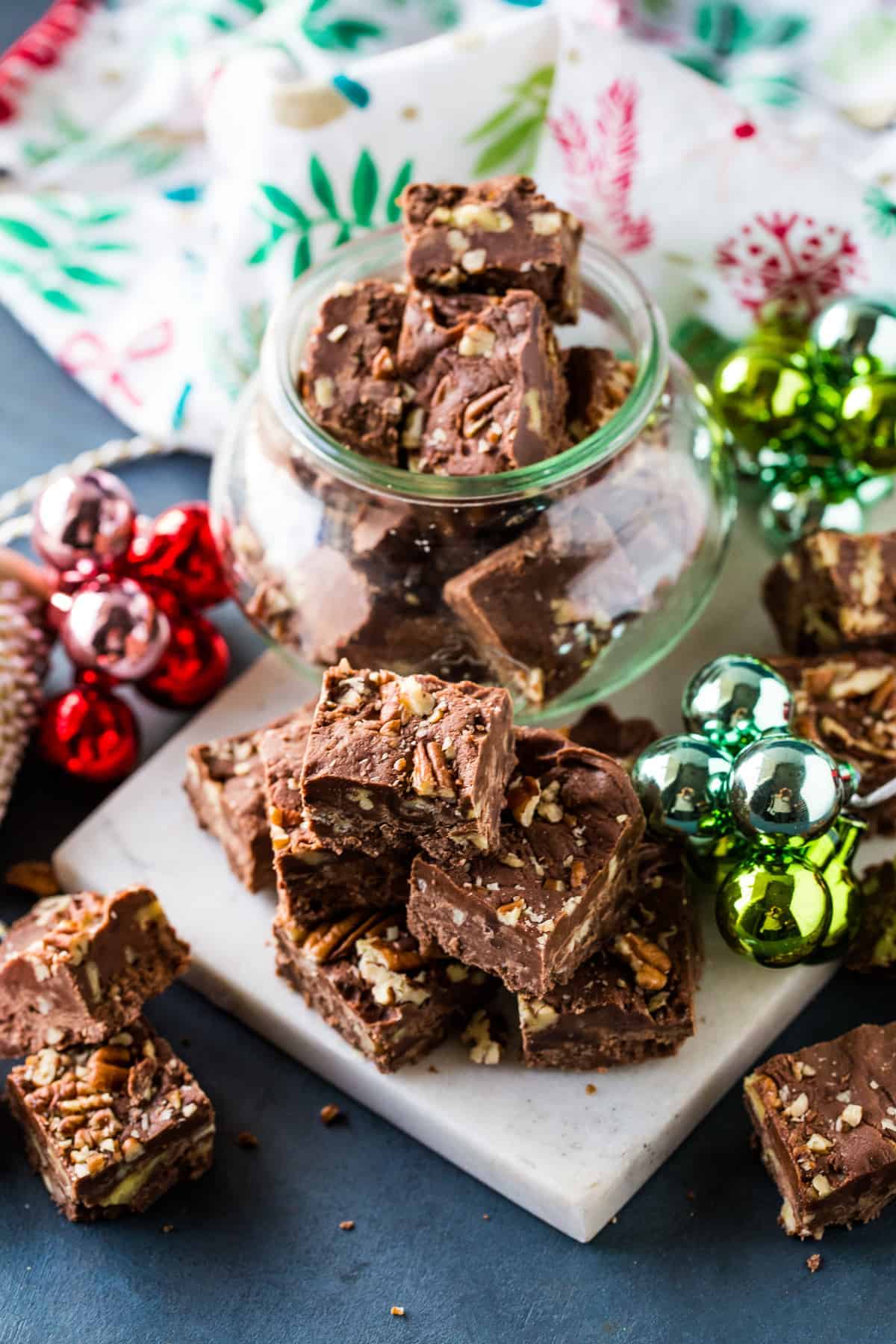 You know the recipes that transport you straight back to your childhood as soon as you begin to get out the ingredients?
This is definitely one of those recipes for me. As soon as I start pulling out the necessities for this recipe — chocolate chips, pecans, marshmallows, evaporated milk — I find myself right back in my grandparent's kitchen, cooking and baking up a storm with my grandfather. I spent a lot of time with my grandparents growing up, and it was through them, especially my grandfather, that I learned how to cook.
It's also where I acquired my love for food. It's kind of hard not to when you grow up making amazing recipes like this Old Fashioned Pecan Fudge. The recipe for this pecan fudge is actually a Carnation recipe (I think they call it "Carnation Famous Fudge"), and it's pretty much the perfect recipe.
Well... now it is. The original recipe calls for an optional ½ cup of pecans. Pecans, optional? And only ½ cup? Unless you have an allergy to them, there's no reason to leave out those soft, sweet, and buttery pecans.
To transform this into pecan fudge, you use the original ½ cup of toasted pecans in the fudge itself, and then you sprinkle another ¼ cup on top of the fudge right before you put it in the refrigerator to chill for two hours. Trust me when I say it takes the original recipe to a whole new level.
If this is a new-to-you recipe, Old Fashioned Pecan Fudge may not take you back to your childhood, but I say it's never too late to make food memories! Whip up a batch of this decadent pecan fudge and start making your own pecan fudge memories starting now. If you make Old Fashioned Pecan Fudge, let me know how you like it!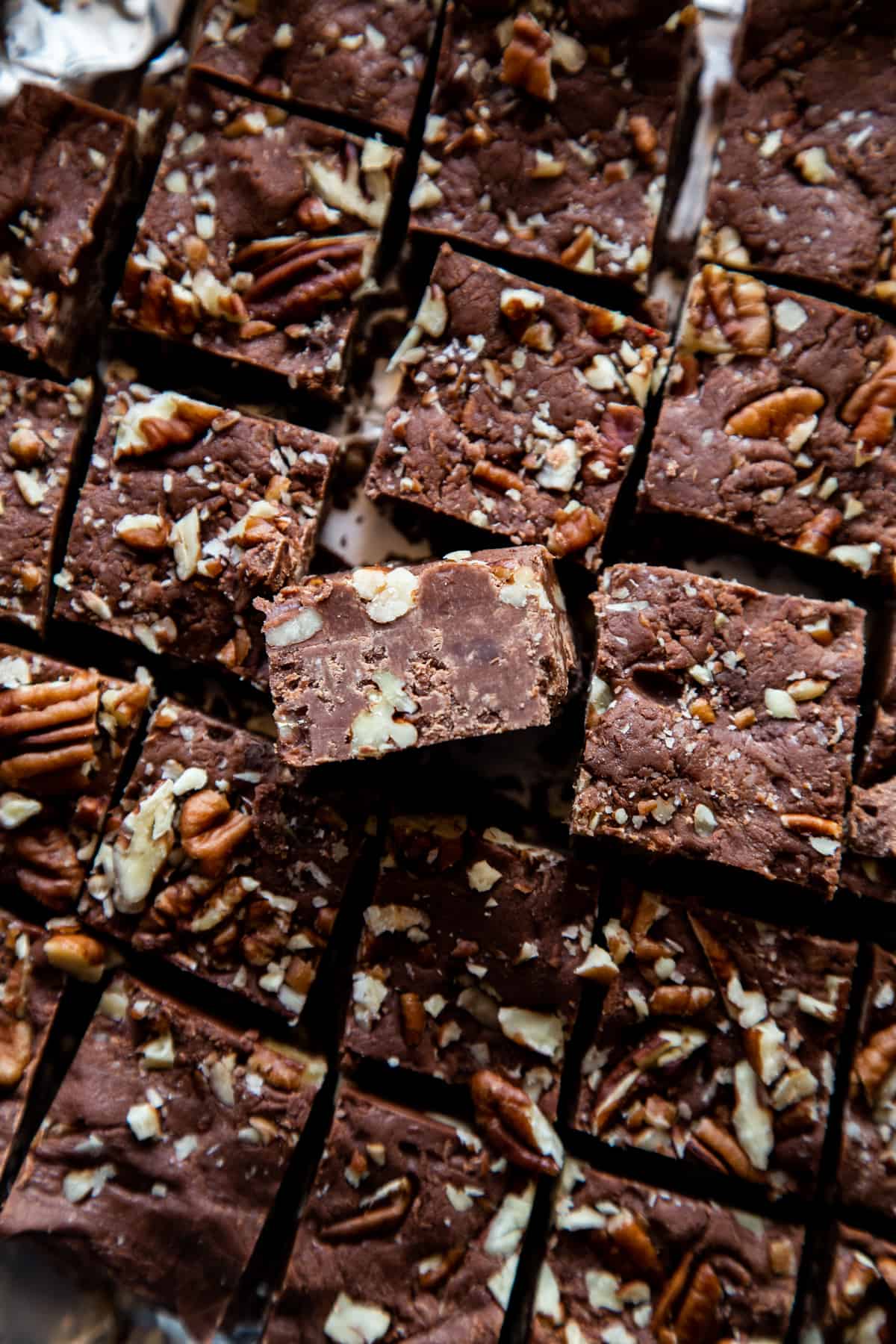 It's no surprise that we love to make homemade candy recipes during the holiday season. Combine this fudge with a batch of Brown Sugar Caramels, Polar Bear Claws, and Chocolate Rum Balls and you'll be known as the candy lady/man this Christmas Season!
WHY WE LOVE THIS OLD-FASHIONED FUDGE
Easy to make- This butter pecan fudge recipe is just like grandma's and doesn't require fancy ingredients or tools.
No need for a candy thermometer! Unlike most candy making recipes, this fudge does not need a candy thermometer or even a cold water test. It's a very straight forward recipe and always has the best results!
Makes a bunch- If you're looking to make a large amount for holiday gifts or just a wonderful holiday treat, this is the perfect recipe! It will make a couple pounds of fudge.
Rich flavor- with rich dark or milk chocolate combined with buttery pecans, this family favorite simple fudge will satisfy anyone with a sweet tooth.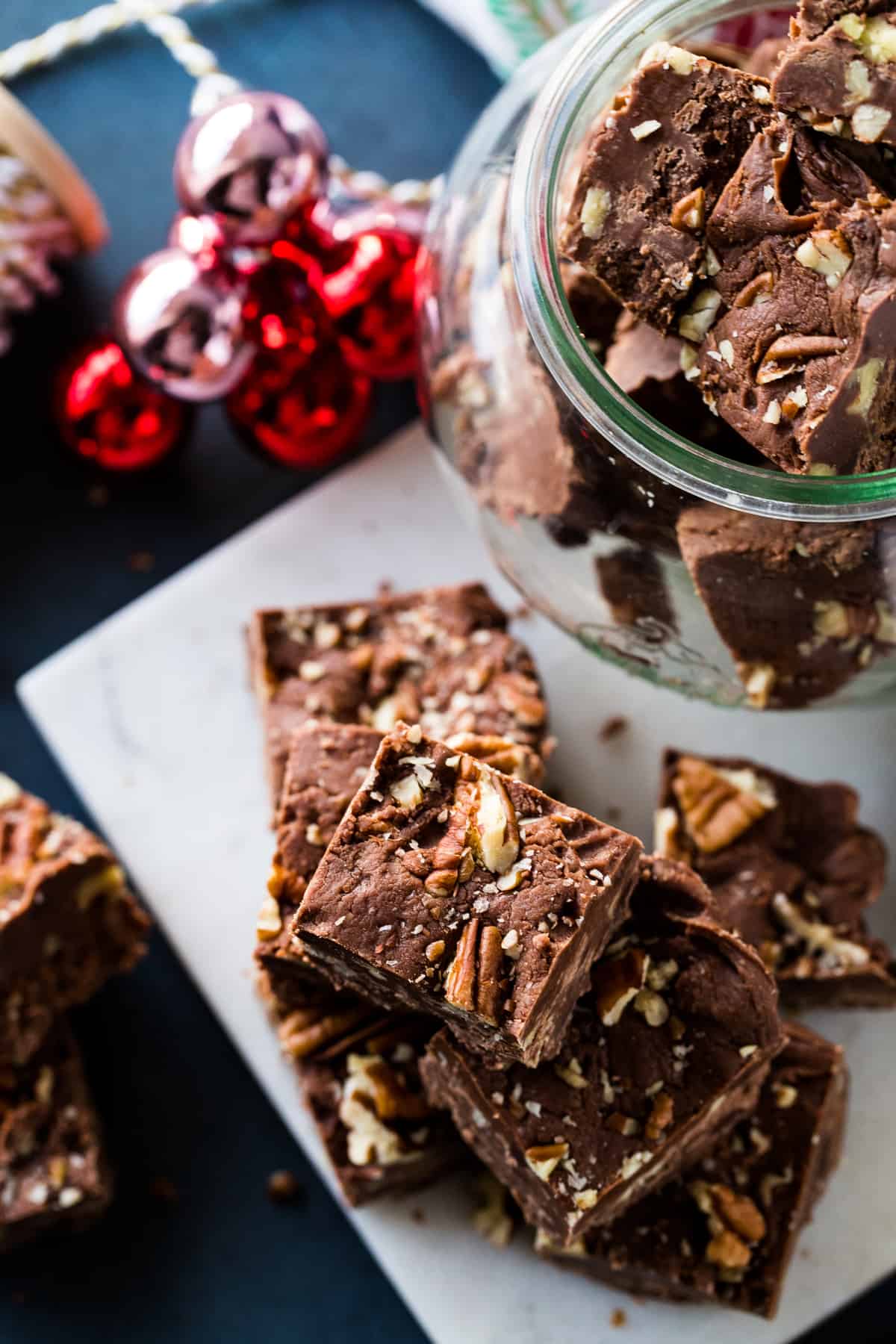 INGREDIENTS TO MAKE HOMEMADE FUDGE
Granulated white sugar
Evaporated Milk
Butter
Salt
Miniature marshmallows
Milk Chocolate Chips or chopped dark chocolate chunks
Chopped pecans
Vanilla extract
HOW TO MAKE THIS EASY FUDGE RECIPE
This old fashioned chocolate pecan fudge recipe is surprisingly easy to make. So turn on your holiday tunes, grab an apron, and let's get cooking on of our favorite recipes.
Line 8-inch-square baking dish with foil. Spray with non-stick cooking spray; set aside.
Combine sugar, evaporated milk, butter and salt in medium, heavy pot. Bring to a full rolling boil over medium high heat, stirring constantly for 4-5 minutes then remove from the heat.
Stir in marshmallows, chocolate chips, ½ cup pecans and vanilla extract.
Stir vigorously with a wooden spoon for 1 minute or until marshmallows and chocolate are melted.
Pour hot mixture into prepared pan, spread into an even layer, and sprinkle with remaining pecans.
Let Refrigerate for 2 hours or until firm.
Once chilled, lift from pan; remove foil. Cut into 1-inch squares.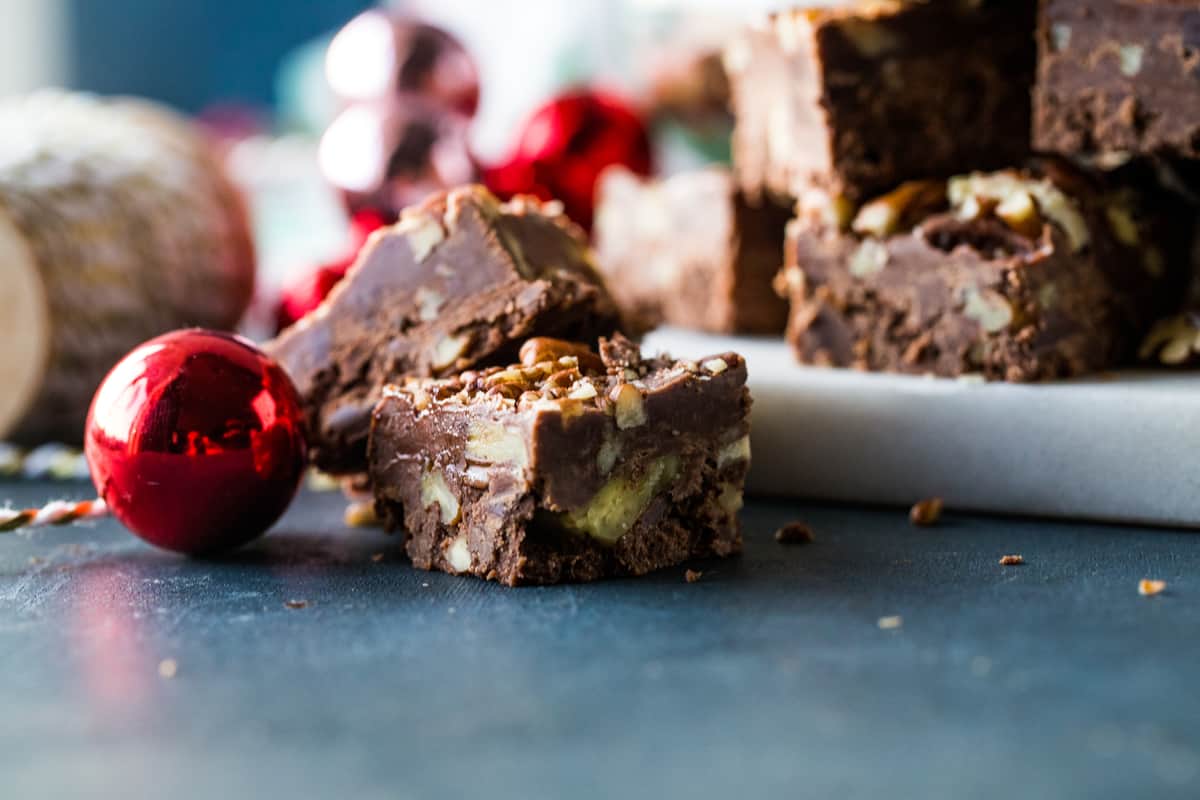 OLD FASHIONED PECAN FUDGE RECIPE TIPS AND SUBSTITUTIONS
Change the nuts- If you're not pecan lovers like we are, substitute almonds or walnuts for the nuts
Make it boozy- add some rum extracts or a teaspoon of bourbon with the vanilla extract for a grown up pecan fudge!
Switch out the chocolate and use peanut butter chips for a creamy peanut butter fudge.
Make sure to use a heavy-bottomed pan when making candy. This helps the heat disperse evenly in the pan so that when you cook fudge it doesn't burn.
Make this pecan fudge with toasted or candied pecans!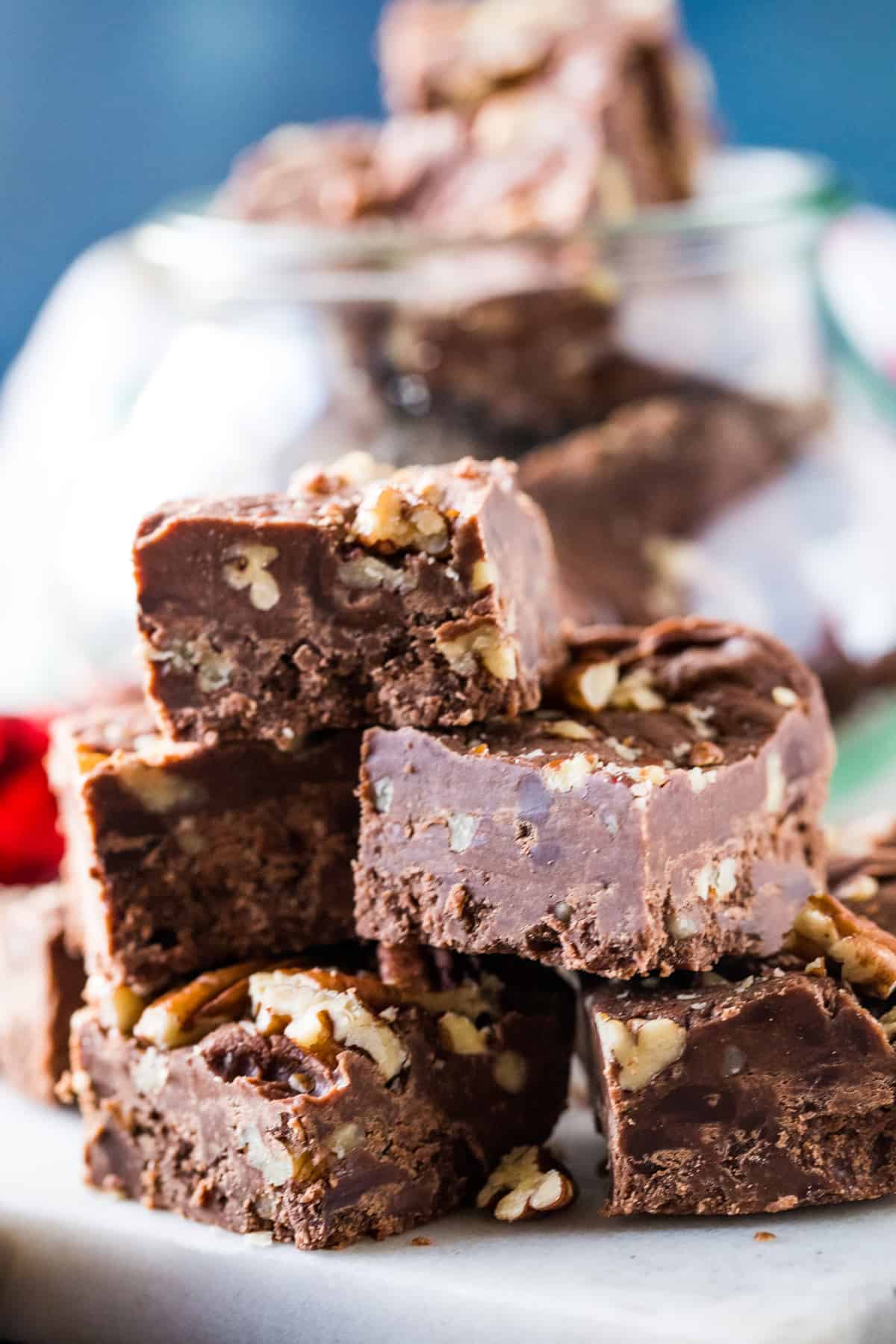 CHOCOLATE PECAN FUDGE FAQs
What is the difference between sweetened condensed milk and evaporated milk?
The main difference between evaporated milk and condensed milk is that evaporated milk is unsweetened while condensed milk is sweetened. The condensed milk is much thicker, almost caramel like, than the evaporated milk due to the added sugar. I've seen old fashioned chocolate fudge recipes that use the condensed milk, however this recipe would be painstakingly sweet if added, so I would recommend sticking with the evaporated milk. If you're looking to use up a few cans of condensed milk, make dulce de leche!
My fudge didn't set, what can I do?
Typically this is because the mixture did not get hot enough. Make sure to really let evaporated milk and sugar mixture boil for a good 4 to 5 minutes before removing from the heat. If you've gone through the whole cooking and cooling process and your fudge still hasn't set, you can melt down the mixture again and still in about ½-1 cup of powdered sugar. Then pour hot mixture into a prepared pan and cool completely.
How long will pecan fudge stay fresh?
This old fashioned fudge recipe is best stored at room temperature for 2 to 3 weeks wrapped up in wax paper or stored in an airtight container. I don't refrigerate fudge as it draws out the moisture and leave you with dry, crumbly fudge.
Can I make pecan chocolate fudge in advance?
For best results, this pecan fudge is best if made within a week of consuming but can be made 2-3 weeks in advance.
MAKE SURE TO SHARE WITH US ON SOCIAL HOW YOUR OLD-FASHIONED CHOCOLATE FUDGE CAME OUT!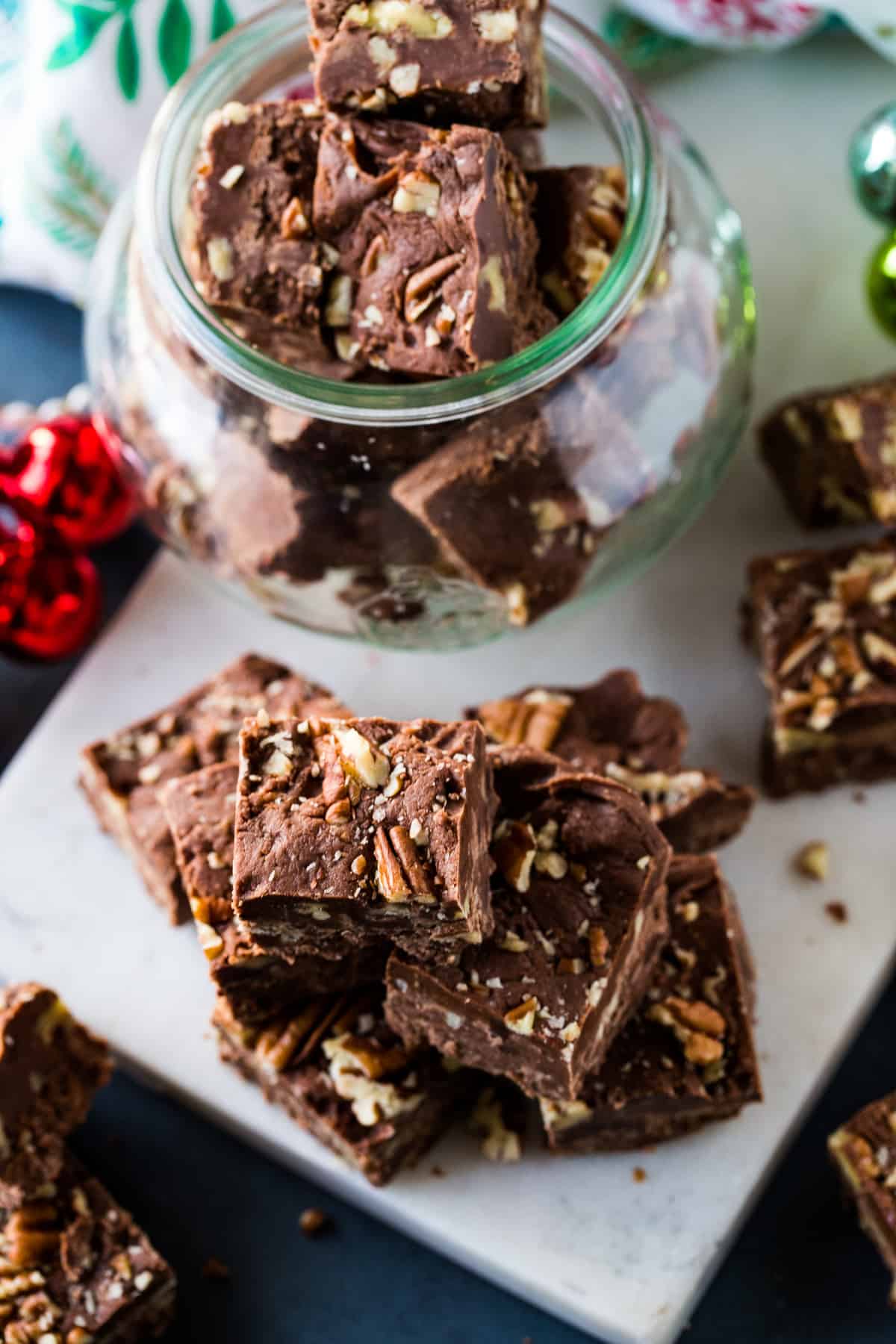 OTHER RICH FUDGE RECIPES WE THINK YOU'LL ENJOY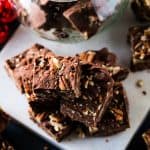 Old Fashioned Pecan Fudge
Just like from the candy store, this fudge is decadently delicious!
Ingredients
1 ½

cups

granulated sugar

⅔

cup

Evaporated Milk

2

tablespoons

butter or margarine

¼

teaspoon

kosher salt

2

cups

miniature marshmallows

1 ½

cups

Milk Chocolate Chips

¾

cup

chopped pecans

divided

1

teaspoon

vanilla extract
Instructions
Line 8-inch-square baking pan with foil.

Combine sugar, evaporated milk, butter and salt in medium, heavy-duty saucepan. Bring to a full rolling boil over medium heat, stirring constantly.

Boil, stirring constantly, for 4 to 5 minutes. Remove from heat.

Stir in marshmallows, chocolate chips, ½ cup pecans and vanilla extract.

Stir vigorously for 1 minute or until marshmallows are melted.

Pour into prepared baking pan and sprinkle with remaining pecans.

Refrigerate for 2 hours or until firm.

Lift from pan; remove foil. Cut into 48 pieces.