Old Fashioned Pecan Fudge is a winner of a recipe. Decadent, creamy fudge with marshmallows and pecans... it doesn't get much better than this!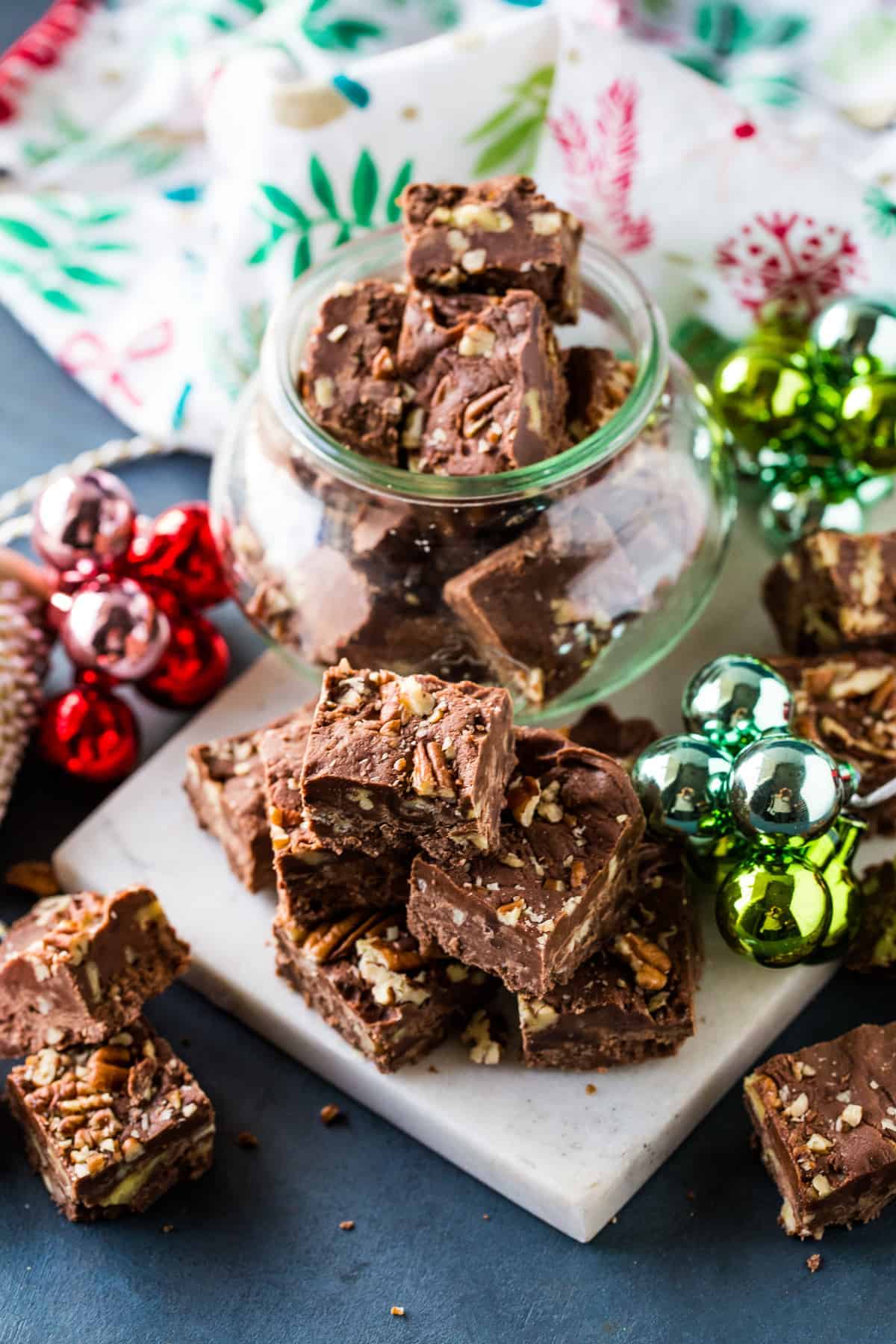 You know the recipes that transport you straight back to your childhood as soon as you begin to get out the ingredients?
This is definitely one of those recipes for me. As soon as I start pulling out the necessities for this recipe — chocolate chips, pecans, marshmallows, evaporated milk — I find myself right back in my grandparents' kitchen, cooking and baking up a storm with my grandfather. I spent a lot of time with my grandparents growing up, and it was through them, especially my grandfather, that I learned how to cook.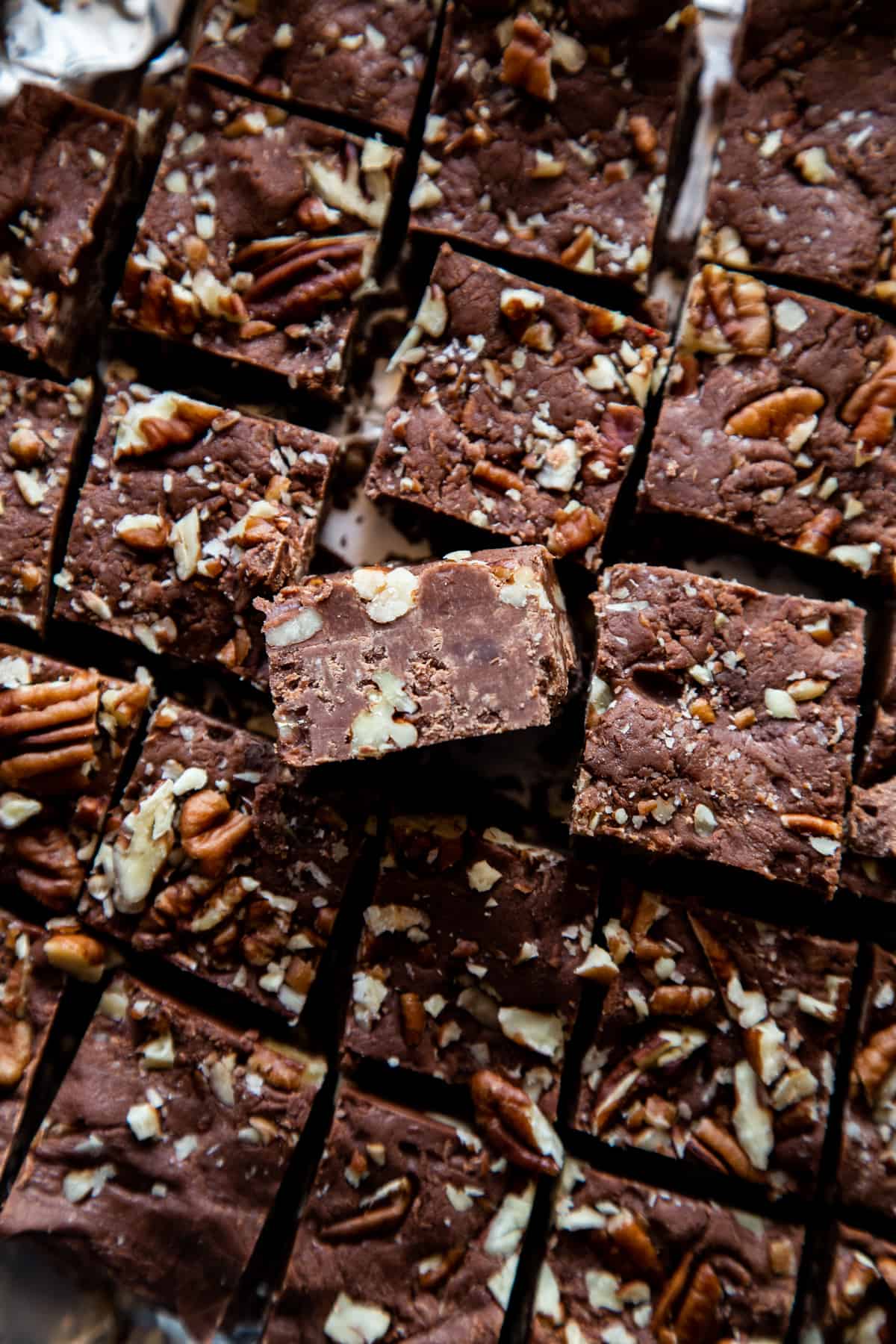 It's also where I acquired my love for food. It's kind of hard not to when you grow up making amazing recipes like this Old Fashioned Pecan Fudge. The recipe for this pecan fudge is actually a Carnation recipe (I think they call it "Carnation Famous Fudge"), and it's pretty much the perfect recipe.
Welllll.... now it is. The original recipe calls for an optional ½ cup of pecans. Pecans, optional? And only ½ cup? Unless you have an allergy to them, there's no reason to leave out those soft, sweet, and buttery pecans.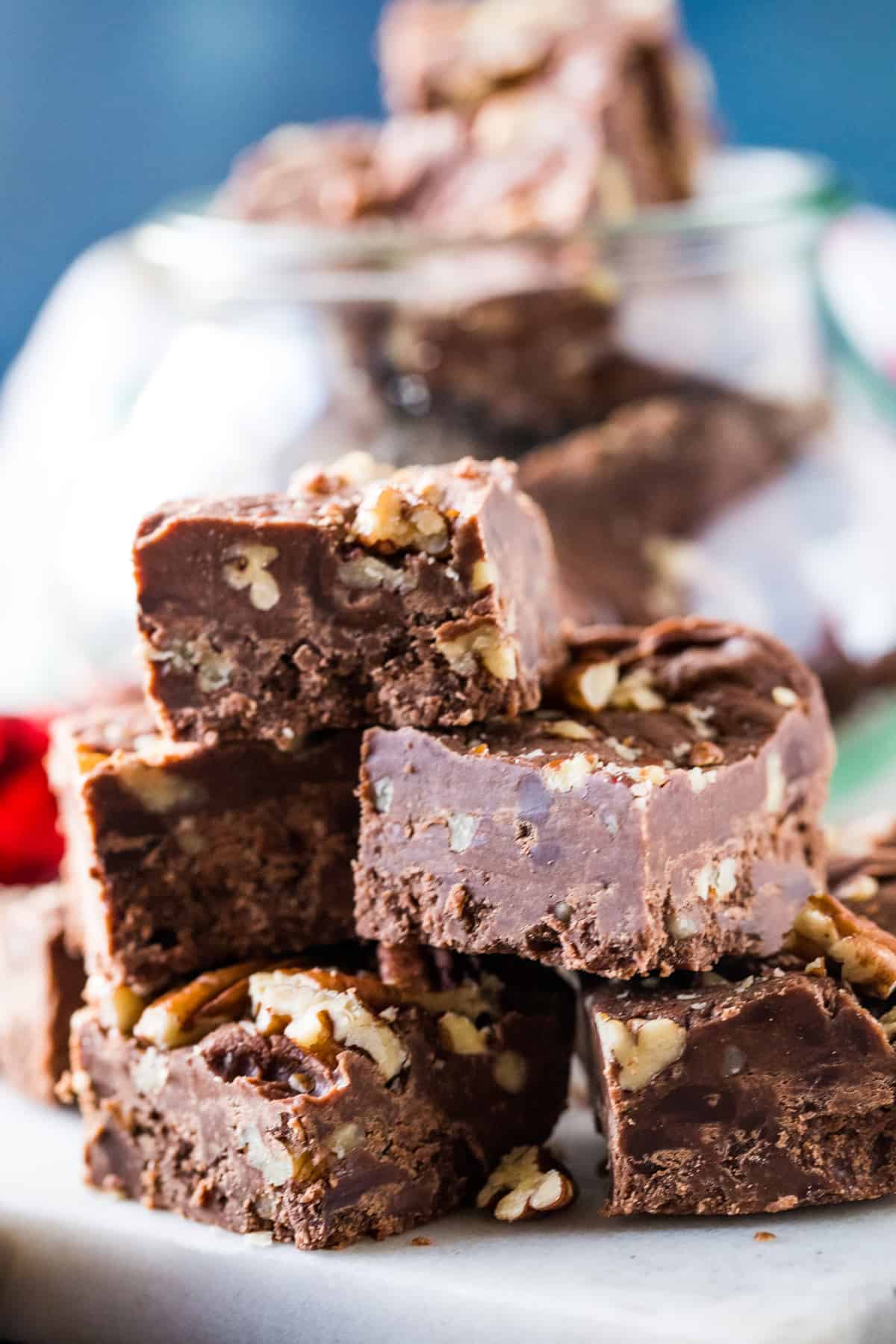 To transform this into pecan fudge, you use the original ½ cup of pecans in the fudge itself, and then you sprinkle another ¼ cup on top of the fudge right before you put it in the refrigerator to chill for two hours. Trust me when I say it takes the original recipe to a whole new level.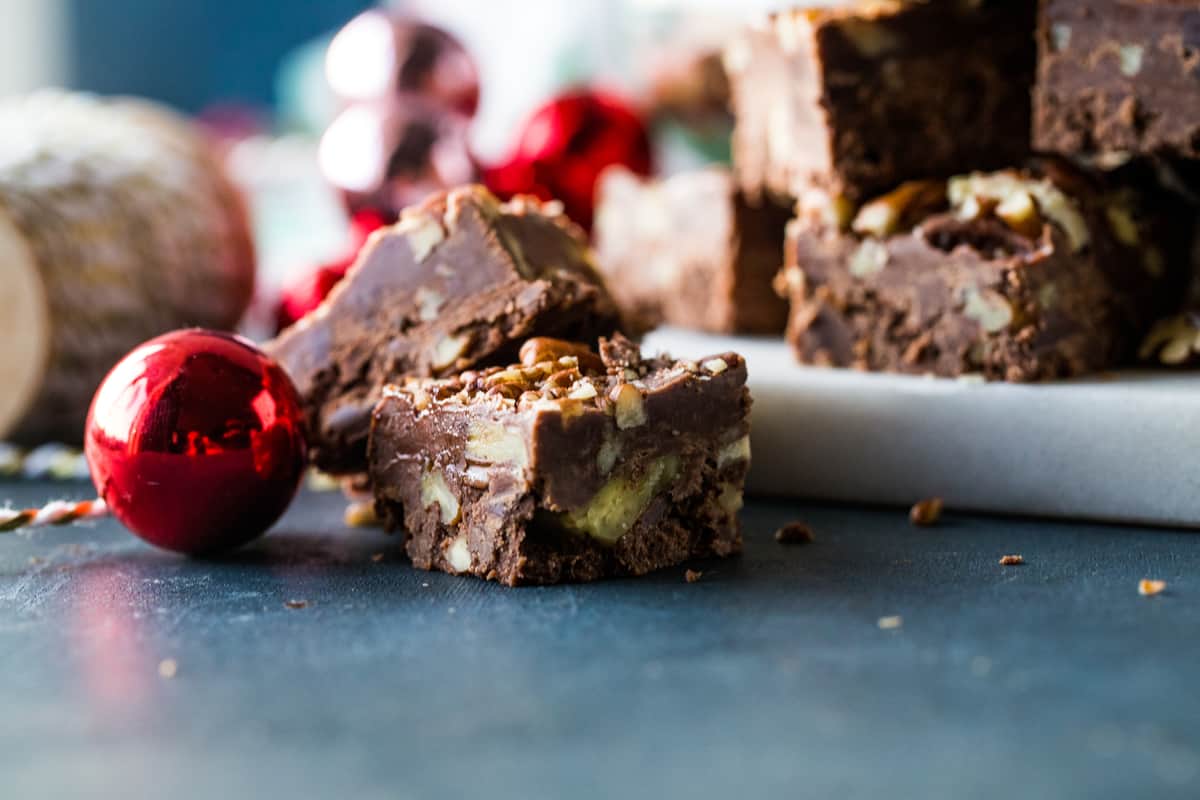 If this is a new-to-you recipe, Old Fashioned Pecan Fudge may not take you back to your childhood, but I say it's never too late to make food memories! Whip up a batch of this decadent pecan fudge and start making your own pecan fudge memories starting now.
If you make Old Fashioned Pecan Fudge, let me know how you like it!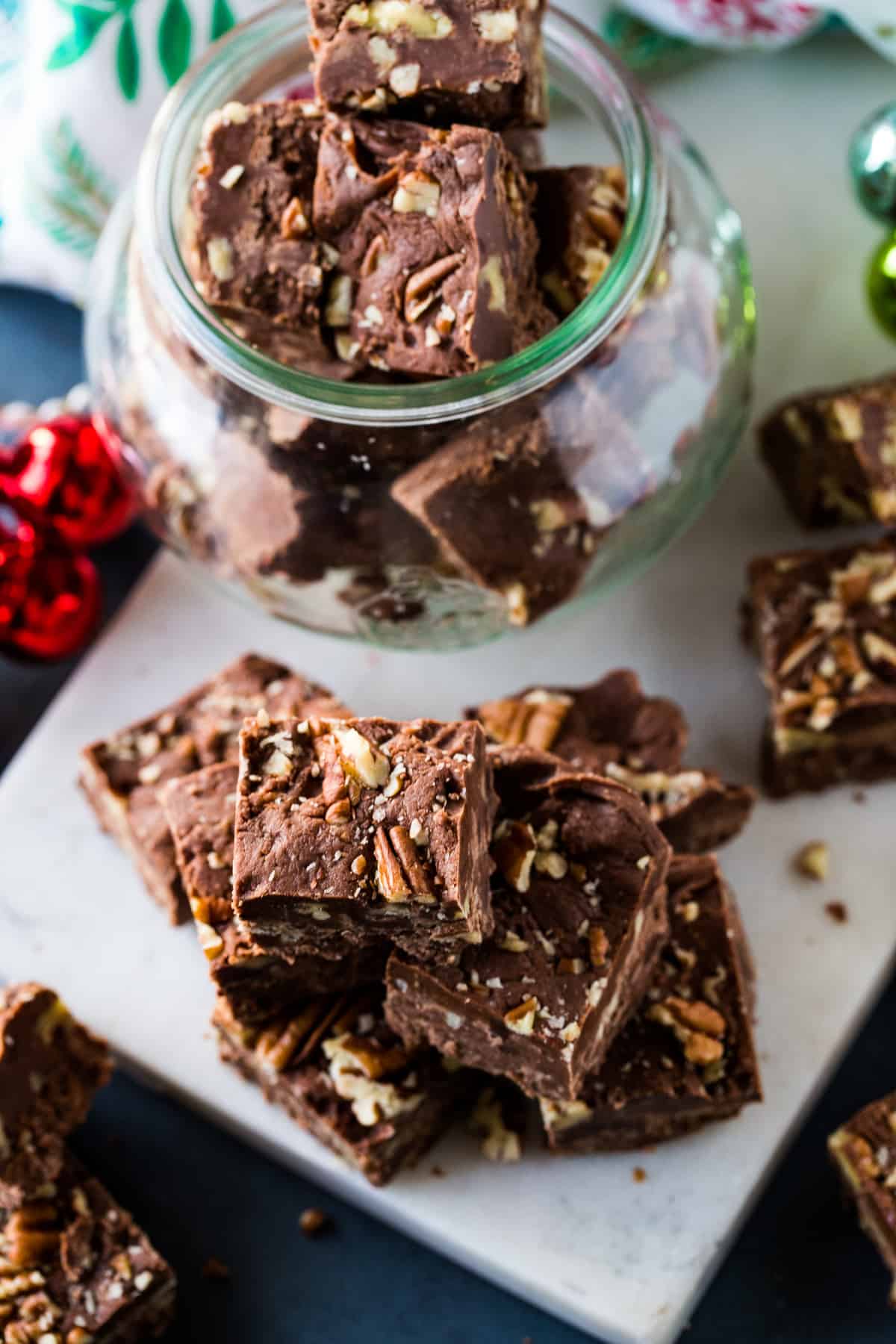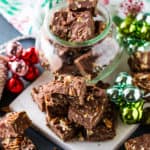 Old Fashioned Pecan Fudge
Just like from the candy store, this fudge is decadently delicious!
Ingredients
1 ½

cups

granulated sugar

⅔

cup

Evaporated Milk

2

tablespoons

butter or margarine

¼

teaspoon

kosher salt

2

cups

miniature marshmallows

1 ½

cups

Milk Chocolate Chips

¾

cup

chopped pecans

divided

1

teaspoon

vanilla extract
Instructions
Line 8-inch-square baking pan with foil.

Combine sugar, evaporated milk, butter and salt in medium, heavy-duty saucepan. Bring to a full rolling boil over medium heat, stirring constantly.

Boil, stirring constantly, for 4 to 5 minutes. Remove from heat.

Stir in marshmallows, chocolate chips, ½ cup pecans and vanilla extract.

Stir vigorously for 1 minute or until marshmallows are melted.

Pour into prepared baking pan and sprinkle with remaining pecans.

Refrigerate for 2 hours or until firm.

Lift from pan; remove foil. Cut into 48 pieces.