Get into the Christmas cheer when you create this festive Grinch Fudge. With only 4 ingredients, it's a super easy recipe that even the kids can help with. A decadent and rich vanilla fudge with all the perfect holiday colors.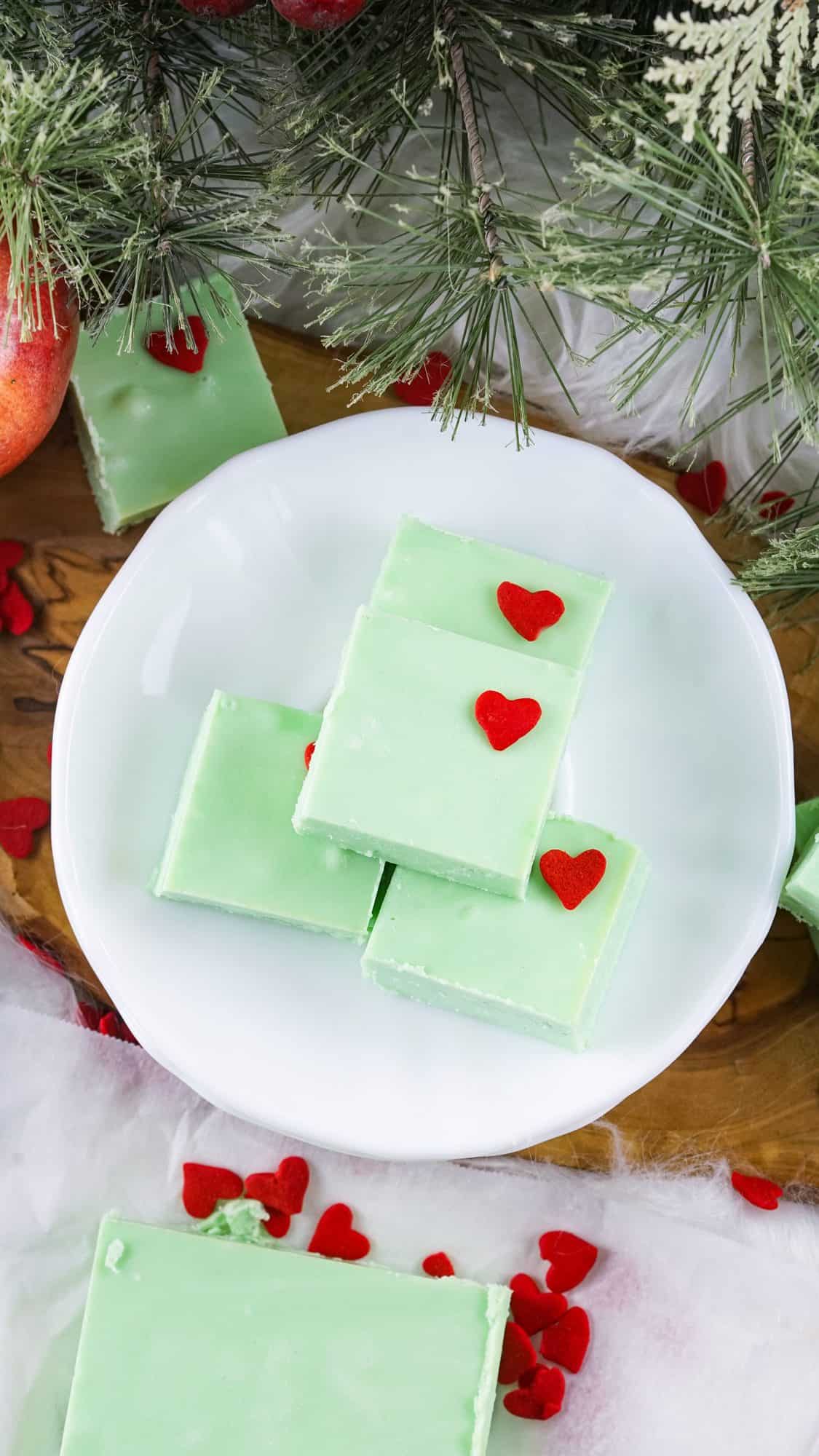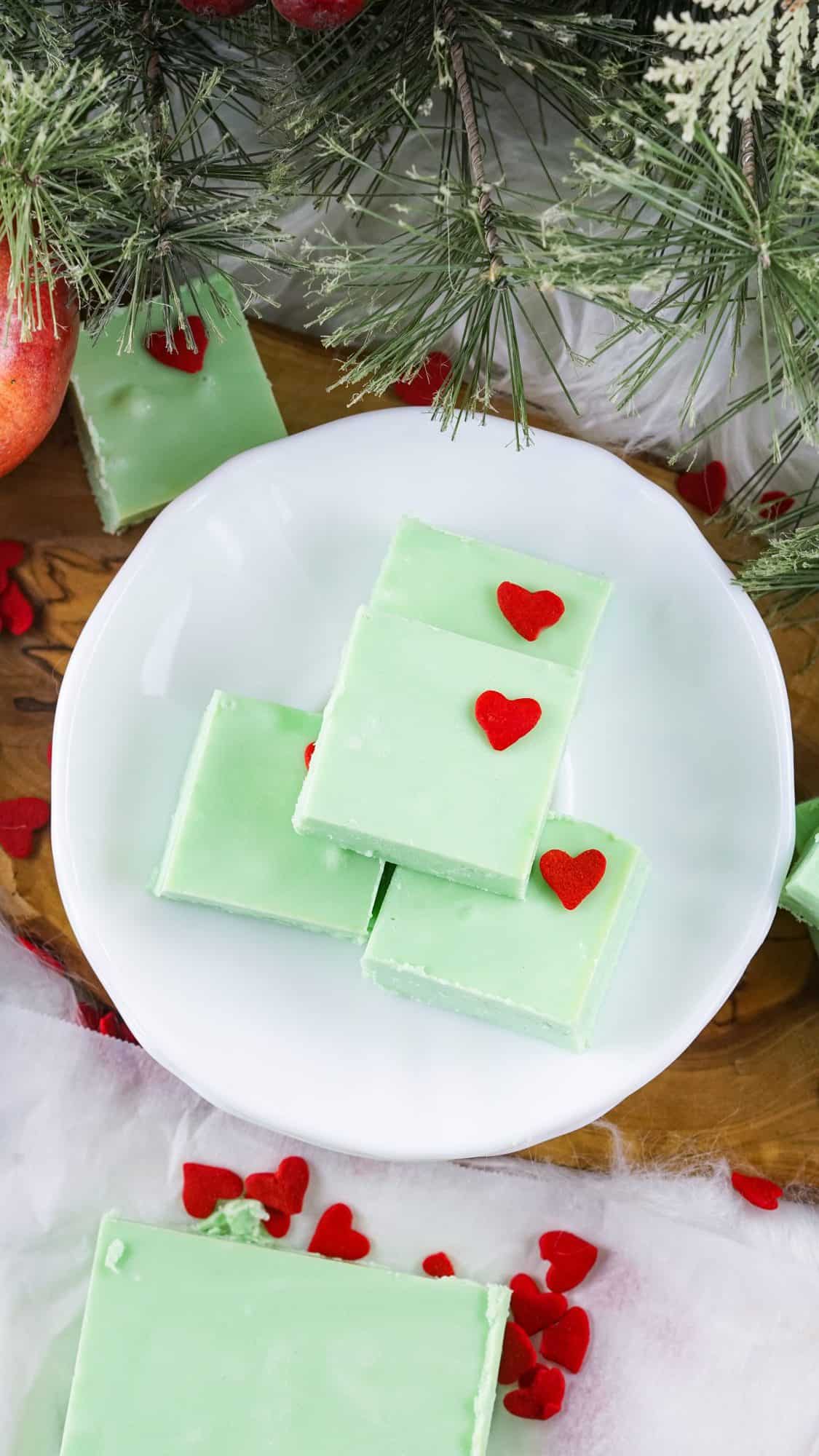 No matter what version of The Grinch you put in front of me, I love it. There have been so many amazing renditions of it that it's just a must for the holidays anymore. Of course, my favorite is the one with Jim Carey, but I'm sure that's cliche.
Either way, I thought it would be a blast to whip up an easy treat that would keep the kids occupied while catering to the things they love most about the holidays. It's easy enough that it's fool-proof and it's perfect for goodie bags or as a gift! While you're making your candy tins, you can toss in these Polar Bear Claws or Cordial Cherry Orange Truffles!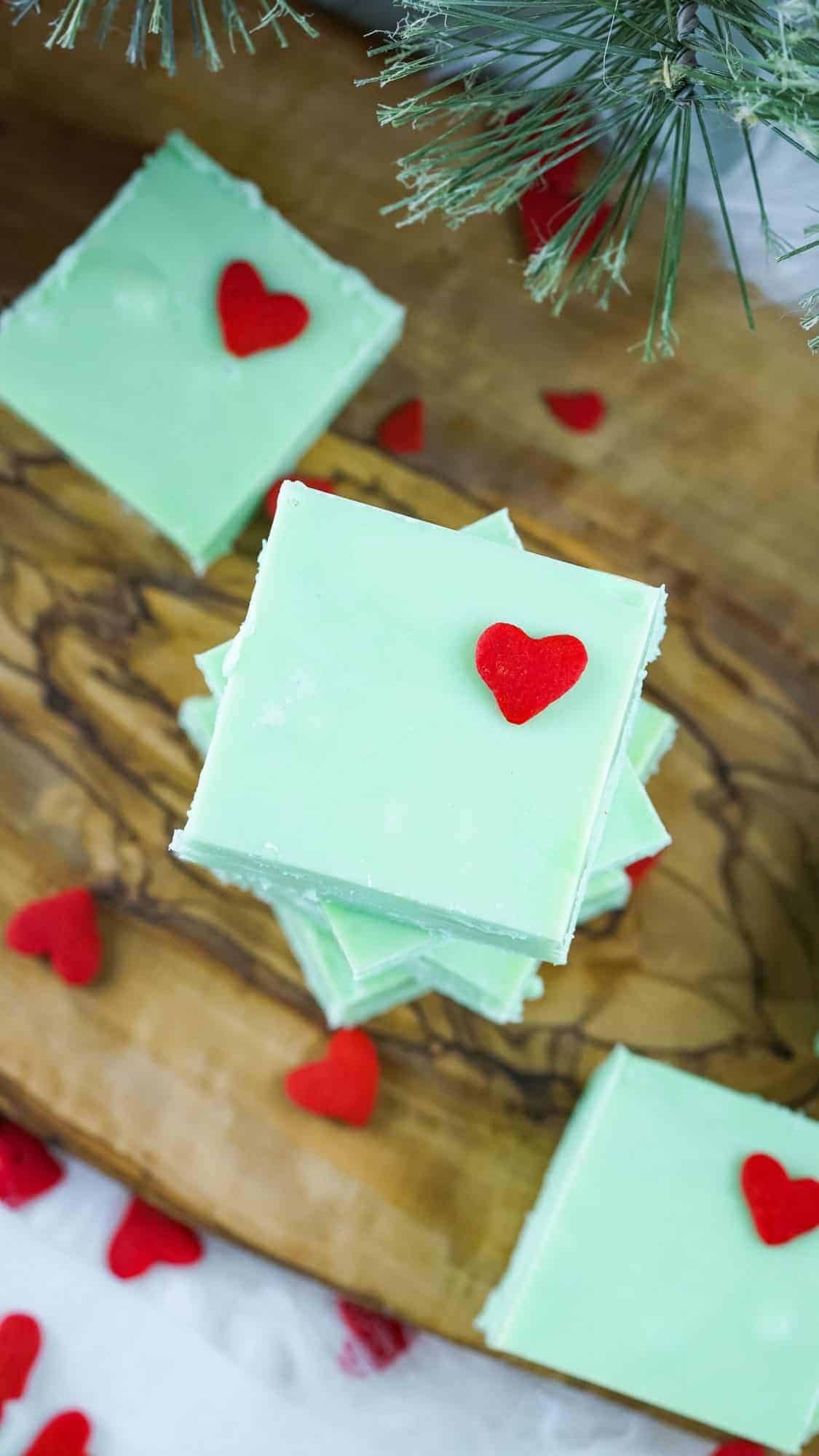 WHY WE LOVE THIS GRINCH FUDGE RECIPE
This green fudge with cute red candy heart is easy to make with only 4 ingredients
Adds a pop of color to your holiday buffet dessert table
Delicious and fun Dr. Seuss classic that even the Grinch or any hermit type creature would love!
No candy thermometer needed!
Serve at your next Grinch Stole Christmas viewing party!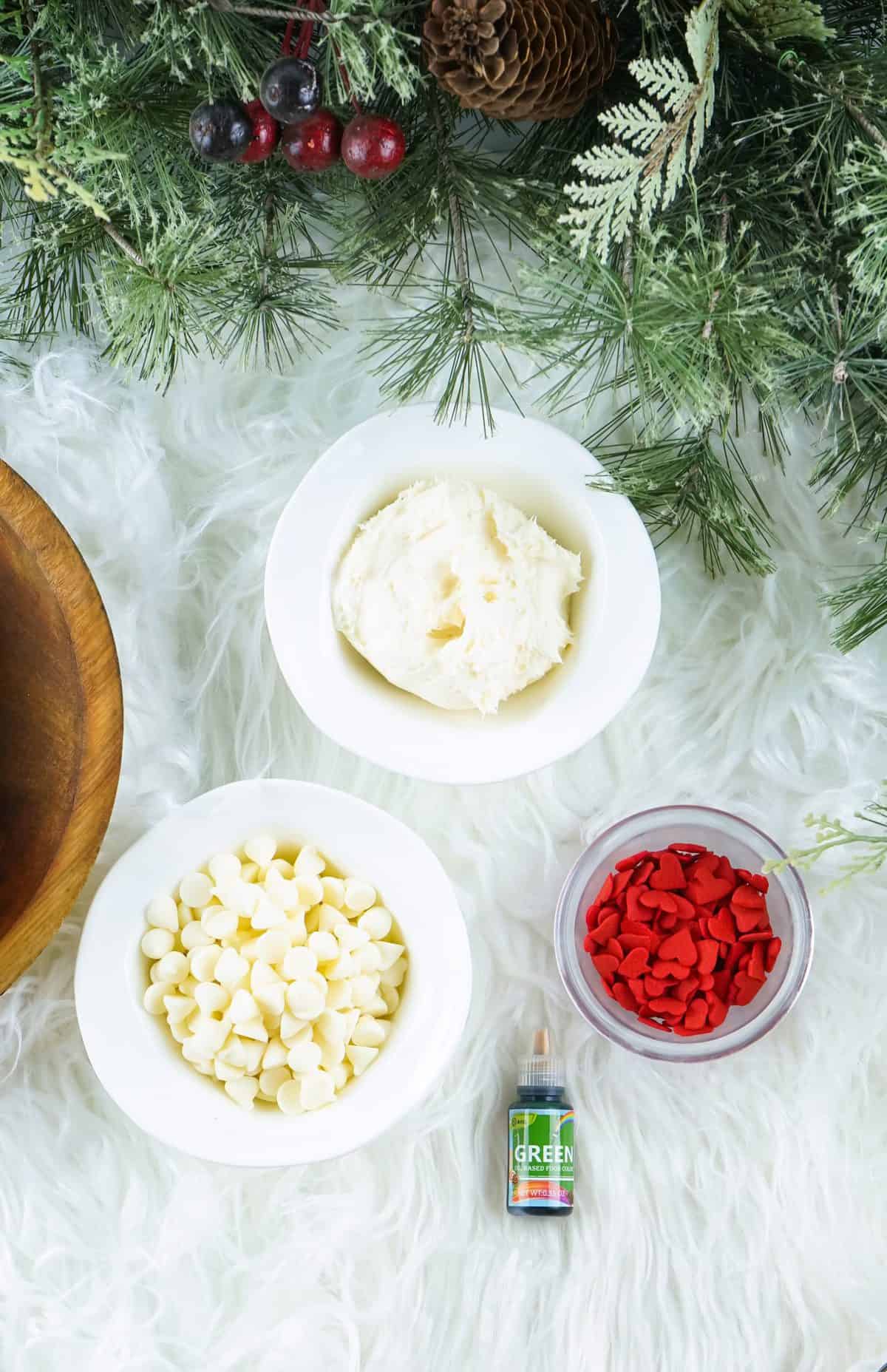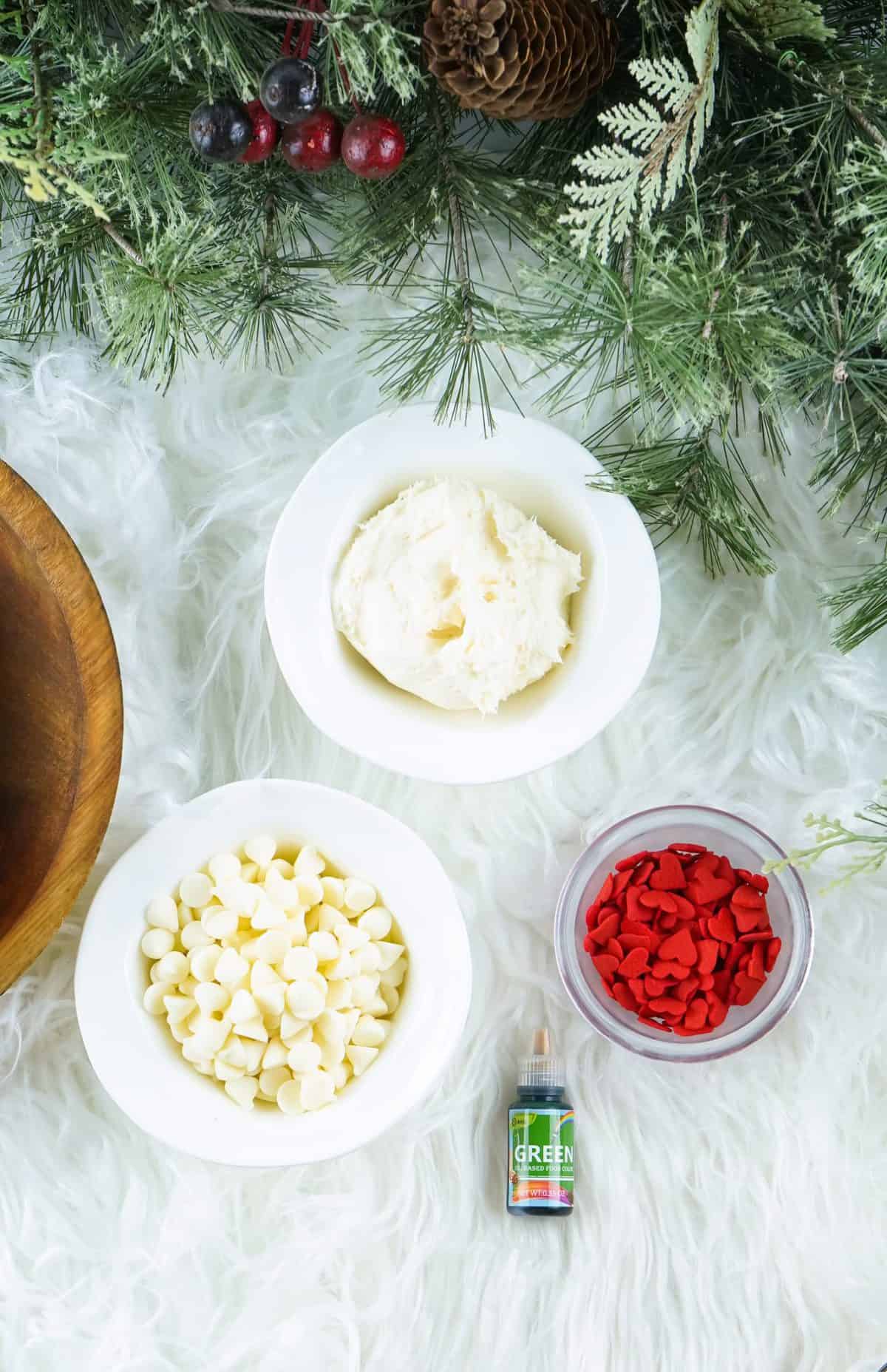 How Do You Make Grinch Fudge?
Prep

- Line your square pan with parchment paper and set aside.

Melt - Place the white chocolate chips in a bowl and microwave until smooth. Place the frosting in the microwave until it's in a liquid state.
Color - Add the chocolate, frosting, and green food coloring to the same bowl and stir vigorously.
Chill - Pour it into the prepared pan and chill for 2 hours.
Slice - Cut into 1-inch squares and place a heart on each piece. Enjoy!
Tips and Variations
How will the sprinkles stick?

- The condensation from the fudge being chilled allows the large heart sprinkles to stick. However, if for some reason you have trouble with the sprinkles not wanting to stick, you can use a tiny dab of frosting or melted chocolate to apply them.

Storage

- This fudge is best stored in the fridge or freezer in an air tight container. For the fridge, it should keep for 2 weeks. In the freezer, it should keep for 2+ months.

Where do I buy the large heart sprinkles?

- I had trouble finding the right ones until I scoped out Amazon. So, definitely go there first as they made it easy. I bought these

sprinkles

.

Do I need to use a special food dye?

- I do not suggest any water based dyes as they make the chocolate seize. Use an

oil based dye

and you will have zero troubles with the chocolate getting gross on you. The link above leads you to the exact green dye I used.

What brand of chocolate is best?

- Toll House morsels have been the best, by far, to work with when it comes to this easy fudge recipe. The dairy-free option in that brand was also phenomenal.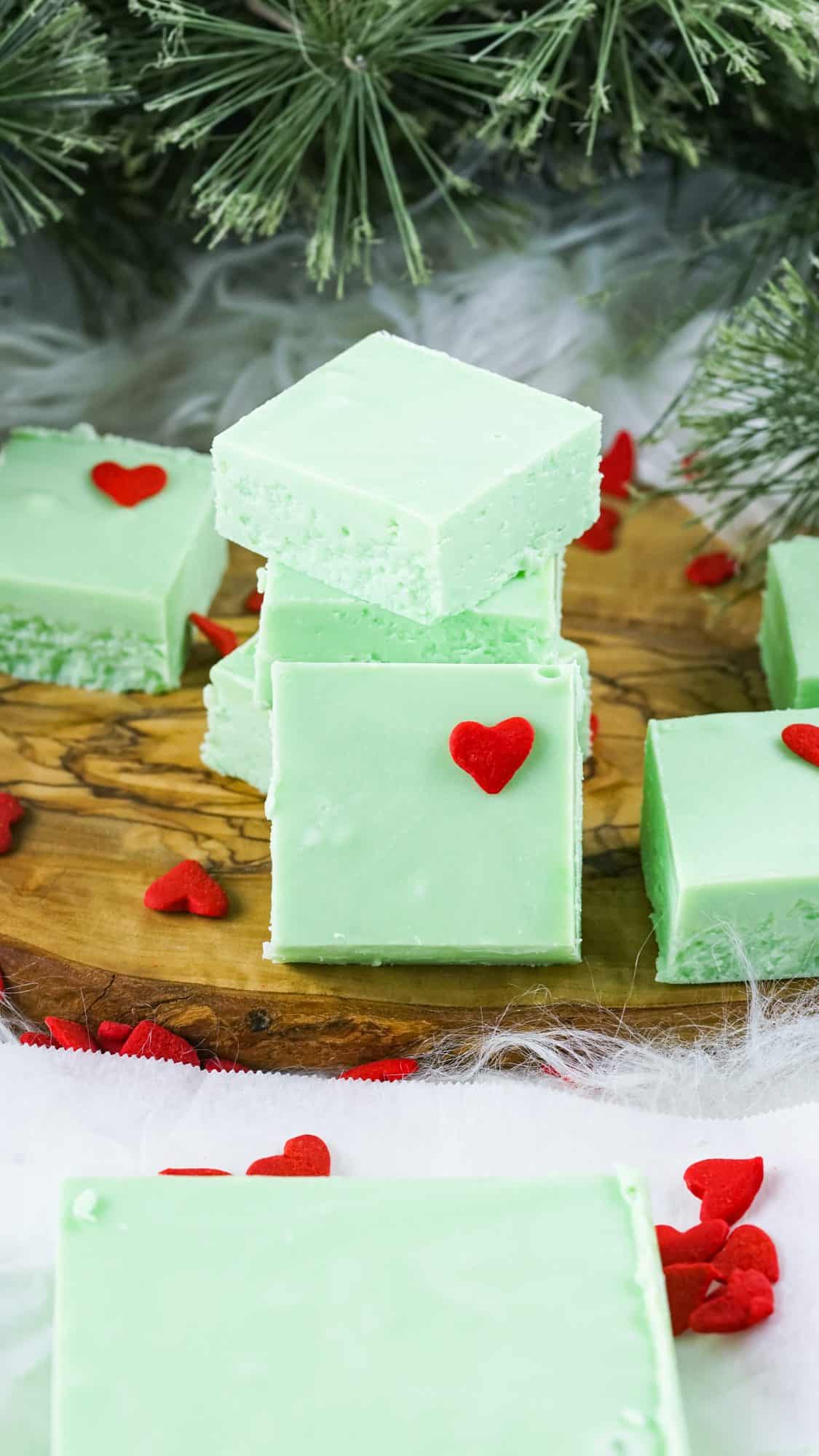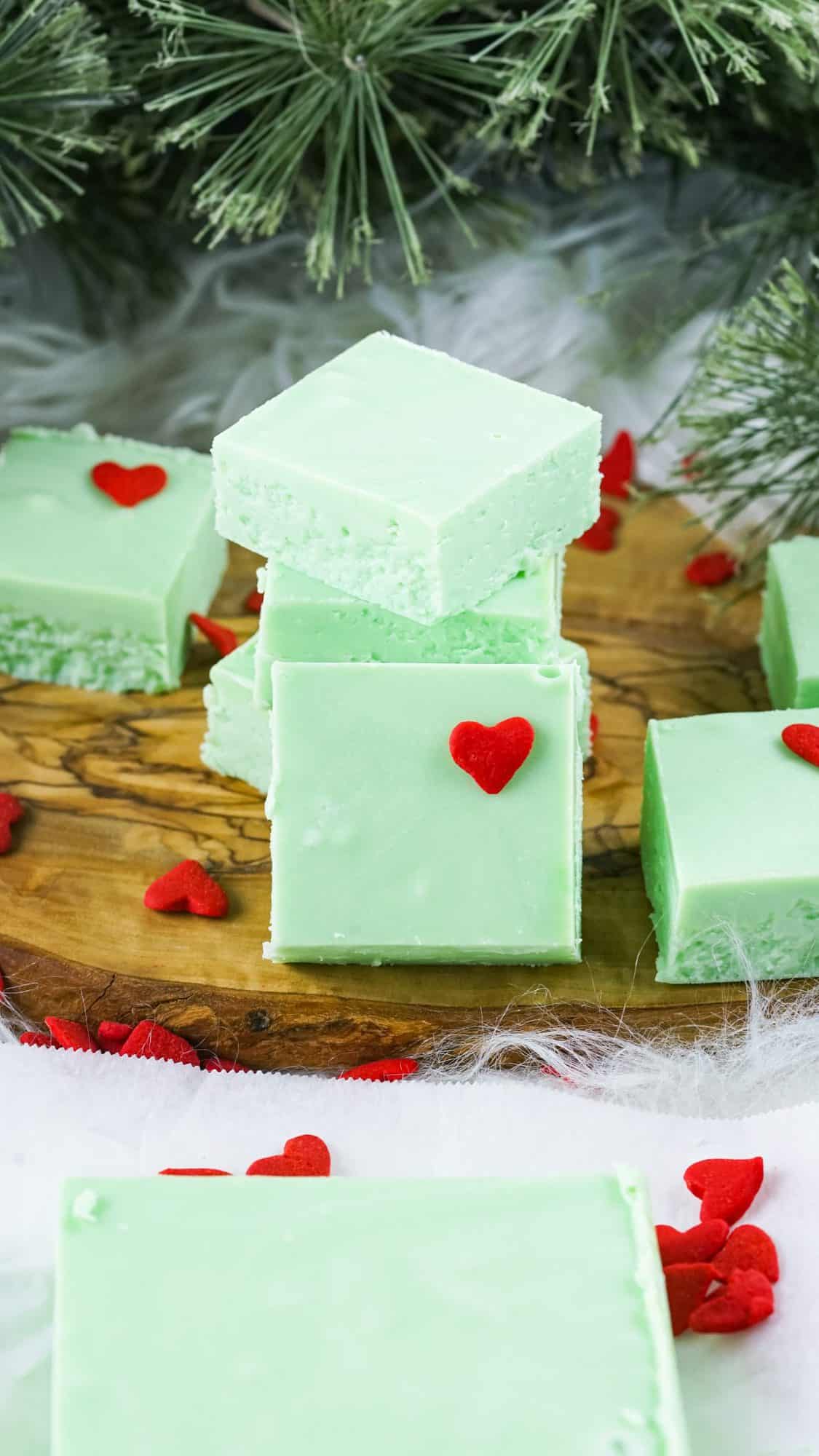 Common Questions About Grinch Fudge
What are the Ingredients for Fudge?
This fudge is an easy 3-ingredient fudge recipe with added heart sprinkles just for that extra Grinchy touch. The base ingredients are chocolate chips, frosting, and food coloring. So, unlike traditional fudge, you don't have to use a candy thermometer and go through a ton of steps. Simply melt the ingredients, combine, and chill. It's truly that simple.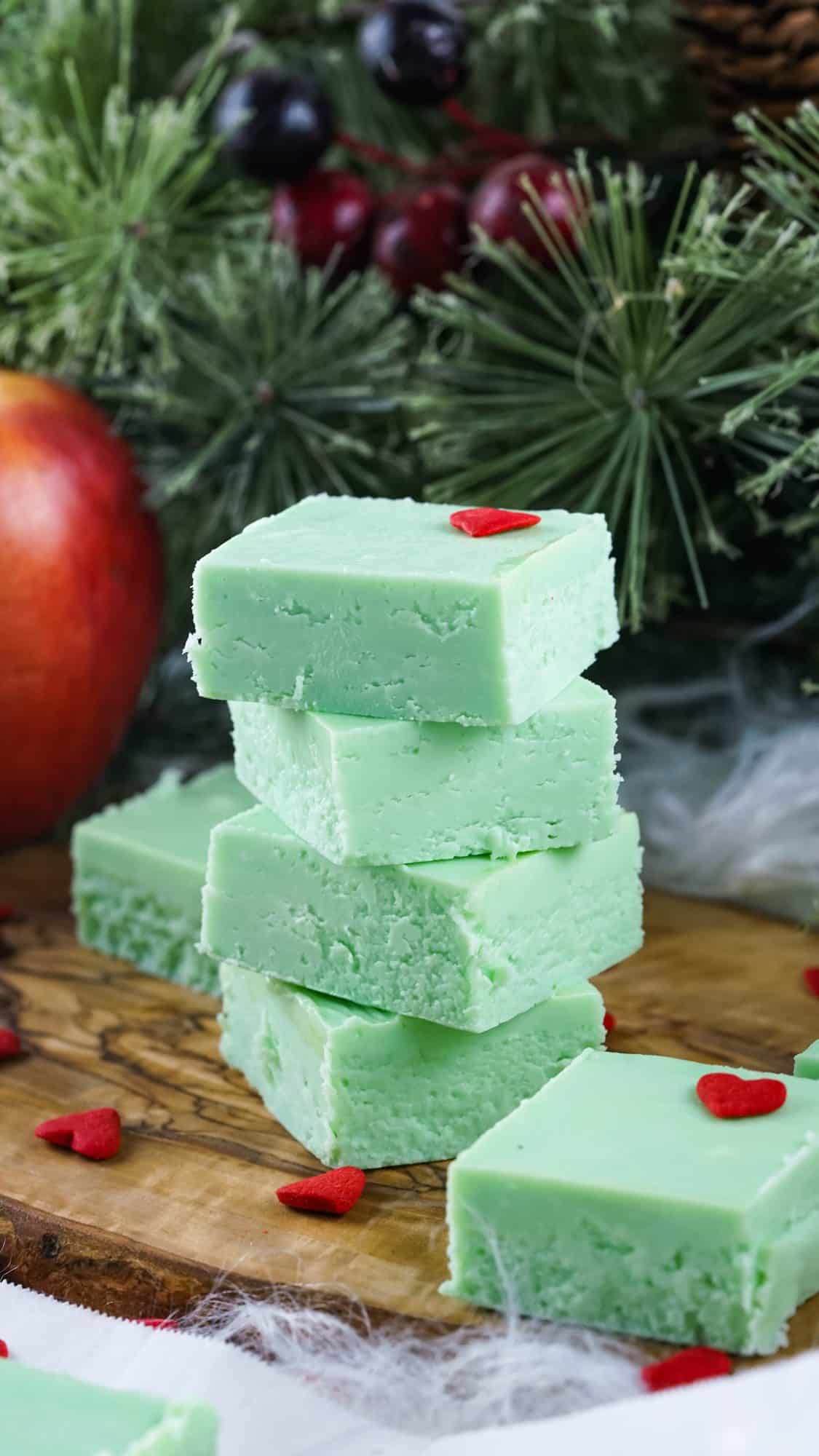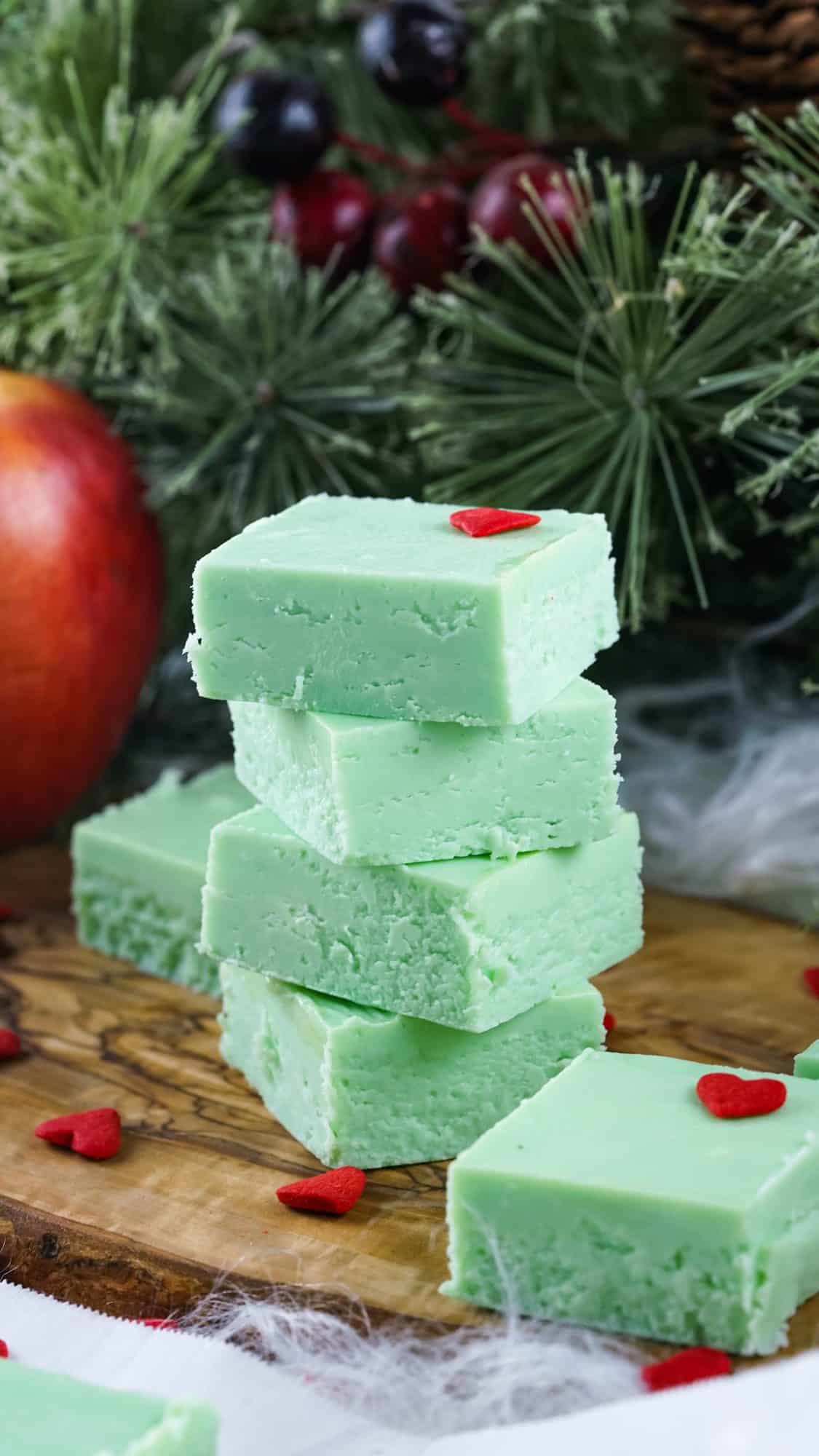 What is the Secret to Making Creamy Fudge?
The dairy aspect of fudge is what makes it creamy. Also, using a good kind of melting chocolate is a large factor as well. Don't skimp on the chocolate you use and make sure to add in the dairy component. For this recipe, it's the good chocolate and frosting combined that make it rich and creamy. For traditional fudge, it's the heavy cream and choice of chocolate.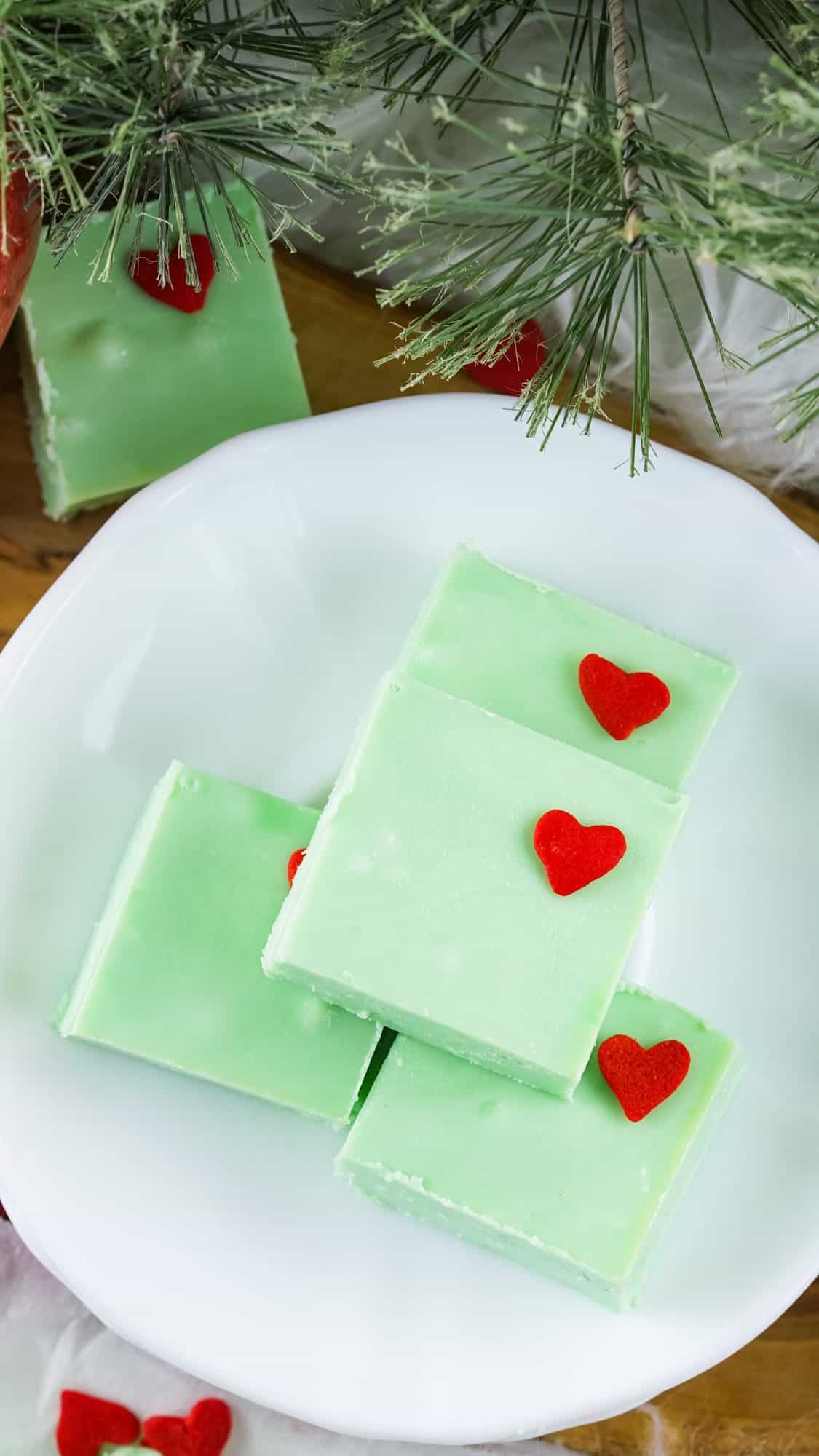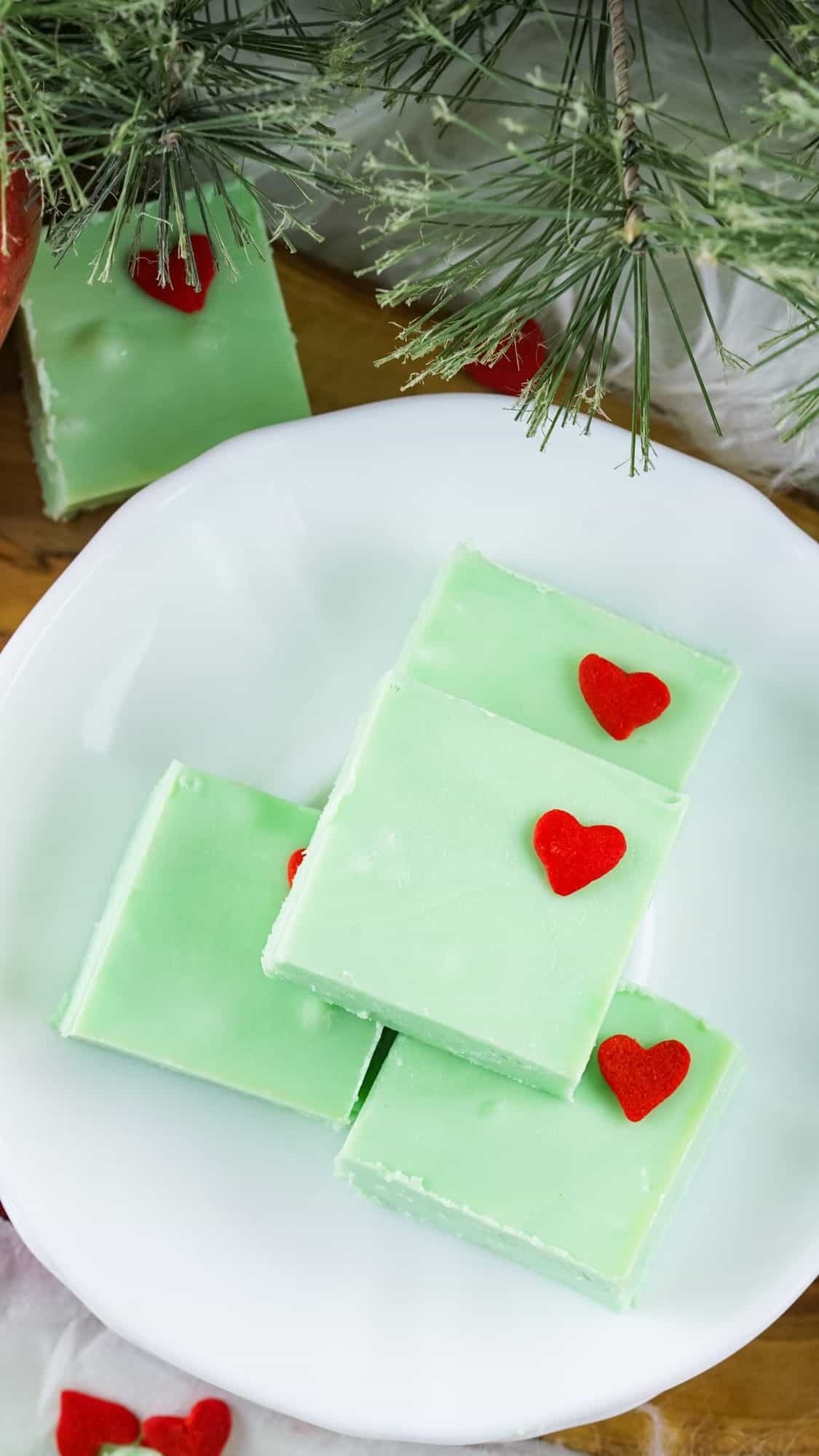 Please feel free to share your experience with making this Grinch Fudge in the comments below or on social media!
More Candy Recipes You're Sure to Love: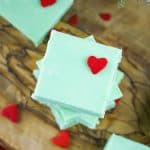 Grinch Fudge
Get into the Christmas cheer when you create this festive Grinch Fudge. With only 4 ingredients, it's a super easy recipe that even the kids can help with. A decadent and rich vanilla fudge with all the perfect holiday colors.
Keyword:
green fudge recipe, grinch recipes
Ingredients
2

Cups

White Chocolate Chips

16

ounces

Vanilla or White Frosting

1 can

½

Teaspoon

Green Oil Based Food Dye

Large Red Heart Sprinkles
Instructions
Line an 8-inch square dish with parchment paper and set aside.

Place the chocolate chips in a medium bowl and microwave in 30-second increments, stirring in between, until smooth and creamy.

Remove the lid and foil from the frosting and microwave for 45 seconds.

Add the frosting to the melted chocolate, along with the food dye, and stir vigorously until combined and no color streaks appear.

Pour into the prepared pan and spread even.

Chill in the fridge for 2 hours or until set.

Slice into 1-inch squares and place a red heart sprinkle in the upper right corner of each piece. Enjoy!
Recipe Notes
The sprinkles will stick without any help due to the condensation from the fridge. If they're not sticking, you can use just a dab of frosting to apply them.
Do not overcook your chocolate. Even if the chips still look like they have their shape, they could still already be melted. The chocolate has to be stirred for the best results.
Toll House has been the best brand of chocolate chips for this recipe, so far.
The chocolate may want to seize a bit when first adding the frosting. That's ok, just stir vigorously and it will combine and loosen up.
Do not use food coloring that is water based or it will seize the chocolate and ruin the fudge.