Polar Bear Claws are a dreamy combination of caramel and peanuts coated with white chocolate. A See's Candies copycat recipe!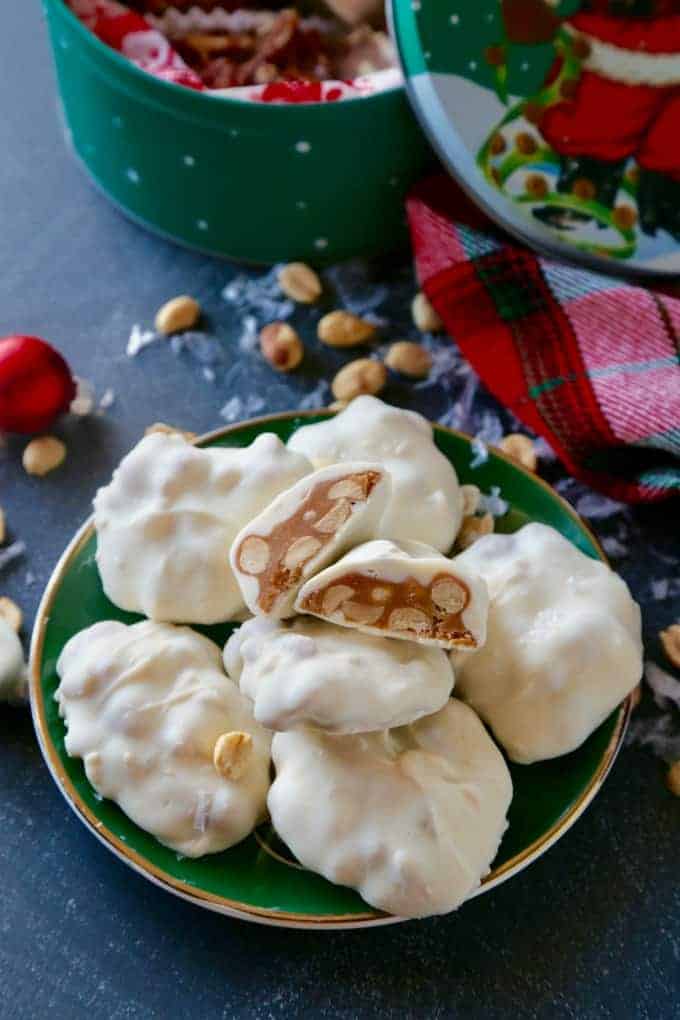 Raise your hand if you're a fan of See's Candies! (My hand is definitely raised right now.)
Fun fact: See's Candies was founded almost 100 years ago. That's a long time to be around, so they clearly know their stuff when it comes to candies and chocolates. I'm not sure if I can pick a favorite treat from See's Candies, but two that pop into my head immediately are their California Brittle and their Polar Bear Claws.
I started recreating See's Candies famous Polar Bear Claws because they're such a hit during the holidays. I love including them when I give away Christmas cookies because they pretty much scream "eat me" the second you lay eyes on them. People who know what they are snag them right away, and people who don't are curious about them.
For more delectable candy recipes, try out our See's Candy Copycat California Brittle, Old Fashioned English Toffee, Brown Sugar Caramel Recipe, this Edible Cookie Dough, or these Pecan Pralines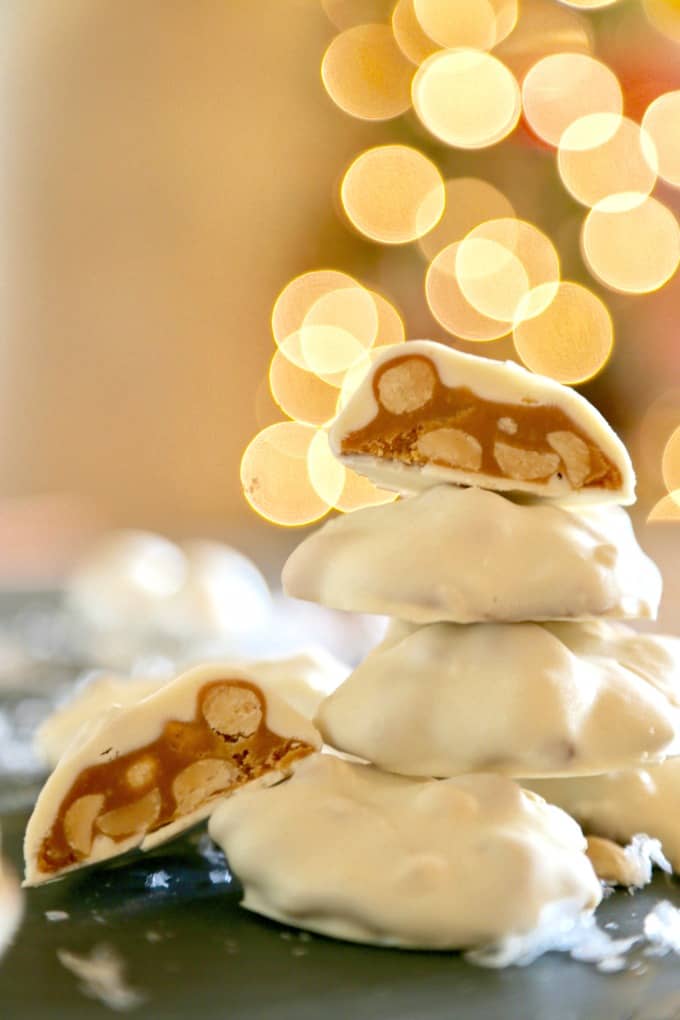 Polar Bear Claws are these big, lumpy, white chocolate-covered clusters. If someone is a lover of white chocolate, they're dying to know what's inside. Once they bite into one, they discover what's inside is a mixture of creamy caramel and crunchy peanuts... perfection. I like to think of Polar Bear Claws as white chocolate-covered PayDay bars.
When you take time to make a batch (or two or three) of Polar Bear Claws, you'll notice that I gave the option in the recipe to use coconut oil instead of vegetable shortening. Coconut oil is so popular now and it's a great vegetable shortening substitute in this recipe (and a lot of recipes).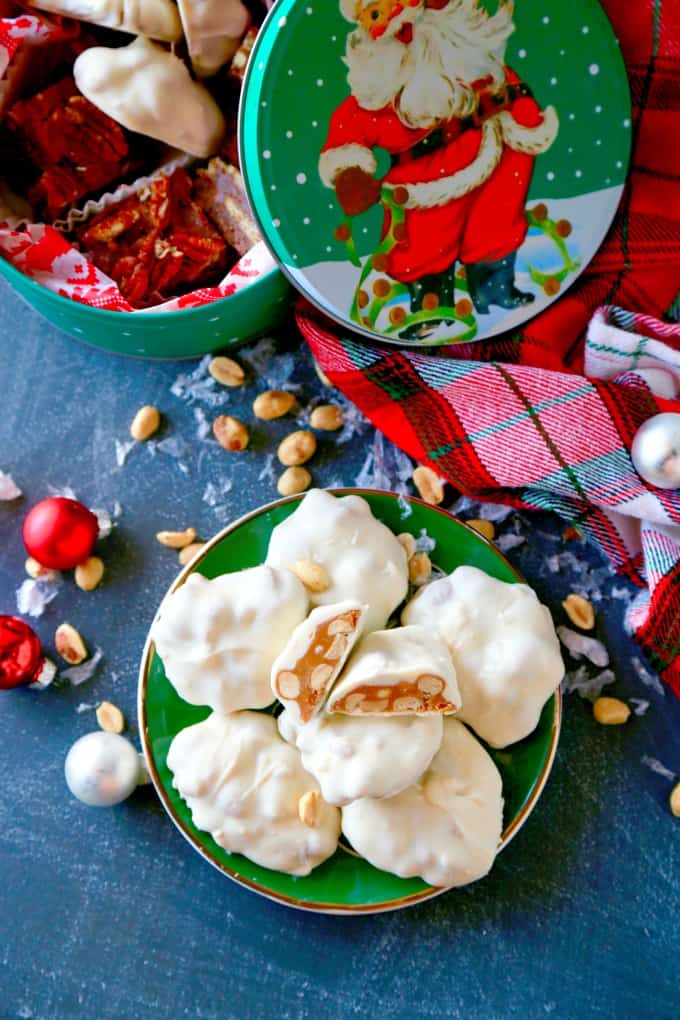 You can find coconut oil that has been processed to the point where most of the coconut flavor and sweetness have been removed, or you can use a less processed version for a sweeter addition. Personally, I love the sweetness of unprocessed (extra virgin) coconut oil.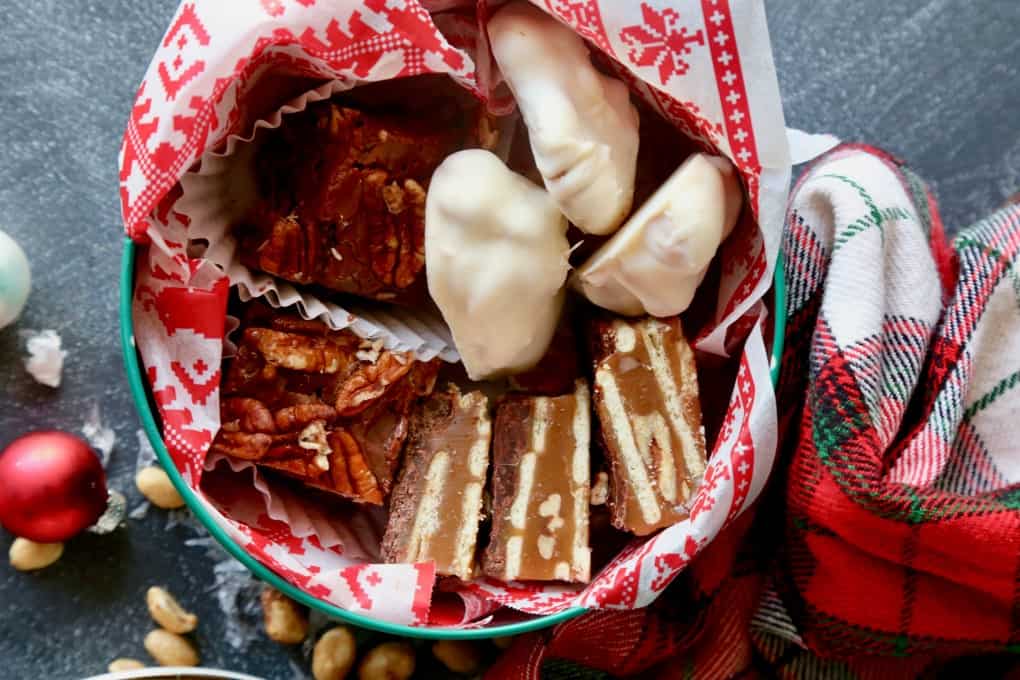 Definitely take some time this holiday season to make these See's Candies copycat Polar Bear Claws, and their California Brittle too if you have time!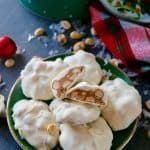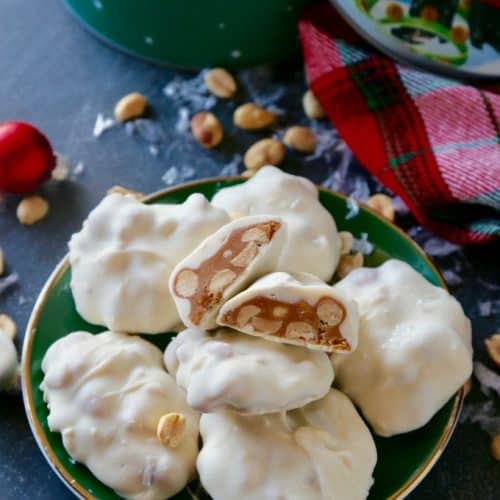 Polar Bear Claws
Just like at See's Candies, these caramel peanut clusters are delicious!
Ingredients
2

cups

brown sugar

2

cups

heavy cream

1

cups

light corn syrup

½

cup

salted butter

2

teaspoons

vanilla extract

3

cups

roasted peanuts

2

cups

white chocolate coating chips

2

tablespoons

coconut oil or vegetable shortening.
Instructions
Line 2 large baking sheets with foil then spray foil with non-stick cooking spray.

In a large heavy bottomed TALL pot, combine brown sugar, cream, corn syrup and butter.

Cook at medium heat until you candy thermometer reaches 250 (hard ball stage) degrees, stirring frequently.

When caramel gets to about 240 degrees you are going to need to stir constantly, but it will only be for about 5 minutes until it reaches 247 degrees.

Once caramel has reached hard ball stage, remove from heat and add vanilla, and salt, stir a few more times to combine.

Stir in peanuts.

Spoon out tablespoons of caramel coated peanut clusters and place on foil about an inch apart from one another.

Allow to cool for 1 hour at room temp then refrigerate for 1 hour before dipping.

When ready to dip, melt white chocolate coating and coconut oil for 1 minute in microwave. Stir until smooth. If not completely melted, reheat for 10 second increments until smooth.

Dip each cluster in white chocolate and place on foil lined baking sheet to dry.

Once dry, store in an airtight container for up to 4 days or in the fridge for up to 2 weeks.