This butter toffee recipe is a marvelous holiday treat that you won't be able to stop eating. The toffee has a rich, creamy, buttery flavor that combines well with the crunch of the almonds. The chocolate on top is the perfect balance to the decadent toffee. Everyone will be begging for this family recipe!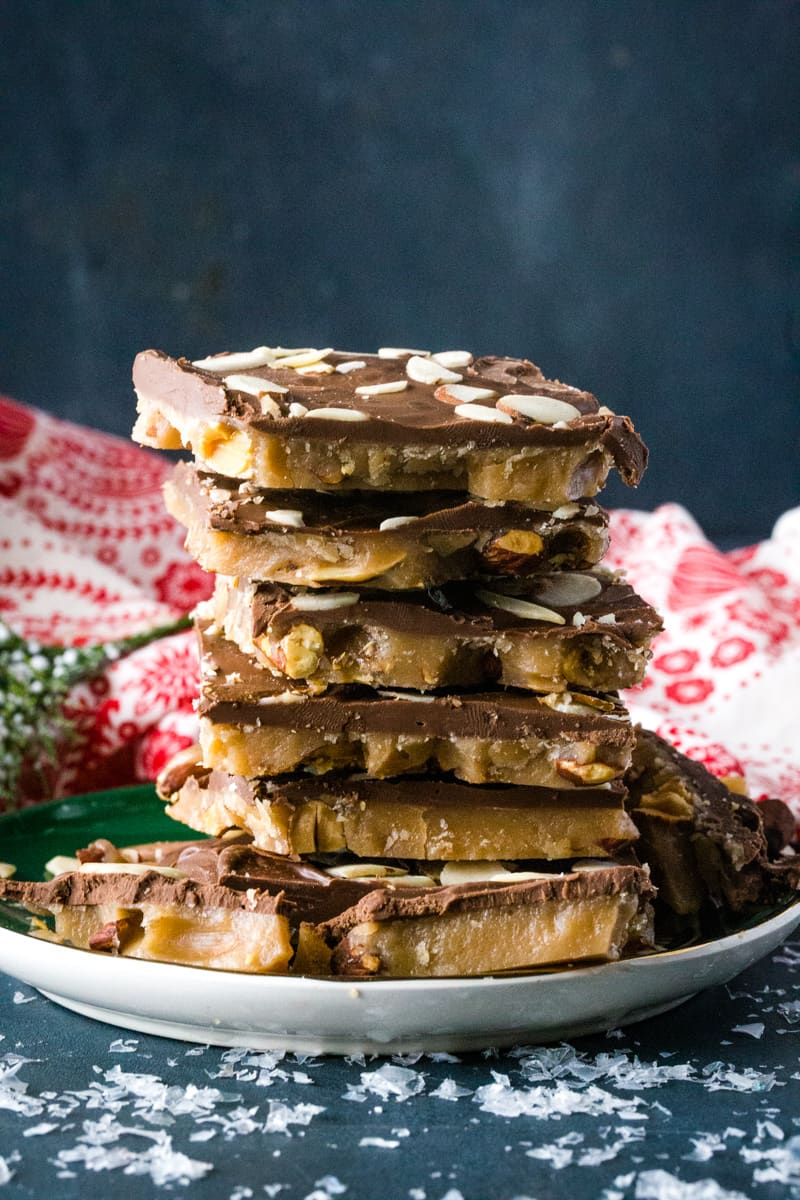 There is nothing quite like the taste or texture of classic English toffee. Toffee is a classic, old-fashioned English candy that has been around for centuries. It's made with butter and sugar and then cooked until it turns into a delicious, crunchy candy. Toffee recipes vary from country to country, but the one we've got today is an easy recipe using Plugra Butter! The English version has a distinctive flavor, and I'm going to show you just how easy it is to make at home!
We love making homemade candy during the holidays. Although it takes a bit of time and arm work (stirring), it's so worth it! I like to invite my mom and sister over and we make all of our favorite candies from Brown Sugar Caramels, California Brittle, to this perfect toffee.
The Butter You Use In Your Toffee Makes All The Difference! 
I have recently discovered a new ingredient that I love, Plugrá European Style butter. It contains less water than regular butter, which results in crispier, chewier cookies, flakier crusts, beautiful cakes, and the richest English Toffee I've ever tasted! I have already used it in so many recipes, and I am truly impressed with the results. It also is great for cooking and made a ridiculously smooth risotto.
I decided to use my new favorite Plugrá Butter in my aunt's famous English Toffee recipe. It is one of our family's favorite holiday treats. This recipe has so few ingredients that I always do my best to buy top-of-the-line ingredients, which really makes a difference in the final product and making the best toffee.
If you are looking for something to give that person who has everything, this is the homemade candy recipe for you. This homemade toffee is so easy and comes out sublime! It can be beautifully packaged in a box, or snuggled into a jar. Personally, I prefer the jar, and if you read this blog regularly, you will know why.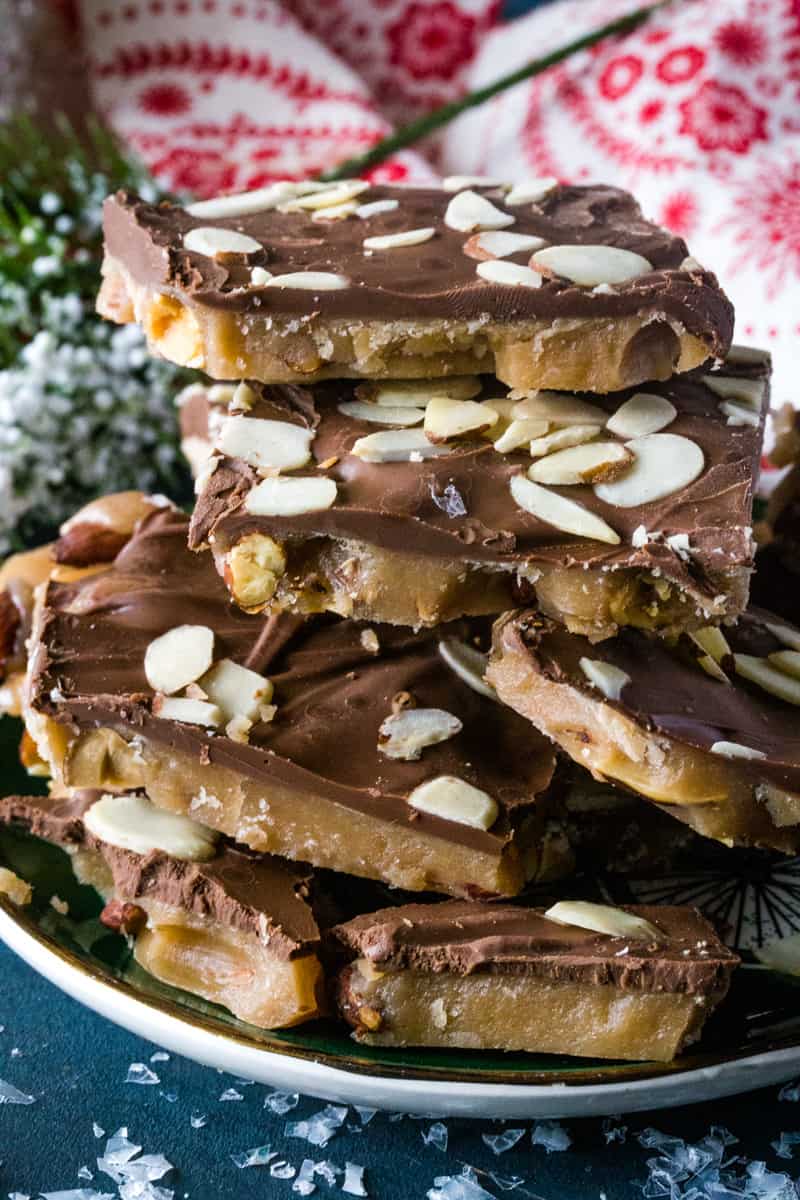 Why You'll Love This Old Fashioned Toffee Recipe
It's a delicious holiday treat and something that will stand out! You'll be asked to make this buttery toffee for every holiday!
The toffee stays fresh for up to two weeks if stored properly, so if you are gifting this toffee recipe this holiday season, people will be able to savor them longer.
It's the ideal solution if you don't like or aren't good at making a sweet treat look cookie cutter or picture-perfect. This toffee is meant to be different shapes and sizes, so you don't have to stress about everything being uniform.
Candy-making can be therapeutic and so much fun once you get the hang of it. I love recipes like this, and I think you will enjoy the process too!
Equipment Needed To Make Your Buttery English Toffee
11x18 Cookie Sheet- preferably a rimmed large cookie sheet
Saucepan
Wooden Spoon
Offset spatula
Ingredients For Your Old Fashioned English Butter Toffee
1 lb Plugrá European-Style Butter, or any salted butter (preferably European or grass fed).
1 tablespoon water
2 cups granulated white sugar
1 teaspoon vanilla extract
2 ½ cups chopped almonds. You can also use sliced almonds for the topping.
1 ½ bags (18 ounces) chocolate chips or 8 regular sized ( or 3 extra large bars) bars of milk or dark chocolate
How To Make Old Fashioned English Butter Toffee
Step one: You'll need to grease or line your cookie sheet with parchment paper. I prefer to spray it with non-stick cooking spray. Make sure to really spray the pan and the sides of the pan well.
Step two: Chop the whole almonds, and spread two cups of them over the buttered or lined sheet. The remaining ½ cup can be set to the side for later.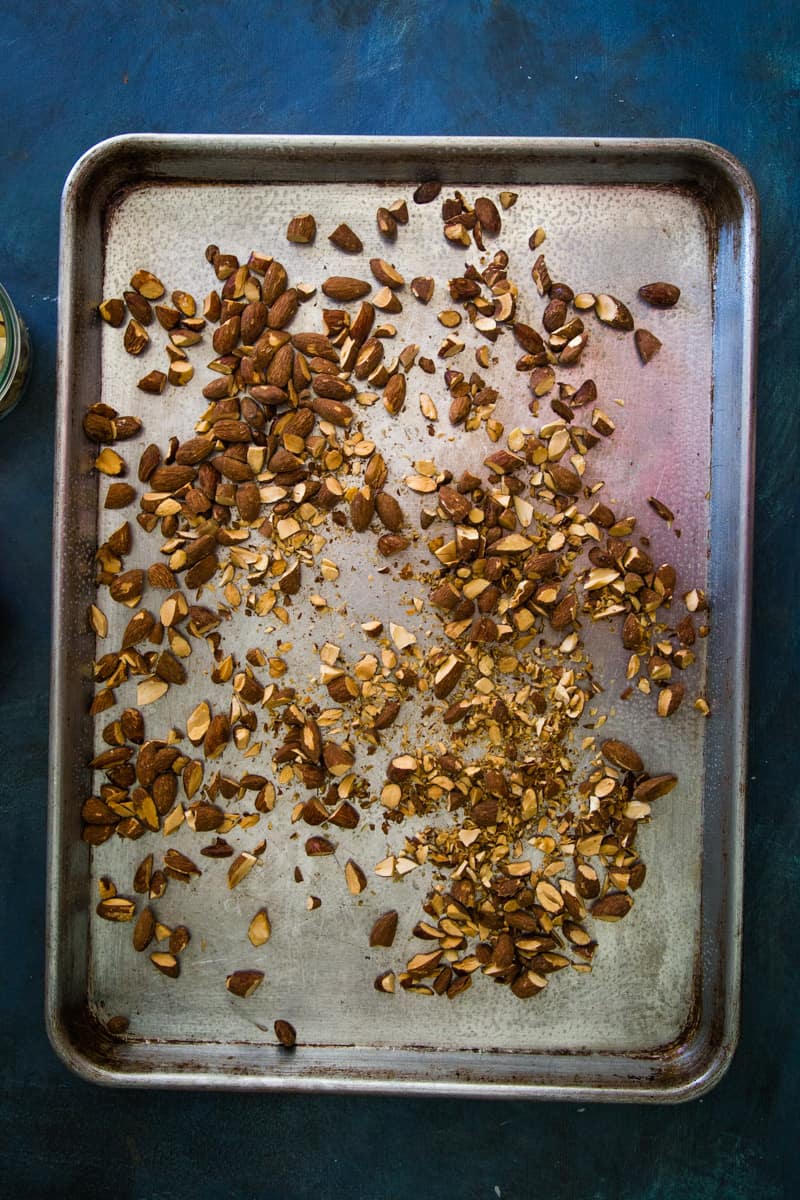 Step three: Combine butter, water, and sugar into a large saucepan and cook over medium-high heat, constantly stirring until it reaches 300 degrees Fahrenheit or crackled stage on a thermometer. The mixture will change color from a pale yellow to a golden color.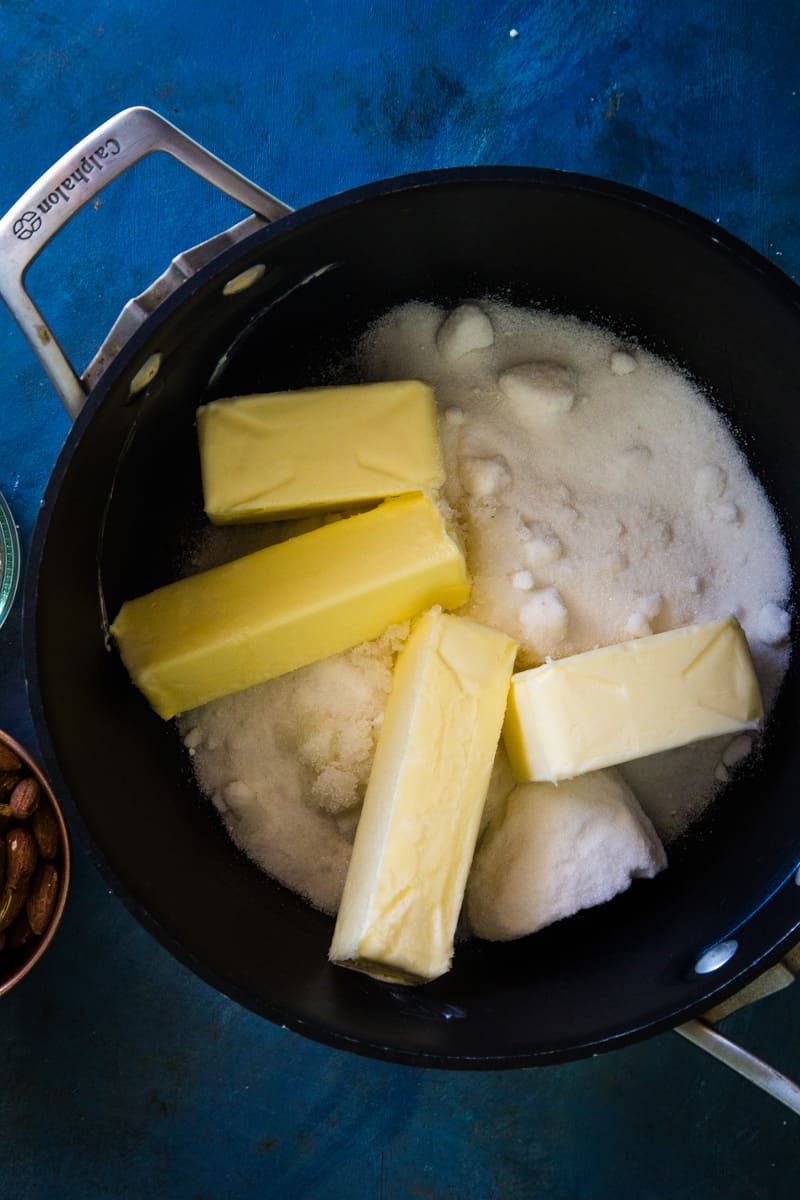 Step four: Remove your butter toffee mixture from the heat, add vanilla, and stir.
Step five: Spread English Toffee mixture evenly onto your cookie sheet over the almonds. Make sure to carefully scrape the bottom of the pot to get all of this good toffee!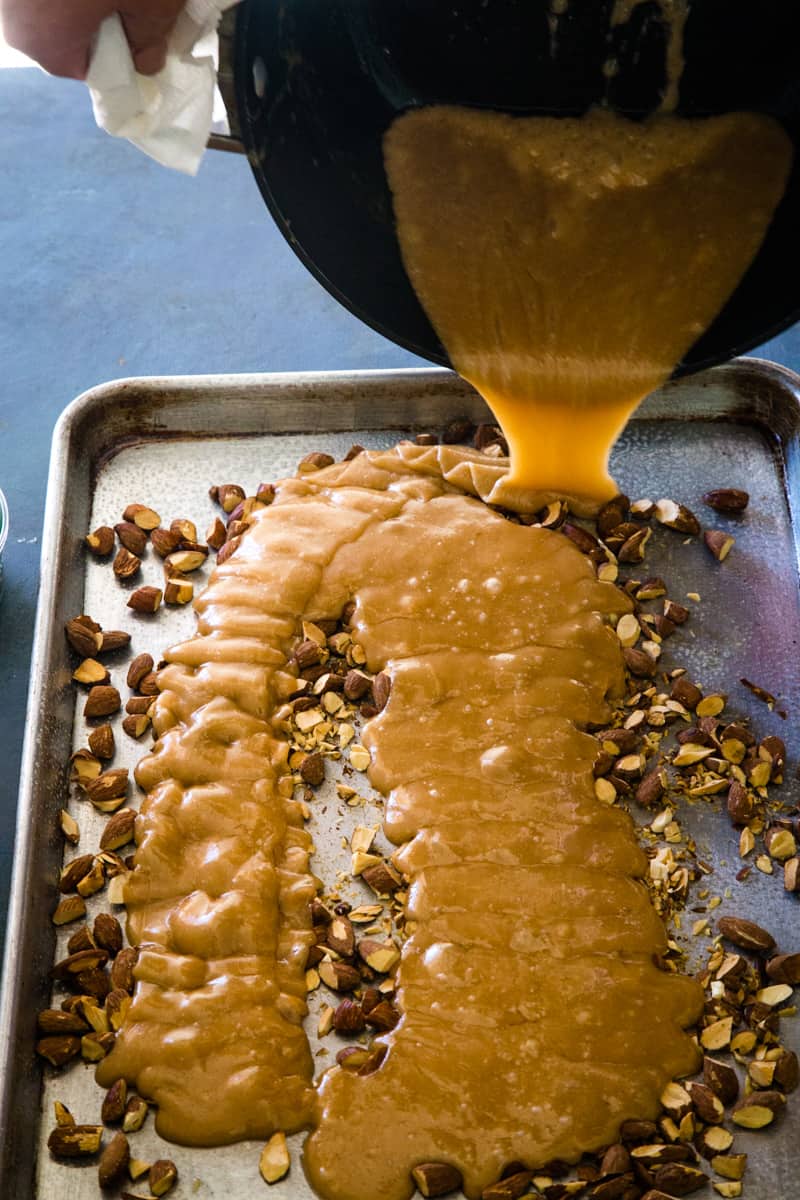 Step six: Sprinkle your chocolate chips or bars over the hot toffee and let them sit for about five minutes so they can melt. Then, spread your chocolate with a small offset spatula. Sprinkle the thin layer of chocolate with the remaining ½ cup almonds.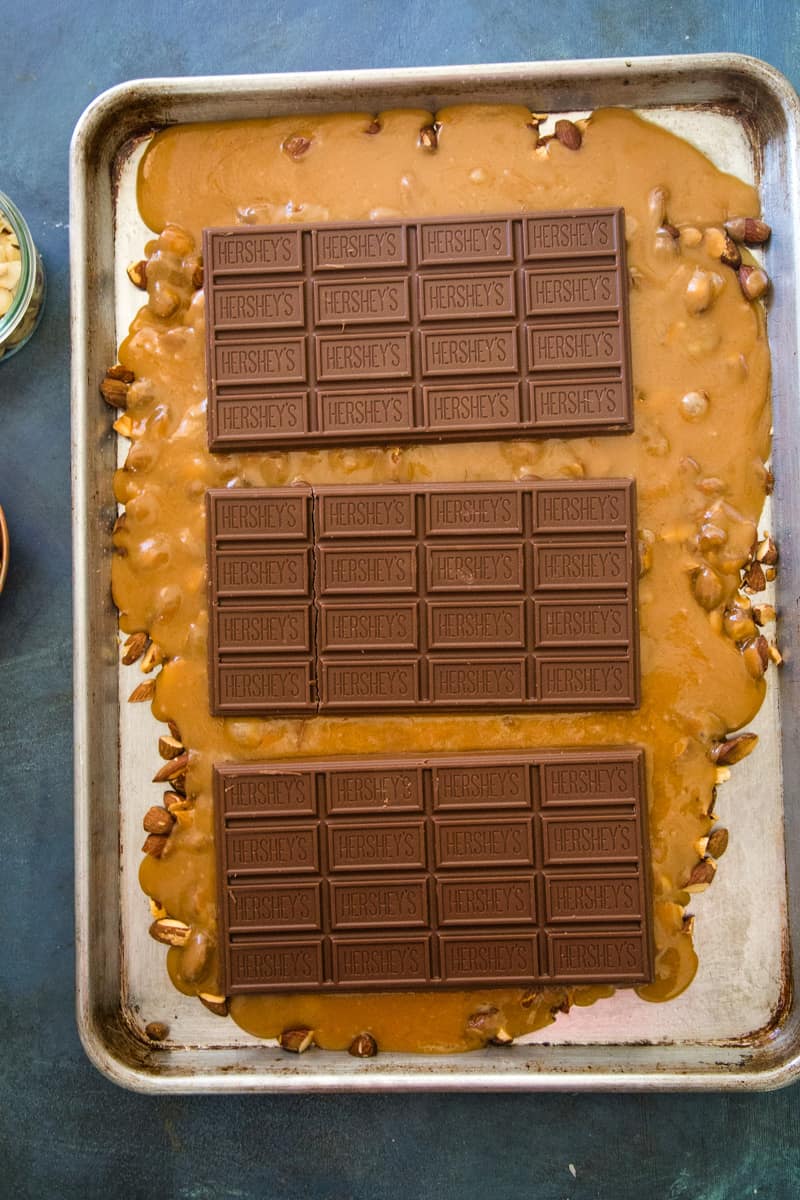 Step seven: Let the toffee cool for at least 4 hours room temperature or 30 minutes in the refrigerator before breaking apart into large chunks. Enjoy your delicious toffee!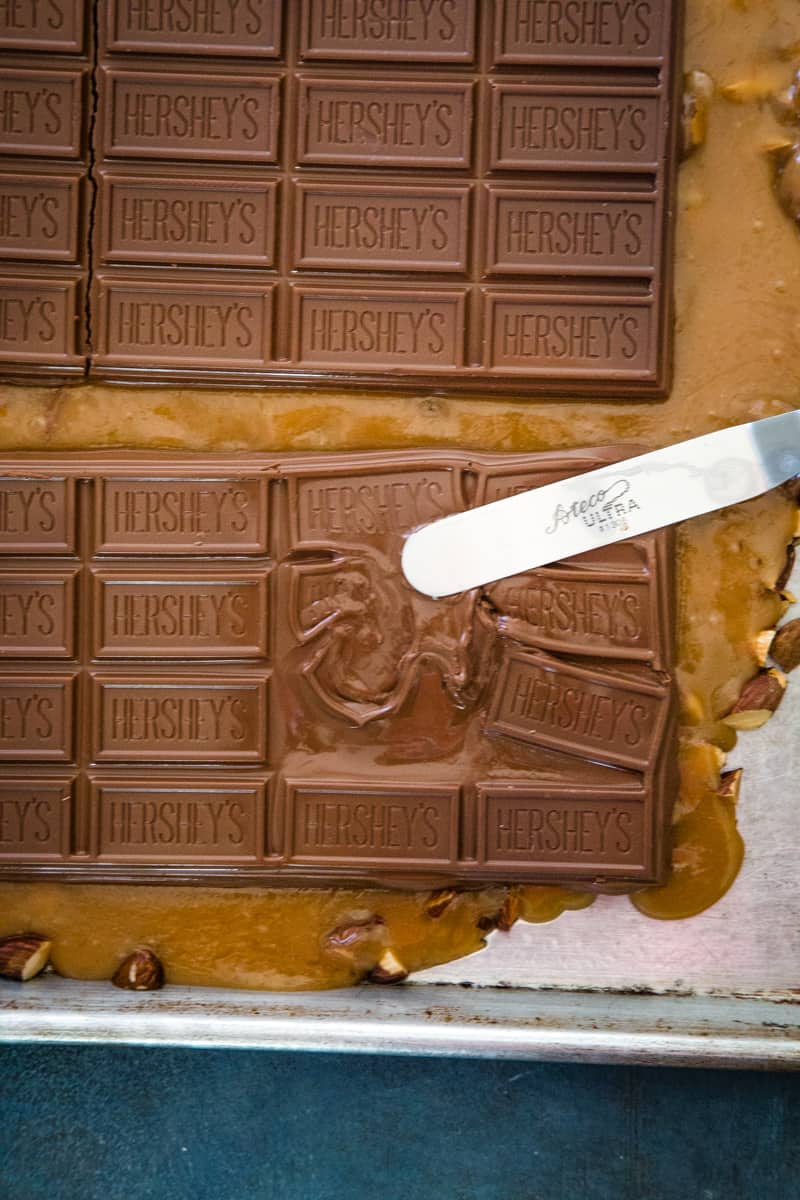 Crunchy English Toffee Tips
Use a candy thermometer! Even if the sugar mixture is golden brown, if it does not reach the hard crack stage (300 degrees F) it will not result in a crunchy toffee, and more like a grainy chewy toffee.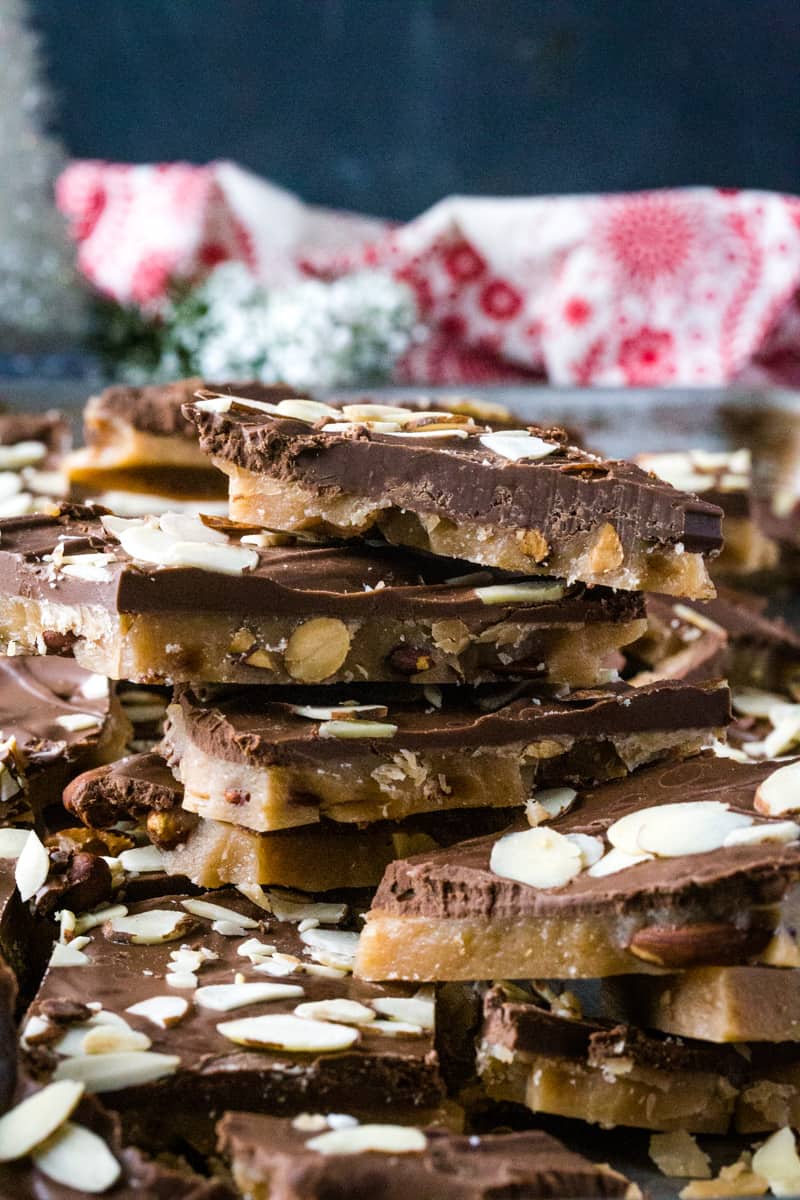 What to Serve/Pair with Your English Butter Toffee
Pair your homemade butter toffee with a mix of sweet and salty snacks! If you are gifting this with other treats like crunchy caramel bars, polar bear claws, and brittle.
If you're serving at a party or event, this would be delicious served alongside some other light cookies and candies with a cup of coffee. I can imagine the holiday joy in the air while cherishing some of this delectable toffee!
Popular Substitutions & Additions
Change up your nuts and chocolates to give it some variety! Try different combinations and serve together so people can pick a favorite. If you find a combo that is amazing, don't forget to come back and tell me so I can try it!
English Toffee with Plugra Butter FAQs
What does the butter do in the toffee?
The butter is one of the most important pieces to your toffee, which is why I choose Plugra! The butter is what gives your toffee the rich and creamy flavor. If you are only able to splurge on one ingredient for your toffee, it needs to be your butter.
Do I have to have a candy thermometer?
Yes, I would definitely recommend one for this recipe! Making candies is tricky, and if you take your mixture out too high or low of a temperature, it won't taste and feel like real toffee. You may accidentally end up with chewy caramel, or with a burnt brittle that won't break apart.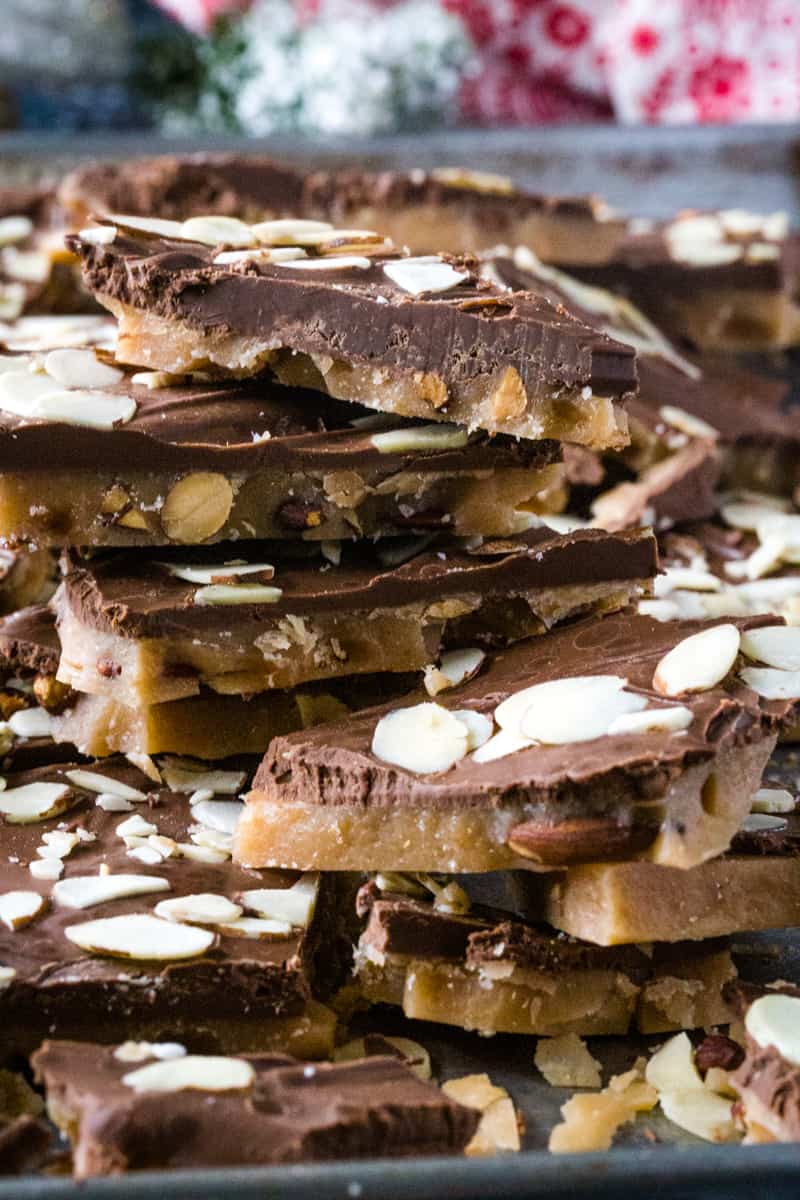 Is it true that I can't make this English Toffee if it's a rainy day?
Yes, it may sound like an old wive's tale, but it's actually true! Extra humidity in the air can change the texture of your candy. For some candies, this may not be that important, but with a toffee, it is. You don't want it to be a chewy caramel instead of a crisp brittle.
Is my toffee supposed to be greasy?
No, toffee should not feel or taste greasy at all. If your toffee comes out greasy, that probably means that it separated while it was cooking. To prevent this, make sure you are using quality ingredients, constantly stirring, and using a medium high heat. If you run into this issue on the first batch, maybe try turning down the heat for the second batch. The good news is that it will still be delicious though, so don't throw it out!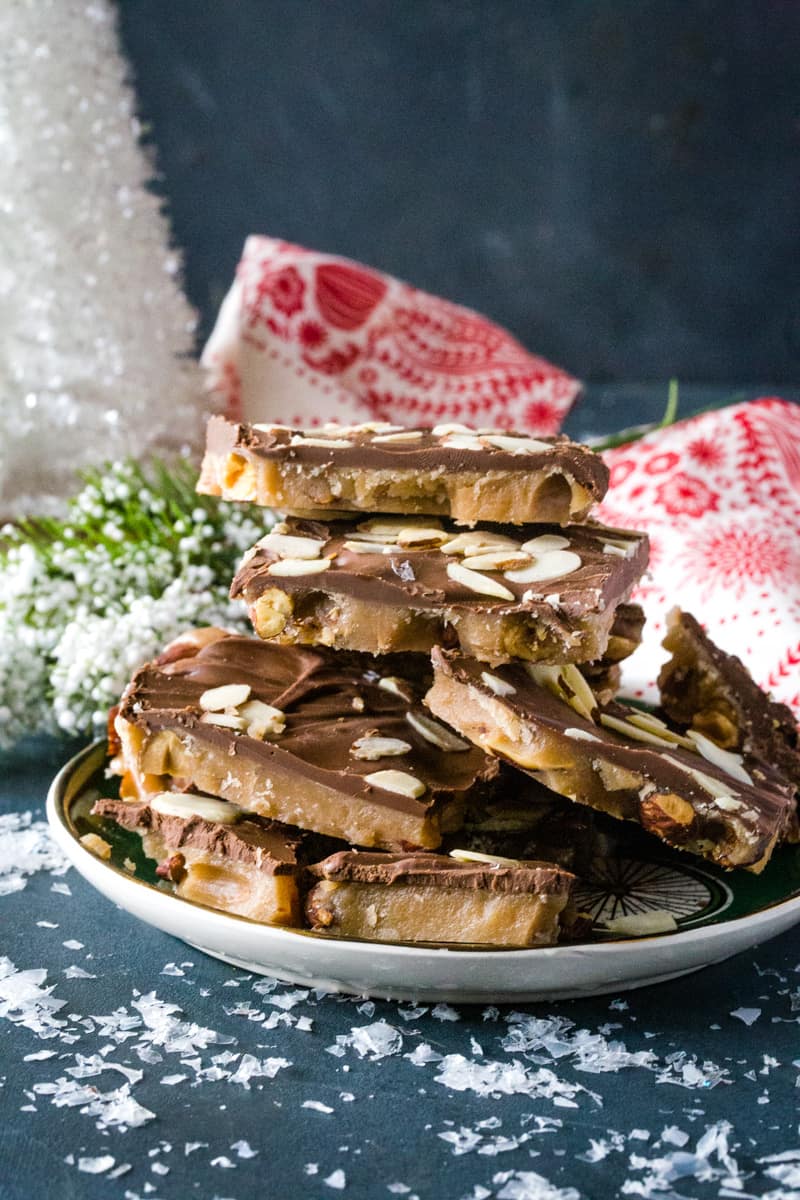 Other Candy and Treat Recipes You'll Love
If you're starting to enjoy the candy making process like I do, check out these other recipes: Apple Caramel, Crunchy Chocolate Caramel Bars, Italian Torrone, and Chocolate Almond Turtles.
Don't Forget To Come Back And Let Me Know How Your Old Fashioned English Butter Toffee Turned Out!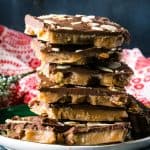 Old Fashioned English Butter Toffee
Old fashioned English butter toffee is rich and decadent made with only the finest plugra butter, almonds and chocolate.
Keyword:
homemade candy recipe, homemade english toffee
Ingredients
1

lb

salted butter

1

tablespoon

water

2

cups

white granulated sugar

1

teaspoon

vanilla extract

2 ½

cups

chopped almonds

1 ½

baggs

(18 ounces) chocolate chips

or 3 large Hershey's bars
Instructions
Generously grease or line an 11x18 cookie sheet.

Chop nuts and spread 2 cups over the greased cookie sheet.

Cook butter, water, and sugar in large saucepan and over medium-high heat, stirring constantly until it reaches 300 degrees F or hard crack stage on thermometer.

Remove from heat and carefully stir in vanilla extract. It will spit a bit.

Spread mixture on sheet over almonds.

Sprinkle chocolate chips over hot toffee and let them melt for 5 minutes.

Once the chocolate chips have started to melt, spread with an offset spatula and sprinkle with remaining chopped nuts.

Allow the toffee to cool and harden for 4 hours at room temperature or stick in the refrigerator for 30 minutes.

Break apart and store in an air tight container for up to two weeks.