Just like the popular candy store, this California Brittle is chocolate full of nuts, caramel crunch, and dipped in a delicious milk chocolate.

Well, we are in the last stretch before Christmas. Personally I can't believe it, and am no where near ready! Thankfully the kids are now out of school and we can concentrate on some quality family baking time. We still have about 20 people in which we need to gift a box of cookies to and a cookie exchange this weekend!
Normally our boxes are half cookies and half homemade candies. I usually bake with the kids during the day and make the candy at night. Combining butter and sugar to the perfect degree is not only calming to me but it is also therapeutic.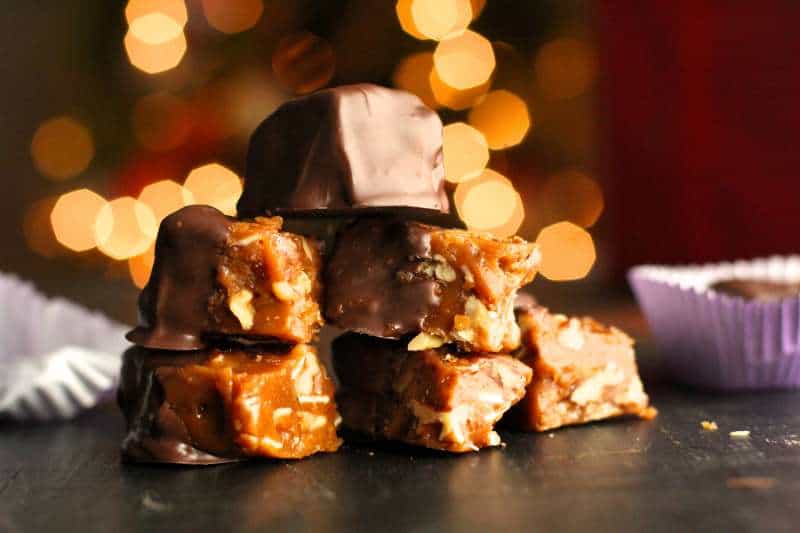 As a big fan of See's Candies, I knew that this was the year that I try and recreate the famous California Brittle. If you have never had a California Brittle, it is a cross between toffee and brittle, but made with almonds and dipped in chocolate. I figured since it was a cross, I would combine the two recipes. Can I just say that this may be my favorite candy recipe ever! I was so pleasantly surprised that the first batch came out so well, that I immediately made a second batch to test it. Both times the results were fantastic!!!! By the second batch I did not have enough almonds so I compensated with other nuts. I actually liked the second batch better, so I would suggest using a mix of slivered almonds, pecans, and walnuts.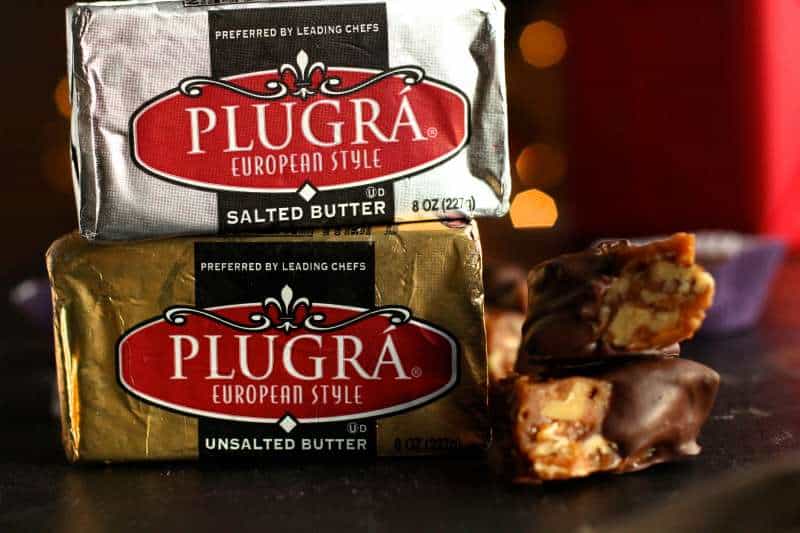 One thing I always emphasize during the holidays is to use quality ingredients. They really make a huge difference in the end result. One of my favorite products is Plugrá European Style Butter. In fact, I have talked about them so much that they asked me to become a Brand Ambassador!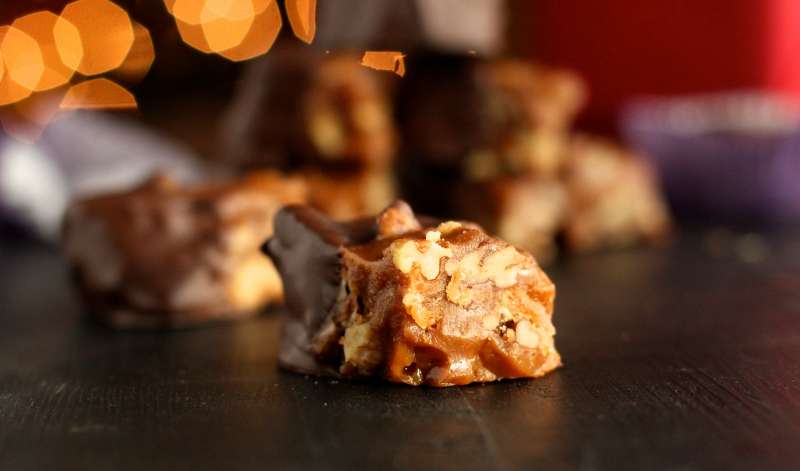 I only use Plugrá Butter in my candy making because it produces the smoothest and creamiest caramels and toffees! Plugrá Butter is slow-churned which creates less moisture and a creamier texture. This is also my go to butter for perfect pie crusts!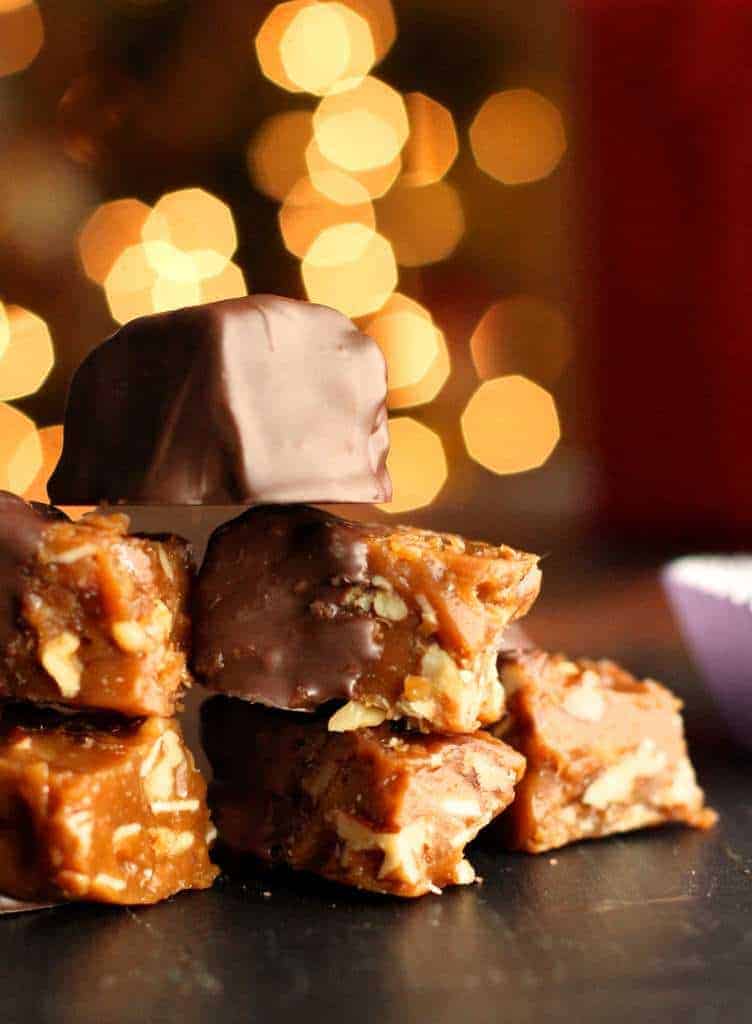 Although this recipe requires a candy thermometer it is not difficult, and totally worth the effort. The only thing you need to worry about is not eating it all yourself and being able to save some for the cookie boxes!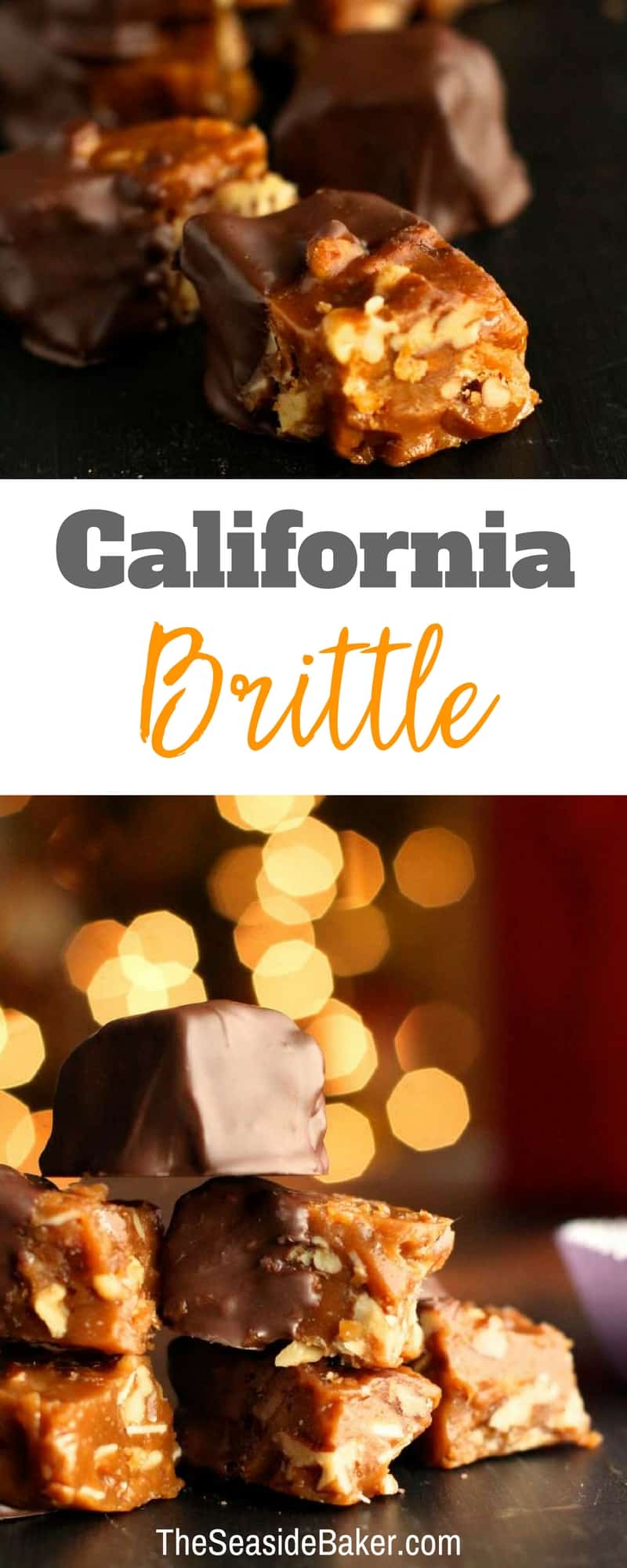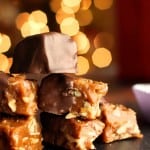 California Brittle
Ingredients
2

cups

unsalted butter

1

and ¾ cups granulated white sugar

1

cup

brown sugar

½

teaspoon

salt

4

tablespoons

water

1

tablespoon

vanilla extract

1

teaspoon

baking soda

2

cups

almonds or whatever nut you prefer

2

cups

melting chocolate
Instructions
Line a 11x13 inch baking sheet with parchment paper and spray with nonstick cooking spray

In a large pot, combine butter, sugar, brown sugar, salt, and water.

Heat on medium heat until mixture reaches 300 degrees on your candy thermometer.

Remove from heat and stir in vanilla and baking soda.

Stir in nuts.

Very carefully pour into pan.

Allow to cool thoroughly and cut into bit sized pieces.

Heat melting chocolate in a microwave safe bowl for 1 minute.

Stir and if needed heat again for increments of 10 seconds until melted (stirring in between).

Dip cooled brittle pieces into chocolate and cool until chocolate is hard.
This post is sponsored by Plugrá butter however all opinions are my own.