Copycat See's Candy California Brittle- This delectable copycat recipe features nuts wrapped in a crunchy caramel toffee, dipped in a creamy and delicious milk chocolate coating. It will remind you of your favorite candy store confection. You won't be able to stop eating these yummy treats!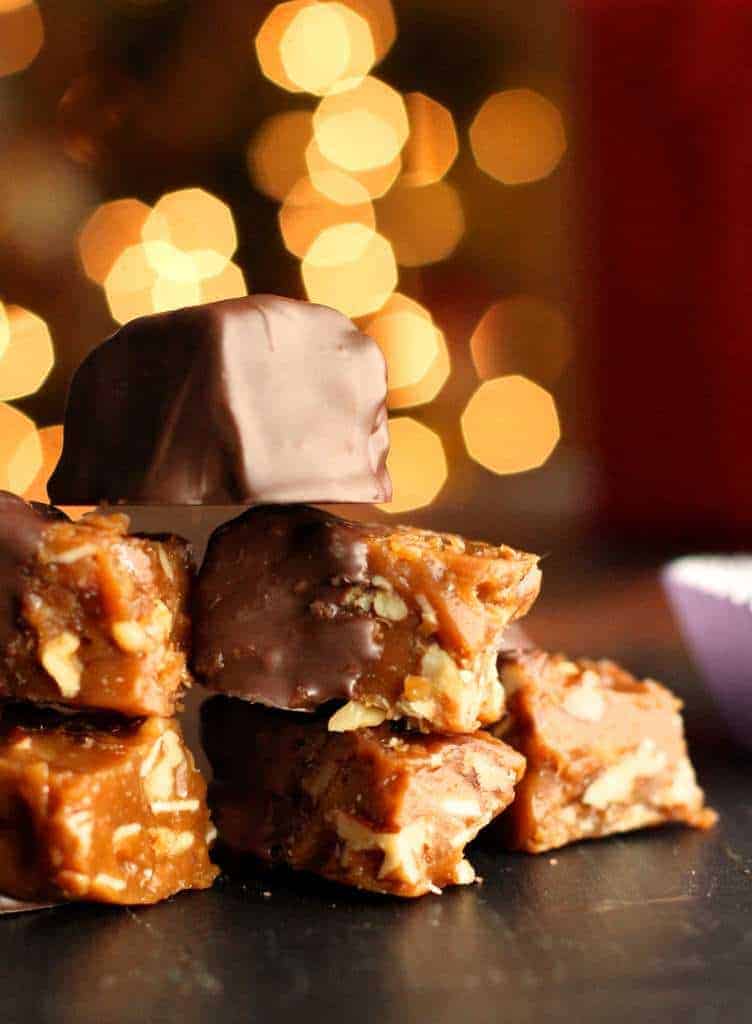 We are in the last stretch before Christmas. I can't believe it, and personally, I'm nowhere near ready! There are always last-minute things to be done and people that you haven't thought to buy a gift for. Thankfully, that's where this copycat See's California brittle candy recipe comes in handy, plus it gives me extra quality time with my kids in the kitchen! We love to bake and gift people boxes of goodies and eat a few along the way of course!
Normally, our homemade Christmas goodie boxes are half cookies and half homemade candies. I usually bake with the kids during the day and make the candy at night. Making candy, especially like this toffee, requires more precision than baking because the temperature controls the texture of the candy. The difference in a few degrees could make your brittle a caramel. Combining butter and sugar to the perfect degree is not only calming to me but is also therapeutic, especially during Christmas time.
As a big fan of See's Candies, I knew that this was the year that I wanted to try and recreate their famous California Brittle, one of my favorite rich flavor candies. If you have never had California Brittle, it is a cross between a buttery smooth toffee and crisp crunchy brittle, but made with almonds and dipped in chocolate.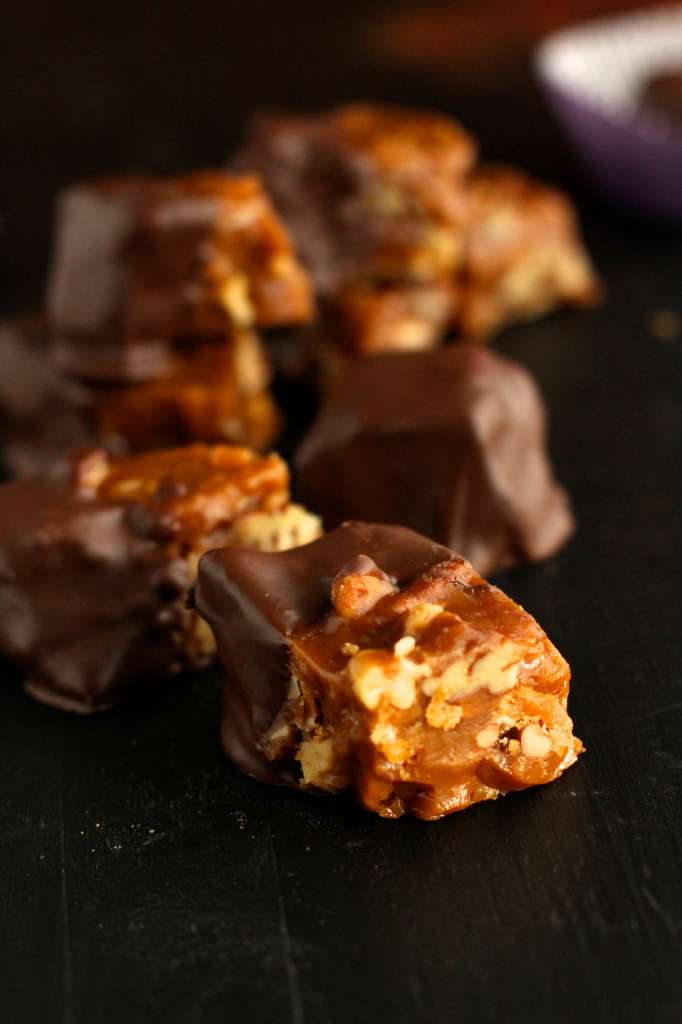 I figured since it was a cross, I would combine the two recipes to recreate this easy copycat recipe at home. Can I just say that this may be my favorite candy recipe ever? I was so pleasantly surprised that the first batch came out so well, that I immediately made a second batch to test it. Both times the results were fantastic!!!! By the second batch, I did not have enough almonds, so I compensated with other nuts, and I actually liked the toffee better with a mixture of nuts. I would suggest using a mix of slivered almonds, pecans, and walnuts, but if you want to stick with the traditional See's recipe thats chocolate almond, you can use just the almonds.
Why You'll Love This Chocolate Covered Brittle Recipe
This treat has the crunch of a brittle while still being melt-in-your-mouth delicious! If you grew up eating See's Candies, it will be nostalgic every time you sneak a piece. If you've never had See's, you will definitely want to try them after this!
The candy can be made in advance and is the perfect gift for teachers, coworkers, or Secret Santa exchanges. It also ships really well this time of year, so send some edible Christmas gifts to your out of state friends and family.
It's a great way to get into candy-making! This easy candy recipe is fairly simple but will get you used to working with the finicky nature of candy and having to work with temperatures. Once you've tried this, you should try our famous Brown Sugar Caramels and homemade toffee!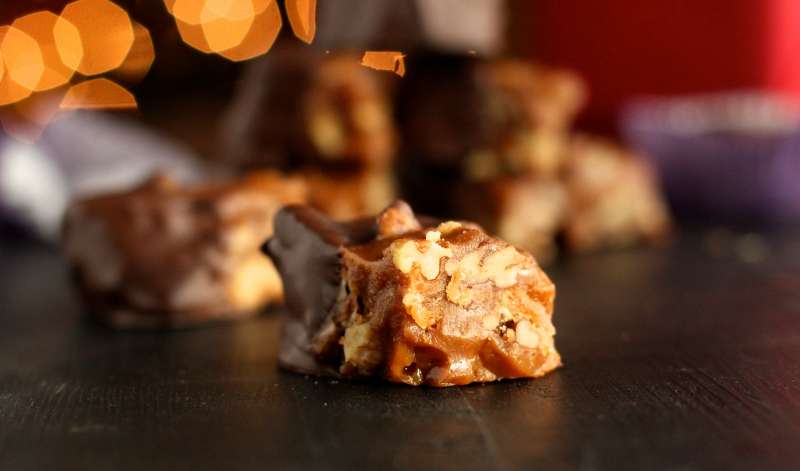 Equipment Needed To Make See's California Brittle Recipe
11x13 Baking Sheet or jelly roll pan
Parchment Paper
Large Saucepan
Microwave-safe bowl
Candy Thermometer
Don't let the candy thermometer intimidate you from trying to recreate this See's toffee recipe. While you may not be used to using one, it is not difficult, and totally worth the effort. The only thing you need to worry about is not eating all the candy yourself and being able to save some for the cookie boxes!
Ingredients For Your See's Toffee Copycat Recipe
One thing I always emphasize during the holidays is to use quality ingredients. They really make a huge difference in the end result.
I only use Plugra Butter in my candy making because it produces the smoothest and creamiest caramels and buttery toffee! Plugrá Butter is slow-churned which creates less moisture and a creamier texture. This is also my go to butter for perfect pie crusts! Any grass fed or slow churned quality butter will work though.
2 cups unsalted butter
1 and ¾ cups granulated white sugar
1 cup brown sugar
½ teaspoon salt
4 tablespoons water
1 tablespoon vanilla extract
1 teaspoon baking soda
2 cups almonds or whatever nut you prefer (I used a mix of walnuts, almonds, and pecans!)
2 cups melting chocolate or chocolate chips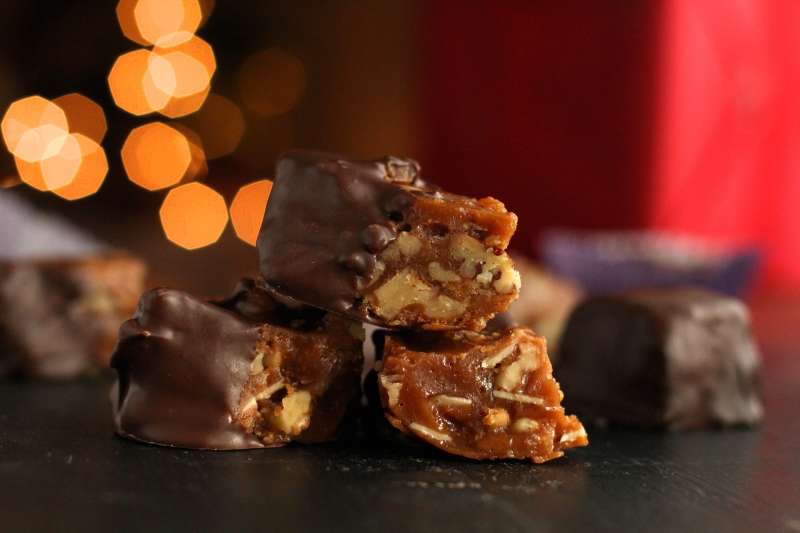 How To Make A Copycat See's Candy California Brittle Recipe
First, line an 11x13 inch baking sheet with parchment paper and spray with nonstick cooking spray. Make sure you spray it well! The last thing you want is a delicious brittle that is stuck on.
In a large pot, combine butter, sugar, brown sugar, salt, and water. Turn your stove on medium-high heat until the mixture reaches 300 degrees F on your candy thermometer. Remember, the temperature is key. Stir with a wooden spoon constantly to avoid the sugars burning.
After your candy has reached temperature, remove from heat and stir in vanilla and a little baking soda. The baking soda is what is going to give your brittle a light and airy texture.
Stir the nuts into your hot mixture. Once nuts are mixed throughout, very carefully pour candy mixture onto your baking sheet.
Let your candy cool completely, and then cut up into bite sized pieces.
Heat your melting chocolate in a microwave safe bowl for 1 minute. Stir and if needed heat again for increments of 10 seconds until melted (stirring in between). For dark chocolate, use the double broiler method.
Once your chocolate is melted, you will dip cooled brittle pieces into the melted chocolate and cool on a parchment paper lined cookie sheet until chocolate is hard. Then they are ready to enjoy!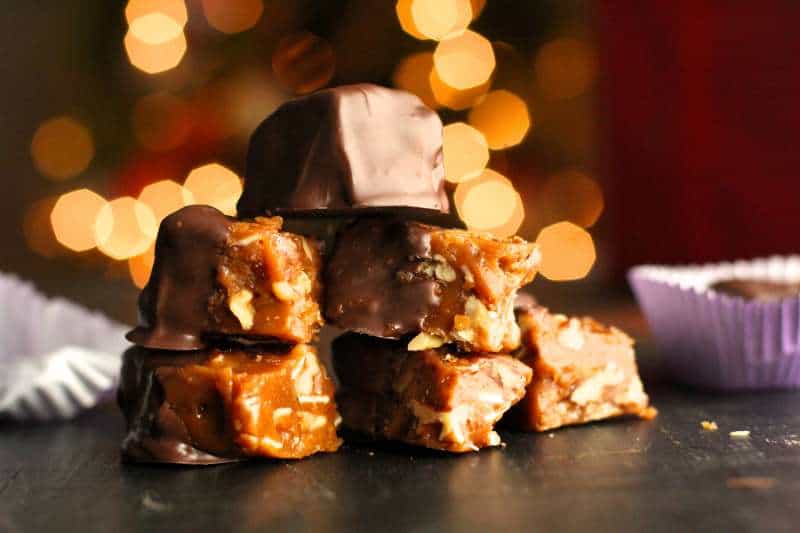 What to Serve/Pair with Your Toffee See's Candy
There are so many delicious things to pair with your California Brittle! I would recommend making this with an assortment of other candies or cookies if you plan to give it as a gift this holiday season.
You can pair it with grinch fudge, stained glass cookies, mint chocolate fudge, and Christmas wreath treats! If you enjoyed the candy-making process, you could put more candies in your assortment.
You might want some lighter options to balance this decadent treat, especially if you are serving at an event. If that's the case, you can serve with pretzels and fruits, and even make a holiday punch to go along with it.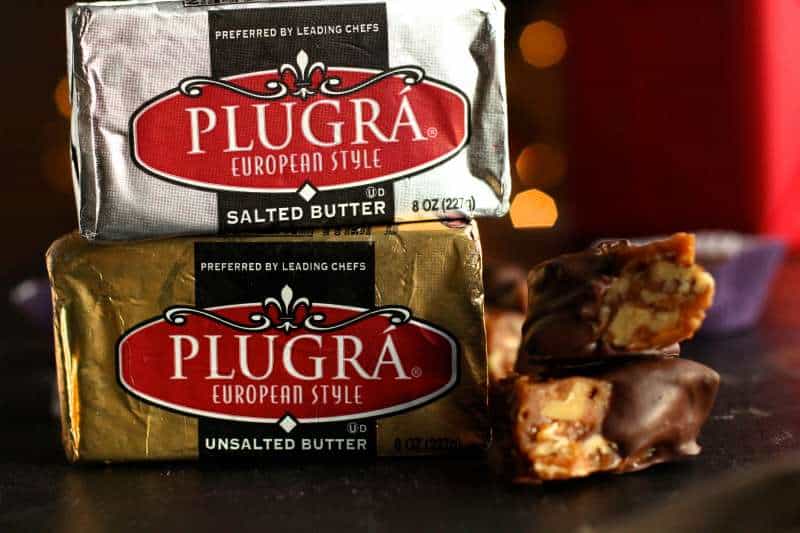 Popular Substitutions & Additions
The traditional recipe that See's serves has almonds in it, but I loved making mine with a mixture of almonds, walnuts, and peanuts. Experiment for yourself and see what nuts are tastiest to you!
You can also use different chocolate varieties if you'd like. The only thing I would be cautious of with changing your chocolate is paying attention to the difference in melting times. Some chocolates are more sensitive than others and may have different melting instructions. Dark chocolate is an example of this as it can easily burn. For the best result, use a double broiler to melt chocolate to avoid this. If you would like a thick layer of chocolate, you can double dip them!
Add a touch of flaked sea salt on the tops of the chocolates after dipping for a perfect treat!
How To Store Homemade Brittle
Since this is such a great recipe for homemade gifts, storing it properly is imperative. When left out in open air for too long, this brittle becomes soft and chewy. Always keep the small pieces in an airtight container. When I make them for gifting, I like to put them in wax paper lined tins. They will stay fresh this way for 7-10 days. You can also refrigerate the candies in a sealed bag or container for up to 3 weeks, however the chocolate may get a grey/white tint to it. That should disappear once the candies come back to room temperature for serving.
Chocolate Covered Brittle Recipe FAQs
Is it true that you can't make candy when it's raining?
Actually, yes! The amount of humidity can have a major impact on the moisture in your candy. If you cook candy when it's raining or too humid, you risk your brittle reabsorbing the moisture from the air, making your candy chewier rather than crunchy. The perfect candy-making climate is with humidity of less than 40 percent.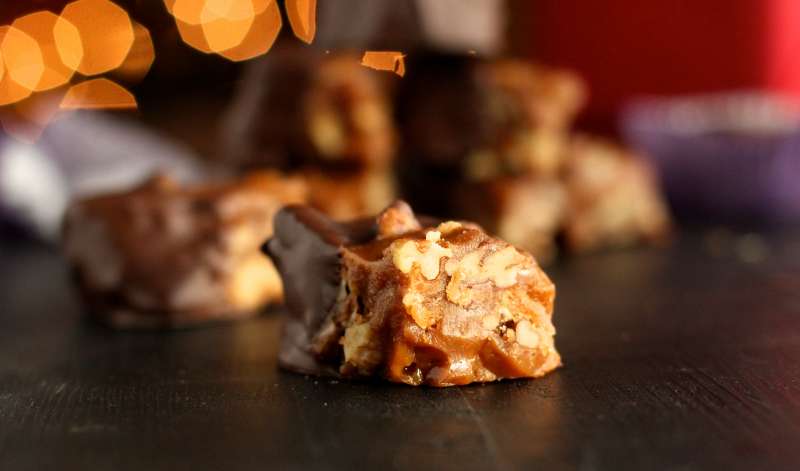 What's so special about See's Candy?
See's Candy has been around since 1921, when the first See's Candy shop was opened. Since then, they have opened over 200 stores and also have an online store where you can have their candies shipped straight to you! They are most known for their brittle, fudge, and toffee.
Why is my brittle not staying together after I'm finished cooking?
Candy has to be made very carefully. It's a science. Make sure you are watching your temperatures closely and removing from the heat source as soon as it gets to 300 degrees. If your brittle crumbles or isn't staying together, it's most likely because of a temperature issue in the cooking process. Also, be sure you are cooking on medium heat and not cooking too fast.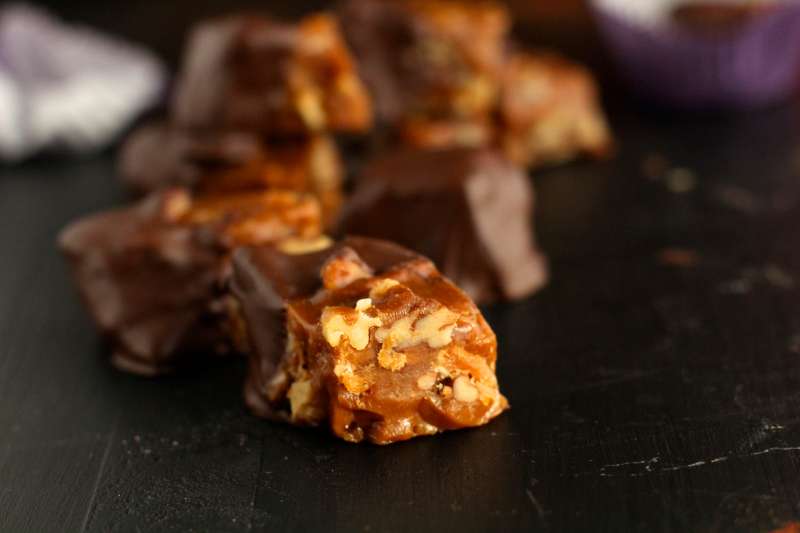 Some of my candy mixture stuck to my pot, and I can't get it clean. What can I do to get the candy off?
The best way to clean your pot if the candy has hardened to the sides is to reboil your pot. Put hot water and some dish soap inside your pot, and bring it to a boil. That should lift the sugar, and then you can just clean the pot as you normally would.
Other Holiday Treat Recipes You'll Love
Don't Forget To Come Back And Let Me Know How Your Copycat See's California Brittle Turned Out!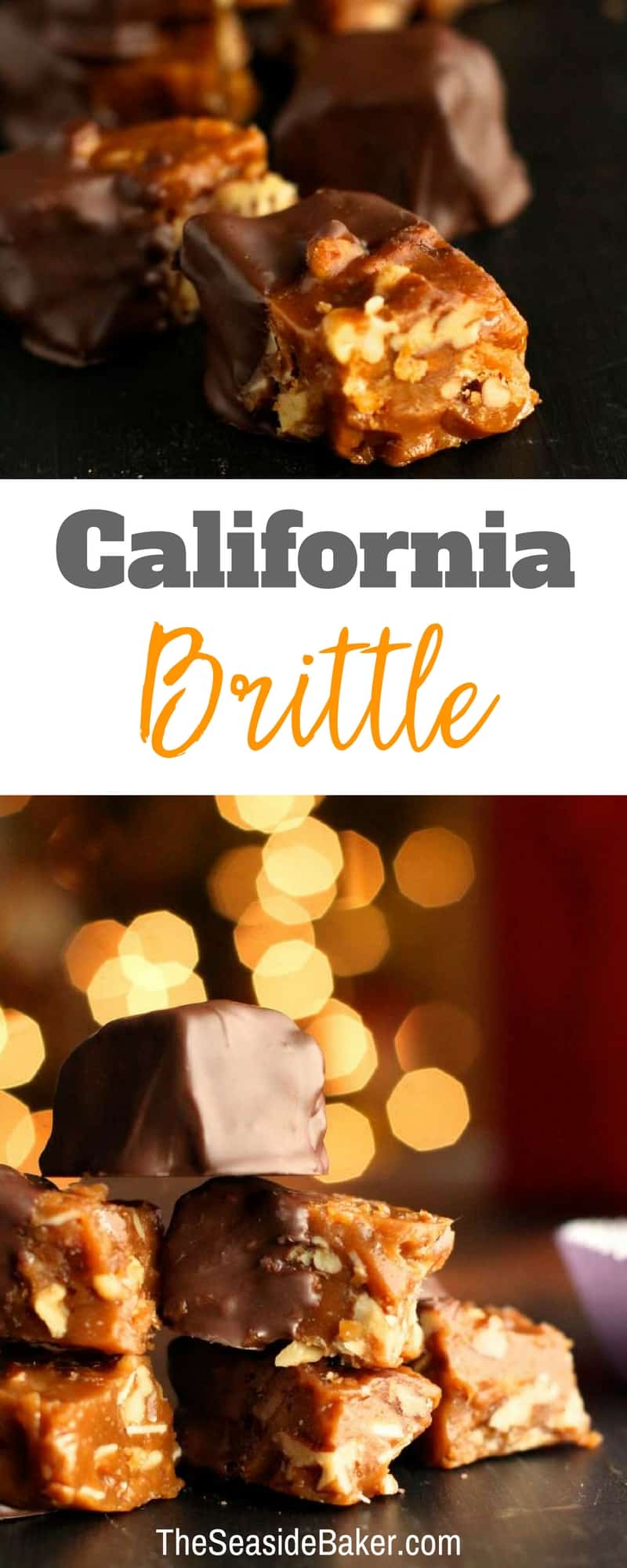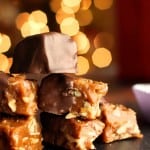 California Brittle
This copycat Sees candy recipe for California Brittle is made with rich butter, brown sugar, nuts and covered in a smooth chocolate finish.
Keyword:
sees california brittle, sees copycat recipe
Ingredients
2

cups

unsalted butter

1

and ¾ cups granulated white sugar

1

cup

brown sugar

½

teaspoon

salt

4

tablespoons

water

1

tablespoon

vanilla extract

1

teaspoon

baking soda

2

cups

almonds or whatever nut you prefer

2

cups

melting chocolate
Instructions
Line a 11x13 inch baking sheet with parchment paper and spray with nonstick cooking spray

In a large pot, combine butter, sugar, brown sugar, salt, and water.

Heat on medium heat until mixture reaches 300 degrees on your candy thermometer.

Remove from heat and stir in vanilla and baking soda.

Stir in nuts.

Very carefully pour into pan.

Allow to cool thoroughly and cut into bit sized pieces.

Heat melting chocolate in a microwave safe bowl for 1 minute.

Stir and if needed heat again for increments of 10 seconds until melted (stirring in between).

Dip cooled brittle pieces into chocolate and cool until chocolate is hard.