If you love recipes with simple ingredients, this Mint Chocolate Fudge will become a favorite. Refreshing mint flavor with a rich and decadent chocolate base. Great for the holidays or whenever you're having a little chocolate craving.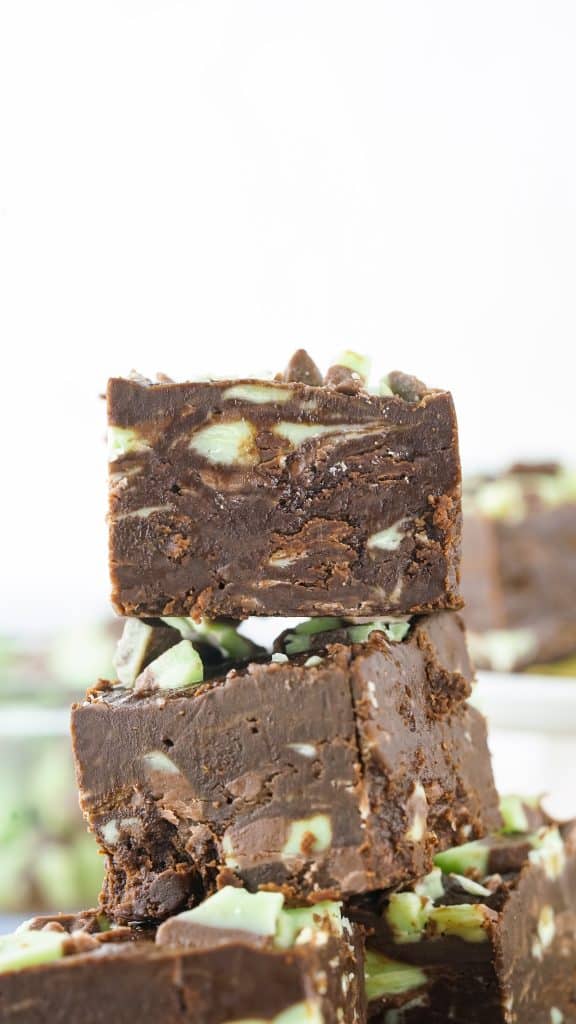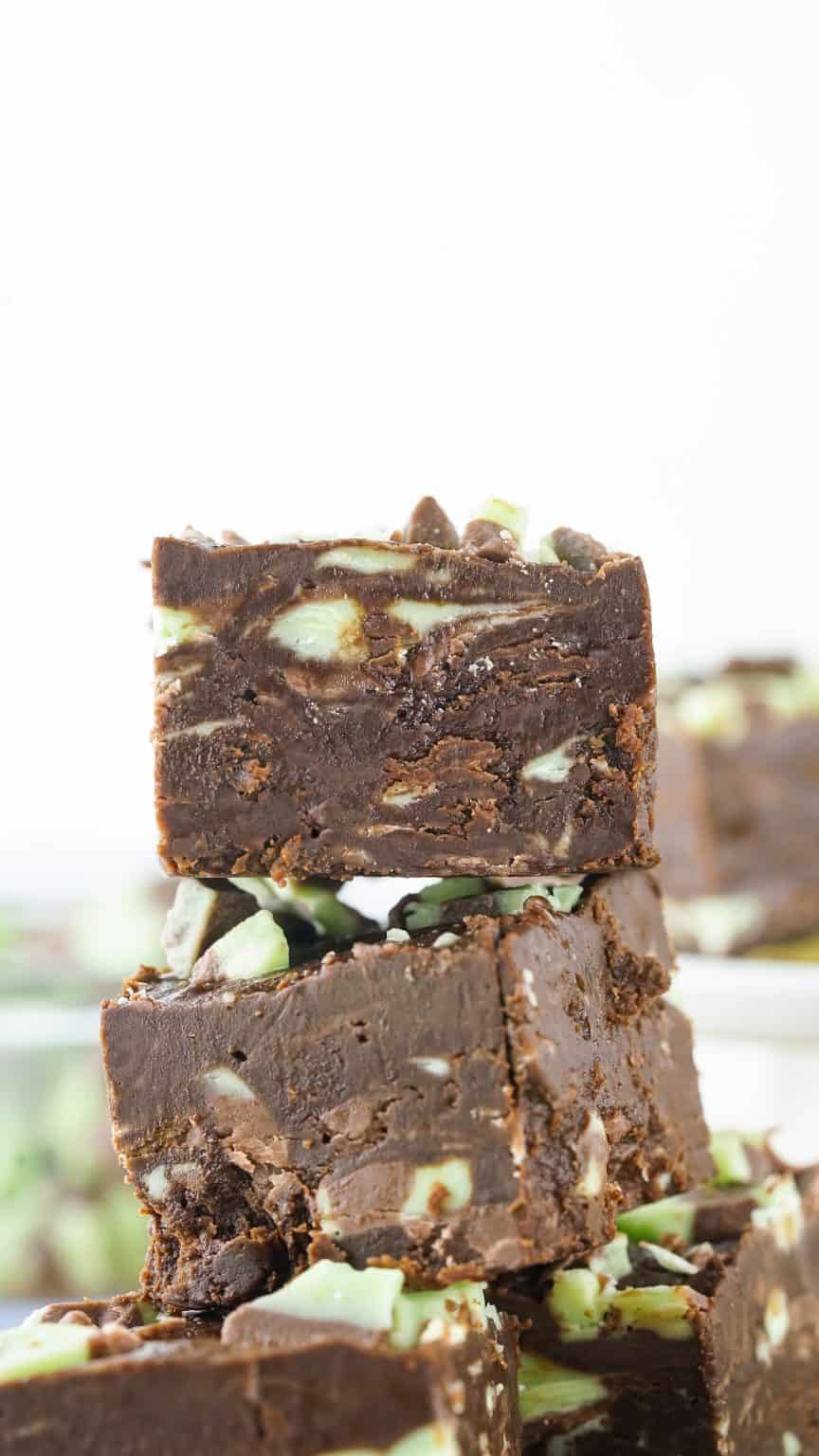 Fudge is my weakness and I don't care who knows it anymore. Fudge is like the cake or cookie of the candy world. There are countless flavors it can be created into and there are quite a few ways to prepare it. In general, you can never go wrong with fudge. Fudge is always the answer.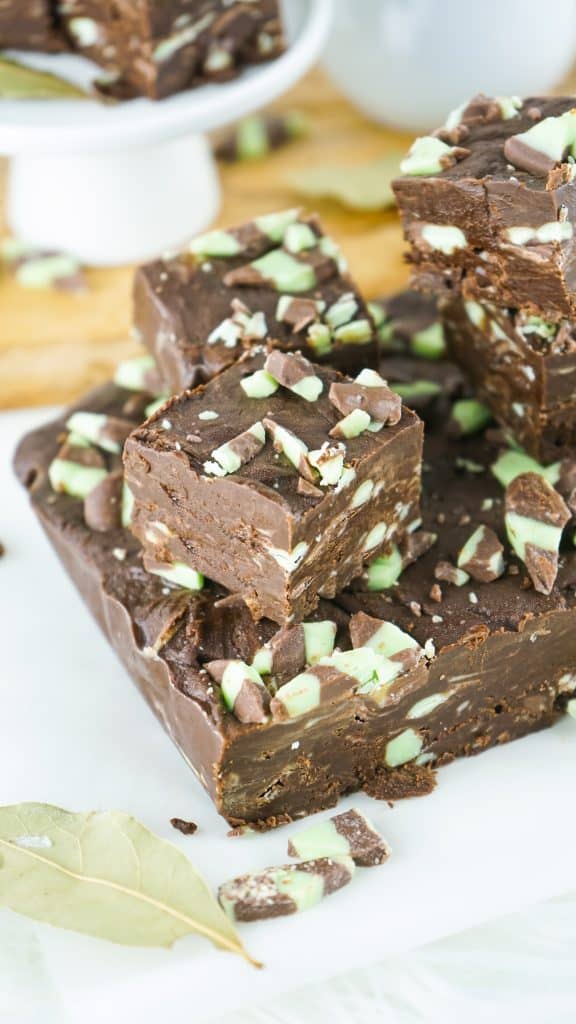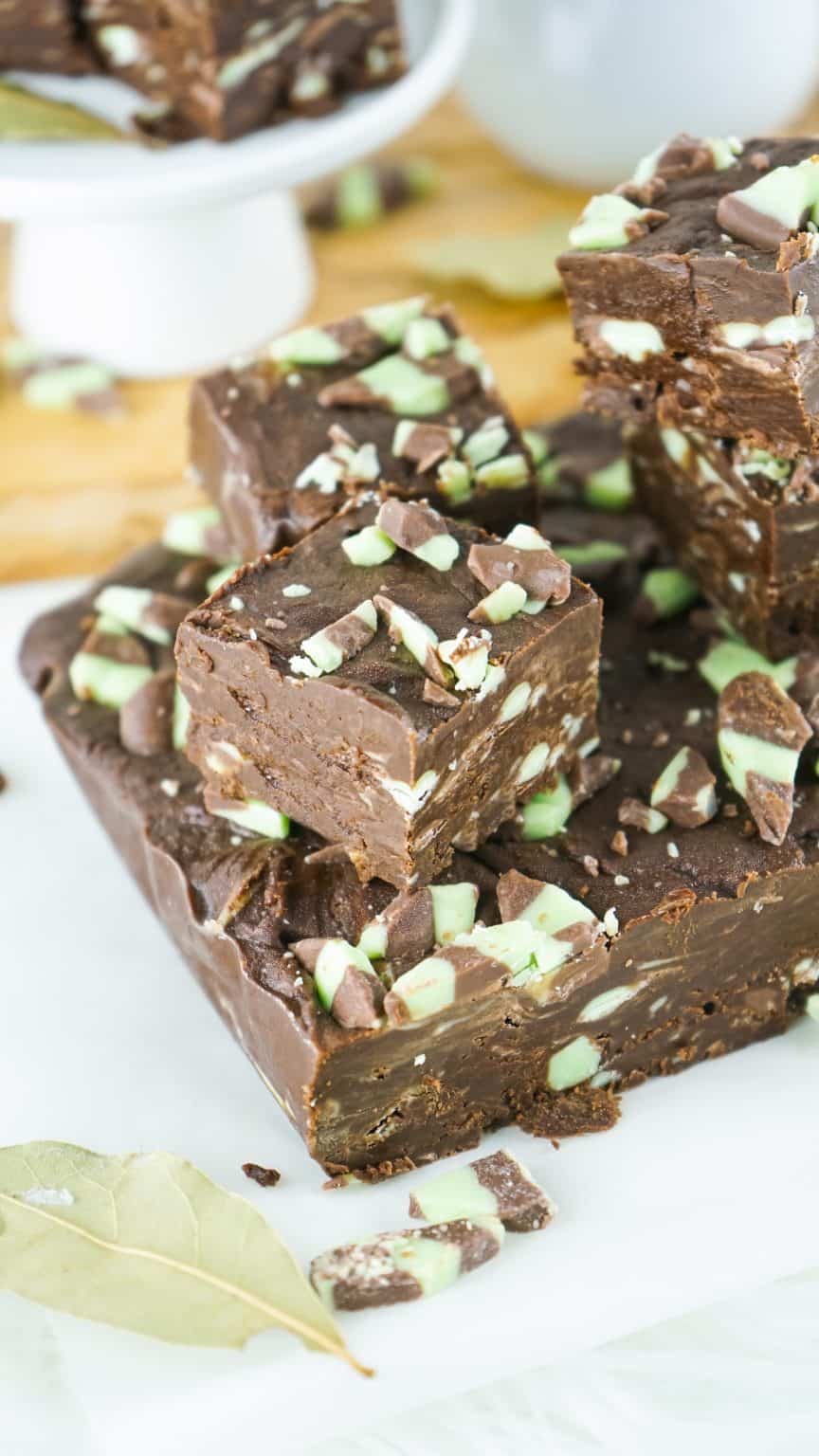 Especially this mint chocolate fudge. That cool flavor of mint feels like it touches every inch of your body before the rich chocolate hits your tongue. Excuse me folks, I'm going weak at the knees. To be honest, chocolate and mint are one of my favorite combinations. Two of my favorites are chocolate peppermint brookies and peppermint bark layer cake.
Ok, stop reading about me rambling on about my love for all things unhealthy and go make this chocolate mint fudge yourself. Be careful, it's a charmer and will make you fall in love with it.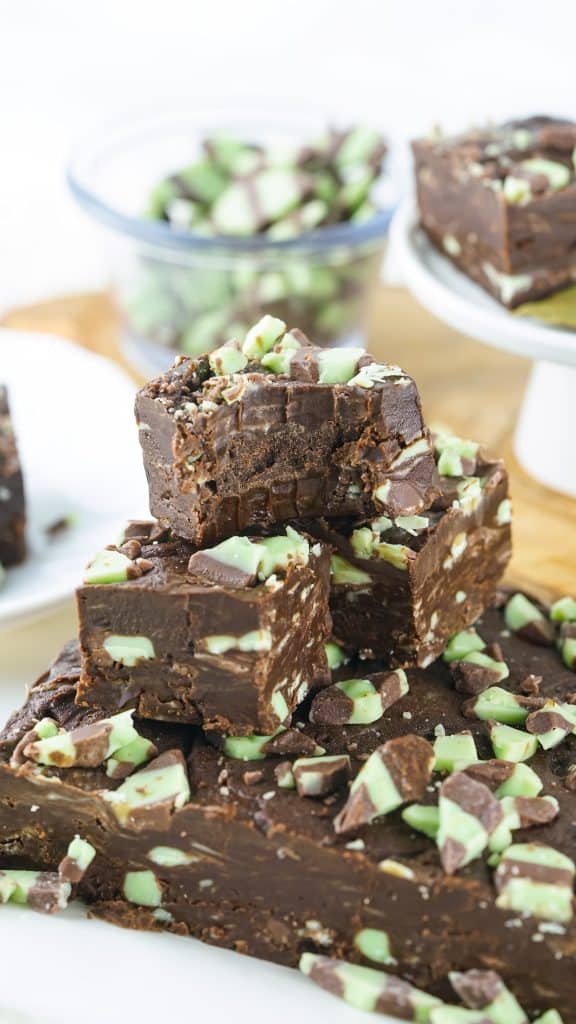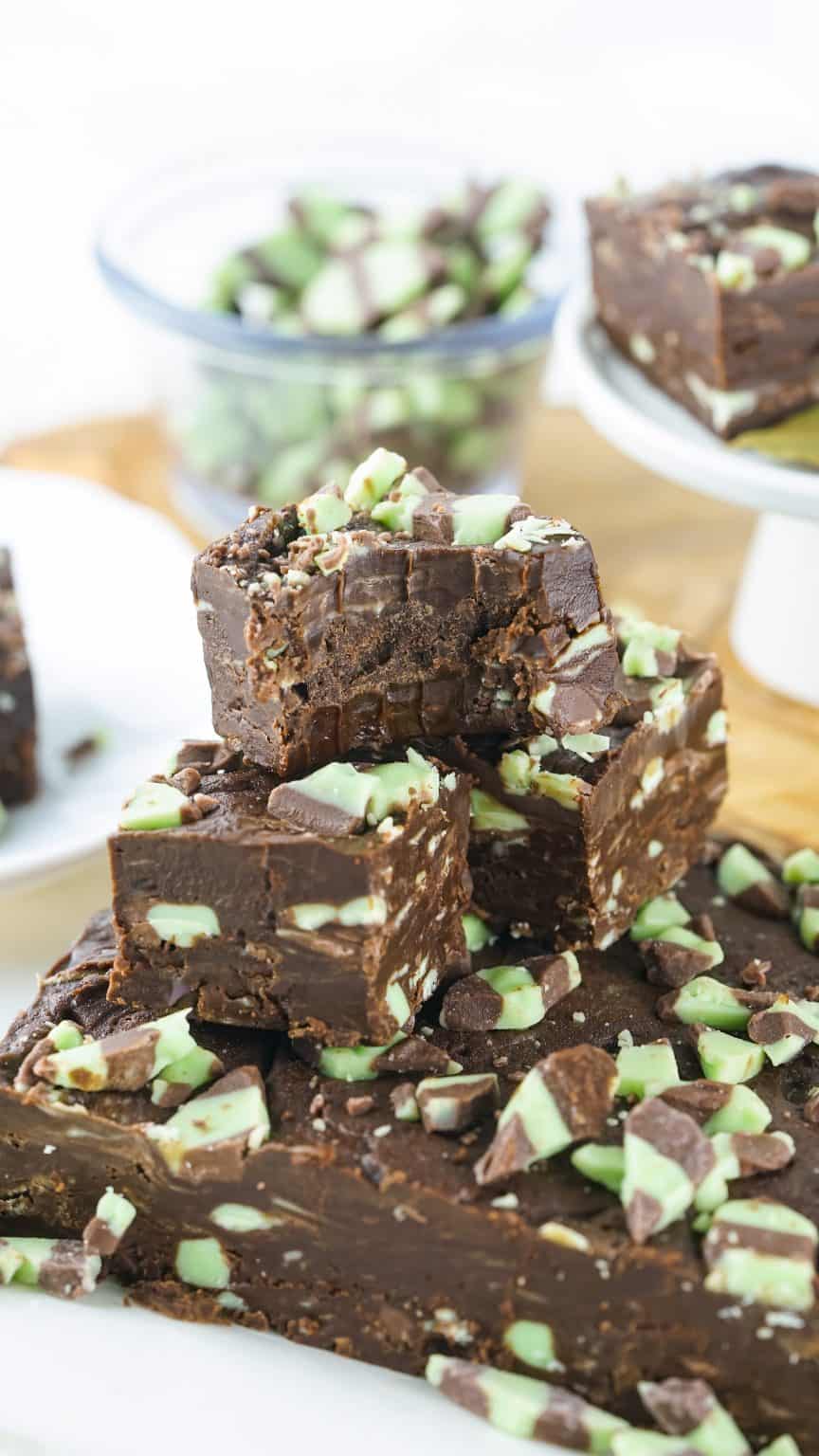 Why this Quick and Easy Fudge Recipe is the Best
Most fudge recipes require multiple ingredients, candy thermometers, and possibly burnt pans and liquid fudge. Don't get me wrong, there is magic that happens when you create a decadent fudge bite of chocolate deliciousness from scratch. But this recipe? This recipe is all of that condensed into about a 5 minute prep time. It's so simple to make and tastes just as delicious as a recipe that you spent hours on.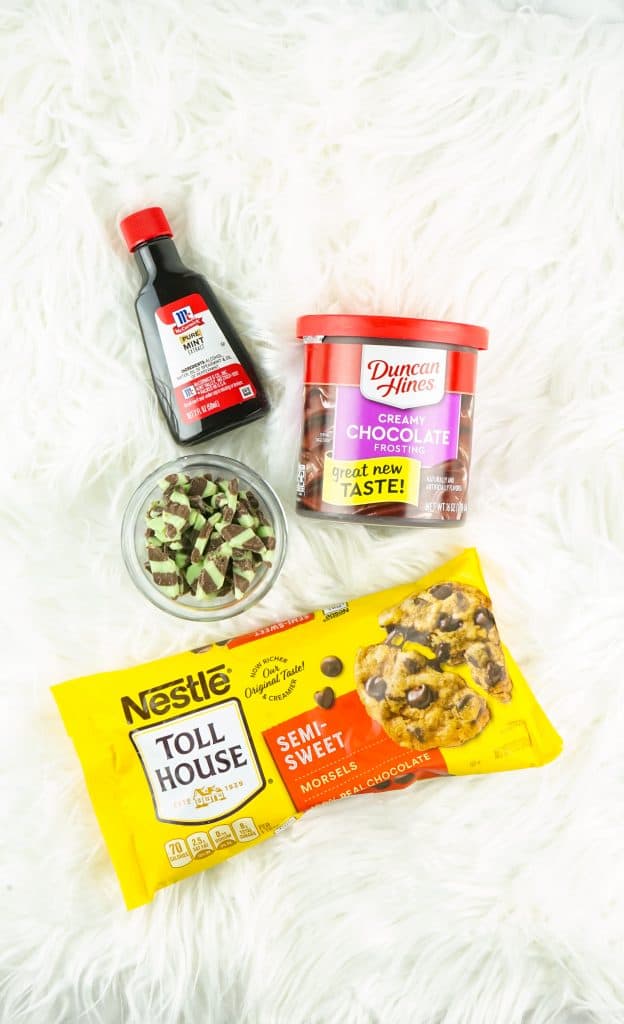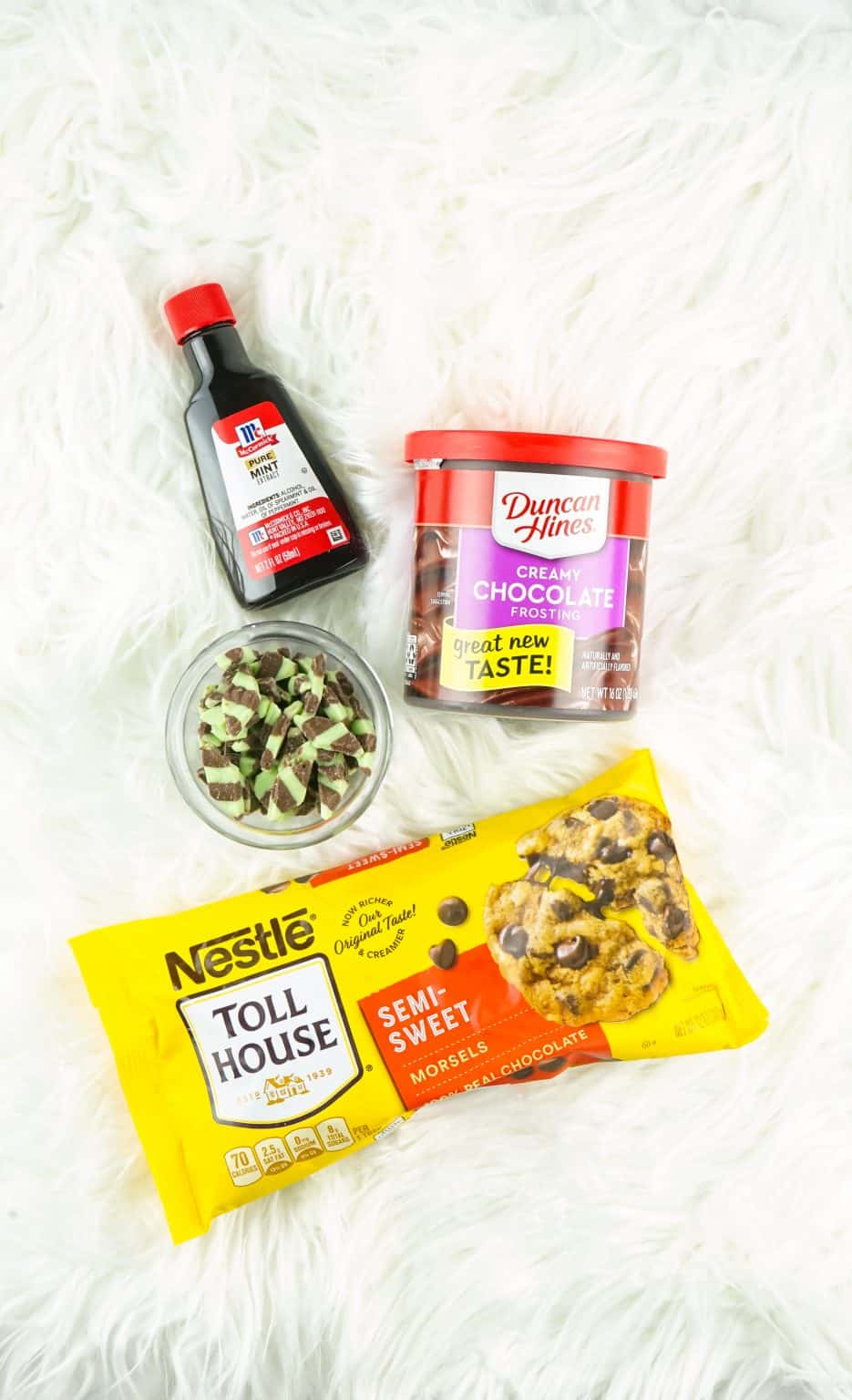 Ingredients/Shopping List
Chocolate Chips
Mint Chips- I like to use andes mint chunks
Chocolate Frosting- yup...you read that right!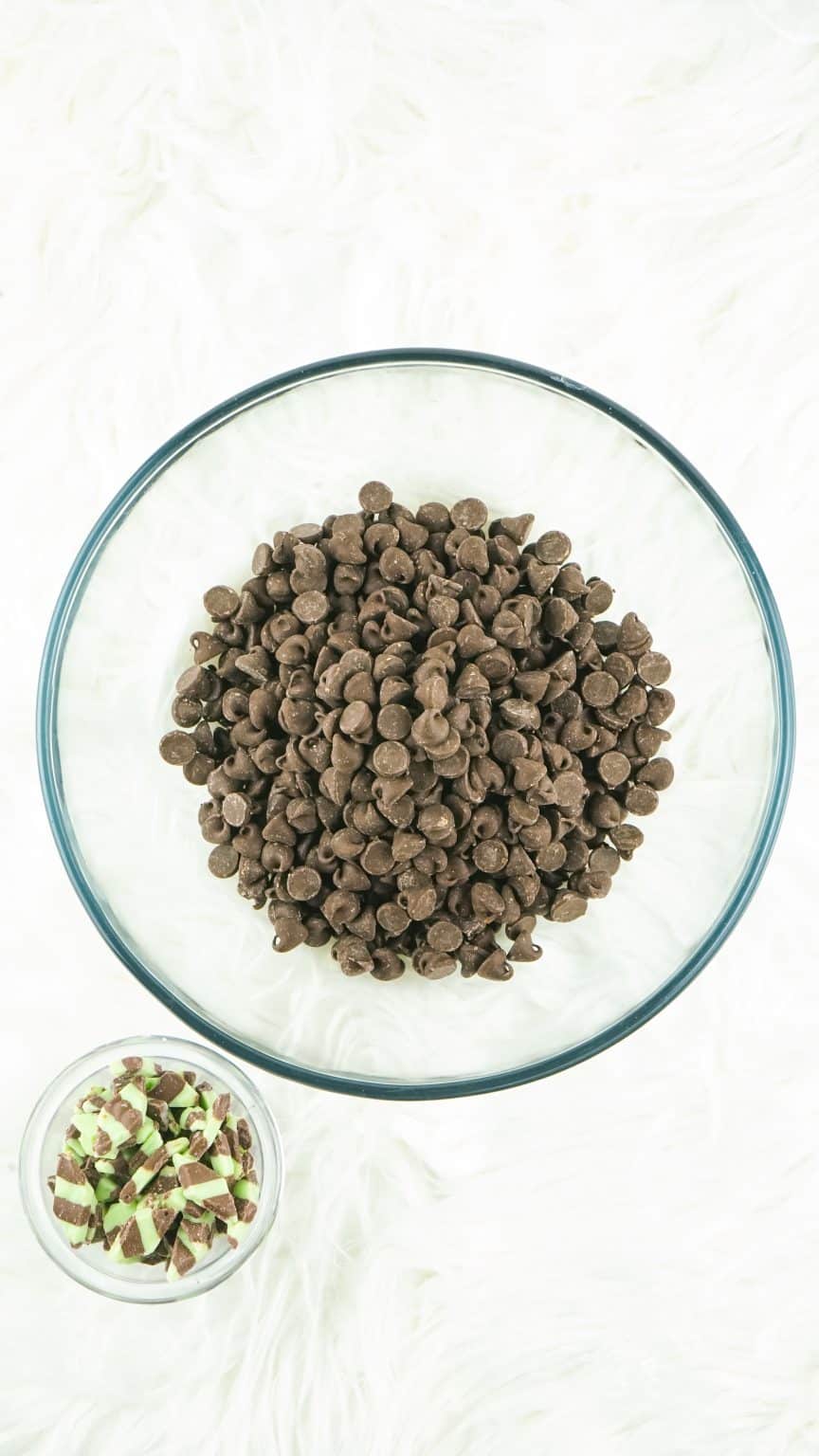 How Do You Make Chocolate Mint Fudge from Scratch?
Prep - Line a square baking pan with parchment paper.
Melt - Add the chocolate chips to a bowl and microwave until smooth. Microwave the frosting until fully melted.
Mix - Add the extract to the frosting and stir well.
Combine - Add some of the mint chips and the frosting to the chocolate and stir well.
Chill - Pour the mixture into the prepared pan, top with remaining mint chips, and chill for 2 hours.
Serve - Cut, serve, and enjoy!
Tips and Variations
Use all mint chips - Instead of doing half normal chocolate chips and half mint chips, you can use mint chips for the entire recipe and skip the mint extract. I personally liked it with a bit more chocolate and less mint, but that's a personal preference.
Why is my mixture lumpy? - This is just the chocolate slightly seizing when mixing with the frosting. This is normal and there's nothing wrong with your fudge recipe. Simply mix it really well and ignore the lumpiness.
Use quality chocolate chips - Don't skimp out and use super cheap chocolate chips. If you want delicious fudge, get the better chocolate chips. I've not had the best luck with using cheaper chips. They either don't melt well or the chocolate tastes bland.

What kind of chocolate chips? - Just about any kind of chocolate chips you prefer will do. I like to sometimes use dark chocolate chips. Just be sure they note on the back that they're meant for melting. Not all chips are made equally.
Let the fudge warm up before cutting - If you give the fudge about 15-20 minutes to come to room temperature once removed from the fridge, it will be much easier to cut and handle.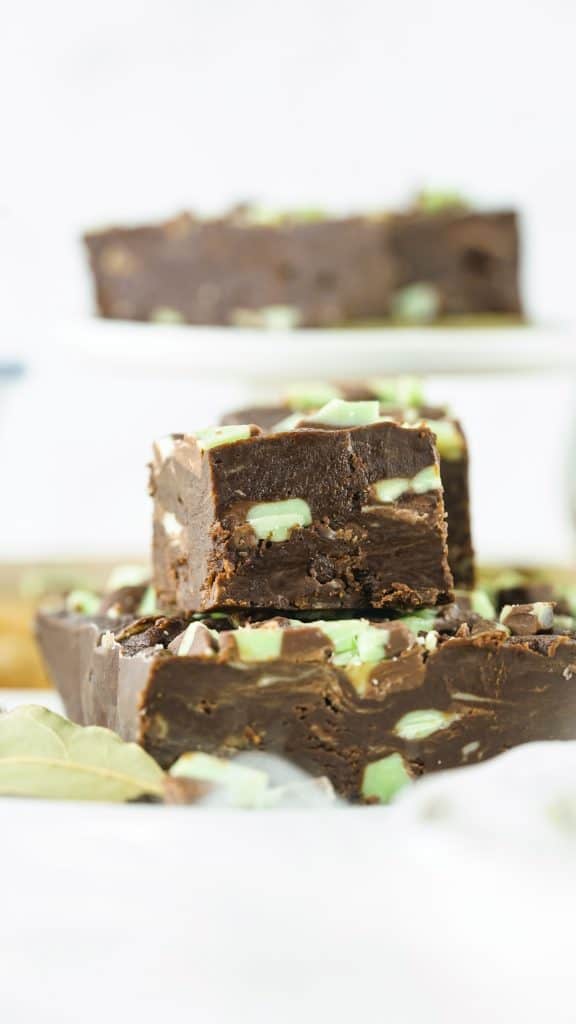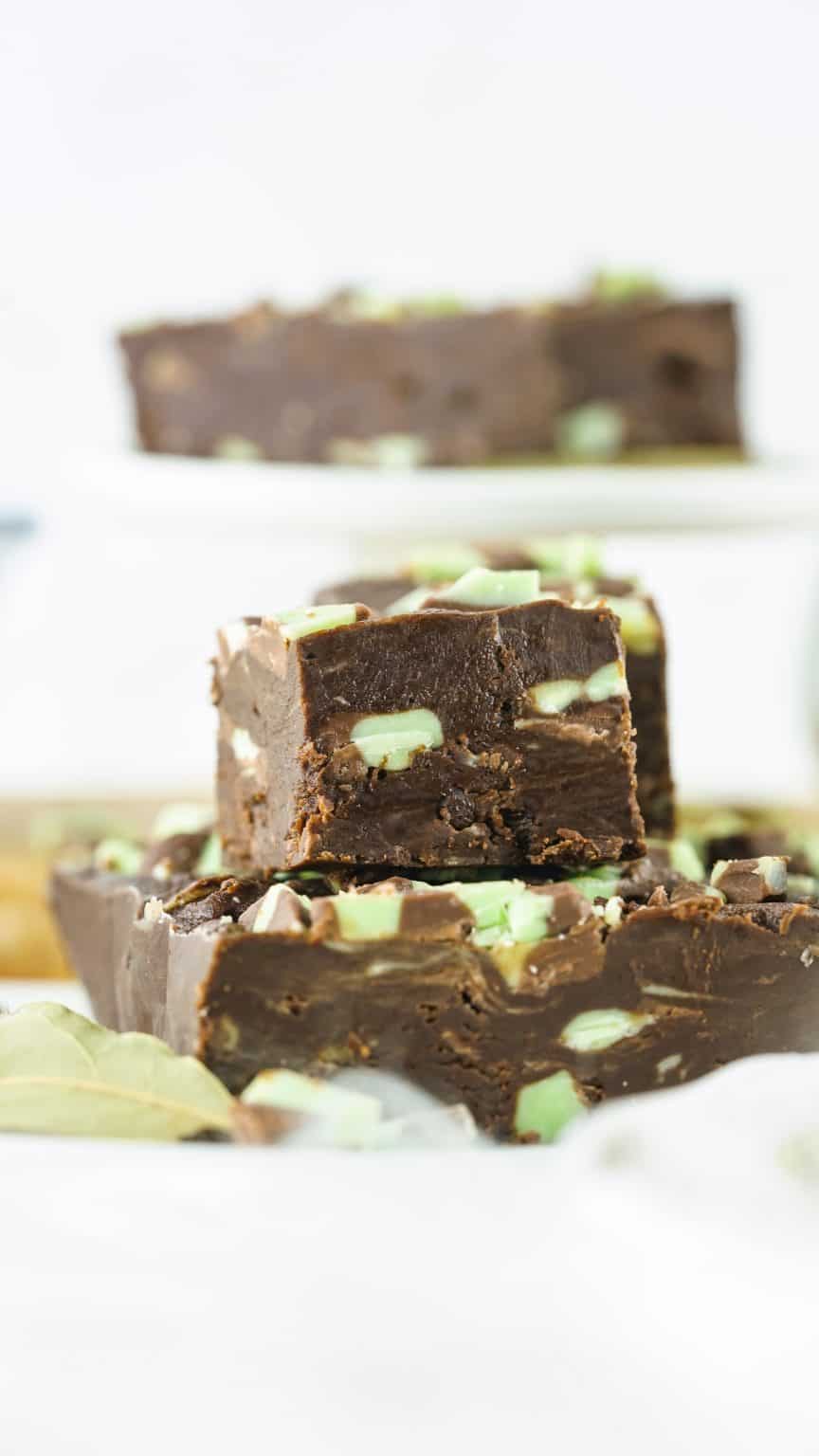 Common Questions About Mint Chocolate Fudge
What is the Secret to Making Fudge?
If you're talking about a classic and traditional fudge recipe, then the secret is being patient with every step. It has to cook to the right temperature before being removed from the heat, and then it has to have plenty of time to chill and set up. If any of these steps are rushed, the fudge will be a letdown.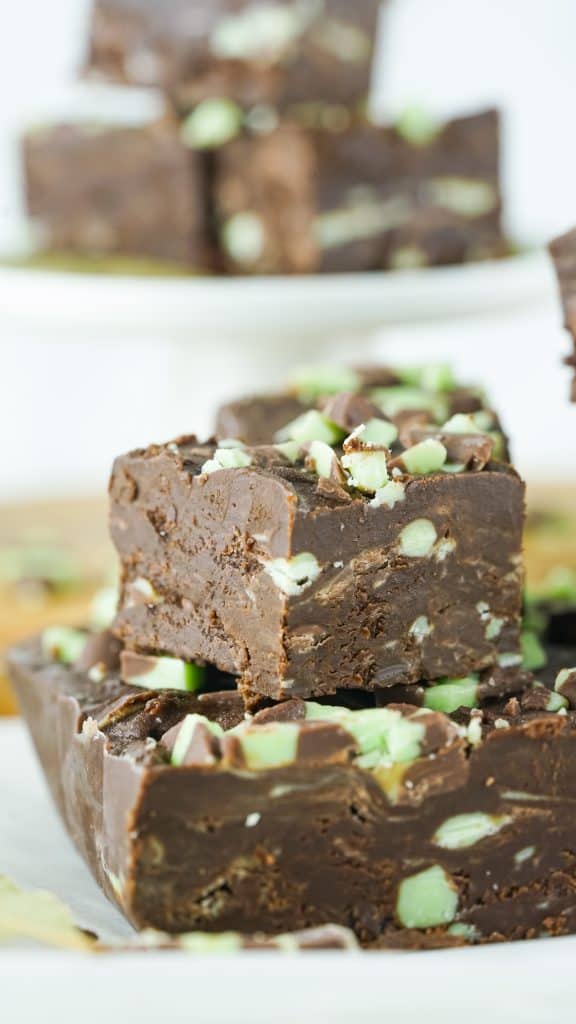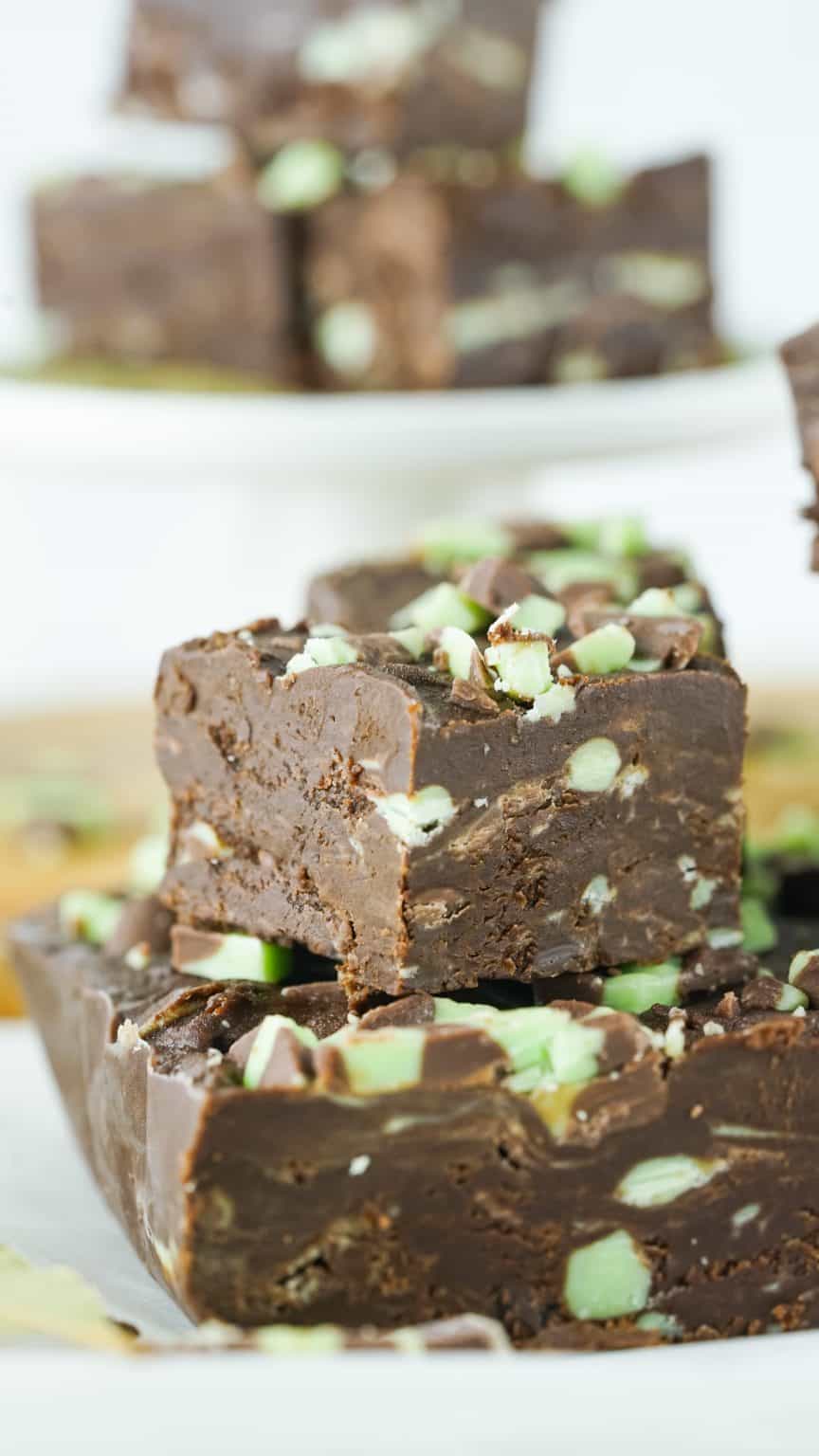 What Ingredients are in Fudge?
This all depends on what kind of fudge recipe you're going for. There are quite a few ways to make even just a basic chocolate fudge recipe. A classic fudge usually has baking chocolate, heavy cream, and butter as the base. However, I like a quicker method, like this recipe, that uses frosting and chocolate chips, along with whatever I want to add in.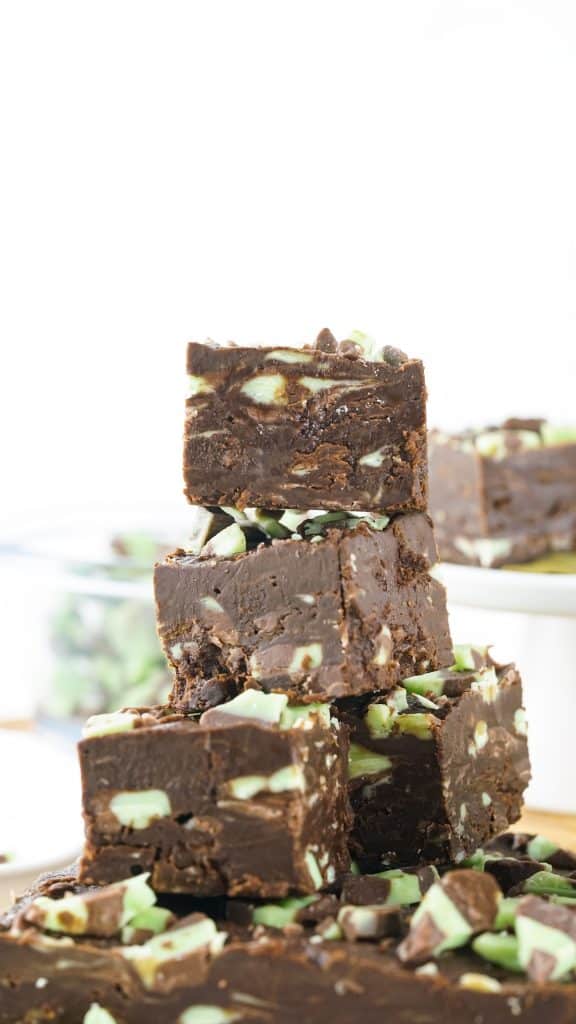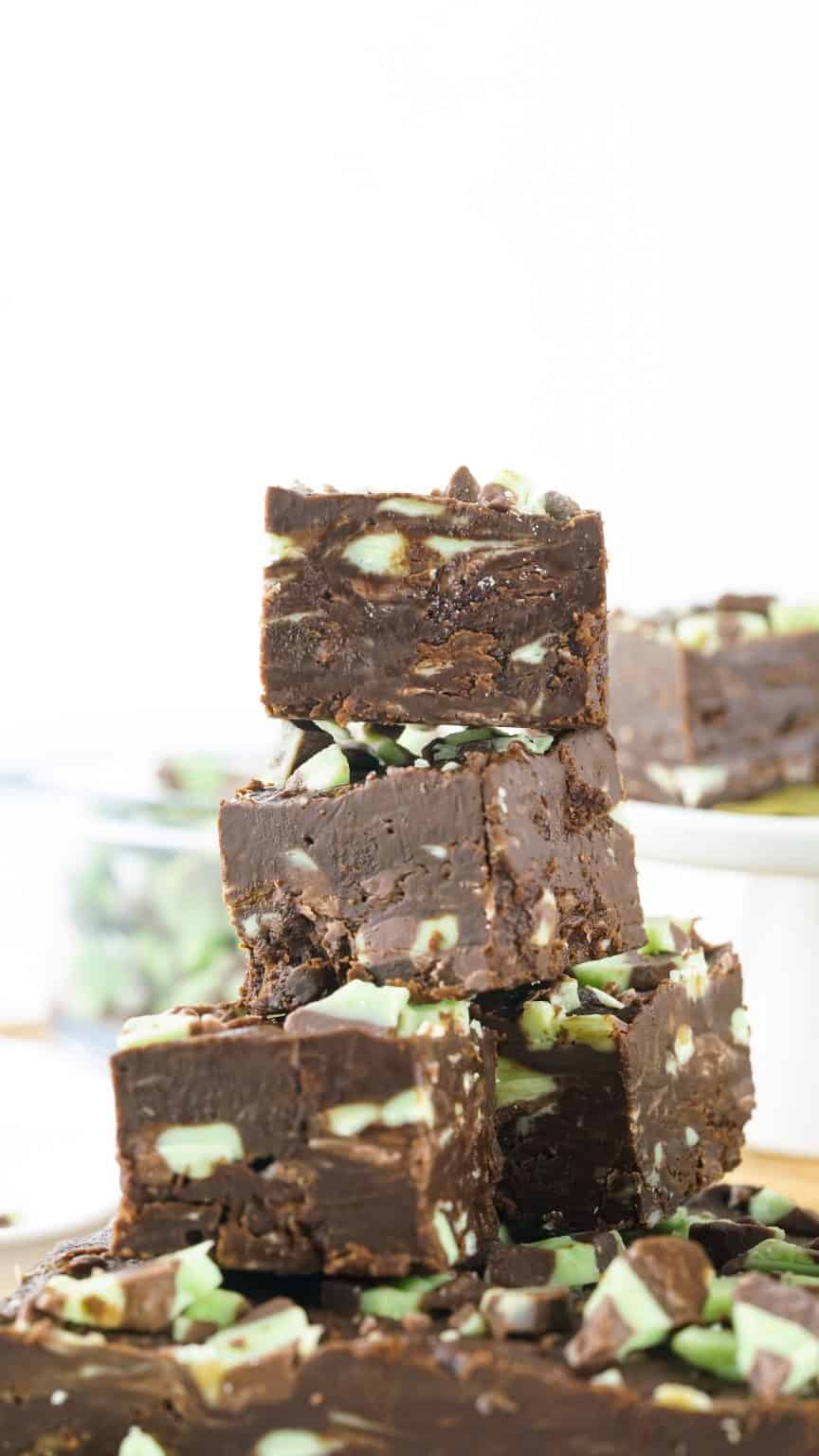 Please feel free to share your experience with making this Mint Chocolate Fudge in the comments below or on social media!
More Candy Recipes You're Sure to Love: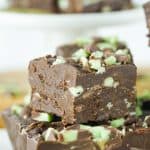 Mint Chocolate Fudge
Keyword:
easy fudge recipe, mint fudge recipe
Ingredients
1

Cup

Chocolate Chips

1

Cup

Mint Chocolate Chips

1

Container Chocolate Frosting

16 ounces

½

Teaspoon

Mint Extract
Instructions
Line an 8-inch square pan with parchment paper.

Place the chocolate chips in a medium bowl. Microwave on high for 2 minutes or until smooth when stirred. Pause to stir every 30 seconds so you don't burn the chips.

Remove the foil and lid from the frosting and microwave it for 45 seconds.

Pour the frosting into the melted chocolate and add ¾ cup of the mint chips. Stir until well combined.

Pour into the prepared pan and sprinkle the remaining mint chips over the top.

Chill for 3 hours or until set.

Slice into 1-inch squares and enjoy!