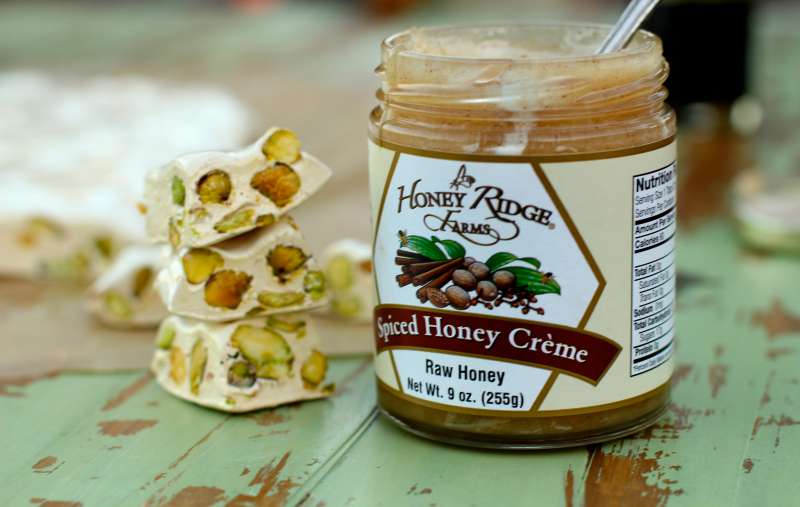 Italian Torrone or nougat one of my husband's favorite candies. After years and years of trying recipes, I finally nailed it a couple of years ago.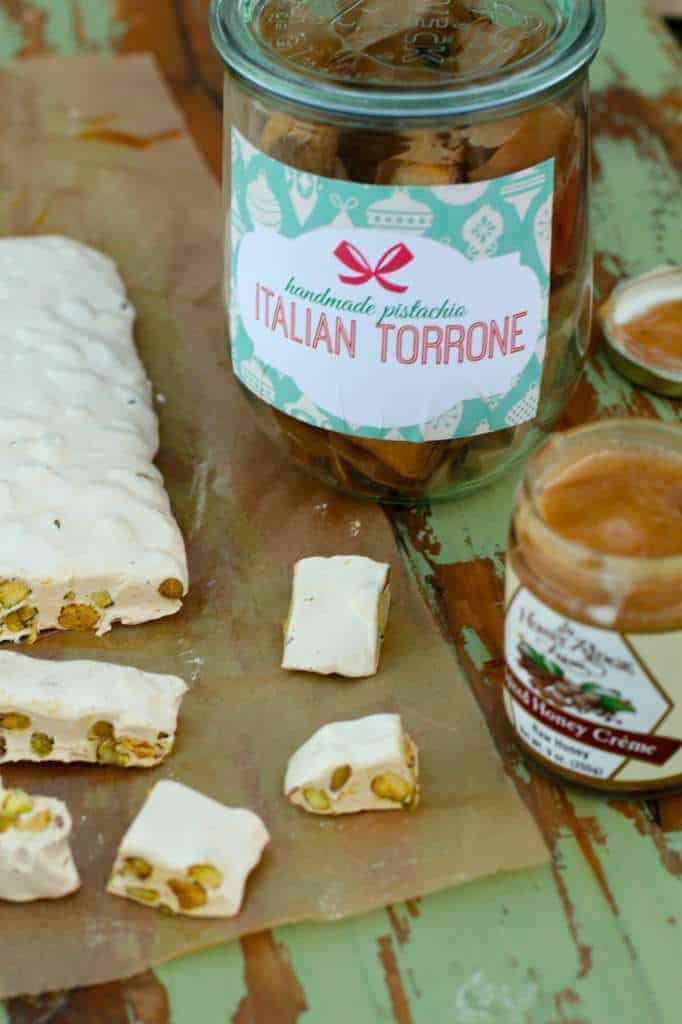 Because there are so few ingredients in this recipe, quality ingredients are a must. I love using this Spice Honey Crème from Honey Ridge Farms. The warm winter spices add extra depth to the Torrone. It also makes the candy extra creamy.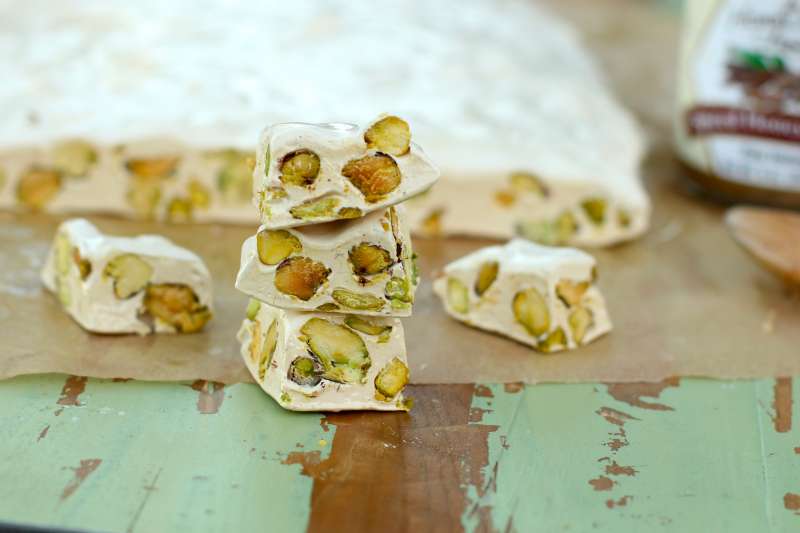 I used Pistachios in this recipe because I love the saltiness that it brings to the sweet Torrone. In the past I have used slivered almonds, cranberries and a mixture of nuts, all with amazing results. This recipe does involve a candy thermometer, but is totally worth it! I recommend using this
thermometer, but make sure not to buy it at the gourmet food stores as it is about triple the price!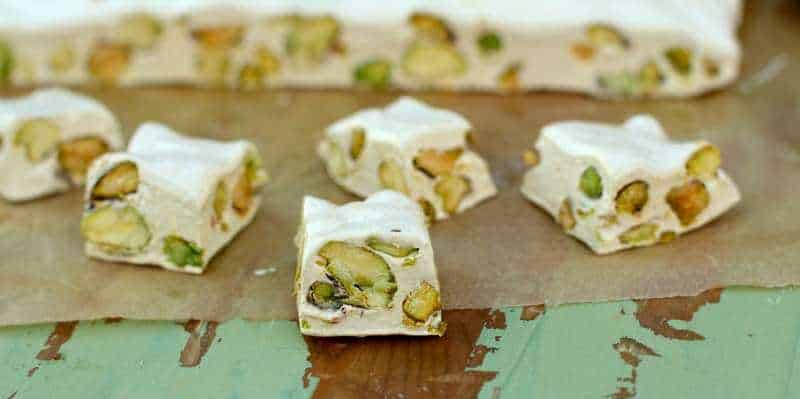 Honey Ridge Farms has many difference Honey Crèmes available. From Raspberry to Blackberry, these jars would make the perfect gift for your foodie friends. Better yet, combine a jar or two with a bag of freshly made Torrone and your recipient will be over the moon! They also have other items including Honey Grilling Sauce and Honey Balsamic Vingar- which I can attest are absolutely delicious! The delicately sweet honey balsamic vinegar is perfect on salads! Honey Ridge Farms is offering a 10% discount this holiday seasons, which makes for AMAZING prices on raw honey (and of course their other products).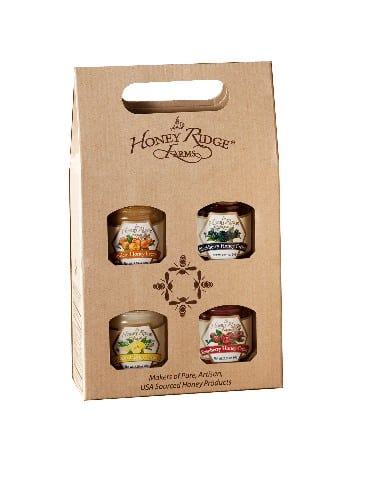 If you would like to use these labels, click here. They have been designed to fold over a baggy or to be printed on label paper and stuck on jars (like in the pictures).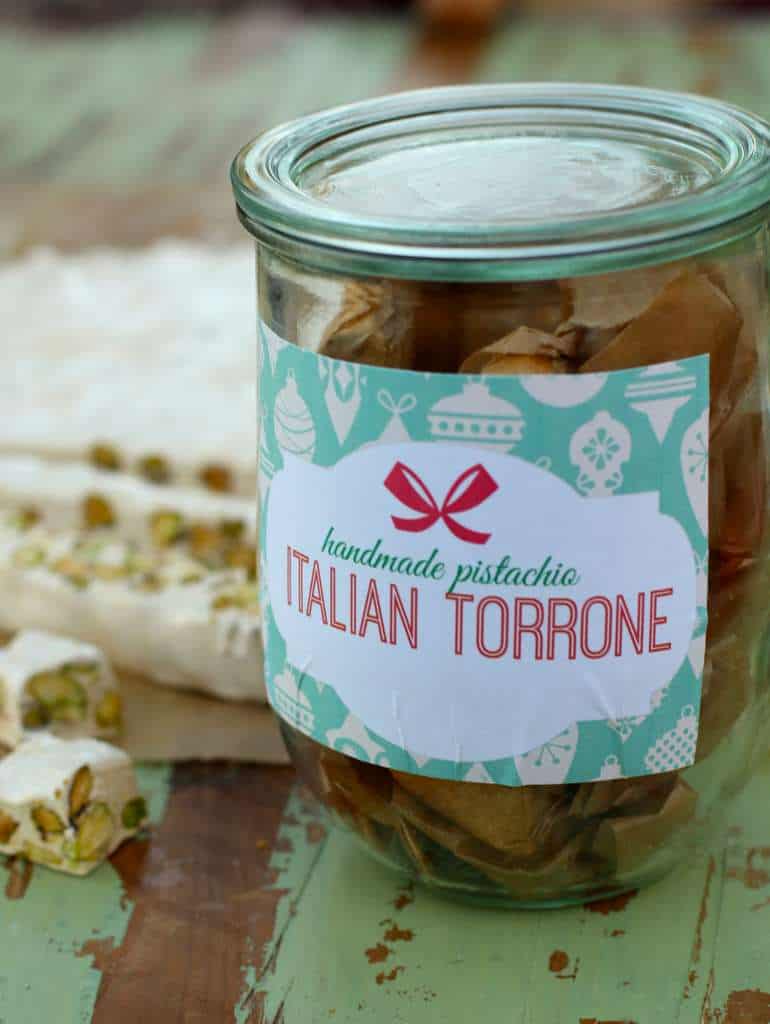 Make sure to check out the rest of our delicious treats from our Homemade Holiday Series!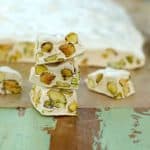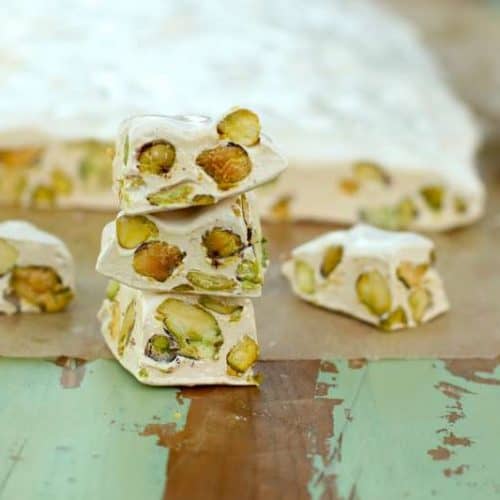 Italian Torrone
Ingredients
3

cups

sugar

1

cup

honey

¼

cup

water

3

large egg whites

½

cup

powdered sugar

2

cups

pistachios

½

teaspoon

almond extract
Instructions
Line a 9x13 inch baking dish with parchment paper. Generously spray parchment paper with non-stick cooking spray.

In a small pan, heat sugar, honey, and water on medium low stirring until combined and melted.

Once melted, increase heat to medium and cook until candy thermometer reaches 315 degrees, stirring occasionally.

Once it hits 315 degrees, remove from heat until the temperature gauge reads 300 degrees (you can also stir it to make it reduce heat quicker).

While sugar temperature is cooling, beat egg whites in a heavy duty stand mixer until soft peaks form.

Once formed, add powdered sugar and beat until stick peaks form.

While mixer is running on low, very slowly add slightly cooled sugar honey mixture.

Once all of the sugar honey has been incorporated, increase mixer speed to medium high and beat for about ten minutes. Mixture should only be warm to touch.

Add extract and nuts and beat to combine.

Using a strong spatula or wooden spoon, spoon out torrone into prepared pan.

Spray clean fingers with non-stick cooking spray and flatten to about 1 ½- 2 inches thick.

Allow to cool for about 2 hours.

Once cooled, run a very sharp knife under hot water, dry off, and slice torrone.

Wrap in parchment squares and store in an airtight container for up to 2 weeks.
This is a sponsored post on behalf of The Burrell Group, LTD, however all opinions are 100% my own. This post also contains amazon affiliate links.