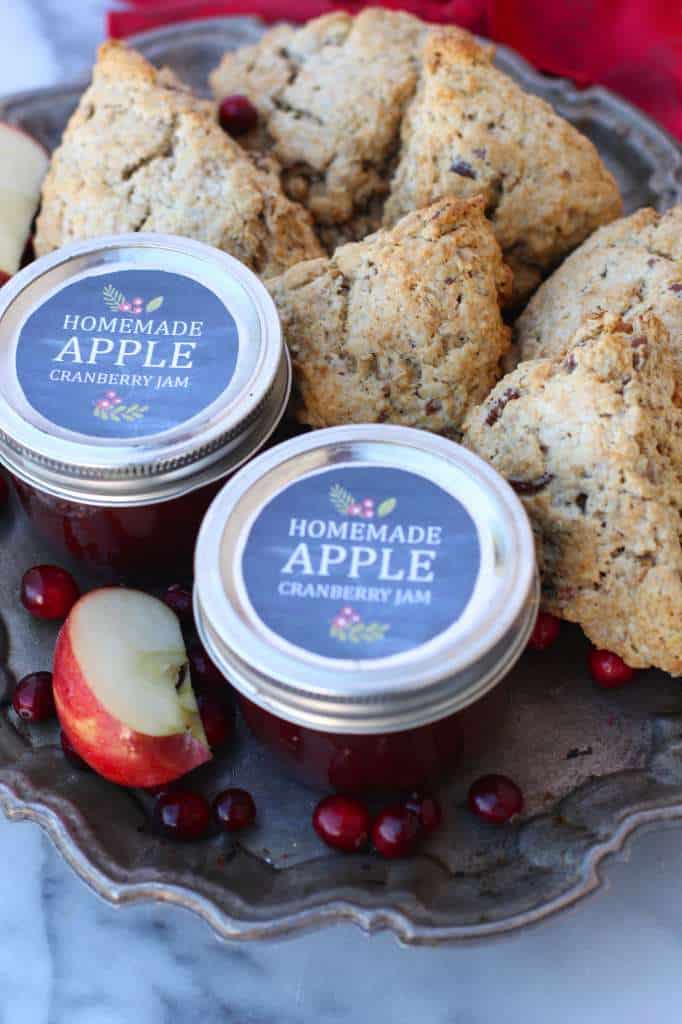 Apple Cranberry Jam is one of my favorite winter treats. It is sweet from the apples, tart from the cranberries, and warm from all of the winter spices. Combined they make truly a great combination. I usually make a few batches every year to last us through the winter and use it on everything from PB&J sandwiches, to a topping for brie as an appetizer.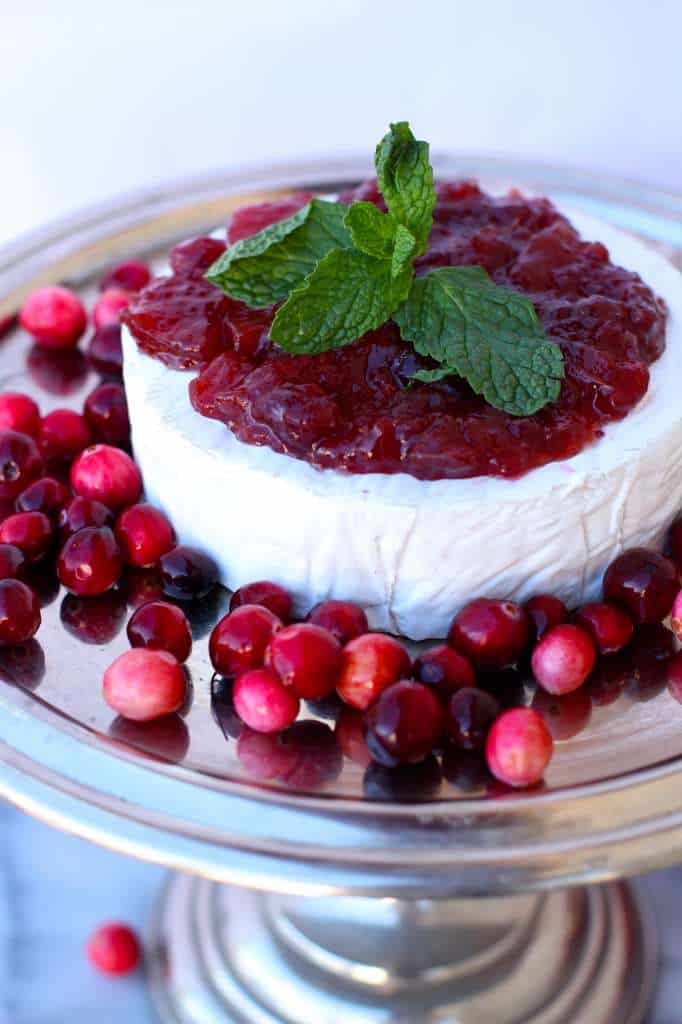 It also makes a lovely gift. Jam has a bad rap of being extremely difficult to make, when in fact it is very easy. When I give jars away as gifts, people are so excited because they think that I slaved in the kitchen for 8 hours. Let's let them continue to believe that though 😉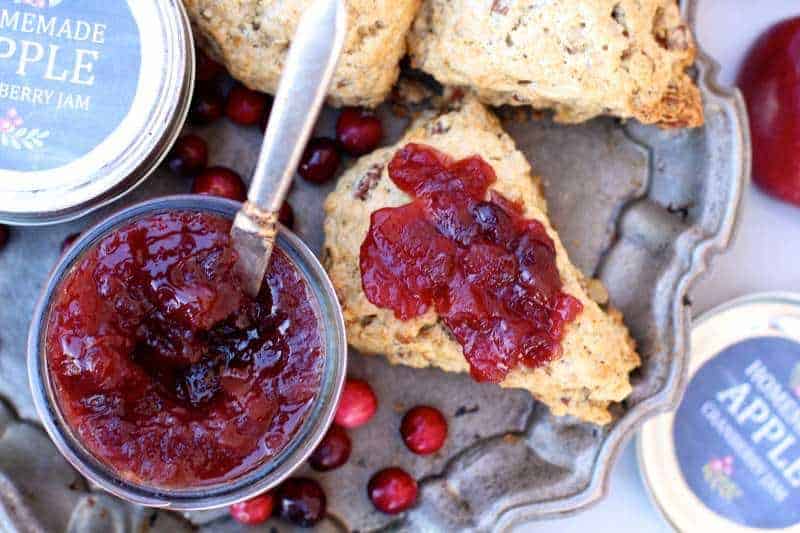 Making this Apple Cranberry Jam is actually one of the easiest jams to make. Apples and cranberries naturally produce pectin, so there is no need to add extra. If you have ever made jam then you know that once you add store-bought pectin, then it becomes foamy and you need to scrape off all of that foam before placing it in the jars. Well, not with this recipe! If you do not have a pan for a water bath, use a large pan (with a lid) and place a thick dish towel at the bottom. Fill with water and bring to boil. Proceed as the directions are written for the water bath.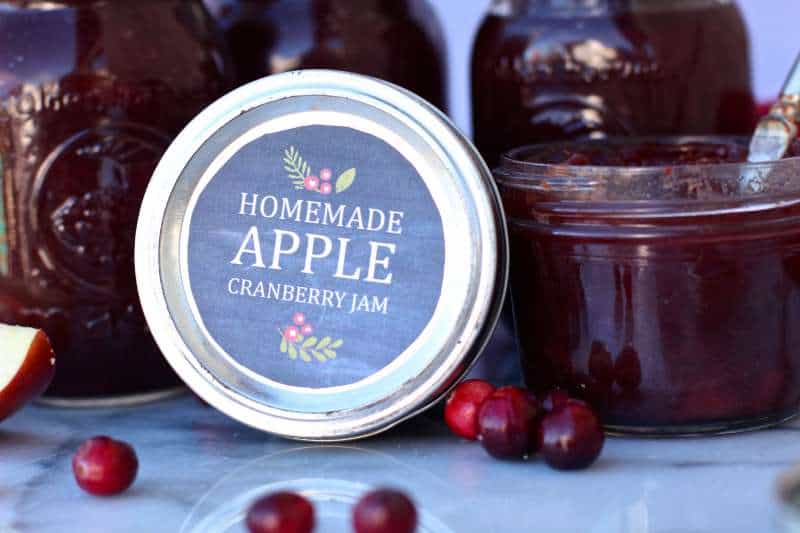 Gift a jar of homemade Apple Cranberry Jam with some fresh Maple Oat Scones. Or, gift with a brie round for a lovely hostess gift. Make sure to keep some for yourself though as this jam is THE BEST on toast!!!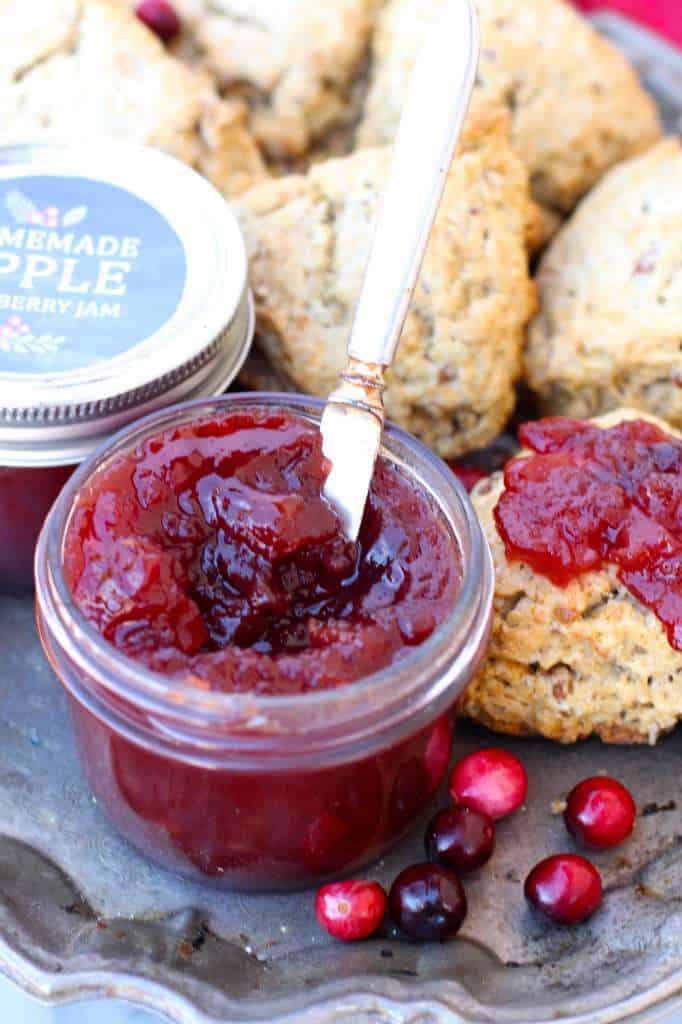 For these adorable Jam labels that were created by BriGeeski, click on these Apple Cranberry Jam Labels. Simply print out on a full sheet label (Avery makes them), cut out, and place on jars.
Make sure to check out all of our recipes from our Homemade Holiday Series. If you are looking for more healthy delicious apple recipes visit the USAppleBlog!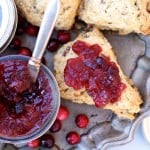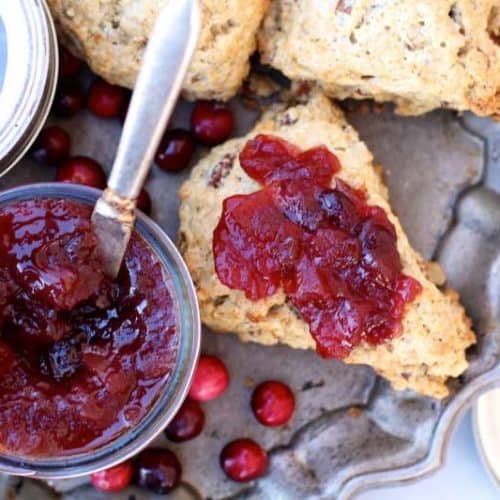 Apple Cranberry Jam
Ingredients
Apple Cranberry Jam
9

cups

peeled and diced apples

(combination of green and red)

3

cups

fresh cranberries

6

cups

sugar

1

cup

apple juice

2

tablespoons

ground cinnamon

2

teaspoons

nutmeg

1

teaspoon

ground cloves

½

teaspoon

ground ginger

zest and juice of 2 lemons
Maple Oat Nut Scones
1

cup

quick oats

1 ⅔

cups

flour

2

tablespoons

sugar

½

teaspoon

salt

1

tablespoon

baking powder

½

teaspoon

cinnamon

3

tablespoons

maple syrup

3

tablespoons

cold butter

(small pieces)

1

large egg

½

cup

half-and-half plus more for basting

⅔

cup

coarsely chopped pecans
Instructions
In a large pot add all of the ingredients.

Cook on high heat stirring occasionally.

Once cranberries begin to pop, reduce heat to medium.

Add the zest and juice of the two lemons.

Continue to cook jam until it begins to thicken and become syrupy, stirring occasionally, about 30 minutes.

While jam is cooking, prepare jars. Using clean jars, place in hot hot water.

Bring water bath to boil (or large pot with dish towel filled up ⅔ of the way with water then cover and bring to boil).

When jam is thick and syrupy (it will thicken considerably when cool), remove jars from hot water.

Carefully ladle hot jam into jars.

Wipe rims, apply lids and rings and submerge in the water bath.

Boil jars for about 10 minutes.

Carefully remove and cool completely.
To make the scones, start by combining all of the dry ingredients in a large bowl.
Using a pastry cutter or two knives, cut butter into dry mixture until butter pieces are the sizes of peas.

Stir in maple syrup.

Add half and half and egg and mix with wooden spoon until most of the flour is incorporated.

Gently mix in chopped nuts.

On a lightly floured surface, make a thick 2 inch disk with scone dough and cut into 8 wedges.

Baste wedges with half and half.

Place on a parchment lined baking sheet and bake in a 350 degree preheated oven for about 12 minutes, or until light brown.

Enjoy!
This post is sponsored by the USApple Association however all opinions are my own.