If you have leftover cranberry sauce like everyone does after Thanksgiving, turn it into this decadent Cranberry Sauce Coffee Cake. There's no reason to let any leftovers go to waste when a soft, spicy, slightly tart cake like this is just waiting to be created. Nutmeg, cinnamon, cranberry sauce, and a few basic ingredients come together in this recipe to make the perfect sweet treat.
This post was originally posted on 11/30/2016 and has been updated with new photos and video.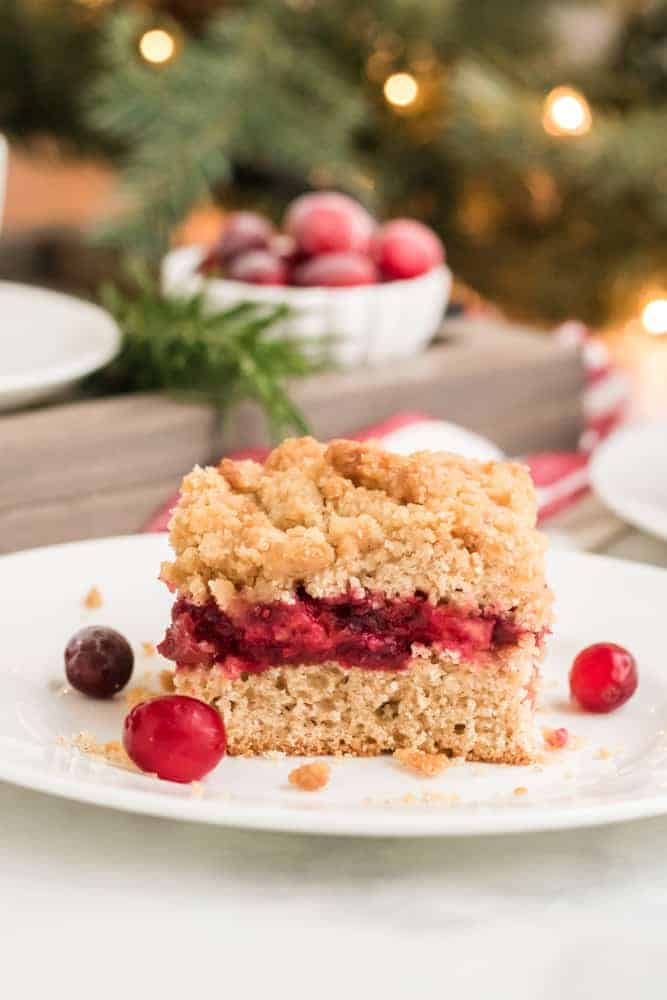 You know what's crazy to think about? The fact that 80 million pounds of cranberries are consumed at Thanksgiving time alone, in the US. For the holiday season in general, just shy of 5.1 million cans of cranberry sauce are bought and used. Sadly, cranberry sauce is often the top leftover dish to be tossed, despite how useful it can be for a ton of other recipes. I hate to throw anything out and that's how I came up with this cranberry sauce cake.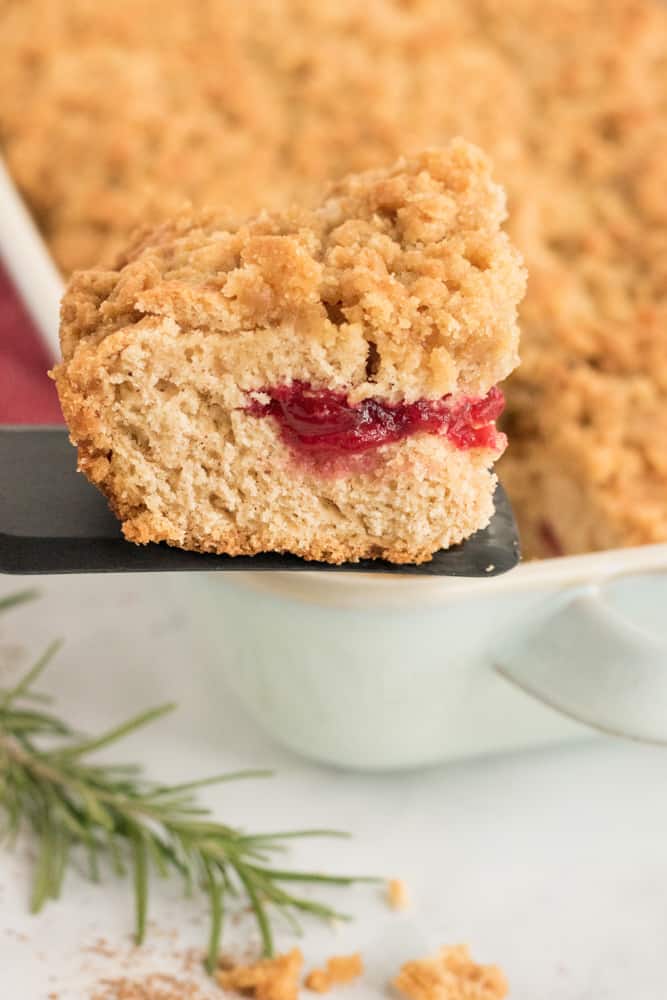 How Do You Make Cranberry Sauce Coffee Cake?
This leftover cranberry sauce cake is just like making your average coffee cake, just with the addition of cranberry sauce in the middle. For the cake, simply mix the dry ingredients in a large bowl and beat the wet ingredients in a mixer. Combine the two bowls and mix well. In a greased cake pan, pour half the batter and spread evenly. Spread the cranberry sauce in an even layer next. Finish by pouring the rest of the batter on top of the cranberry sauce. Mix the ingredients for the topping, sprinkle on top, and bake! That's all it takes!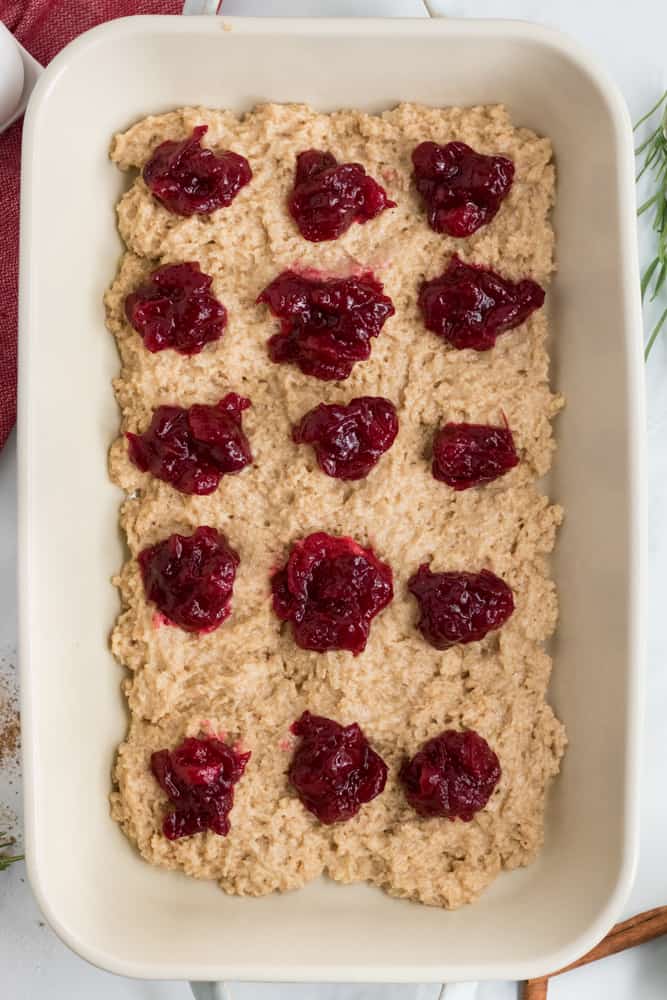 Tips for Making Cranberry Sauce Coffee Cake
Any cranberry sauce will do for this leftover cranberry sauce cake. It doesn't matter if it's canned or homemade, it will work just fine.

I used about a cup of cranberry sauce however, if you would like more, or have a little more leftover than that, feel free to add extra!

It's important to note that when checking to see if the cranberry sauce cake is done, the sauce may stick a little to the knife. This doesn't mean it's not done, you're just checking to see if the cake part sticks to the knife, not the cranberry sauce.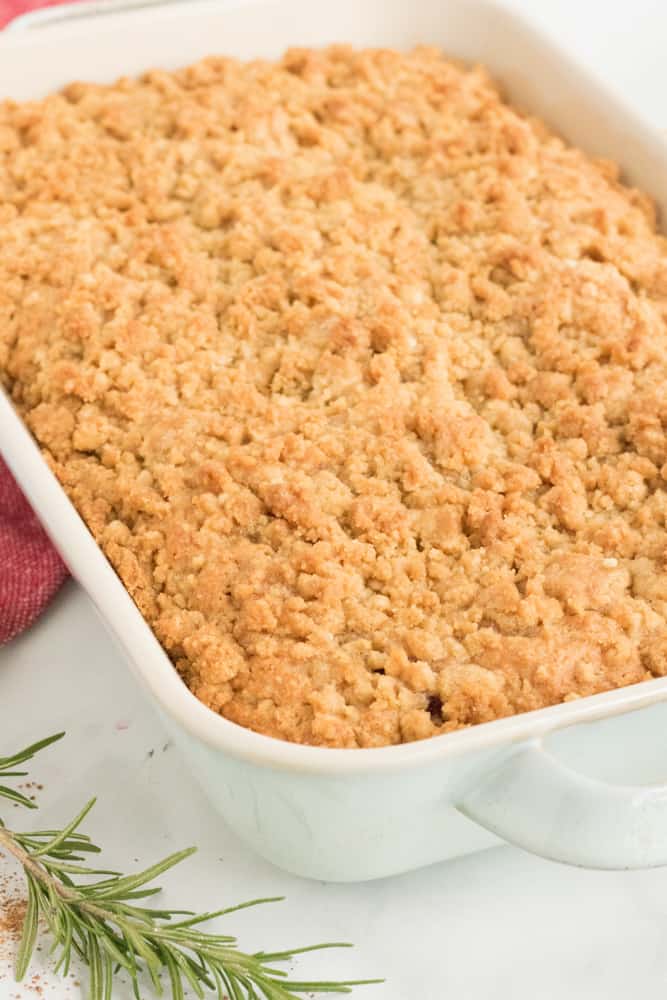 Common Questions About Cranberry Sauce Coffee Cake
What to Make with Leftover Cranberry Sauce?
Of course, my first go-to is this Cranberry Sauce Cake of my own design. However, there are endless recipes and ways to utilize leftover cranberry sauce. Cranberry sauce goes great in yogurt, oatmeal, homemade pop tarts, on top of various breakfast foods such as pancakes and waffles, and that's just breakfast! You can also make muffins, smoothies, a plethora of various appetizers, spritzers, margaritas, and the list goes on. There are also some amazing dinner dishes that incorporate cranberry sauce such as pork loin, pork chops, stir fry, etc. Some people say it's even delicious when added to a pot of chili! I urge you to give a quick Google on some ways to utilize your leftover cranberry sauce instead of tossing it out this year.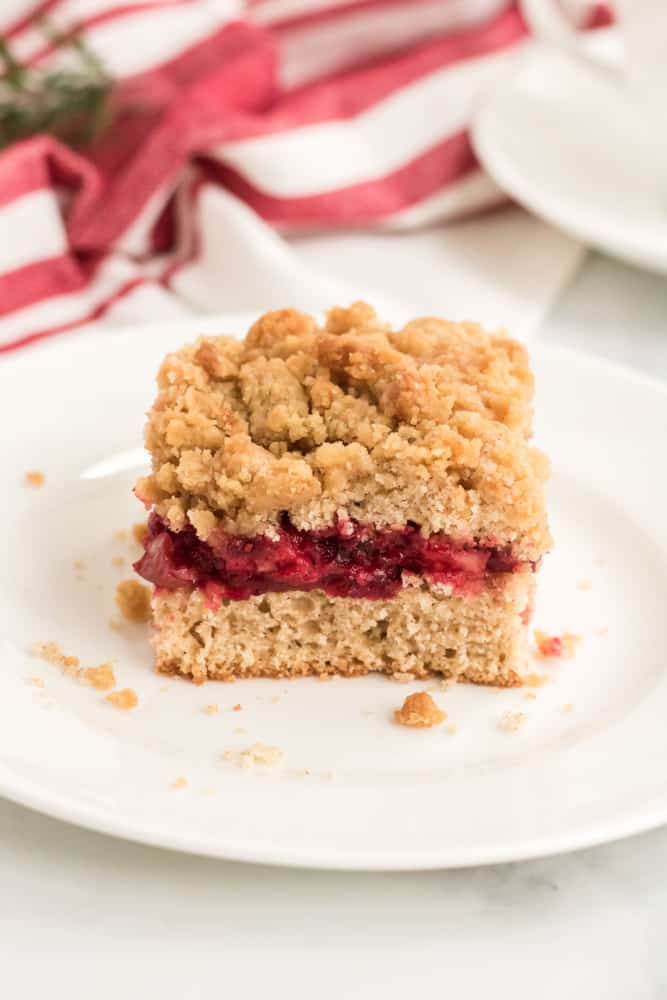 I honestly look forward to seeing if there's leftover cranberry sauce every year. I know I could just go buy some more, but there's something special and satisfying (almost traditional) about using up the leftovers. Since it's pretty consistent that we have leftover sauce every year, I have no doubt I'll be whipping up some of this Cranberry Sauce Coffee Cake soon.
If you loved this recipe, you're sure to love these other Fall recipes!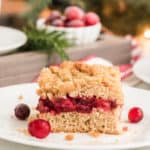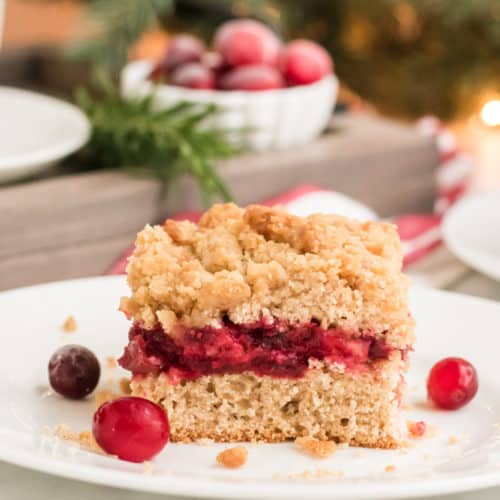 Cranberry Coffee Cake
Ingredients
8

tablespoons

melted butter

3

cups

all-purpose flour

1

cup

granulated sugar

3

teaspoons

baking powder

1

and ½ teaspoon salt

½

teaspoon

nutmeg

1

teaspoon

cinnamon

2

large eggs

1

cup

buttermilk

room temperature

3

teaspoons

pure vanilla extract

1

cup

cranberry sauce
Topping
1

cup

all-purpose flour

¾

cup

light-brown sugar

firmly packed

1

teaspoon

ground cinnamon

½

cup

unsalted butter

melted
Instructions
Preheat oven to 325 degrees. Spray a 9x13 inch baking dish with nonstick cooking spray.

In in a bowl combine flour, sugar, baking powder, nutmeg, cinnamon and salt.

In the bowl of your mixer, beat 8 tablespoons melted butter, eggs, buttermilk and vanilla extract until combined.

Stir in flour mixture.

Pour ½ batter into baking dish.

Spoon dollops of cranberry sauce all over batter.

Pour remaining batter over cranberry sauce.

To make the topping, combine the flour, 1 cup melted butter, brown sugar, and cinnamon. Mix until small clumps form.

Sprinkle topping over the batter.

Bake for 45-50 minutes or until a knife is inserted and comes out clean.
Recipe Notes
This post may contain affiliate links.