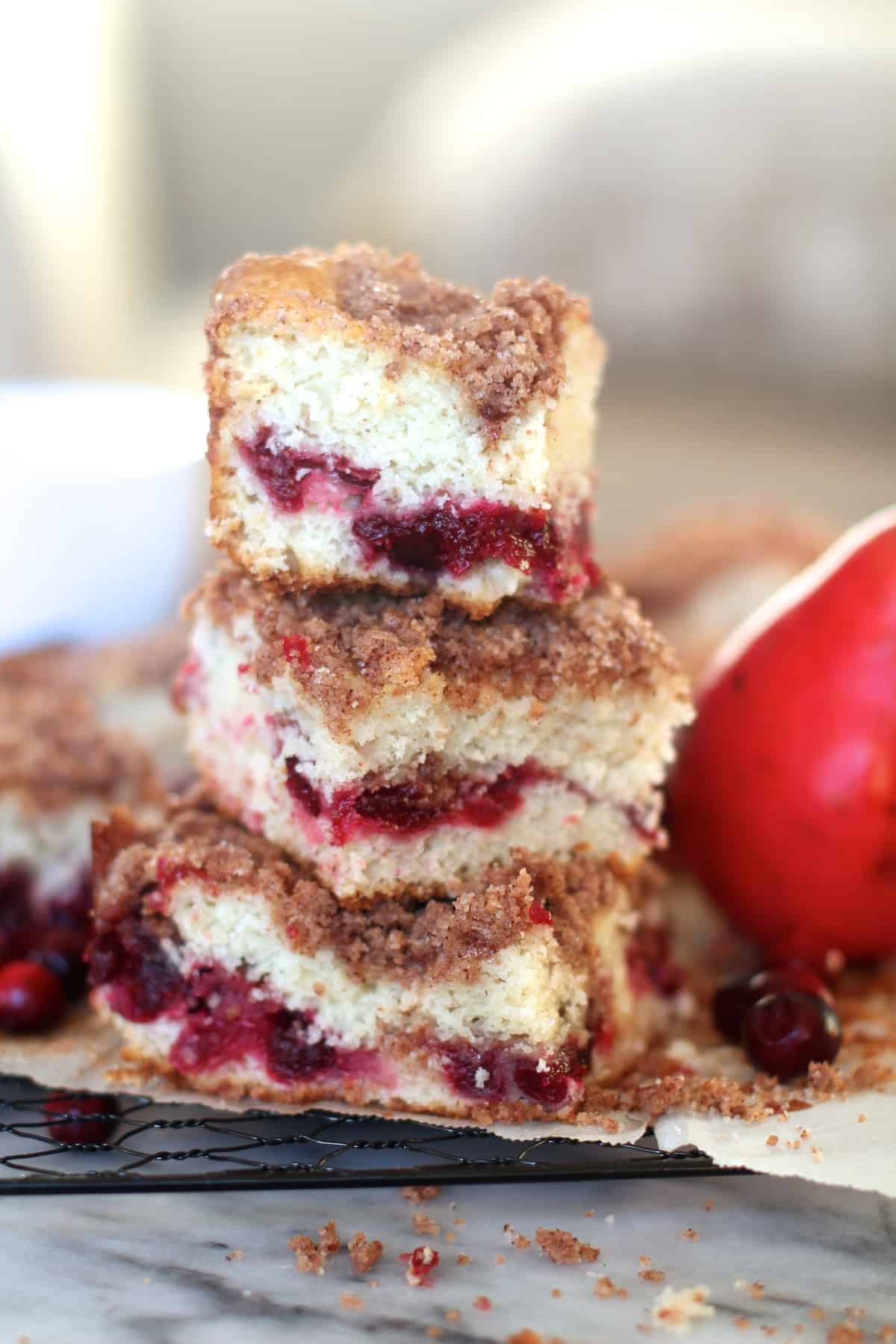 Now that we are almost a full week past Thanksgiving, I am sure most of you are on the tail end of your leftovers. If you are anything like me, the sight of more turkey may just make you spontaneously combust. Being a food blogger, we started early like November 1st kind of early. Since then, we have had the full meal followed by at least a week of leftovers 3 times. Not that I'm not thankful, because I am beyond words, I just am ready for some red meat!!!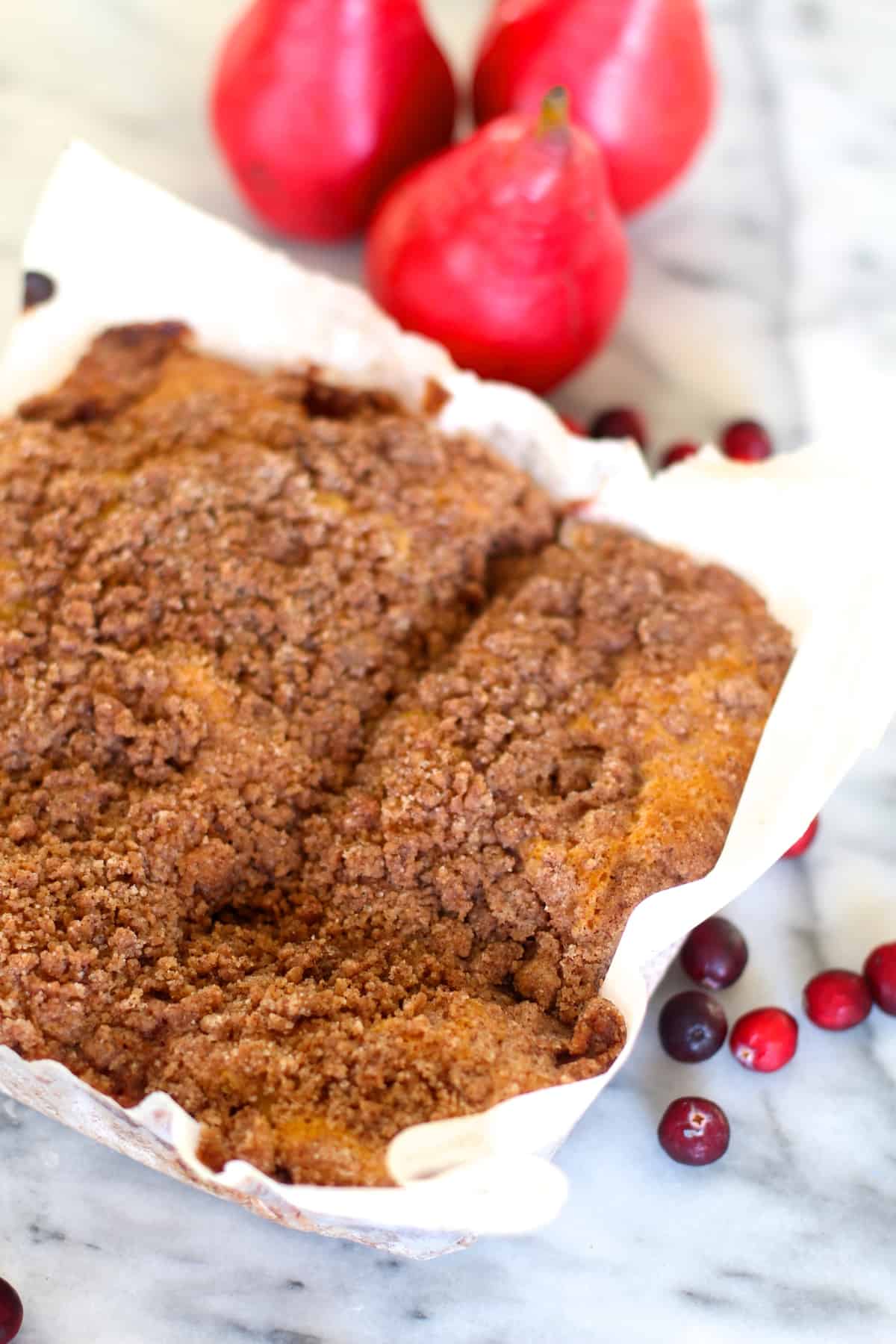 One thing that I have noticed is that cranberry sauce always seems to outlast the other leftovers. Perhaps it's because I am the only one that enjoys it on my Turkey sandwiches or maybe it is because I always make so much because it makes my house smell amazing while cooking. Either way, I always have a ton leftover.
Last year, I made a delicious Leftover Cranberry Sauce Orange Cake that was quite the hit. My normal cranberry sauce hating kids seem to no longer have a problem when it is sandwiched between buttery sugary cake layers. Who can blame them right?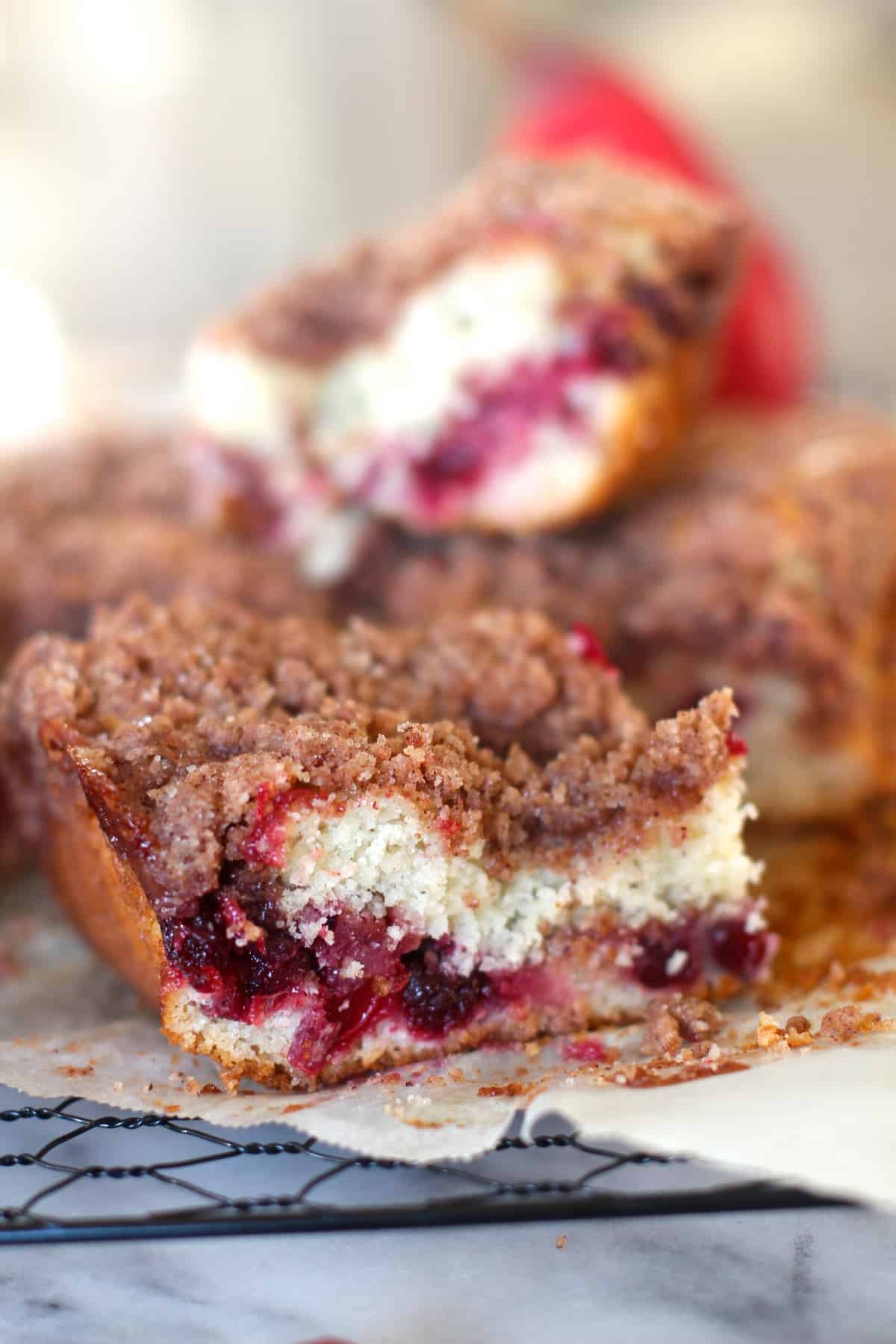 This year I decided to put the extra sauce into some coffee cake. The tart sauce was a perfect compliment to the nutmeg and cinnamon sprinkled coffee cake. I may go as far as saying this was better than last year's cranberry sauce leftover redesign. It's perfect with a cup of coffee or as an afternoon snack. Enjoy!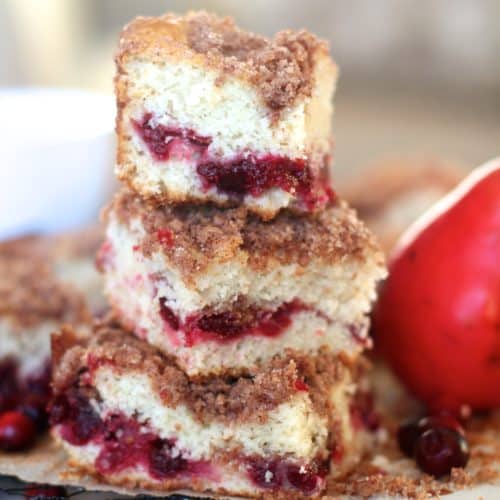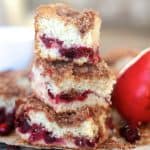 Cranberry Coffee Cake
Ingredients
8

tablespoons

melted butter

3

cups

all-purpose flour

1

cup

granulated sugar

3

teaspoons

baking powder

1

and 1/2 teaspoon salt

1/2

teaspoon

nutmeg

1

teaspoon

cinnamon

2

large eggs

1

cup

buttermilk

, room temperature

3

teaspoons

pure vanilla extract

1

cup

cranberry sauce
Topping
1

cup

all-purpose flour

3/4

cup

light-brown sugar

, firmly packed

1

teaspoon

ground cinnamon

1/2

cup

unsalted butter

, melted
Instructions
Preheat oven to 325 degrees. Spray a 9x13 inch baking dish with nonstick cooking spray.

In in a bowl combine flour, sugar, baking powder, nutmeg, cinnamon and salt.

In the bowl of your mixer, beat 8 tablespoons melted butter, eggs, buttermilk and vanilla extract until combined.

Stir in flour mixture.

Pour 1/2 batter into baking dish.

Spoon dollops of cranberry sauce all over batter.

Pour remaining batter over cranberry sauce.

To make the topping, combine the flour, 1 cup melted butter, brown sugar, and cinnamon. Mix until small clumps form.

Sprinkle topping over the batter.

Bake for 45-50 minutes or until a knife is inserted and comes out clean.