If you have leftover cranberry sauce like everyone does after Thanksgiving, turn it into this decadent Cranberry Sauce Coffee Cake. There's no reason to let any leftovers go to waste when a soft, spicy, slightly tart cake like this is just waiting to be created. Nutmeg, cinnamon, cranberry sauce, and a few basic ingredients come together in this recipe to make the perfect sweet treat.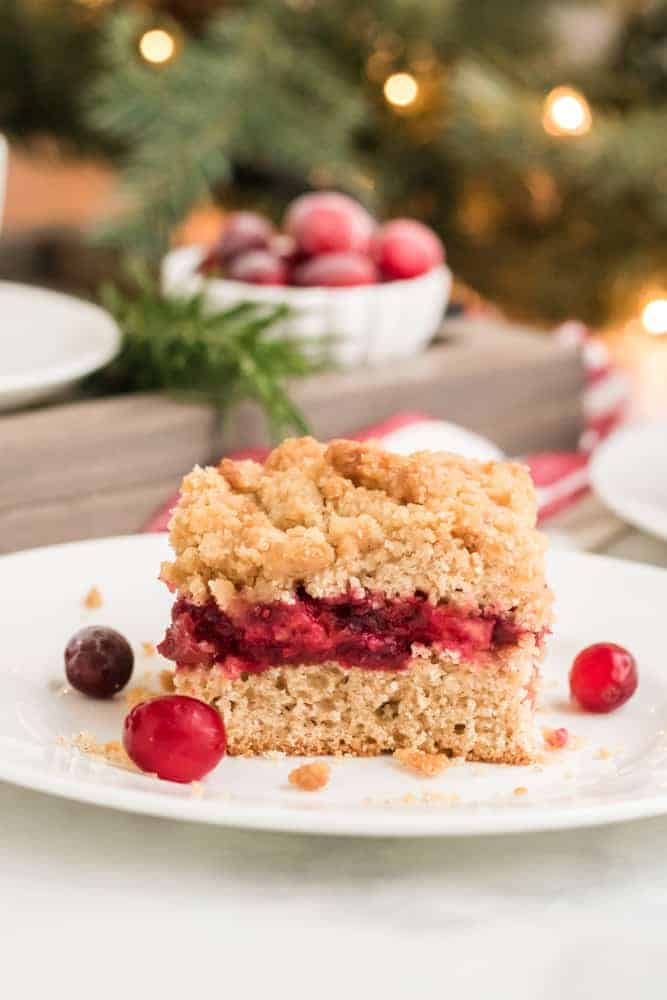 You know what's crazy to think about? The fact that 80 million pounds of cranberries are consumed at Thanksgiving time alone, in the US. For the holiday season in general, just shy of 5.1 million cans of cranberry sauce are bought and used. Sadly, cranberry sauce is often the top holiday leftovers dish to be tossed, despite how useful it can be for a ton of other recipes. I hate to throw anything out and that's how I came up with this delicious cranberry sauce cake.
What's more is that the tartness of the cranberry swirl combined with the buttery moist coffee cake layers and sweet brown sugar streusel topping pair perfectly together in this cranberry coffee cake recipe. It's also worth making a double batch of that homemade cranberry sauce to ensure that you'll have enough to make this cake!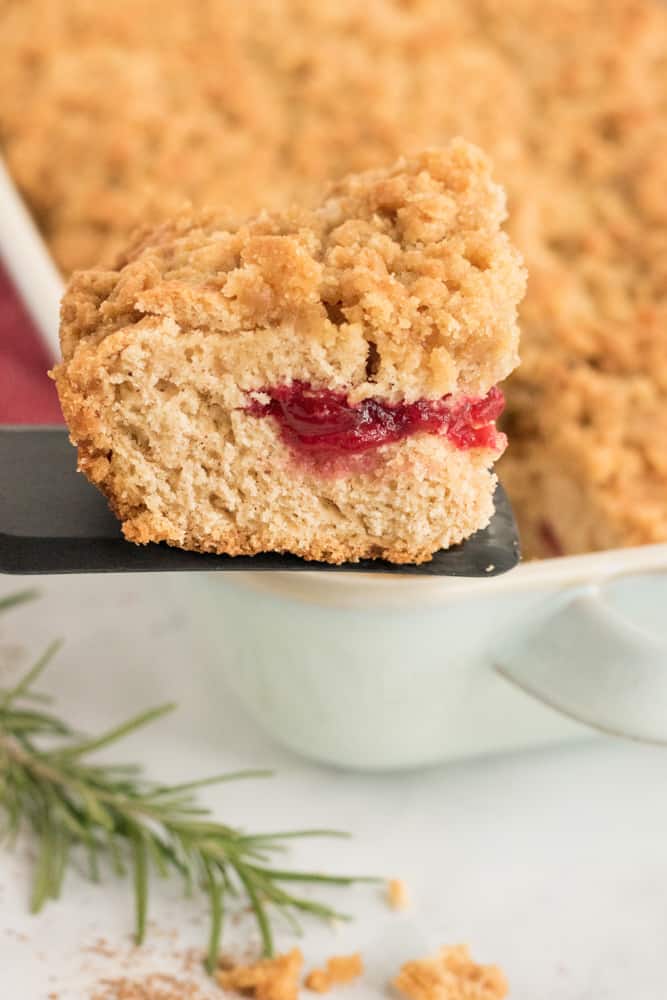 If you're like us and don't like to let leftovers go to waste, check out our Cranberry Orange Cake, Christmas Cranberry Cake, and Cranberry Tart.
WHY WE LOVE THIS LEFTOVER CRANBERRY SAUCE COFFEE CAKE
It's a great way to use up leftover cranberry sauce! Grandma would be so proud!
It's so good and perfect for warming up on a cold winter morning.
Enjoy it for breakfast, snack, or even dessert and easy enough to whip up a batch for Christmas Brunch!
Can be made with jellied cranberry sauce or whole berry cranberry sauce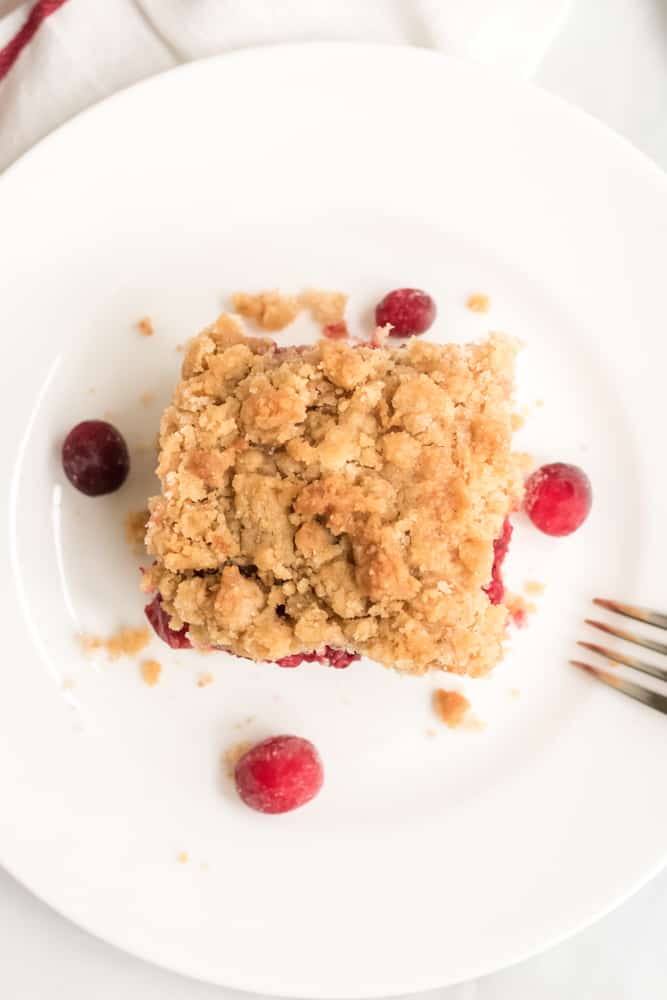 INGREDIENTS/SHOPPING LIST
unsalted butter
all-purpose flour
granulated sugar
baking powder
salt
cinnamon
large eggs
buttermilk room temperature
Pure vanilla extract
Leftover cranberry sauce
Topping
All-purpose flour
Light brown sugar 
Ground cinnamon
Unsalted butter
Salt
SUBSTITUTIONS AND ADDITIONS
If you're short on time, or just over cooking from the big holiday dinner, use store-bought coffee cake mixture or use my cake mix coffee cake recipe.
Double the streusel! I love a great crunch on my coffee cake, so I always make more! You can always freeze remaining streusel if you don't want to use it all.
Add a sweet glaze. Make a powdered sugar, milk, and vanilla glaze for the top of the cake.
Add almond extract. If you've been following me for a while, you know that I love almond extract and will add a dash to everything!
Use orange zest and a couple of tablespoons of orange juice in the cake batter for an orange cranberry cake.
HOW TO MAKE CRANBERRY SAUCE COFFEE CAKE
This leftover cranberry sauce cake is just like making your average coffee cake or quick bread, just with the addition of cranberry sauce in the middle.
Step One: Preheat oven to 350 degrees and line or grease and flour a 9x13 inch baking dish.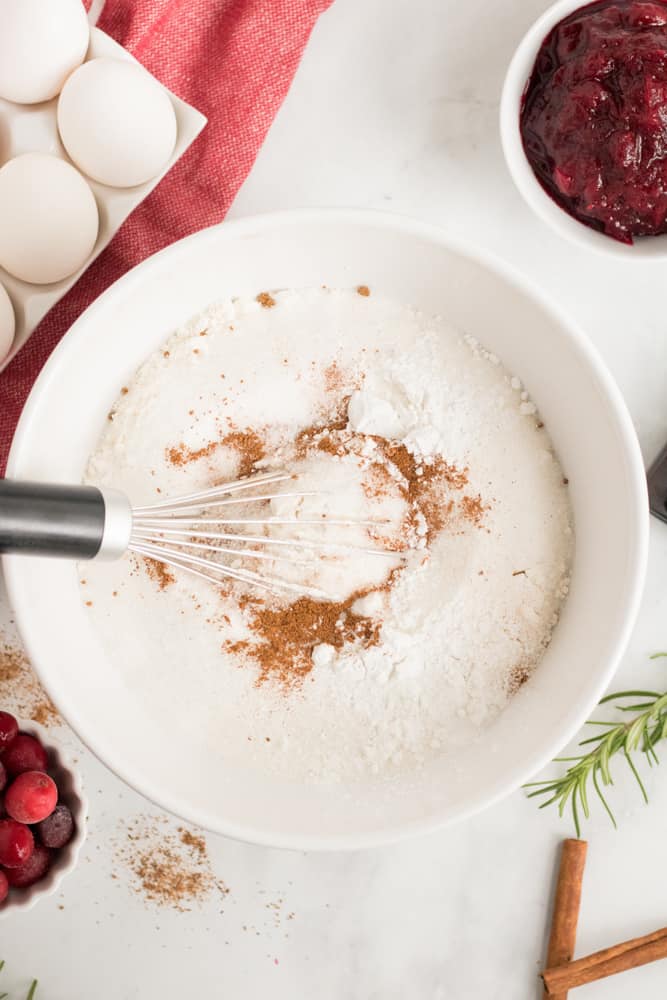 Step Two: For the cake batter, simply mix the dry ingredients in a large bowl and beat the wet ingredients in a stand mixer or with an electric mixer. Combine the two bowls and mix well.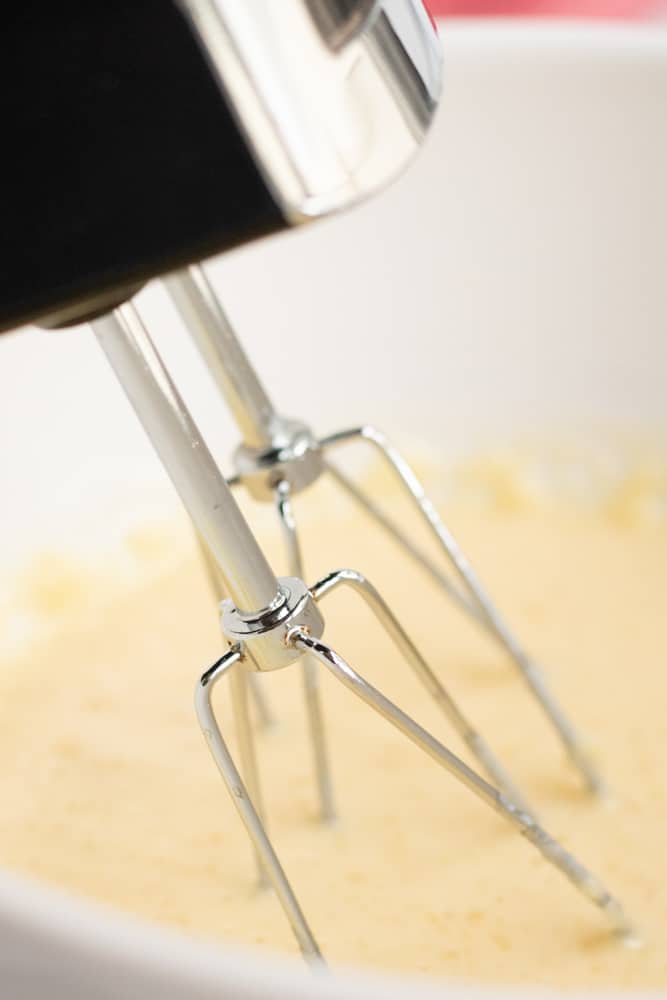 Step Three: Pour half of the batter into the prepared baking dish.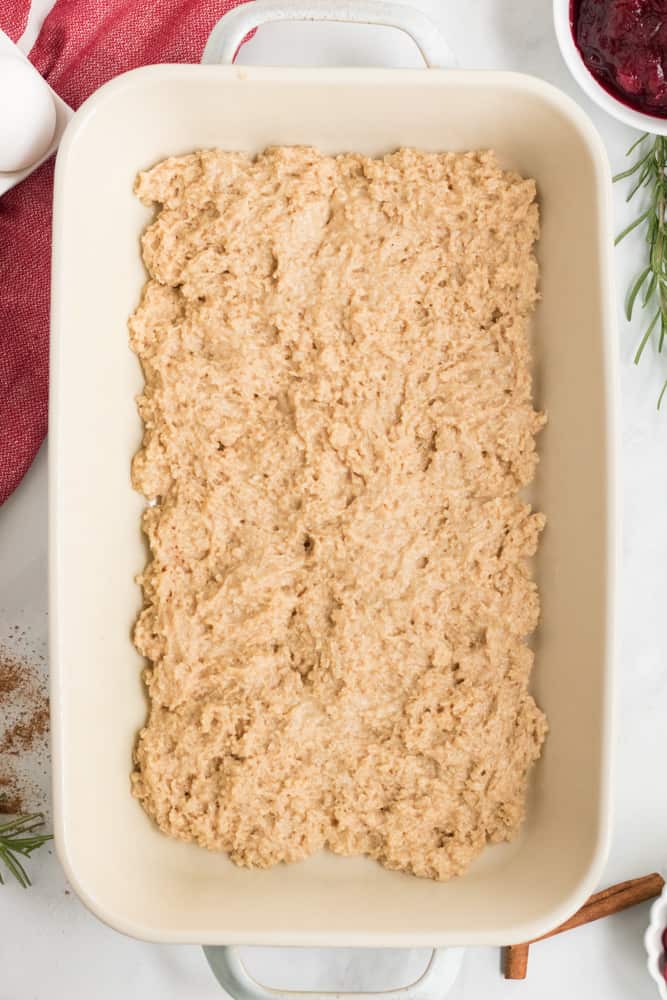 Step Four: Spoon cranberry sauce over the coffee cake batter in the pan. Finish by pouring the rest of the batter on top of the cranberry sauce; set aside.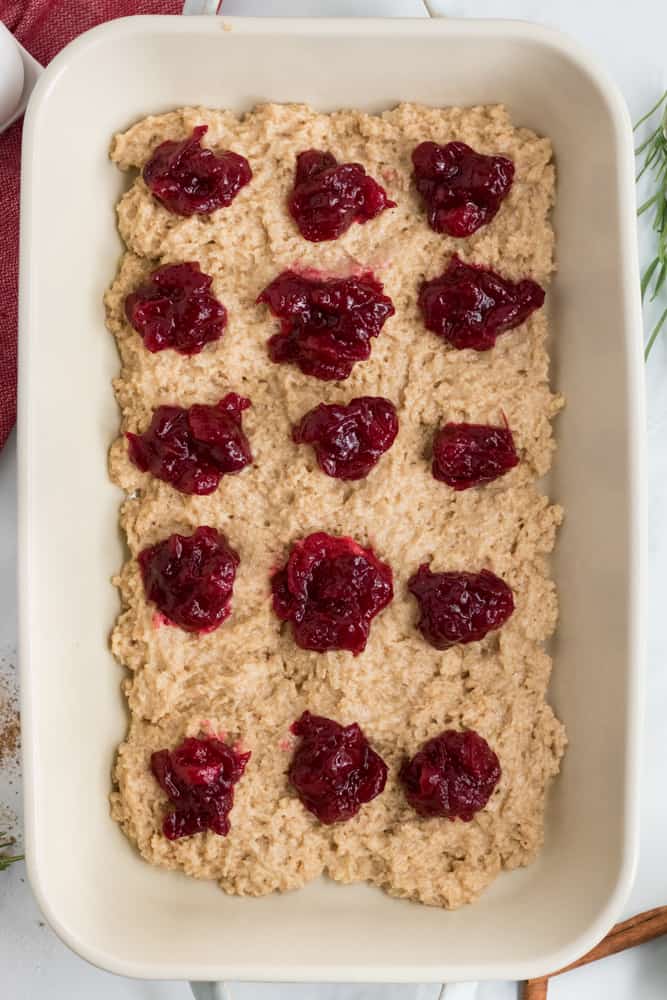 Step Five: Make the streusel topping by combining flour, sugar, salt, and cinnamon to a medium bowl. Cut butter into the dry mixture using two knifes or a pastry cutter until small pea sized clumps form. Sprinkle streusel topping over the top of the batter.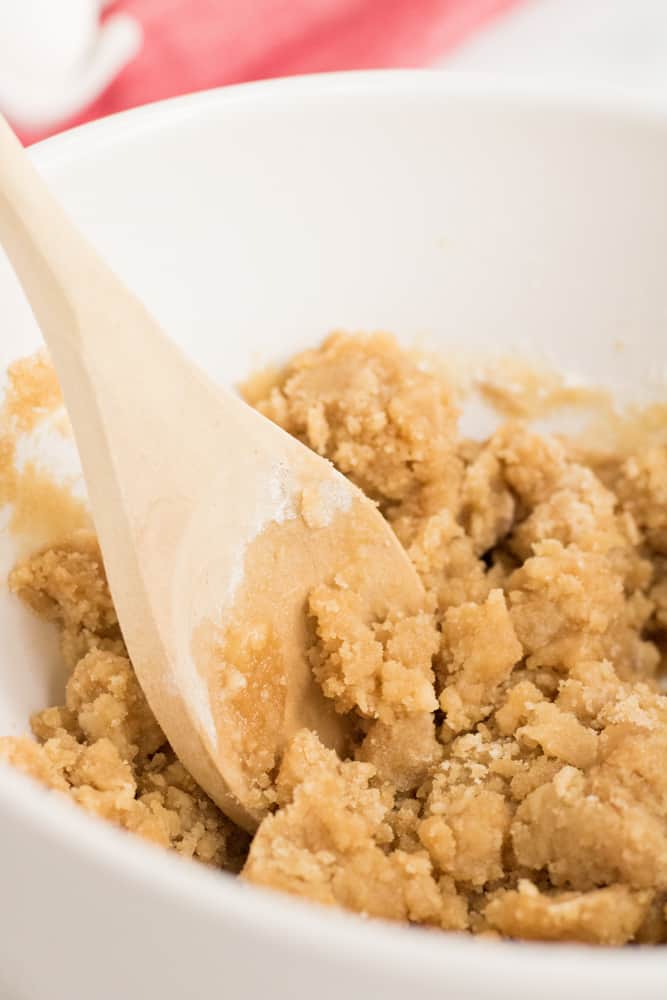 Step Six: Bake for 50-60 minutes or until a knife is inserted in the center and only a few moist crumbs come out.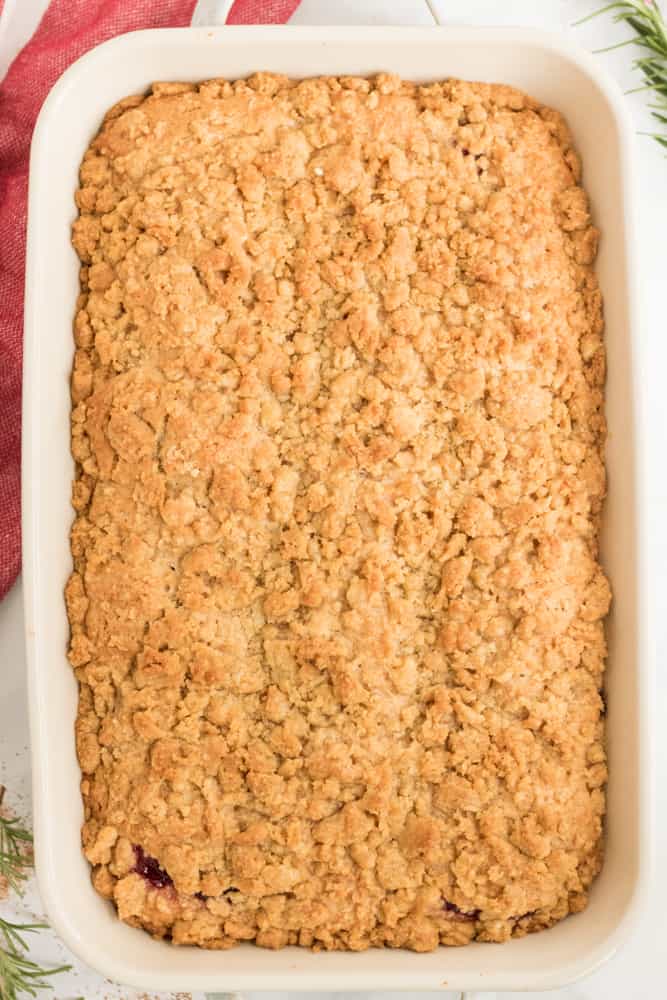 Step Seven: Enjoy warm or cool on a wire rack until room temperature.
TIPS FOR MAKING CRANBERRY SAUCE COFFEE CAKE
Any cranberry sauce will do for this leftover cranberry sauce cake. It doesn't matter if it's canned cranberry or homemade, it will work just fine.
I used about a cup of cranberry sauce however, if you would like more, or have a little more leftover than that, feel free to add extra!
It's important to note that when checking to see if the cranberry sauce cake is done, the sauce may stick a little to the knife. This doesn't mean it's not done, you're just checking to see if the texture of the cake part sticks to the knife, not the cranberry sauce.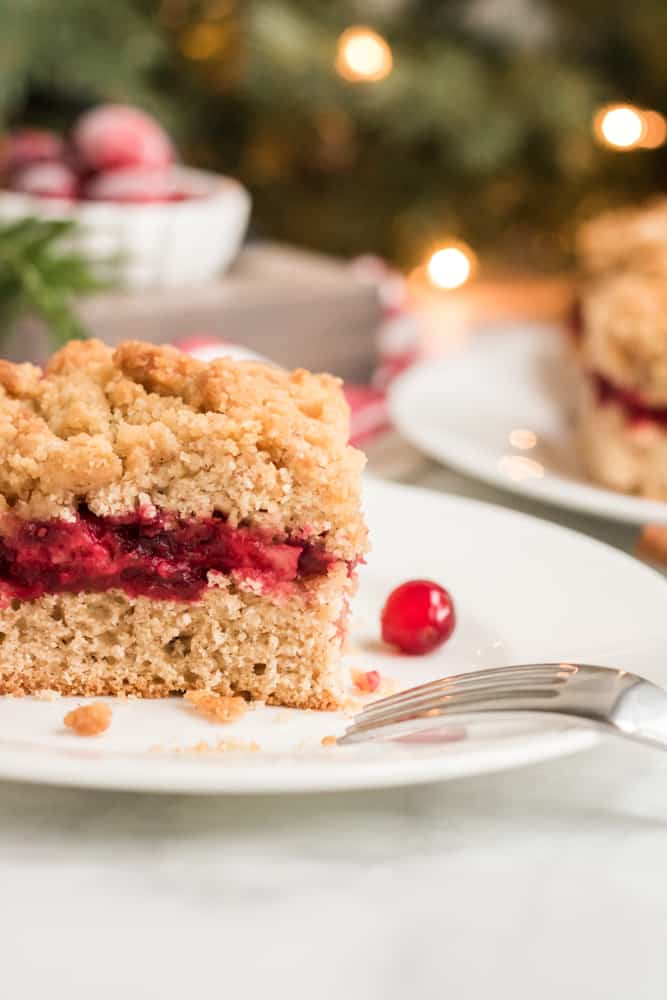 COMMON QUESTIONS ABOUT CRANBERRY SAUCE COFFEE CAKE
What to Make with Leftover Cranberry Sauce?
Of course, my first go-to is this Cranberry Sauce Cake of my own design. However, there are endless recipes and ways to utilize leftover cranberry sauce. Cranberry sauce goes great in yogurt, oatmeal, homemade pop tarts, on top of various breakfast foods such as pancakes and waffles, and that's just breakfast! You can also make muffins, smoothies, a plethora of various appetizers, spritzers, margaritas, and the list goes on. There are also some amazing dinner dishes that incorporate cranberry sauce such as pork loin, pork chops, stir fry, etc. Some people say it's even delicious when added to a pot of chili! I urge you to give a quick Google on some ways to utilize your leftover cranberry sauce instead of tossing it out this year.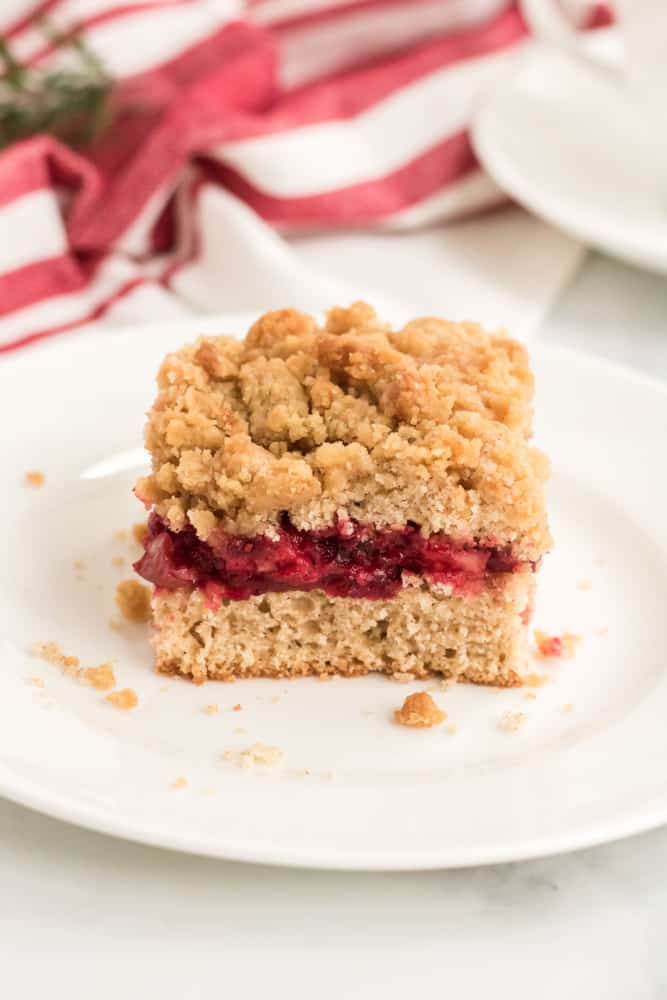 How long does cranberry sauce last?
Cranberry sauce will last up to 14 days in the refrigerator if stored in an airtight container. It can also be frozen for up to 2 months.
I honestly look forward to seeing if there's leftover cranberry sauce every year. I know I could just go buy some more, but there's something special and satisfying (almost traditional) about using up the leftovers. Since it's pretty consistent that we have leftover sauce every year, I have no doubt I'll be whipping up some of this Cranberry Sauce Coffee Cake many times, especially on Christmas morning!
If you loved this recipe, you're sure to love these other Fall and Winter recipes!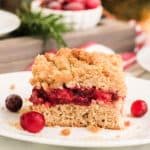 Cranberry Coffee Cake
If you have leftover cranberry sauce like everyone does after Thanksgiving, turn it into this decadent Cranberry Sauce Coffee Cake.
Keyword:
cranberry sauce coffee cake, leftover cranberry sauce coffee cake
Ingredients
8

tablespoons

melted butter

3

cups

all-purpose flour

1

cup

granulated sugar

3

teaspoons

baking powder

1 ½

teaspoon

salt

½

teaspoon

nutmeg

1

teaspoon

cinnamon

2

large eggs

1

cup

buttermilk

room temperature

3

teaspoons

pure vanilla extract

1

cup

cranberry sauce
Topping
1

cup

all-purpose flour

¾

cup

light-brown sugar

firmly packed

⅛

teaspoon

salt

1

teaspoon

ground cinnamon

½

cup

unsalted butter

melted
Instructions
Preheat oven to 325 degrees. Spray a 9x13 inch baking dish with nonstick cooking spray.

In in a bowl combine flour, sugar, baking powder, nutmeg, cinnamon and salt.

In the bowl of your mixer, beat 8 tablespoons melted butter, eggs, buttermilk and vanilla extract until combined.

Stir in flour mixture.

Pour ½ batter into baking dish.

Spoon dollops of cranberry sauce all over batter.

Pour remaining batter over cranberry sauce.

To make the topping, combine the flour, butter, brown sugar, salt and cinnamon. Mix until small clumps form.

Sprinkle topping over the batter.

Bake for 50-60 minutes or until a knife is inserted and comes out clean.
Recipe Notes
This post may contain affiliate links.