Do you love coffee cake? I do! In fact, I love it so much that I wanted to create a recipe for it that uses a yellow cake mix. This is the perfect recipe for those of you who want to make a coffee cake but don't have a lot of time.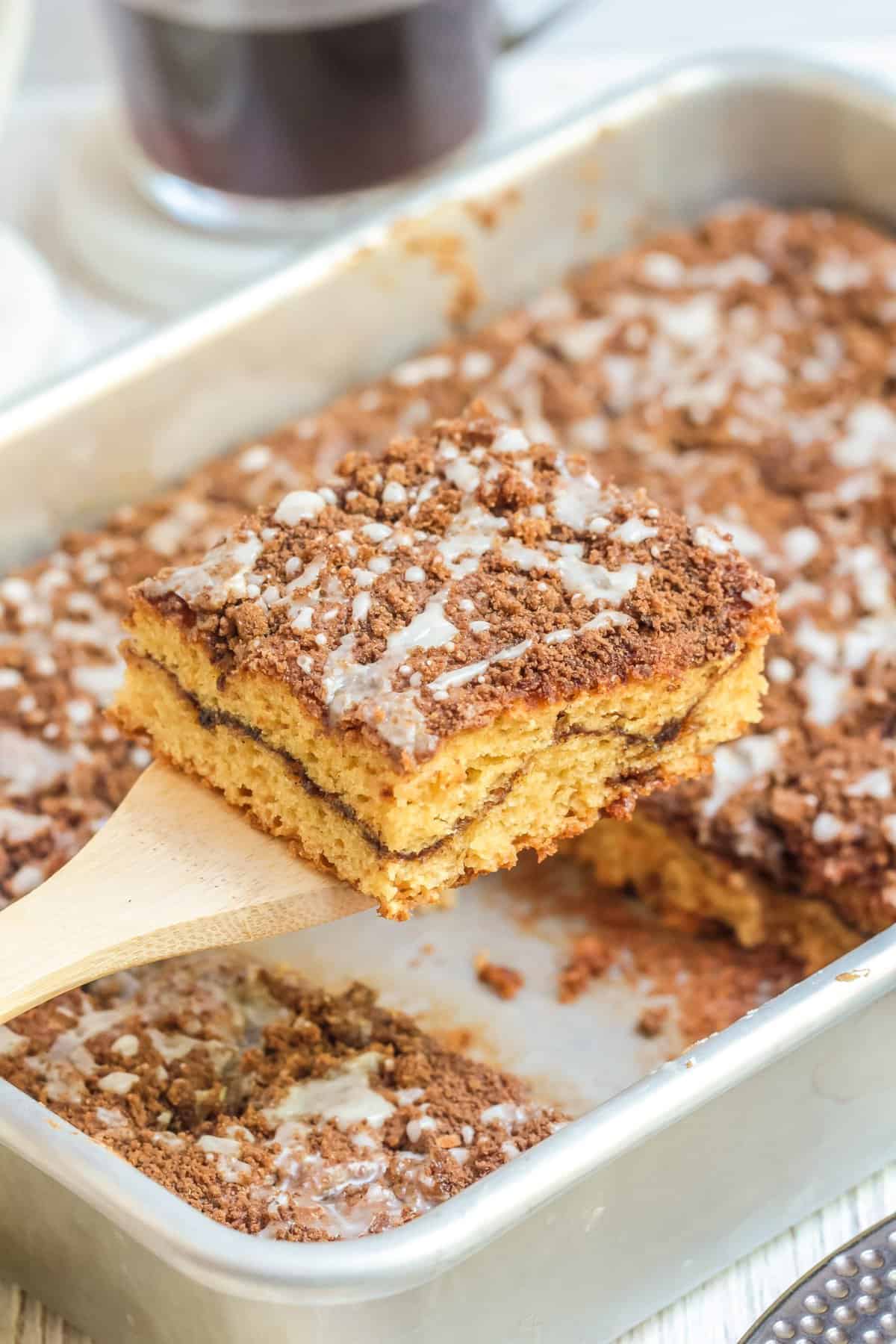 A warm coffee cake that tastes delicious and super easy to make! This is a great recipe to have in your arsenal. Whether it be for a quick breakfast, Sunday brunch, Christmas morning (or any holiday) or just as a decadent treat, it will be a huge hit.
Ah, coffee cake. There are few things more delicious than a moist, flavorful coffee cake, and there are few cakes more versatile. Whether you're serving it for breakfast, brunch, or dessert, coffee cake is always a hit. But what exactly is coffee cake?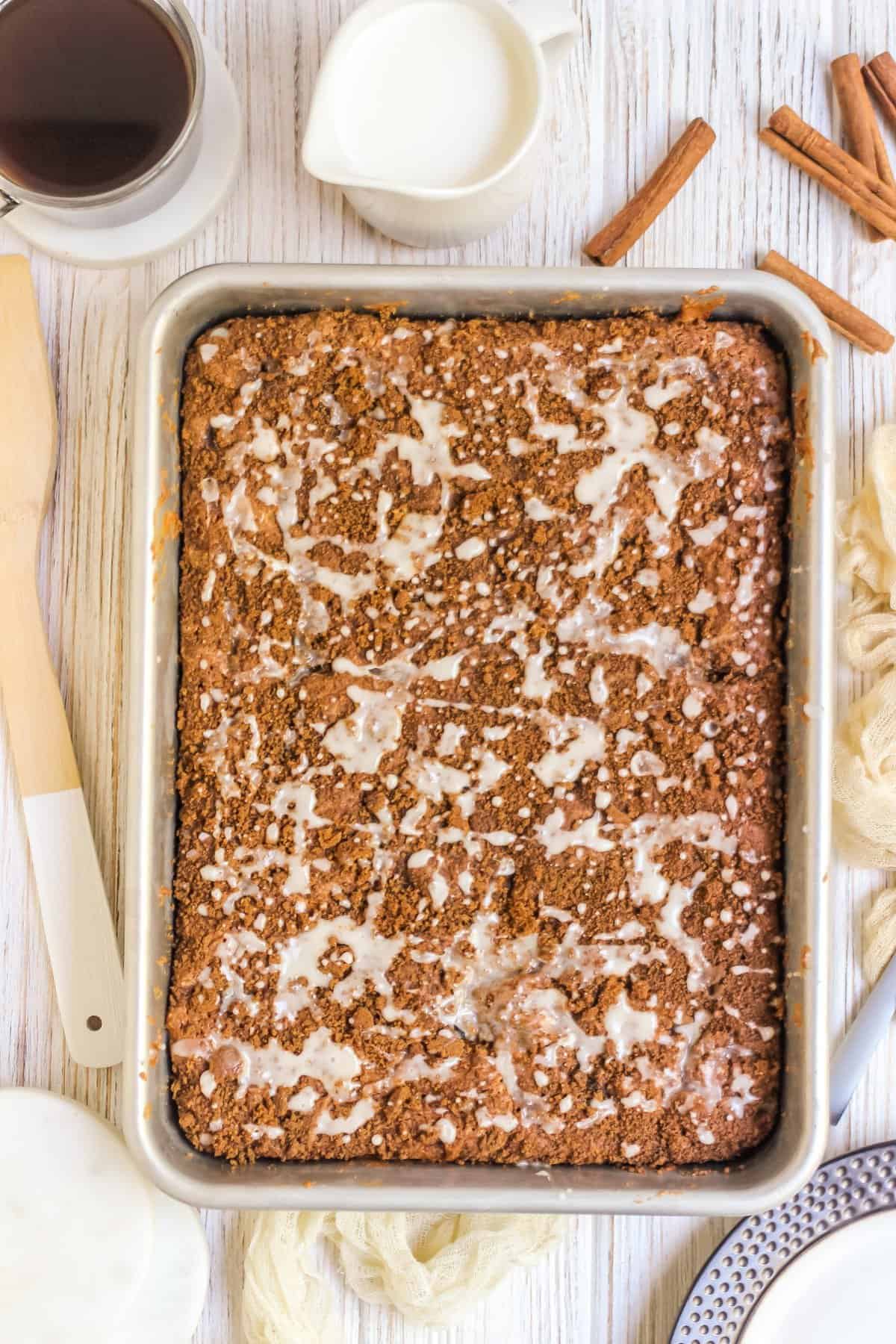 Essentially, coffee cake is a cake that is meant to be eaten with coffee. It usually has a streusel topping and is often flavored with cinnamon or nuts. While the origins of coffee cake are somewhat murky, it is believed to have originated in Germany in the 18th century. Since then, it has become a popular treat in many countries around the world in many different variations.
On TheSeasideBaker alone, you can fin a bunch of Coffee Cake easy recipes! We have everything from a classic Buttery Coffee Cake to a White Peach Coffee Cake...basically a decadent cake for every season!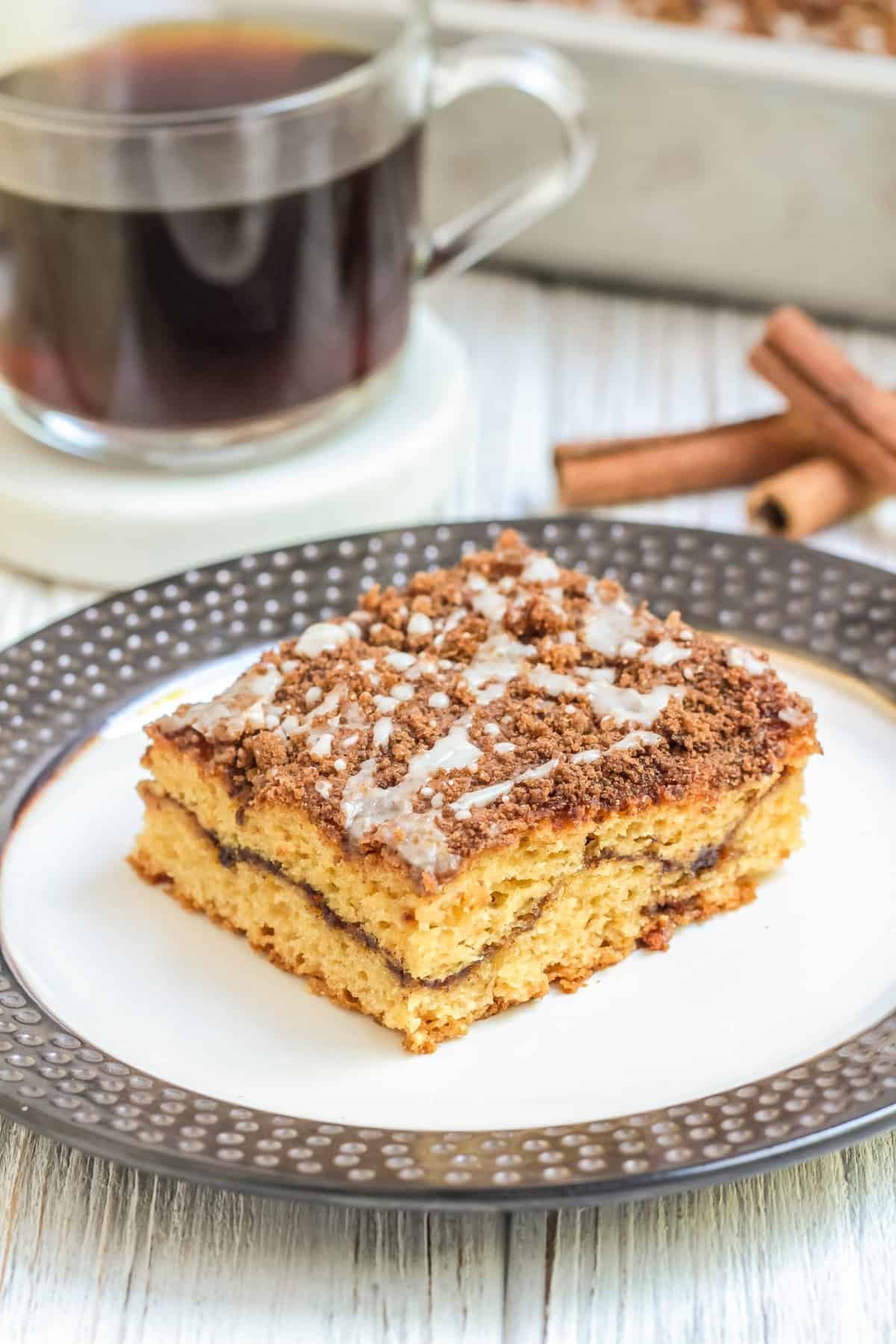 WHY WE LOVE THIS COFFEE CAKE WITH YELLOW CAKE MIX
Easy to make. Made with instant pudding mix and a box cake, this recipe is super easy to whip up.
Tastes homemade. Although this crumb cake uses processed box mixes, this quick coffee cake tastes homemade. This is because of the vanilla pudding that makes it moist and delicious.
Perfect for breakfast. This beautiful cinnamon coffee cake is perfect with a warm cup of coffee and a quick grab and go breakfast cake option.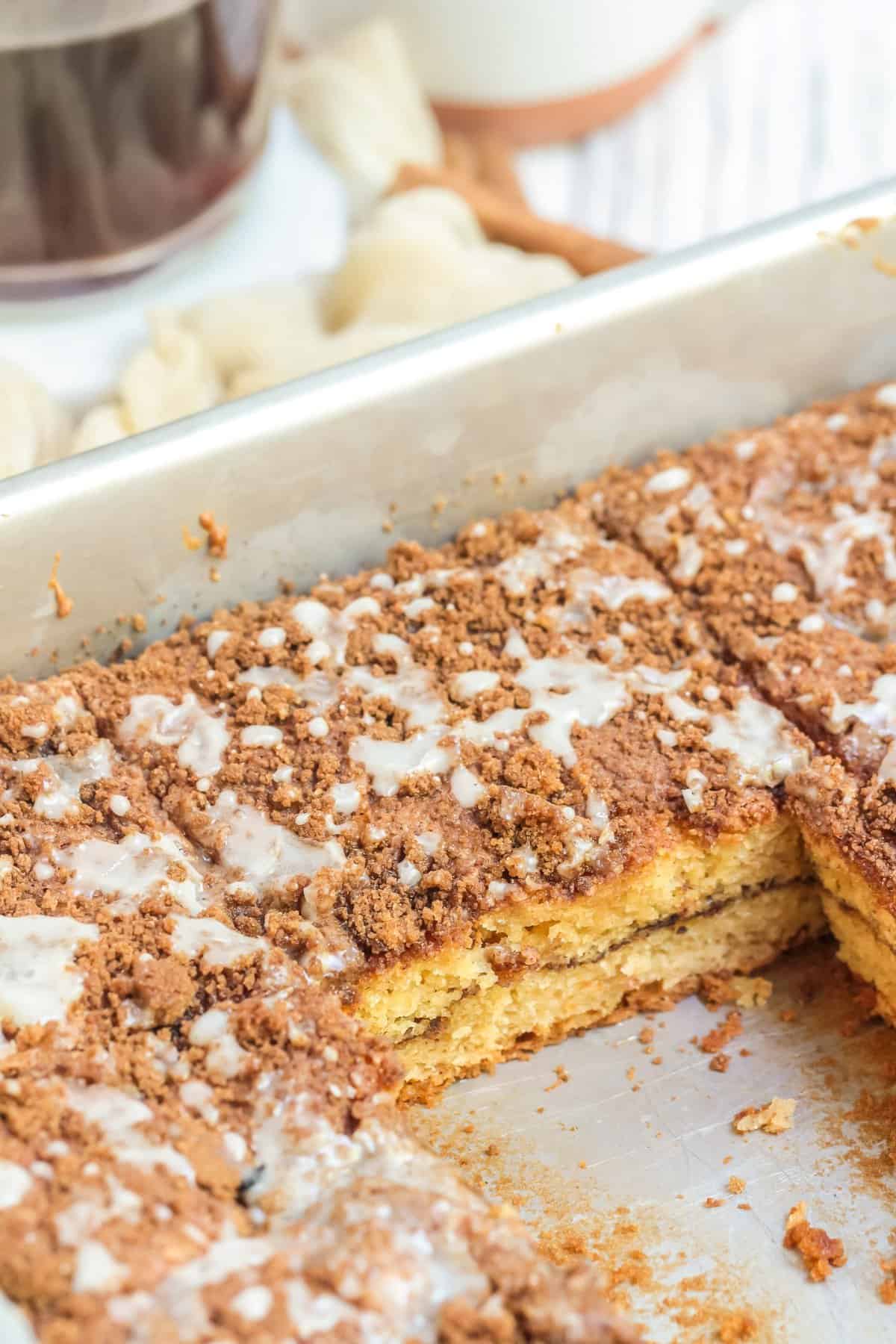 INGREDIENTS/SHOPPING LIST
Yellow cake mix box
Instant vanilla pudding mix
Large Eggs
Whole milk
Vegetable oil
Dark brown sugar
Cinnamon
Powdered sugar
Vanilla extract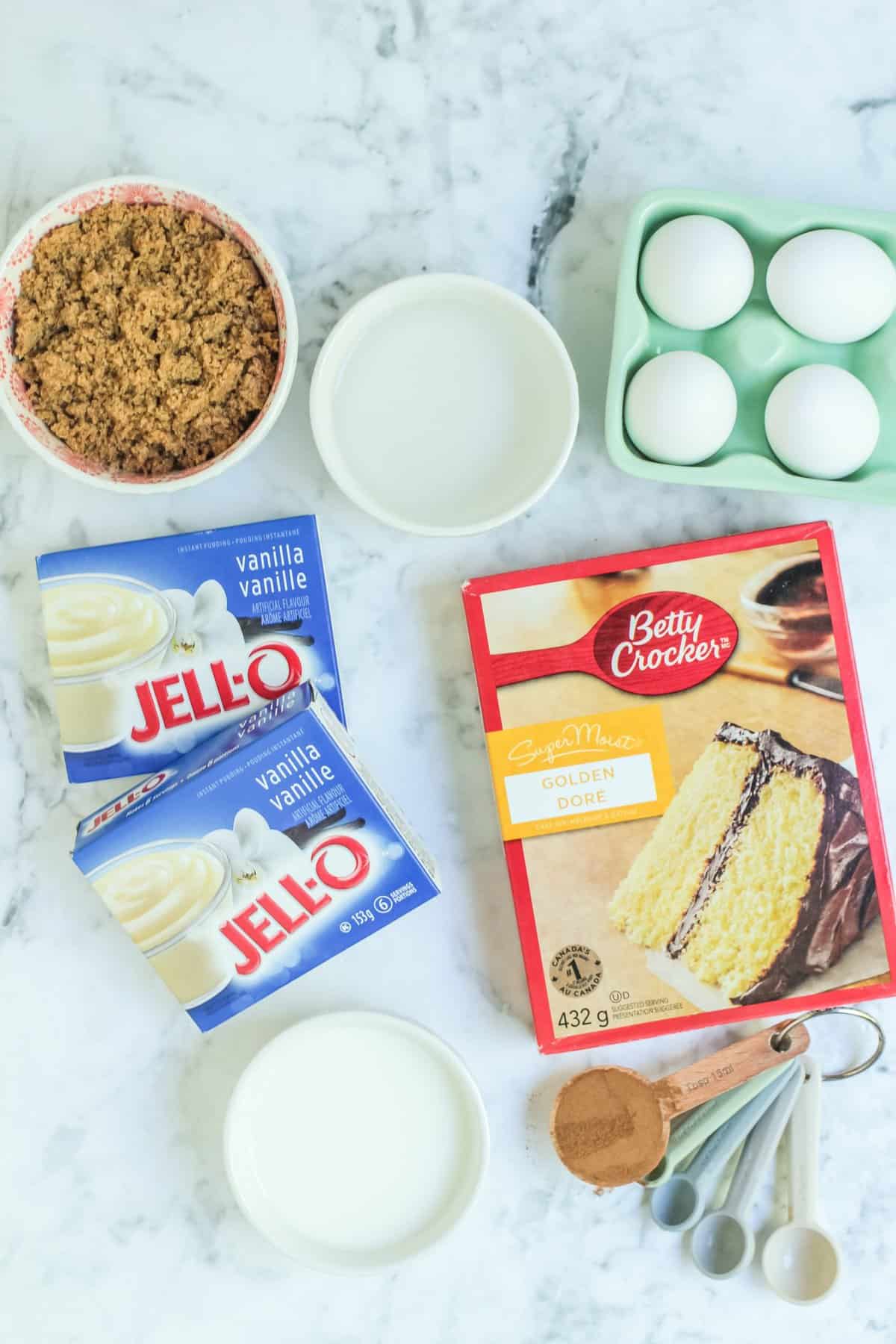 SUBSTITUTIONS AND ADDITIONS
Use a different cake mix: Any 15.25 oz box of yellow cake mix will do. Butter pecan or even vanilla cake box mixes would work well as a substitute.
Use milk or water: Whole milk will give the best flavor, but you can use lower fat milk, or even non-dairy milk if desired. Since we are using the pudding mix you can even get away with substituting with water.
Sugar: Dark brown sugar has a deep flavor that works well with cinnamon. You can also use light brown sugar if that is all you have on hand.
Oil: Using oil as a fat results in a moist cake. I suggest vegetable oil, but you can also use melted butter. You can substitute with apple sauce for a lower fat option.
Add nutmeg: This recipe calls for cinnamon, but you can also add a little nutmeg for a more complex flavor.
Add Nuts or Berries- add your favorite nuts to the streusel toppings or some juicy blueberries or fruit filling, like our Cranberry Sauce Coffee Cake to the yellow cake mix recipe.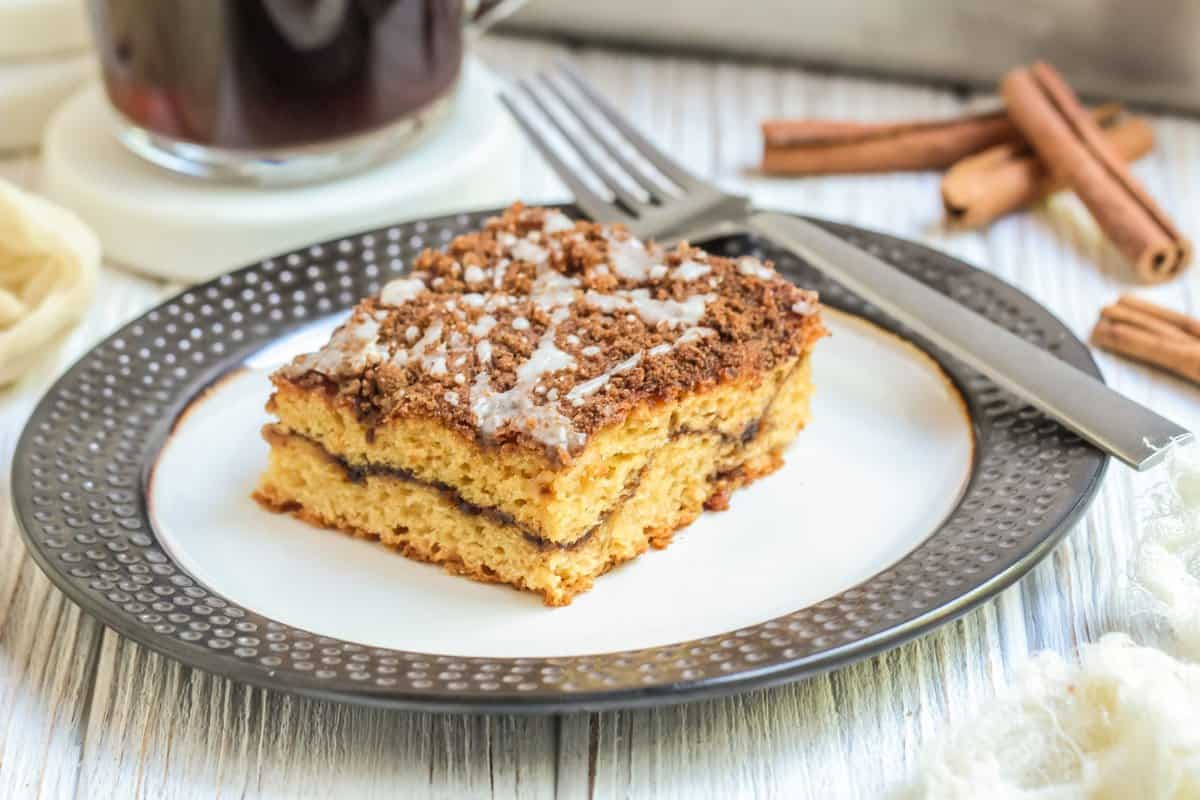 RECOMMENDED TOOLS
9x13" cake pan
Large mixing bowl
2 Small mixing bowls
Measuring cups and spoons
Rubber spatula
HOW TO MAKE THIS COFFEE CAKE RECIPE
Light, moist, and delicious, this coffee cake recipe is sure to please. Follow the simple steps below to whip up a quick and easy breakfast option!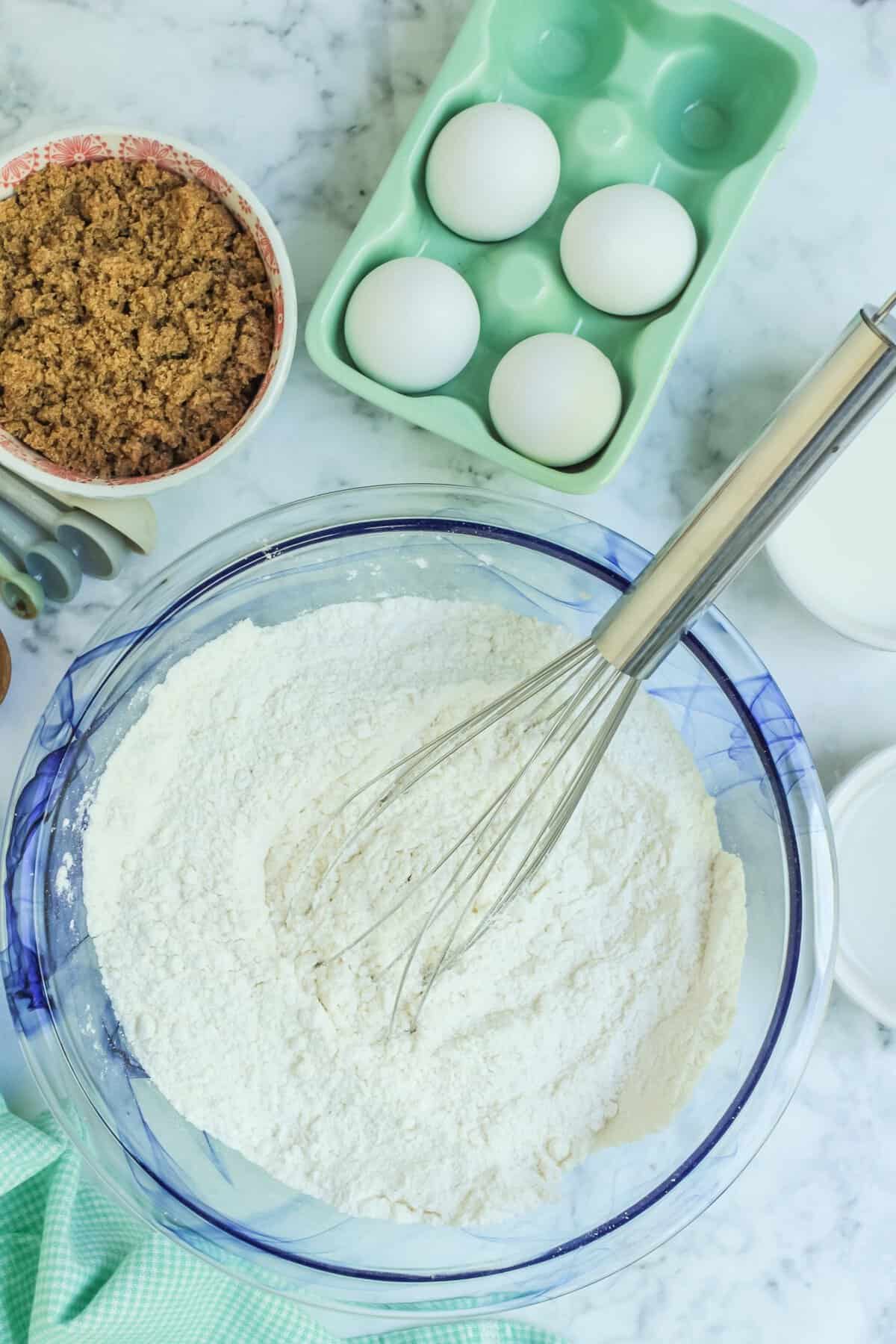 First, preheat your oven to 350℉. Then, grease a 9x13" pan and set to the side.
In a large mixing bowl, whisk the cake box mix and vanilla pudding mix together.
Add in the eggs, water, milk, and oil. Mix until just combined.
In another medium bowl, mix the brown sugar and cinnamon to make the crumble topping.
Pour half of the batter into the prepared pan and spread it evenly on the bottom.
Then, sprinkle half of the cinnamon sugar mixture on top.
Pour the remaining cake mix batter on top and spread evenly.
Then, sprinkle the remaining cinnamon mixture on top of the cake.
Finally, bake the coffee cake for 55-60 minutes or until a toothpick inserted in the middle comes out clean.
Allow the coffee cake to cool at room temperature.
In a small bowl, mix the powdered sugar, milk, and vanilla extract together to make the vanilla glaze.
Drizzle the glaze over the top of the cooled coffee cake.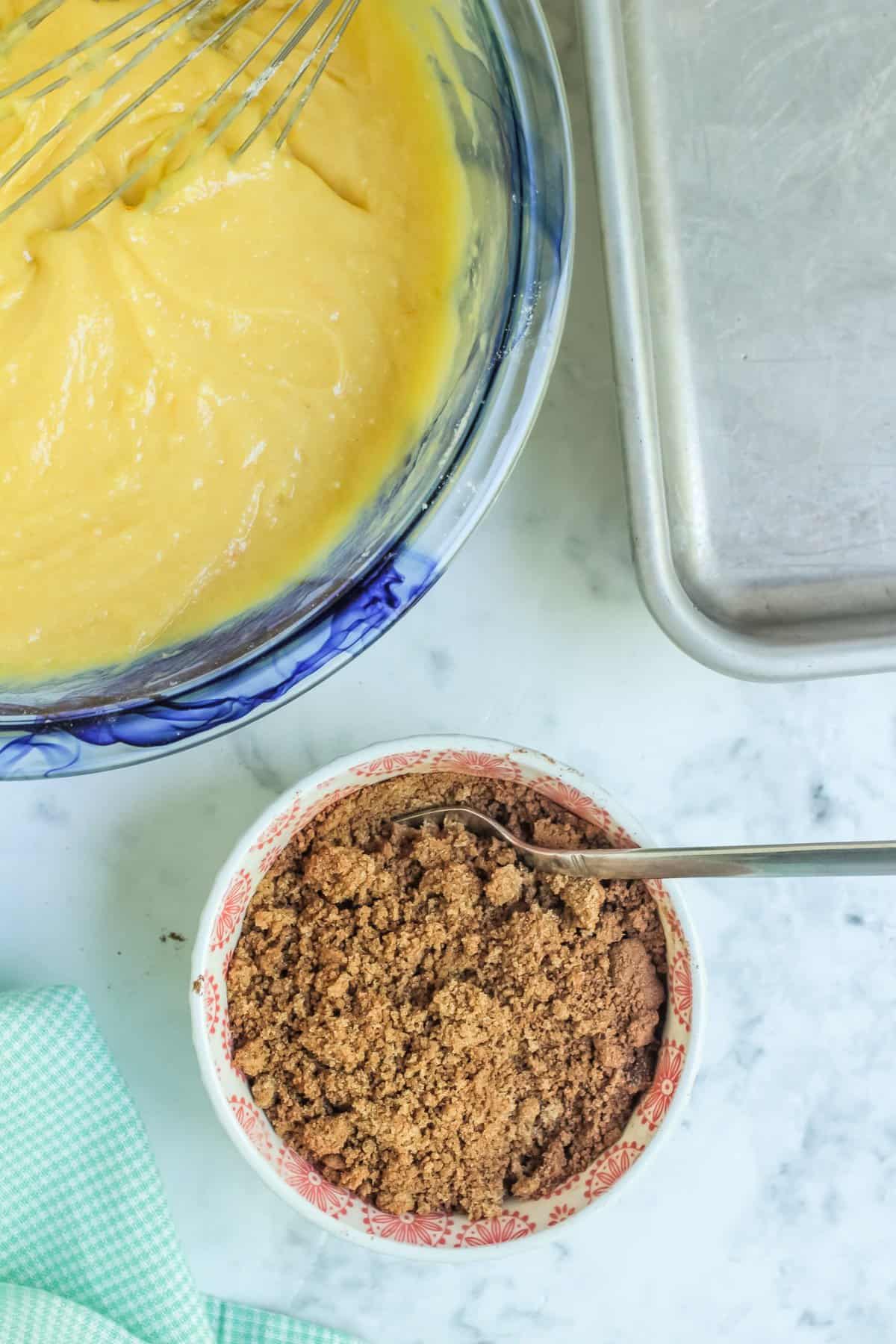 Serve and Enjoy!
TIPS
Make sure your eggs are room temperature when starting, this helps the batter incorporate more air, resulting in a fluffier cake.
Use room temperature ingredients. In addition to room temperature eggs, make sure your water and milk are room temperature as well.
Do not overmix your cake batter, it will result in a dense cake.
If you use a glass baking dish you may need to reduce the baking time slightly (about 10-15 minutes less).
Make this recipe in a well-greased bundt pan for a fun twist. You will want to add the "top layer" of crumble to the bottom of the bundt pan before pouring in half of the cake batter to make the Bundt Cake.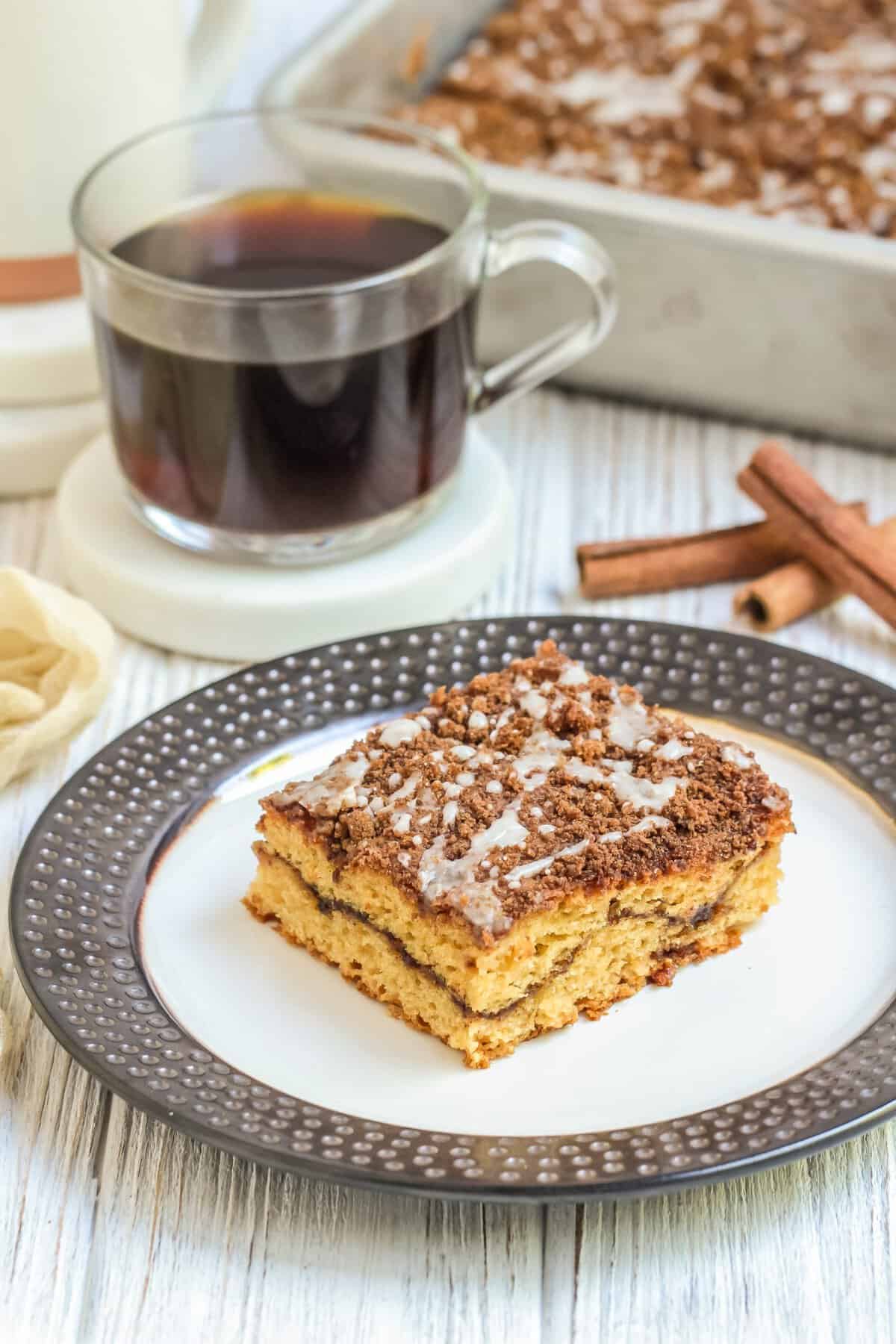 STORAGE TIPS
The cake should be stored, cover leftovers, at room temperature up to 3 days.
It can also be stored in an airtight container in the fridge for up to 5 days.
The cake does freeze well if stored in an airtight container or wrapped tightly in plastic wrap and then aluminum foil.
Store in the freezer for up to 2 months, thaw in the fridge overnight before serving.
FREQUENTLY ASKED QUESTIONS
How long does this recipe take to make?
It will take you about 15-minutes to prep the cake and 60-minutes to cook the cake. So, this delicious coffee cake will be ready to enjoy in 75-minutes.
How many servings will this recipe make?
Depending on how big or small the slices are, you should be able to get about 12-servings from this yellow cake mix coffee cake. If you store it in the refrigerator, this would be a great daily breakfast option.
Is there caffeine in coffee cake?
No, there is no caffeine in coffee cake. The name likely comes from the fact that coffee is often served with this type of cake. However, some people may choose to add a shot of espresso to their slice of cake for an extra boost of energy.
What are some popular variations of coffee cake?
There are many different types of coffee cake, including streusel coffee cake, cinnamon coffee cake, and German chocolate coffee cake. Some coffee cakes are made with yeast instead of baking powder or soda. We have a ton of these classic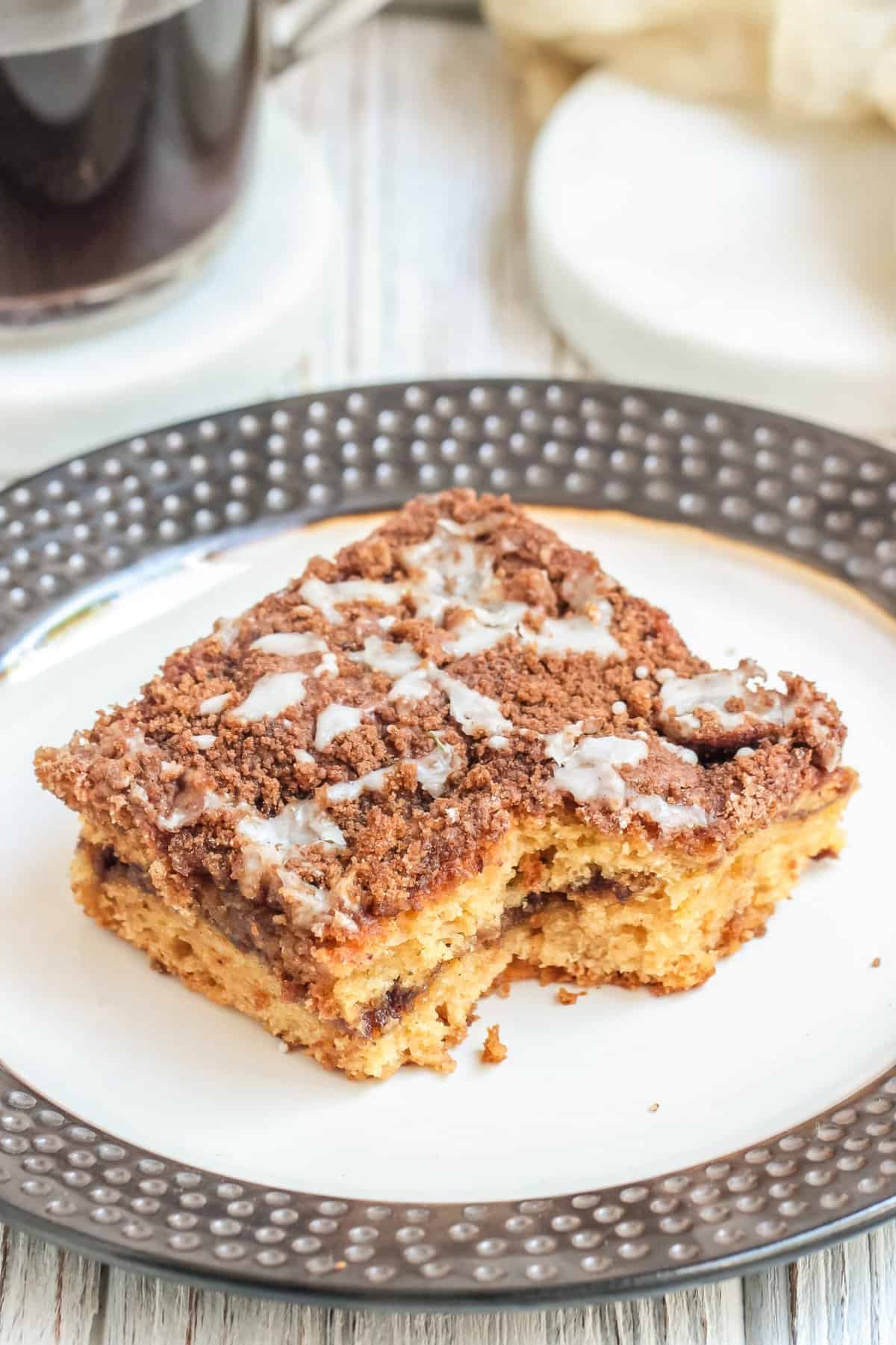 How should you serve coffee cake?
Coffee cake can be served plain or topped with frosting, glaze, or fruit preserves. It can be served at breakfast, brunch, or as a dessert.
OTHER QUICK BREAD RECIPES YOU MAY ENJOY